Updated November 5, 2022.
It was time to update this post. I first compared Prague and Budapest in 2015. At that time we had spent a total of 3 months in Prague, a total of 2 months in Budapest.
Since then we've returned to Prague four times, Budapest twice. It's not just that we know the cities more now that we did in 2015. It's also that both cities have changed with time. Prague was already very popular back then, Budapest was known but it was much less travelled to and, let's be honest, a bit rough around the edges. In the last 7 years both cities have gotten more cosmopolitan and both now count on many visitors (I read somewhere that in 2019 Prague received 8 million visitors, Budapest 5 million). Both cities are among the most visited in Central Europe.

So which should you visit?
I'll use the same criteria that I used in my 1st comparison in 2015, that is to compare all the similarities, differences and things that are unique to Prague and Budapest. I'll leave my earlier analysis – but will update with my latest thoughts based on how each city has withstood changes over the last 7 years.
.
---
---



Similarities

between Prague and Budapest. Which wins out?
There are many similarities between Prague and Budapest. Both cities are situated (and are split) by famous rivers, both have castle districts, famous bridges, outstanding churches and beautiful squares.
.
Let's compare them head to head:
1) River Views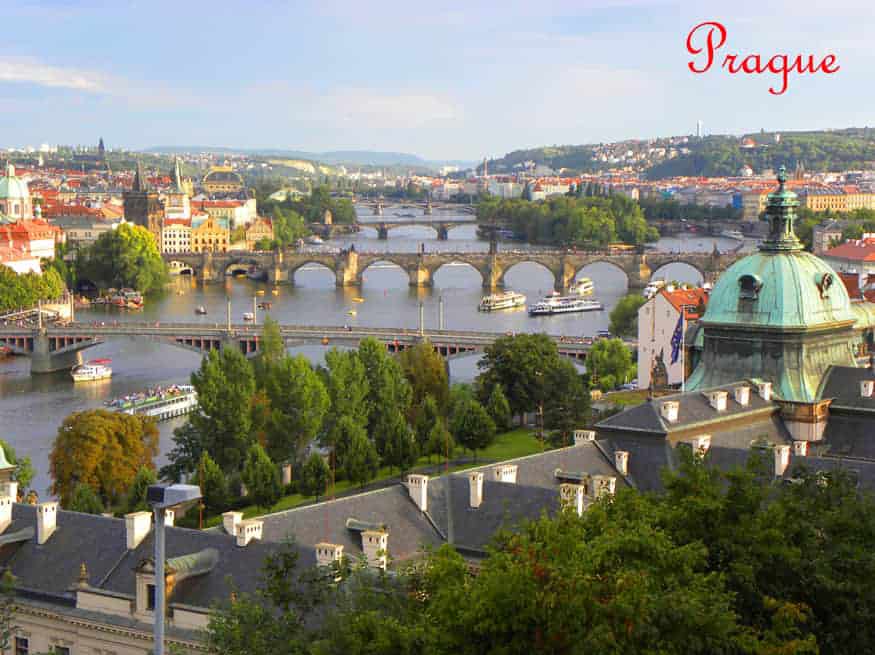 Prague has the Vltava River, Budapest the Danube. The Danube is much wider. In both cities, the Castle District lies on one side while the other side was historically where most of the city's inhabitants lived. Visually, which city's river is more appealing? Arguments can be made for both.
In Prague, the narrower river between the Old Town and Lesser Town makes the scene more appealing – stand on either side and you'll see a skyline of domes,spires, monuments and towers. Fantastic views.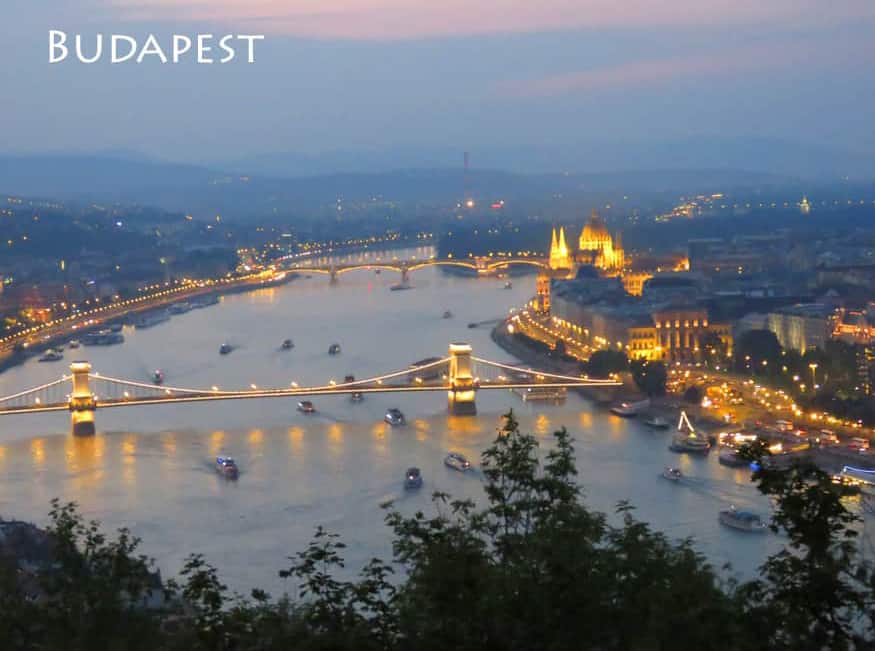 In Budapest the views are less attractive: the Pest side has tram lines and boats docked along the shore, along with a mix of old and modern (some not so attractive) buildings. The Buda side has a large embankment on the side of the river. Not as visually appealing. I will say this though: Budapest at night has some of the most beautiful views you'll see anywhere. The lights transform the city.
Winner: Prague. There's just more of a 'Wow' factor along the Vlatava in Prague than there is over the Danube in Budapest.
Update: Haven't changed my mind with any of the above. Prague's views are maybe the best anywhere.
---
---
2) Castle Districts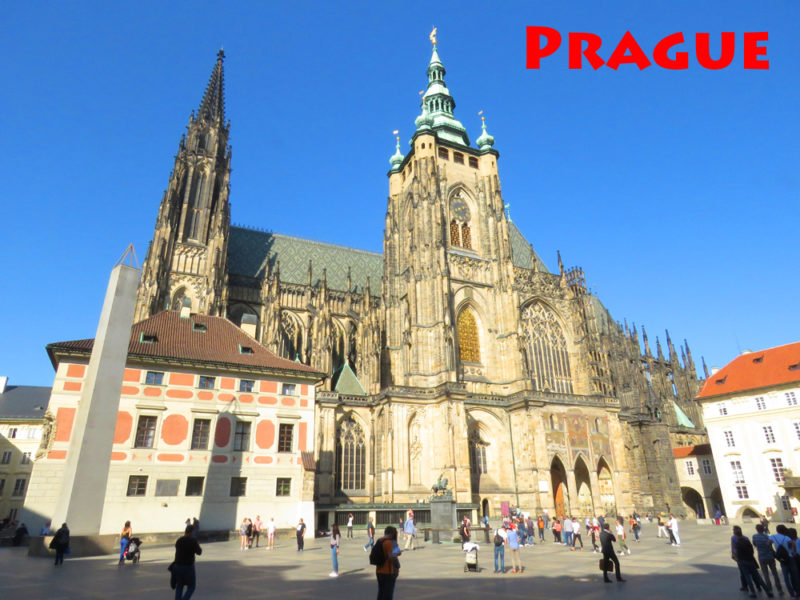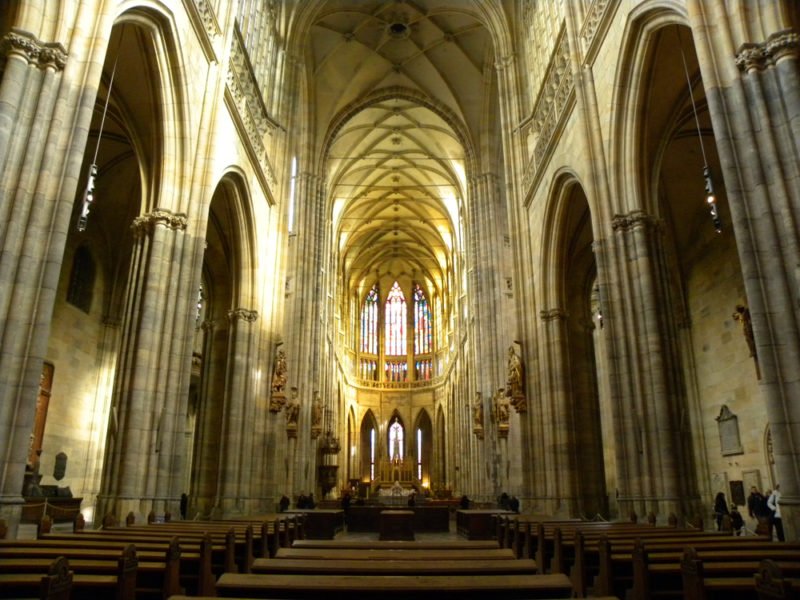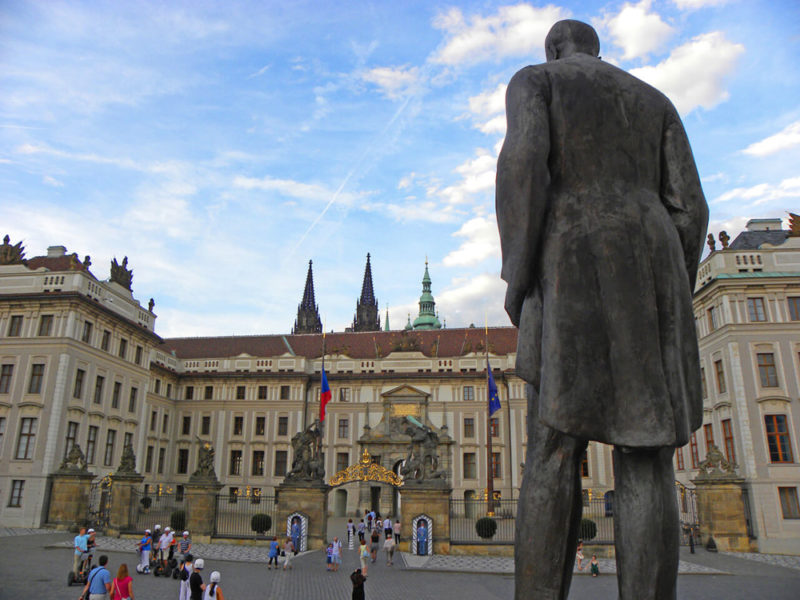 Prague has the largest Castle District in the world. Highlights include St. Vitus Cathedral, the Rampart Gardens, the Castle Gates, the Golden Lane. All very beautiful and everywhere you go you have great views of the Vltava river and the Old Town.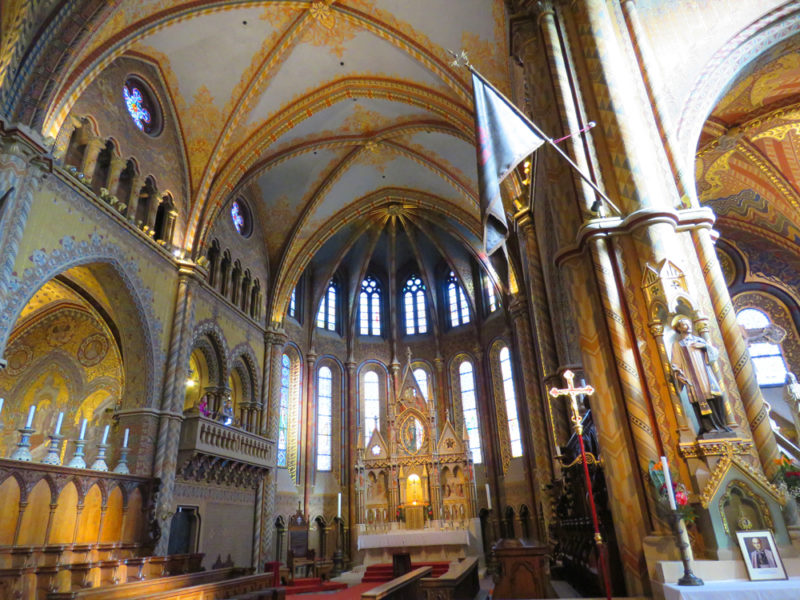 Budapest has Mathias Church, Fisherman's Bastion, the Royal Palace (containing the excellent National Gallery). Great views over the Danube, especially over Parliament from Fisherman's bastion.
Winner: Prague. I almost went with Budapest but then I remembered just how spectacular Prague's Castle District is as a whole. There's just much more to see. And although Fisherman's Bastion has great views and the Royal Palace is beautiful, Prague's St. Vitus outshines Mathias Church. You can walk up to the Strahov Monastery and enjoy the fabulous views from there and even continue on to the Petrin tower. The whole district is view after view, full of gardens and parks. Also, just walking up through Prague's Lesser Town to get up to the Castle District is fabulous. Lower Buda doesn't compare in that respect.
Update: No change in my views.
---
---
.
3) Famous Bridges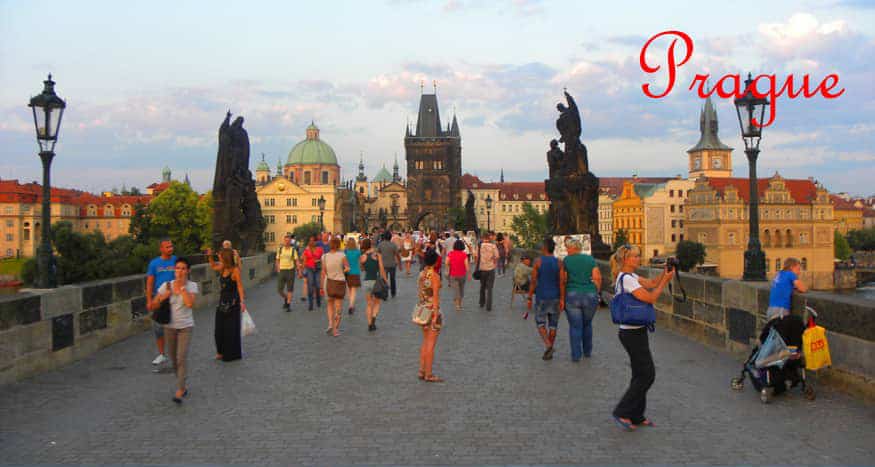 Prague has the Charles Bridge, Budapest has the Chain Bridge. The other categories above might have been tight, but this one isn't. The walk along the Charles Bridge is among the most spectacular walks anywhere (do it early before the tourist hordes).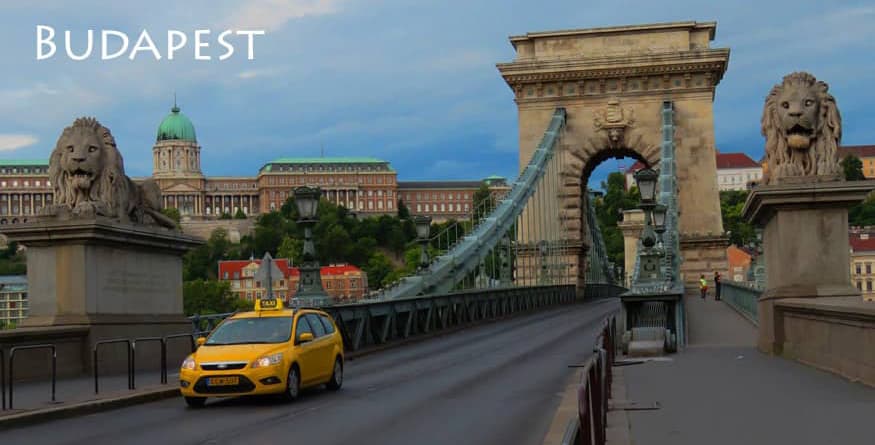 Winner. Prague. Easy.
Update: Somebody mentioned to me the other Budapest bridges. Like the Liberty bridge and the Margaret bridge. Great bridges. But Prague also has the Legion's bridge (Most Legii) and Manes Bridge (Manesuv Most). I think these other bridges even out. The Charles bridge is so above everything else though that you have to give it to Prague…
---
---
Looking for accommodation in Prague? Remember that public transport in Prague is excellent and as long as you're close to a tram line or metro you'll be able to get into the city center in minutes. A couple of suggestions in the mid-range category: The Blue Oak. It has a perfect location on the castle side of the river. Another very nice hotel at a good price is Dolce Vita Suites on the Old Town side of the river. Both are excellent. A great Budget choice is the Czech Inn Hostel.
.
---
---
4) Beautiful Squares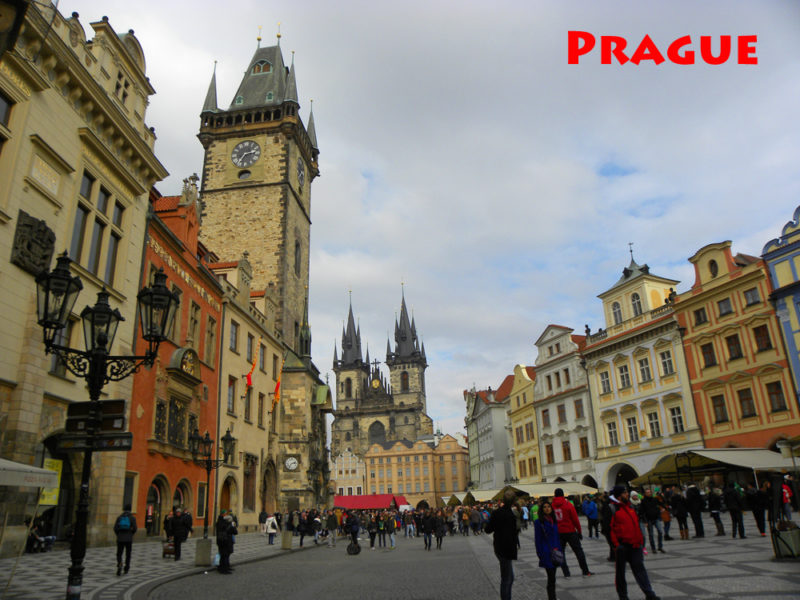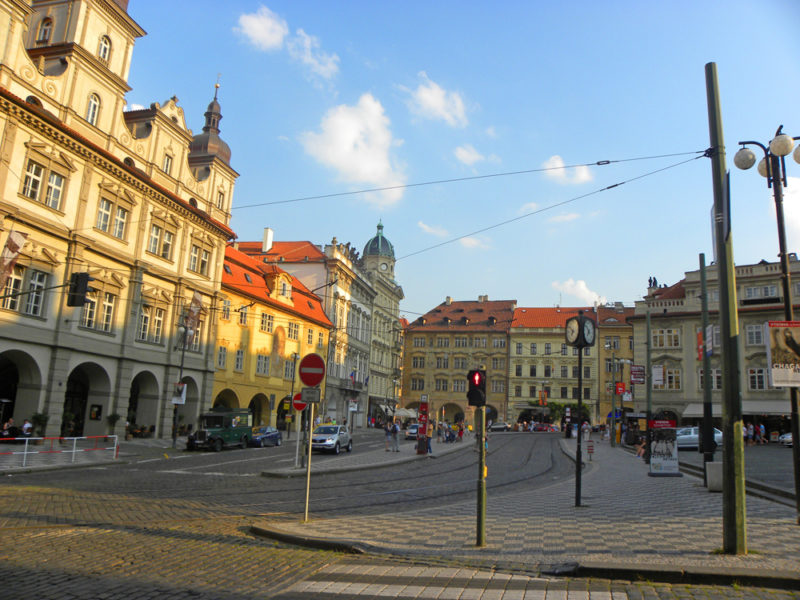 Prague has some incredible squares including one of Europe's most beautiful: the Old Town Square. A huge square with the Tyn Church on one side and the Old Town Hall Tower on the other, it is the most beautiful square in either city.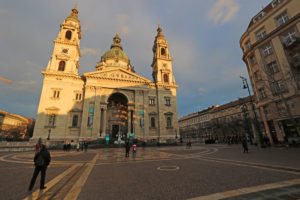 Budapest on the other hand, has Kossuth Lajos Square (in front of the Parliament building) and Heroes Square next to City Park. They are huge, open squares with massive monuments. You can see from the photos above that the styles are very different. It's like comparing apples to oranges.
Winner: Prague (again, sorry). This one is a tight decision but I had to go with Prague because of the Old Town Square. No kidding, it's like stepping into a Disney movie full of colourful gingerbread houses. There's a reason it is consistently listed among the most beautiful squares in Europe.
Update: Yup, I stick with the above
Related: See the wonders of Italy, Prague, Budapest and Vienna
---
---
5) Transport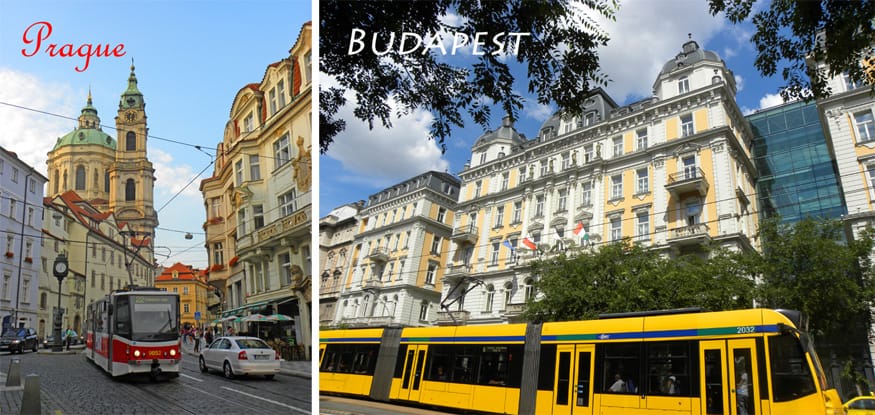 Both Prague and Budapest have fantastic transport systems of metros, trams and buses. I personally love trams and a great experience in both cities is hopping on a tram and seeing the world go by. In Prague tram line 17 and in Budapest tram line 2 run parallel to both city's rivers and offer some of the best views. Video on Budapest's tram #2 here.
Winner: Draw (see below). Both have excellent transport systems and once you've figured out the lines you'll be sailing.
Update: After spending a lot of time in each city, I think I was generous giving Budapest a draw. Prague has a more efficient and more expansive system, especially in the center. I have to give this to Prague. Winner: Prague
Below: I love trams. Here are a couple of videos I made of trams in both cities.
There are many other similarities between Prague and Budapest that even out. Both cities have fantastic statues everywhere. They both have a Communism museum (Budapest's is better than Prague's – but we weren't big fans of either). Both are known for naughty nightlife (but Prague more so), and both have Thai Massage houses everywhere you look (which I never quite understood).
---
---
Differences between Prague and Budapest
6) Drinking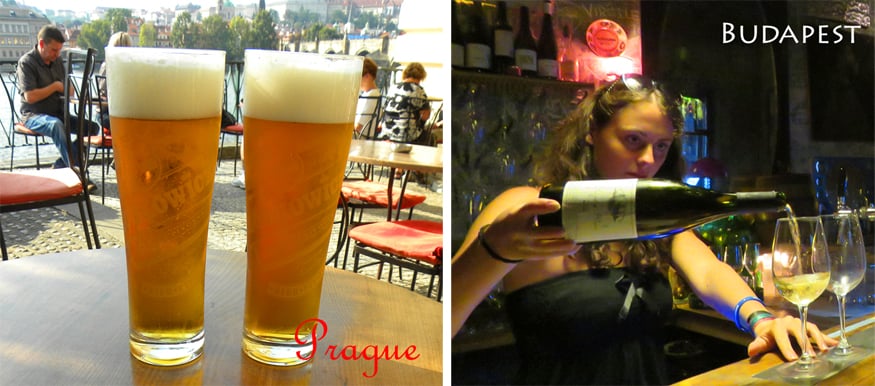 Prague is known for great, inexpensive beer. If you're a beer drinker you'll love Prague (tip: go to the Strahov Monastery Brewery for home made beer).
Budapest is known for wine and you'll find wine bars everywhere (DaVino is a great wine bar). So really what wins out depends on your taste. One thing though – you'll always find Czech beer in Budapest bars. They seem to be the favorite beer on tap.
Winner: Budapest. Beer is great, but nothing beats good wine. And in Budapest you can drink both.
Update: I'll stick with the above. Hungary has good wines – if you need proof go to Eger (we spent a week there, it's famous for wine and thermal baths).
---
---
.
7) Overall beauty of the city
Here is something everyone visiting Prague and Budapest should know. Both cities have equal amounts of beauty, but Prague's beauty is more concentrated. In Budapest it is more spread out.
In Prague everything from the Old Town and Lesser Town, all the way up to the Castle District, is gorgeous. You'll see beautiful buildings everywhere, churches, statues, and always a spire or a tower. It's a large area but the beauty is concentrated. You won't find one ugly building. But step outside the Old Town into the newer town and you'll see the unattractive buildings that mark every city.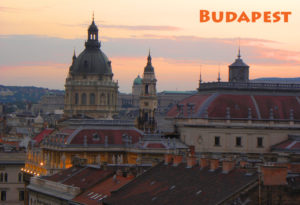 In Budapest everything, including tourist sites of interest, are more spread out and interspersed with buildings old and new, some quite unattractive. Budapest is grittier, poorer, and less manicured than Prague. You'll see the same beauty but you'll have to look for it a bit harder.
Winner: Prague, just because of the sheer concentration of beauty.
Update: Yes, Prague no contest
.
---
---
8) Crowds

Both photos above are of Prague. Look at the number of people on the Charles Bridge. I've mentioned the concentration of beauty in Prague – the problem with that are the sheer number of tourists walking exactly the same route. It basically starts at the Powder Gate, goes down to the Old Town Square, continues to the Charles Bridge and across to the Lesser Town and up the hill to the Castle District. It can be crazy and maddening.
You won't see the same concentration of crowds in Budapest just because of the way the city is spread out. The largest numbers you'll see will usually be at Fisherman's Bastion, on touristy Vaci street and in the bar-packed Jewish quarter.
Winner: Budapest, because of the lack of crowds.
Update: I'll stick to the above but on our last visit to Budapest we were shocked by all the tourists packing the streets of the Jewish quarter. Budapest has become much more popular among foreign tourists in recent years and both cities now get crowds.
.
9) Friendliness of locals
We didn't find locals in Prague very friendly. I examined that in this post. They're generally a little detached and grumpy (although we did make a few friends).
Budapest was very different – we found much people much more engaging. The level of English among younger people is very good, something you don't see in Prague. We met a lot of really nice people in Budapest that we already miss. (The man next to the taxi above was our Airbnb host, Lazslo. Sweetest guy).
Winner: Budapest. Easy.
Update: I'll stick to the above but I'll also mention that the 'friendliness spread' is not what is used to be. Czechs can be friendly (outside the center) while citizens of Budapest have maybe gotten tired with the foreign party-goers flocking to the city.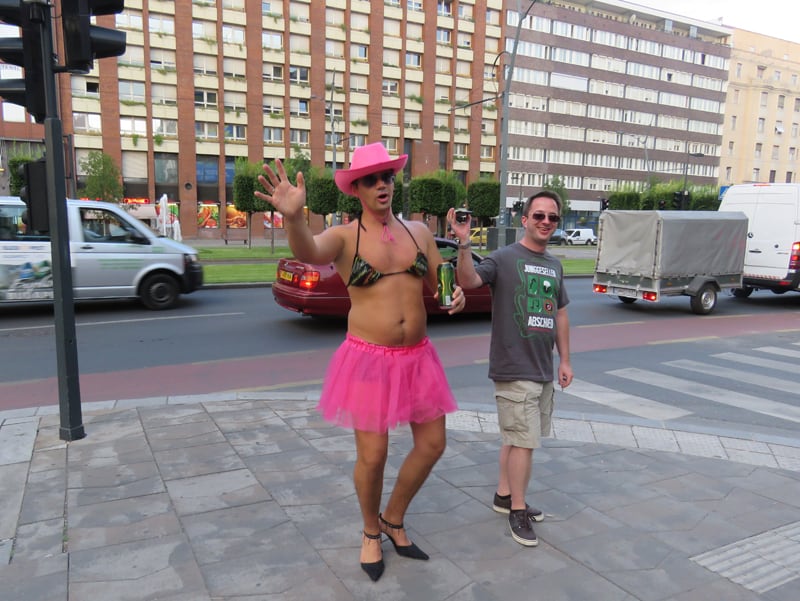 ---
---
.
10) International flavour, food and the general feel of the city
Although you can find almost anything in Prague, it doesn't measure up to Budapest in terms of international flavour. Sure you can find Irish pubs, fish and chip restaurants, even a few Indian restaurants – but mostly you'll see the usual Czech fare of sausages and other different forms of pork. If you're vegetarian you might find yourself stuck with fried cheese. Prague feels Czech (and I'm not saying that there's anything wrong with that 🙂 ).
Budapest feels international and cosmopolitan. There's more of an ethnic mix in the people. You'll find anything food wise: Turkish kebab restaurants are on almost every block, you'll find sushi, Indian food and lots of other international cuisine. Within 2 minutes walk from our apartment we had a gym and a yoga studio. Budapest is young, cool, hip & happening.
Winner: Budapest. In many ways Lissette said that it reminded her of New York.
Update: again, I think both cities have become more cosmopolitan in the years since my 1st comparison. But I'll stick with Budapest.
.
.
---
---
Things unique to each city
11) Budapest – Thermal Baths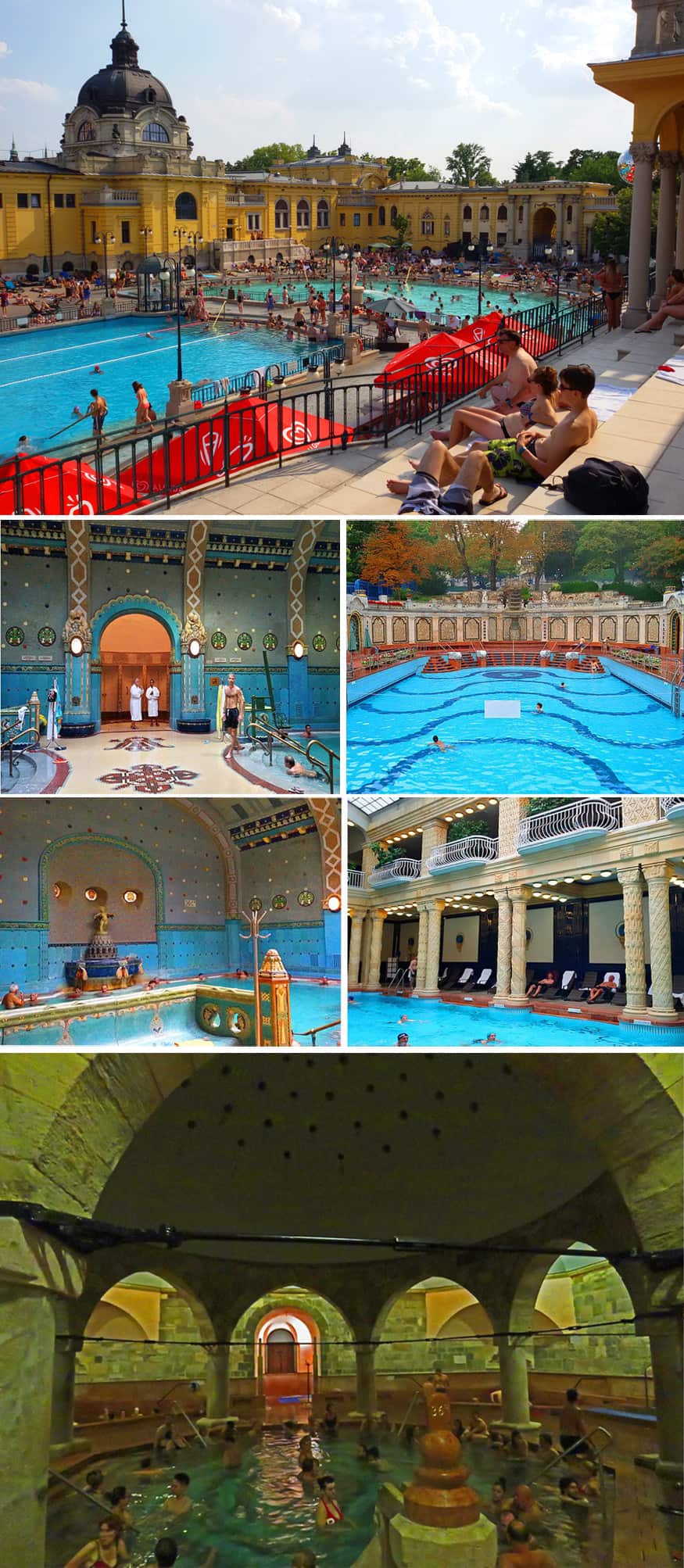 Budapest is the city of Thermal Baths. There are 15 in the city open to the public, some dating back to Ottoman times. Water temperatures generally range from 34 – 42C. We made it to the Széchenyi, Rudas, and Gellert baths on this trip (Rudas was our favorite). We loved Budapest's thermal baths and the city wins points for this unique characteristic.
Point to Budapest for Thermal Baths.
---
---
.
12) Prague – Towers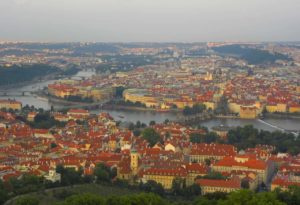 I'm a tower freak. The first thing I look for in a city is for a tower to climb. Prague has lots of fabulous towers with fantastic views. I did a whole post about them here. The only comparison in Budapest is the dome of St. Stephen's church. No comparison to Prague.
Point to Prague for Towers.
---
---
.
13) Budapest – Cafés and Ruin Bars
Prague has some nice coffee houses, but no city has coffee houses that match the ones in Budapest (I did a whole post on them here). As far as ruin bars go, they're unique to Budapest. You could have a whole vacation doing nothing but exploring ruin bars (a post on ruin bars here). Overall, Budapest is a great place to sit down with a coffee or beer.
Point to Budapest for its cafés and ruin bars.
---
---

Looking for accommodation in Budapest? My preferred area is around the Astoria area (you're centrally located and in walking distance to the Old Town sights as well as the ruin bars). An excellent budget suggestion is K9 Residence. Two great Mid-range options are City Centrum Apartman and Roombach Hotel Budapest Center.
---
---
.
14) City with more 'must see' sites.
I've covered in passing most of the Top sites in Prague: the Old Town Square, Charles Bridge, and the Castle District. This Top 3 are not only the top sights in Prague but also among the top sites in all of Europe. In Budapest I've mentioned the Royal Palace, Fisherman's Bastion, Heroes Square and the Chain Bridge. And I have a photo up there from Gellert Hill. But one city has a few more additional 'must see' sites.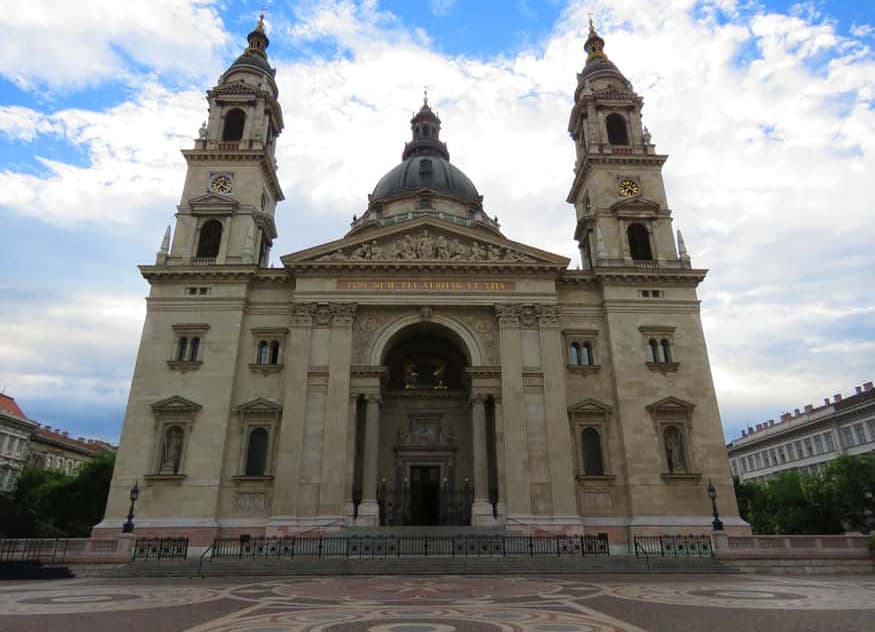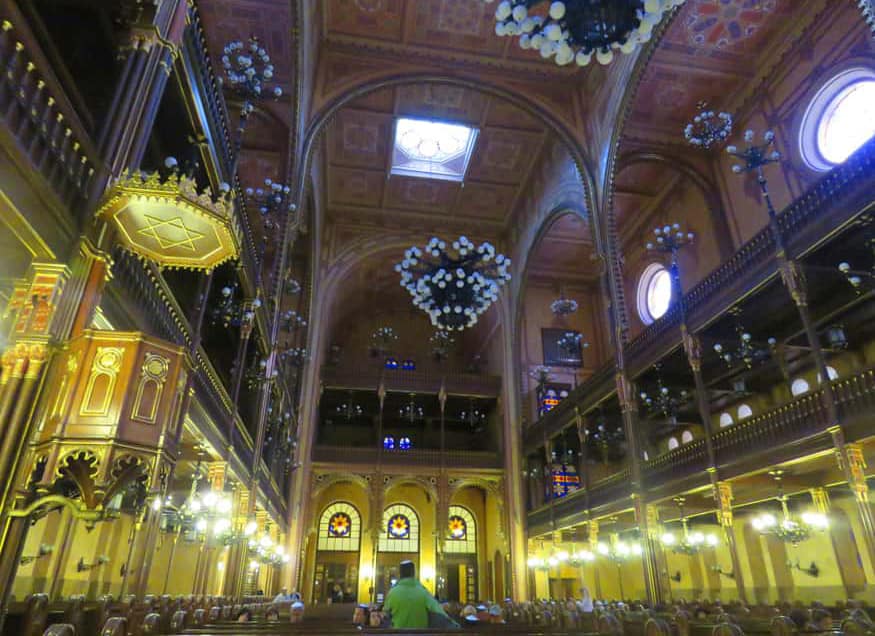 Budapest has the Parliament building (the largest building in Hungary), St. Stephen's Basilica (a beautiful church – the views from the dome are the best in Budapest), and the Great Synagogue (the 2nd largest in the world).
Point to Budapest for being the city that has more 'must see' sites.
Update: Both cities have so many sites and listing them and ranking them against each other is very subjective. Since our first post we've explored both cities in much more detail and honestly I don't know which has the most "must see" sites. I do think however that Prague's highlights are just a bit more impressive than Budapest's highlights. I'll give this category a DRAW.
---
---
.
Therefore, according to my very subjective criteria, Budapest squeezes out a win over Prague by 7-6.
Update: My new tally above makes Prague a 7-6 winner over Budapest.


.
Does it mean I prefer Budapest to Prague? No. Actually Lissette and I have had arguments about our favorite of these two cities. Prague just impresses me more. Budapest may have more sites of interest but the overall beauty of all of the Old Town and Lesser Town in Prague is incredible. Prague is a fairy tale city and if you go by 'things to see' the quality beats out the quantity in Budapest. I remember writing our feelings after our first month in Budapest. We honestly felt underwhelmed because we were comparing it to Prague. It felt dirty and there were too many bums on the street. But it's funny how quickly perceptions change: we met locals we really got to like and started exploring more cultural things like cafés, ruin bars, thermal baths and wine bars. Budapest is fun and I slowly got to really like (maybe not love) the city. Lissette on the other hand will tell you that she much prefers Budapest to Prague: it reminds her of New York. The city is multi-cultural and cosmopolitan. And decadent. A few more months here and she says she would always be out drinking and smoking. And she'd probably get a tattoo. It's that kind of city.
So even we can't agree.
UPDATE 2022: We now both agree that we prefer Prague. We never tire of Prague, it's a place we've been to 6 times for a total of 7 months. We love the district of Vinohrady where we rent an apartment from a journalist friend. We could live in Prague.
Budapest is a great city but we've tired of it honestly. Our last two visits we were a bit disgusted by the young partygoers who've 'discovered' the city. We also found the city more dirty than ever, again (I believe) because of the number of tourists. It's still a great city but recent visits have taken the shine off for us.
.
So, my recommendation?
If you have to choose:
Go to Pragueif you only have a few days and want to see one of the most beautiful cities anywhere. You can't beat Prague's highlights. See my list of 50 Things to Do in Prague.
Go To Budapest if you have a little more time and want to spend time doing cultural stuff (as well as sightseeing). Budapest is really a fun place and nothing beats drinking in ruin bars or soaking in thermal baths. What to see and do (and what to skip).
But, if you can, visit both cities. They're both fantastic and only 7 hours away from each other by train.
Update: that hasn't changed. Both great cities, both should be visited.

Prague or Budapest? What's you favorite city?
.
PS. Looking to book flights, hotels, tours, or rent a car? Have a look at our Travel Resources page.