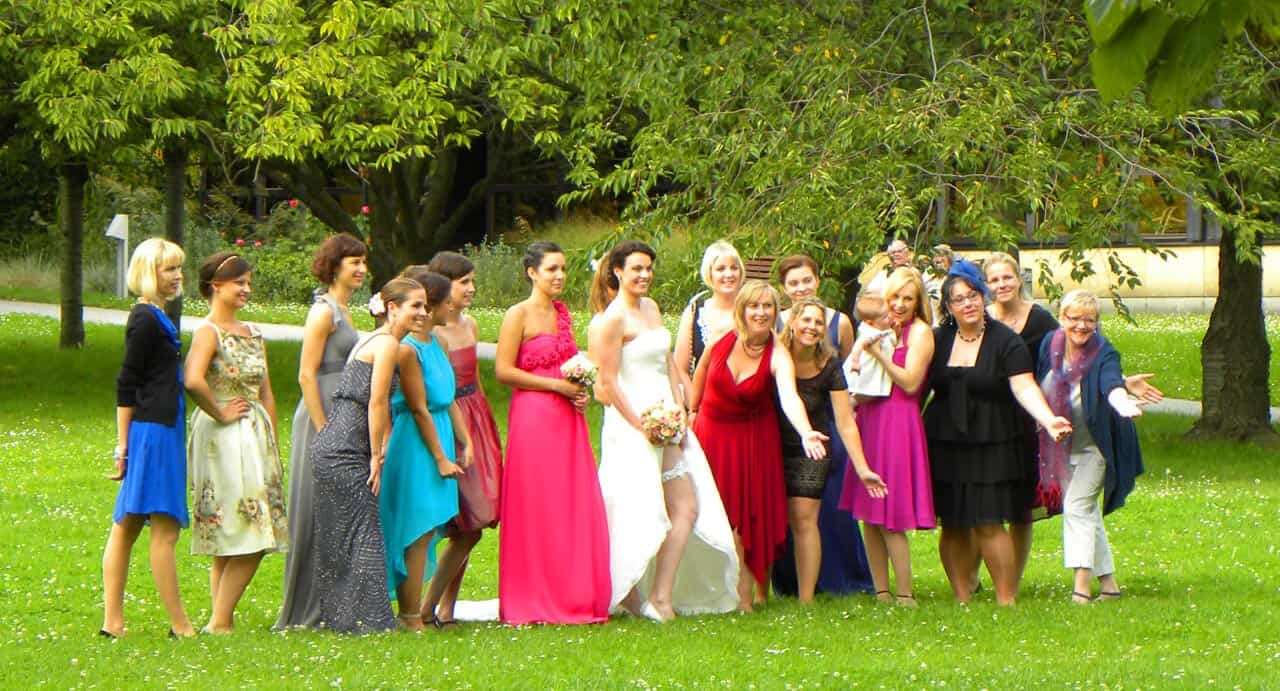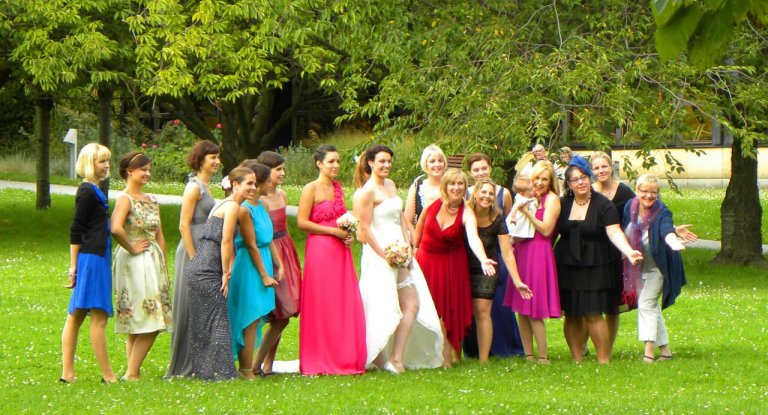 Germans and Czechs on the friendliness scale
It's funny how things can be so different when crossing that imaginary political line called a border. Just 2 hours from Prague is Dresden in the former East Germany. We'd forgotten how rich everything feels in Germany. Everyone looks happy, healthy and full of life. The Germans dress well and, well, they smell great too. The shopping malls glitter, the people are smiling and friendly. There is an air, an atmosphere about Germany that is so much lighter and friendlier than what we that found in the Czech Republic. I don't mean that as a slight against the Czech Republic – we've ended up really enjoying Prague and have met some very nice people along the way. But Germans are by nature so much easier to like.
Spanky mentioned to me on our 2nd day in Dresden that I seemed more comfortable and friendly in Germany. She suggested that it was because I was "in my tribe"; both my father and mother were born in Germany (Germans immediately spot me as one of them even though I don't speak the language). I thought about what she said. And concluded that she's wrong in her hypothesis. I'll describe why with a couple of examples from just the past week.
---
---
.
Prague.
Example 1. Last Monday we passed by the Franz Kafka museum. I went to the lady who sold the tickets and said the obligatory 'dobrý den' ('hello"). She looked at me with that flat, expressionless face that we've frequently encountered in Prague. No 'dobrý den', no nothing. I ask her how long a tour of the museum takes. "45" she says, the only expression on her face being that "I'm so sick of dealing with f*ing idiots like you" look. "45 minutes?" I ask. "45" she repeats looking at me while rolling her eyes. I say thank you and go outside to get Spanky. I want her to witness firsthand how bitchy this woman is. We come back in and I give her my biggest smile and ask for 2 tickets. She takes my money and throws the tickets and change on the desk.
Would this level of service ever be tolerated anywhere else? I've written previously about this Czech state of fed-upness. In this case it was taken to a whole other level.
---
---
Example 2. Last Saturday. We are transferring metros at Florenc metro station, connecting between line C and B. Going down the escalator we see a ruckus on at the top of the escalator going up. There's a baby screaming and parents yelling. I look over to see a baby carriage flipping over, an overweight lady and equally overweight guy falling to the ground at the top of the escalator. Behind them, and behind the baby carriage (which has fallen on its side) – and still on the moving stairs – are a baby screaming its lungs out while flat on its back and a young girl (maybe 7) also on her back but struggling to get up. I run over, throw the carriage out of the way, scoop the baby up with one hand, grab the girl's arm with the other. I help them off the escalator. It was pretty much a Superhero move 🙂 . I look up to see what has happened to the parents. They had gotten off the ground and are busy arguing. If they've noticed me they're not acknowledging my presence. I leave the baby with the girl and join Lissette. I see the family walking away, the parents still in a heated conversation. And I realized that nobody else had moved to help – there had been people before me on the escalator going down but nobody had moved towards them. I imagine either the baby or young girl getting clothing, hair, or fingers stuck in the moving escalator stairs. I shudder at the thought. It reminded me of a couple of situations that we had been in, needing directions or help, where people just walked right on by without acknowledging us. What is that? I've seen so many examples over the last two months in Prague of people just turning their heads away to a situation. I don't get it. Are they just embarrassed to get involved?
---
---
.
Dresden
We came out of the wrong entrance when arriving at the Dresden-Neustadt station. We walked the wrong way for about 15 minutes before turning back. I could have asked someone for directions but I guess I was just too accustomed to being either ignored or shrugged at. I didn't feel like asking. Back at the train station we spotted a city information stand. I told the man working there that we were lost and trying to get to the Altstadt (Old Town). He smiled, gave us tourist maps, and spent the next few minutes explaining the various ways to get to our hotel. We walked out of there remembering all the different reasons we've always loved travelling through Germany, chief among them the people.
This friendliness was a constant in our four days in the city. The girl who would smile and answer all my stupid questions at the reception desk of our hotel, the German-speaking Orientals at our favorite food court restaurant who helped translate the menu for us, the young bartender at the Biergarten who explained the different beers they had on tap.
It wasn't just the friendliness towards us. It was the feeling in the air while in Germany. Germans, generally speaking, just look happy and pretty damn satisfied with their lot in life.
---
---
Ps. Another set of examples; on both the trip to Dresden and on the way back to Prague I helped women get their luggage up to the baggage rack. On the way to Dresden it was an elderly German woman. She thanked me when I offered to help her but didn't seem surprised. On the way back it was a Czech woman with a baby and a heavy backpack. She seemed shocked when I helped her, like it wasn't something anyone would ever do. She was our best friend the rest of the trip. Just our experience or a reflection of customs in both countries?
Coming back from Germany you sense the mood-change when you step off the train. Czechs are a more serious people, they keep to themselves. You could say they are, generally, dour. We've had this conversation with a few Czechs we've befriended. Just a few weeks ago a young lady who works at the local sports store told us that she sometimes gets yelled at by customers because the store either; 1) doesn't have what they are looking for or 2) because they judge prices are too high. "Why do they yell at you?" we asked. She just shrugged.
So why do different people act differently? I've written about Czechs and Germans. How about Italians? Or the Swiss? Again, they run the whole gamut on the friendliness scale.
I've said it before; it doesn't mean the people from one country are better than the people from another. We believe that deep down people are the same all over. We've seen lots of examples of Czechs showing love and affection towards their families and their dogs (see this post on Czech dogs. The Czechs love their dogs more than their kids). What is different is how people act outwardly towards others. And there are a lot of reasons that shape their behavior: history, language, and culture among them.
---
---
Ps. If you find our blog helpful, please consider using our links to book your flights, hotels, tours, and car rentals. Have a look at our Travel Resources page.