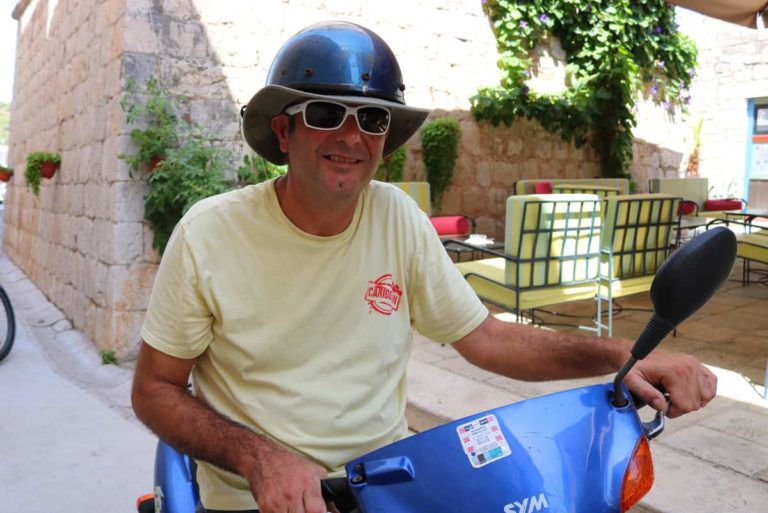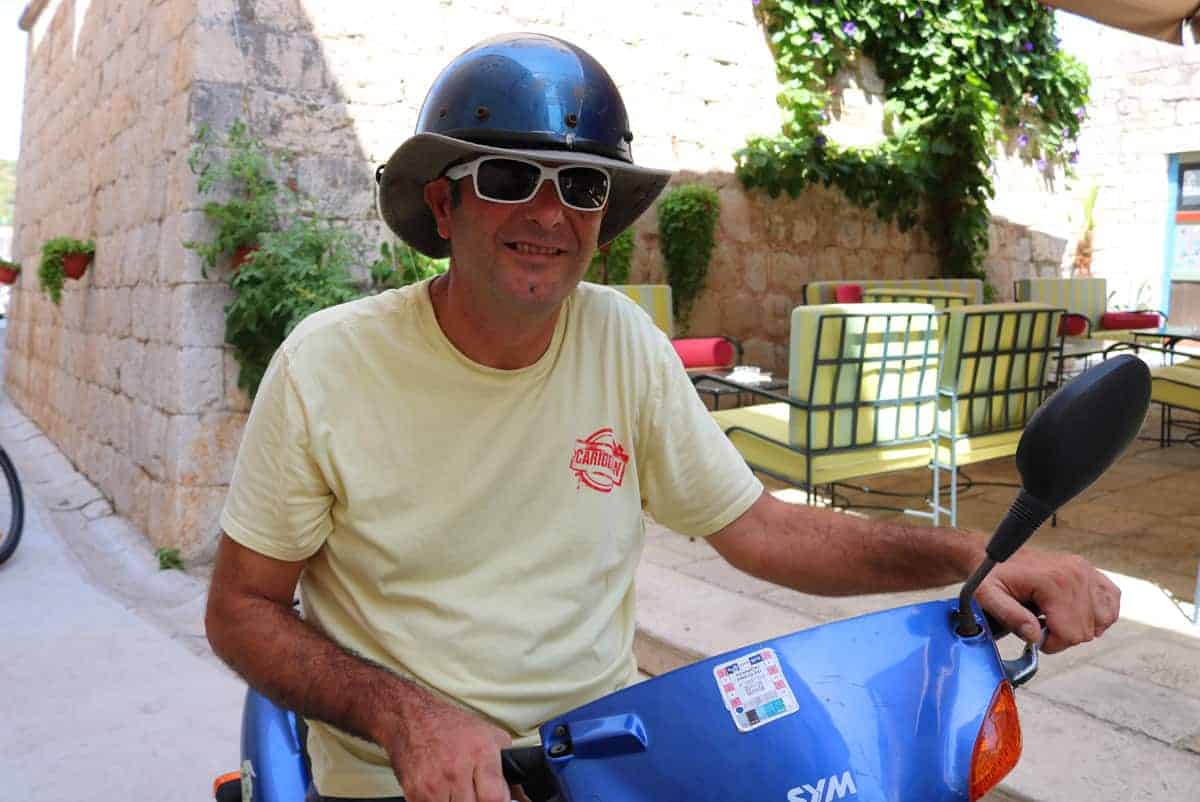 We've met a few travellers over the last few years who had travelled to Croatia and come away with negative impressions of Croatians. They found them rude and charmless.
We've spent a combined 2 years living/travelling in Croatia and while we can understand the above perception of Croatians (especially in the tourist centers and during high season) we've also seen a completely different side to them.
There will be generalizations in this post. And I know not everyone is going to be happy with my points. But no place is perfect and I know our Croatian friends agree with most of my observances.
Special alert: Lissette doesn't endorse of any of my negative comments. She thinks Croatians are perfect. Even their farts smell like lavender. So if you get upset with my comments blame me – Lissette is on your side.
My Good and Bad of Croatians.
---
---
What are Croatians like? The Good

They're welcoming. This is what struck us the first time when we arrived in Croatia in 2015. We arrived at our Airbnb and the hosts greeted us in person with open arms, had a weekend's worth of food for us in the fridge, and bottle of wine on the table. We were charmed right away. This experience has been replicated over and over, especially by Airbnb hosts. I'm not going to tell you that it'll happen if you walk into a hotel or a restaurant…but if you meet ordinary people at their level you might find Croatians to be among the most welcoming people you'll ever meet. Later, as foreigners living in Croatia for a year and not speaking Croatian, we never had that held against us. Only once did we have someone say to me "this is Croatia! You have to speak Croatian!". It turned out the guy was Albanian.
You'll always feel welcome as a foreigner to Croatia.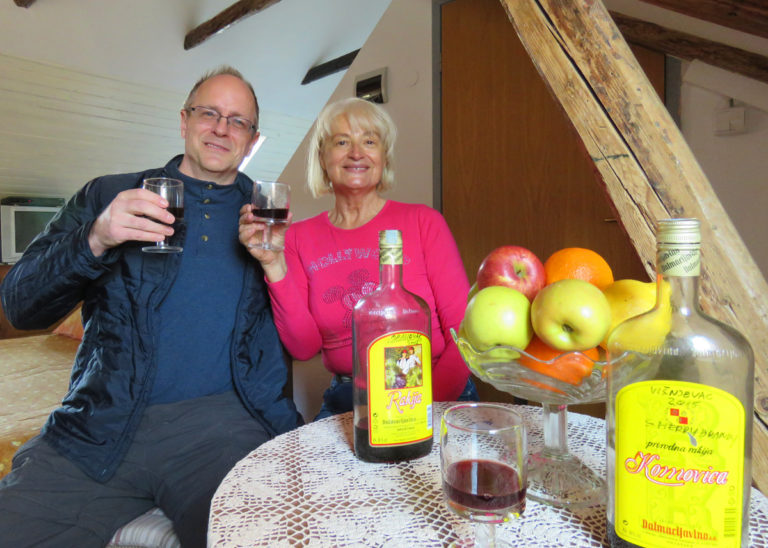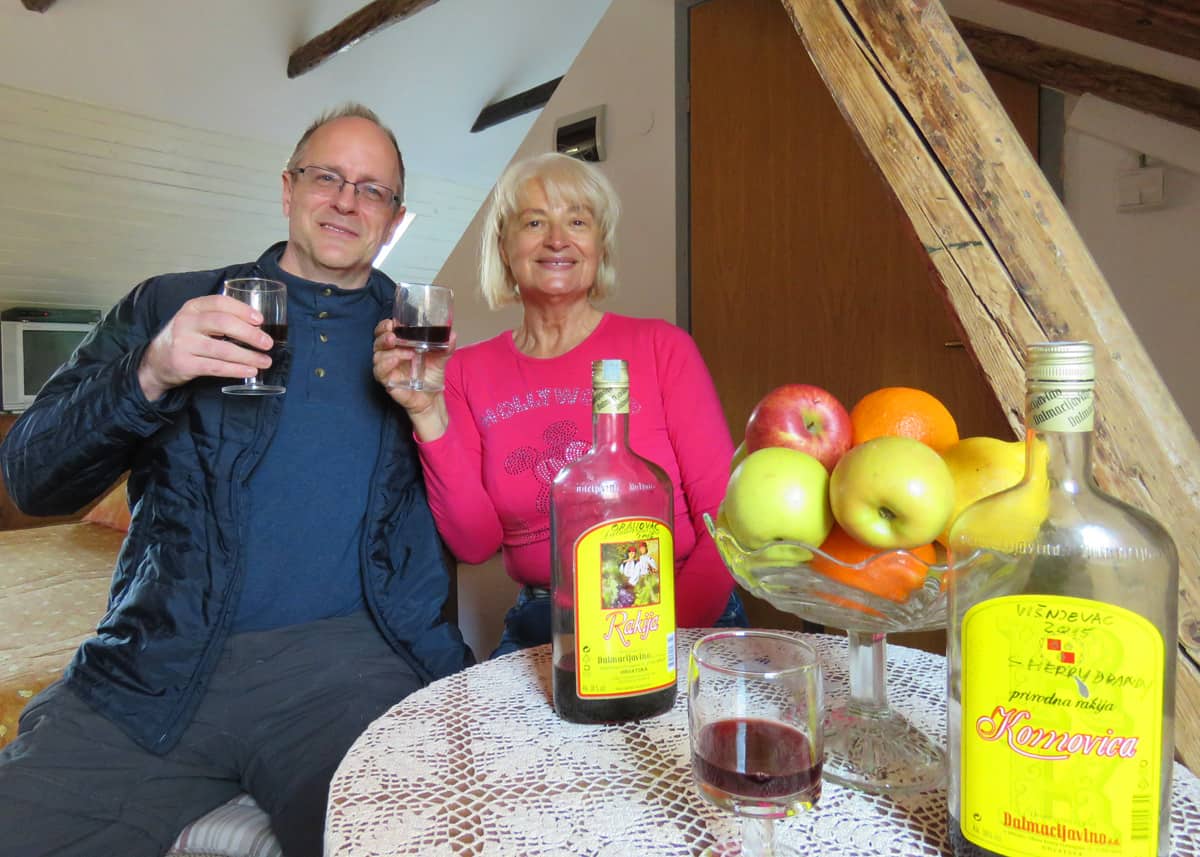 They're Honest. We never ever felt that a Croatian was conning or scamming us. Never. If anything, Croatians we met were always honest. A simple example: grocery stores always seem to lack coin change. They love it if you come in with coins to exchange for bills. Every few weeks we'd come in with a bag of coins and whoever the cashier was, their eyes would always light up like Christmas had come early. The first few times I had always counted the change prior to going to the store but after a couple of experiences, where the cashier would make it a point to count the change out loud right in front of us, we learned to trust them entirely and would just hand over the bag for them to count. This simple example extended to every aspect of life and we never had our guard up in Croatia. Very trusting, very moral people.
Croatia is safe. Croatians are not confrontational or aggressive and never did we ever worry walking around late at night. A very safe society.
---
---
Croatians have a sense of humour. Croatians like to laugh and are self-depreciating. They're good-natured, relaxed and like to play practical jokes. It's not in the Croatian character to be snooty or uptight and if that's your character you'll probably never see their sense of humour. Relax and know that if they make a little comment about you they're (probably) just poking fun at you.
Croatians are generous. Not generous with money because they often don't have a lot of money, but if you're friends with a Croatian you'll often find yourself being invited over for food, wine and rakija. They'll always be too much food and drink on the table. You might have your Croatian friends unexpectedly bring you some fruits or a homemade cake.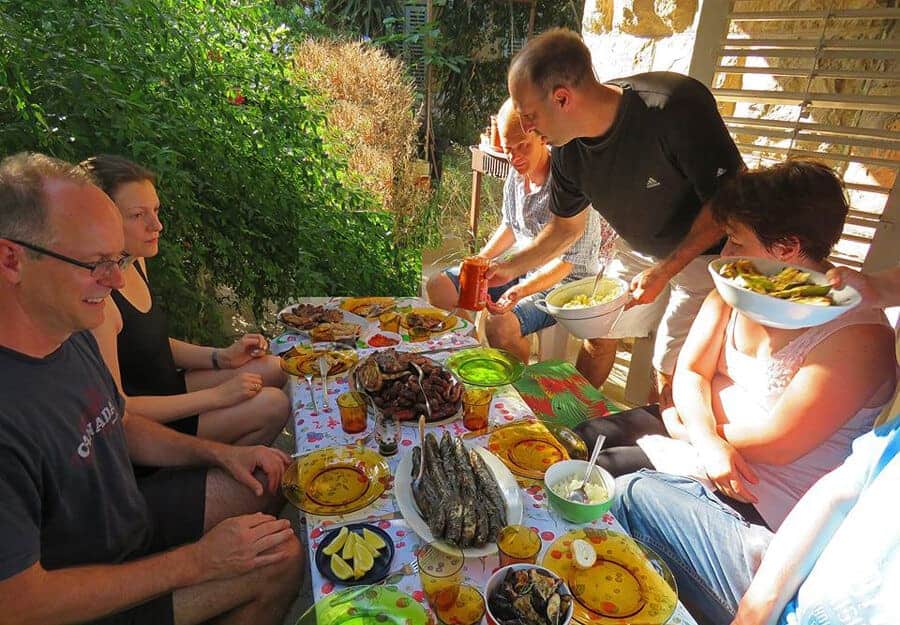 ---
---
What are Croatians like? The Bad
Their social manners could use some improvement. As much as Croatians you meet might be welcoming and generous and all the other traits that I mention, you need only go in public to see some of the negatives. I, for example, hate going grocery shopping in Croatia. Get in line at the cash and you'll always have a Croatian halfway up your ass, huffing and puffing in impatience like he's a doctor with a life-saving operation that he's in a rush to get to. Some bum is always going to come, a single can of beer in hand, and ask if he can pass in front of you with his one item. Then he'll proceed to order a pack of cigarettes and start examining his pockets for money to pay for his items. He'll end up taking longer than you with your 20 items.
Lining up for anything in Croatia is a mess. Croatians don't like to line up. Walking in public is something else that Croatians seemingly have a hard time with – nowhere else have I seen people pretend that a sidewalk is a one-way street for them. It's like nobody else exists. It often drove me crazy.
Croatians are not the greatest neighbors. Having stayed in different Airbnb apartments in Croatia and having had an apartment for a year in Split, we never experienced as many nosy neighbors anywhere. Example: a Croatian friend and I did a 5 hour bike ride from Split to Makarska where we ran into his uncle. His uncle offered us his empty apartment for the night ("you've come all this way. Relax, enjoy Makarska and ride back in the morning"). I told you how generous Croatians are. When we arrived at the apartment block a woman, the self-appointed building guardian, saw us and gave my friend a hard time, asking who we were and what we wanted. He started out nice but after a few too many questions he got upset and ended up telling her to mind her own business. That's just one example of many.
In some countries people want nothing to do with neighbors and avoid them at all cost. In Croatia we felt that neighbors were always spying and implying themselves in our business.
---
---
Anything official… Try getting anything official done in Croatia. All the nice things I say about Croatians don't apply when dealing with government officials (with a few exceptions). We learned that when applying for our 1 year Temporary residency and we feel bad for Croatians who have to deal with official stuff on an everyday basis. It makes you realize how lucky we are to have efficient government in other countries.
Croatians complain against their government all the time. But as a foreigner you're not allowed to say anything because Croatians suddenly get very patriotic when you say anything negative no matter how true.
Racism, homophobia and sexism. On our 1st trip I remember a Croatian we know laughing as he told the story of Split's first gay pride parade where the local football club came out to pelt "the gays" with rocks. I was shocked. But that was in 2015, 5 years ago. Things must be changing, right?
Well, last year we were back in Split and one day we noticed that the police were out in full force. We had never seen so many police around in Split. What were they doing? Well, it seems the gays were at it again. We came out hoping to see the parade but it never passed. We heard later that it had been delayed by 3 hours. Police precautions? I don't know…
Racism. I don't think that Croatians are inherently racist. But they'll make jokes about races that you don't hear in more politically-correct places. But again, I don't think Croatians are any more racist than anyone else – if you hear something racist it is often because of the language factor or because having different races come to Croatia is still relatively new. Perfect example: a few years ago we were in a taxi with a young taxi driver and we were talking about the different nationalities that vacation in Split. It used to be mostly Germans and Eastern Europeans but with time that's changed as Croatia has become more of an "up-market" destination. Now Croatia gets a lot of Scandinavians, British, Americans, Koreans and even Indians. That's when the young driver said it: "I don't care where people are from, they can come from anywhere I don't care. I like them all. I like the Asians, I like the Niggers. I don't care, they are welcome!"
We looked at each other in shock. There was obviously no malice behind his comment, he just didn't know. In hindsight we should have corrected him because who knows who he says that to next time…
Just know that Croatians are conservative and that things like homosexuality and dealing with different races are new things to them.
Miscellaneous. Tons of smoking, constant yelling into cell phones, and aggressive drivers who if not yelling into their phones are texting while driving. If Croatians could text, smoke and eat a burek all at the same time while driving they would.
---
---
I guess the common thread to my negative points is that Croatians are a little rough around the edges. But you can really say the same about many Eastern Europeans. See this post: Are Eastern Europeans unfriendly? As I say in that post, it's all about what you're used to.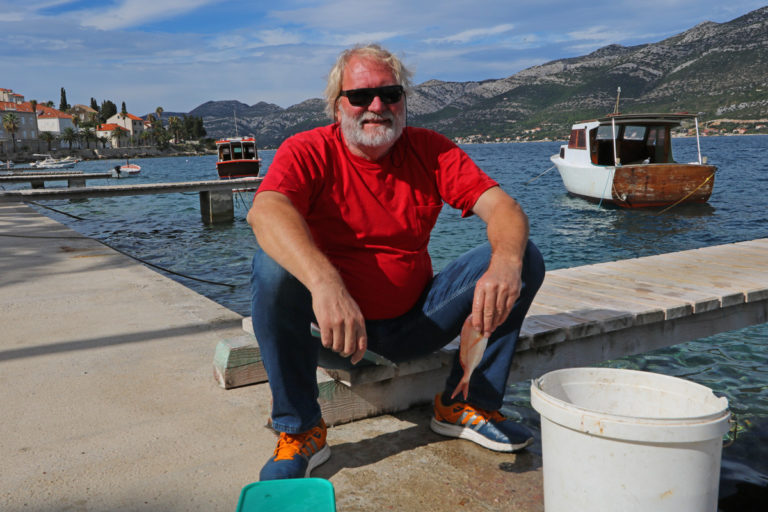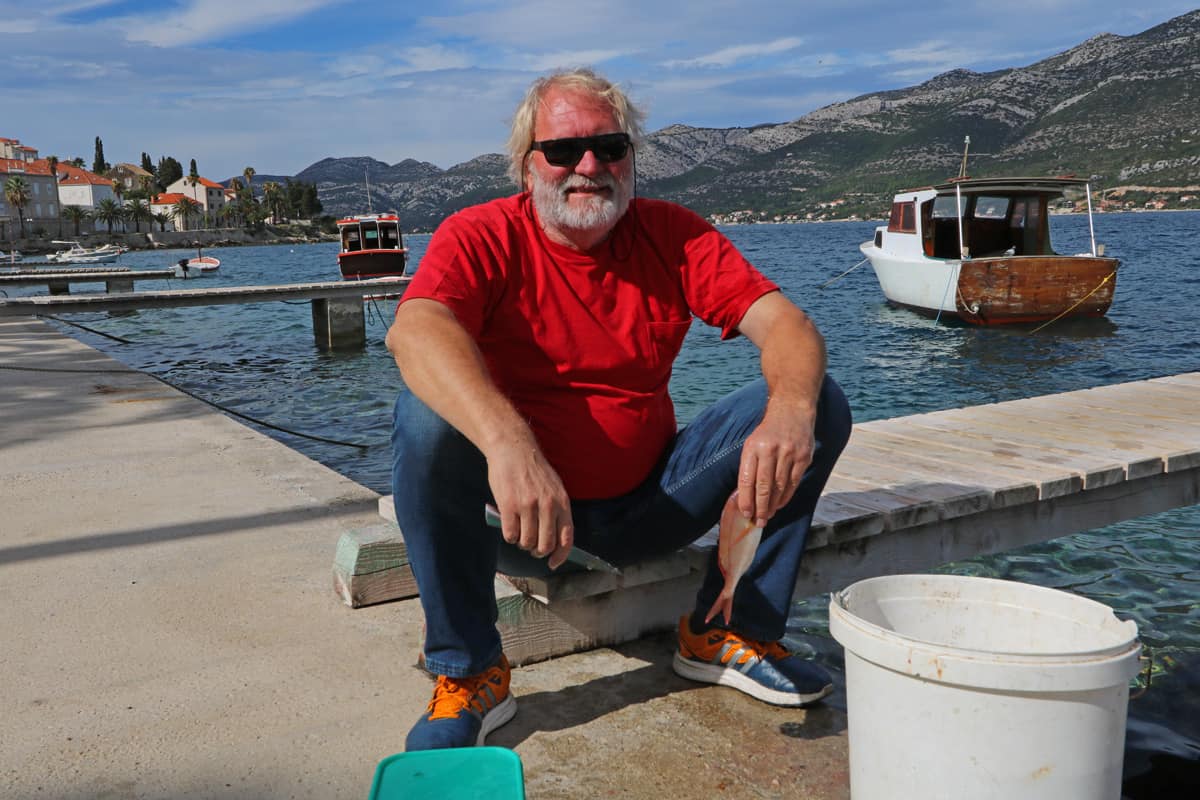 ---
---
Summing it Up
The key to getting a good impression of Croatians? Meet locals. Stay in an Airbnb where you'll meet 'real' Croatians. Do your shopping in places Croatians shop. Croatians always treat foreigners better than they treat each other. Don't be shy. Yes, some of the little day-to-day things can be a little stressful but I can't tell you how many great interactions we've had with people who we've met and who went out of their way to engage with us.
This post isn't meant as a slam on Croatians. As I said up top, no place is perfect and if you're one of those visitors that came away finding Croatians "rude and charmless" I hope I've given you perspectives on a different side to their character.
And again, Lissette loves Croatians. Somehow, even all the "negatives" just give them even more charm in her books…
Have you been to Croatia? What were your experiences?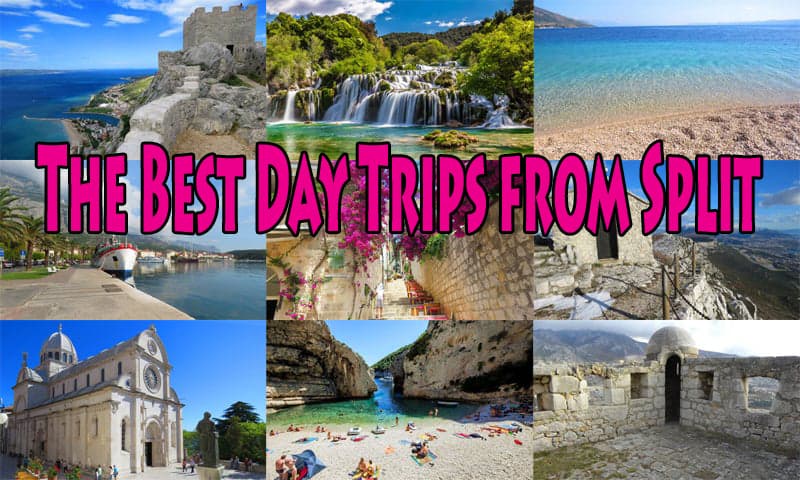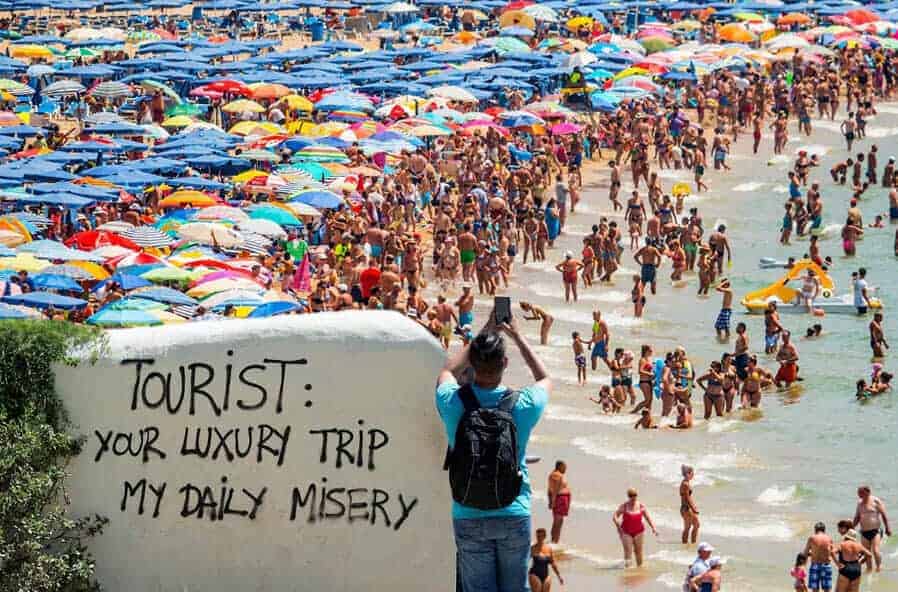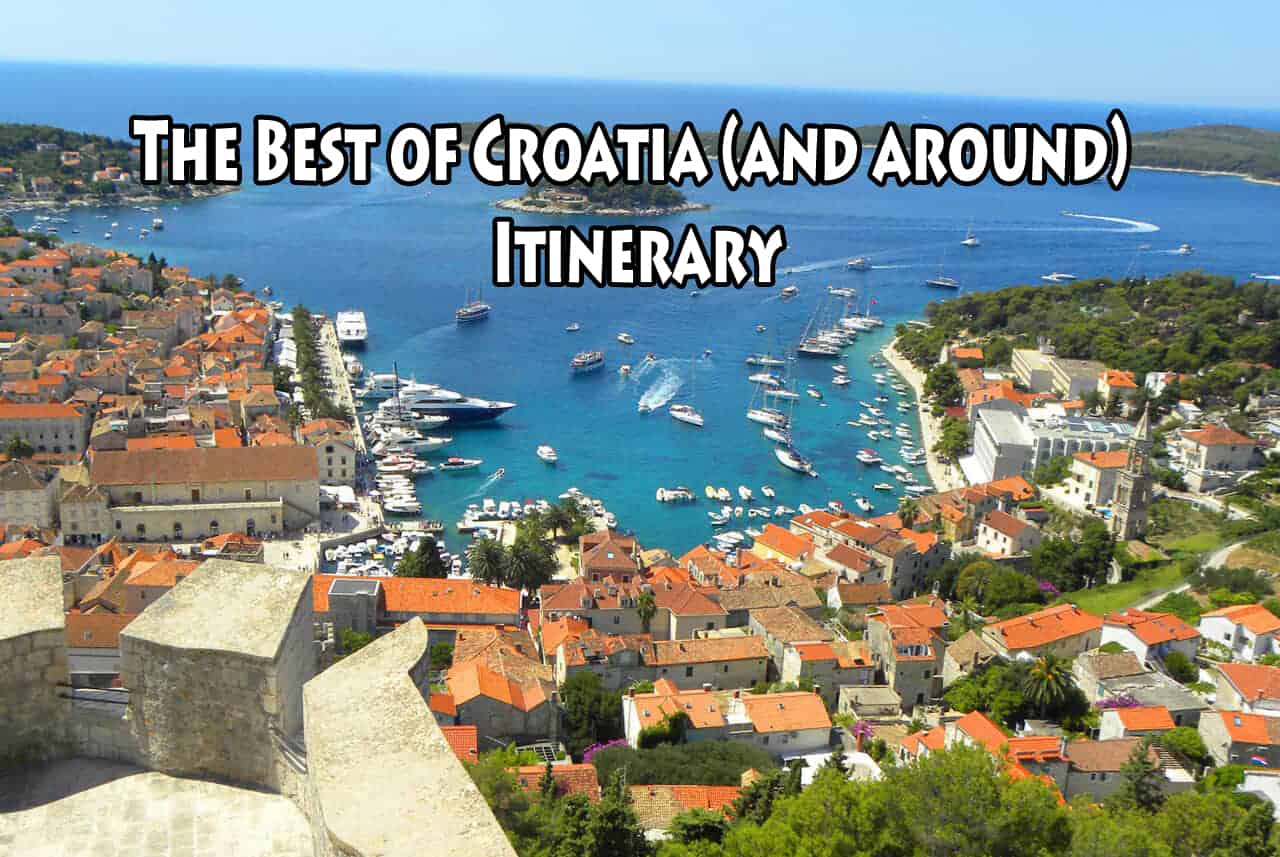 Ps. If you find our blog helpful, please consider using our links to book your flights, hotels, tours, and car rentals. Have a look at our Travel Resources page.