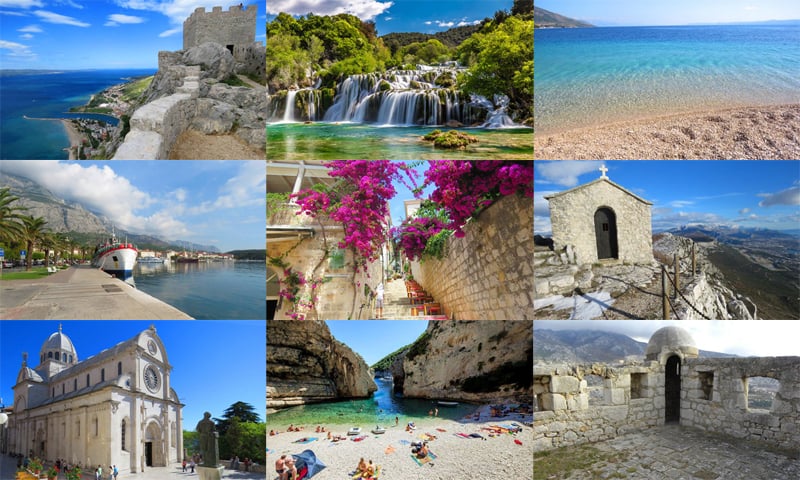 The Best Day Trips from Split
I often see posts on the internet suggesting day trips from Split to places like Dubrovnik, Mostar, Plitvice Lakes and Vis. Unless you want to be travelling 5 or 6 hours and spending 3 or 4 hours visiting a place that deserves at least a full day or two, don't do day trip to these faraway places.
In this post I'll give you reasonable Day Trip ideas from Split with practical information on how to get there. It'll include some popular and 'must see' tourist spots, some lesser-known destinations that I really like as well as some of my favorite hiking spots around Split (which you can do without taking an expensive tour).
Omiš
My favorite day trip when we lived in Split. Omiš is a pretty small town with some very dramatic geography. It's where the Cetina river flows from the mountains behind town to flow into the Adriatic (in the 15th century Pirates would hide upriver and then come out to plunder ships coming down the coastline).
It has a nice beach and interesting old town, but my highlight are the 2 fortresses in town which have incredible views. In town itself is Mirabella fortress, a 12th century fortress which served as a lookout for pirates. It's an easy climb with fantastic views. The other fortress is Starigrad Fortress (also known as Fortica). It was built in the 15th century by the then Kingdom of Croatia to repel Ottoman attacks on the coast. It's a strenuous 45-minute hike that is worth it – the hike brings you to a vertiginous peak which looks down on the town and coast below. Incredible views.
Besides the above hikes, Omiš is the spot for adventure sports on the Dalmatian coast. You can do canyoning along the rugged gorges and waterfalls of the river, raft through rapids, free climb up the huge limestone cliffs, or do kayaking along the coast. Omiš also has the longest zip lines in Croatia.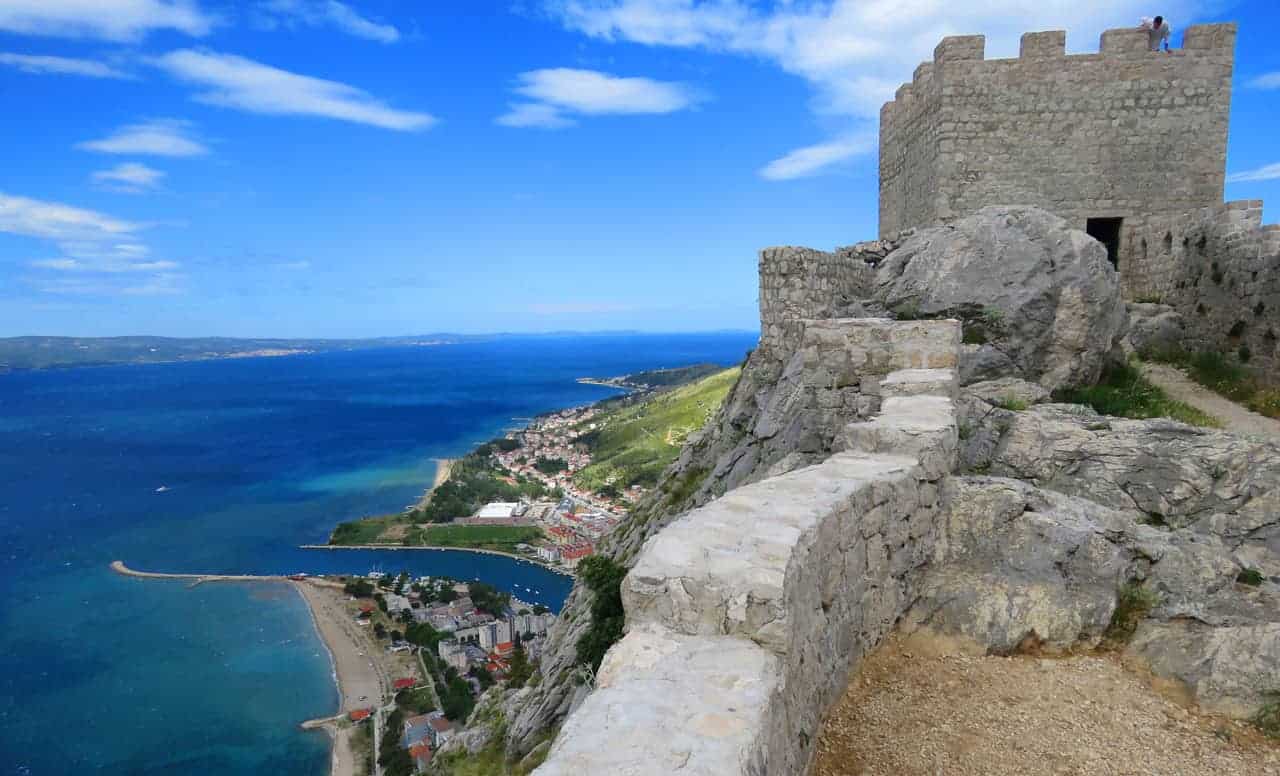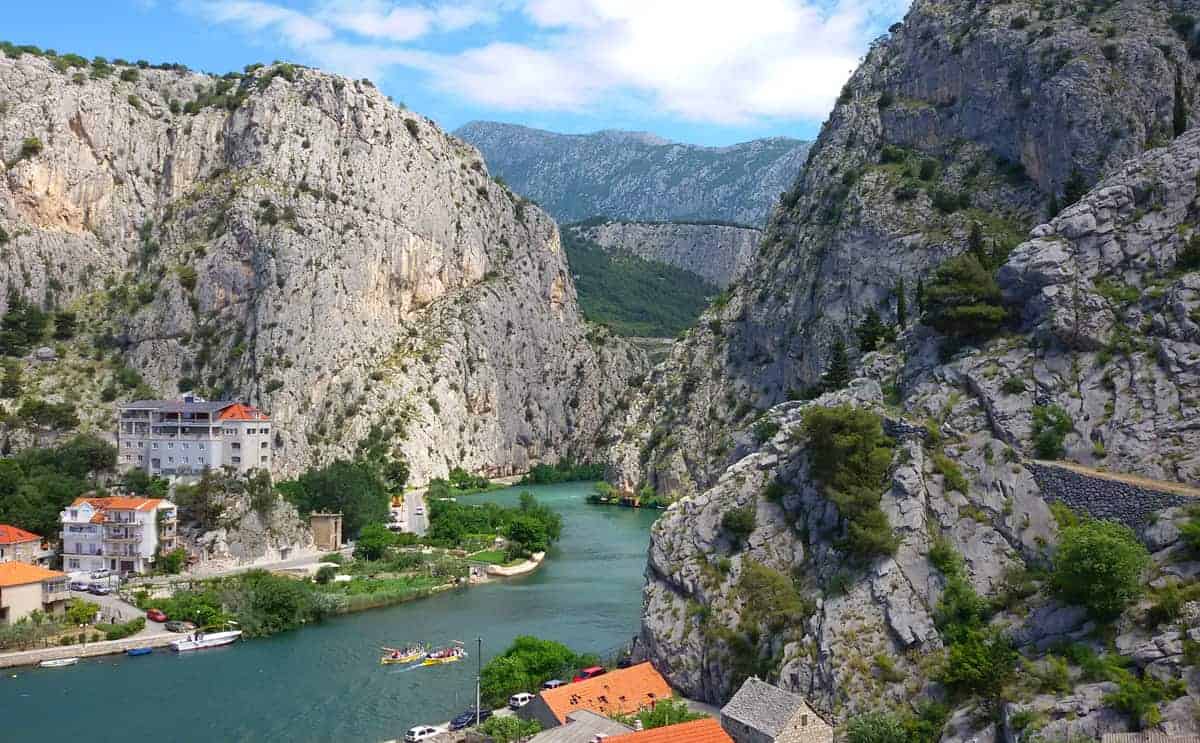 More on Omiš: A visit to Omiš: Croatia's Adventure Capital
Getting to Omiš: You can take the 60 bus located on the main road just behind Split's green market. It will usually take about 30 minutes but can be more in the summer when there's a lot of traffic along that stretch.
If you want to see something unique just outside Omiš, go to the Mila Gojsalić statue (sculpted by famous Croatian artist Ivan Mestrovic ) in the mountains behind the city. It's best done by car…but I hiked up there and thought it was pretty incredible. See: A hike to the Mila Gojsalić statue
---
---
Makarska
Further down the Croatian coast from Omiš is Makarska, home of what I think is the most fabulous coastal geography in Croatia.
Makarska is beautiful and you can enjoy the town and the beauty of the mountains if that's what you want to do. Walk around town and the Riva, visit St. Peter's peninsula, enjoy the beaches. It's all fantastically beautiful.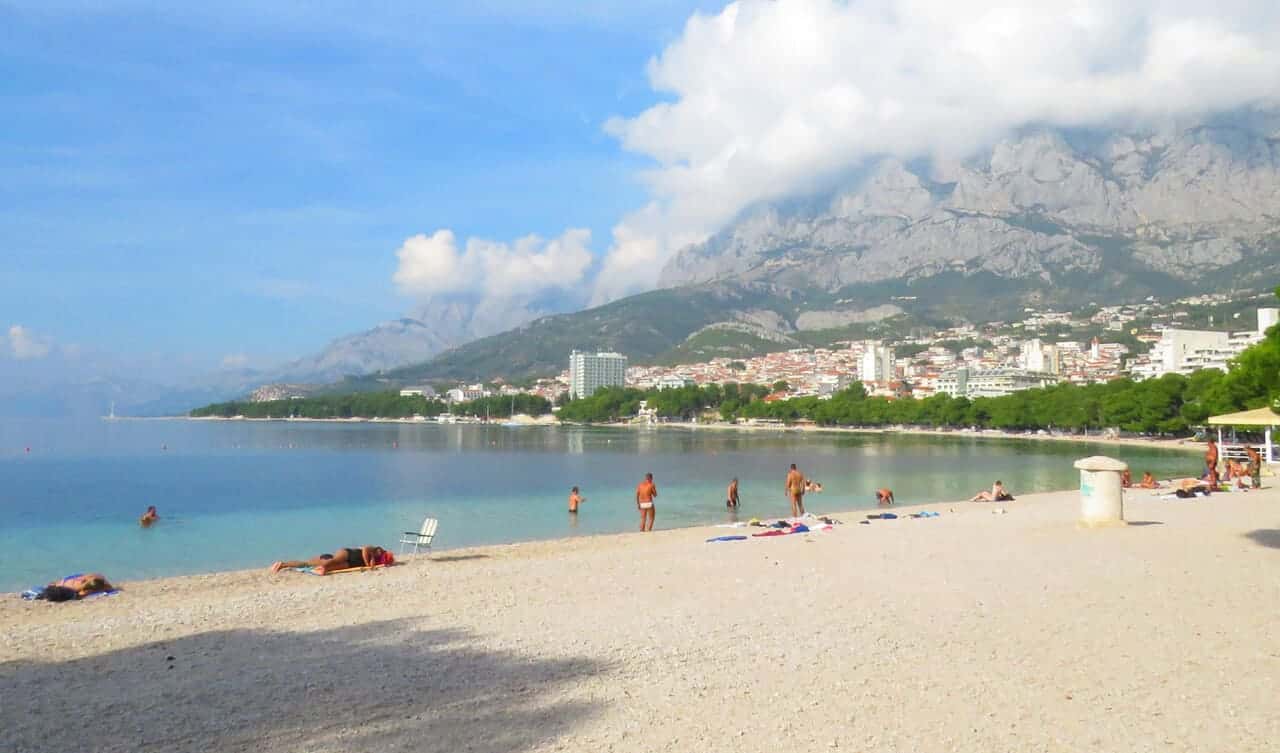 See my post: Why you HAVE to visit Makarska
But if you're feeling adventurous either hike or drive up Mt. Biokovo (the huge mountain looming over Makarska). If you drive up (if you have a car), it is one of the most stunning experiences you'll see anywhere in Croatia. Biokovo is the 3rd highest peak in Croatia and has the highest road in the country (bringing you up to Sv. Jure at 1762 Meters high). It is a fantastic experience. See this post detailing that.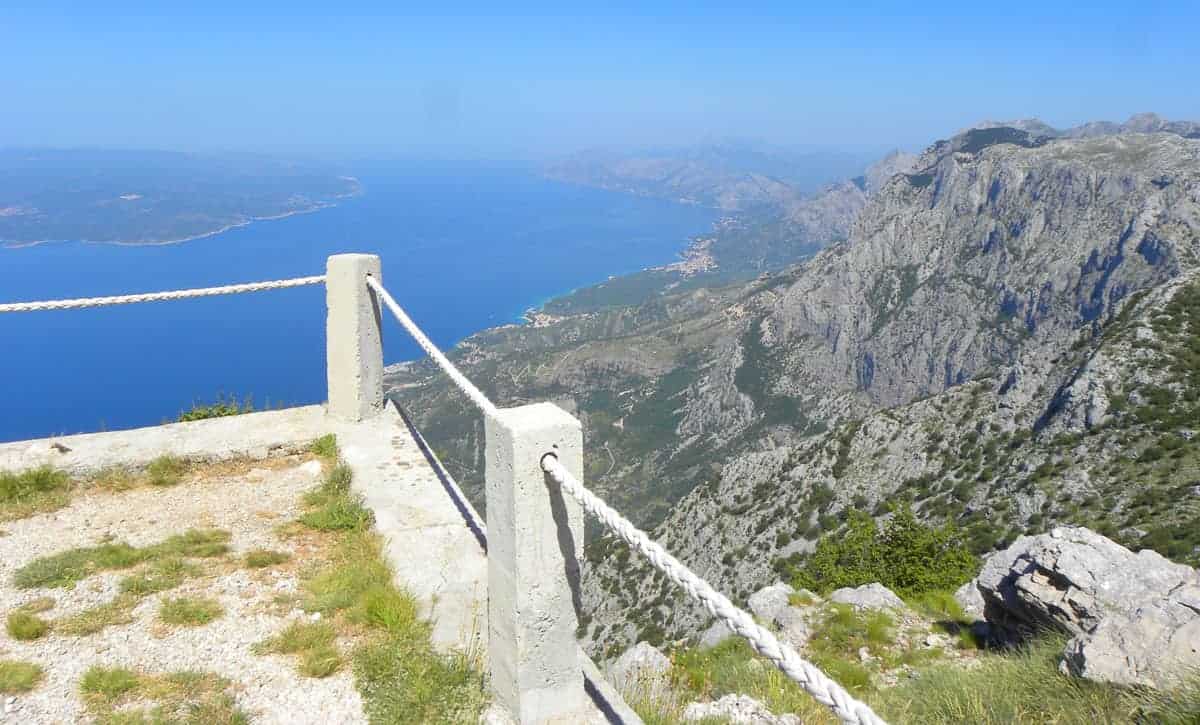 If you don't have a car, you can take a tuk tuk tour to the new skywalk they have at the 1228 m mark.
If you're up for a challenging hike, you can hike from Makarska to Vošac peak (at the 1422 m mark) in 3-4 hours.
Getting to Makarska: go to Split's bus station near the pier. There are regular buses to Makarska (it's on the route to Dubrovnik) and it will usually take about 75 minutes.
---
---
Trogir
Trogir is a "must-see" and a very easy day trip from Split. It's a UNESCO World Heritage site and is one of the best-preserved medieval towns in all of Europe.
See the St. Lawrence Cathedral, climb the bell tower, see the Venetian-era sights along the main square, explore the Riva and see the Kamerlengo Fortress. But Trogir is about more than specific monuments – the best way to appreciate the town is walking around its narrow alleys. You'll feel like you stepped back in time.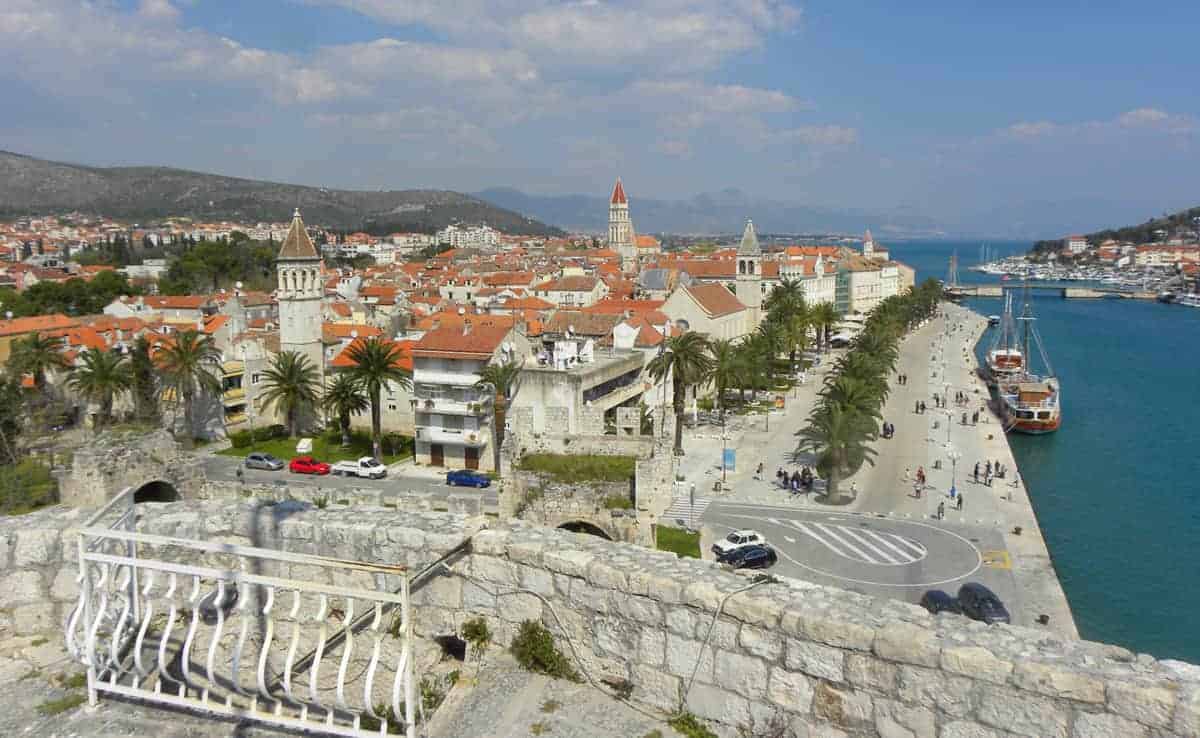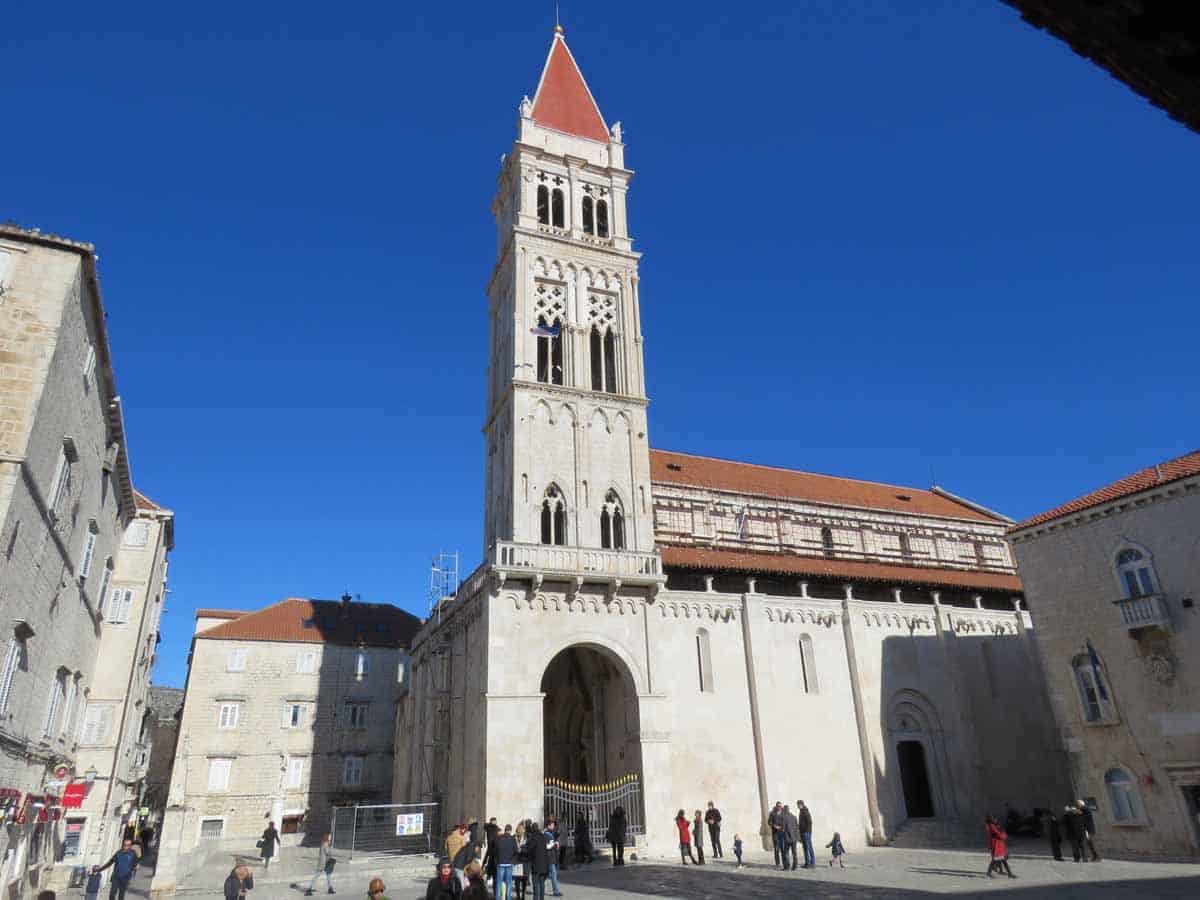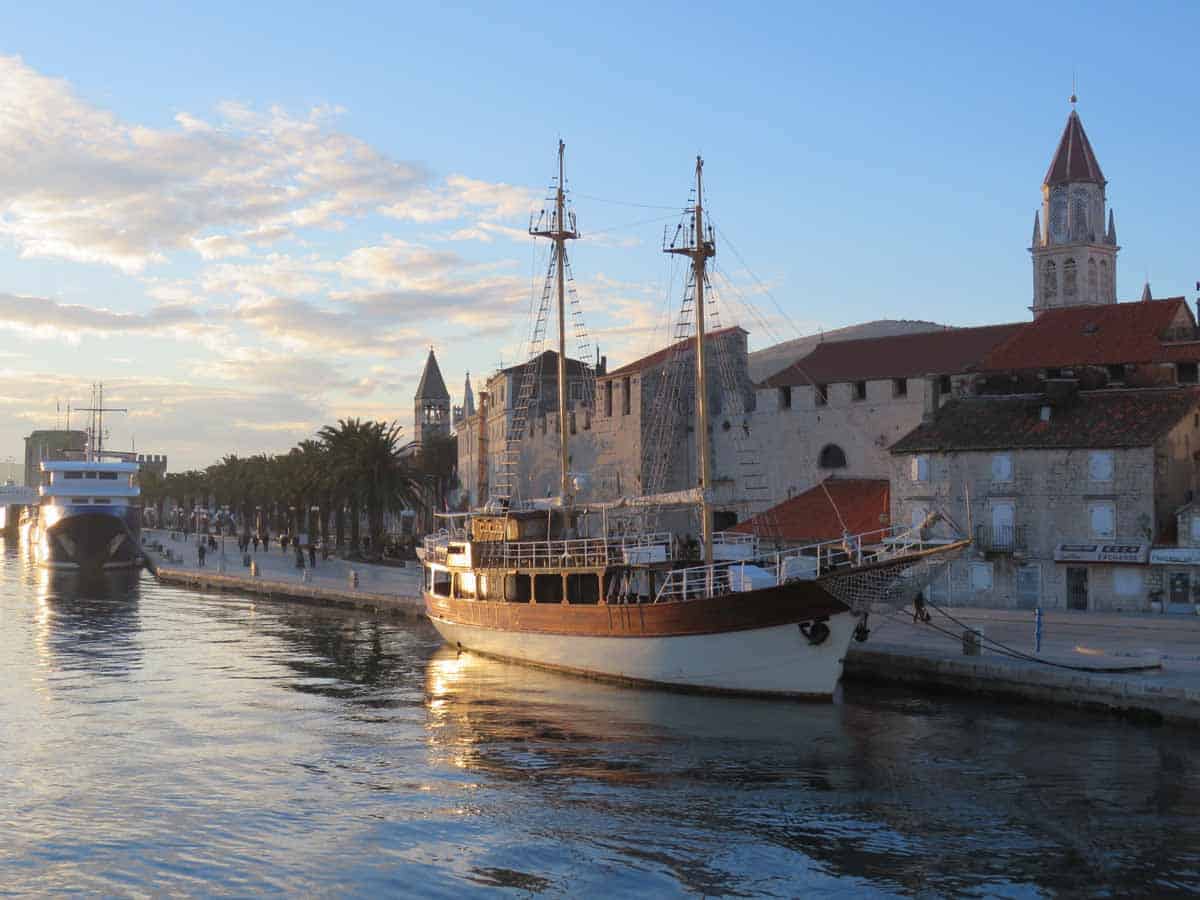 More on Trogir: 40 Photos showing why you should visit Trogir
Getting to Trogir: Take city bus 37 which leaves from the Sukoisanska bus hub outside the center. It'll take about 30 minutes to get to Trogir.
---
---
Klis Fortress
Klis fortress is famous among Game of Thrones fans for being the site of the fictional city of "Meereen". Despite that, Klis doesn't get very many visitors.
The coast of Croatia is protected by a long line of mountains which created an almost impenetrable wall. Approaching Split you see one gap in that wall of defense, a pass between the mountains into the interior. And right there, right in that gap, is a high mass of rock with a huge stone fortress sitting on top of it. That's Klis fortress. Just like in the Game of Thrones, this spot has always marked the frontier between the interior and the coast. From the Romans to the Slavs to the Kingdom of Croatia, a fortress has always stood in this spot to repel invading hordes.
Getting to Klis fortress: Take Bus 22 right in front of the shopping center across from Split's National Theatre (right outside the wall of the old town). Note: the times on the schedule are departing Klis, so if taking the bus from Split add about 30 minutes. For example, you'll see 13:00 (1pm) on the schedule. The bus will be in Split around 1:30 to turn around for Klis again. You'll arrive in Klis at about 14:00 (2pm). It's the last stop for the bus and is located right outside the castle. From there it's a 5 minute walk uphill to the castle gates.
---
---
A Blue Cave Tour
I don't usually recommend tours but it's the only way to explore the famous "Blue cave" (a marine cave that has a crack in its roof – creating a beautiful blue light from the sun streaming in).
But it's not just about seeing the Blue Cave. This is a 10-hour tour which covers Hvar town (another "must see" highlight in the area), swimming and snorkelling in the Blue Lagoon, a visit to beautiful Stiniva beach (on Vis), and an excursion to the Paklenski Islands.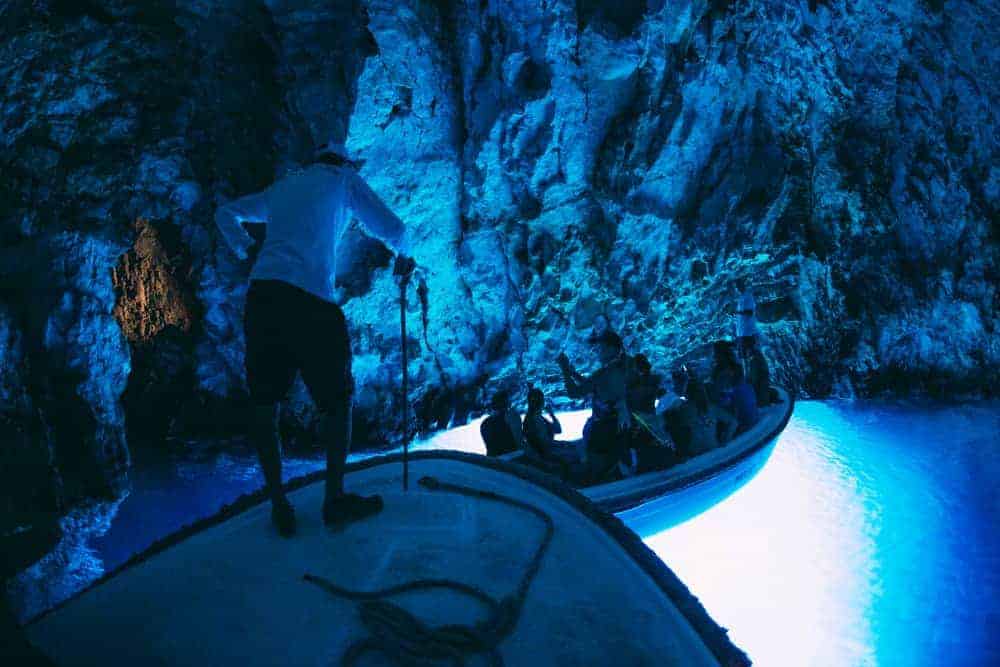 I'm not usually big on boat adventures. But if you have 1 day and want to see some of the best island and marine attractions in the area then I recommend this tour.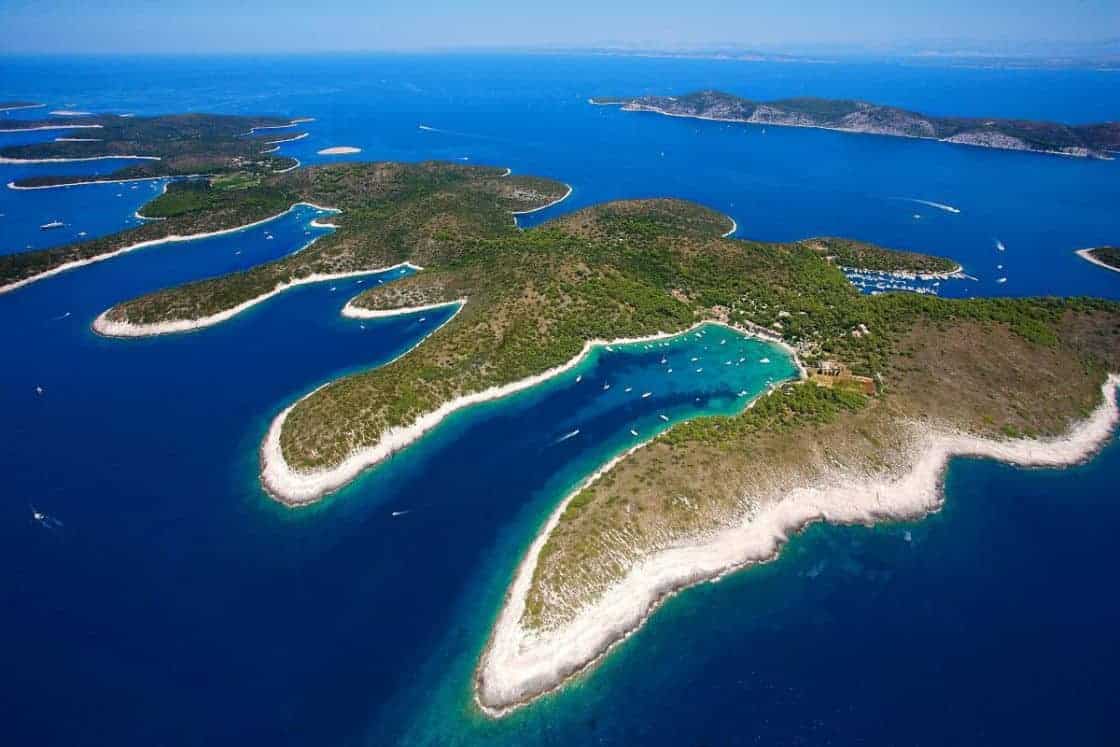 ---
---
Hvar town (Hvar)
I mentioned Hvar above. But you don't need to take a tour if wanting to visit Hvar – you can do it yourself (there are lots of catamarans going back and forth between Split and Hvar town in the summer).
Hvar town has a party reputation, the Croatian equivalent to Spain's Ibiza. But don't let that deter you – it's a beautiful place. You can walk up the Fortress high above town for incredible views. Besides a huge square (St. Stephen's square is the largest square in Dalmatia), there are lots of churches, pretty little streets and wonderful views of the harbour.
Hvar is a very nice and very lively place to spend the day.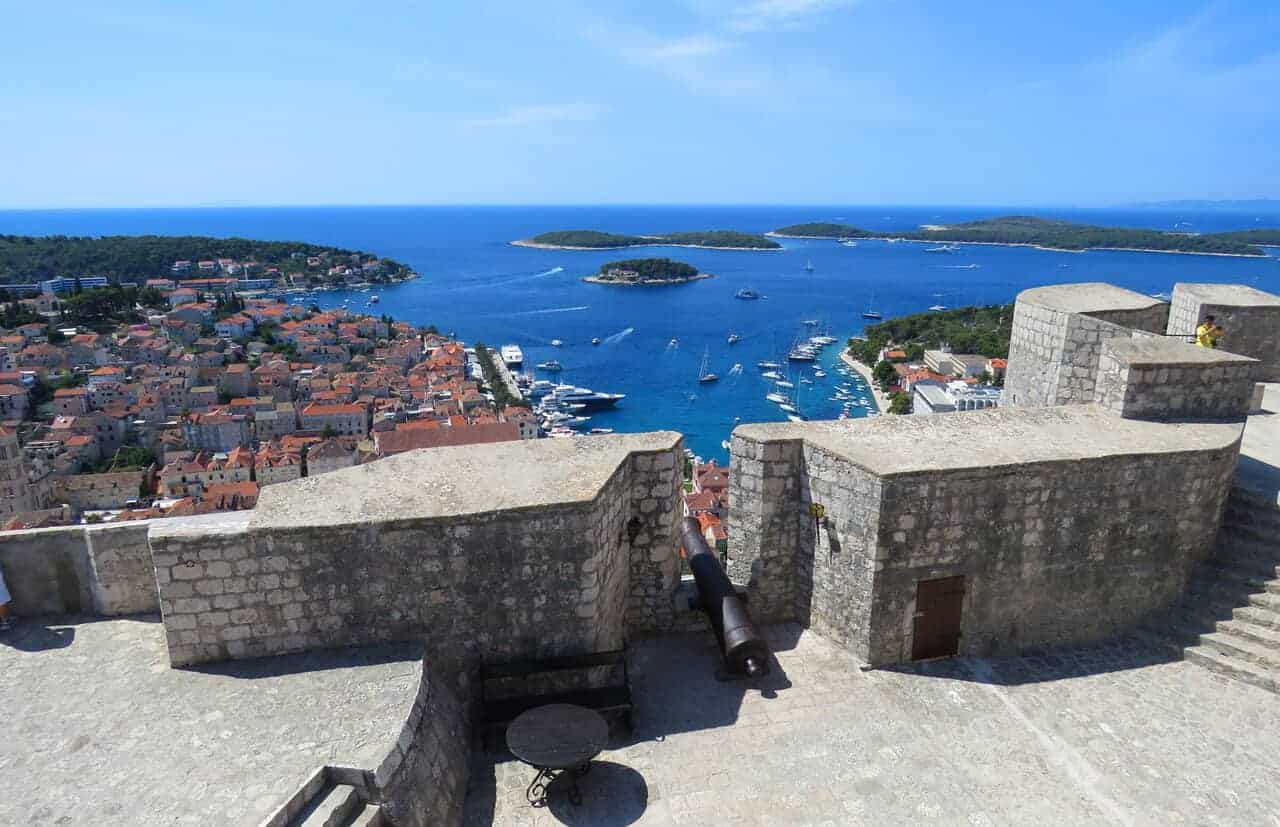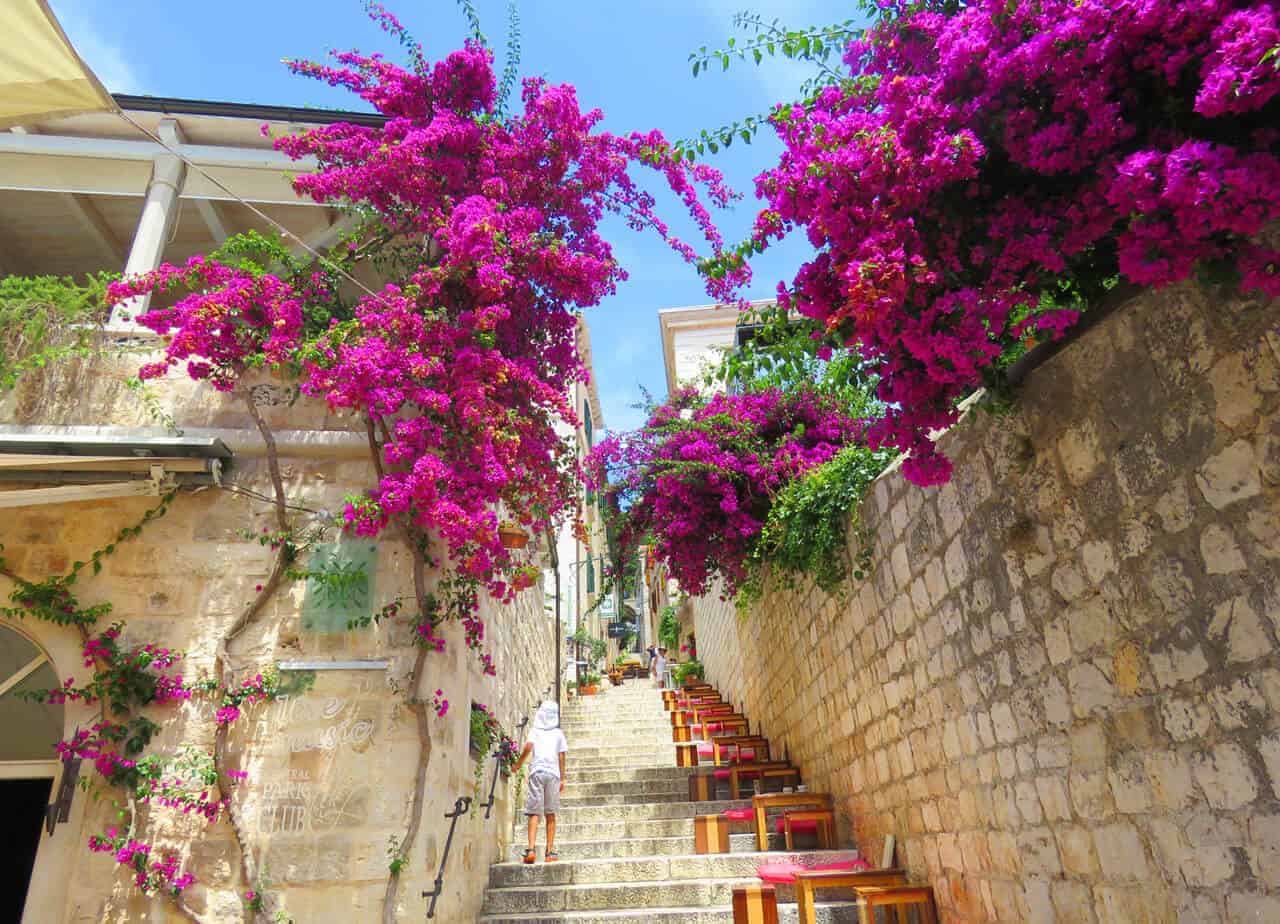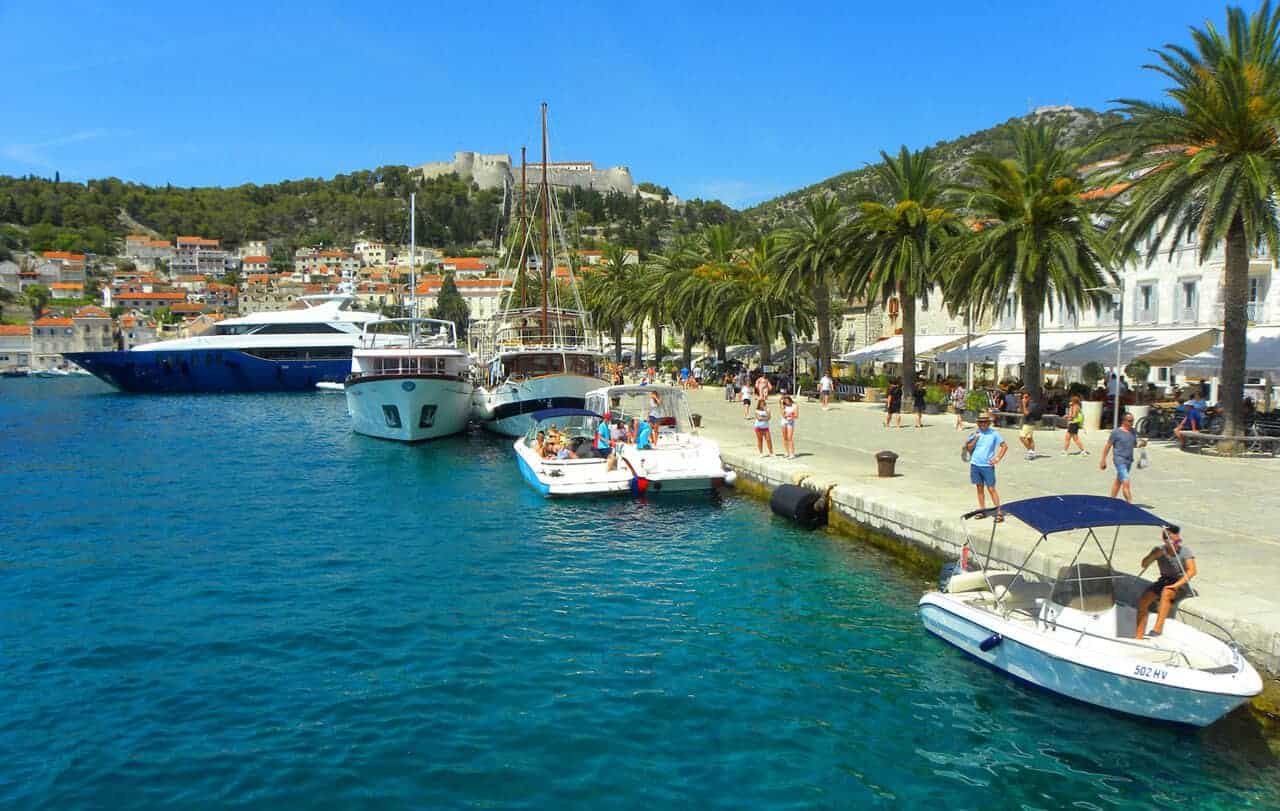 More: A daytrip to Hvar town
Getting to Hvar town: Check Jarodlinija or Krilo for ferry schedules. As I say, there are lots of catamarans that do the trip back and forth in the summer and they take about an hour in each direction.
---
---
Bol town (Brač island)
Another great day trip is to Bol on the island of Brač. Just as with Hvar town, you can get there yourself by catamaran (and just like Hvar, it'll take about an hour).
Why Bol? It's an incredibly beautiful and very relaxed place with some fantastic highlights. Close to Bol is Croatia's most famous beach: Zlatni Rat. It is mesmerizing. Want to do a hike? Vidova Gora is the highest peak in the Adriatic islands and can be hiked in 2 hours (a detailed post on that here).
More: Why you should visit Bol
Getting to Bol: Check Jarodlinija or Krilo for ferry schedules. Just as I said about Hvar, there are lots of Catamarans that do the trip back and forth in the summer and they take about an hour in each direction.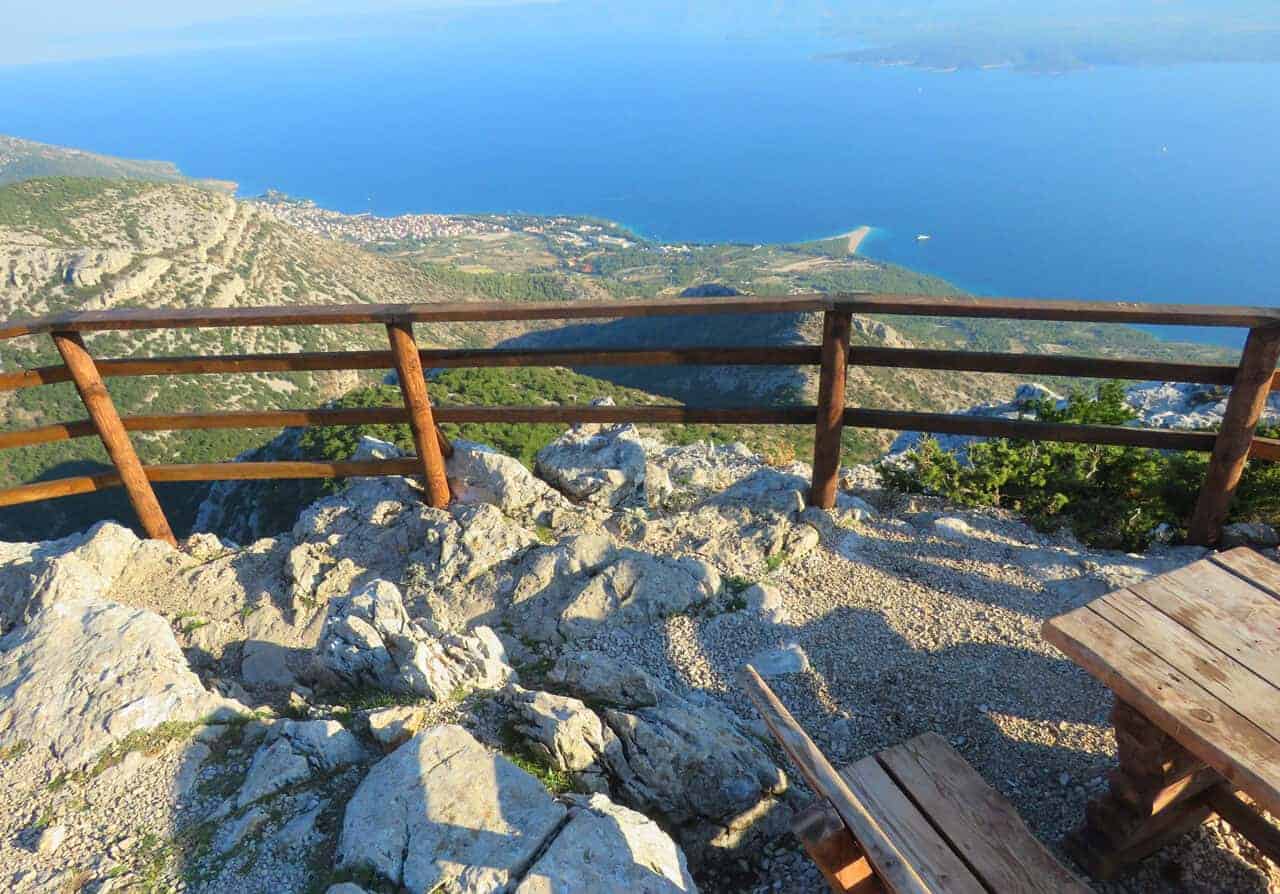 ---
---
Krka National Park
Krka National Park is one of the most popular day trips from Split, a place of waterfalls and nature trails (it's in effect the smaller brother of Plitvice Lakes…but Krka is much more accessible from Split).
The highlight of Krka National Park is Skradinski Buk waterfall. From there follow the walking paths, many over fast-flowing creeks, to the upper parts of the park where you can enjoy great views over the area. Continue on to Roški Slap (another waterfall) and Visovac island which has a monastery from the 15th century.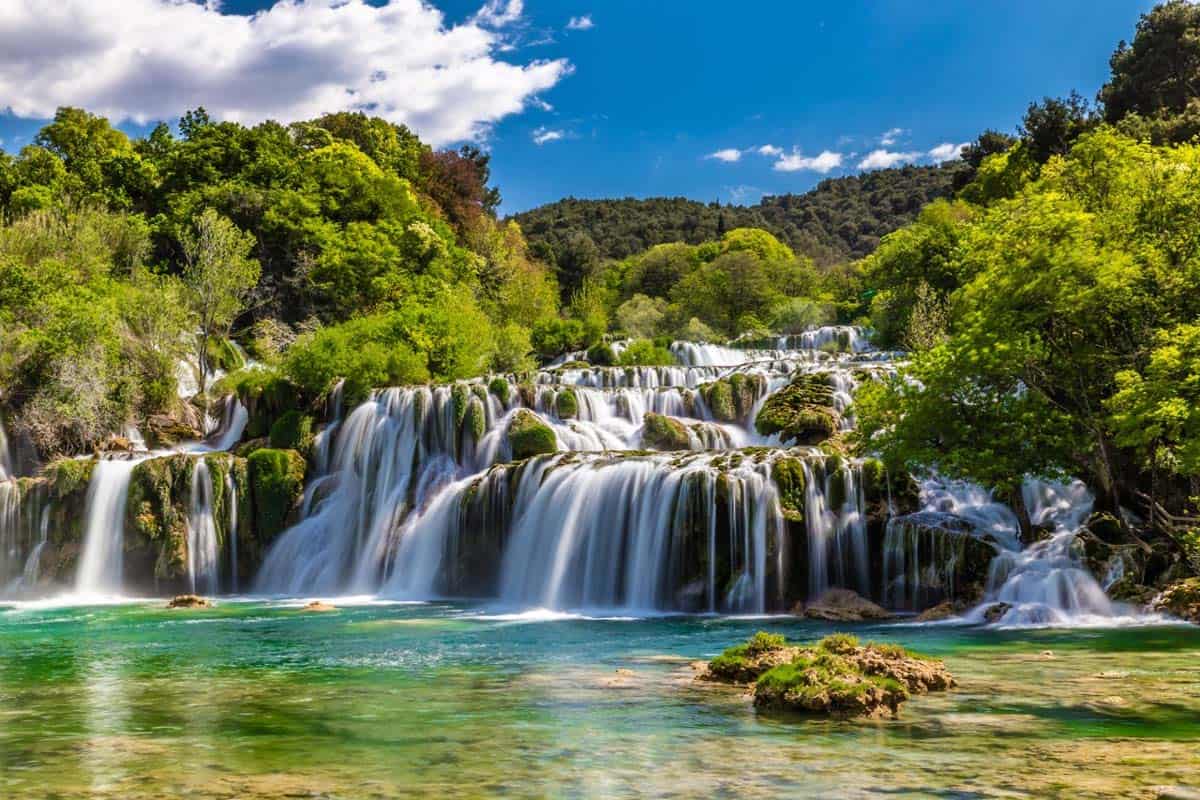 Getting to Krka. You can get there on your own…but you shouldn't. Take a tour. You'll find a lot of operators in Split or you can book one in advance. This one comes highly recommended.
---
---
Šibenik
Šibenik is very much underrated as a destination but there's lots to see including Cathedral of St. James (a Unesco site and in my opinion the most impressive Cathedral in Croatia), 4 fortresses (yes four) and a fascinating and well-preserved old town. If you're looking for a cultural destination it won't disappoint (I'll admit I liked Šibenik more than the more popular city of Zadar).
More on Šibenik here: Why you should Visit Šibenik
Getting to Šibenik: go to Split's bus station near the pier. There are regular buses to Šibenik and it'll usually take about 90 minutes.
---
---
My last two day trips are hikes that are very doable as day trips from Split (with no tour needed)
Mount Mosor
Mosor is a great hike with fantastic view of the Dalmatian coastline. Many people come here with a tour but tours go to the mountain house, a restaurant/hostel about an hour up the mountain. They end there. The highlights of Mosor are further, climbing the steep rocks up to 2 peaks: Veli Kabal (1339 m) and Vickov Stup (1325 m, the 2nd highest peak). The two peaks are joined by a narrow ridge and walking it is just fantastically gorgeous.
Getting to Mount Mosor: Take the city bus 28 behind Split's Green market in the direction of Gornje Sitno. The bus takes about 45 minutes to get there. From there walk up to the parking lot where the trailhead starts. I detail it all on this post.
Note: don't do this hike in the summer, it's too hot and can be dangerous to your health. Mosor is the highest mountain around Split and Veli Kabal, the highest peak, is 1339 m high. It's a challenging hike. You should also never hike alone, I've heard of too many people breaking a leg and getting stuck.
---
---
Kozjak Mountain
Another scenic hike (but much easier than Mosor) that you can combine with a visit to Klis fortress.
We've done 2 variations of this hike: 1) from Mountain Lodge Malacka to Klis fortress, a 22 km hike that will take approximately 9 hours (a mostly horizontal hike along the ridge that makes up Kozjak), 2) From the church at Svetiste Gospe na Hladi, an approximate 10 km hike that took us 5 ½ hours (1 hour steep but easy climb, followed by 4 ½ hours of flat walking and going downhill to Klis).
Either way, a great hike along a ridge with some fantastic views.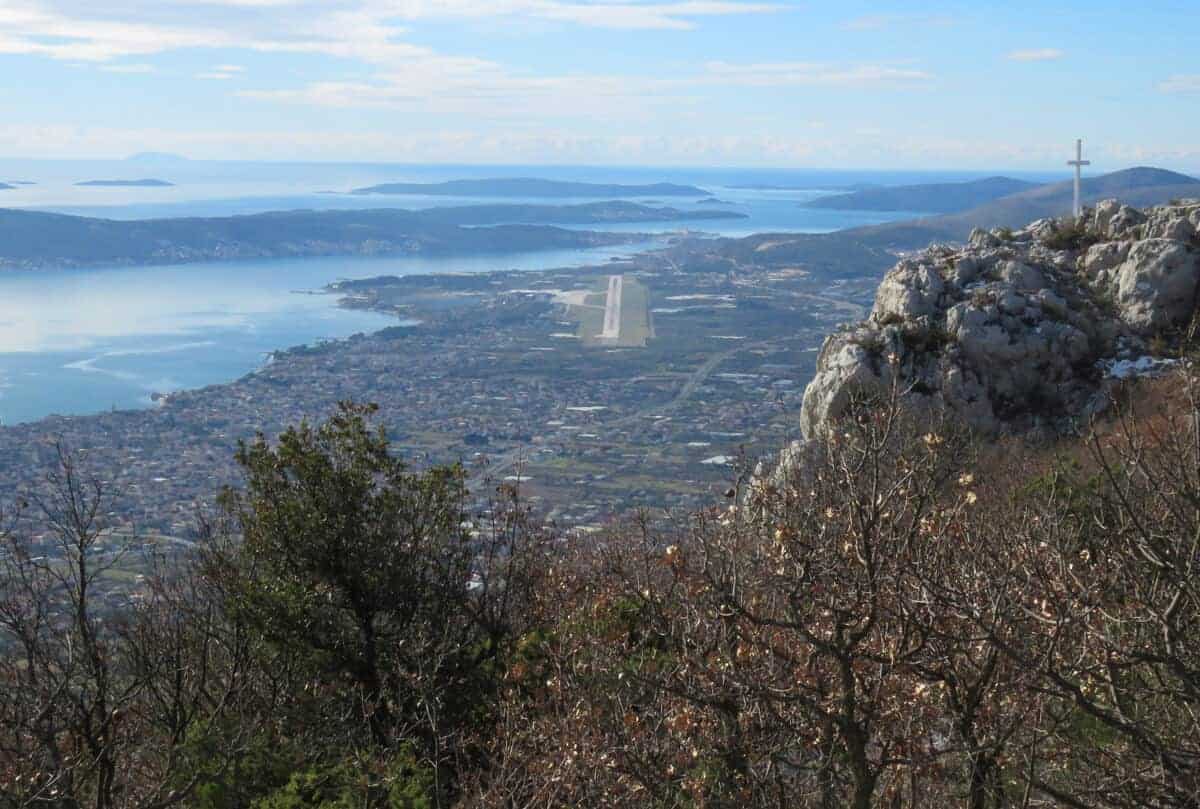 This post: Hiking Mount Kozjak to Klis Fortress is very detailed, giving you directions on how to get there and what you can expect.
Do you have a favorite Day Trip from Split?
---