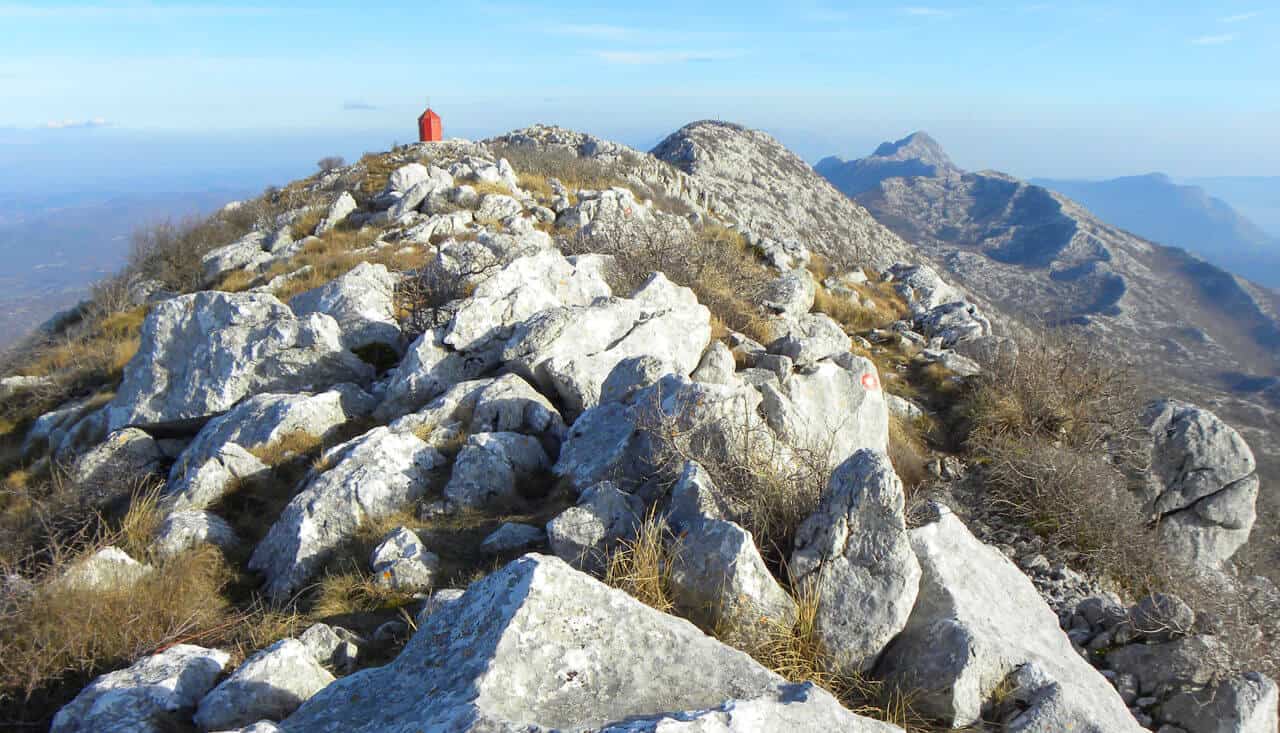 Why you don't need to take a tour to hike Mosor Mountain – Split (Croatia)
People think that you need to book a tour if you want to climb Mosor Mountain. You don't (especially since you can get here by city bus). Besides which, most organized hikes up Mosor Mountain only make it up as far as the Umberto Girometta Mountain house. The best hiking is done behind that, up the steep slopes of the mountain.
* Note: you don't have to take a tour but I don't advise going by yourself. Go with some friends as I did.
The last time I climbed Mosor with friends Vedran and Goran we had explored the two highest peaks of Mosor: Veli Kabal and Vickov Stup. We had stopped at the mountain house (PL. Dom) to eat beans and sausages. To see that post, which covers the most popular route, CLICK HERE.
This time we took a slightly different route with a different destination in mind: the Hrvoje Dujmić shelter. This shelter (an ex-shipping container) lies on the interior side of Mosor. It has a barbecue pit – besides nature and great views, the goal was to have a few drinks and cook some meat.
Below: Our route (in green). In red is the route taken on our previous hike.
They've done a great job with signage on Mosor and unless you intentionally stray off the trail you would have a hard time getting lost. Most signage posts always have a sign indicating PL. Dom – that's the mountain house. If you ever get lost that's the best way back.
Starting from the parking lot we made our way towards the mountain house. A few photos: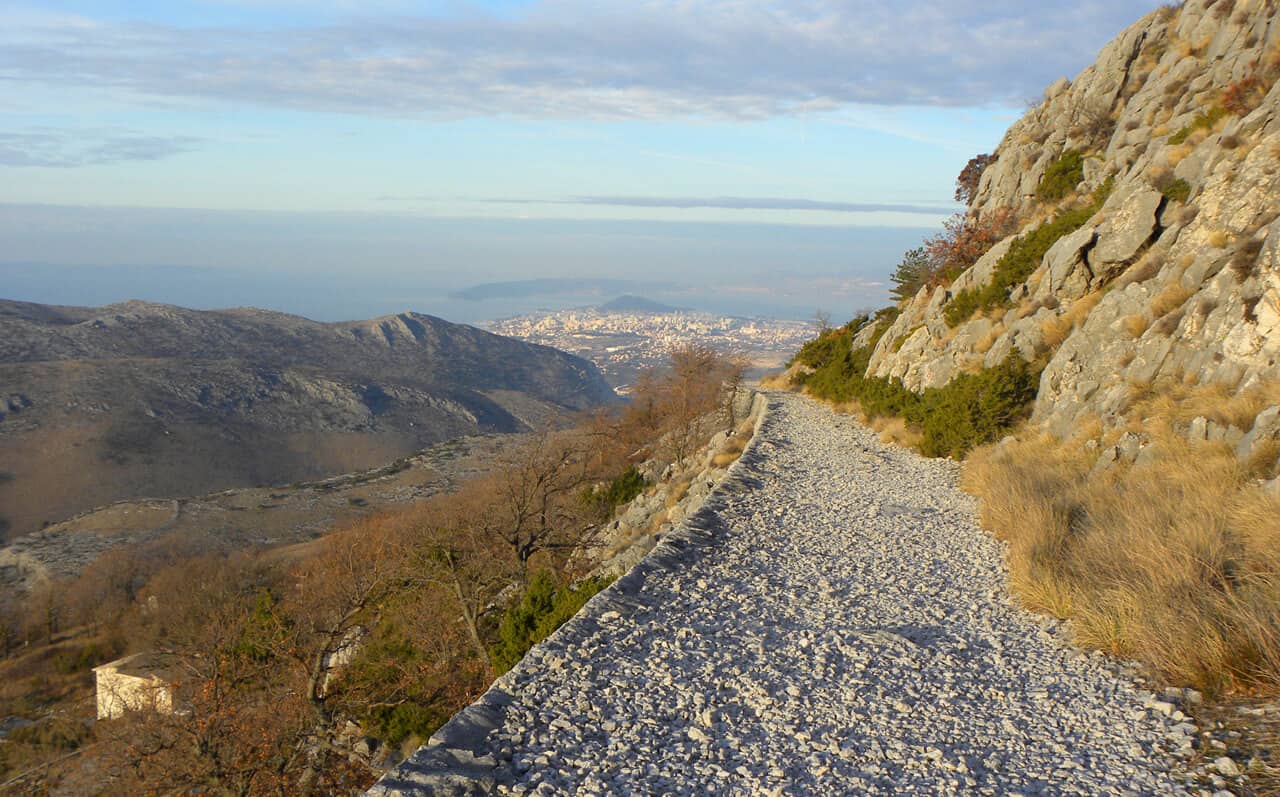 Above: path from parking lot towards mountain house. That's Split in the background.
Above: you might come across farmers and their goats.
Above: the trail. You can also see the Observatory (called "Star Village") in the distance.
45 minutes later we arrived at the Umberto Girometta Mountain house (PL. Dom). It's pretty quiet in the morning but when you come here in the afternoon you'll find quite a lot of people – locals and tourists – having drinks or resting at the outdoor picnic tables
Above: the mountain house's donkey.
After a brief break we continued on. I mentioned that we were going to the Hrvoje Dujmić shelter – well, there's no sign for this shelter. The way to get there from the mountain house is to first head in the direction of Gajna (about 45 minutes from the mountain house) and then, from there, continue to signs indicating Jabukovac.
Above: Goran and the sign to Gajna (signpost is located right next to the mountain house).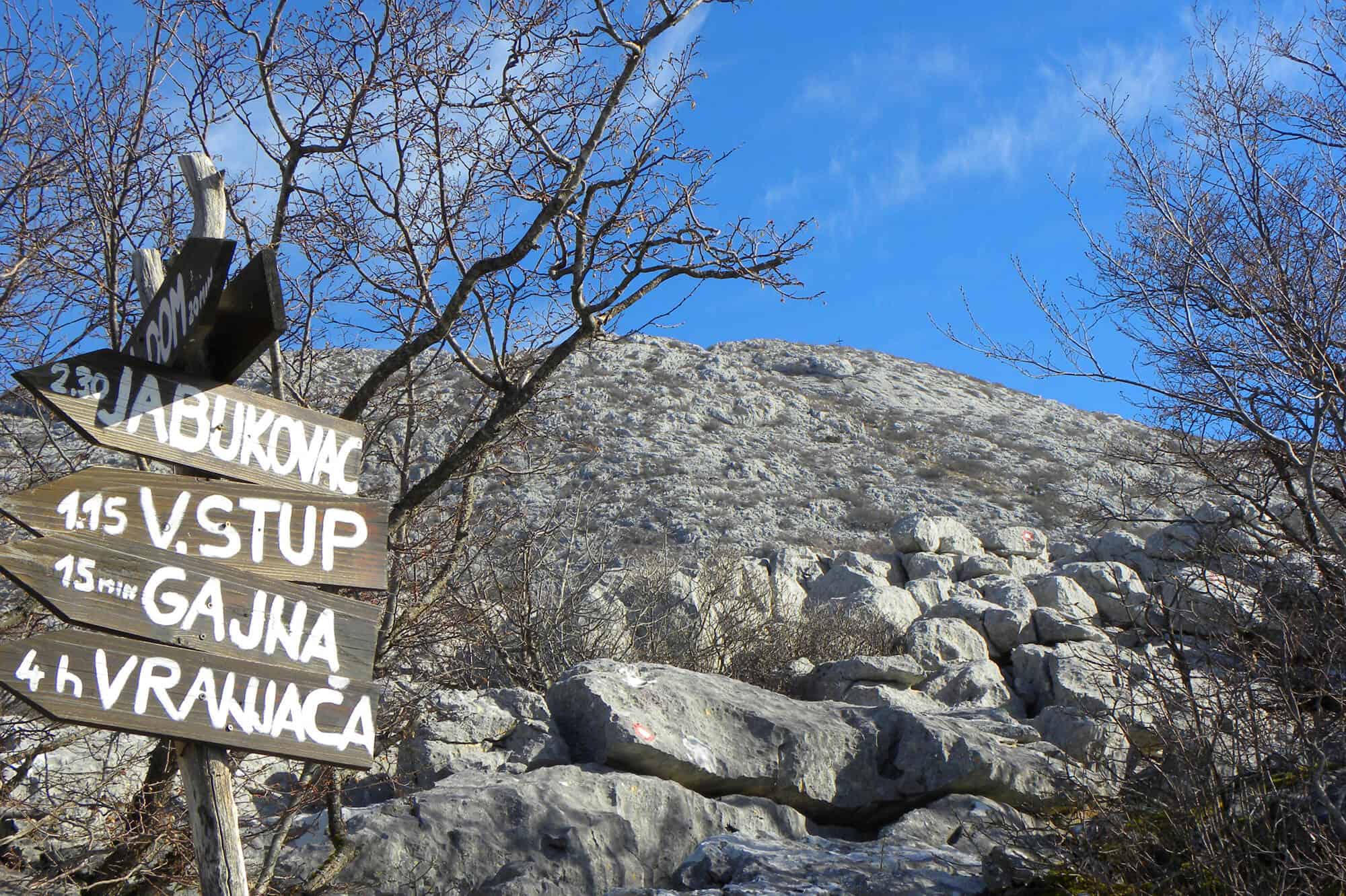 Above: another sign for Gajna…as well as Jabukovac (you'll be continuing along this trail to get to the Hrvoje Dujmić shelter).
Getting to Gajna, you'll see a large open meadow. A lot of school groups come up here for picnics and outdoor games. It also means the end to flat surfaces and vegetation – if you continue from here the terrain gets much steeper and rockier.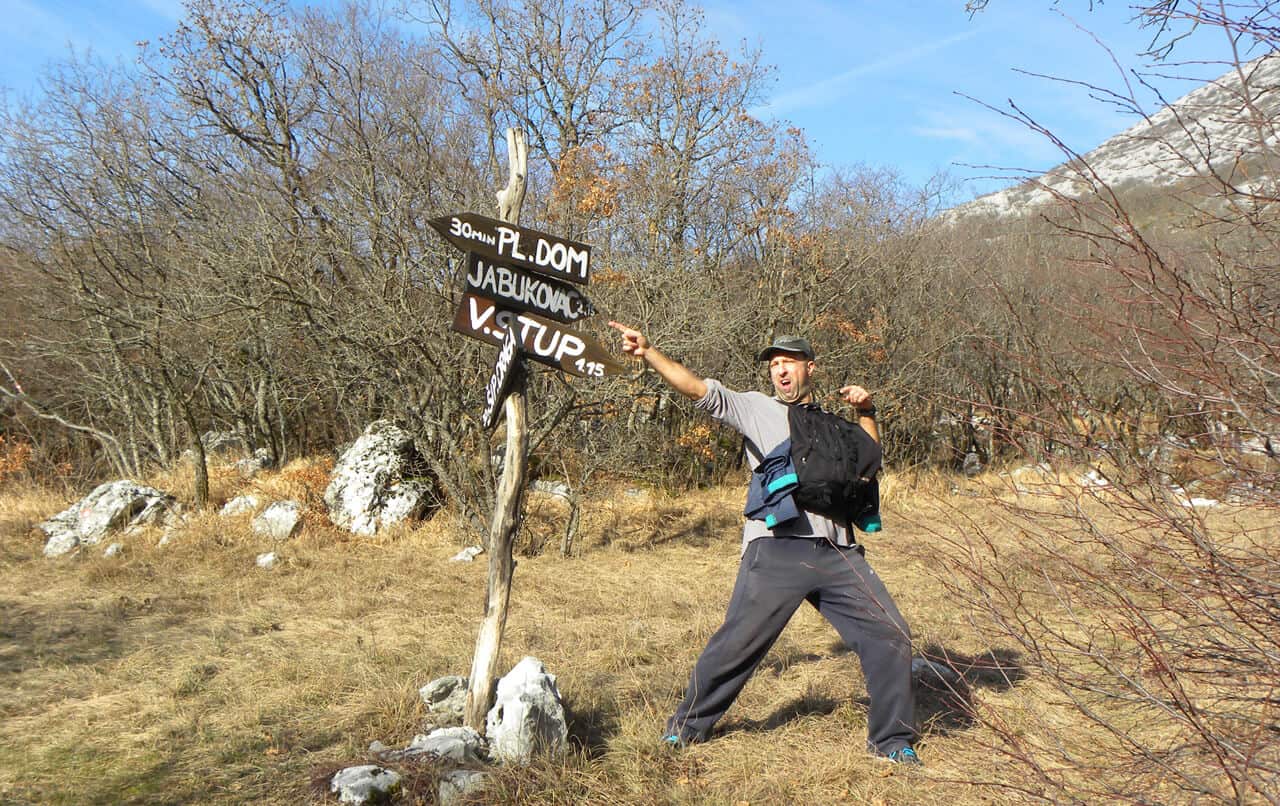 Above: Vedran pointing the way to Jabukovac. From here it's all uphill.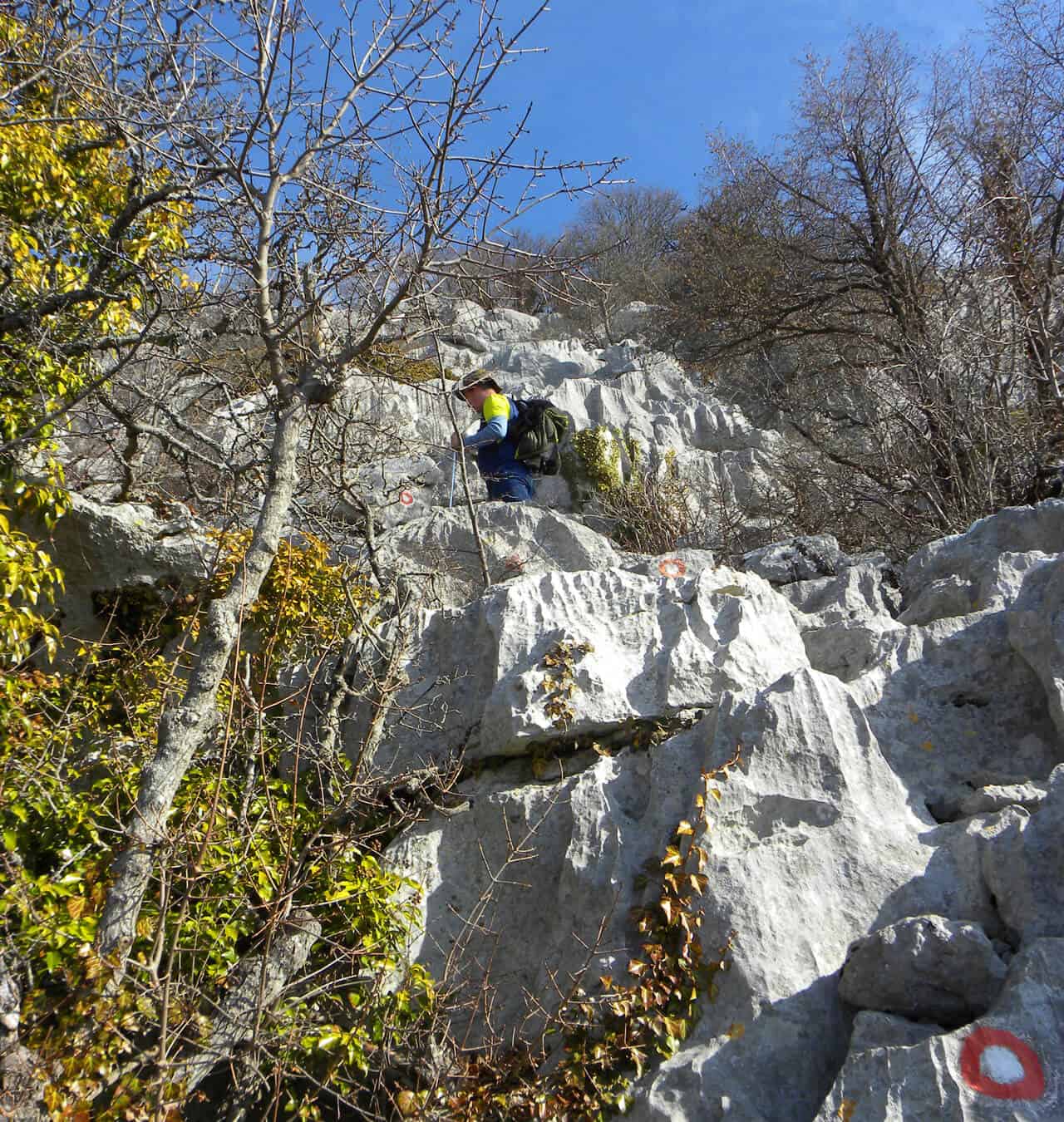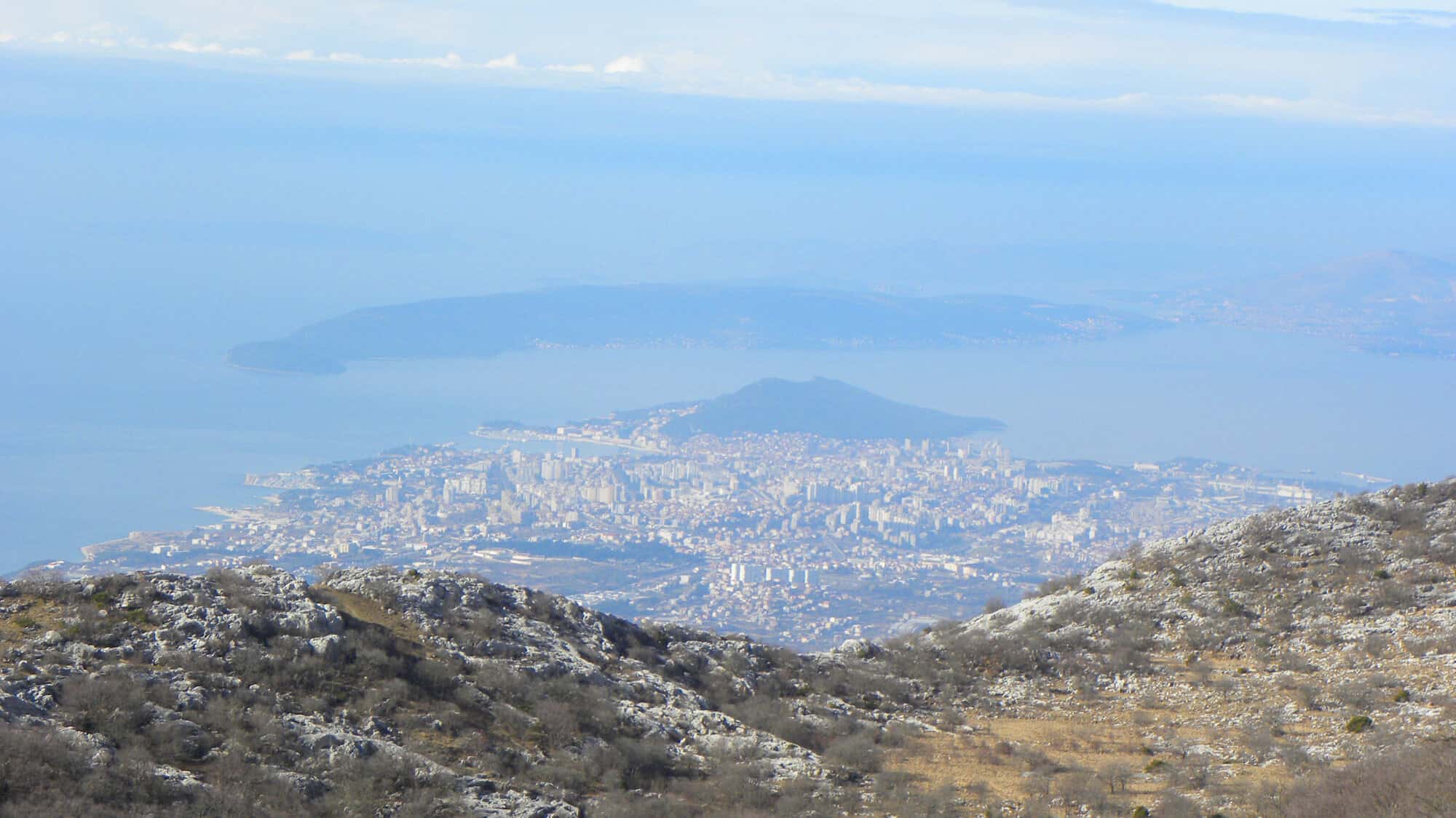 Seen from Split, Mosor looks like a large, rocky mountain with bald peaks. After 2 hours of hiking we finally reached the top – just to find ourselves looking straight down the other side of the mountain. Despite faraway appearances, Mosor is all sharp peaks and ragged edges, there is very little (if any) smoothness to this mountain.
Below: Coming up to the top…and then the view onto the other side.
You're now at the top of the long ridge that connects the 2 highest peaks on Mosor: Veli Kabal (1339 m) and Vickov Stup (1325 m). You can follow the ridge in either direction (it is this ridge we had followed on our previous hike).
This time however, we followed the Jabukovac trail right down the other side of the mountain.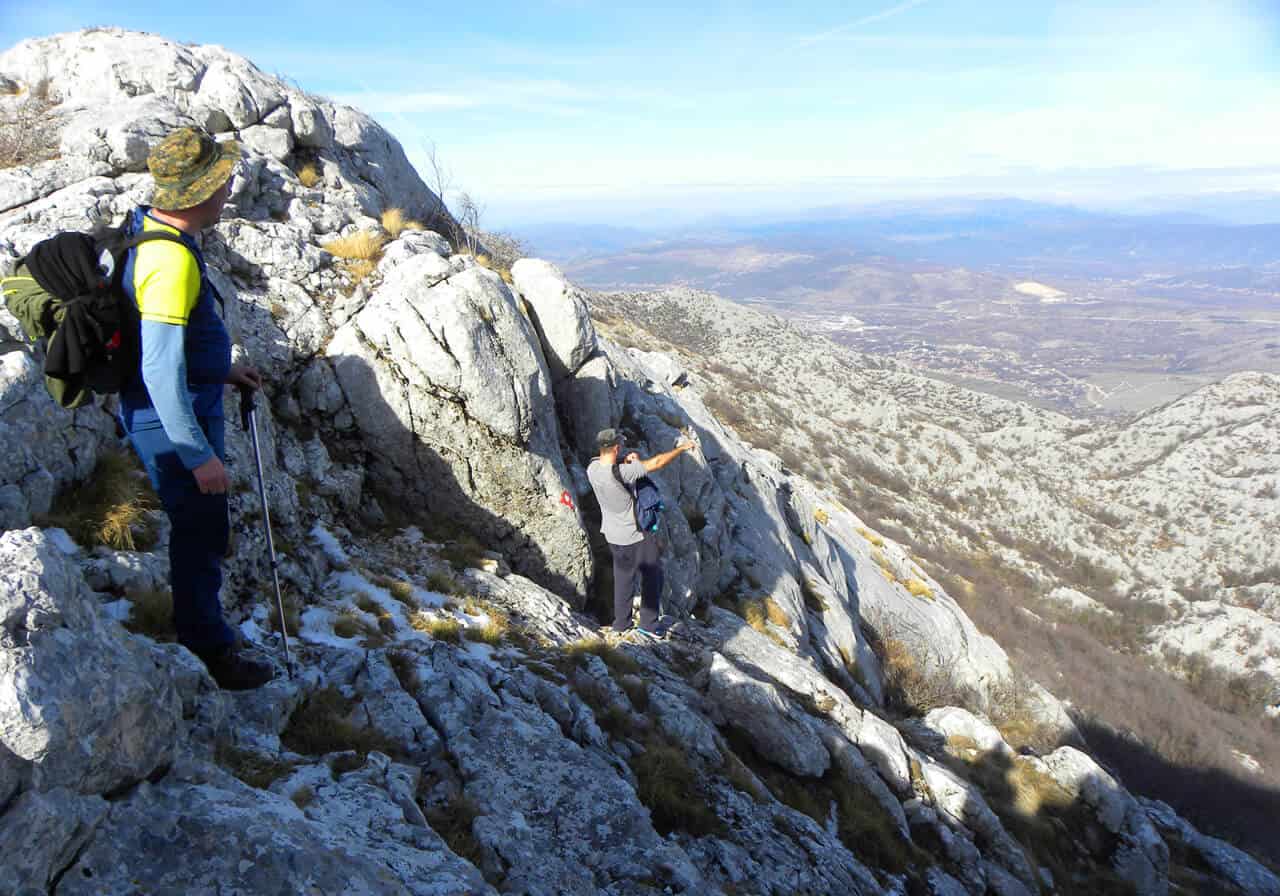 NOTE: See the snow above? Going over the ridge we were: 1) in the shade 2) facing a cold wind coming from the interior mountains. Coming down this side of the mountain there was ice and snow and we slipped a few times. If doing it in winter (we did this hike in mid-February) be very careful.
.
Above: After about 30 minutes of very careful walking and climbing the terrain levelled off a bit and we had these great views.
Then we saw our destination: the Hrvoje Dujmić shelter.
Above: "Shelter" in Croatian
We had brought our own food: chicken, pork, bread, beer and some rakija. We also had matches and some of those white firestarter things you use to get the fire going. Other than that, the barbecue pit has metal grills and there are branches all around the shelter that we used for firewood. The shelter itself has a bunkbed with 2 mattresses, a table, and a wood stove to keep warm in the winter. It even has a few basic cooking utensils that people can use.
A bit about the Hrvoje Dujmić shelter here.
Below: Goran and Vedran cooking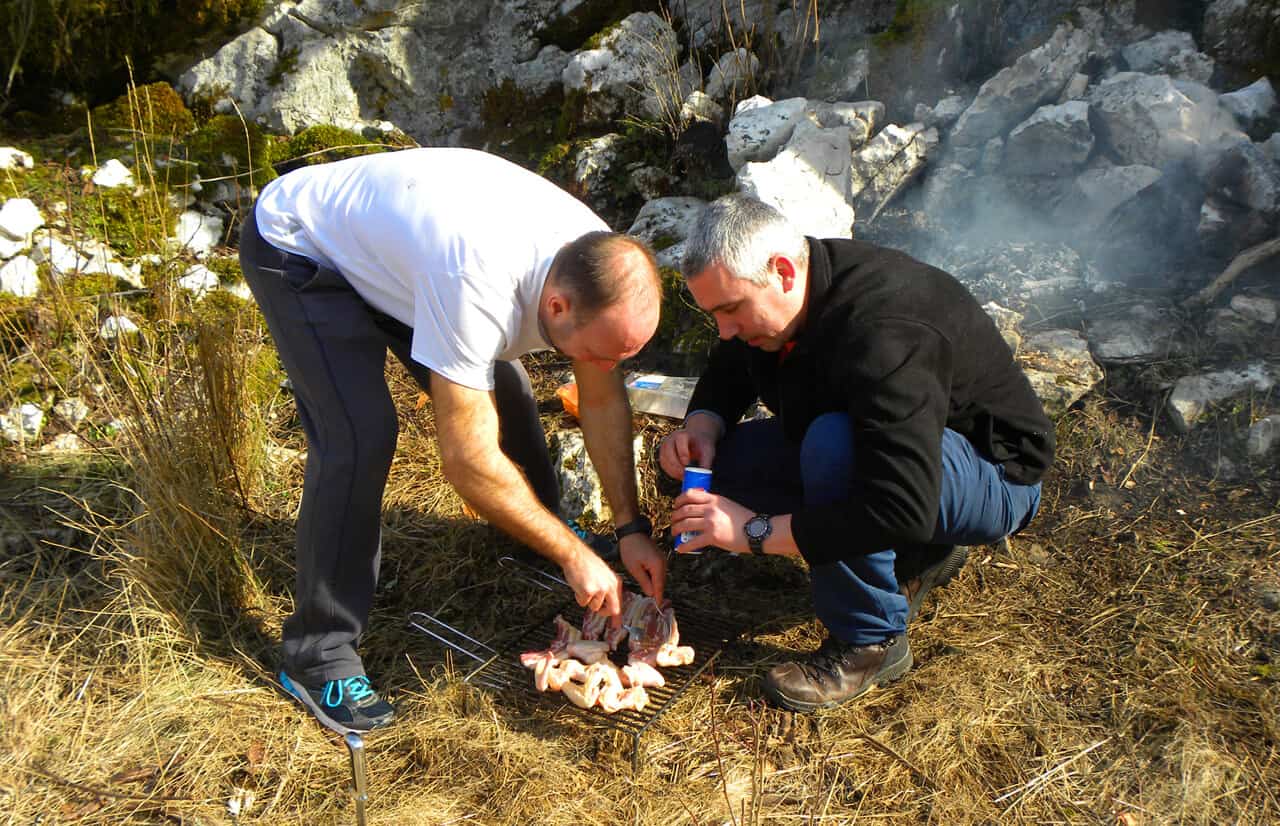 We spent a few hours there eating, drinking and taking some sun. Then we cleaned up our mess and were back on our way up from where we came.
.
What's the most beautiful spot on Mosor? For me it has to be walking the ridge between Veli Kabal and Vickov Stup. On one side you have the Adriatic with all the islands, on the other you have the interior with snowy mountain peaks in the distance (in Bosnia and Herzegovina).
Below: A few feet make all the difference – the warm sun on the Adriatic side, snow on the interior side.
Above: red shelter of Vickov Stup in the distance.
Above: Vickov Stup, a shelter from sudden storms on the mountain.
Above: Views coming down the mountain to the parking lot.
Time it took us to do this hike:
From the Parking lot to the top of Mosor (the ridge): 2.5 hrs.
From the ridge down to the Hrvoje Dujmić shelter: 45 min
Back up to the ridge from the shelter: 40 min
Walk along the ridge to Vickov Stup: 20 min
Vickov Stup back to Mountain House and to Parking: 2 hrs
Total hiking time: 6 hrs, 15 min (not including 2 hrs spent at the shelter).
Practical Information
– Getting to Gornje Sitno (10 minutes from parking lot) by bus: Take bus 28 which runs on the large intersection behind Split's Green market. Schedule here (make sure to arrive early because buses to Gornje Sitno are not frequent). Cost: 17 Kuna, takes about 45 minutes to get to Gornje Sitno.
– Bus Schedule back to Split from Gornje Sitno: here.
– Bring lots of water, something for your head, good shoes, and long pants. Bring a phone should something happen to you up there.
– Keep an eye out for snakes, can be found sunning themselves on rocks (I've been up here 3 times and have never seen anything more than a garden-variety snake).
– NOTE: if you don't want to go up Mosor solo (which you shouldn't) and absolutely want to take a tour up Mosor, then I recommend this one. They won't take you any higher than the mountain house – but you'll still get some nice views and get to see that donkey.
Summary: It is easy getting to the mountain by bus and the signage is good. I've highlighted a couple of hikes – take the usual precautions, bring enough water, and come with a couple of friends. If you do all that you don't have to book a tour.
Like This Article? Pin it!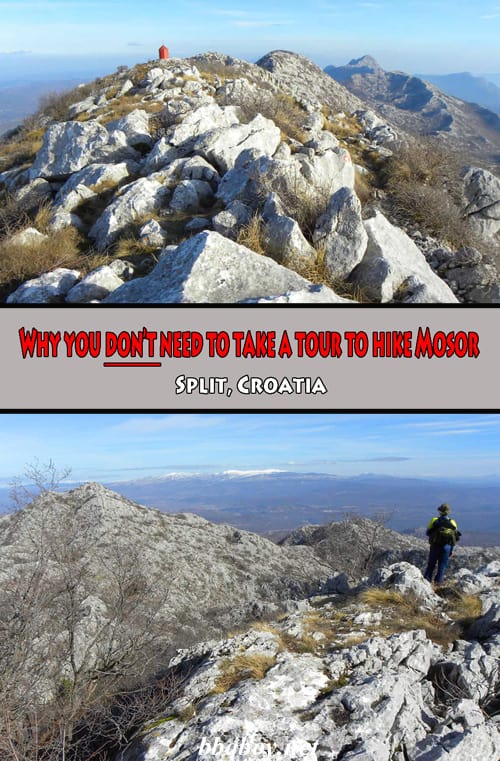 Ps. If you find our blog helpful, please consider using our links to book your flights, hotels, tours, and car rentals. Have a look at our Travel Resources page.