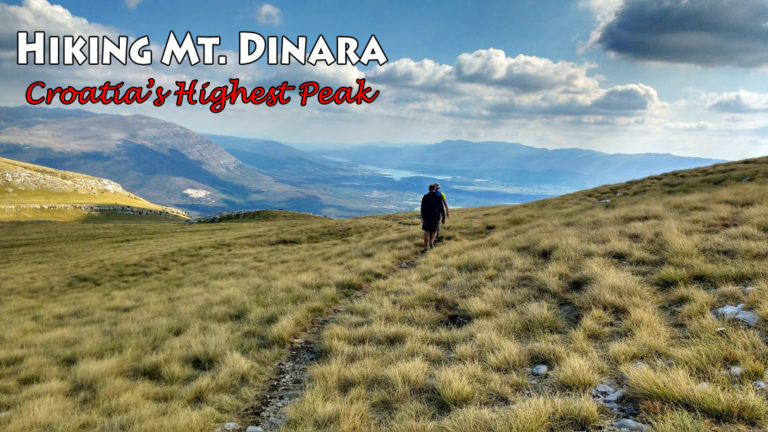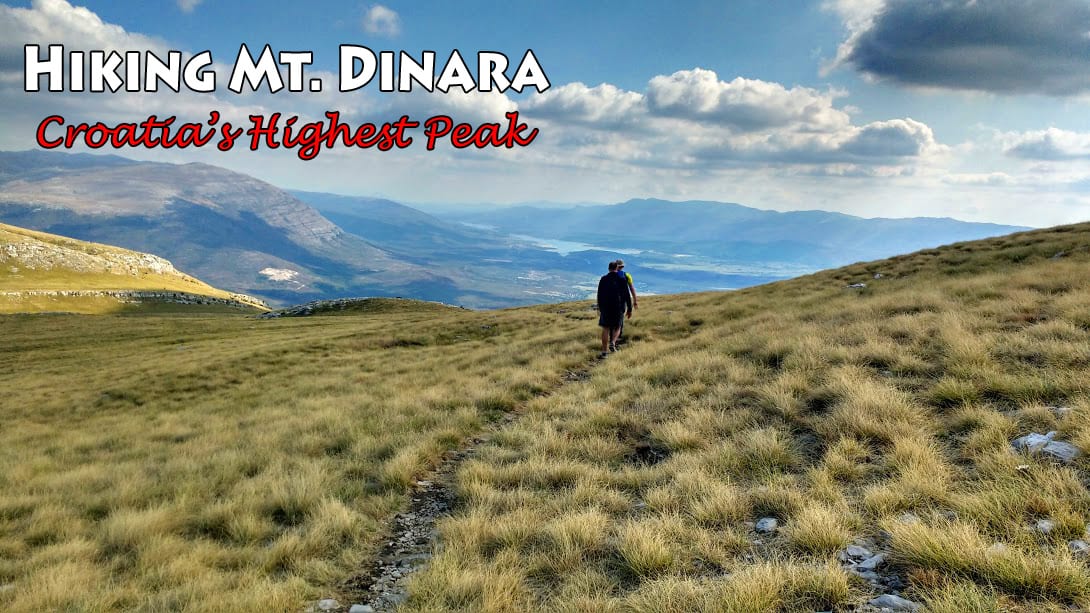 Hiking Mt.Dinara
Mount Dinara is part of the Dinaric Alps (also called the Dinarides), one of the most rugged and extensively mountainous area of Europe that extends over Slovenia, Croatia, Bosnia and Herzegovina, Serbia, Montenegro and Albania. The Dineric Alps are in fact named after Mount Dinara, a huge massif located on the border of Croatia and Bosnia and Herzegovina. Mount Dinara has two prominent peaks: Troglav (located across the border in Bosnia and Herzegovina at 1913 m high) and Sinjal (or just "Dinara") which at 1831 m is the highest peak in Croatia.
When the guys (Goran and Vedran) asked me if I wanted to hike Croatia's highest peak I had to say yes. We had previously been up Sveti Jure on Biokovo, the 3rd largest peak in Croatia at 1762 m. Biokovo had been incredible, the views fantastic. But we had driven up Biokovo – Mount Dinara is even higher and we would be climbing it.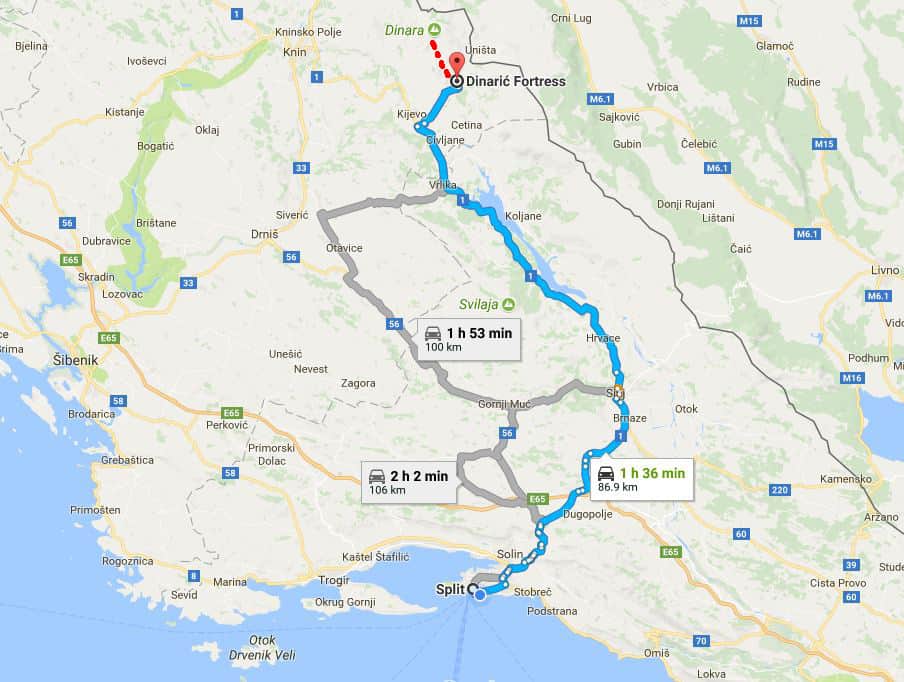 ---
---
We were joined on this trip by Dennis. Like us, he and his wife had retired a few years ago and were travelling around the world. This was his first time in Croatia and Dinara would be his first Croatian hike.
Location: Mount Dinara is located inland, close to the border with Bosnia and Herzegovina. The easiest route up was the one we were taking: from Glavas near the town of Kijevo. Expect 4-5 hours one way to the top using this route (the other popular route is from the town of Knin, this route takes about double the time).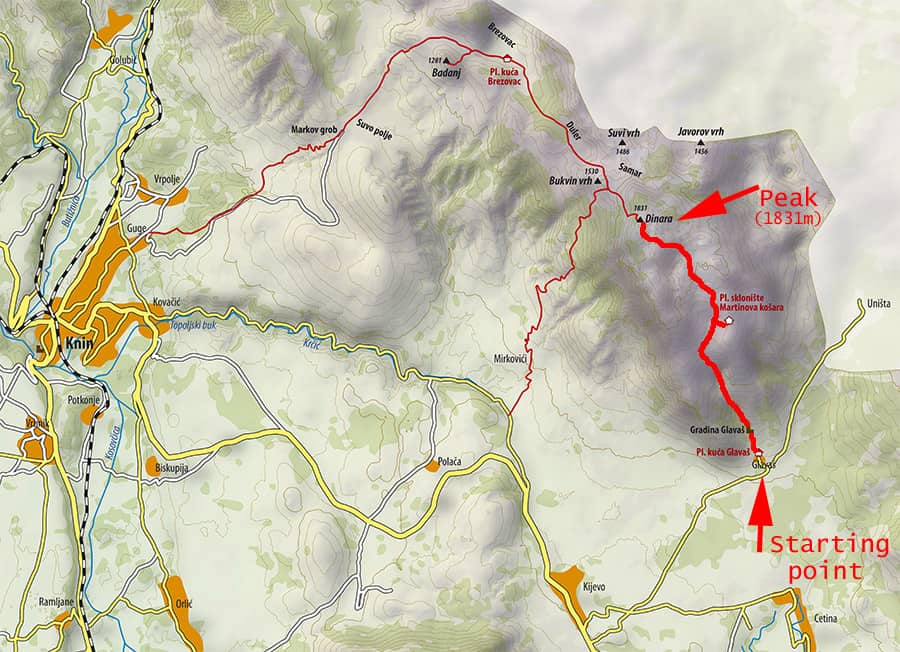 It takes 1 ½ hours from Split, a drive through the Dalmatian hinterland that gets very scenic when you pass the town of Sinj. You'll be passing Peruča Lake, a huge artificial (dammed) lake in a valley. On both sides of the valley are high, barren mountains.
---
---
Glavas was the starting point for our hike. The most prominent landmark at Glavas are the ruins of a fortress (Glavas Fortification). You see them before even arriving at the parking lot. Other than that there is a blue shipping container which is a hiking shelter (and which has a fire pit – we would cook a barbecue here at the end of the hike).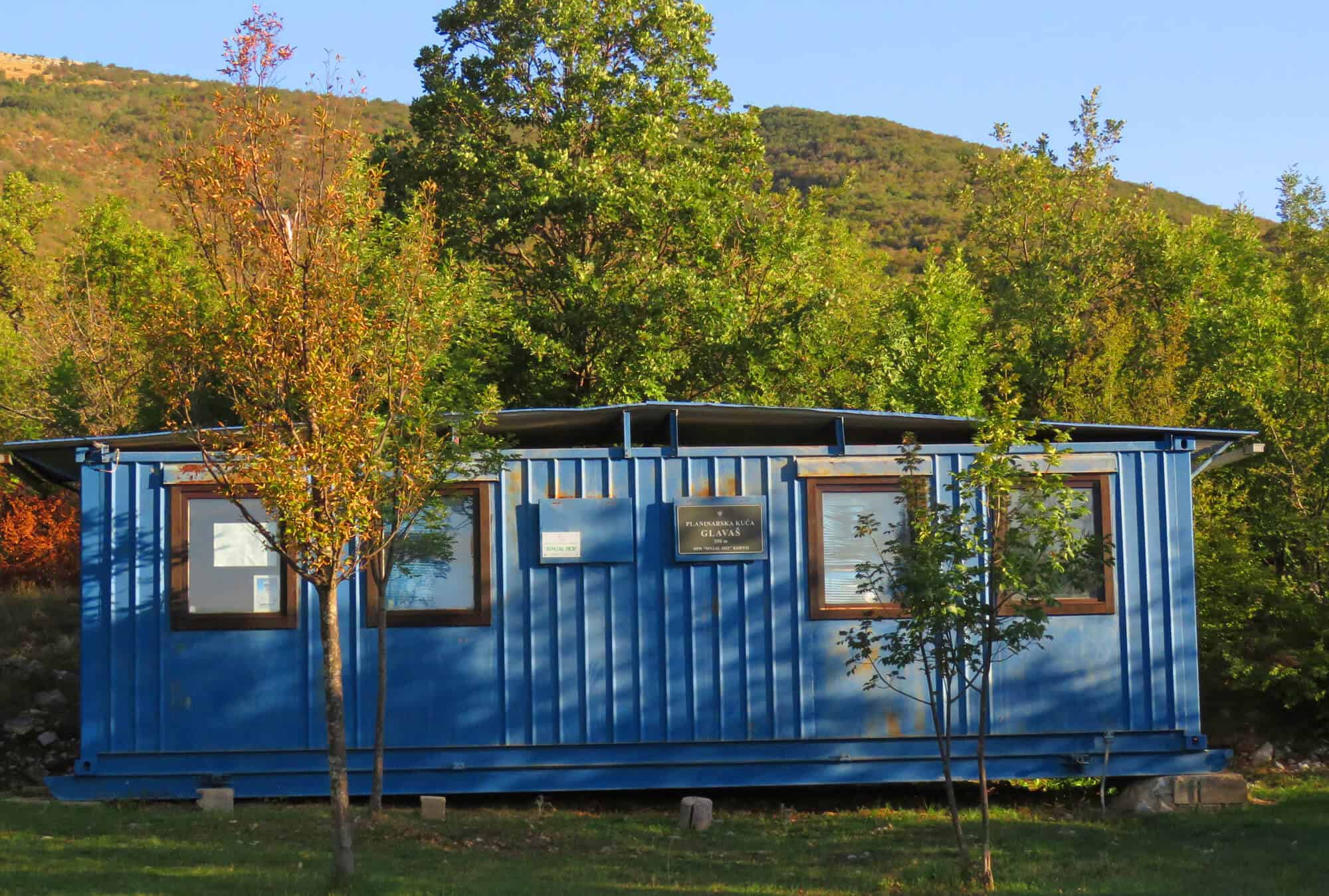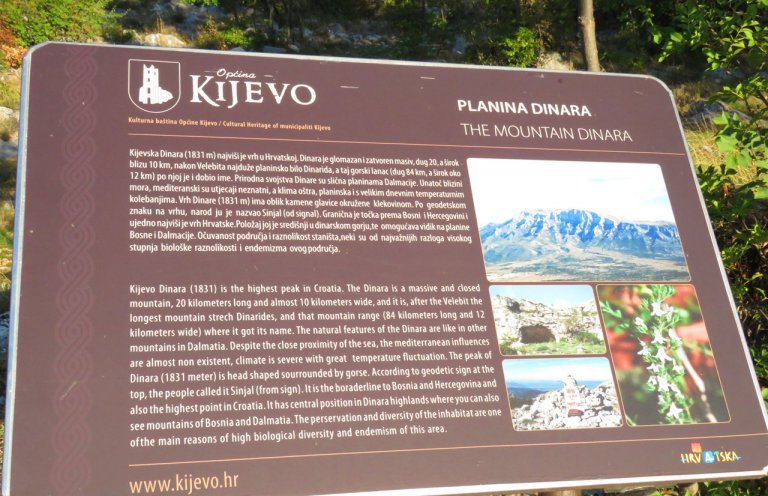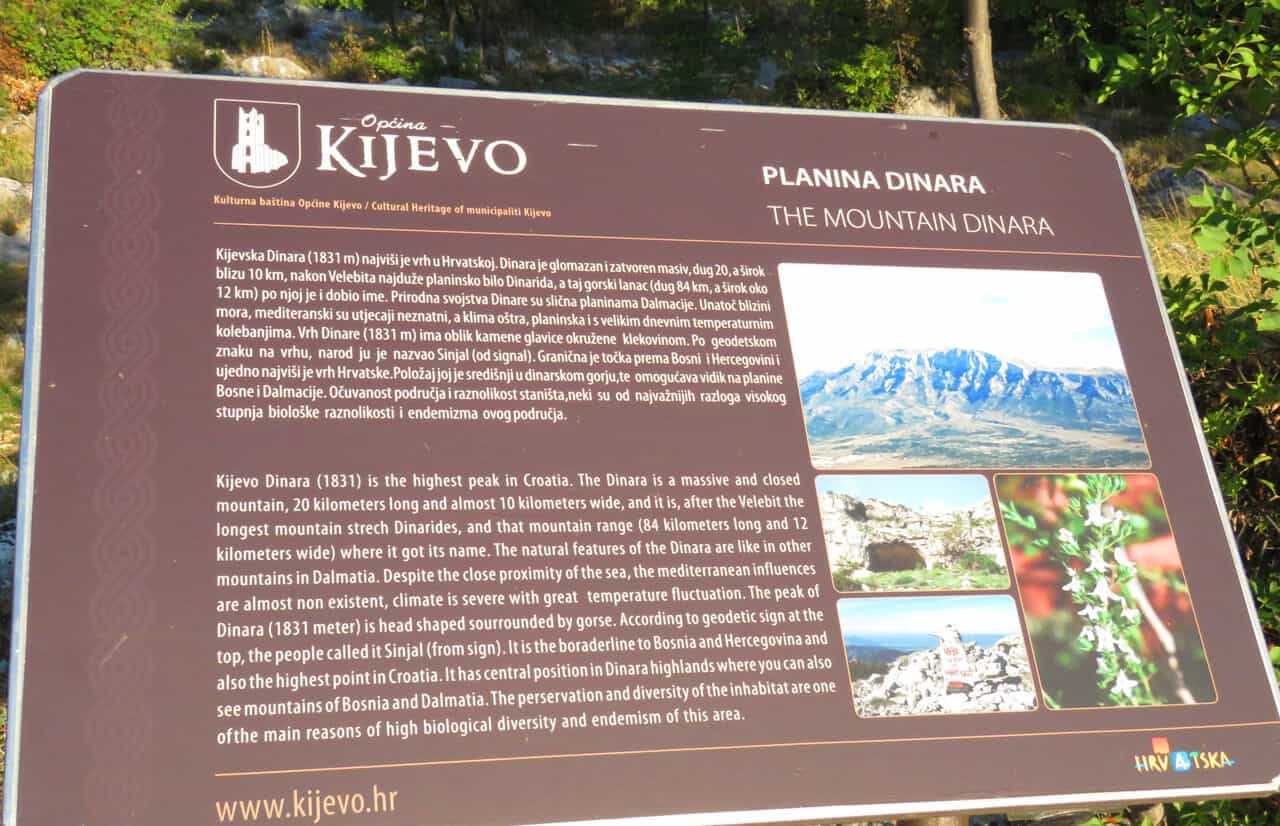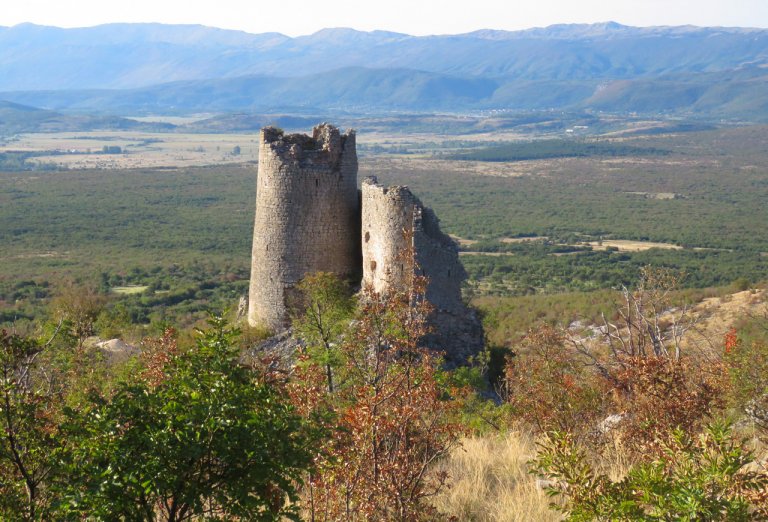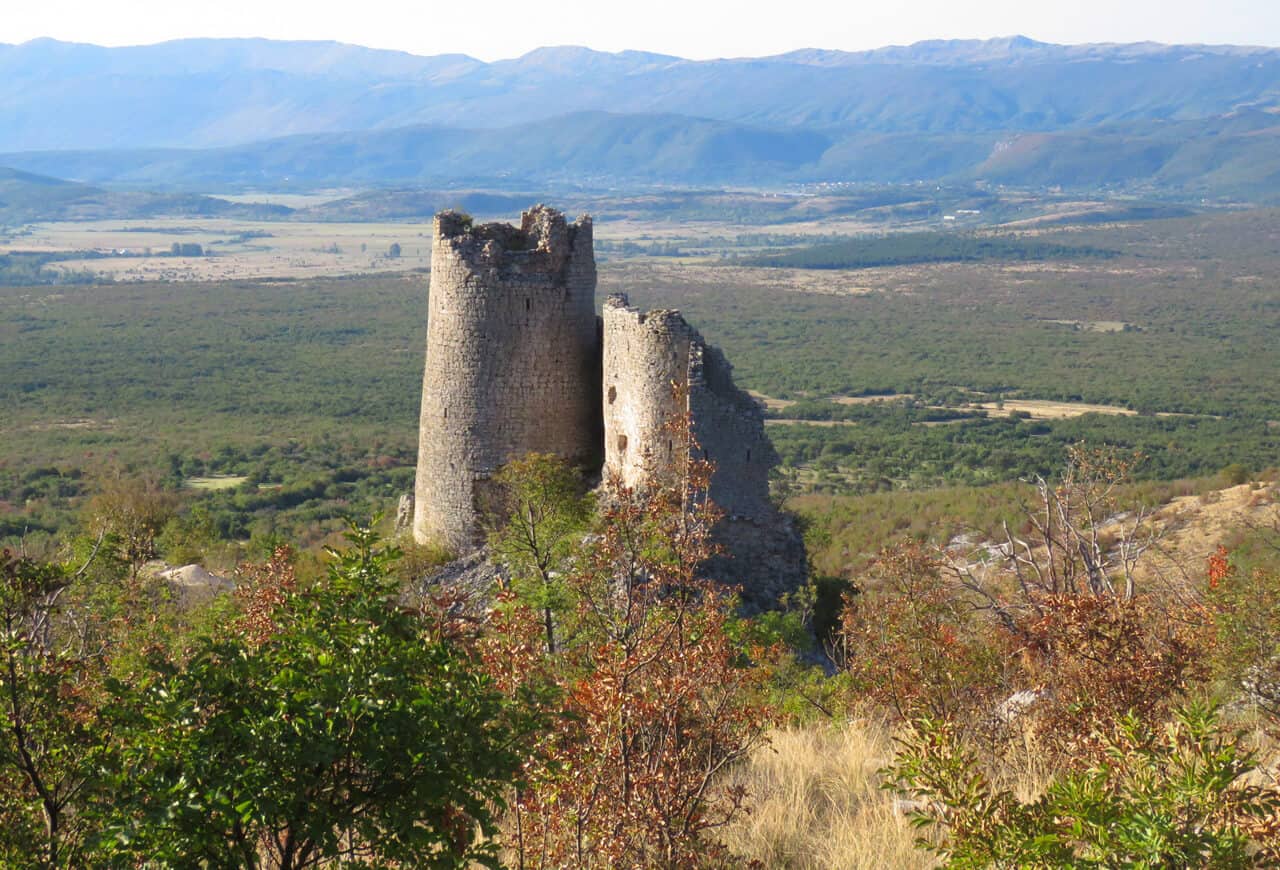 ---
---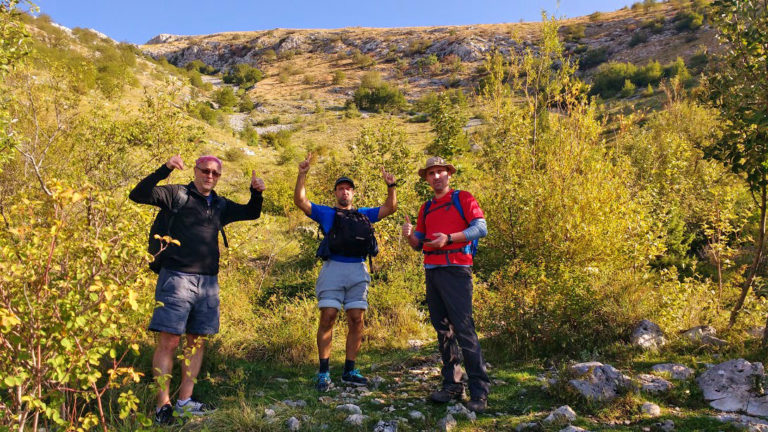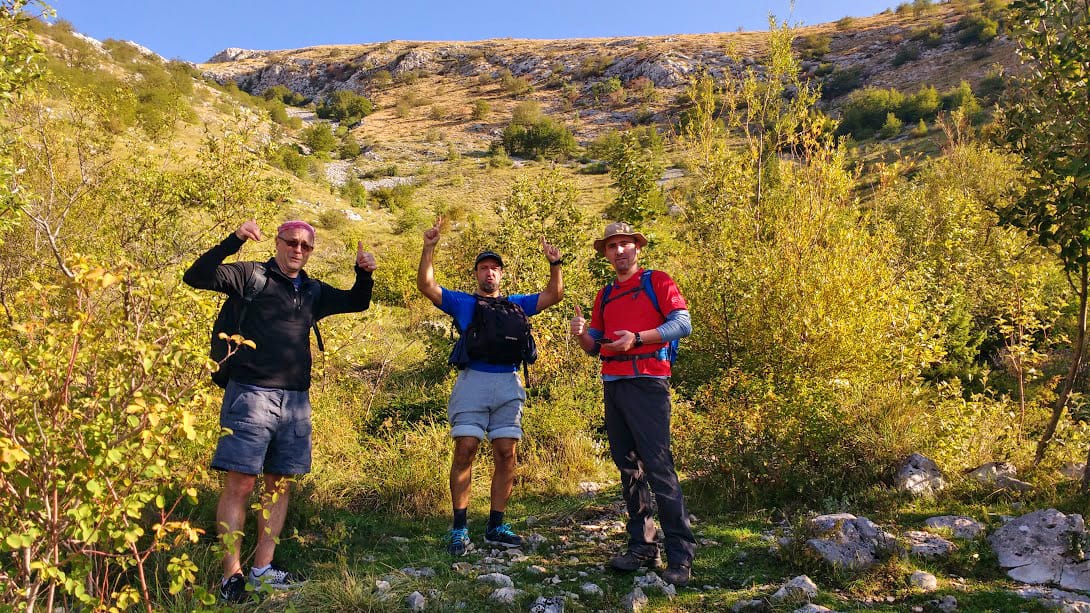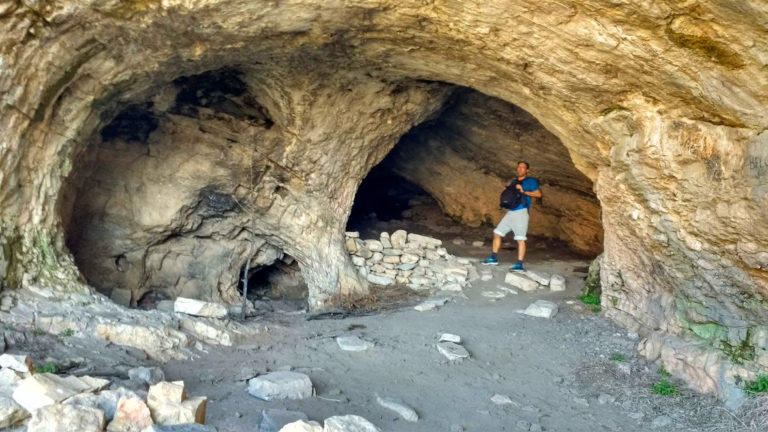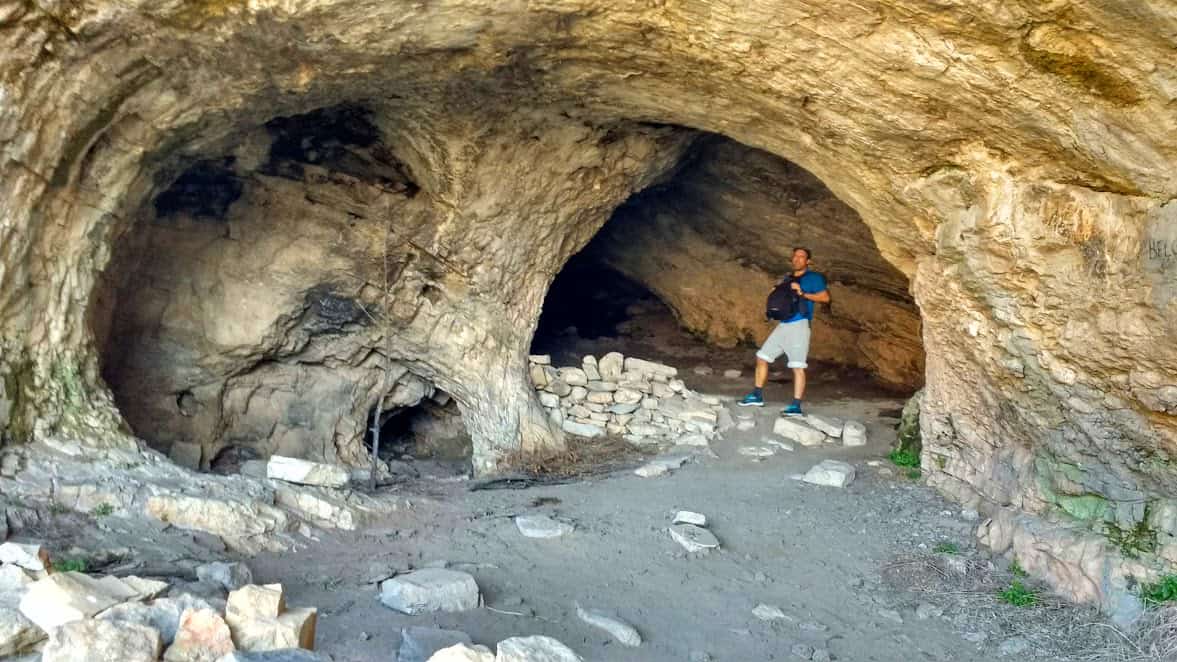 .
---
---
The early going of this hike was a steady, consistent climb on a rocky path through trees and shrubs. About an hour into our hike the trees and shrubs gave way to barren rock shrouded by grass (below).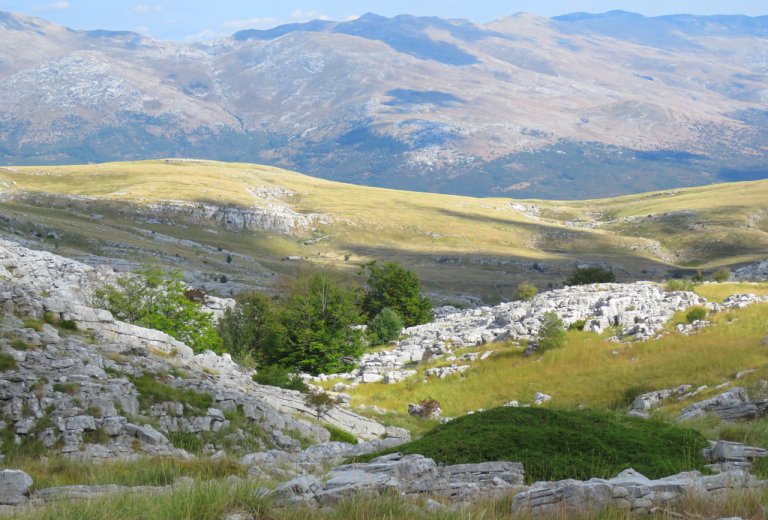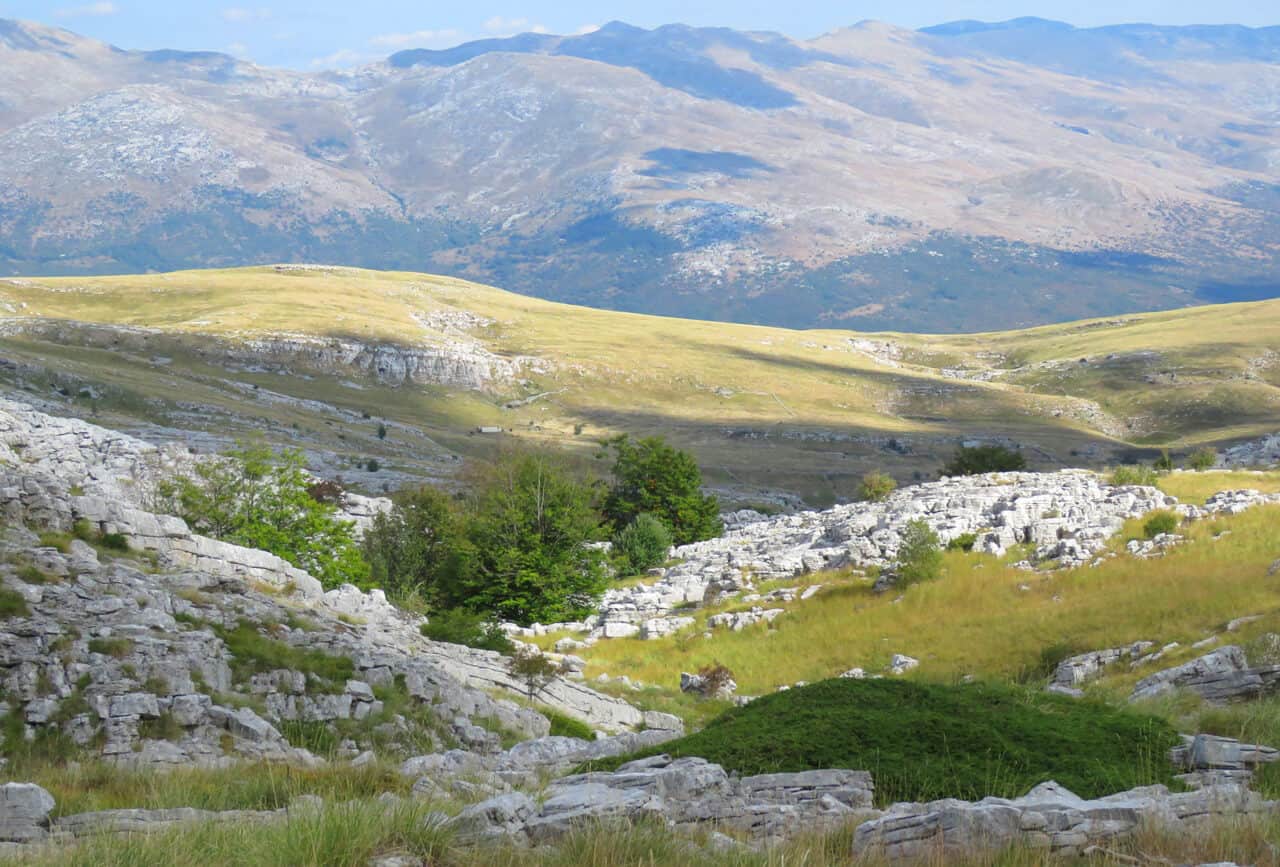 We continued, the meadow-like terrain broken by a few steep ascents, then reverting back to a steady, consistent hike through grass. In some ways this monotonous, constant incline was even more tiring than other mountains characterized by steep, rocky climbs.
2 ½ hours into our hike we stopped for a break at the Martinova Kosara shelter, a stone hut built by shepherds.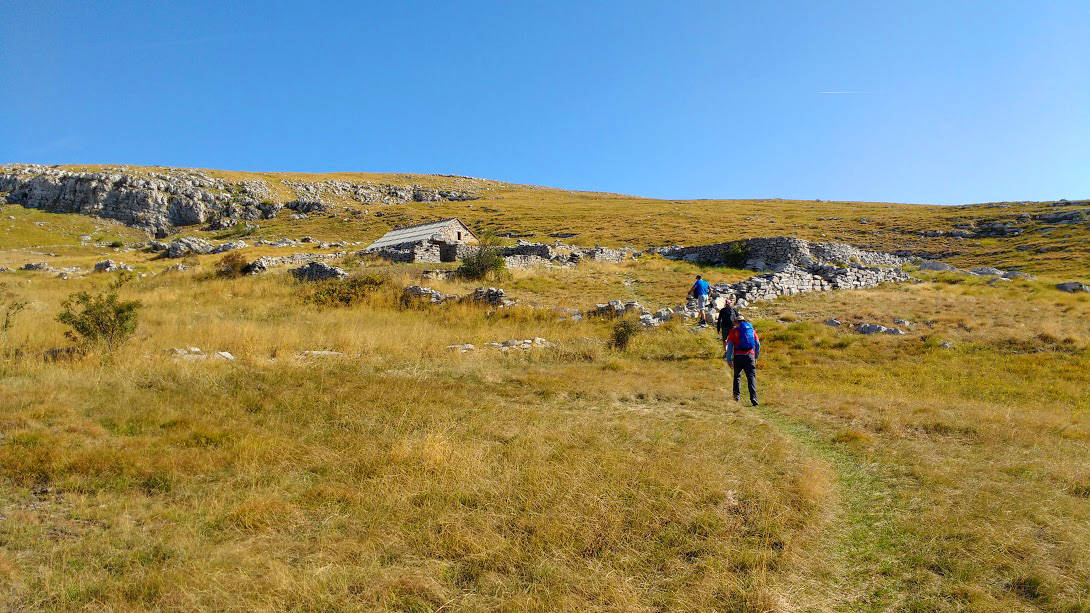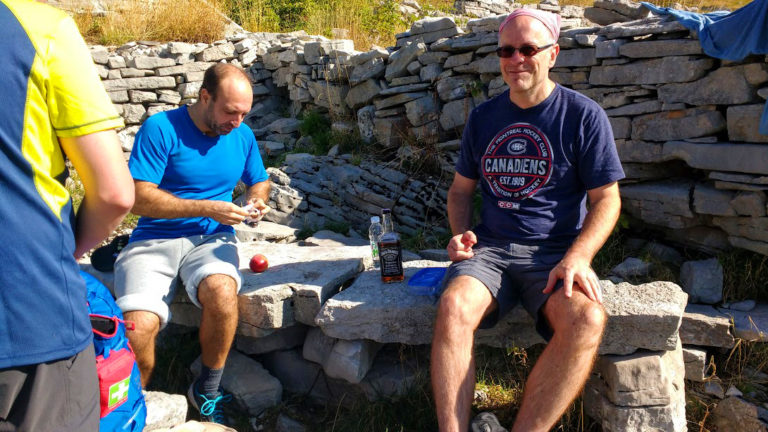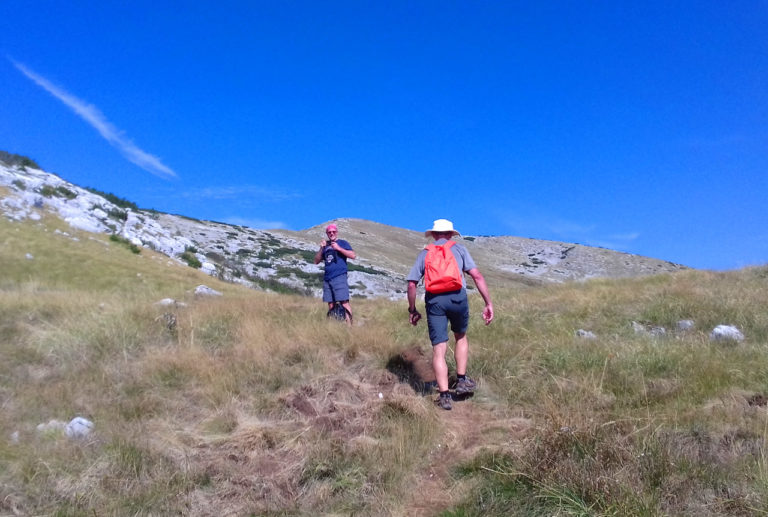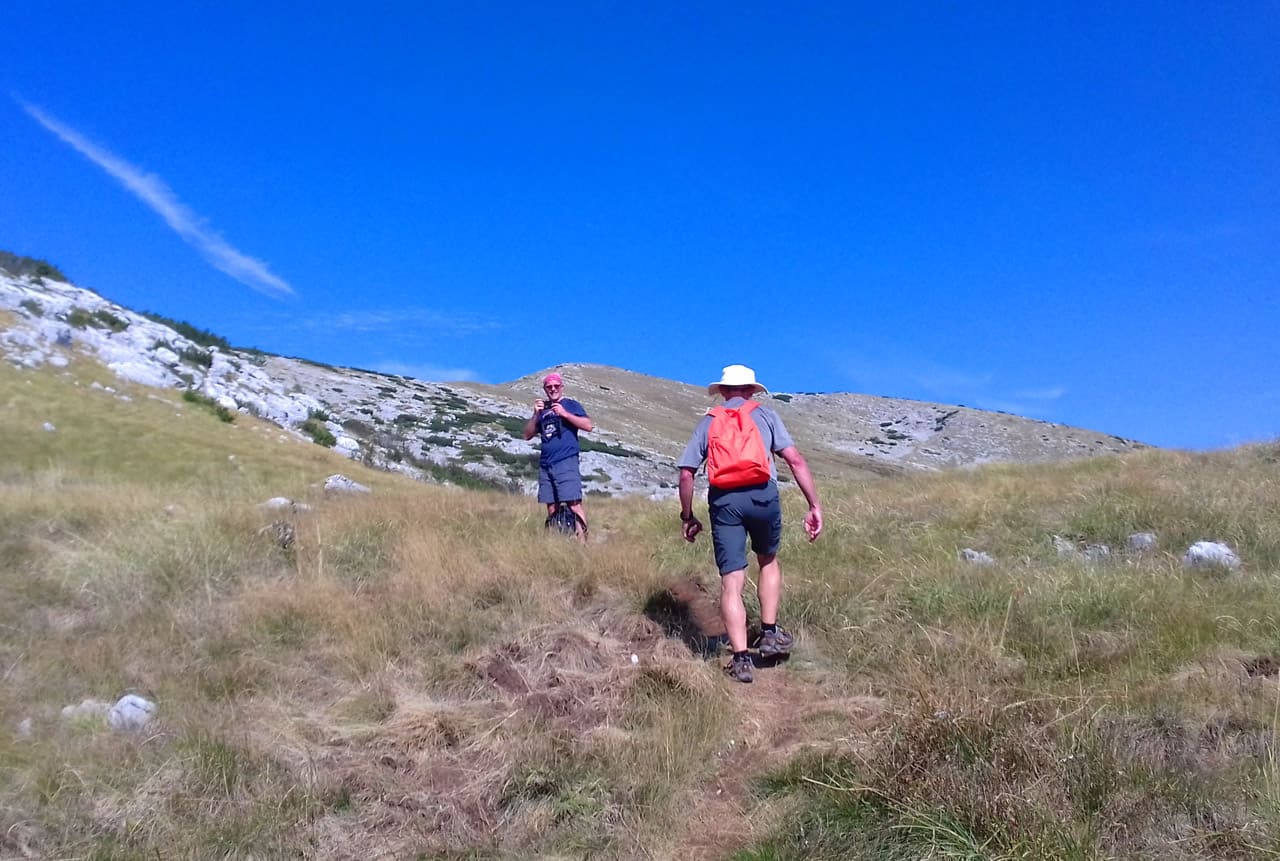 .
The last half hour of the ascent is the most scenic. We walked along a ridge, views of mountain ranges in all directions. From there we climbed a last rocky incline. We arrived at the top.
---
---
Total time to the top: 4 ½ hours.

Below: Views at Dinara Peak (also called Sinjal Peak). 1,831 m.
(don't forget to sign your name in the book located in the metal box).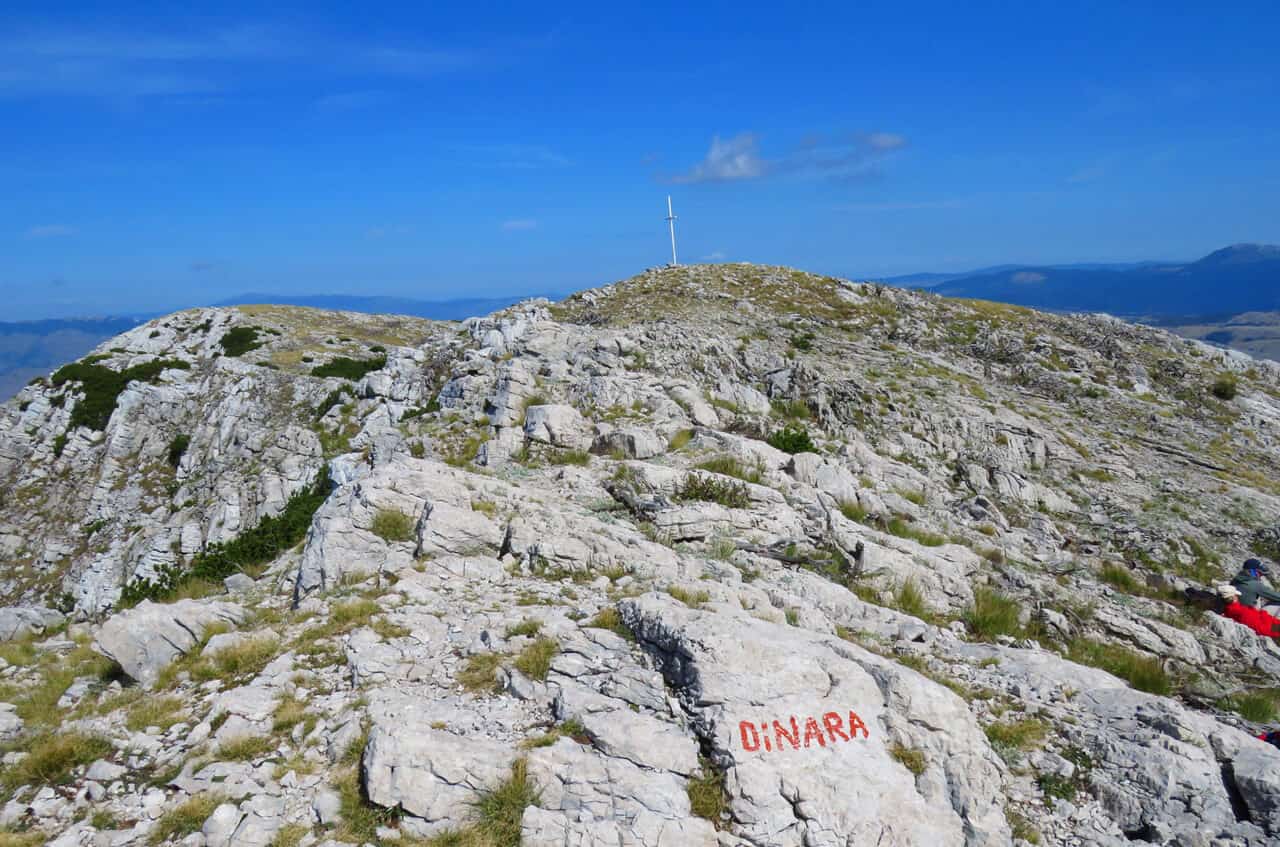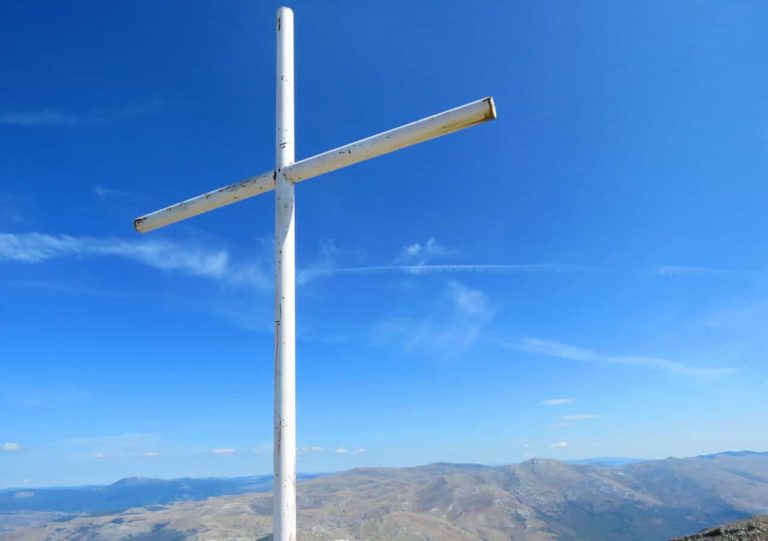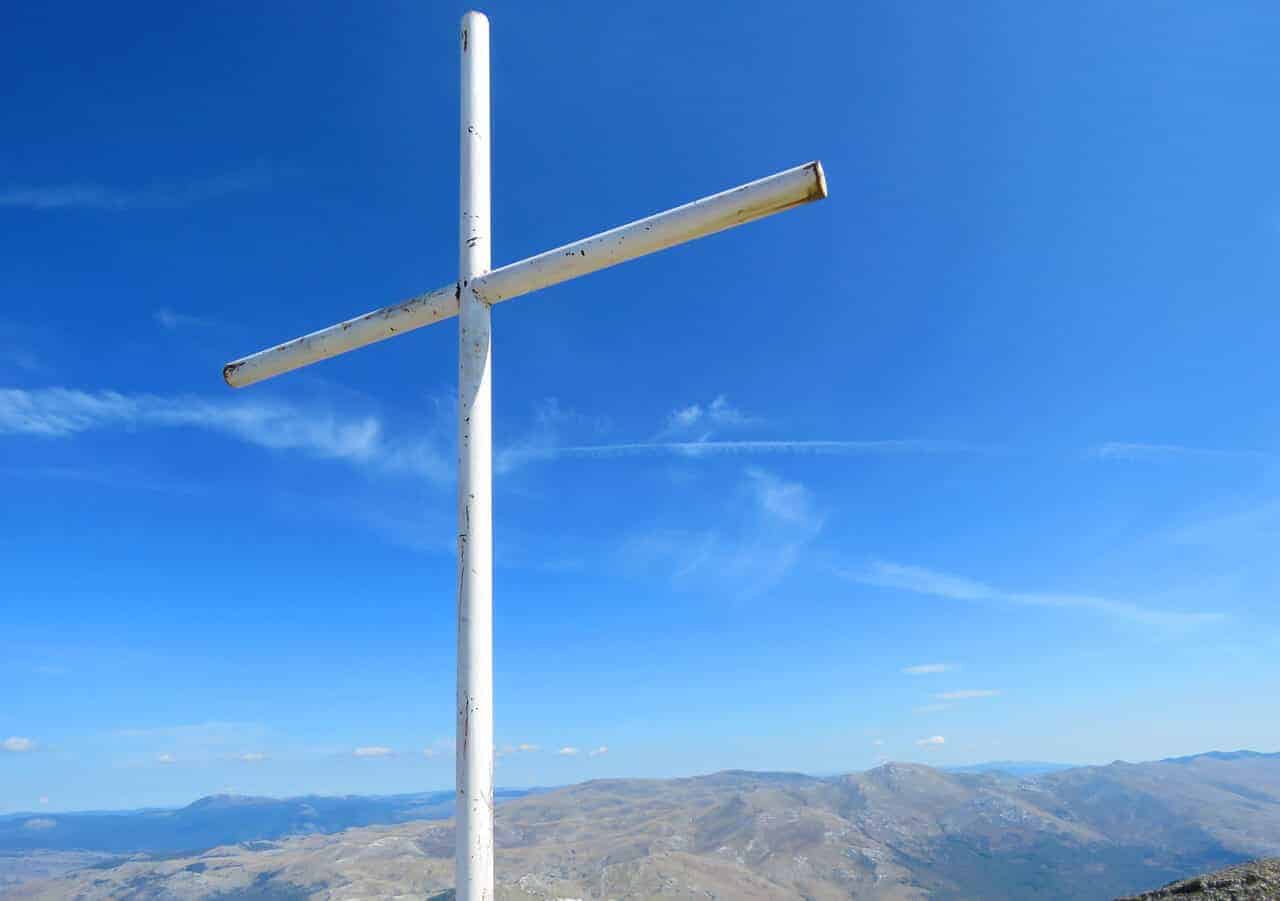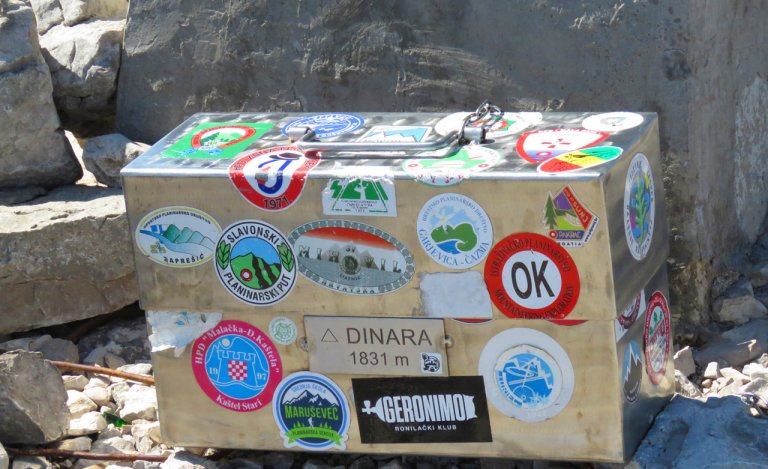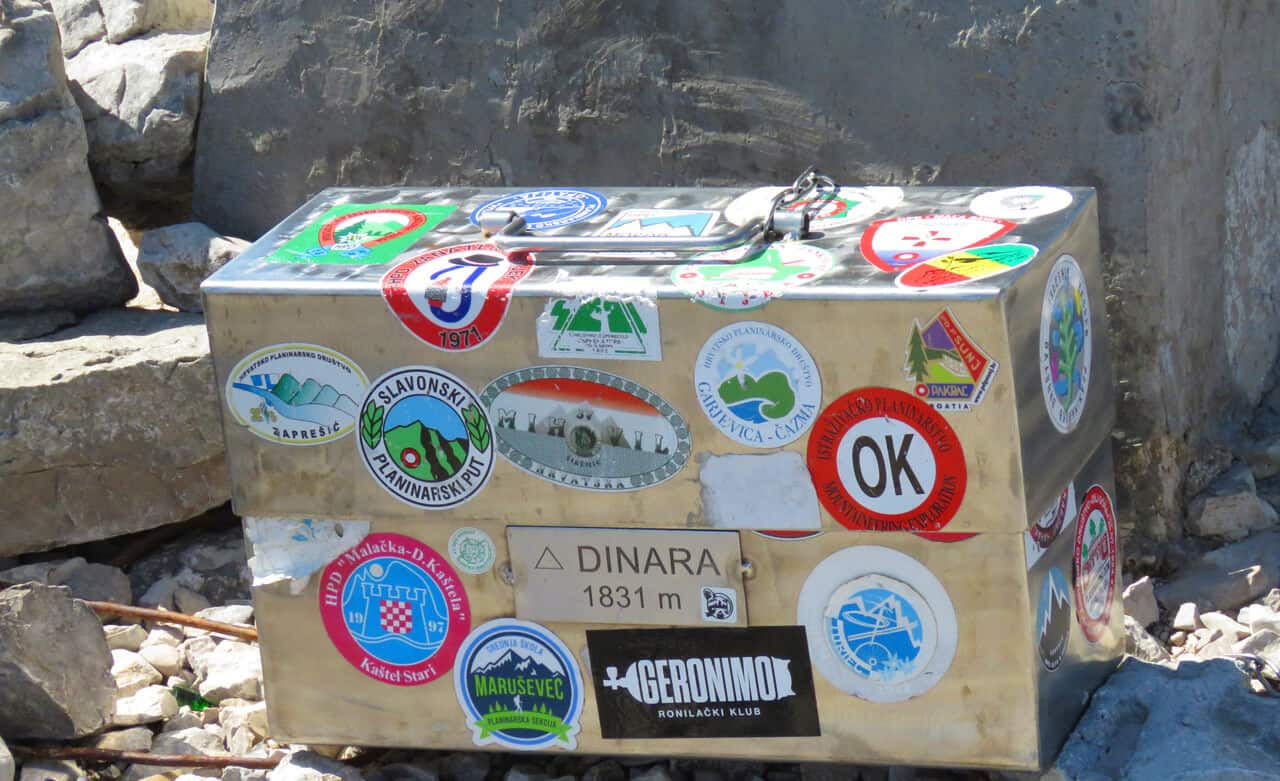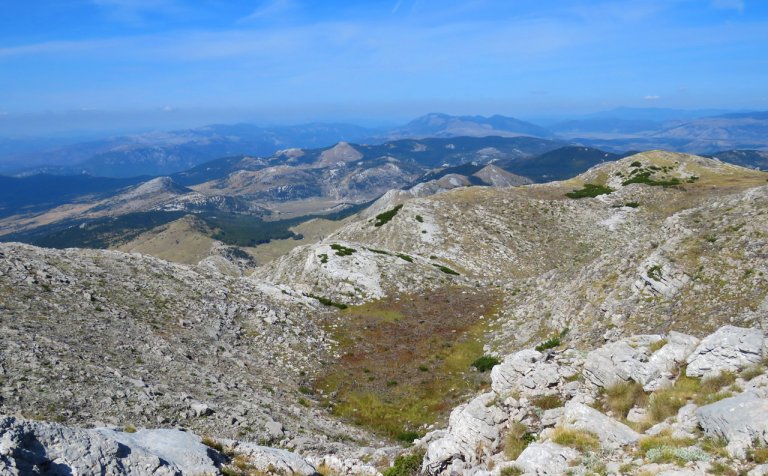 ---
---
We saw these dogs at the top and figured that they belonged to other hikers. They didn't. They befriended us and would end up walking the 4 hours down the mountain with us.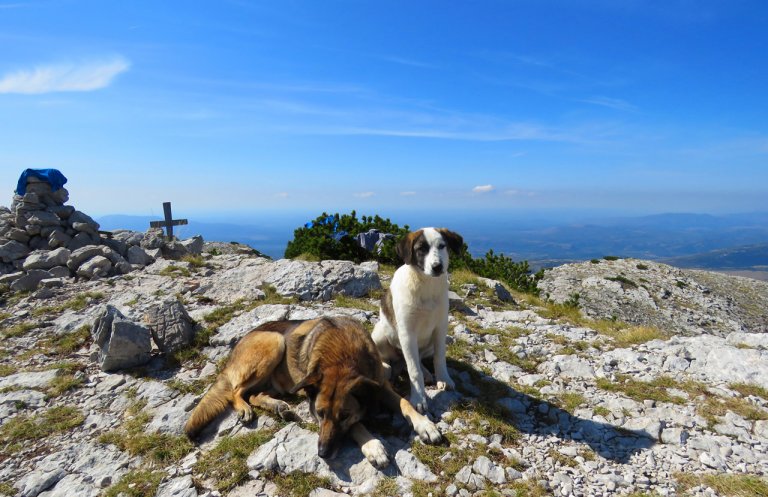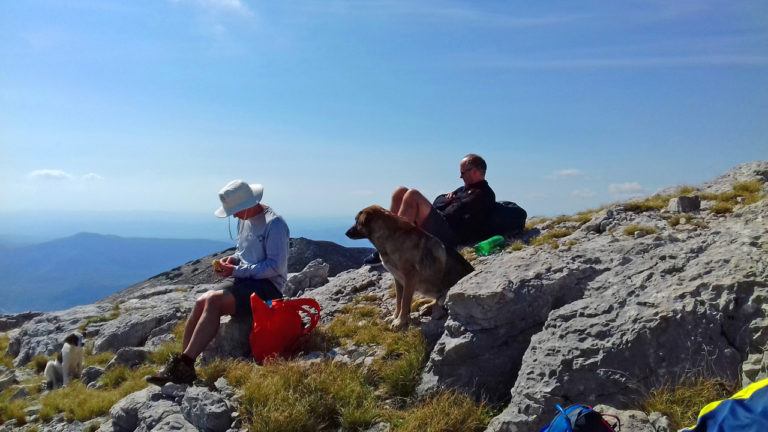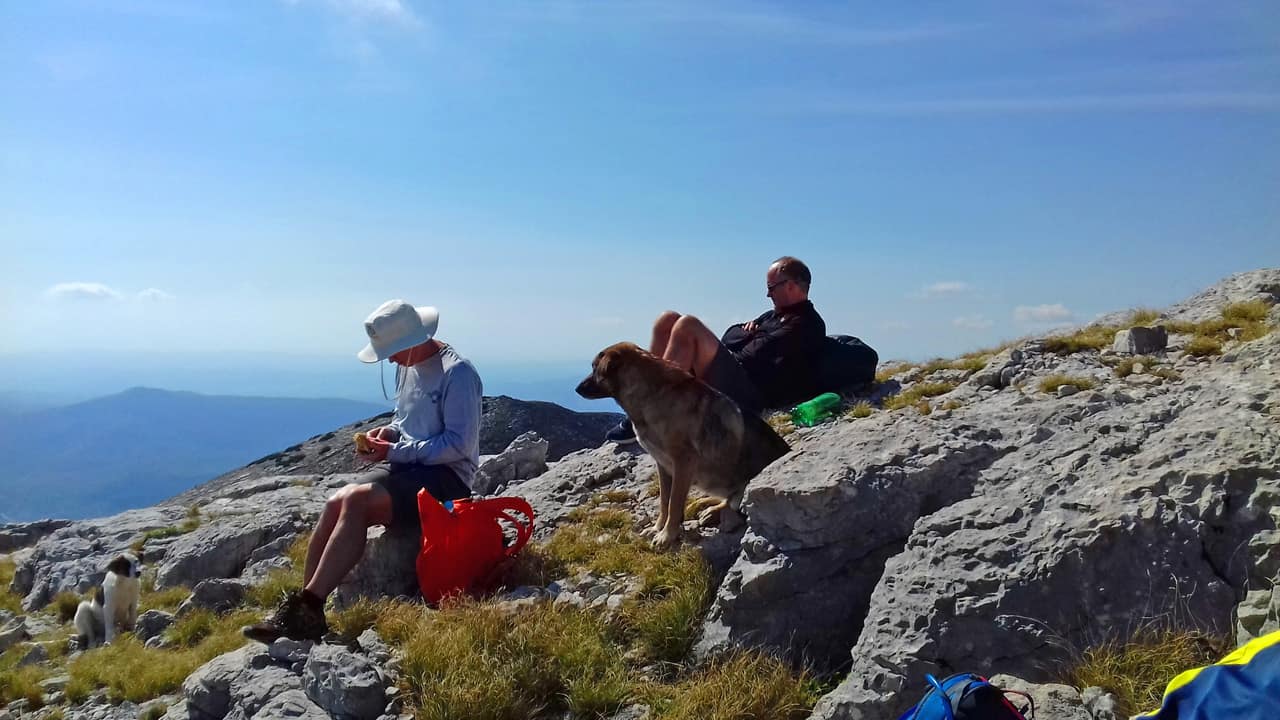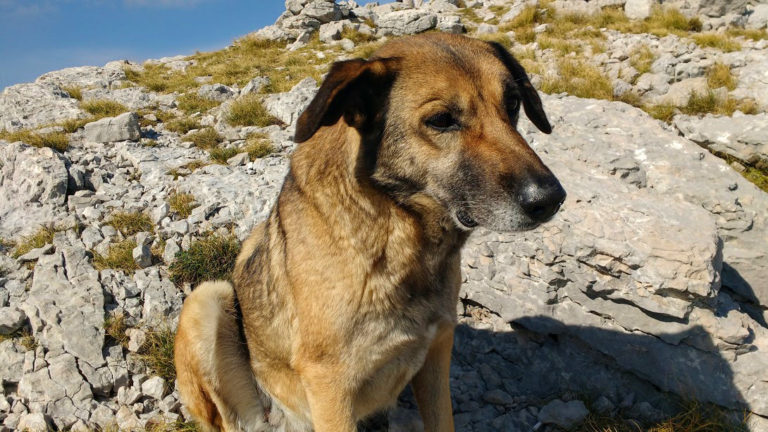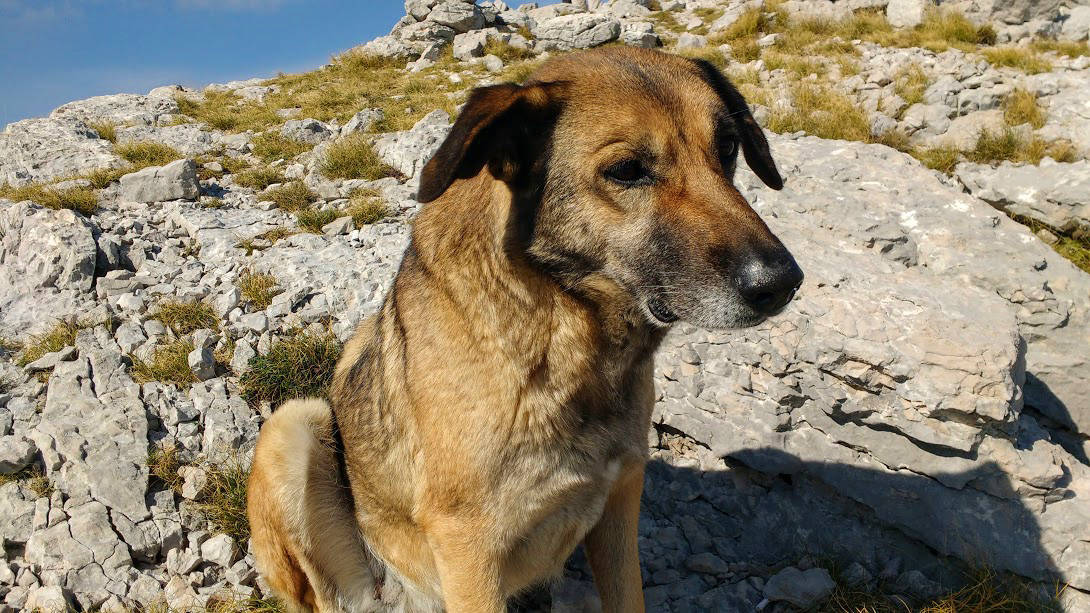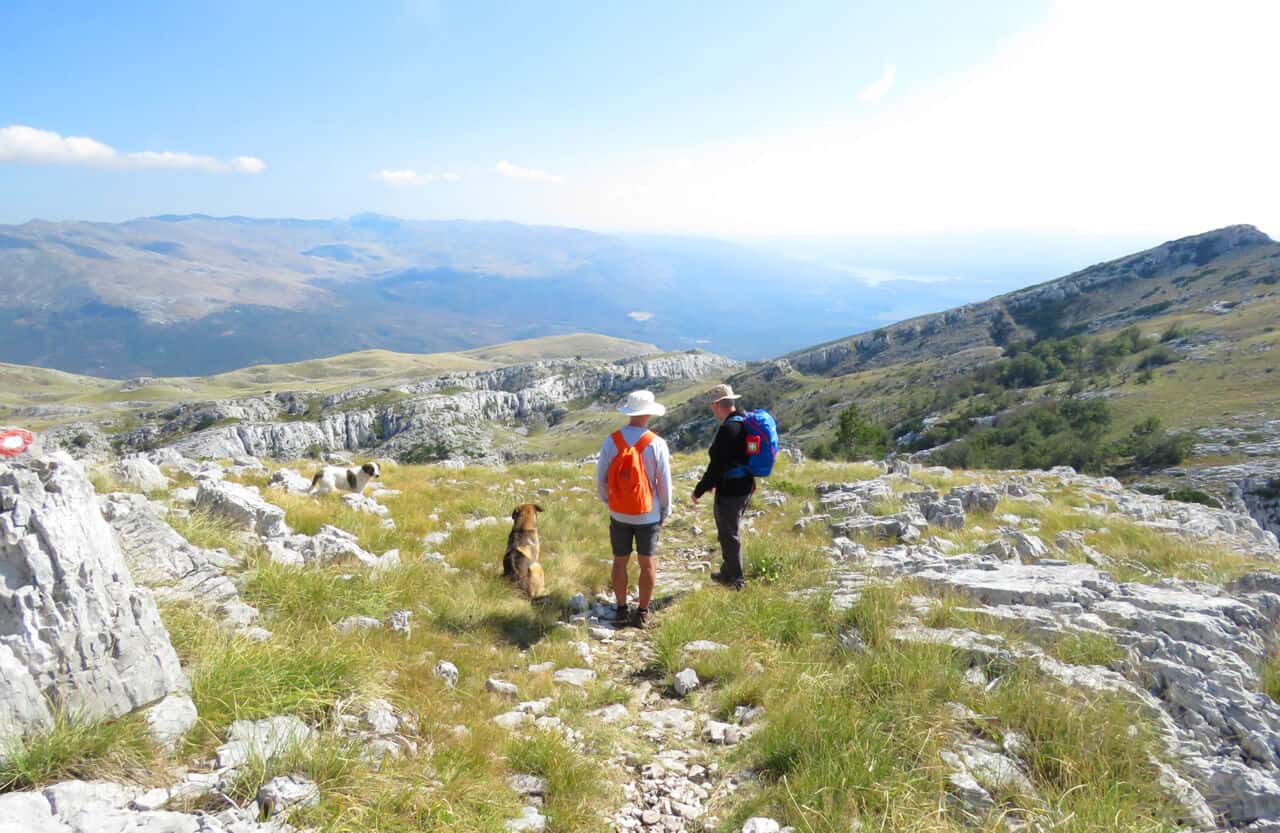 ---
---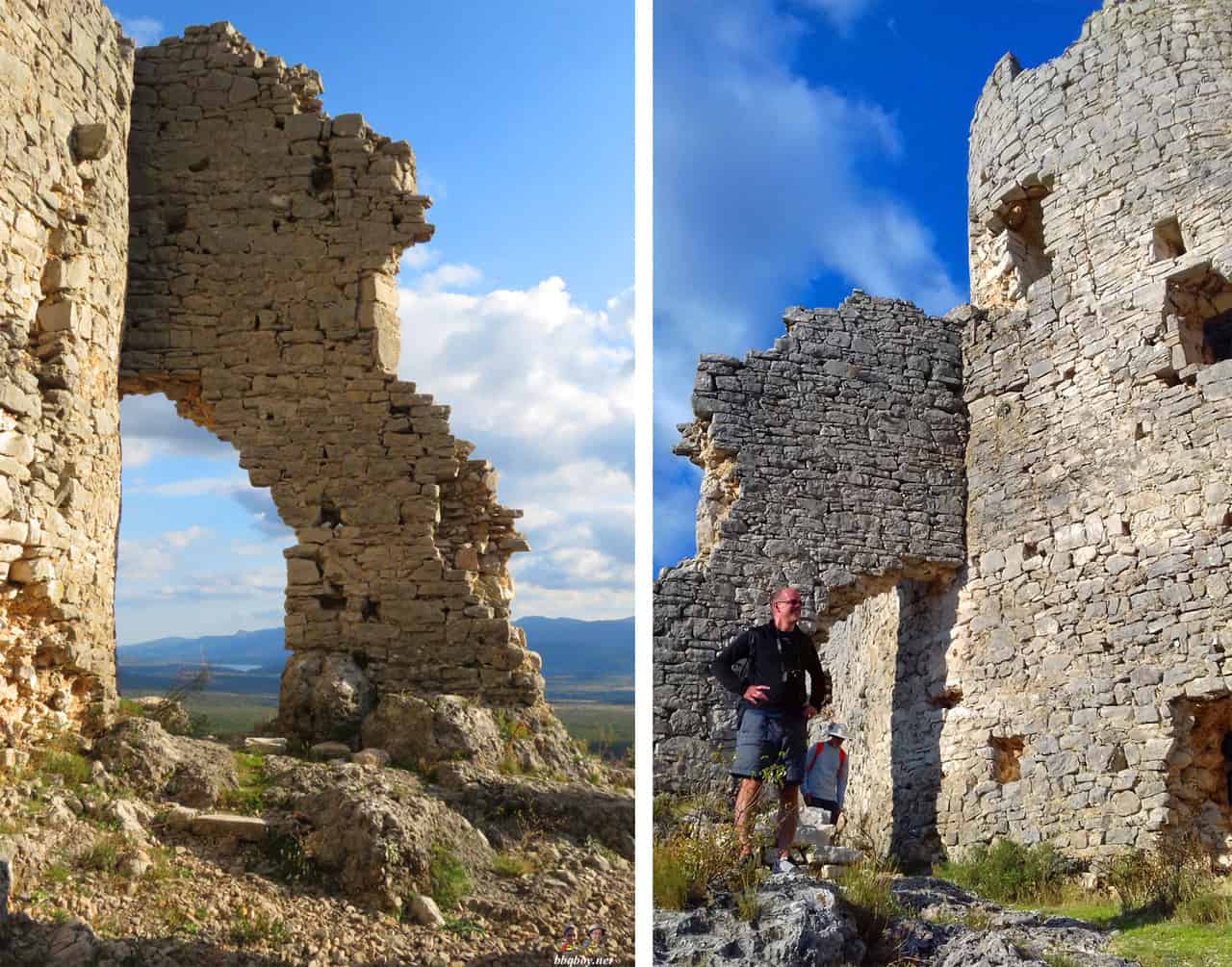 ---
---
Total time coming down: 4 hrs, 15 minutes (with time exploring the fortifications)

.
Below: We ended up cooking a barbecue at the Glavas Hiking Hut (it was Christmas for that dog – we gave him about 5 pork chops).
.
---
---
Notes on the Hike
– It is not a technically difficult hike and we never had to use hands to climb or scramble. But it is a constant, unrelenting incline that requires good fitness (total hiking time was close to 9 hours). You would have thought that coming down would be easier but it wasn't – the path is full of loose rocks that requires you to always keep an eye on your footing.
– Wear boots. I wore running shoes and they got seriously beat up. The terrain here is really rough with some really jagged rocks, worse than any hike I've previously climbed in Croatia.
– There are some beautiful views of the Dalmatian hinterland and, up higher, of the mountains of Bosnia and Herzegovina. This is quite a remote area and except for the town of Knin (which you can see from the summit) there are very few signs of civilization.
– We did this hike in mid-September which is a perfect time to go. Summer is too hot and – here in the interior – winters are harsh. It is not recommended to hike Dinara November to April.
– If you get stuck in bad weather, the Martinova Kosara shelter is always open. But it is very, very basic with few of the amenities that you find in some of the mountain shelters on other mountains.
– More on this Mount Dinara and different routes here.
Highlights for us?
– beautiful views, good company (Dennis was a nice addition to the group), good food – we brought lots of meat and some beer and kept it in a cooler in the Glavas parking lot. The shelter has an outdoor cooking pit and we cooked it there when we finished our hike.
– the main reason to do this hike? To say that you've just climbed the highest peak in Croatia.
TOP HIKING TOURS IN CROATIA
---
---
Thanks to Goran and Vedran for organizing this hike. It was a great time.