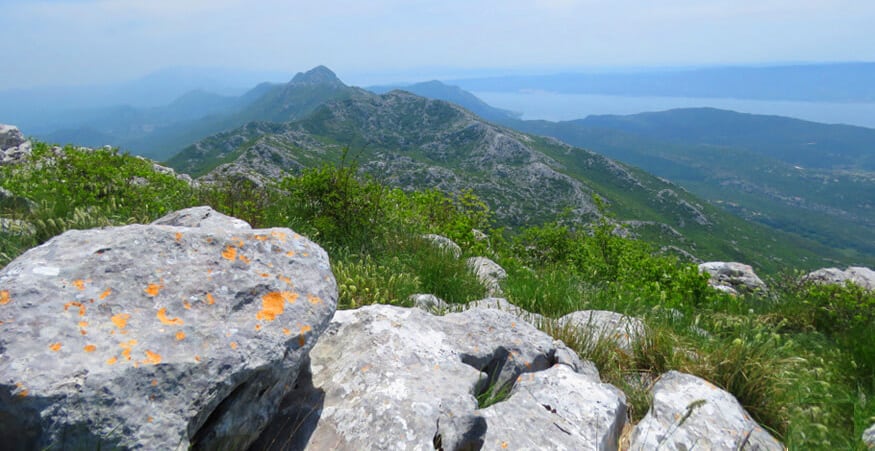 Hiking Mount Mosor the "Man's Way"
Mount Mosor is the highest peak in the Split area, renown for its fabulous views over the Dalmatian coastline. So when my new Croatian friends Vedran and Goran offered to take me for a hike up Mount Mosor there was no way I was going to say no."Bring 2 liters of water, sunscreen and a lunch" said Vedran "It takes about 3 hours to reach the peak".
We were going to get to Mount Mosor by bus but Goran managed to secure his wife's car at the last minute. So we stuffed into the small Honda and started up the long winding road to the foothills of the mountain.
Most blogs out there describe a hike up Mount Mosor, the hike culminating at the Mountain House. That's a 45 minute hike from the beginning point (a small town called Gornje Sitno). That's not a hike. That's a 'ladies hike' somebody said. Ok, it might have been me. We were going to hike like men, and that meant climbing those high peaks that loom right behind the Mountain House.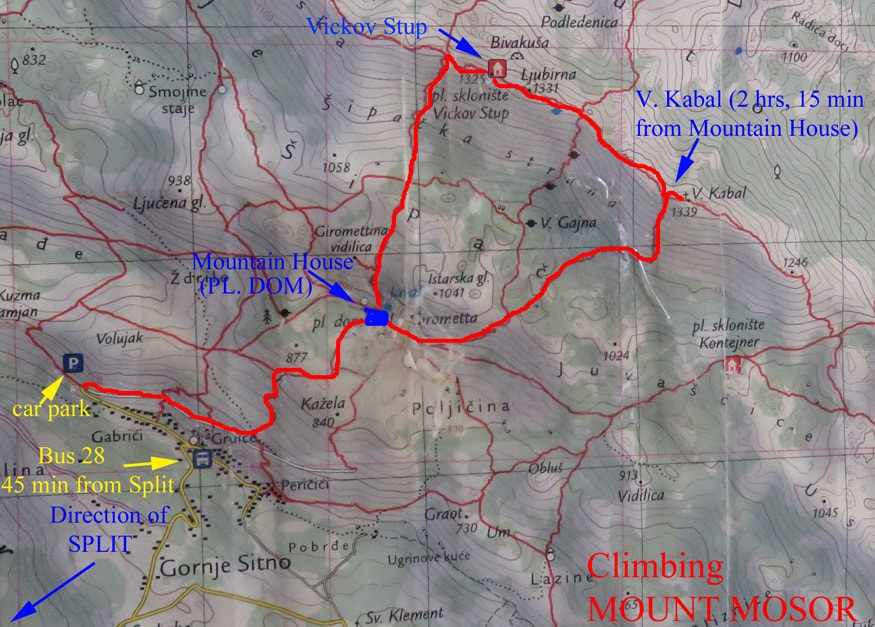 ---
---
Some numbers:
Car park: 590 m
Mountain House: 870m
Veli Kabal: 1339 m (highest peak)
Vickov Stup: 1325 m (2nd highest peak)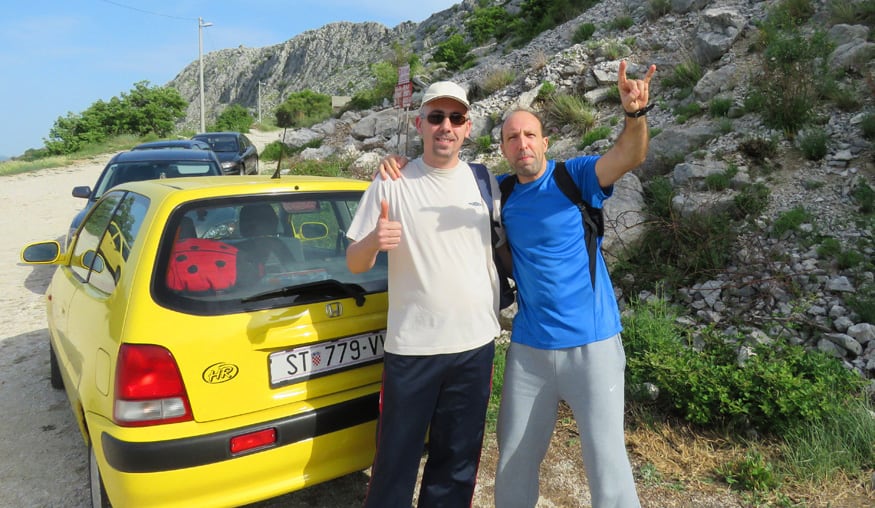 From the car parking lot (altitude 590 m) we walked on a gravel path for about 10 minutes. We then navigated our way up a stairway of rocks. It was easy going. The guys told me about tourists climbing here in flip-flops. Some have gotten stuck and had to be rescued by helicopter (you get stuck with the helicopter bill if they have to come to get you). They told me to watch out for snakes; the hills of Dalmatia have nose-horned vipers poisonous enough to go kill children or older people (note: you can see a dead one on display in the Mountain House).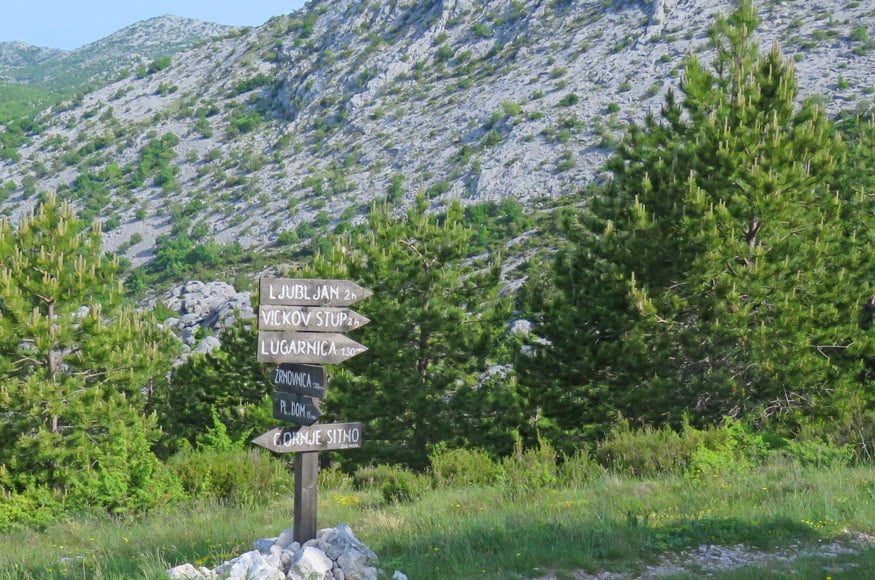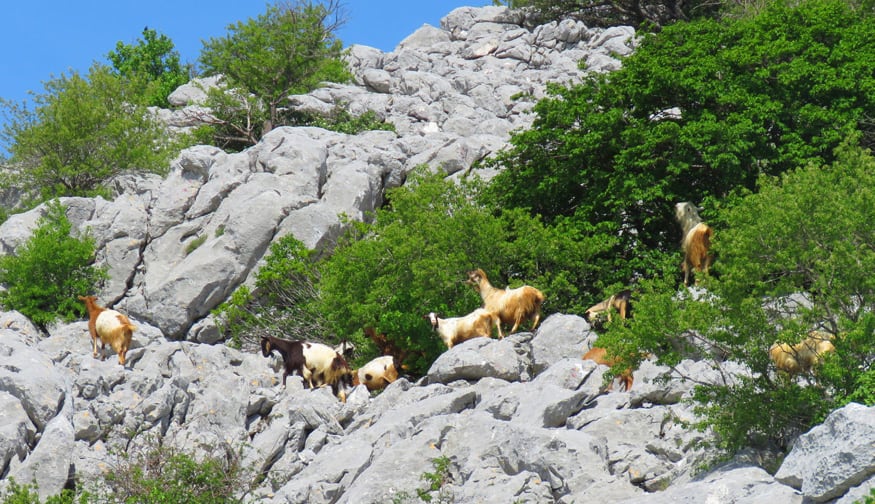 ---
---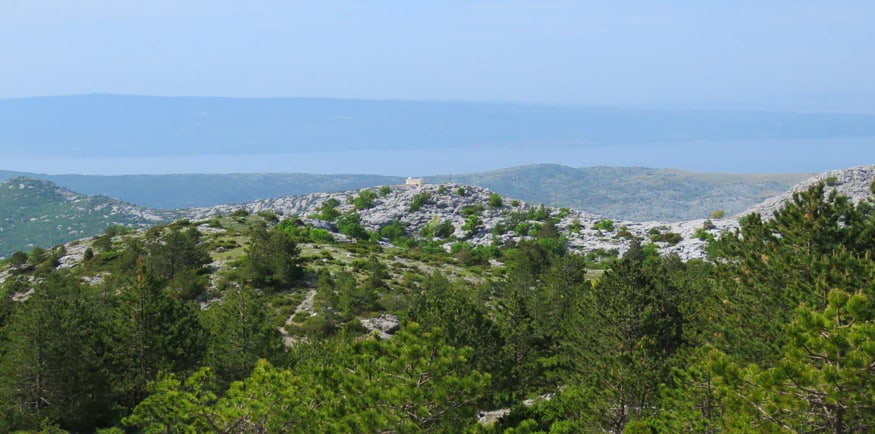 .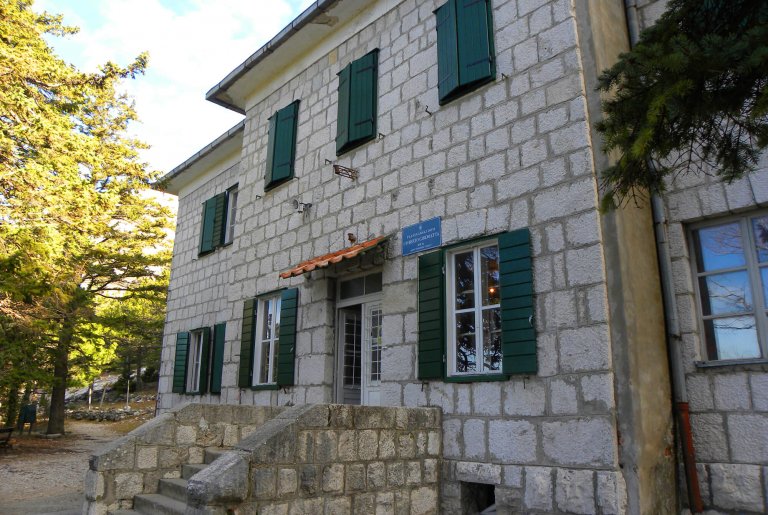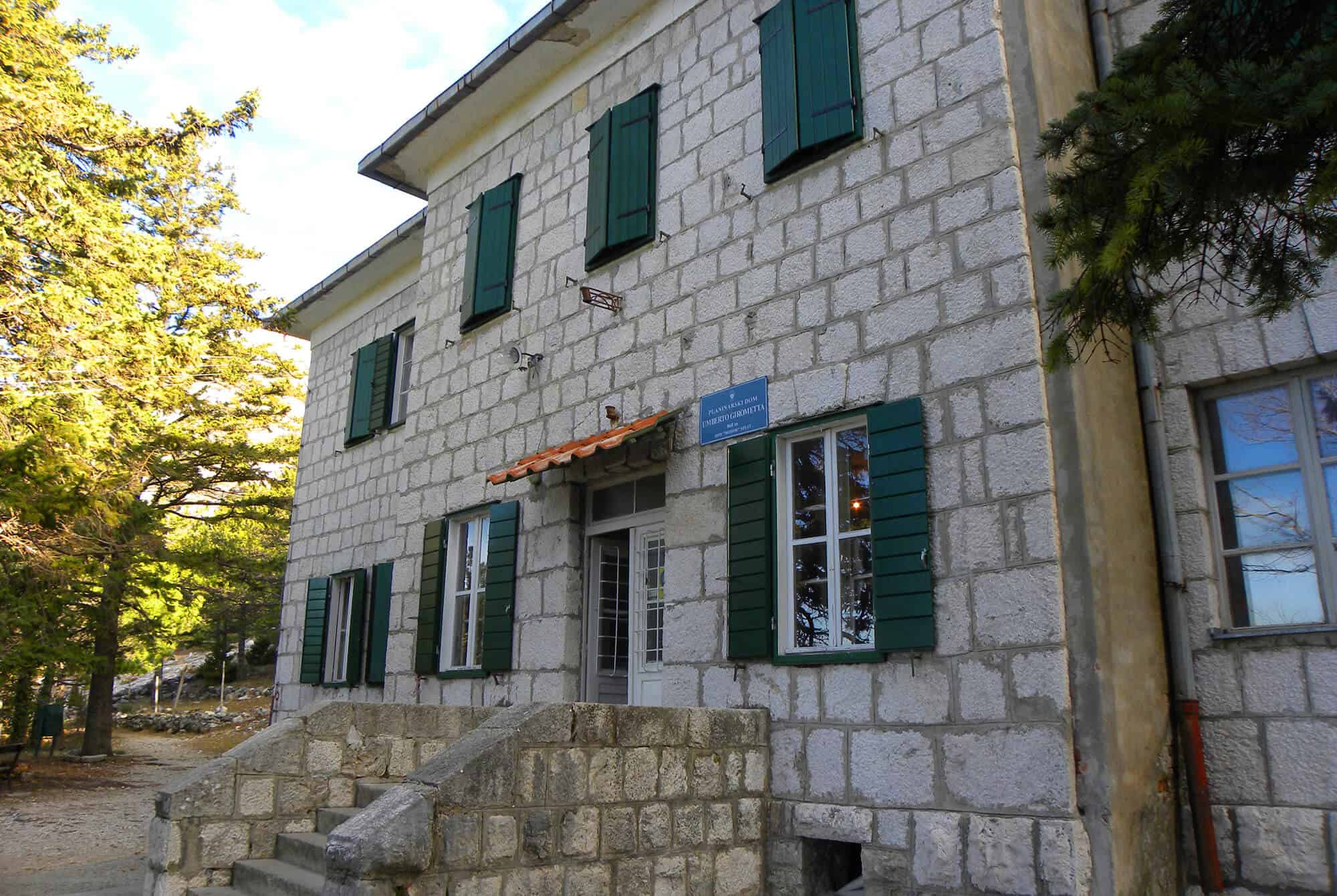 ---
---
As advertised, it took about 45 minutes to get to the Mountain House. We stopped at one of their picnic tables and had a snack and water. Goran told me that as a kid he had stayed here overnight. The upper floors of the building serve as a hostel. What he remembered most however was the Turkish squat toilet that they have on the premises. This led to a conversation about how squat toilets are actually physiologically optimal for taking the best dumps.
We continued, headed for the toughest section of the hike.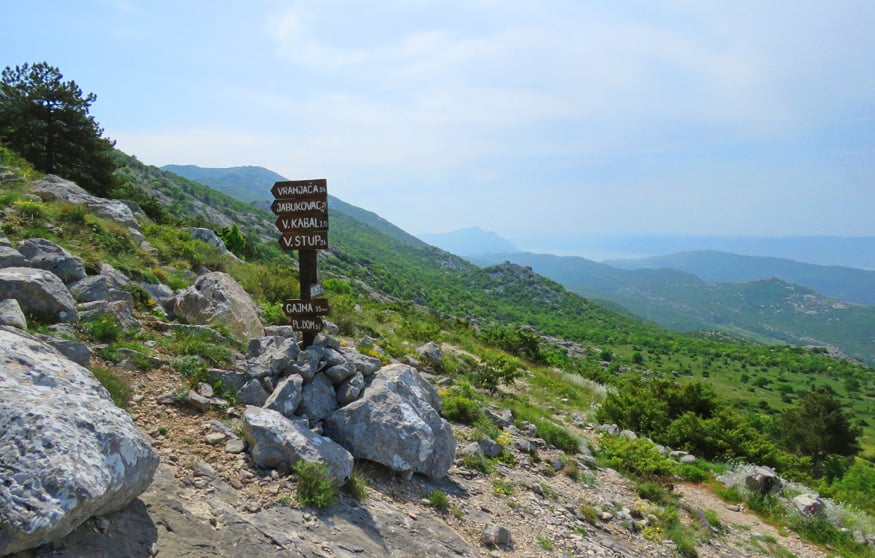 I don't have photos from the Mountain House – Veli Kabal portion of the hike, mostly because it required the use of both hands. The climb is steep and you'll often be using your hands to hoist yourself up to higher levels. When not climbing, you'll find yourself scrambling over loose rocks.
Then you see the cross right in front of you. That's Veli Kabal.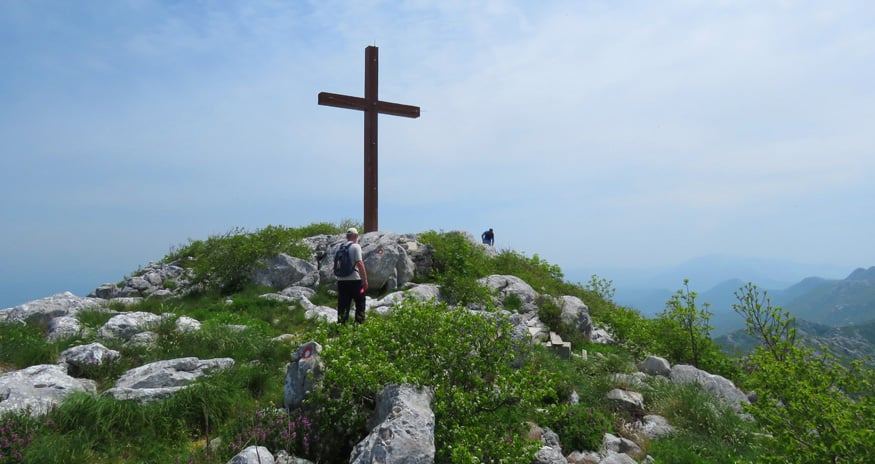 ---
---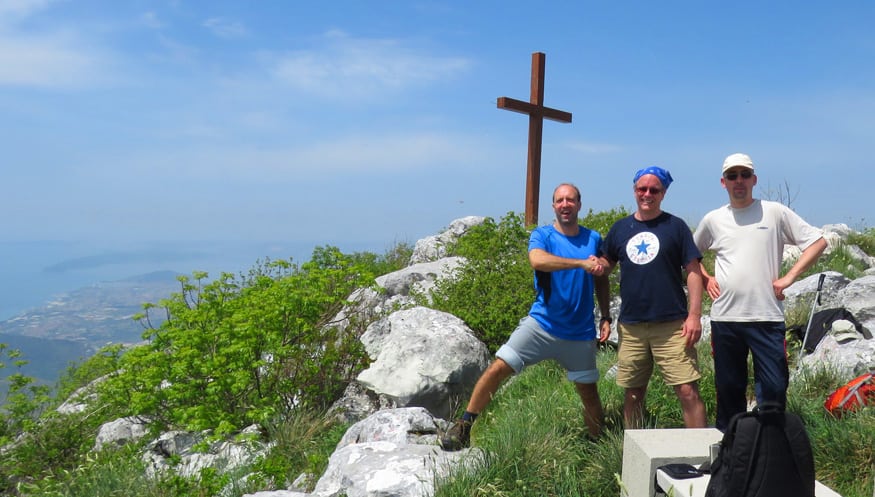 At the top of Veli Kabal there is a red metal box containing a book. Make sure to write your name in the book to make your achievement official.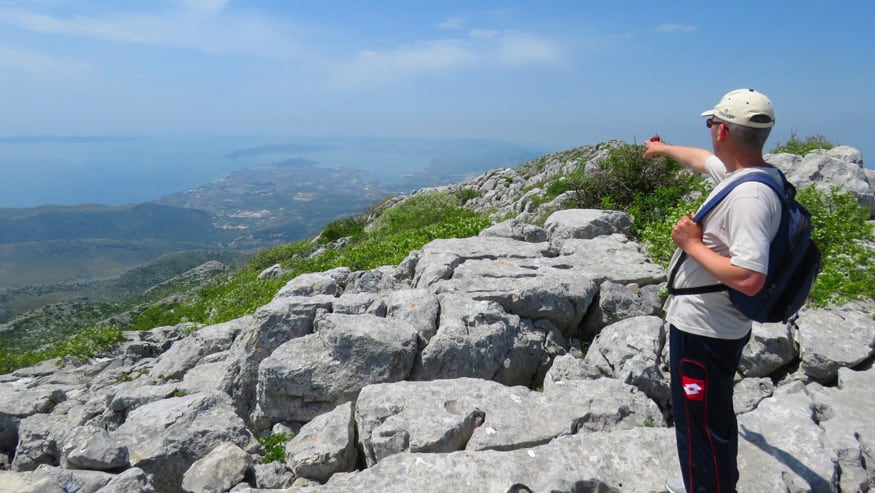 ---
---
.
We decided to continue on to Vickov Stup, the 2nd highest peak (by 15 meters).
This section, along a sharp ridge (the coast on one side, the Dalmatian interior on the other) was the most scenic of the day. It's a 45 minute hike between the two peaks.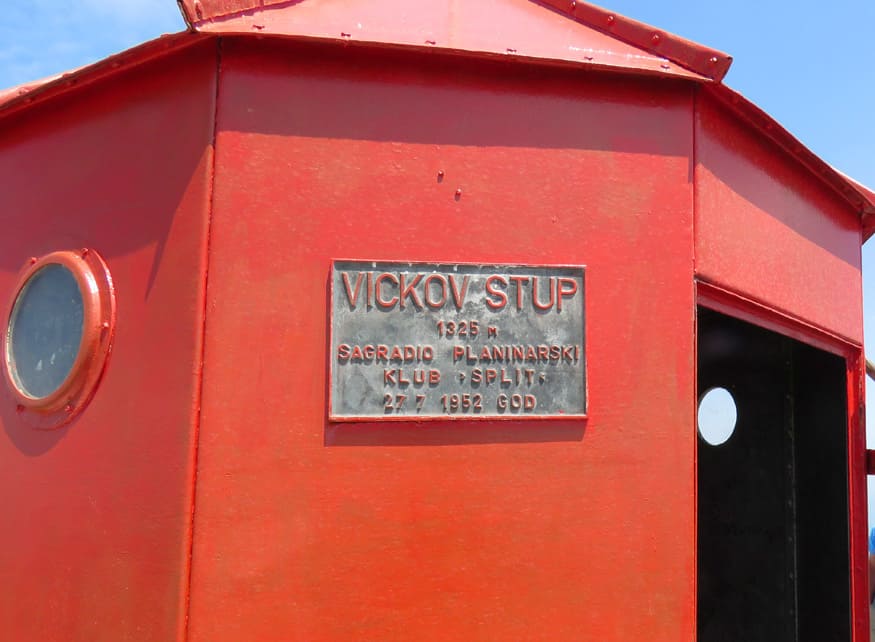 I've joked that this is a 'man's hike". We actually met quite a few ladies along the way: a young New Zealand couple doing the trek in the opposite direction, then a group of middle-aged German women up at Vickov Stup. We also met some Croatian men, people who looked like they did this every weekend.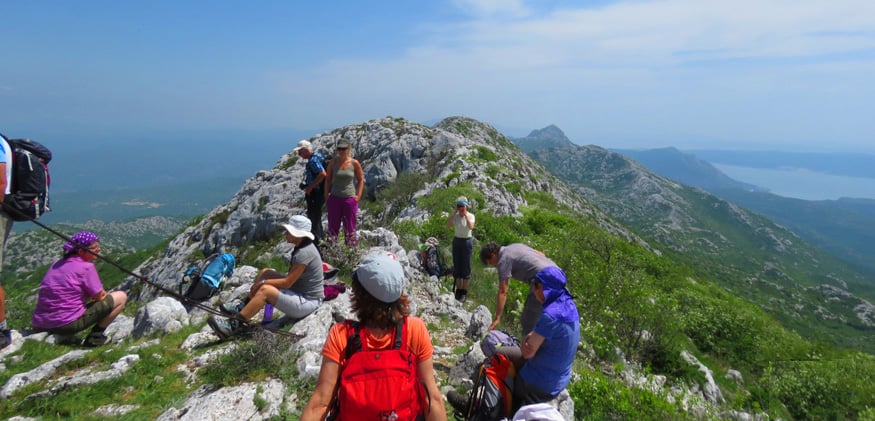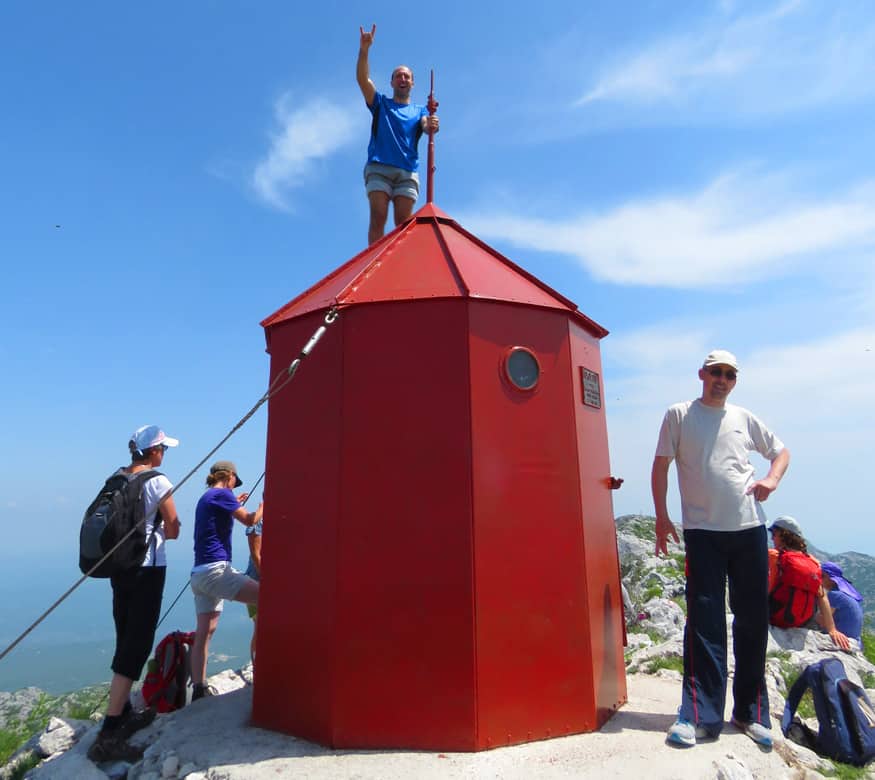 ---
---
.
The path from Vickov Stup to the Mountain House is actually much easier than the one from Veli Kabal. No climbing with hands and feet, no scrambling over loose rocks. And with this peak being closer to Split we had some great views towards the city (below – unfortunately it was a bit of a hazy day).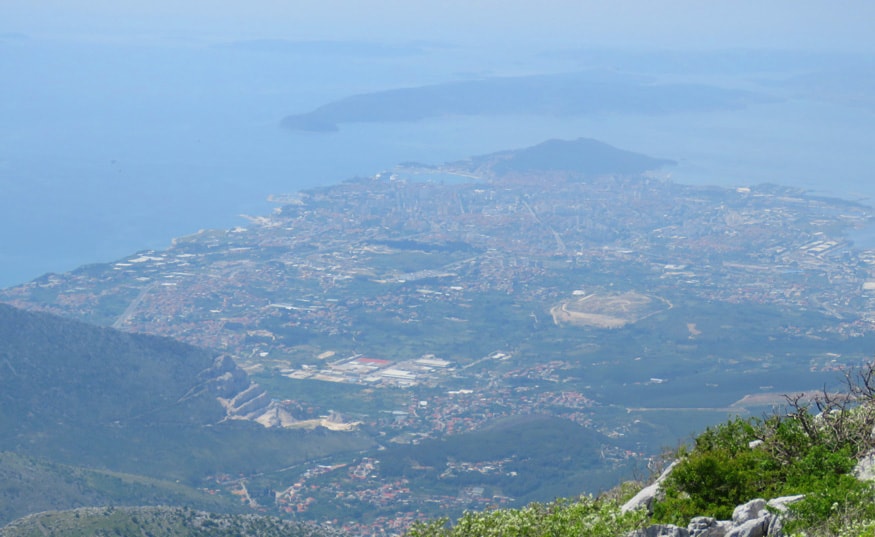 .
2 hours later, we were back at the Mountain House eating beans and sausages.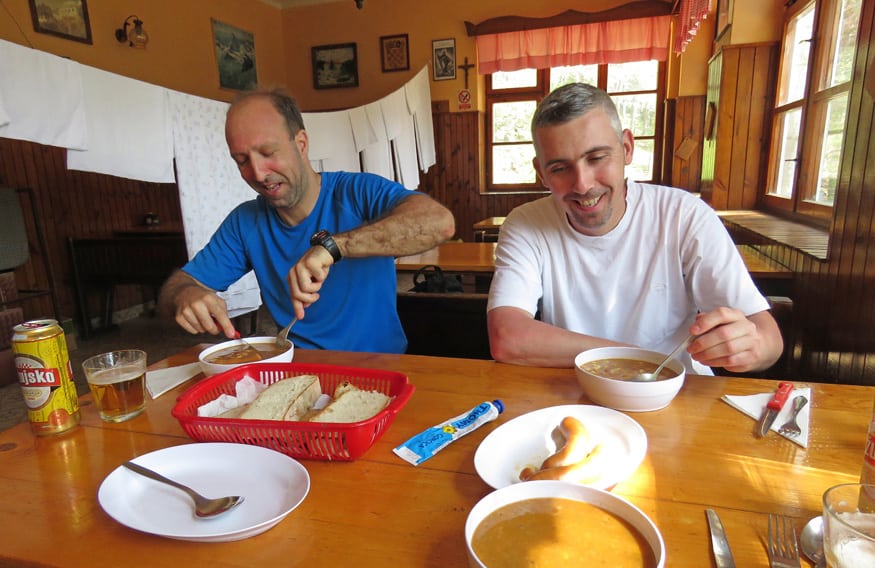 .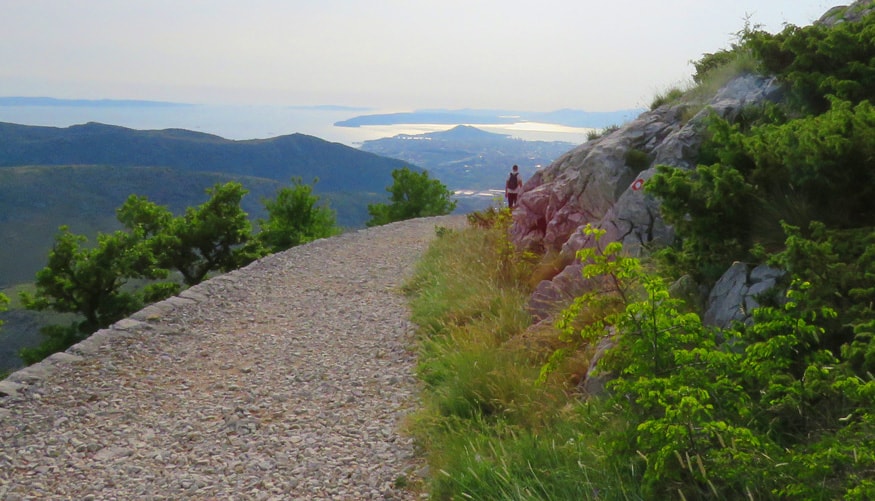 .
---
---
Practical Information
– Getting to Gornje Sitno by bus: Take bus 28 which runs on the large intersection behind Split's Green market. Schedule here (make sure to arrive early because buses to Gornje Sitno are not frequent). Cost: 17 Kuna, takes about 45 minutes to get to Gornje Sitno.
– Bus Schedule back to Split from Gornje Sitno: here.
– Bring lots of water, something for your head, good shoes, and long pants (I had shorts and got bitten a lot by nasty flies). Bring a phone should something happen to you up there.
– Keep an eye out for snakes, can be found sunning themselves on rocks (we didn't see anything).
– There are tours offered of Mosor in Split but they only take you as high as the Mountain House. I recommend this one. You'll still get lots of nice views.
On a personal note: Thanks to Vedran and Goran for inviting me up here, it's a day I'll always remember.
---
---
Ps. If you find our blog helpful, please consider using our links to book your flights, hotels, tours, and car rentals. Have a look at our Travel Resources page.