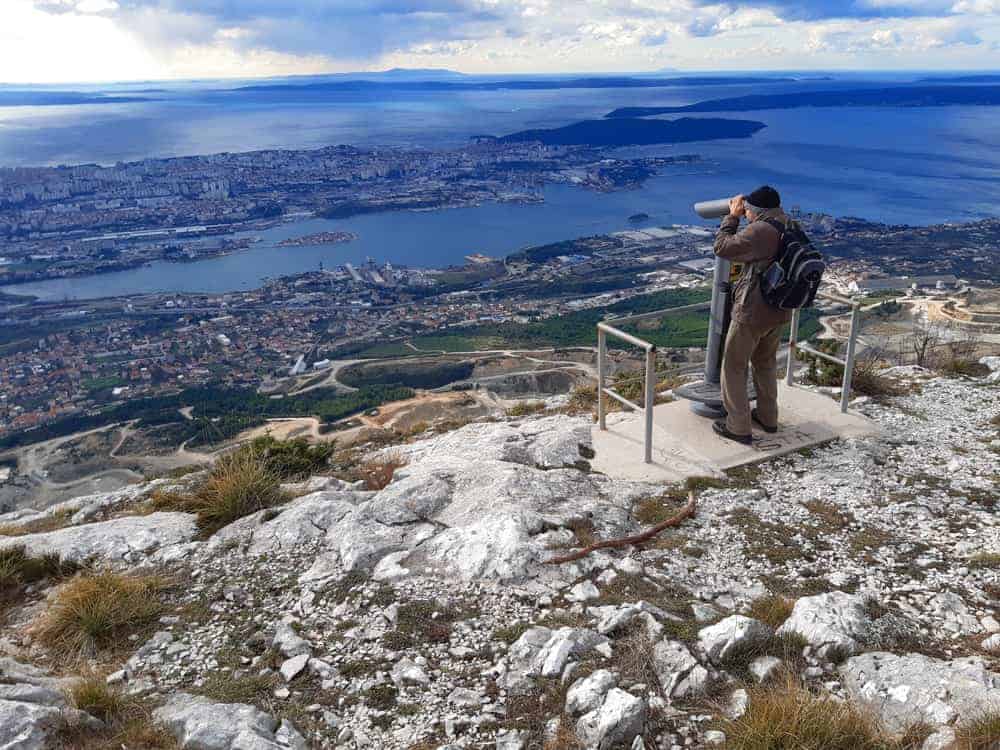 Hiking Mount Kozjak to Klis Fortress
Mount Kozjak is often overlooked by visitors looking to do some hiking in the Split area*. That's a shame because Kozjak makes for a great hike, especially in the summer months. Why? Because it's an easy hike, it has great views, it's easily accessible from Split…and it can be combined with a visit to Klis Fortress.
*Mosor Mountain is the more popular hike. But it's much more strenuous, harder to get to from Split, and (having done it 3 times) I just don't recommend doing it during the summer when it's just too hot.
For those unfamiliar with Kozjak: it is the long mountain that looms over the coast stretching from Trogir to Split. It looks like a wall of rock and in some areas it really is a sheer, inaccessible wall of rock. But despite it looking very intimidating it's actually quite easy to climb…and once up top it is (mostly) flat trekking from any point along the 20km mountain.
I've previously written about hiking Mount Kozjak, describing it as our "failed hike". That first attempt was in January of 2019 and we hadn't prepared properly (there isn't much online about Kozjak). A year later we came back and completed the hike.
This post covers 2 options for hiking Mount Kozjak and the highlights along the way.
---
---



1. Svetiste Gospe na Hladi to Klis Fortress. Time 5 ½ hours
This hike is marked in red on the map above (click to enlarge it)
Svetiste Gospe na Hladi is a church and cemetery in Kaštela. It is a 20 minute uber/taxi ride from downtown Split. If you want to save money, you can take the 37 bus*(see the schedule I've attached)
Ask the bus driver to let you out at the K. Sucurac bus stop. There's a Tommy store there. You'll have to walk about 20 minutes from the bus stop to the church.
For us, Svetiste Gospe na Hladi marked the end of our previous failed hike…and the starting point to hiking back up Mount Kozjak and across to Klis Fortress.
There's a sign pointing you in the direction of the trail at the church. At the beginning of the trail, you'll find a sign pointing in the direction of "Pl. Dom 45 min" (Pl. Dom being Planinarski dom Putalj, ie. the mountain house).
The 45 minute hike to the mountain house is a steady and technically easy (but strenuous) hike up to the base of the mountain. Then you get to the mountain house (which has a popular restaurant with great views over Split).
From Planinarski dom Putalj, the trail is much steeper, a zigzag up Kozjak. But what looks from a distance as being an almost vertical, impregnatable wall is actually easy. It took us about 20 minutes of hiking (no scrambling required) and we were suddenly at the top of Kozjak mountain. At this point the mountain is 640 m high. Note that the highest point on this portion of the hike is 676 m high (at Sveti Jure), so it's mostly flat trekking.
You'll see a sign up there indicating 2.5 hrs to "Sv. Jure". Go in that direction, following the painted signs on the rocks.
---
---
The hike is a bit monotonous here but features incredible views of Split and the islands beyond. And if you head next to the edge of the ridge (which you'll have to do if following the painted signs) you'll be faced with dizzying views straight down a sheer precipice.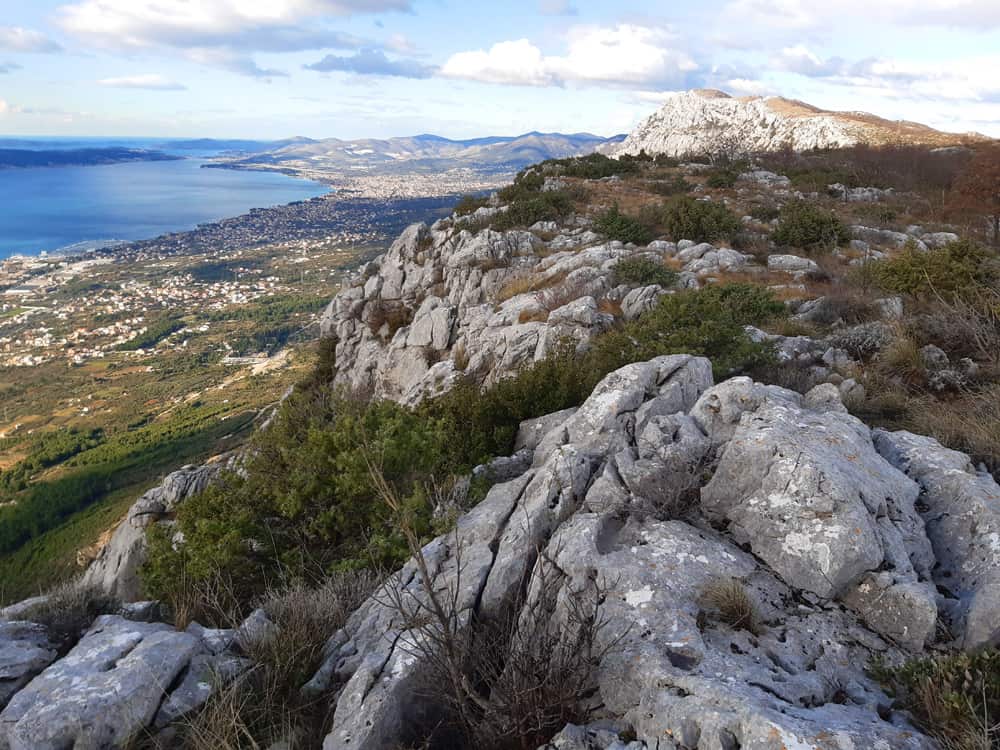 ---
---
The 2.5 hrs to Sveti Jure culminate with a little ascent. Then you're at the top. There's a radar tower, a viewpoint, and a picnic table…then if you walk a few steps further you'll see the tiny church of Sveti Jure (Saint George). Beyond it are incredible views looking down into the valley towards Klis Fortress and beyond towards Mount Mosor (and the mountain chain that continues all the way down the coast to Mount Biokovo, the 2nd highest mountain in Croatia).
From here it's downhill. Follow the sign for Gornja Rupotina. You'll find yourself walking down the ridge, overlooking fantastic views in all directions.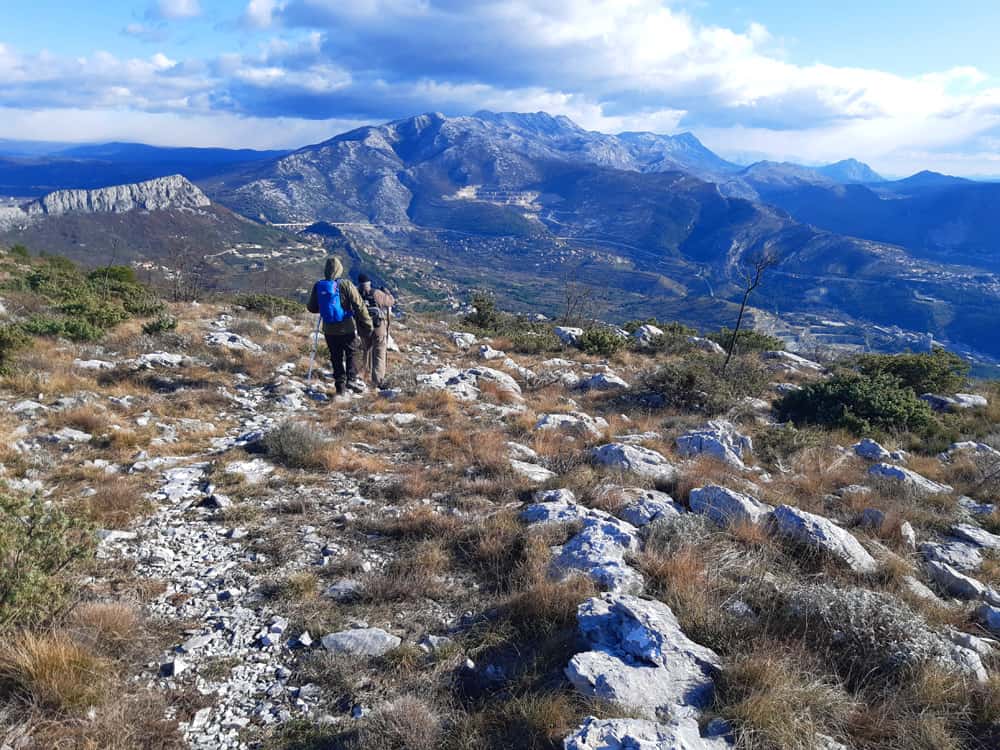 ---
---
Then you get to only part of the hike we disliked: a steep descent down an embankment of jagged, shale rocks. It's slippery and you have to watch every step. It took about 20 minutes down before arriving at a dirt path that led us through a small forest.
The path brings you out to a road in front of a house. This is the community of Gornja Rupotina.
Follow the road up past the house and to the right….and then keep following it in the direction of Klis. There are homes along this stretch and you might meet a few dogs. All the ones we met were friendly.
---
---
It'll take you about 30 minutes to arrive at Klis Fortress. The road you're walking on eventually curves around a cliff…and there is the town of Klis with the fortress towering above it.

We arrived at the Klis Fortress walls and looked at the time. It had taken 5 ½ hours to do the entirety of the hike, including about 45 minutes for lunch at the top of Sveti Jure.
Kliss Fortress is worth exploring, it is a famous Game of Thrones location (being the city of Meereen introduced in season 4 of the series).
See this post on the fortress which also covers how to take to bus back to Split: Why you should visit Klis Fortress.

Summary: excellent and relatively easy hike with great views. Unlike Mosor, it can be done in summer. Make sure to bring lots of water, good boots and head covering. We started the hike at 9am, finished at 2:30 pm. It gives you lots of time to visit Klis fortress (which takes 1 – 1:30 hrs).
This short video highlights the hike
---
---
2. Mountain Lodge Malacka to Klis Fortress. Time 9 hours
This is the hike we had planned to do the 1st time visiting Kozjak. We had failed due to just not knowing about a few details and not allowing ourselves enough time.
Comparing this hike to the one above:
a) You don't have to ascend the mountain because the starting point is already on the ridge. So it's actually physically easier than option 1) (above).
b) You're doubling the distance along the ridge, from 10 km on option 1) to 20 km here. But as I say, it's mostly flat trekking since you're already at a higher elevation.
c) There are some little churches and great viewpoints on the 1st half of the hike that you don't see in option 1). And if you're a plane spotter you'll get great views of planes coming into Split airport.
d) The one drawback is the damn military base at the top of Veli Vrj.
I cover the first part of this hike here and cover everything you have to know. That will take you to Sv. Luka church. From there you can continue on to Klis fortress (pick up with my option 1 hike up top) OR you can abort and go down to PL. Dom (the mountain house).
A few photos from the first 10 km of that hike.
Summary: I've hiked Mosor 3 times, Kozjak twice. Both are excellent hikes but both are different. Go to Mosor if you want a bit more of a challenge (and great views). But if you're looking for an easy hike and the same great views then chose Kozjak. As I say, it's also easier to get to from Split.
---
---
Also related (a couple of nearby places with stupendous views)
The Starigrad Fortress in Omiš
Driving up Mt. Biokovo (which can also be hiked)
Ps. If you find our blog helpful, please consider using our links to book your flights, hotels, tours, and car rentals. Have a look at our Travel Resources page.