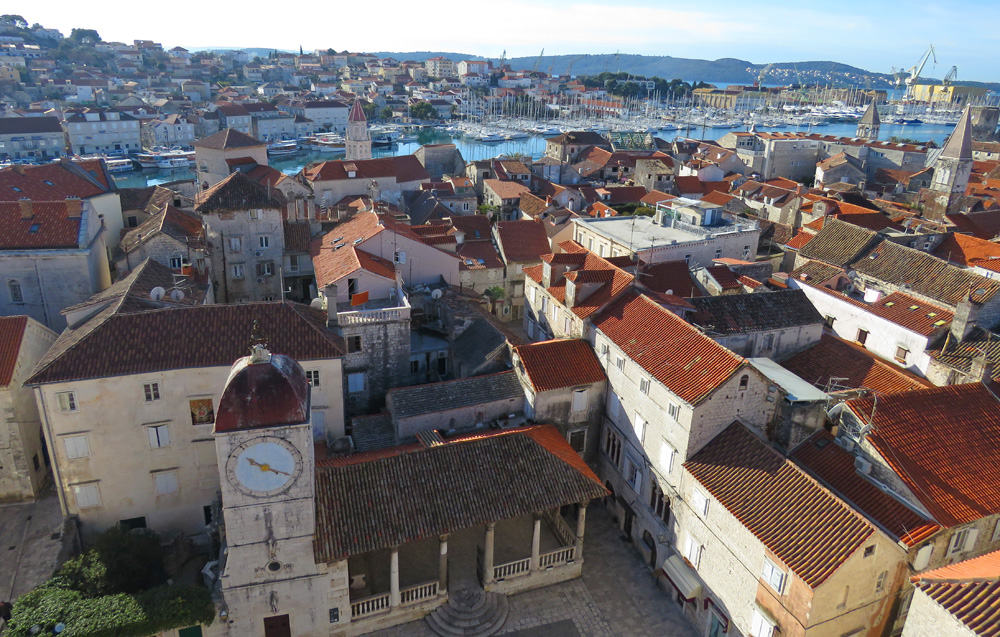 A Day Trip to Trogir
Trogir is both a Unesco World Heritage Site and an easy day trip from Split. We came here a week ago on a Sunday. A Sunday in April? We'd been warned that April is 'off-season' and that Sunday is "God's Day" (we've learned that Croatians are a lot more devout than we ever expected). Still, this ended up being a fun excursion and we had almost the whole town to ourselves. I also got an unexpected adrenaline rush when I almost fell from the tower (I'll describe that a bit lower along with a warning about the bell tower).
Trogir's history goes back to 3BC when Greek colonists founded a town here named Tragurion (translated as 'Island of Goats'). It later expanded and flourished during the Roman period, fell under Hungarian rule in the 12th Century, and became part of the Venetian empire in the 1400's. Much of the buildings that you see today in Trogir were built between the 13th and 15th centuries.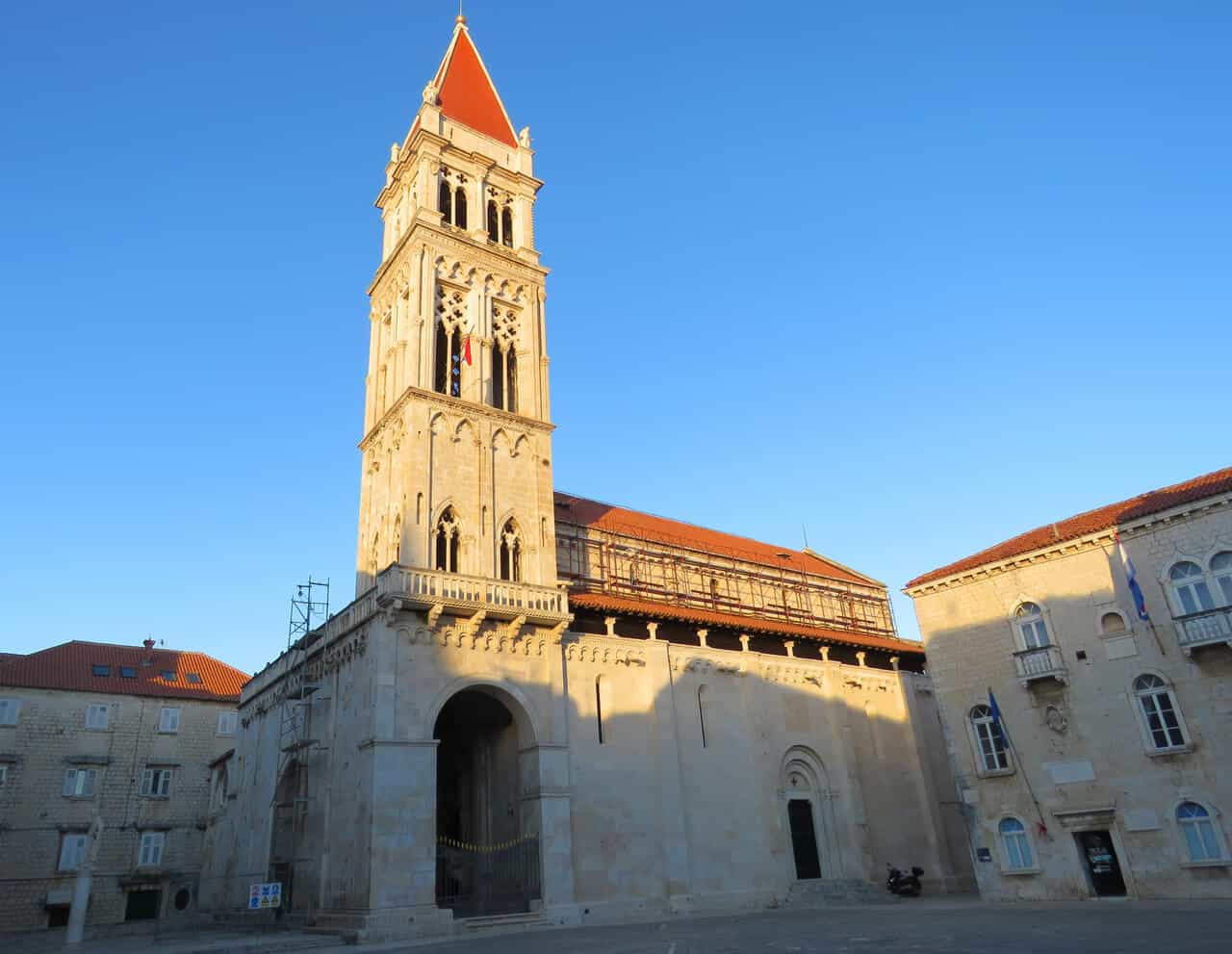 ---
---
Most of the highlights of the town are concentrated around the main square. You'll see St Lawrence Cathedral and its bell tower (photo above), the town loggia, and the church of St. Sebastian and its city clock tower. You'll also find the town's Tourism Office on this square (closed on the day we visited). I'll describe all these further below.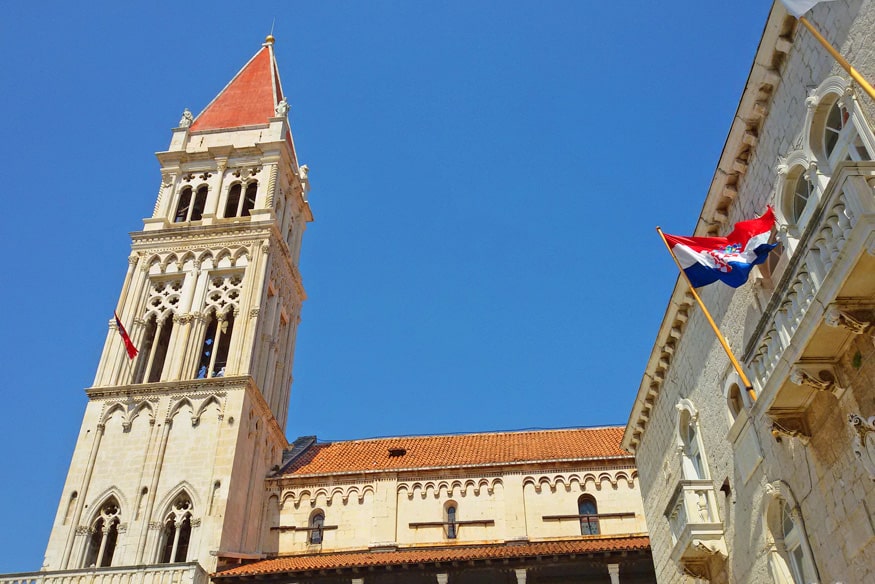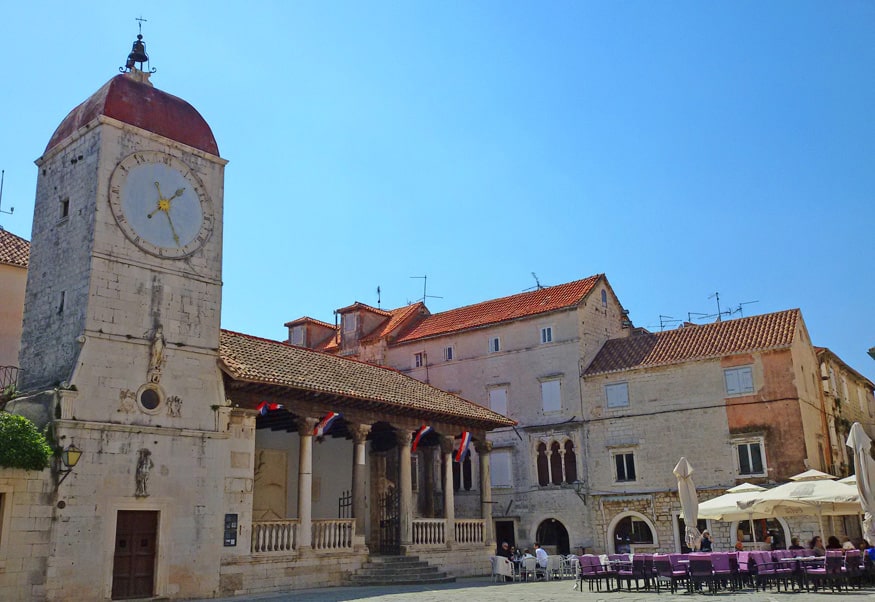 ---
---
The St. Lawrence Cathedral, the bell tower, and the baptistery are the main attraction in Trogir. You can gain access to all these sights with a 20 Kuna ticket (about $3 US).
The Cathedral was built in the beginning of the 13th Century and constructed over the site of a previous Cathedral (built in Roman times) that had been destroyed when the Venetian attacked the city in 1171. One of the most interesting highlights of the cathedral is the outside portal built by Croatian sculptor Radovan. You'll see exotic animals and fantastical creatures as well as sculptors of Adam and Eve.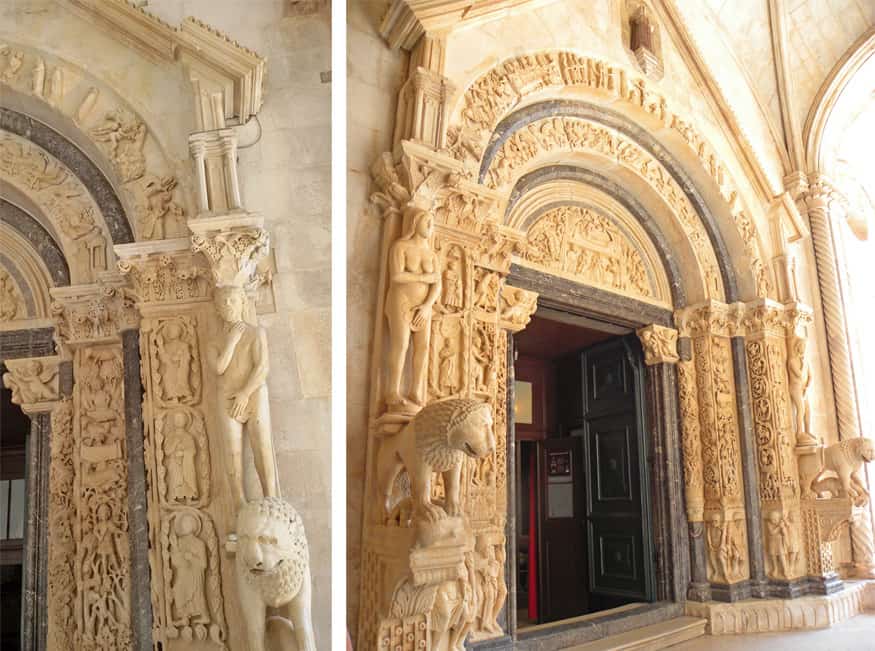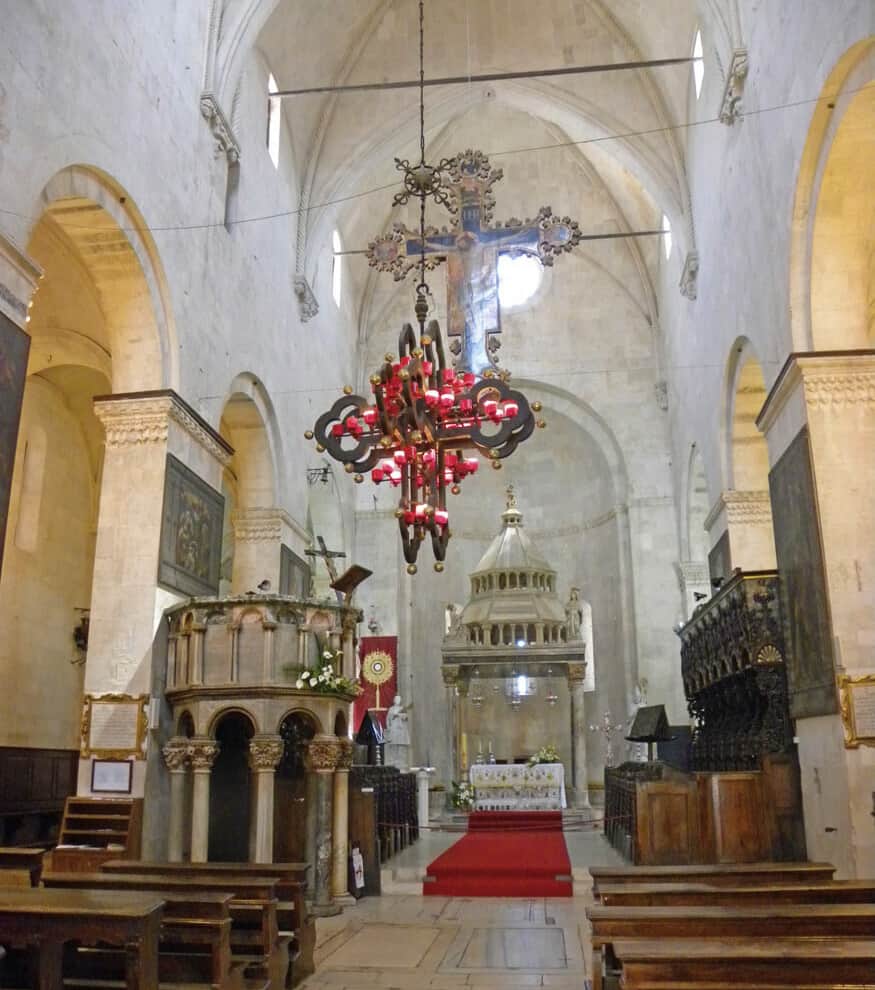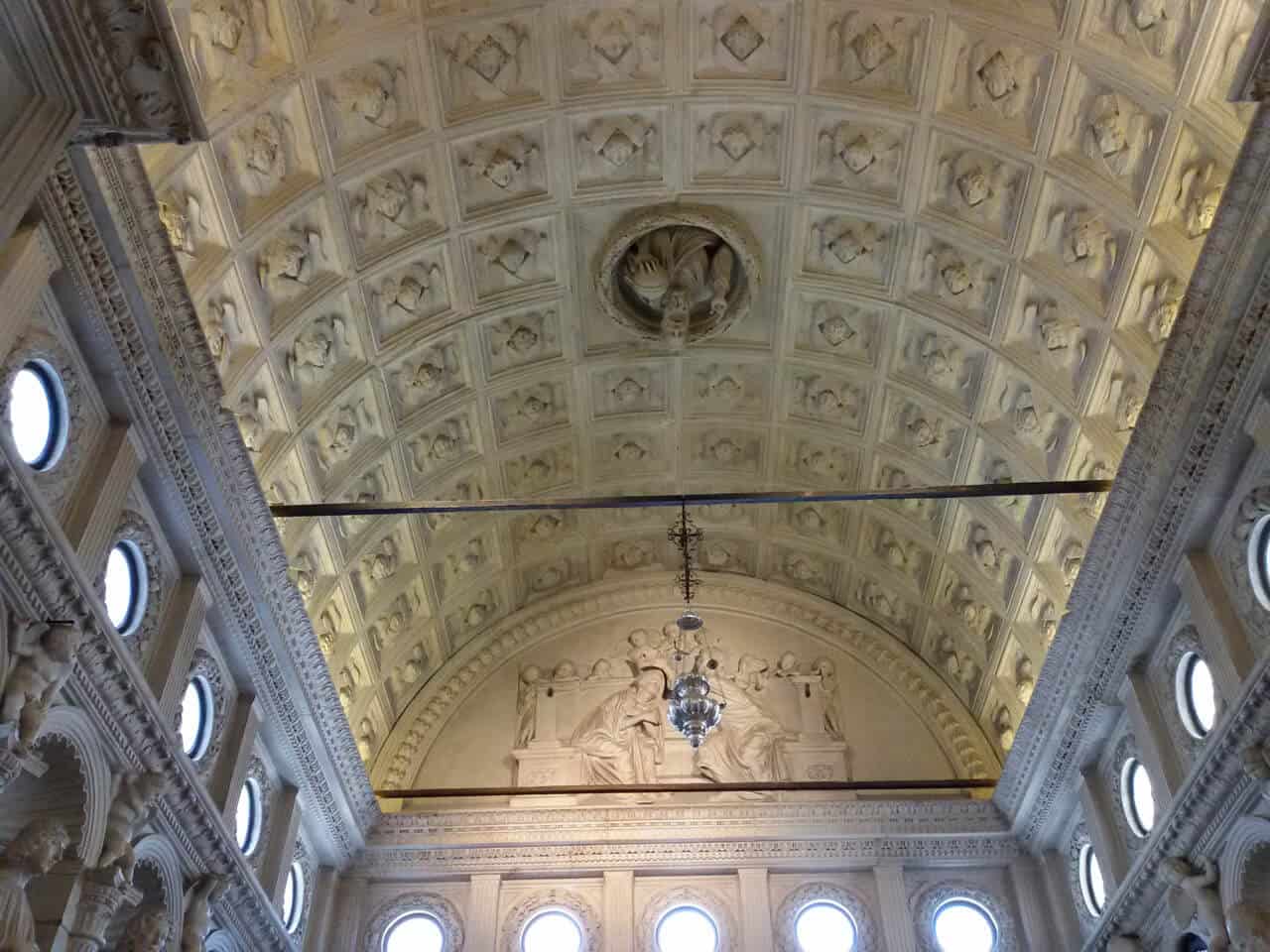 .
---
---
Right next to the portal to the Cathedral is the entry way to the Bell Tower. The tower has great views. And it's not a hard climb until you get close to the top – you'll find yourself climbing a steep metal stepladder the last 10 feet or so and will have to hoist yourself up to the floor by grabbing one of the metal beams along the side (fine if you have long arms like me but short people or children might not be able to). Actually, my near-accident had nothing to do with either going up or down; I was walking around taking photos when I stepped right over the entryway and almost fell down the hole. So keep your eyes open and looking down at the floor when walking around the top of the bell tower.
---
---
.
.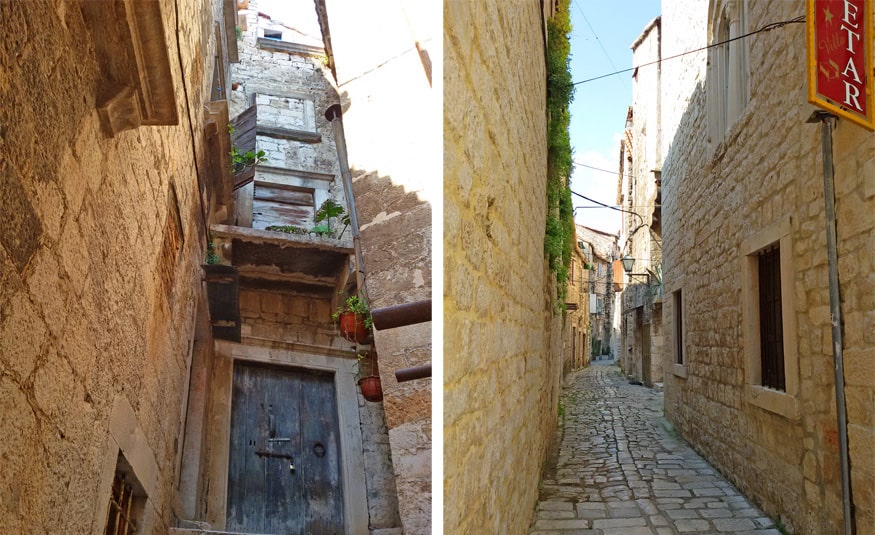 .
---
---
Within a few minutes walk (Trogir is really small) you'll be stepping out of the city walls onto the promenade (Riva).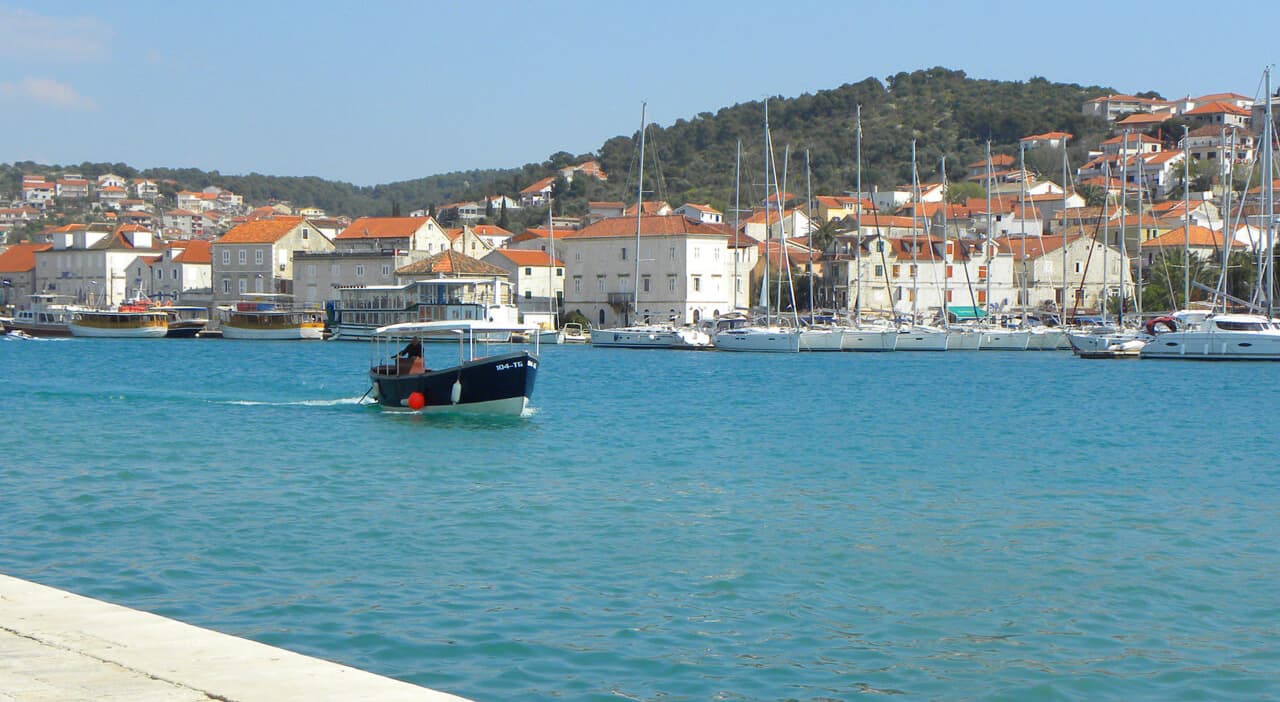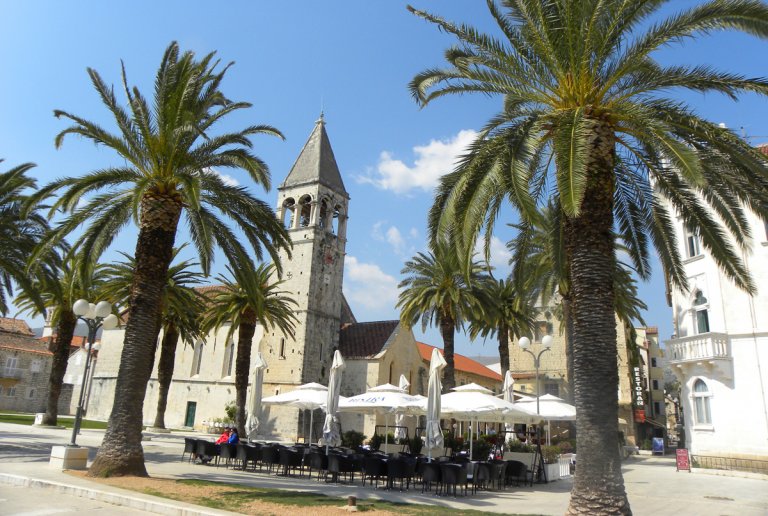 .
At the end of the Riva is the Fortress of Kamerlengo which was built in the 14th Century by the Venetians to protect the town's harbor. You can get in for 10 Kuna. Honestly, they haven't done a great job of preserving the fort and it was a bit of a disappointment. You can however see great views of town and the surrounding countryside.
.
---
---
Interesting was a visit to St. Dominic's church and convent (below). Very pretty and we had the whole place to ourselves.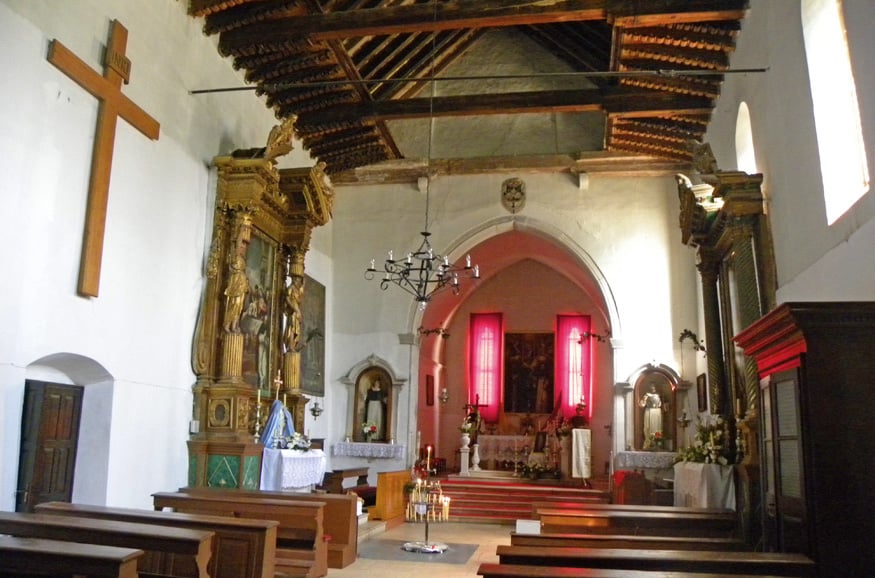 .
.
.
.
---
---
Although quiet, a few restaurants were open. We had a beer and cheese plate, enjoying the peacefulness until a Korean tour group suddenly showed up and started an ice cream eating orgy at one of the ice cream shops on the square. We can only imagine how busy this town gets in summer. So is it ok to visit Trogir on a Sunday in April? Yes, we think so. It might not be lively but you'll have the tiny streets all to yourself without any jostling from the tourist hordes. A totally enjoyable day trip for us.
Some practical information
– Trogir is right next to Split Airport (airport code: SPU). They should actually call it Trogir airport because it's just a few minutes away.
– Bus. Trogir is an easy 30 minute bus ride from Split. Buses can be taken from the main bus station in town (next to the ferry piers) and there's usually 2 buses an hour (see this site for schedules). A slower city bus (bus 37) also makes it to Trogir as well as the airport (Split airport is located 3 km from Trogir).
– Want to rent a car to see Trogir and other highlights in the area? Primosten, Sibenik, Split, Omis, Makarska are all within easy driving distance. I'd also drive up Mt. Biokovo which is an incredible experience. See this post on car rental.
– Time. We explored the town in 3 hours. Even if you spend longer, you can easily do Trogir in half a day. It is quite a small town. This 1.5 hr Walking Tour is recommended.
– Accommodation. Trogir is also a relaxing place to stay for a night or two. Since our first visit, we've come back several times and stayed overnight. Recommendations: Bifora Heritage Hotel (beautiful hotel right across the bridge from the old town), Tragos Lemon Tree (apartments in the old town), Guest House Tiramola (also right in the heart of the old town).
– Tours. There are some great tour options from Trogir, both inland and in the nearby islands.
PS. Looking to book flights, hotels, tours, or rent a car? Have a look at our Travel Resources page.