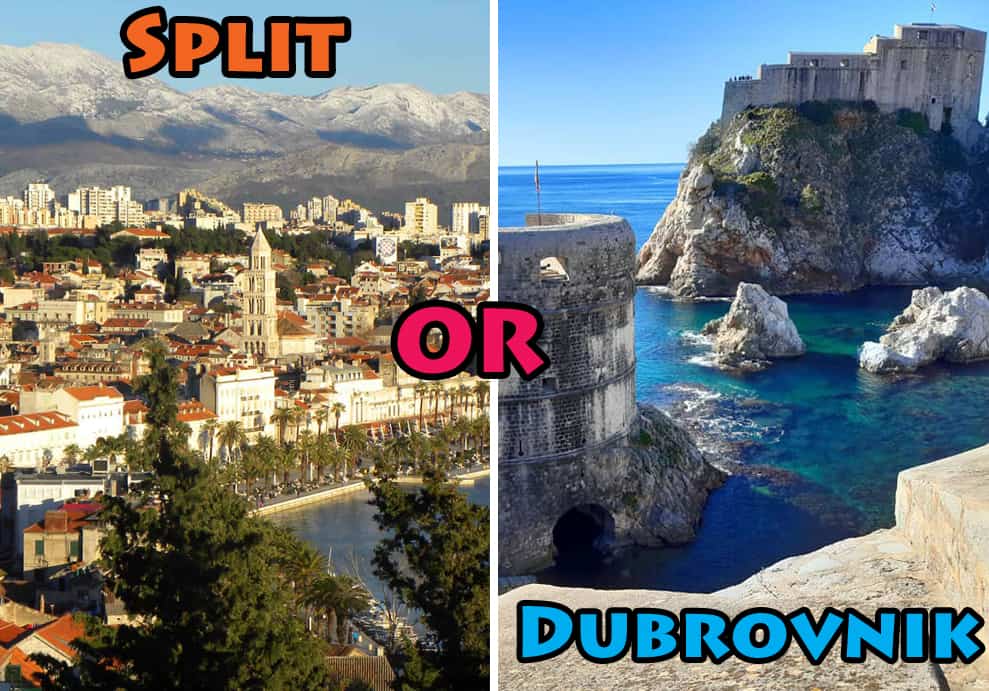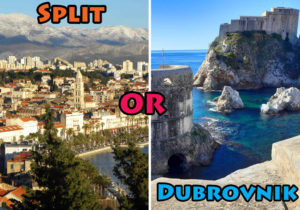 Split or Dubrovnik?
I had this dilemma many years ago before I knew Croatia. It was 2015 and we wanted to spend a month in Croatia and didn't know where to base ourselves.
We ended up choosing Split and are glad we did. We fell in love with Split and it became a regular stop when travelling outside the Schengen Zone. We actually ended up moving there and lived in Split for over a year.
That didn't stop us from visiting Dubrovnik. We've been twice now, once in summer and once in winter. It's a city that HAS to be visited.
So how are the cities different? Which should you use as a base if spending some time in Croatia? How long should you stay in each city?
This post compares Split and Dubrovnik.
---
---
Split and Dubrovnik as bases to explore
If you're like most travellers, you're spending a week or two in Croatia and using different cities as bases.
That's where Split is a much better base than Dubrovnik.
Split is right in the middle of Dalmatia and close to much of Croatia's highlights. Inland, you can visit Omis, Makarska, Sibenik, Trogir, Krka national park, Klis fortress. You can hike up Mt. Mosor or Kozjak mountain. If wanting to discover islands, you can take a catamaran and be in Bol (on Brac island) or Hvar town (on the island of Hvar) in approximately an hour. Split is a very convenient base to explore other places.
Dubrovnik is at the very bottom of Croatia and is more limited as far as other places to see in the vicinity. You can see Korcula, Mljet National Park and the Peljesac peninsula. Many people say you should also see Kotor (Montenegro) and Mostar (Bosnia and Herzegovina) as day trips from Dubrovnik. PLEASE, don't see these places on day trips, spend at least a night in each, they're worth it. They're also too far away to appreciate on a day trip (besides which you'll save a lot of money on accommodation if you stay there a night instead of Dubrovnik).
In short, Split just makes a better base if your goal is exploring close-by places.
---
---
Split and Dubrovnik as cities
As places to visit, both Split and Dubrovnik are fantastic cities to visit. They're spectacular.
You'll see amazing things to see in each. I cover them in detail:
Highlights (and lowlights) of Dubrovnik
But they're also different.
Split's attractions aren't limited to the walled city that is Diocletian's Palace. The old town is larger than Dubrovnik's and unlike Dubrovnik, it's a real city where locals live, shop and work within the city (although that is changing). You can go walk up to Marjan hill for great views of the city, walk through the park, walk the harbour, go to beaches…there's just much more to do in Split.
Dubrovnik has an incredible old town and walking the walls that encircle the city is one of the most incredible experiences you'll have in Croatia (I think). The old town itself is spectacular with tons to see. But unlike Split, almost all of Dubrovnik's attractions are within the walls, there's not much else. And they can all be seen within a couple of days.
Also unlike Split, Dubrovnik's old town is for tourists. Locals moved out a long time ago. You'll see bars, restaurants and tourist shops but few stores of any use to locals. There's one grocery store in the old town and it gets jam-packed when visitors come flocking. Repeat: Dubrovnik is for tourists.
---
---
Split Vs Dubrovnik: Costs
Split's old town has gotten more expensive over the last few years. But you can still go to a café on the riva and have a coffee, a burek and a pastry without it costing too much. And you can still have a beer in the 25 kuna range (about 3.50 Euro) if you don't go to an overly touristy café/bar.
Forget it in Dubrovnik. You'll pay about 45 kuna (about 6 Euros) for a pint of beer. Restaurants are incredibly expensive for Croatia.
Accommodation: you should budget on average 100 Euros/night in Split for a basic hotel room in summer. Prices are about double in Dubrovnik.
I mentioned up top that when we first came to Croatia in 2015 I didn't really know much about Croatia. The reason we ended up staying in Split was the cost – we found a monthly rental on Airbnb in the $1200 USD range in April (during off season). Prices in Dubrovnik were double that. The reason: 1) nobody stays a month in Dubrovnik, 2) there is so much demand in Dubrovnik (just because of all the tourists that go there) that they can charge those kinds of exorbitant prices.
So where to base yourself?
You have to see both cities, they're fabulous.
But if you're looking to base yourself for a few weeks or even a month, then make it Split. It's more interesting, less expensive and you'll experience a bit of the 'real' Croatia. Plus there's tons to see around Split.
You should make sure to visit Dubrovnik. But really, 2 or 3 days maximum. You'll see everything you'll need to see within that time….and your wallet will be happy that you're only staying a few days.
---
---
Some advice on when to visit Croatia
I always tell people this: it's best to visit Croatia in the spring and autumn when prices are about half. Before choosing to live in Split, we would come for month-long visits and would usually find an apartment ranging between $1000 – $1300 USD/month during these periods. There were few tourists, the sun was always out and it was rarely cold. We loved those visits.
I know a lot of people have their vacations in the summer and can't travel outside that period. But if you can, then do so.