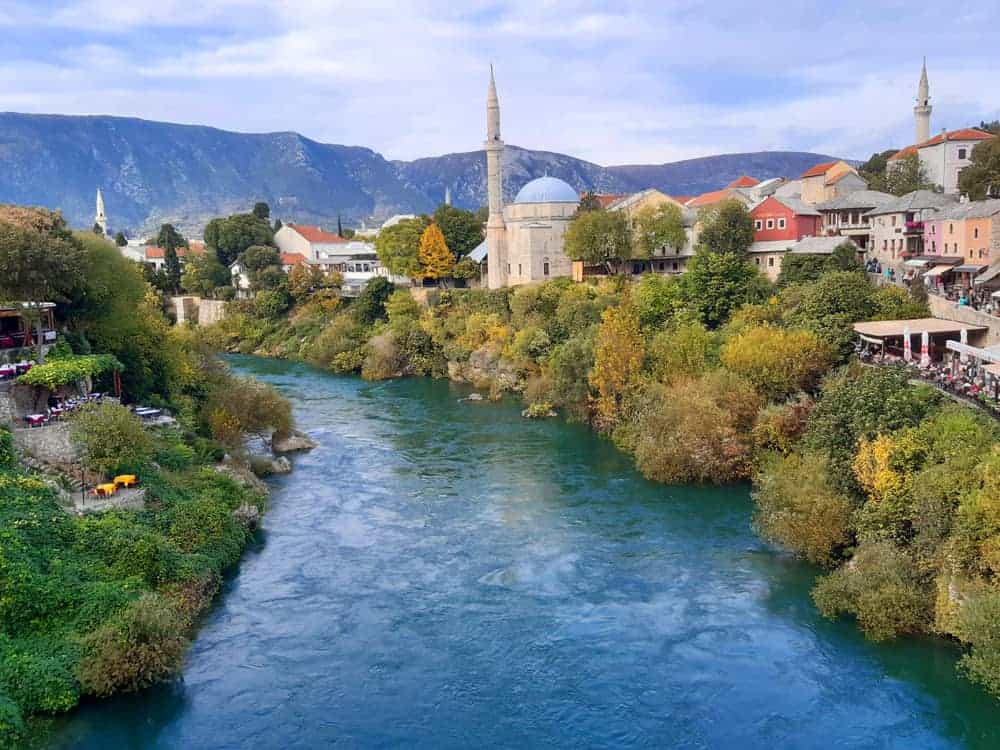 Why Mostar needs more than just a day trip
Our last time in Mostar was back in 2014. We were happy to revisit Mostar this time around, it's a very pretty city unique to the region (I like to say that it's a slice of the Middle East in the Balkans). I always recommend that if you're visiting Croatia you should plan at least a day trip to Mostar.
But Mostar warrants more than that. Sure, if you're just coming to have a walk around the old town and to take your Instagram photos then a day trip will do. Mostar's old town isn't big.
But here is why Mostar needs more than just a day trip.
Food and Wine
Have an evening out trying Bosnian food and wine. Bosnian food is unique (click on that link for more on Bosnian food).
---
---
If you enjoy meat have some Cevapi. If you don't eat meat have the river trout (right out of the Neretva river). And drink some Bosnian wine – it's fantastic and very different than Croatian wine (sorry Croatia, but we've never been fans of Croatian wines). Bet you didn't know that Bosnia and Herzegovina (specifically in the area around Mostar) is a wine region. They even have wine tours. Bosnia has a California-type climate and its wines are round and generous. Get a bottle that says "Blatina" on it – that's the name of the grape (you can buy a good bottle at a store that will cost you about 5 Euros. Even in a restaurant it'll be inexpensive). We were at one of our favorite restaurants in Mostar (Hindin Han) and saw some tourists ordering an expensive bottle of Croatian wine. That's sacrilegious.
After your main course, have some Bosnian coffee (similar to Turkish coffee. Just don't say that because you'll get a dirty look) with a Tufahija (a boiled apple. Don't let that put you off – I don't like apples but love tufahija). They also have Baklava which was brought to B&H by the Ottomans.
Culture
Bosnians are quite similar to other Balkan groups and it's easy to forget that the majority are Muslim. Except for some of the ladies wearing head covering, that fact will probably escape you as you walk around interacting with people. But stick around a bit and you'll hear the beautiful chants from all the minarets around the city with the call to prayer. It's beautiful and exotic and you'll realize that Bosnia and Herzegovina is different from most places in the Balkans.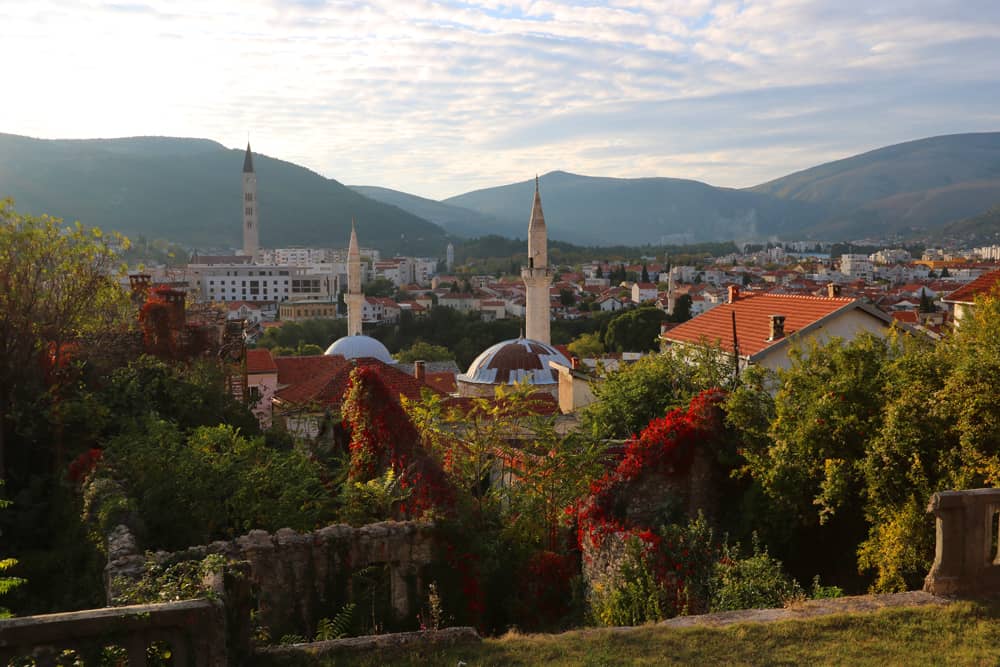 Bosnians are also very friendly, down to earth people. They might be our favorite Balkans. I think it's worth sticking around at least one night to experience the culture of B&H (you should also go to Sarajevo. But that's another post).
---
---
Photography
Mostar is surrounded by mountains and depending on the time of year you come, you may find that shadows from the mountains really play with your photos. We came in early November and noticed that the river (and part of the old town) would often be in shade in the afternoon. Staying a night, you can get up early the next morning and walk around seeing the turquoise color of the river when the sun is shining on it. It'll make a big difference on your photos.
Below: Old Bridge in different lighting conditions
Sleep in an Ottoman house
Muslibegović House is the finest example of Ottoman architecture in Mostar. It is a museum as well as a hotel – it was actually chosen as one of the world best hotels. And at Bosnian prices (about 75 Euros/night) it is one of the most unique stays you'll have anywhere. You can book here – but just make sure you book it far in advance because it's always sold out.
(Note: You can visit Muslibegović House even if not staying there. It's also a museum. Just know that their tours seem to be secondary to their hotel operations and being able to visit may depend on a variety of factors. I'd contact them first by email at[email protected] and try to set up an appointment.).
---
---
Things to See and Do in Mostar

Stari Most (Old Bridge)
The highlight of the old town and the best known historical monument in all of Bosnia and Herzegovina. Originally built in 1566 under the orders of the Ottoman ruler, Suleiman the Magnificent. Be careful crossing the bridge, it can be quite slippery.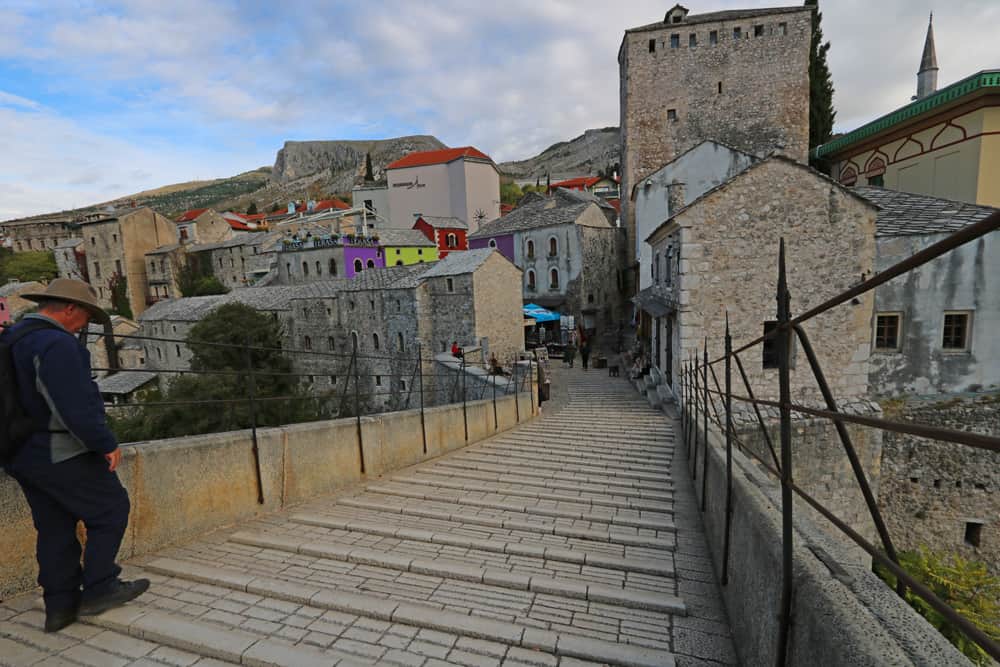 You'll often see people diving from the bridge. Just pay a diver 5 Euros and he'll dive for you.
Wander the Old Town (Old Bazaar)
It's not big, but you can wander the cobbled streets of the old town. Very pretty and you'll see Ottoman-style carpets, lamps, and bronze work for sale. You'll think yourself somewhere in the Middle East.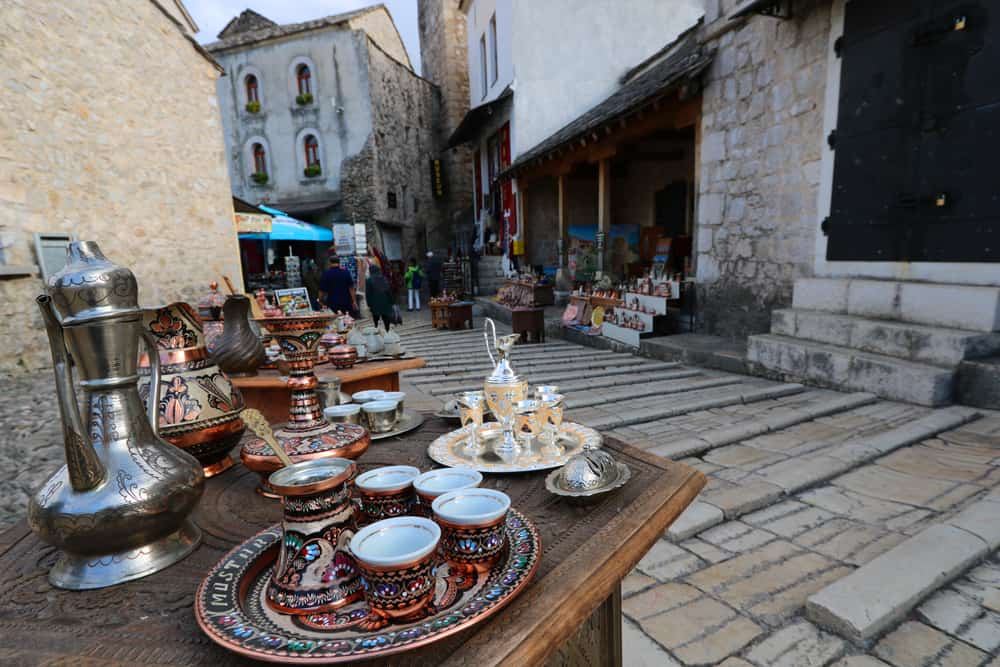 ---
---
Mosques

Mostar has many mosques. I would recommend you visit one, in particular either the Koski Mehmed Pasha Mosque or the Karadjoz-bey Mosque.
The Koski Mehmed Pasha Mosque is along the river and quite popular. Make sure to visit the courtyard. If you pay 12 KM (the equivalent of 6 Euros) you can visit the interior of the mosque as well as climb the minaret for what many say are the best views in Mostar. Honestly, I found the 6 Euro fee to be really exorbitant, especially in a country like Bosnia and Herzegovina and just couldn't bring myself to do it (go to Terasa cafe instead) .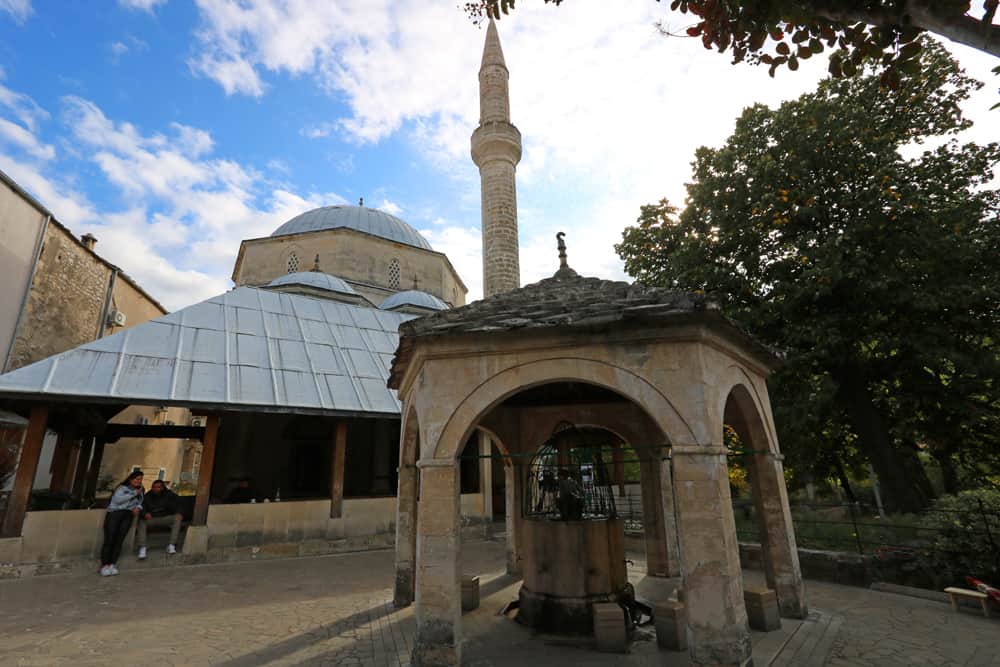 The Karadjoz-bey Mosque gets less tourists and the people who work there are friendly. Again, you have to pay as a non-Muslim but the fee is 5 KM (ie. 2,5 Euros) and you'll get a guided tour of the Mosque. You can also climb the minaret.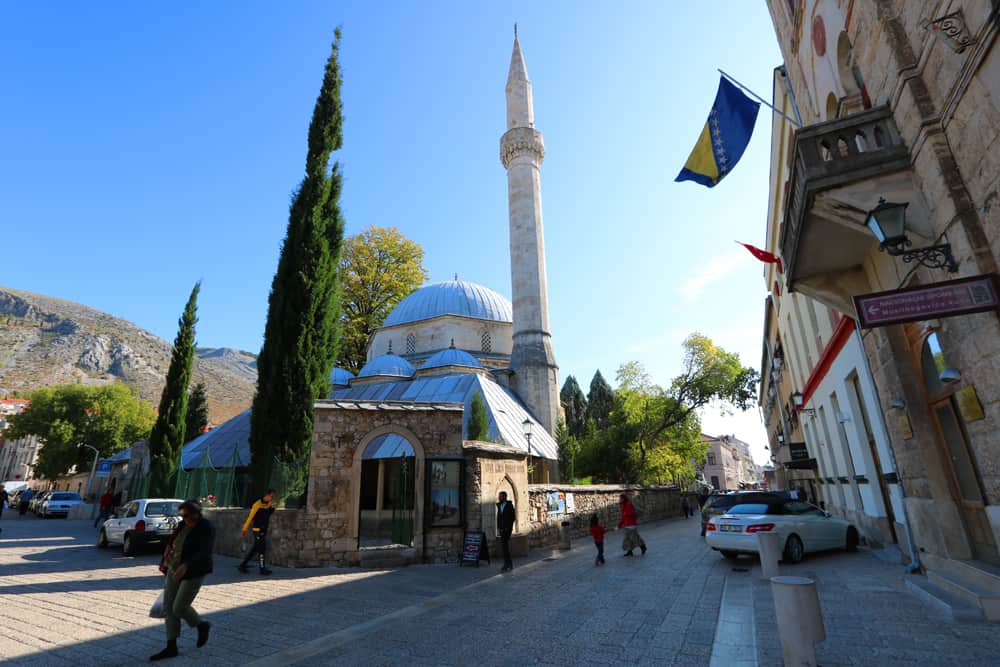 The Crooked Bridge
A smaller and older version of the Old Bridge in a quiet section of the old town. People actually say that it was the trial run to building the Stari Most (Old Bridge).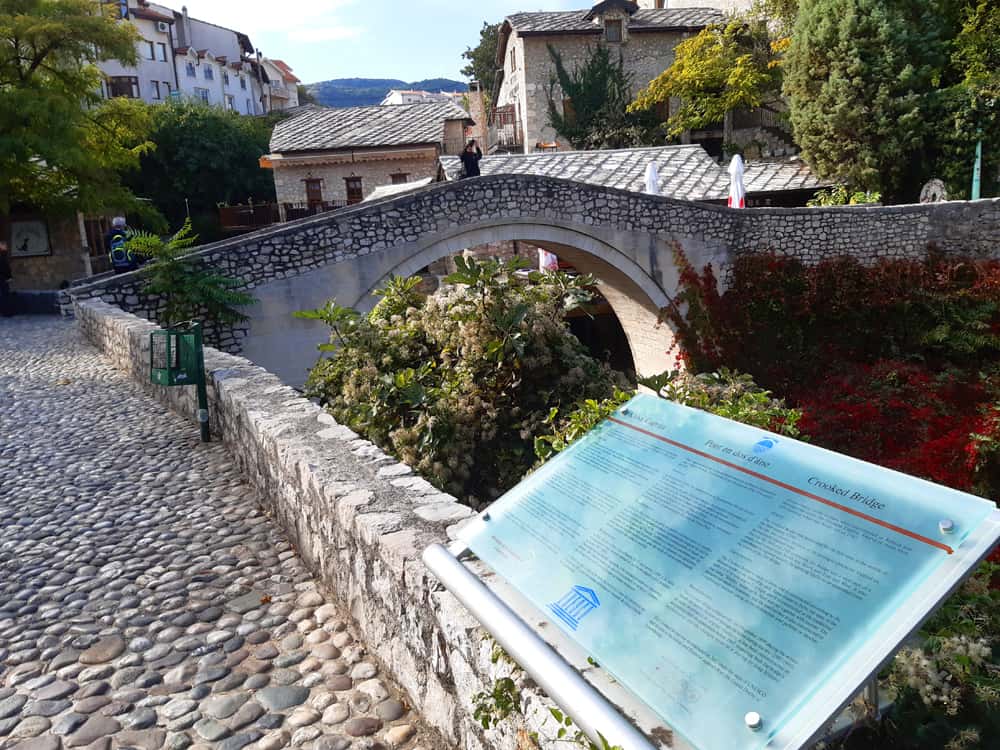 Muslibegovic House
I mentioned Muslibegović House above as a place you can stay for the night. Construction was started in 1750. It is the finest Ottoman residential building from the time. Its 4 floors contain beautiful wooden carved ceilings, traditional carpets, and fine Ottoman furniture.
---
---
See the remnants of the Bosnian War
Mostar was the most bombed city in the 1991-1993 Bosnian war. If you make your way out of the old town you'll see a lot of buildings that are still lying in ruins. The effects of the war are not over, even after almost 30 years there's a separation between Catholic Bosnians (Croats) and Bosniaks (Muslim Bosnians).
I wrote about the war and its toll on Mostar. It wasn't a very popular post but if you're curious about the war history and (if you're old enough) want to see some of the places that flashed across your TV screen in the early 90's then you might be interested. Note: This time around we noticed that quite a few bombed out buildings have been torn down and replaced by modern buildings. There's more of an air of optimism today in Mostar than there was 5 years ago when we last visited.

Day Trips from Mostar
Day Trips outside Mostar: Kravice waterfall is 40km outside Mostar and very impressive. This tour takes you there. Počitelj is a ancient village with fortified walls close to the Croatia border (about half an hour from Mostar). With its fortress and old town, and views on the Neretva river it is an absolute highlight. The Dervish Monastery in Blagaj is a 16th century Ottoman-style monastery in a stunning location on the Buna River (this tour will take you to both the Dervish Monastery and Pocitelj from Mostar). Međugorje is the top Catholic pilgrimage destination in Bosnia and Herzegovina (it's also one of Europe's top Catholic pilgrimage destinations).
Below: a few more images of Mostar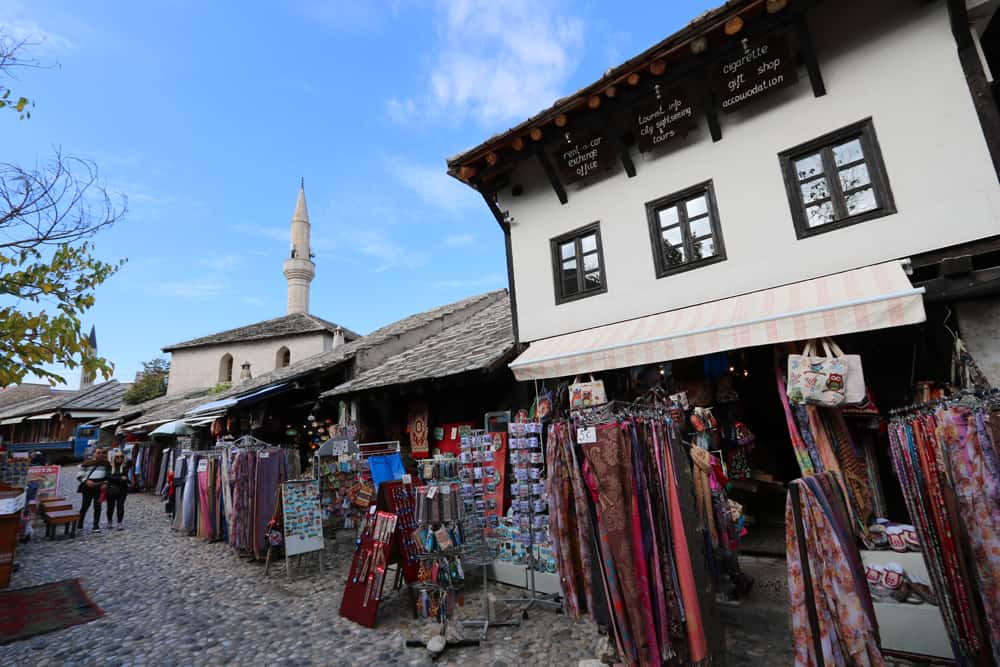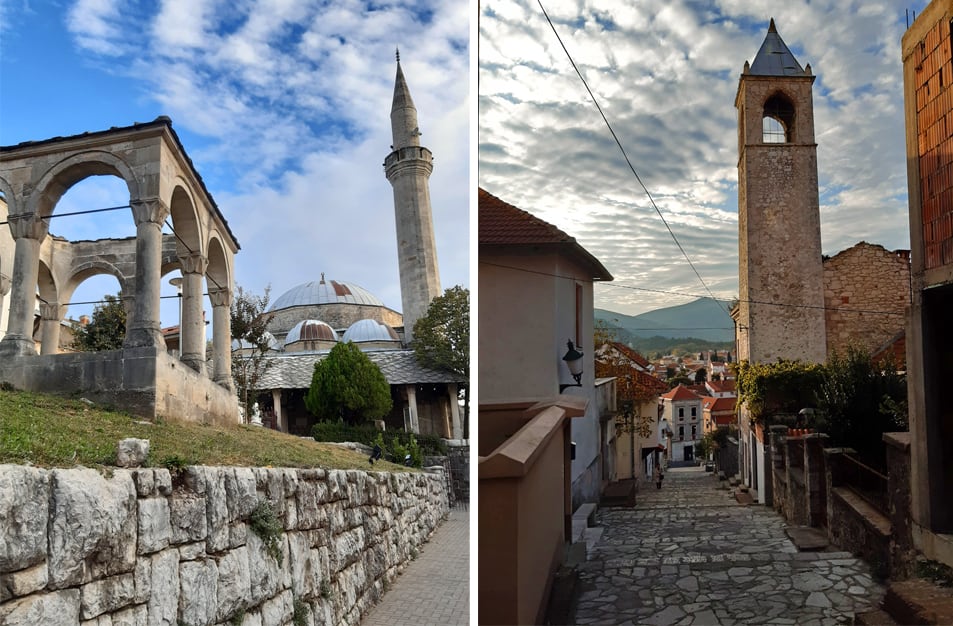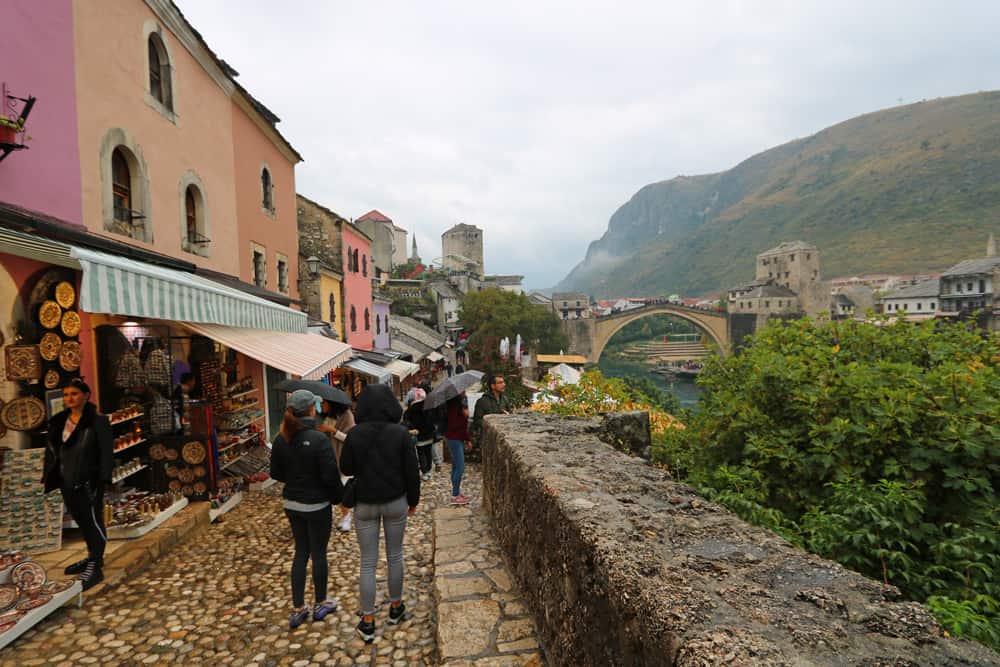 ---
---
Practical Information:
Where to stay. I mentioned Muslibegovic House. That's what I recommend for an experience. We generally find the quality high in Mostar and you'll have good accommodation at very affordable prices. Hotel Mostarand Hotel-Restaurant Kriva Ćuprijaare 2 recommendations.
Car Rental. Renting a car in Mostar is a good idea, there's lots to see in the area. We use Rentalcars.com, they give you the best rates on car rentals.
Train. Mostar and Sarajevo are connected by a fantastic train. More here: Taking the train from Sarajevo to Mostar
Getting to Mostar by bus: various bus companies get there from Croatia. Make sure you have your passport. We took Flixbus on our latest trip to Mostar from Split. Have a look at this post: Flixbus makes bus travel though the Balkans better (with a few bumps in the road…).
Getting to Mostar with an Organized Tour: If you do decide to visit Mostar on a day trip, This full-day tour from Dubrovnik takes you to Mostar, Neum, and Pocitelj. Recommended.
Eating: Hindin Han is excellent. Restaurant Sadrvan is always good as is Restoran Kaldrma.
Have you been to Mostar?
---
---