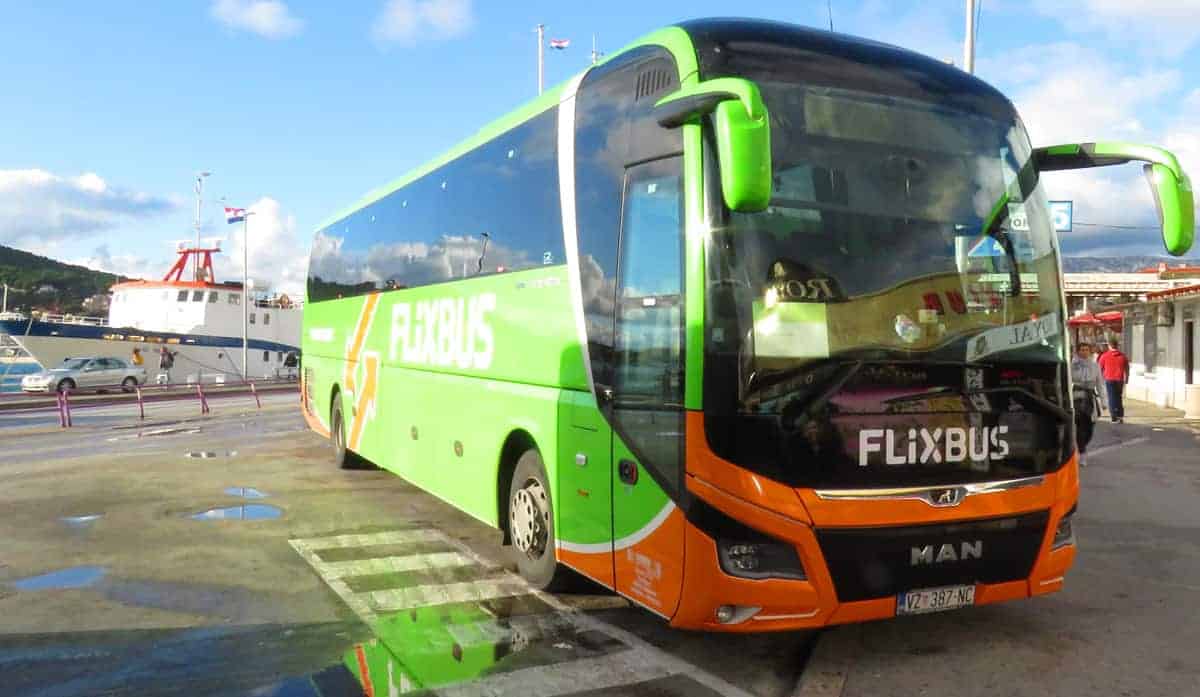 Flixbus makes bus travel though the Balkans better
I've often written about what a shitfest Balkan travel is. Dirty buses that have no bathrooms, with miserable service and where a 4 hour scheduled bus ride actually takes 6 (usually because of long cigarette breaks and stops to pick up and drop off family and friends). Train service where you book a train – to find out when you get to the train station that there's a "problem" with the train and that the train service will be replaced by bus service (again, add a few hours).
Balkan transport is crap. Basically everything about it is crap, from having to go to the station to pre-buy a ticket, to being forced to "check in" your luggage (even if it's a small backpack) so that they can charge you a Euro, to the stinky old buses they use. Some of them actually do have a toilet but they've been permanently closed (functioning toilets would mean staff having to eventually clean out the tanks).
A few years ago Lissette told me "no more" to bus travel in the Balkans.
---
---
We've had Flixbus experiences in the rest of the Europe. Their buses are clean and modern. They have wifi and toilets. They even have seatbelts. You can check the schedules on their website, book your ticket online, you can even reserve your seat.
I recently took Flixbus from Prague to Nuremberg and it was as perfect as bus travel can be. I would have sworn by Flixbus.
So when planning to go from Split (Croatia) to Mostar (Bosnia and Herzegovina) we looked up Flixbus and saw that they ran buses from Split to Mostar (with a connection in Imotski). Knowing that it was Flixbus, Lissette said ok to making the trip by bus (the only other alternative would have been renting a car).
I booked our tickets online and even made seat reservations so that we could sit together. Cost: 11 Euros each (Split to Mostar) plus 1.50 Euro each for the seat reservations.
We showed up at the Split bus station 10 minutes before our bus. It was the usually melee to get on. But I wasn't worried because we had reserved our seats.
Well…the seat numbers in the bus didn't even jive with the seat reservations on the ticket. There was no "2C"or "2D". I showed the man working the bus our reservations and he just shrugged (that Balkan "whatever" shrug) and pointed out 2 seats where we could sit. We weren't together. But they were the last 2 seats on the bus so what do you do?
Wifi didn't work. There was no toilet on the bus. In fact it was the same shitty, smelly, crappy kind of bus we've taken countless times in the Balkans. The only difference was that it was painted in Flixbus colours.
My blood was boiling.
---
---
We arrived in Imotski 90 minutes later. Right on schedule. But the bus continuing on the Mostar hadn't arrived. In fact it would be an hour late.
I have to give the biggest compliments to the man running the bus station in Imotski. It's a crappy bus station – it's not even really a bus station because the building is open to the elements with broken windows that have been covered with wiring to keep people from breaking in. But at least it was shelter from the cold wind outside (it was late October). Back to the man: he wore a Flixbus jacket and was the only employee in the station (in fact every bus coming through Imotski was a Flixbus bus. I guess they're taking over Croatian travel). We were about 10 people waiting for the Mostar bus and he kept the station open past his working hours (it was past 10:30 pm by then) while keeping everyone informed about the status of the bus. And he did that with good humour and a smile on his face.
Our bus arrived and people got on. This bus was much better. It was modern and clean. There was no toilet but the wifi worked. The driver and ticket taker (there are usually 2 employees on every bus) were more professional than the 2 employees on the first bus.
By the time we arrived in Mostar it was almost 1 am. We had been scheduled to arrive at 11:17.
---
---
I wasn't very happy about our trip. Really, it was the same as every other Balkan bus trip we've ever had. And I was upset that this experience was on Flixbus. So I took to Twitter and complained to Flixbus (read from bottom to top).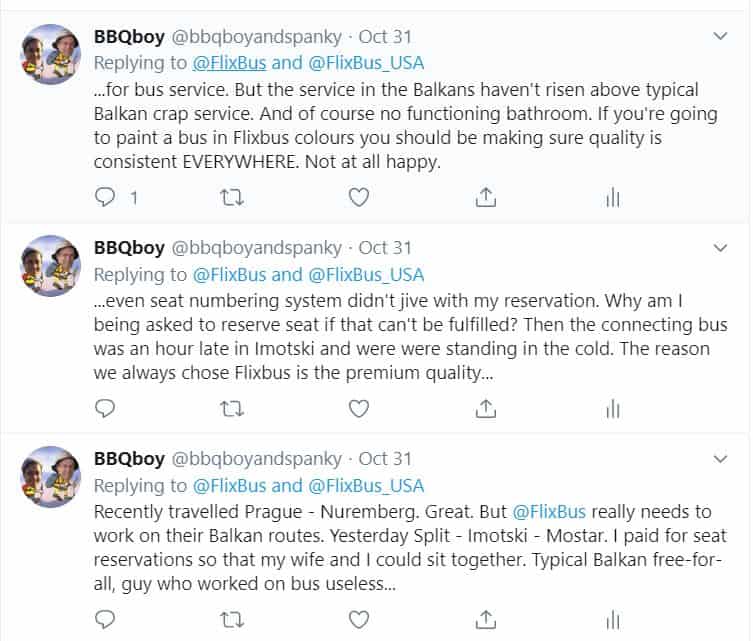 Note: after a few further emails with customer service, we received an official email 8 days later. It apologized for the inconveniences and refunded us the seat reservations.
---
---
I knew that Flixbus was a German company, but at that point didn't understand much about the company, how they operate, how they've managed to grow so quickly (Flixbus only started in 2015 and they're now one of the largest operators in Europe), or why their service is so inconsistent.

What I found out might interest you.
Flixbus doesn't actually own any buses or employ its own drivers. All services are run by regional companies with their own buses and employees. Flixbus is a technology company and has digitized bus travel with its scheduling, reservation system, mobile ticketing, and free on board wifi. So they're a bit like the Airbnb of the bus world, having created a platform for their service and taking a percentage of the cost of the ticket price (between 25-30 % of the ticket price).
The above also explains why your bus experience is so inconsistent. If you go to their "on board services" page you'll see they promise that on-board toilet, extra legroom, electrical sockets, and wifi. And that's mostly true anywhere you take Flixbus – everywhere we've taken Flixbus (outside the Balkans) service has been just as described and superior to bus service you'll usually find.
Coming back from Mostar (after a stay in Sarajevo) we again took Flixbus. This time there were no issues. The buses were clean and modern, wifi worked, customer service was excellent. Everything was punctual. I don't know if the toilet worked (we didn't have the need) but the toilet light (indicating whether it was occupied or not) was lit which might indicate it was functioning.
---
---
So is Flixbus an improvement over standard Balkan bus service?
Overall we really think so. The fact that you can look up schedules online, book your ticket and reserve your seats is something that could never be done before in this part of Europe. Their structure and the fact that they work with regional bus companies explains why the quality varies somewhat but generally (even with that 1 bad bus ride) the quality is superior to the average bus experience you'll have anywhere in the Balkans. Flixbus is still relatively new to the Balkans and is standardizing quality. I'm hopeful that in a couple of years from now Flixbus quality will be as good here as it is anywhere else in Europe.
We'll be taking Flixbus from Split to Dubrovnik in January. I'll update this post with that experience.
Are you a Flixbus fan? And have you taken it in the Balkans?
---
---
Ps. If you find our blog helpful, please consider using our links to book your flights, hotels, tours, and car rentals. Have a look at our Travel Resources page.