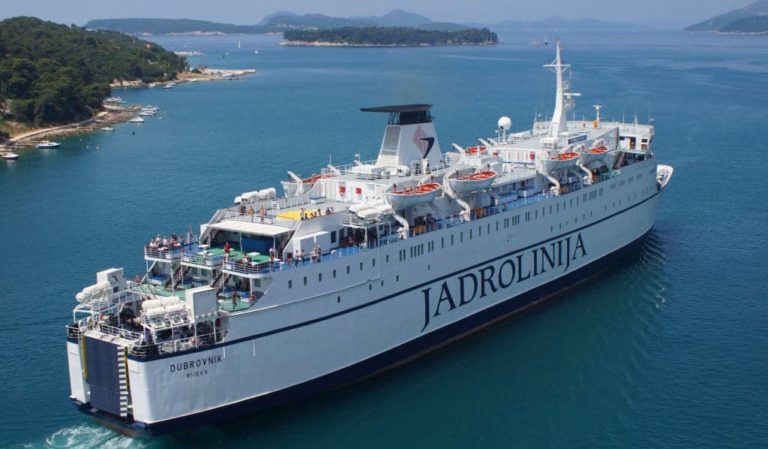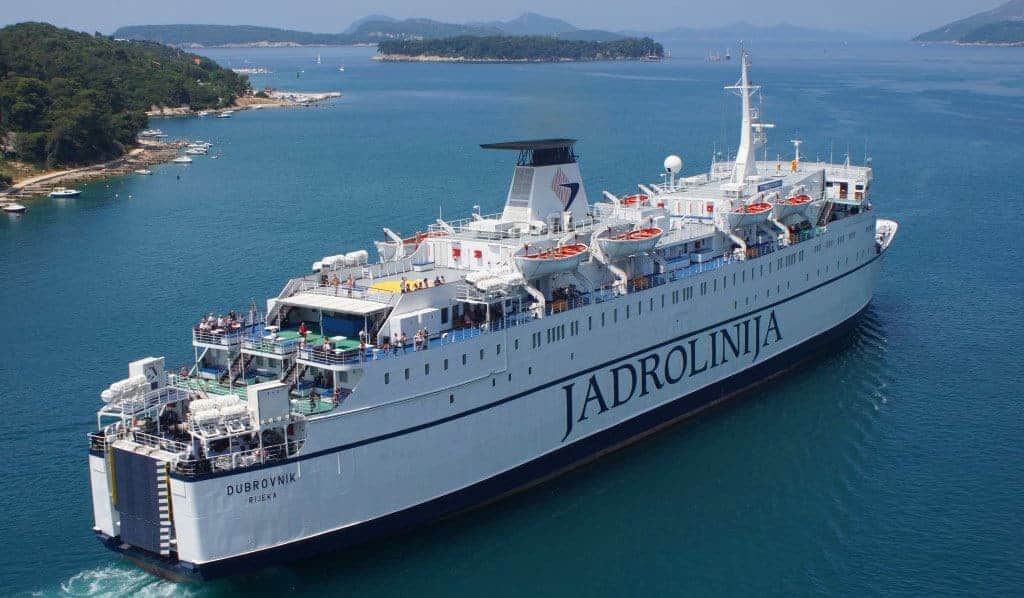 Taking the ferry from Split to Ancona is the easiest and cheapest way to get to Italy from Croatia.
This post covers our experience.
Jadrolinija does the Split – Ancona route 3 times a week in the summer (Sunday, Tuesday, Thursday), twice a week in the winter (Monday and Wednesday). The ferry leaves Split at 8 pm and arrives in Ancona at 7 am. With excellent train connections, Ancona is a convenient transit point in Italy (we were continuing on to Lecce in Puglia, a 5 hour ride on a high speed train). If heading to Rome, you can get there from Ancona in 4 hours.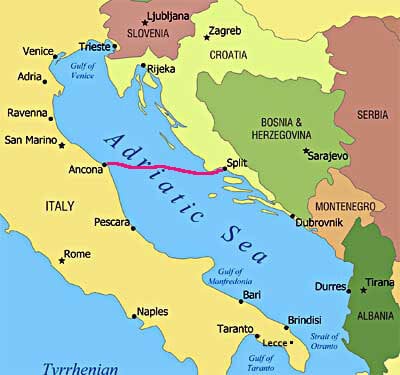 ---
---
Buying your ticket
Firstly, you can buy your ticket on the Jadrolinija website. That's what we did. We actually paid more and got ourselves a cabin with a private bathroom.

Cost (February 2019): 255 Kuna each for the ferry (that's $50 Canadian, about $38 USD). The Cabin cost 758 Kuna ($150 Canadian, about $115 USD). That's a bit expensive for the cabin and in retrospect I'm not sure if it was worth it. But we had a full day of travelling the next day and wanted to arrive fresh in Italy.

If you don't buy your ticket online you can buy it at the ticket office before departing.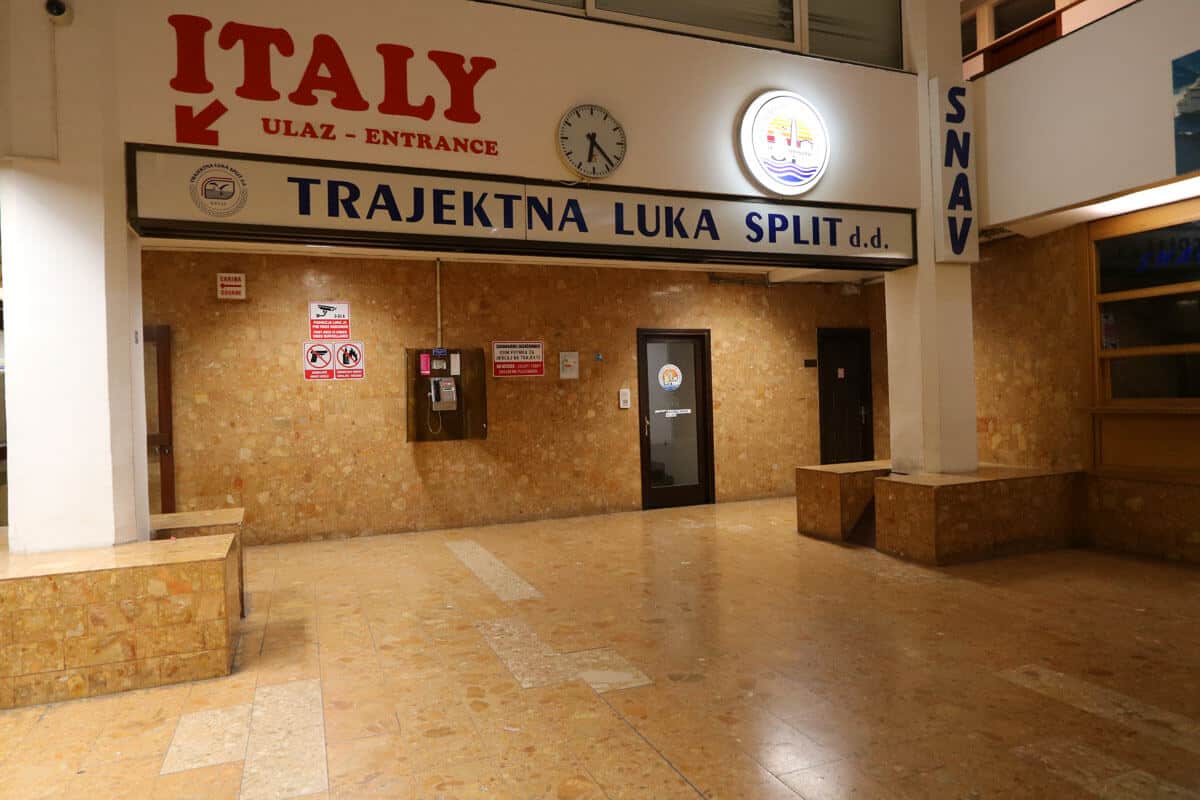 ---
---
Checking in/Immigration & security/boarding
They tell you to check in 2 hours before your ferry ride. The international ferry terminal in Split is the large building across from the bus station.

It's easy – when you go there just follow the instructions for Italy. You'll get to a reception area. There you can buy your ticket or, if you've bought your ticket online, show them your receipt (on the phone is fine) and they'll print out a boarding pass for you.
From there you go to immigration where they'll take your passport and stamp you out of Croatia. We didn't go through any security procedure.
You then walk out of the terminal building to the ship. There staff will look at your boarding pass and point you in the direction of the stairwell or elevator (if you have a cabin like us you'll be taking the elevator to the 5th floor).
Arriving on the 5th floor, a hostess points you to the reception desk. It's just like a hotel. Reception gives you a key and points you in the direction of your cabin. The cabin is not large but comfortable and clean, with a good sized bathroom (with shower) and a corner to keep luggage.
The whole process was fast, efficient and friendly. We had arrived at the ferry terminal at 6 pm. By 6:30 we were in our cabin.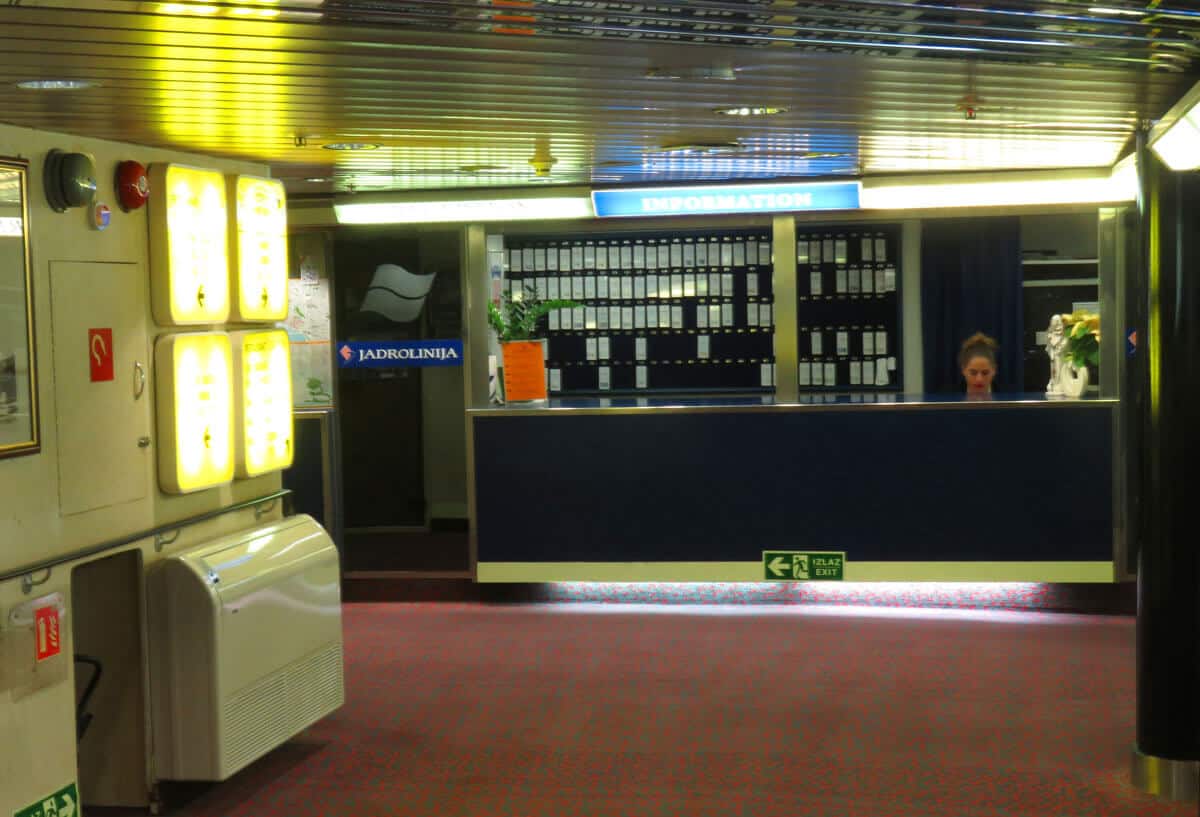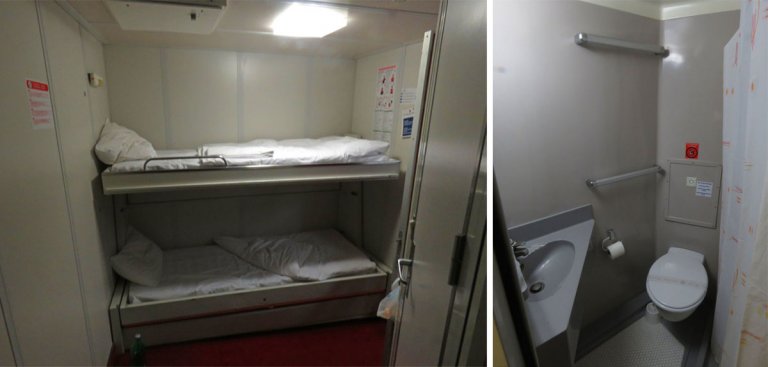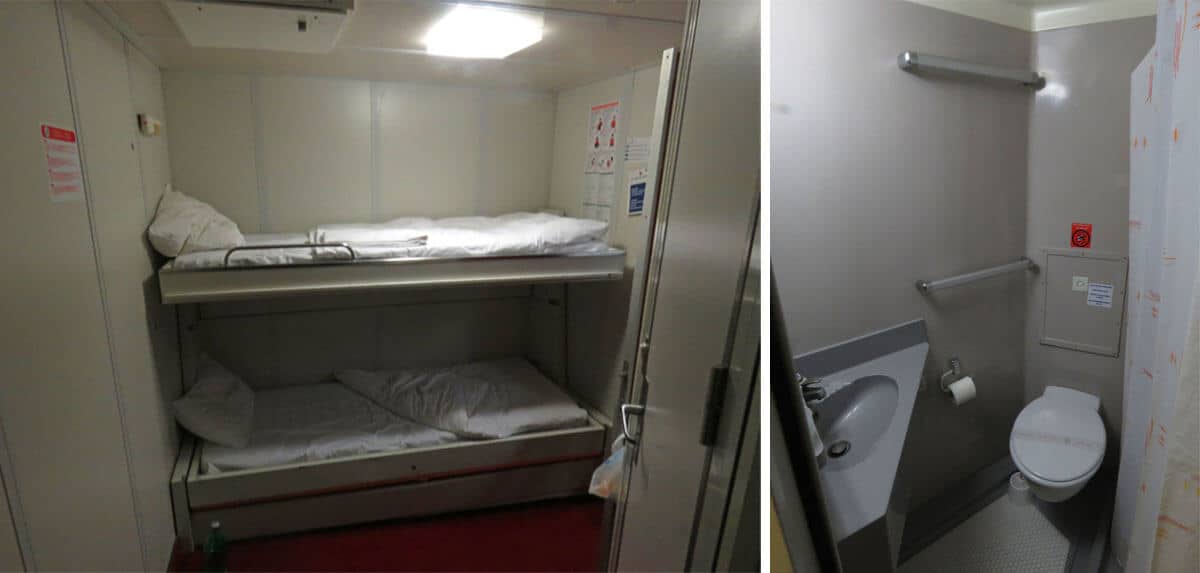 ---
---

Facilities on board
The ship has a large restaurant as well as a large bar area with lots of seating. People who didn't get a cabin end up here because there's not really any other seating on the ship. You can also go outside and walk around the deck for some fresh air. Note that there is no wifi on board.
In our case we had a couple of beers at the bar before going to the restaurant. It's good to know that the restaurant only serves food until 9:30 pm. It also has surprisingly good food. Lissette had some fried calamari, I had the mixed grill plate.
By 11 pm we were back in the room and in our pyjamas. The bunk beds are not very wide but they're clean and comfortable.
At 6 am the next morning the intercom wakes up passengers, letting us know we will soon be arriving in Ancona. We shower and change and get our bags ready.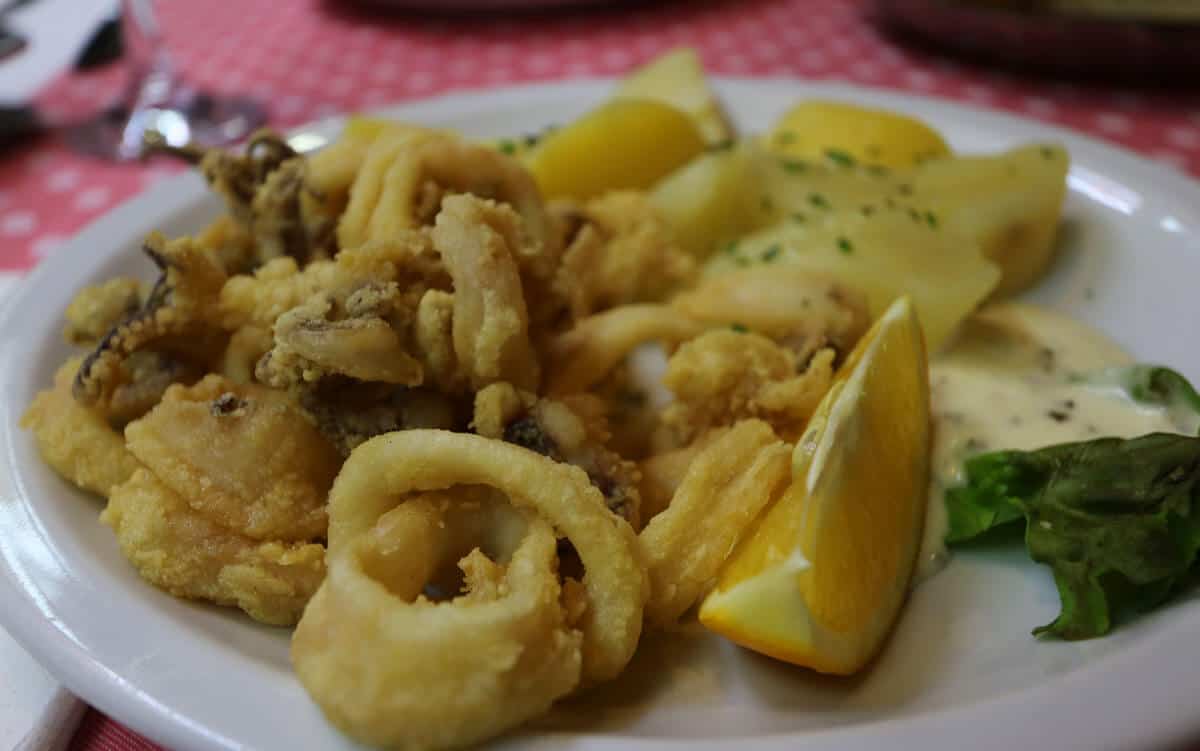 ---
---
Arrival
Despite the ship having left Split 30 minutes late it arrives right on time at 7 am.

We walk off the ship, turn right to a large building. There we get in line for immigration where we get our passports stamped. 10 minutes later we walk out of the building.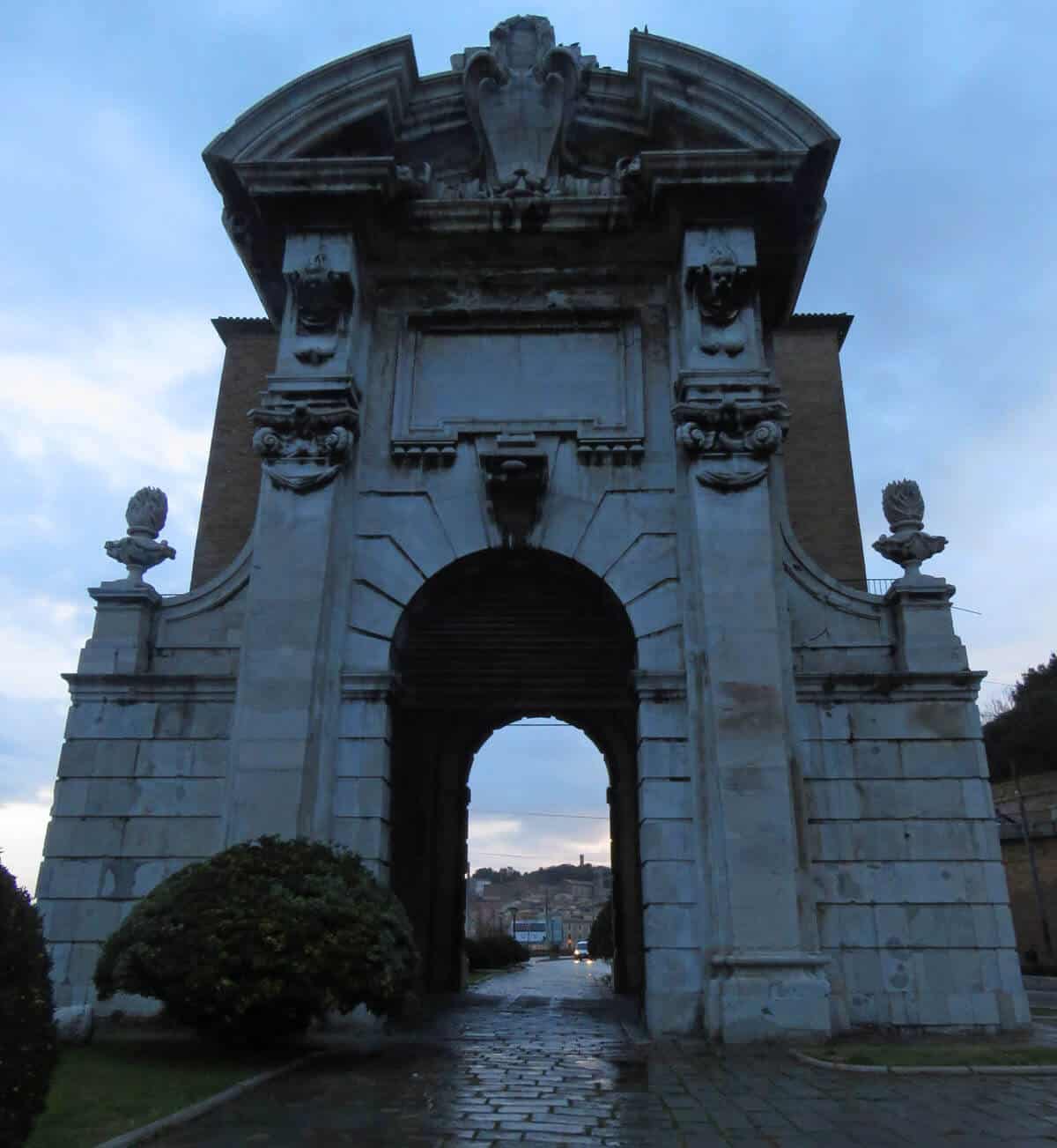 ---
---
Ancona
Arriving at 7 am in Ancona there don't seem to be any transport options. There's no ATM (that we saw. And we searched) in the Terminal building and no information of any kind. Ahh, to be back in Italy…
We decide to walk to the train station (as we would find out, it's a 30 minute walk). There's only one way to go and that's right along the road. Along the way you'll find an ATM about 5 minutes away from the ferry terminal. There are also a few bus stops. But we didn't stop – we didn't have change anyway (and we never did see a bus pass by).
Continuing to walk along the road (with sometimes no sidewalk), we pass the Portia Pia, a monument built in the 18th century signalling the entrance to the town. From here there are signs indicating the way to the stazione, the train station.
I can't say that Ancona looks like the most interesting city. And this side of the Adriatic doesn't have the dramatic mountain scenery of the Dalmatian coast. It's rather flat and featureless. But we spend about 90 minutes in a café at the train station having Cappuccinos and Italian pastries. Locals come in and stand by the bar, chatting with the owner in animated conversation, taking 2 minutes to drink an expresso before leaving. Ah, it's nice being back in Italy.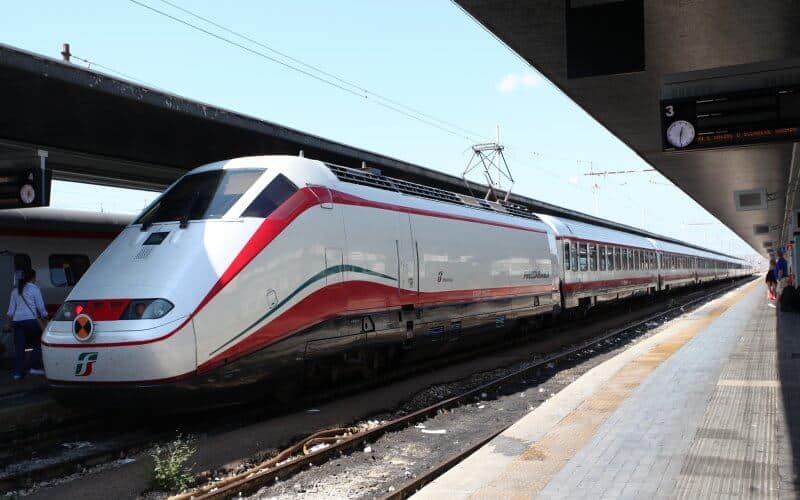 ---
---
Taking the Train
People used to make fun of Italy's train system. No more. It's great. I had pre-bought our train tickets on the Trenitalia website. But really there is no need. You get to the station and you can buy it from a teller or an automatic machine which has multiple language options. Easy peasy.
At 10:30 we get on a high speed train and are soon whizzing down the Adriatic coast towards Lecce.
Ps. If you find our blog helpful, please consider using our links to book your flights, hotels, tours, and car rentals. Have a look at our Travel Resources page.