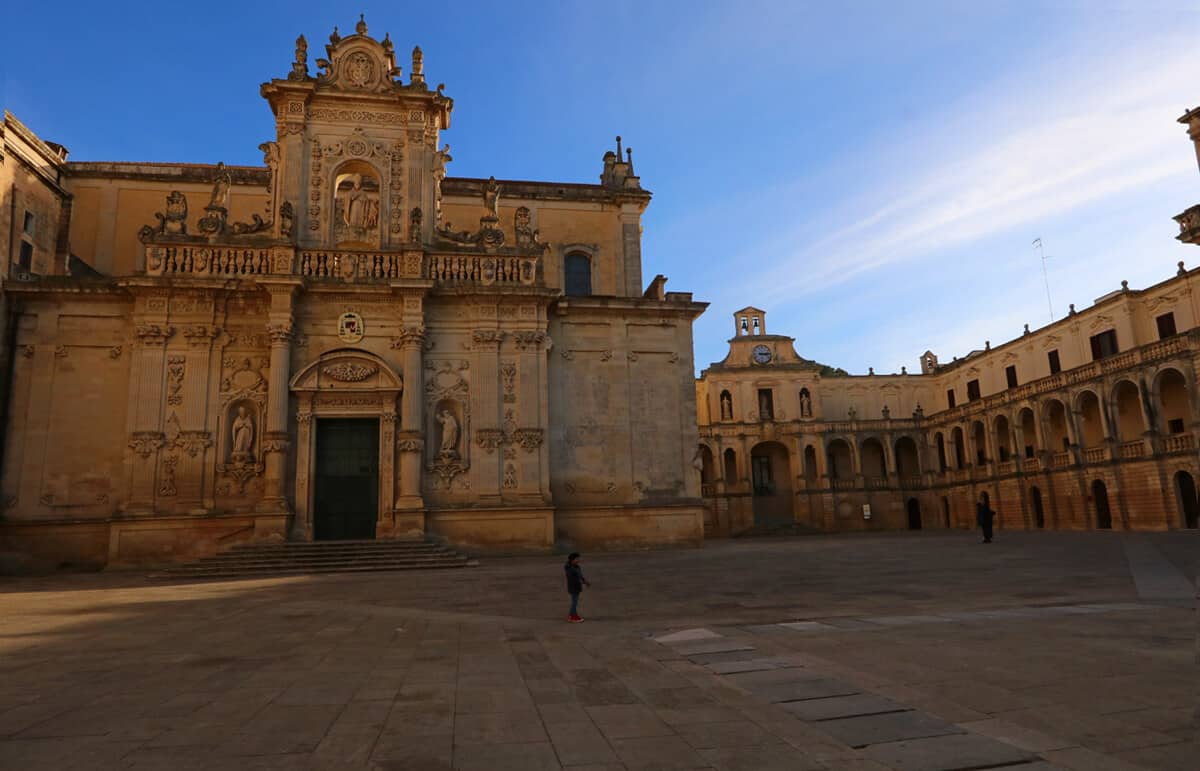 Travel guide to Lecce (Puglia)
We spent a month in Lecce, enjoying this city and exploring nearby towns on daytrips. It's a beautiful region, with incredibly friendly locals and some fantastic food.
We've been to Italy many times but Lissette and I both agree that our month in Puglia tops all previous trips to Italy.
Lecce is the highlight of the region. So much so that it is often referred to as the "Florence of the South". A small city of 100,000, it is full of charm – a (mostly) walled city full of churches, palaces, a Roman forum. But it is more than about any one sight. Lecce is so well preserved that you can walk around its squares and narrow streets and feel like you've stepped back to the 17th century. I'll cover all the highlights further below. Then there are the restaurants and wine bars. We always eat well when we come back to Italy. But the food in Puglia surpassed any region we've visited. On a few occasions an order of antipasti sufficed as a meal: in Brindisi we ordered the chef's antipasti (cost 14 Euros) and ended up being served 11 small plates of samplings. Think of antipasti as Italy's version of tapas. In Puglia you'll get incredibly tasty grilled vegetables, burrata cheese (a local specialty), Fave e Cicoria (fava been puree with chicory – another local specialty). They have their own pasta Oricchiete: little pasta "ears" served in tomato sauce and topped with parmesan. I've never eaten horse but had horsemeat stew in Lecce. Everything we ate was amazing.
Lecce is a well located for day tripping to other towns in the area. We used the train and saw many of Puglia's highlights. I'll cover them below.
Before I get into the meat of this post, I should also mention the people. We found locals incredibly welcoming. The level of English is low, but people just went out of their way to be helpful. We left thinking that the people in Puglia were the friendliest we've met anywhere.
---
---
Contents
What to See in Lecce




Where to Eat and Drink in Lecce




Where to Stay in Lecce




The best (and easiest) day trips from Lecce




Practical Information
What to See in Lecce
There are 3 main areas of interest in the city.
1) Piazza Sant'Oronzo and the Roman Amphitheatre
You would think that the main square in Lecce would be where the Duomo is located. That's not the case in Lecce. The main square is Piazza Sant'Oronzo. There you'll find a few cafes and restaurants, the local McDonald's, as well as a few sights – key among them the 2nd century Roman Amphitheatre. Looking at it brings to mind scenes from Gladiator. Also on the square is the column of Sant'Oronzo (born in 22 AD, Sant'Oronzo is venerated was a Saint and was named the first Bishop of Lecce). You'll also see an unusual clock on the Banco di Napoli building on one side of the square. That's the Orologio Delle Meraviglie, constructed in 1955. In the middle of the square, on a large mosaic, you'll see the city's coat of arms (a she-wolf and an oak tree).
Also in the square you'll find a tourist office (we didn't find them very helpful. The one on the Piazza del Duomo is much friendlier). There's also a popular café right across from the Roman Amphitheatre named Caffe Alvino. It's a good place to have a light lunch or pastry.
---
---
2) Piazza del Duomo (the Cathedral & Campanile)
The most beautiful square in Lecce. The Piazza del Duomo holds the Duomo (Cathedral), the Campanile (the bell tower) as well as several other palaces and official buildings. All are consistent in their ornate Baroque architecture and walking around this huge empty square (as a say above, it is odd seeing a square devoid of cafés and restaurants in Italy) you can't help but gasp at the details. There's a very good tourist office on the square run by a very helpful young lady.
Don't miss visiting the Cathedral, it is among 3 churches (I'll list them further below) where you absolutely have to see the interiors (hours: 8:30 – 12:30 and 16:00 – 18:30. Free, as are all other churches in Lecce).
3) Basilica di Santa Croce, Palazzo dei Celestini, and Villa Comunale Park
When we were in Lecce the Basilica di Santa Croce was undergoing restoration and the exterior was covered by a gigantic tarp facsimile of the church. It was enough to see how stunning it is underneath. Inside the Basilica is impressive, with Corinthian columns, intricately sculpted windows and balusters, and a decorative wooden ceiling.
Next to the Basilica is the Palazzo dei Celestini, now a government building. Admire the exterior then walk through the courtyard to the park across the street. This is Villa Communale Park. It's the prettiest park in Lecce's center.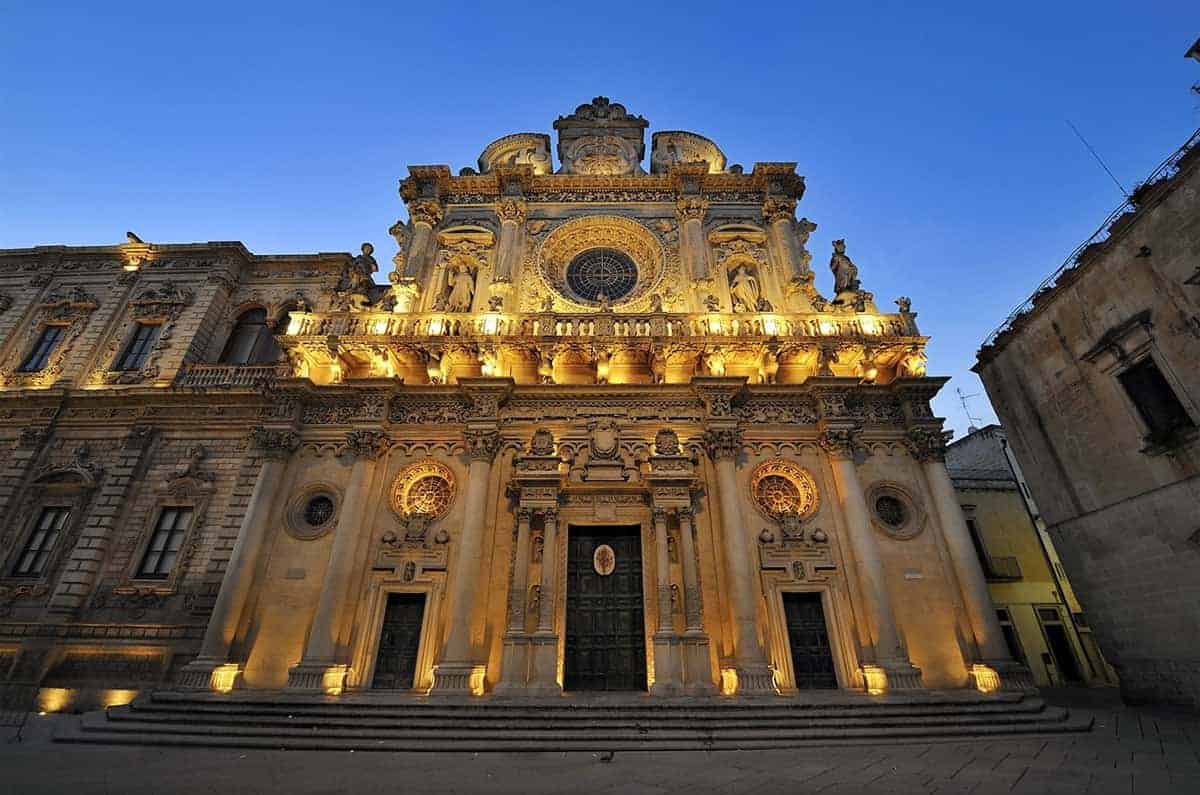 Above: Basilica di Santa Croce when not under restoration (credit: Viaggiatori Atipici)
---
---
Churches
For such a small town, Lecce is full of stunning churches.
I've mentioned the Duomo and the Basilica di Santa Croce. Other churches to see: San Giovanni Battista, Santa Chiara, San Matteo and Santa Irene.
The 3 most beautiful church interiors (in our opinion): the Duomo, Santa Croce, and Santa Chiara. Make sure to go inside each.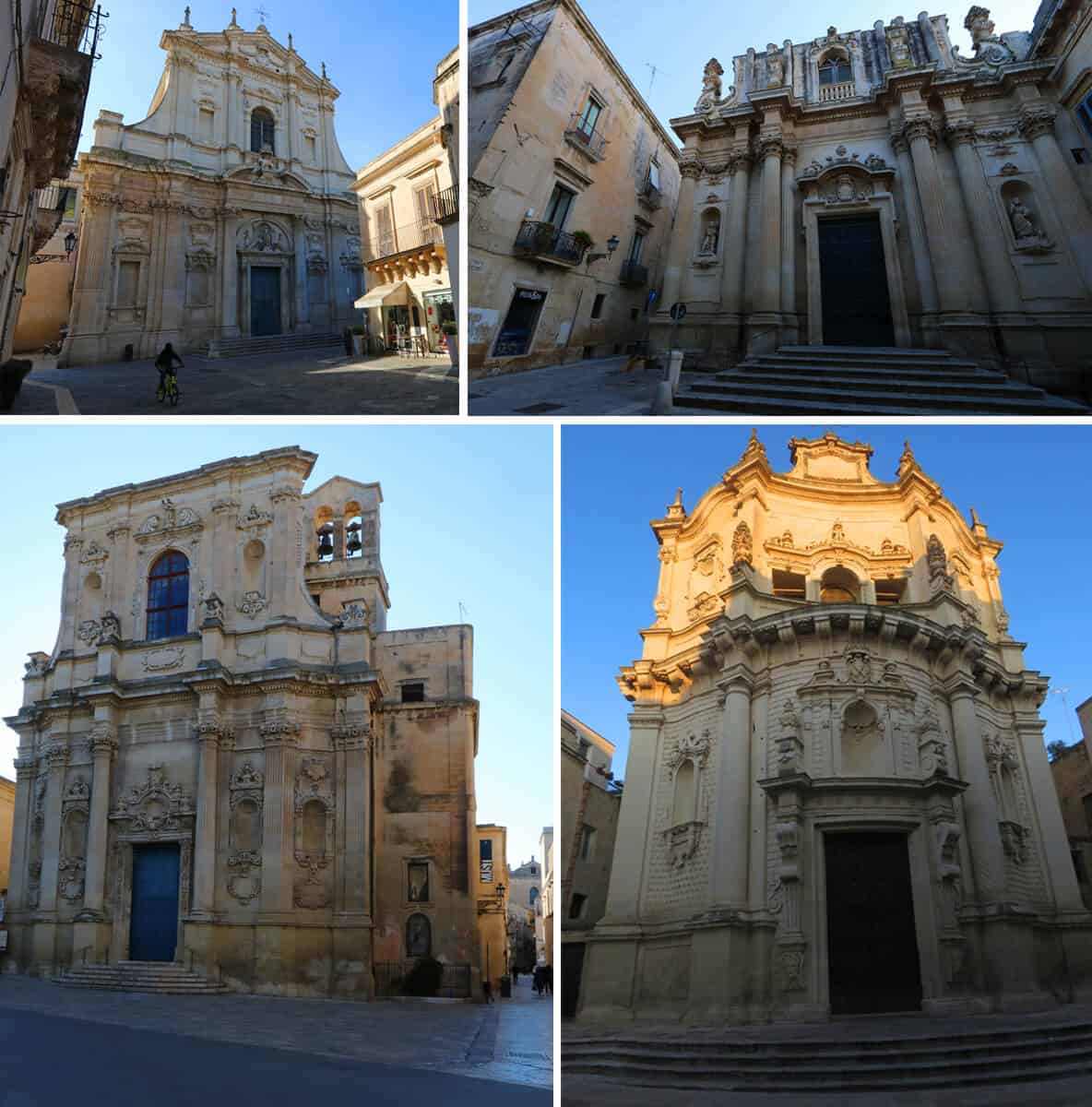 City Gates
There are 3 remaining gates. The largest, the main city gate, is the Porta Napoli which is modelled based on a Roman triumphal arch. Just outside the arch is the "obelisk" – a stone pillar which is was erected in 1822 in honour of Ferdinand I. The Porta San Biagio is another beautiful gate. Finally there's the Porta Rudiae, the oldest and smallest of the gates.
---
---
Other impressive sites in Lecce
Up a small street behind Santa Chiara is the 2nd century Roman Theatre. It was only uncovered in 1929 and was able to seat 4000 spectators.
It's worth wandering around the exterior of the Castle of Charles V. Don't pay for a visit of the interior – it's not worth the 10 Euro admission fee.
Towards the train station is the university district. A former convent, the Convitto Palmieri, is a beautiful square with grand columns and today houses a library. Try to get a peak at the wonderful courtyard of Salento University. You'll have views of the domed top of Church of Carmine which is right next to the university.
---
---
As I said at the top – Lecce has many sights but the totality is more impressive than any one individual sight. You can't help but be incredibly impressed walking around the historic center and seeing how the architectural style is consistent throughout. You really do feel like you're stepping back in time.

Where to Eat and Drink in Lecce
Cheap eats: Pizza & Co for great pizza
Traditional Italian (mid-priced): Ask anyone where to eat in Lecce and they'll tell you Osteria Da Angiulino. It's fantastic, good value, and full of locals. Best to reserve. Start with the vegetarian antipasti. Enogastronomia Povero has very good local cuisine and if you want a fantastic desert try their Casatina Siciliana. Alle Due Corti is another good place for traditional food.
Fancier Italian: Le Club restaurant & Lounge bar, Osteria degli Spiriti.
Cafés: next to the Roman Forum is Caffe Alvino. Good coffee and large selection of desserts. You can also go to Enogastronomia Povero for that fantastic Casatina Siciliana that I mentioned above. Caffe Paisiello near the Porta Napoli had great mini-sandwiches and pastries.
Wine: Enoteca Mamma Elvira has a large wine selection, good light meals, and a great location down the street from Basilica di Santa Croce. Vineria Santa Cruz is next to Mamma Elvira and also has wine and light meals as well as a pool table.
---
---
Where to Stay in Lecce
We stayed in this Airbnb apartment during our month-long stay. It's excellent and recommended, and a 12 minute walk from the historic center. Luigi is a great host and will give you some great recommendations on where to eat and what to see in the region (I'll get to daytrips from Lecce below). Across the street is a Pam supermarket as well as a gym (Planet Gym). There's a nice little café around the corner (next to the gas station) run by an older man. His wife makes the cakes and they're delicious (and cheaper than in the historic center). If coming here take the 31 bus from the train station and get out in front of the Japanese restaurant, it'll take you about 10 minutes and is a better alternative than the taxi (which cost us an amazing 18 Euros when we first arrived in Lecce!). If you haven't signed up for Airbnb yet use our link and save $35 US on your first stay.
Hotels and B&Bs
Upmarket hotels in the Historic Center: Vico della Cavallerizza is a gorgeous luxury B&B. Large rooms, all with balconies. Patria Palace Lecce is located in a luxurious palace looking across at Basilica di Santa Croce. Both are fantastic upmarket options.
Mid-range options: Palazzo Bignami has a great location between the train station and the historic center. Large comfortable rooms, great breakfast. Antica Dimora dei Nonni is a modern B&B in a historic building in the heart of Lecce.
---
---
The best (and easiest) day trips from Lecce
There are many things to See around Lecce – the challenge is getting to some of the towns using public transport, especially in the off season when buses have very limited schedules (even at the best of times buses are sporadic and never on schedule). Lucky enough there are trains. Heading north the trains are fast, frequent and reliable. Heading south you'll be taking FSE trains (Ferrovie del Sud East) which are slow, sporadic…but generally on time.
Here are the best (and easiest) day trips from Lecce. All can be visited by train and you can check the schedules on the Trenitalia website.
North of Lecce
Polignano A Mare – 1 hour, 15 minutes if direct (sometimes you have to change in Monopoli which can add up to 20 minutes)
Monopoli – 1 hour, 15 minutes from Lecce. Note: Monopoli is 5 minutes from Polignano A Mare by train, so try to combine these 2 towns on a visit.
Ostuni – 50 minutes from Lecce, BUT the train station is 3km from town and you have to take a 15 minute bus.
South of Lecce
Gallipoli – 1 hour, 30 minutes from Lecce on that slow FSE train
Galatina – 50 minutes from Lecce on the FSE train.
Otranto – 1 hour, 30 minutes from Lecce on that slow FSE train. You have to change trains twice. BUT – in the summer there is a direct train that takes 1 hour, 10 minutes.
Nardò – 50 minutes if direct to Nardò'Çitta' (a bit longer if having to transfer through Nardò Centrale)
Further and very difficult to get to by public transport are the towns of Valle d'Itria, the highlight being Alberobello which is known for its trulli, whitewashed stone huts with conical roofs. This tour which includes Alberobello as well as Polignano A Mare (another popular destination in Puglia) might interest those keen on seeing these two famous towns.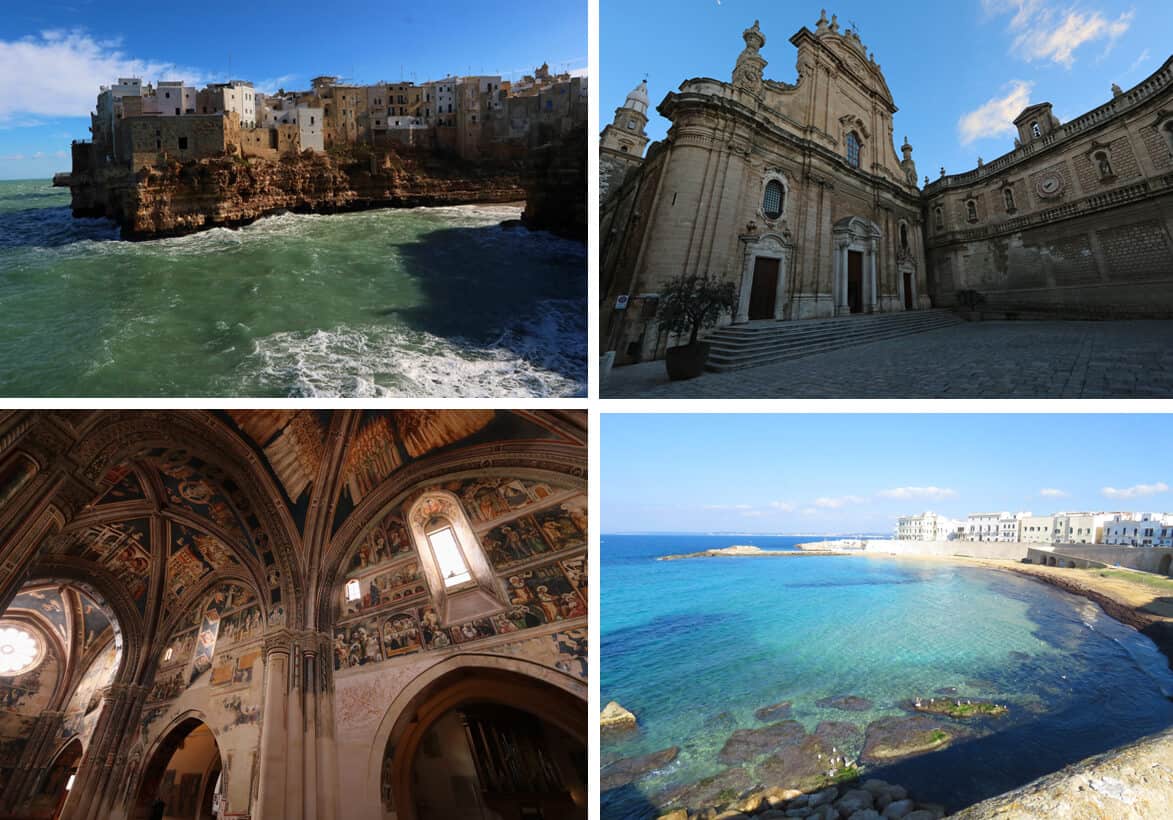 ---
---
Practical Information
Getting In and Around
Train
Lecce is the last stop on the high speed Trenitalia trains and can easily be accessed from large Italian cities. We came to Lecce from Ancona (where we arrived after taking the overnight ferry from Split, Croatia). Again, trains are fast and frequent. Check the Trenitalia website for schedules.
Plane
Brindisi is the closest airport (a 30 minute train ride north). The next closest is Bari (2 hours north). Most flights into either city are seasonal.
Car
Renting a car is the best way to visit towns in the vinicity. You can easily rent a car from the airports in Bari and Brindisi. You can search for cheap car rental deals on Rental Cars.
Opening Times
Opening times in Italy can take a while to get used to. Sometimes it seems that nothing is ever open and walking around in the afternoon (even on a Saturday) you'll swear some of these towns in Puglia are abandoned. You have to plan your sightseeing around these hours.
Generally, things open at 8:30 am and are open until 12:30 (although it can be noon or 1 pm). Then they open up again at 5pm and can be open until 8pm (although that varies). That applies to churches and tourist attractions.
Shopping
Doc Supermercati is the largest grocery store in Lecce.
Close to Doc Supermercati, Acqua & Sapone is a DM/Müller-type store where you can buy cosmetics and toiletries.
Fresh fruit and vegetables. There is a market by the Porta Rudiae. Also, every Sunday morning there is a fun farmers market at Piazza Ariosto.
---
---
Ps. If you find our blog helpful, please consider using our links to book your flights, hotels, tours, and car rentals. Have a look at our Travel Resources page.