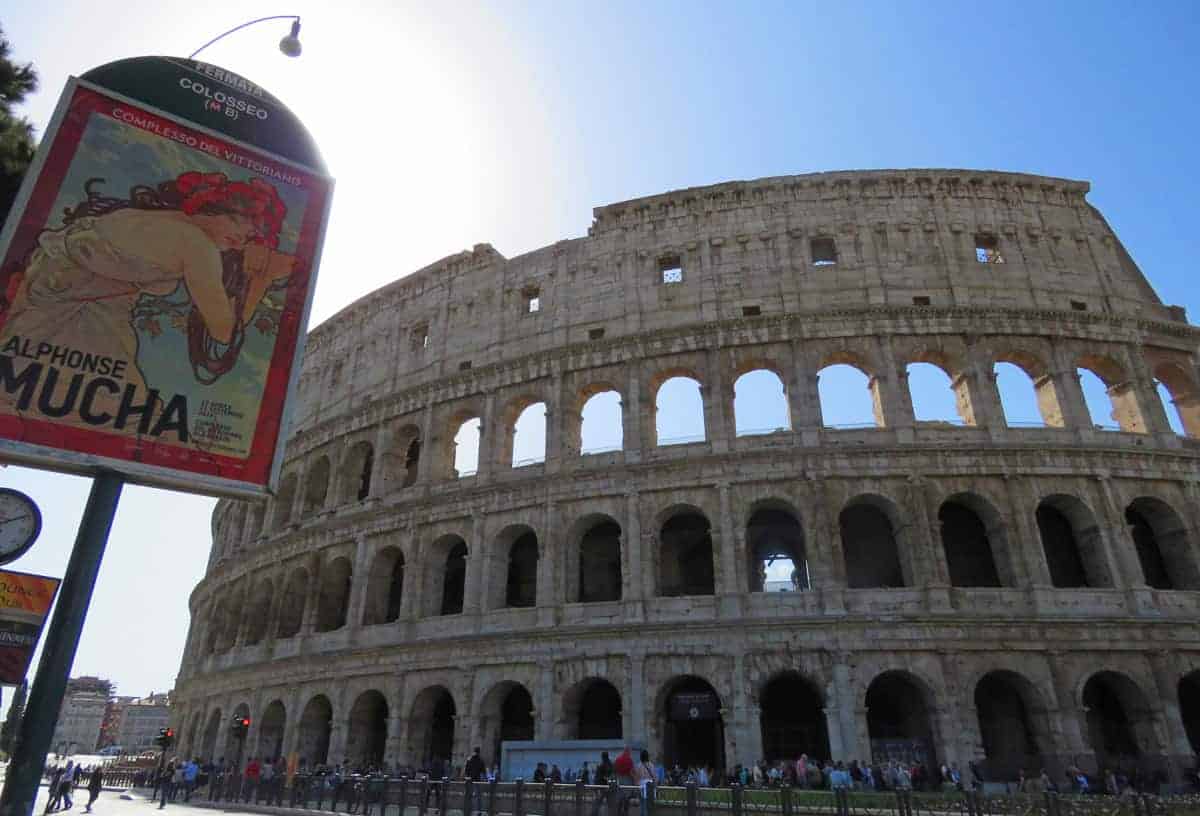 Forget everything you've read because Rome is Incredible
I had read so many negative things online about Rome that I honestly had an aversion to visiting the city. People will tell you that it is a big and dirty city, that the transport is bad and that highlights are spread out and hard to see on a short visit. They'll say that it's packed with tourists, that locals are unfriendly and the food horrible. So when Lissette mentioned she'd like to visit the city – mainly to see St. Peter's Basilica – I found myself making all kinds of excuses why we shouldn't go.
We ended up going, spending what amounted to about 2 full days in Rome. During that time we saw most of the highlights and were so impressed that we'll be back one day for more. I also came to the realization that many people have it all wrong when it comes to Rome – and that most of that is due to lack of planning.
A quick video showing off Rome's highlights
.
The first myth (or general misconception) debunked: you CAN walk between the main sights in Rome very easily. Central Rome is not spread out, it's actually very manageable. The map below shows the main tourist sites and what we walked (with many stops along the way). Day 2 (in blue) was our only full day in Rome and we covered a lot of distance and saw tons. Really easy. I'll have a few tips further below.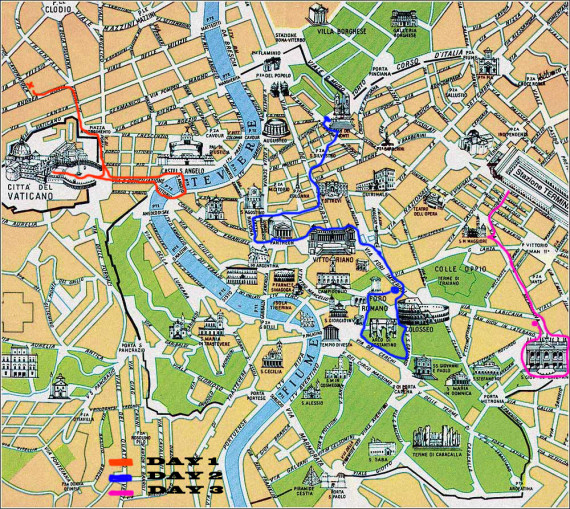 ---
---

Our Weekend Itinerary
Day 1 (half day) – Train from Padova, arrived in Rome at 1pm, Took the metro and checked in to our hotel near the Vatican before 2pm. Unpacked, had a lunch nearby then took a tour of St. Peter's Square and St. Peter's Basilica. From there it is a short walk to Castel Sant'Angelo.
Day 2 – Took the metro to the Colosseum (Colosseo Metro) visited the Roman Forum, Palatine Hill, then the Colosseum (I'll explain why to do it in this order below). Then walking up the Via Fori Imperiale (large pedestrian boulevard with ancient ruins on both sides including Trajan's Forum) to the Vittoriano. Lunch break. Continue through side streets to the Pantheon. 10 minutes away is Piazza Navona. 15 minute walk to the Trevi Fountain then another 10 to the Spanish Steps (which was under construction). Easy metro ride from there back home.
Day 3 (half day) – Checked out of the apartment, took the metro to Manzoni metro where we walked to the Basilica di San Giovanni in Laterano. Walked towards the train station, passing the Basilica di Santa Maria Maggiore. Took the train at 11am, we were back in Padova at 2pm.
Accommodation in Rome
A few recommendations: Pantheon Luxury House (luxury apartment, good price, near main sites), Colosseum Street (nice apartment, right next to Colosseum so you can get an early start), Bella Nonna (another apartment right by the Big 3). All surprisingly affordable considering this is Rome.
---
---
.
Day 1 (half day) – St. Peter's Basilica, St. Peter's Square, Castel Sant'Angelo

.

St. Peter's Basilica
Seeing that St. Peter's Basilica (in Vatican City) was the principal reason we were visiting Rome. Since I had only planned an afternoon to see the Basilica and St. Peter's Square, I booked a "Skip the Line Vatican Tour" . We received a 3 hour guided tour and as the title says, skipped the hordes lining up to buy tickets. Whether you're religious or not, it is a wonder of the world.
Construction of the basilica started in 1506 and was completed 120 years later, in 1626. That's pretty unbelievable.
.

St. Peter's Square
Outside the Basilica is St. Peter's Square. It is immense and especially beautiful in the late afternoon light.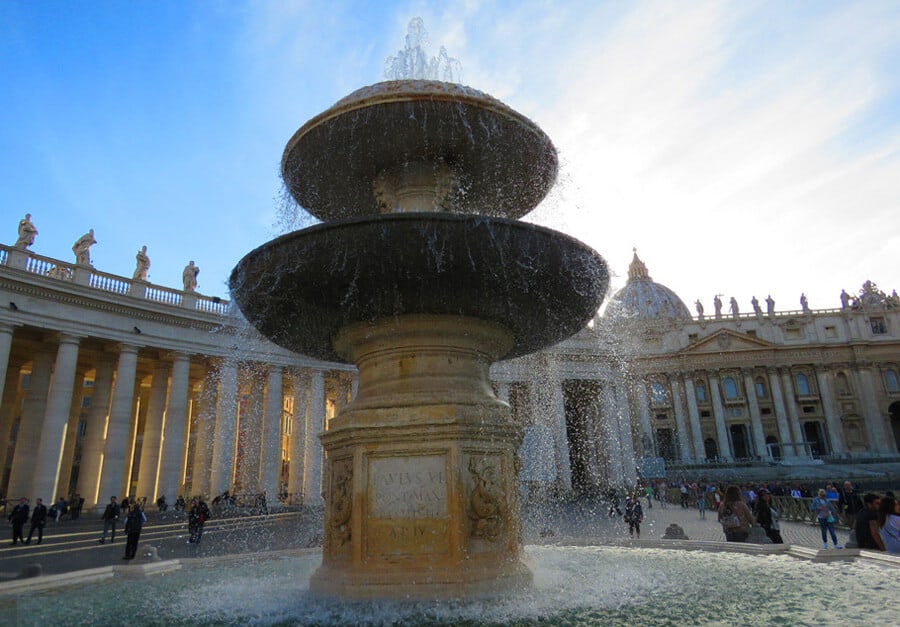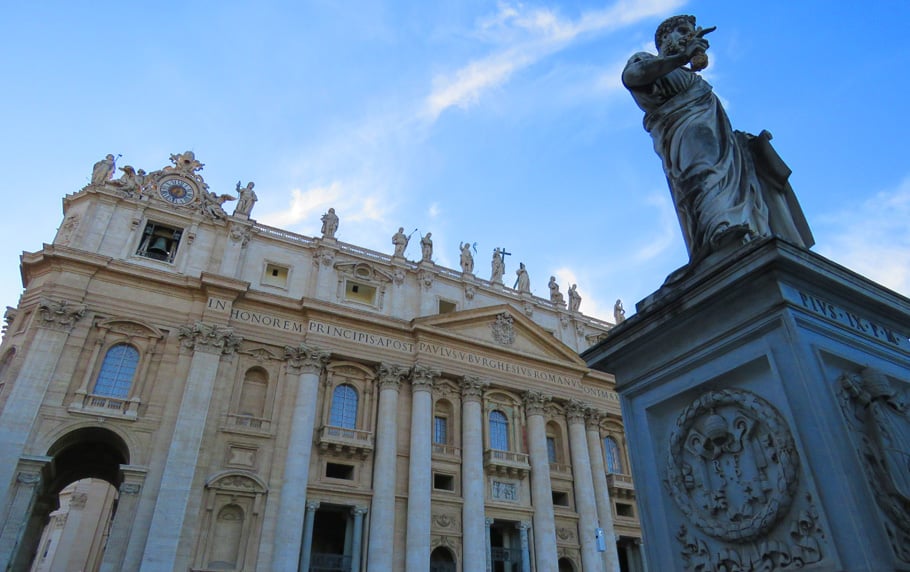 .

Castel Sant'Angelo
A 10 minute walk down the road brings you to Castel Sant'Angelo. Originally built as a mausoleum on the Tiber River for Roman Emperor Hadrian (in 134 AD) it was later used by popes as a castle, a fortress, then as a prison.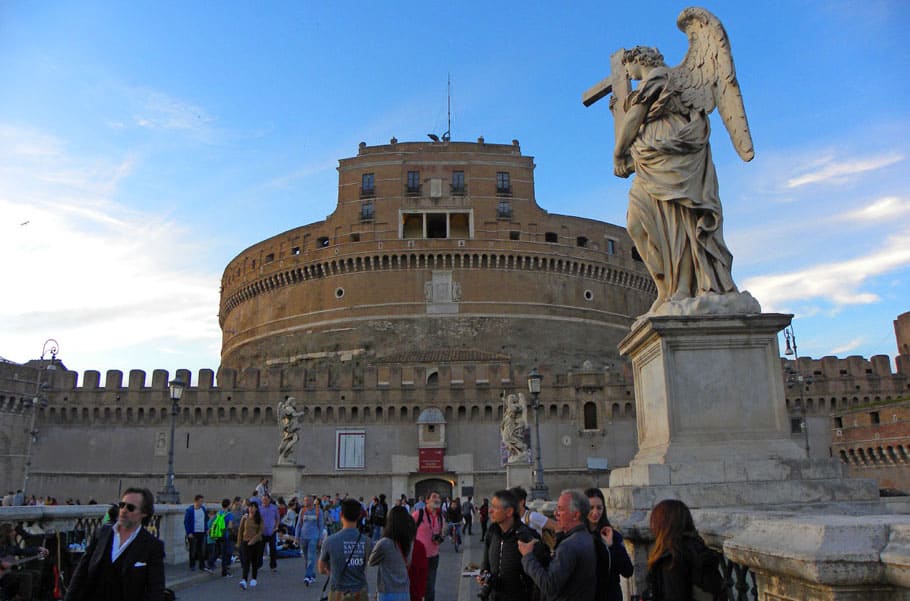 .




.




.
---
---
Day 2 – Central Rome

A. Navigating Rome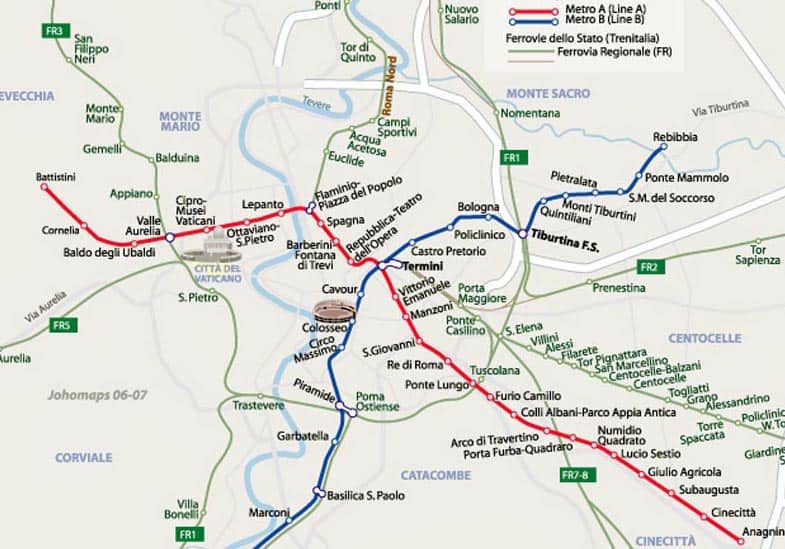 It's true that the Center of Rome isn't well covered by the metro system. But several of the key sights are located right next to metro stations and should be used as starting/ending points. From our base near Vatican City we had a metro station 5 minutes away (Ottaviano). From there we took the metro to Termini (the central hub, where the train station is located) and switched to the Blue Line going to the Colosseo metro station. When you get there, you are directly in front of the Colosseum with both the Roman Forum and Palatine Hill steps away. Door-to-door, it took us about 25 minutes. I had planned our day so that we would finish our walking itinerary at the Spanish Steps, where Spagna metro station is located. From there it was about 10 minutes by metro back to Ottaviano. Overall we found getting around by metro easy.
TIP: instead of buying your tickets at a vending machine (I hate fighting with vending machines), buy a strip of tickets at a Tobacco Shop. We did that at Termini (there's a shop close to the metro gates) and the guy even gave us a map.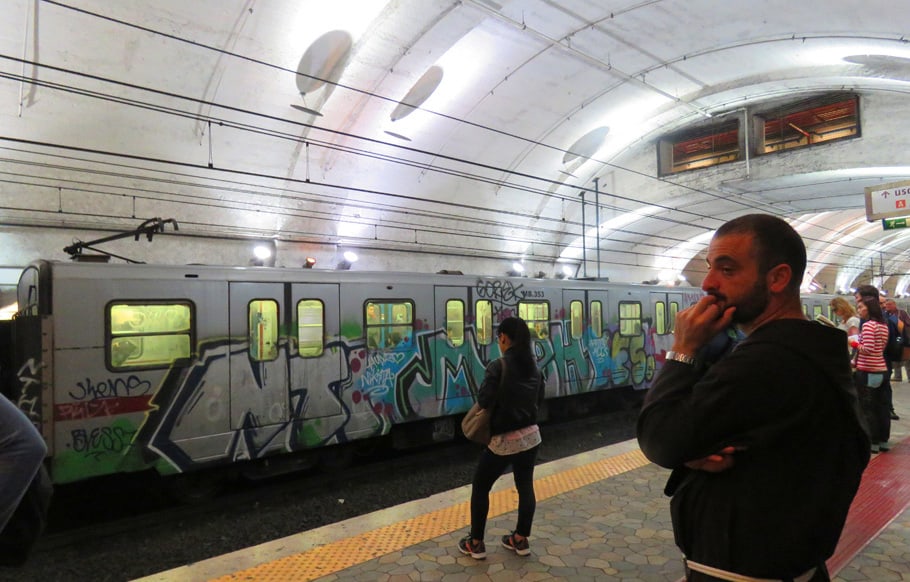 ---
---
.
B. Highlights of Central Rome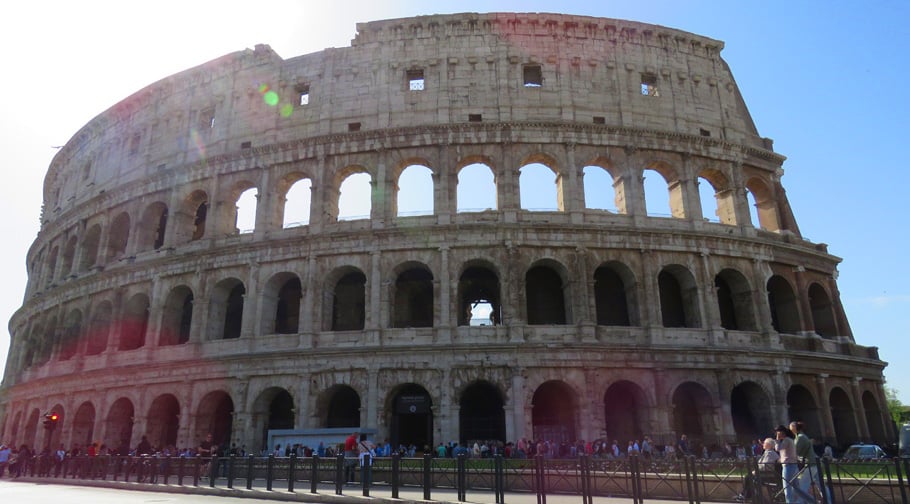 The Colosseum, Roman Forum, and Palatine Hill rank at the top of the "must-sees" sites in Rome. They're all located right next to each other steps away from the Colosseo metro stop.
TIP: You can buy a ticket covering these 3 highlights either at the Colosseum or about 100m away at the Roman Forum ticket office. Since lines are largest at the Colosseum, you'll save time buying your tickets at the former. But the best thing to do is to book this "Skip the line"package that covers all 3 highlights. Start with the Roman Forum, go up Palatine Hill, then go to the Colosseum.
.
.
Roman Forum

The Roman Forum is where the center of Rome was located in ancient times. Some of the monuments date back to 700-800 years before Jesus (7-8 AD). That blows my mind. There is so much to see that you can easily spend a few hours here. A few photos below.
See here for an extensive guide of the Roman Forum.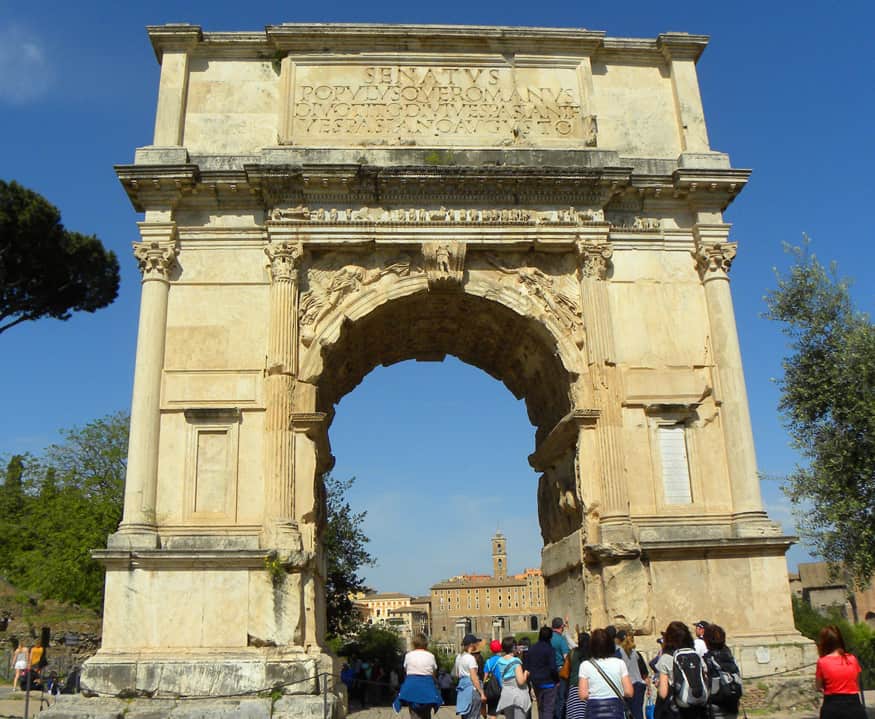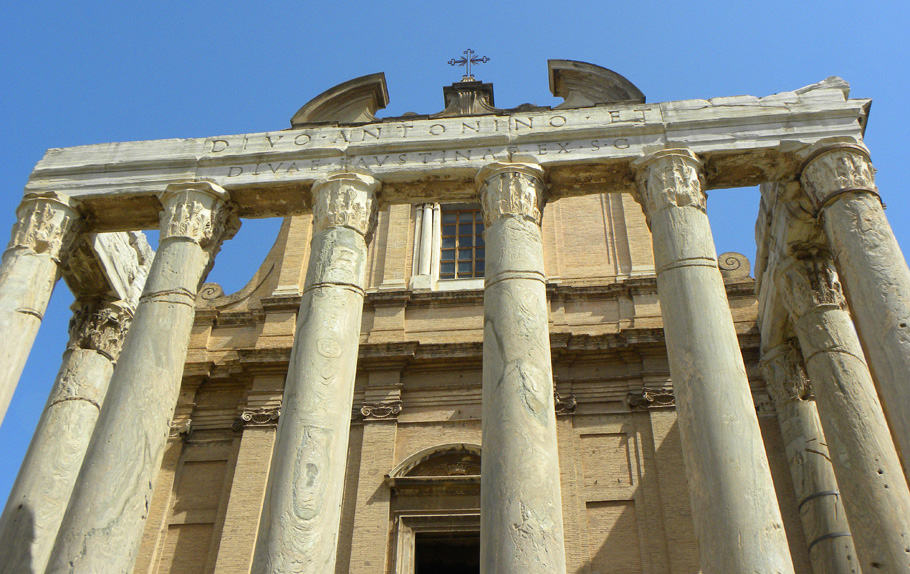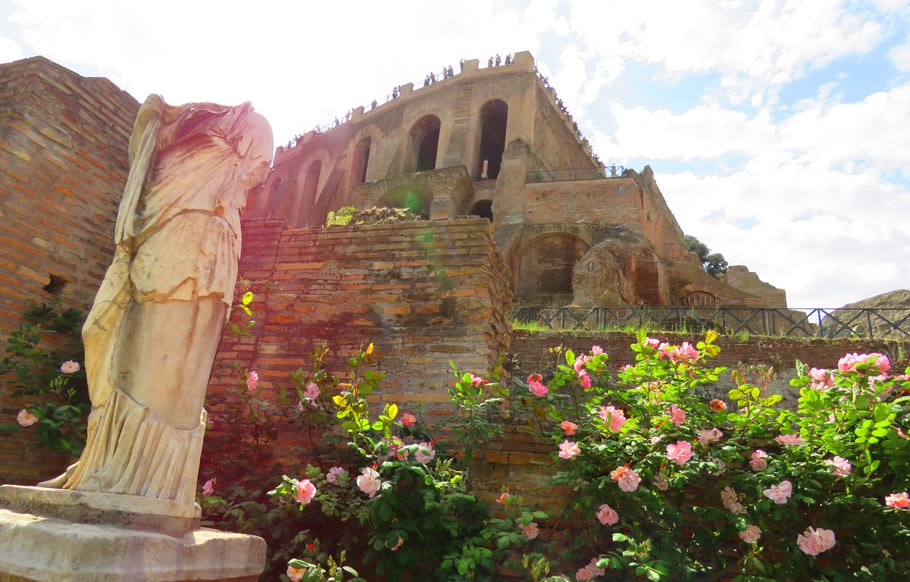 .
.
---
---
Palatine Hill
.
Just a little up the hill from the Roman Forum is Palatine hill which has gardens and the ruins of the palaces of some of Rome's richest families. The grounds are huge. The highlight for us were the incredible views of the Roman Forum (directly below) and the Colosseum.
More on Palatine Hill.
.
.
Colosseum
.
The Colosseum was our last of the sights in the immediate area. I've heard many people complain about the number of tourists and the "letdown" of actually entering the Colosseum. Despite having our pre-bought tickets (mentioned above) the line still took about 45 minutes, the delay mostly due to the metal detectors everyone has to go through. We were in Mid-April, I can only imagine what it would be like in mid-summer (I've heard of 3 hour lines!)
But for me the Colosseum was totally worth it. Maybe that's because when I look down I can just envisage the gladiators, slaves and wild animals in the tunnels below the arena floor. I can only imagine the terror. And imagine, the Colosseum dates back to 80 AD, more than 2000 years ago. Again, that just blows my mind. So maybe the trick to appreciating the Colosseum is a bit of imagination. All I know is that when we got back to the apartment that evening I told Lissette that I wanted to watch Gladiator.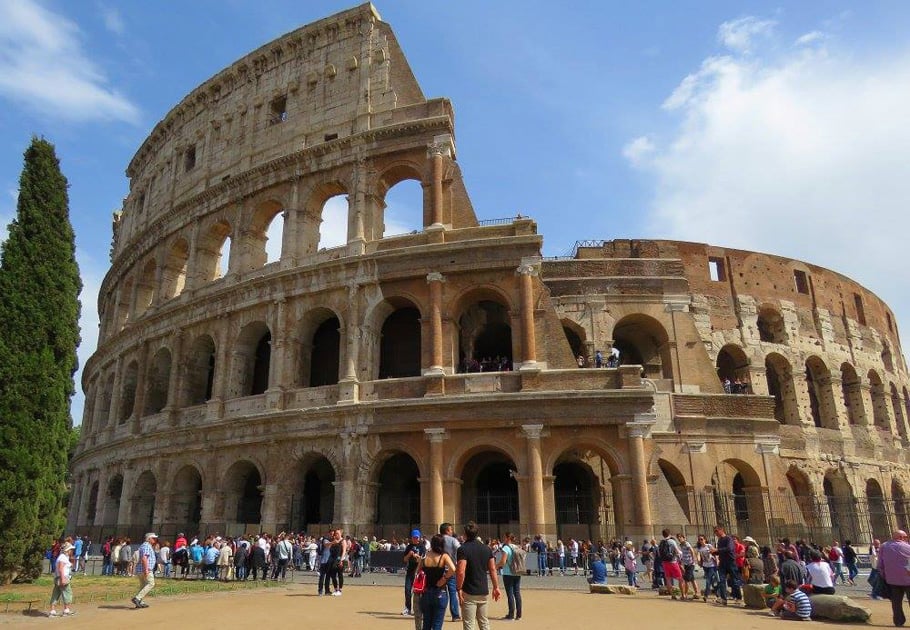 .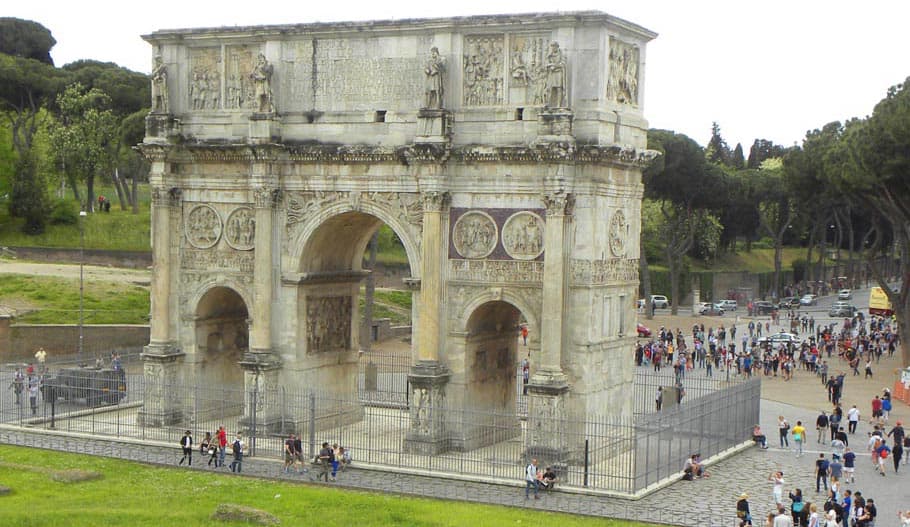 .
---
---
Leaving the Colosseum, we walked down the Via Fori Imperiale, a large pedestrian only avenue that runs along the Roman Forum on one side and a multitude of other forums and ruins on the other. A few photos:
.
.
.
Vittoriano
.
A 10-15 minute walk down the Via Fori Imperiale takes you to a huge monument named the Vittoriano. It was built in 1885 to celebrate the achievement of Italian Unity in 1870.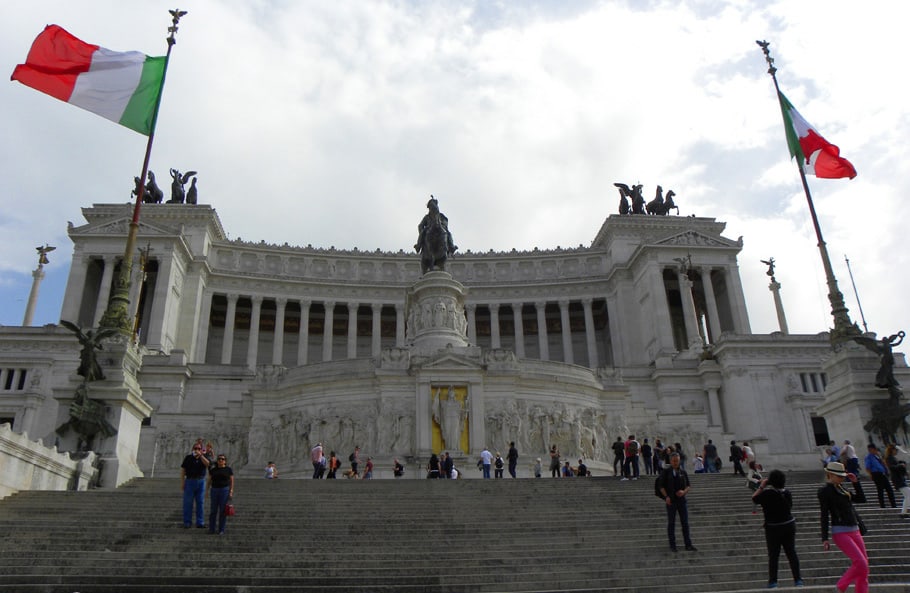 .
.
---
---
Pantheon
.
You'll most likely have spent about 4 hours between the Roman Forum, Palatine Hill, Colosseum, and the sights along the way to the Vittoriano. After a lunch break, we walked through a maze of small streets to one of Rome's most popular sites: the Pantheon.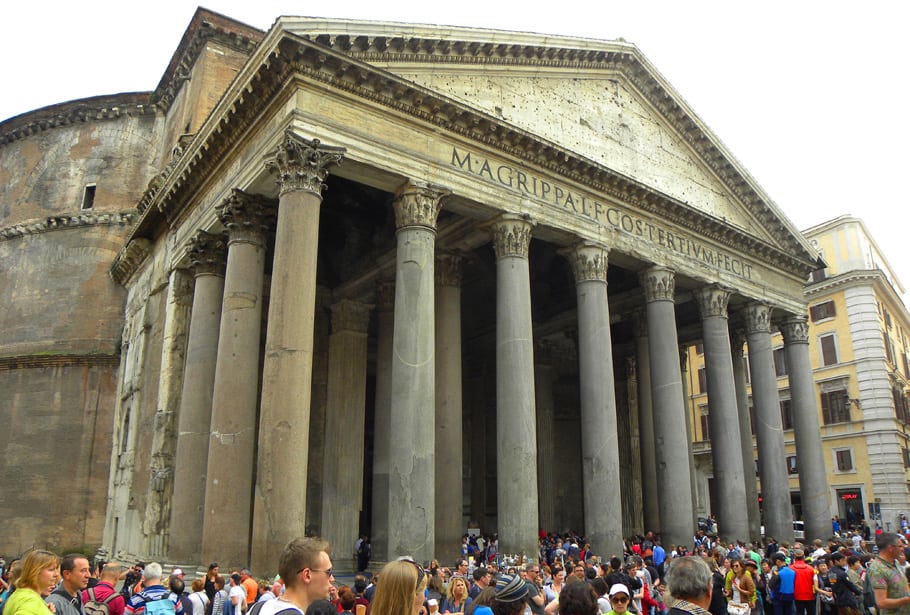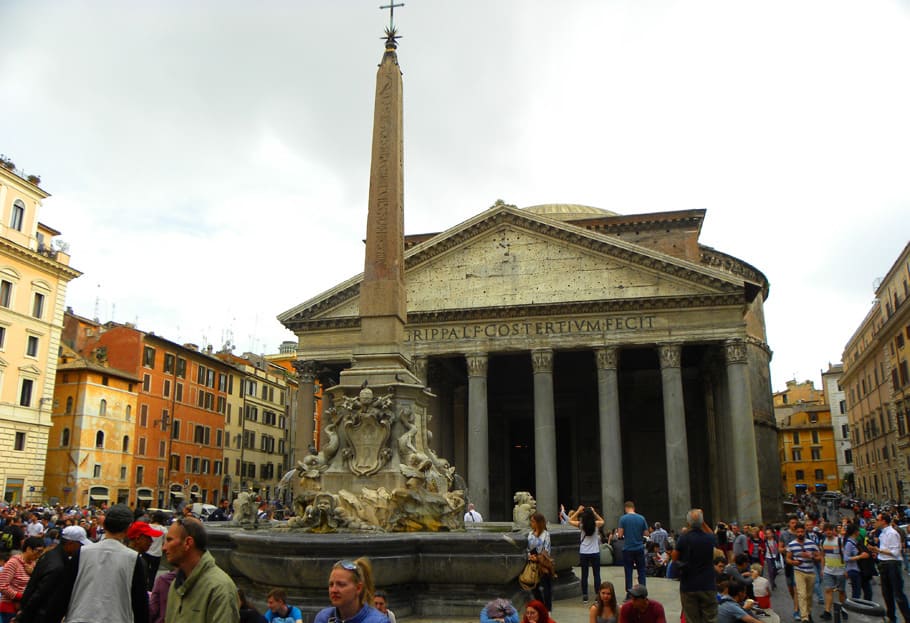 The Pantheon dates back to 126 AD and is considered the best preserved monument of Roman antiquity. A temple, it was dedicated to the planetary gods.
.
Piazza Navano
.
10 minutes away, through more small streets (this part of Rome is all small streets) is Piazza Navano. A huge Baroque square, it was built for festivals and horse races in the Middle Ages. Besides a beautiful church (Sant'Agnese – which you can enter) the square is most known for its fountain (Fontana dei Quattro Fiumi) which was designed in 1651 and which represents River Gods on 4 continents of the world.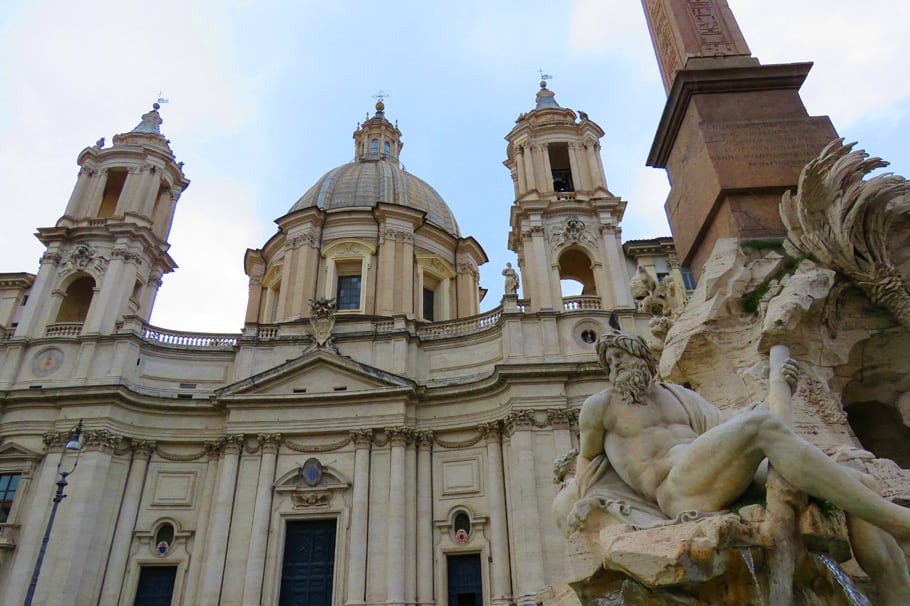 .
.
Coming back, past the Pantheon, and heading towards the Trevi Fountain, we saw these ruins. Suddenly coming up on columns and temples like this in Rome seems commonplace.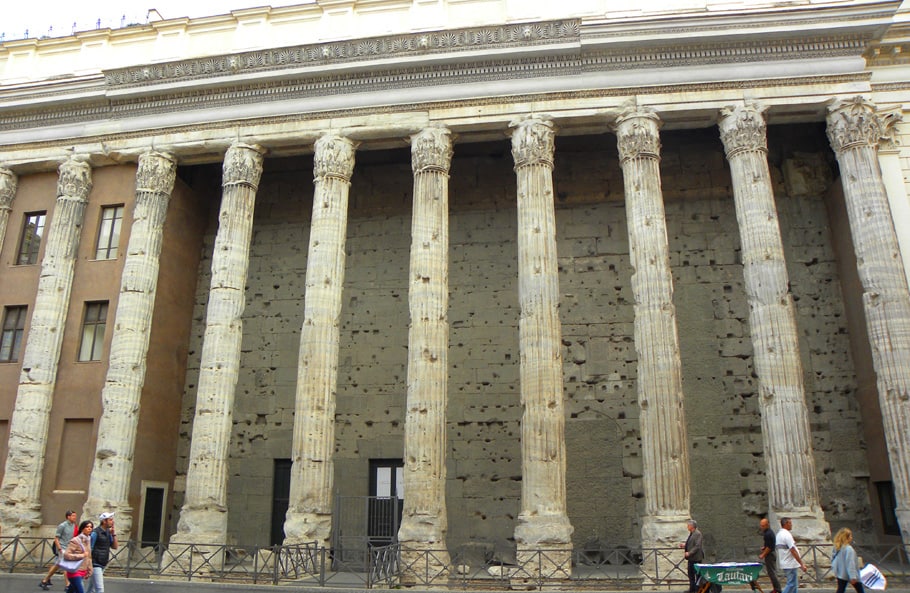 .
.
---
---
Trevi Fountain
.
A 15 minute walk brought us to the Trevi Fountain.
Built in 1732-1762, it is the largest Baroque fountain in Rome and one of the most famous fountains in the world. Even in mid-April, it was swarmed with tourists (see the video at the top, you'll be amazed). In fact, if you're short like Lissette this might be the only angle you get: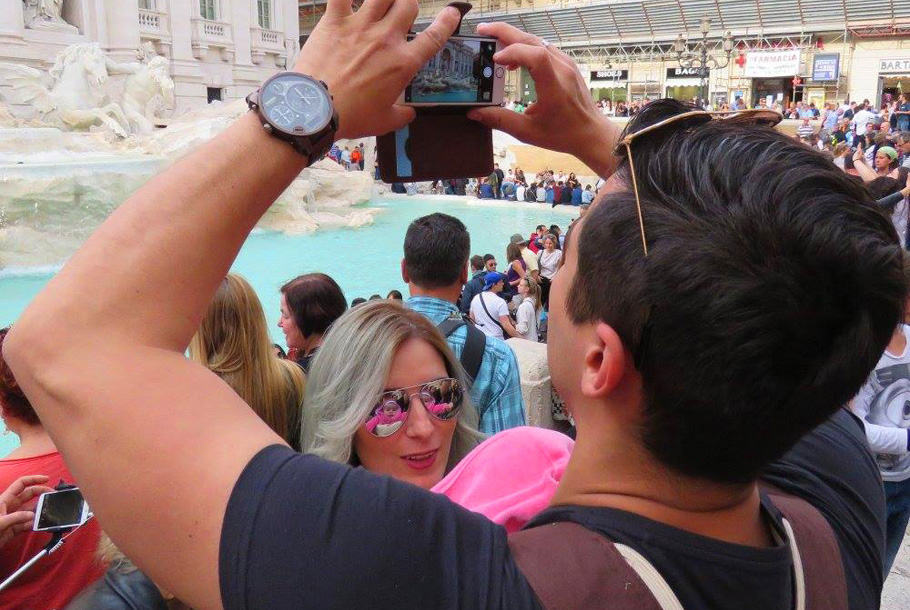 .
.
Spanish Steps
.
Our last destination of the day was also our most disappointing. The famous Spanish Steps, portrayed in almost every movie ever shot in Rome, was under renovations. Our best photo: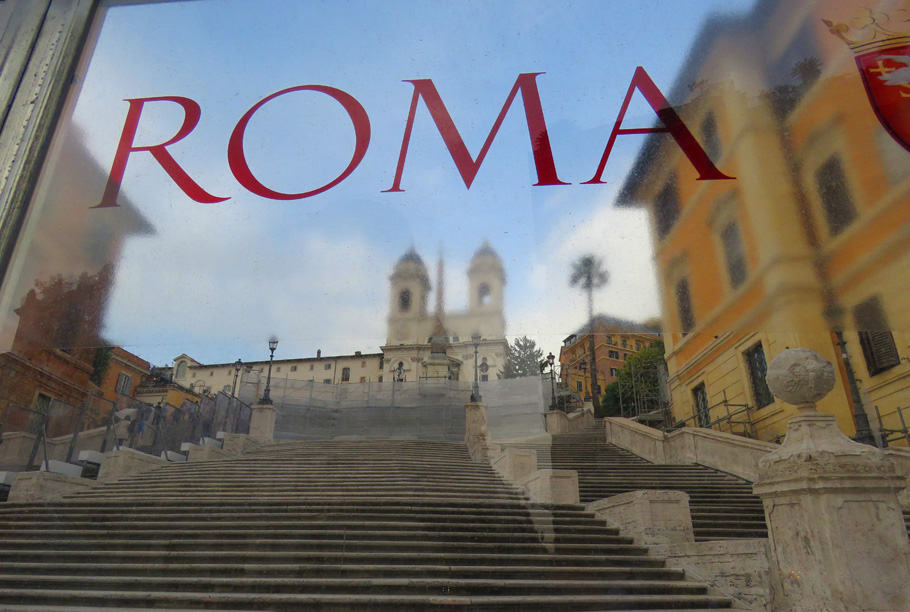 .
.
---
---
Day 3 (half day) – Basilica di San Giovanni in Laterano & Basilica di Santa Maria Maggiore
We had an 11 am train but wanted to fill in a couple of hours with sightseeing. After checking out of the hotel, we took the underground to Manzoni metro station. From there it was an easy walk to Basilica di San Giovanni in Laterano, Rome's oldest church.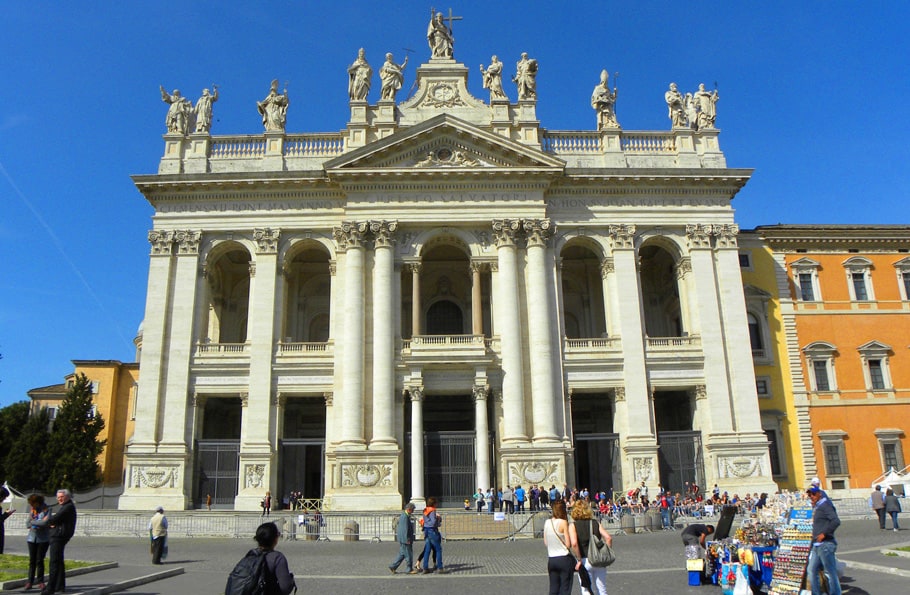 .
Being another beautiful day, we decided to walk to the train station, seeing along the way at least 5 churches (including Basilica di Santa Maria Maggiore) that would be noteworthy in any other city. In Rome they are just another church, another incredible architectural sight.
.
.
---
Flights
Rome–Fiumicino International Airport "Leonardo da Vinci" is the main airport in Rome (Airport code: FCO). The airport is 35 km (22 miles) from Central Rome – the best way into the center is taking the Leonardo Express train that takes you non-stop to Termini station in Central Rome in 30 minutes.

If there are a few closing thoughts on Rome that I can leave with you:
1) Rome is very impressive and it's sights some of the most ancient that you'll see anywhere in the world. Don't be biased (like I was) from visiting.
2) Rome is not hard to navigate. But plan out your itinerary, making best use of the metro system as beginning and ending points. And wear good walking shoes.
3) Plan ahead and smartly. Pre-buy those tickets at the Vatican, as well as the package for the Colosseum, Roman Forum and Palatine Hill. You'll save a LOT of time.
4) Rome gets a crazy amount of tourists, even in April we saw a lot. The most important tip I have is to avoid the summer months. Tourist hordes and heat are the major reasons Rome leaves a bad taste in people's mouths.
What's your experience visiting Rome?
Ps. If you find our blog helpful, please consider using our links to book your flights, hotels, tours, and car rentals. Have a look at our Travel Resources page.