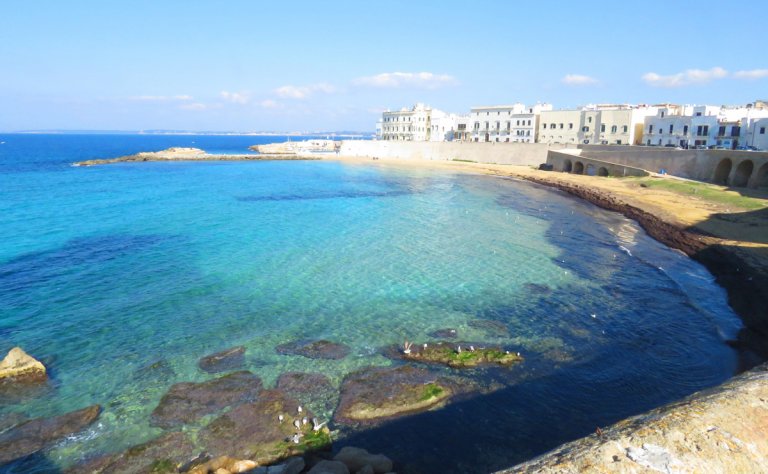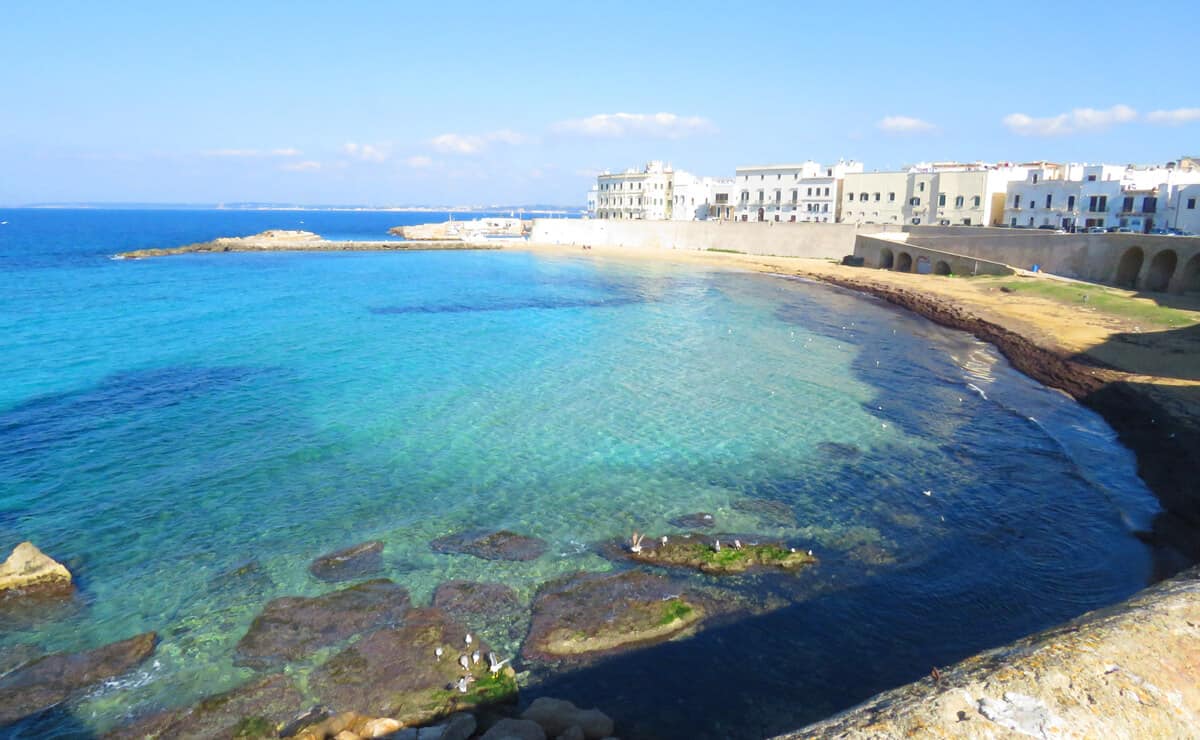 Towns that you should Visit in Puglia
I recently wrote about Lecce and on why it is the most beautiful city in Puglia, Italy. But it also makes a great base to explore many of the other highlights in the region.
Whether you base yourself in Lecce and visit these towns as day trips… or you travel around the region staying in different locations, you'll enjoy this post. You'll find it especially useful if, like us, you're travelling around using public transport.
I've broken this post up among three sections: 1) towns to the north of Lecce that can be accessed by high speed Trenitalia trains. These are the easiest day trips from Lecce. 2) towns to the south of Lecce in the Salento region. They are also generally easy to visit on day trips but require a bit more planning. 3) Day Trips further away (some outside Puglia) that are generally best visited either with a car or by taking a tour.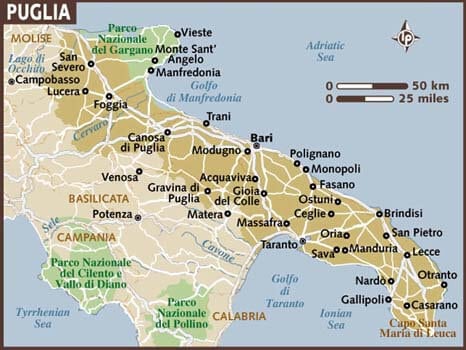 Source: Lonely Planet
---
---

1) Towns North of Lecce
There are three towns that you can't miss seeing in this area.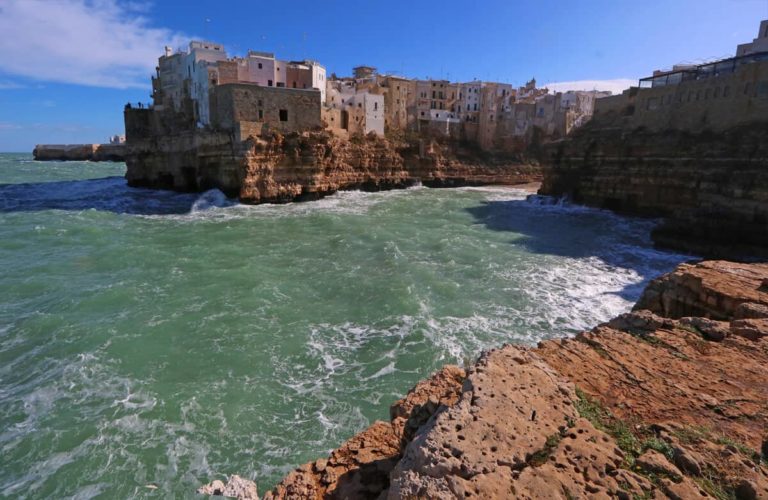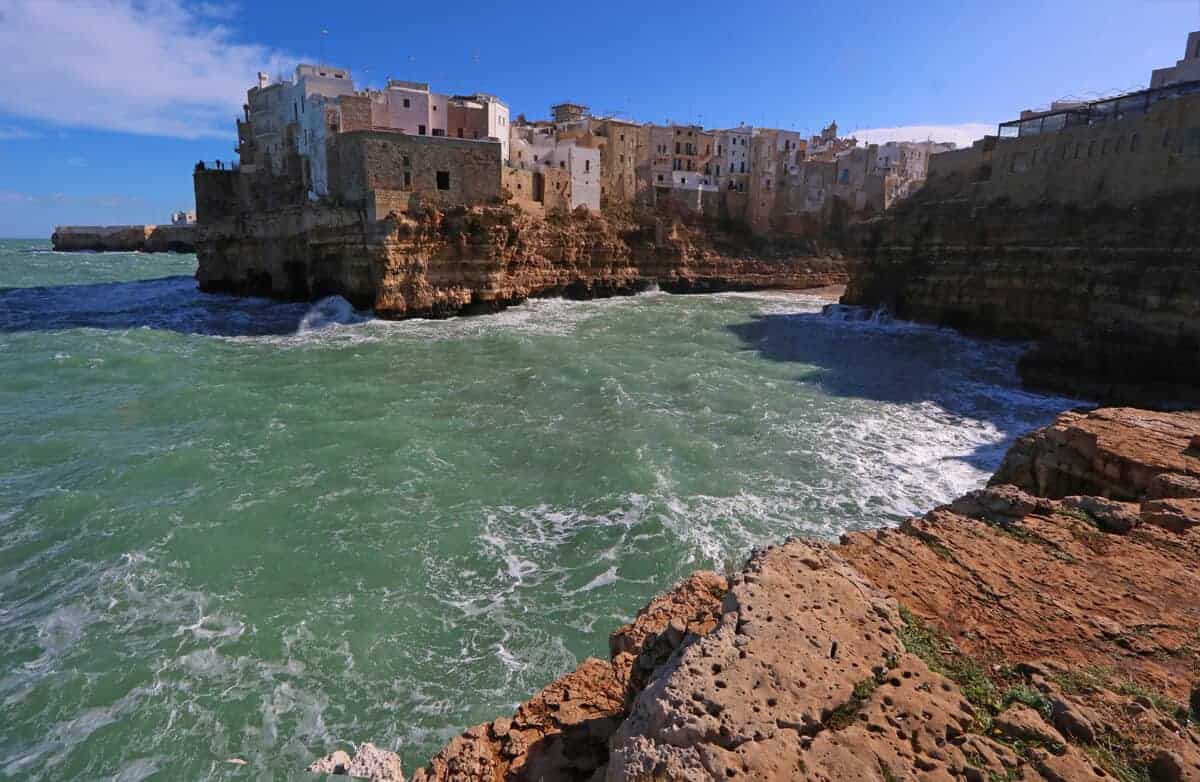 Polignano A Mare
A very popular place that gets packed with visitors in the summer, Polignano A Mare is a pretty town built along cliffs looking down on the Adriatic. Right in the middle of town is a small cove with a beach (called Cala Porto), the cliffs and the town rising up along both sides. The setting is spectacular. You can walk around town, looking at the sea from different viewpoints along the coast and sit in one of its many squares enjoying an aperitive or coffee.
Getting there: The town is easy to access from almost anywhere because it is on the high speed train line linking north and south. From Lecce you can get to Polignano in 1 hour and 15 minutes (although you may sometimes have to change in Monopoli which can add up to 20 minutes to the trip). There is a train at least once every hour. Have a look at the Trenitalia website for details.
Many visitors enjoy Polignano so much that they stay a night or two.
Accommodation: If you want luxury with your own balcony overlooking the sea: Dimora Talenti. A beautiful option with more affordable pricing is Casetta del Pescatore. Wherever you chose to stay, book early in Polignano!
---
---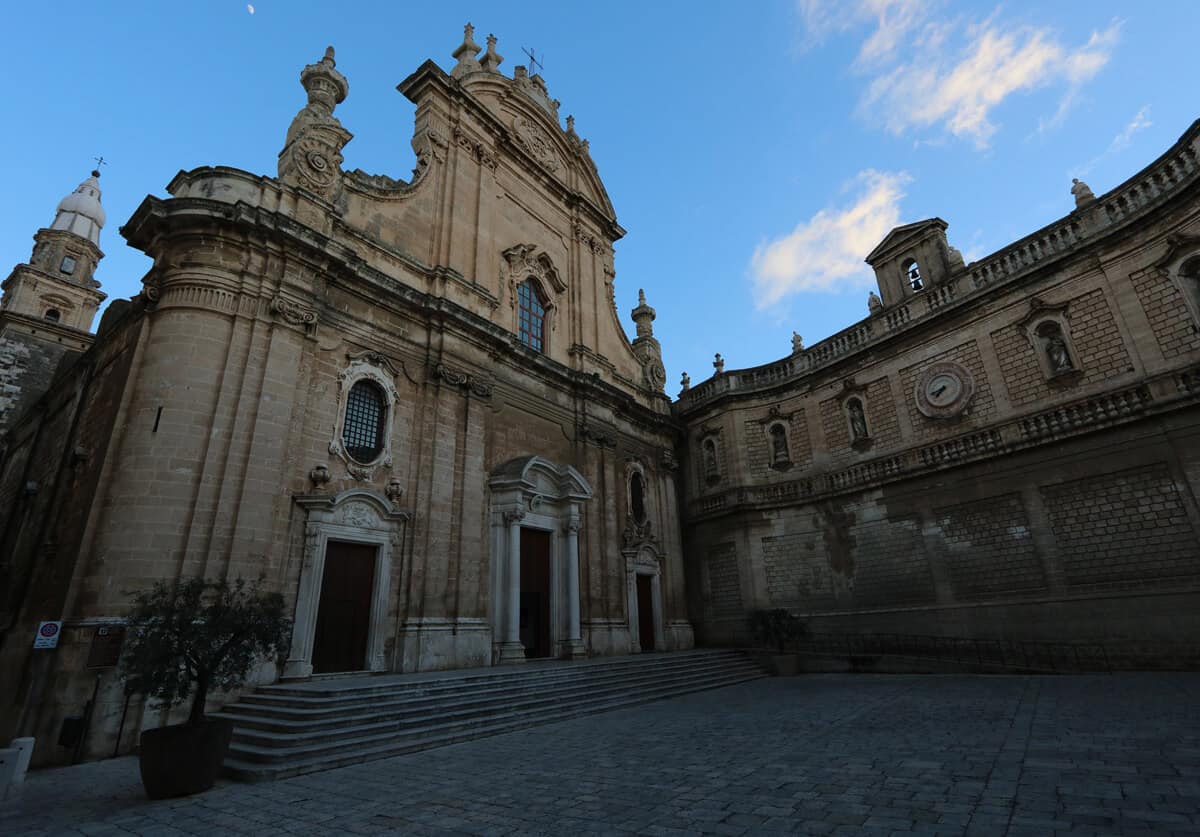 Monopoli
We really liked Monopoli's old town. Monopoli may not have the geography of Polignano A Mare (which is a 5 minute train ride away) but it has a much more impressive old town. We combined Polignano A Mare and Monopoli in a day trip and ended up spending much more time in Monopoli. It has some beautiful squares, churches and a castle looking out over the harbour. Make sure to stop at the Basilica Cattedrale Maria Santissima della Madia.
Monopoli is quite large (It's a "real" Italian town) and it takes 15-20 minutes to walk from the train station to the Old Town.
To get to Monopoli from Lecce: 1 hour, 15 minutes. No changes required. There's a train at least once every hour. Trenitalia.
Accommodation: Monopoli's prices are better than those in Polignano A Mare and many people stay here instead. Some recommendations: Suite 25 is located right in the old town close to the beach. If looking for something special have a look at Miramare. Just like Polignano, Monopoli is very popular in summer so book early.
---
---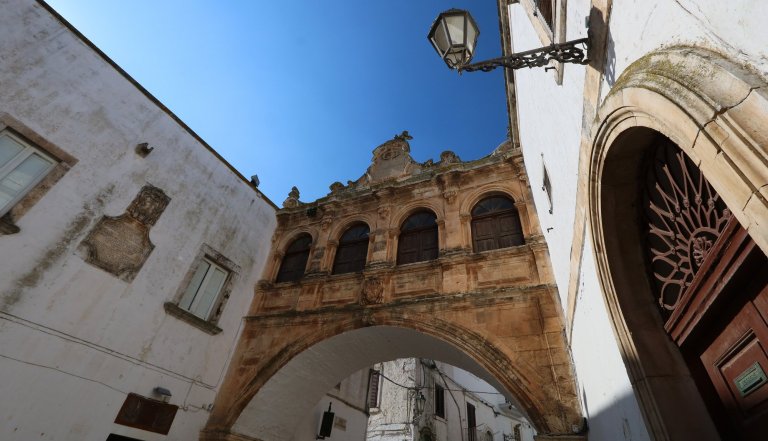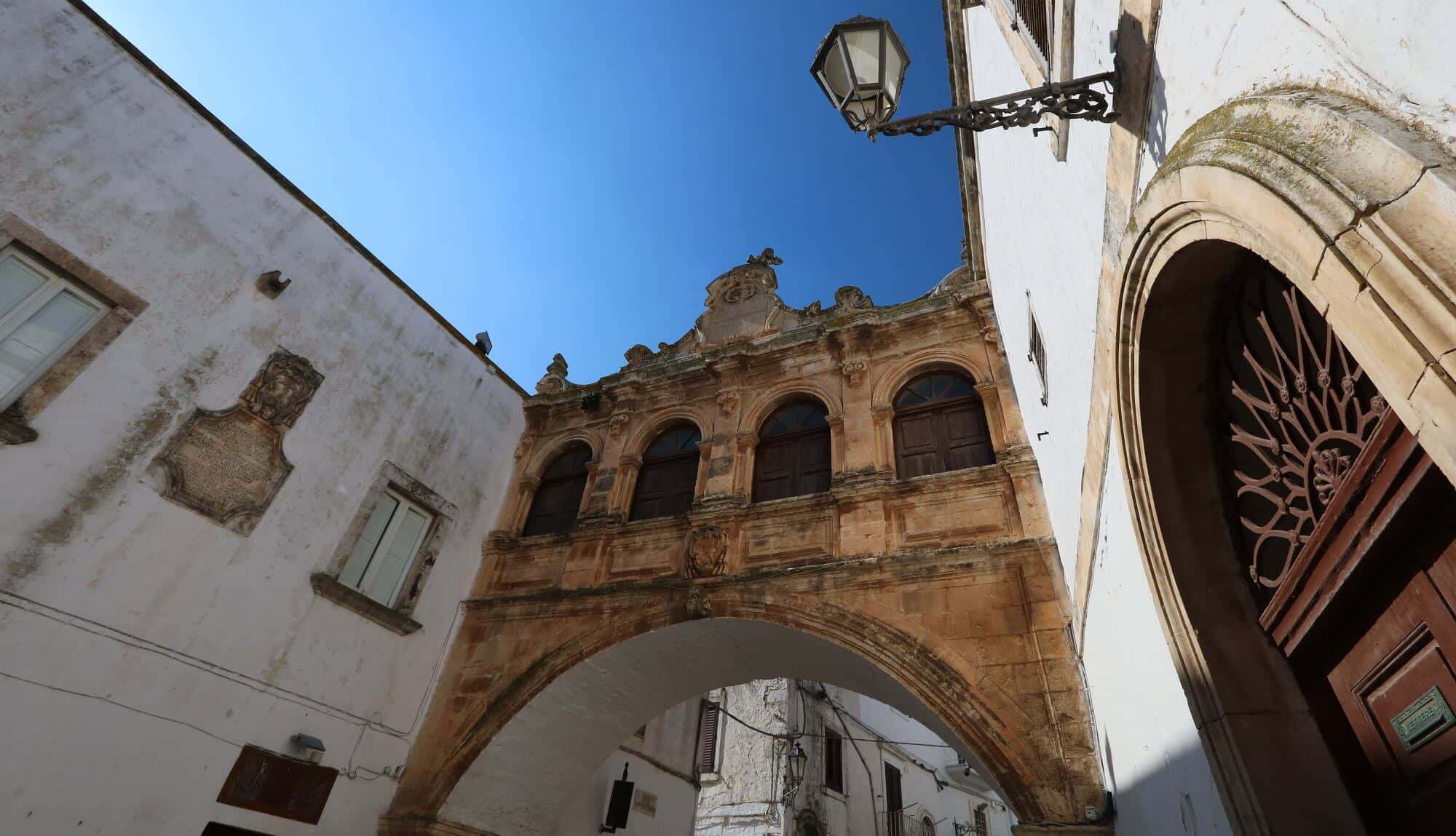 Ostuni
A very pretty hill town know for its white buildings (it's referred to as the "white city"), alleys, and views over the countryside – Ostuni is unlike any of the other towns on this list. The colors actually made me think I was in Greece. A town to just wander around…If you're on a day trip you can see it all in a couple of hours. But many people like to stay here at least 1 night. Make sure to see the Cathedral at the very top of the hill.
To get there: it's on the same train line as Monopoli and Polignano and takes 45 minutes from Lecce. BUT – the train station is 3 km from town. You have to take a bus (right in front of the train station – buy your ticket at the train station bar, it'll cost you 1 Euro) and it'll take about 15 minutes to bring you to Ostuni's main square. From there it's a short walk to all the sights.
Accommodation: a cute and cosy budget option: Mary's House. Also recommended (and well priced) is Casa Vacanze Foglia d'Ulivo. A good luxury option: Equorum Domus 13.
---
---
2) South of Lecce in Salento
Unlike the towns to the north, the towns to the south are serviced by Ferrovie del Sud Est. The trains are slow and the schedules a bit more sporadic. It takes a bit more planning. The trains are on time though. You can see the schedules on the Trenitalia website.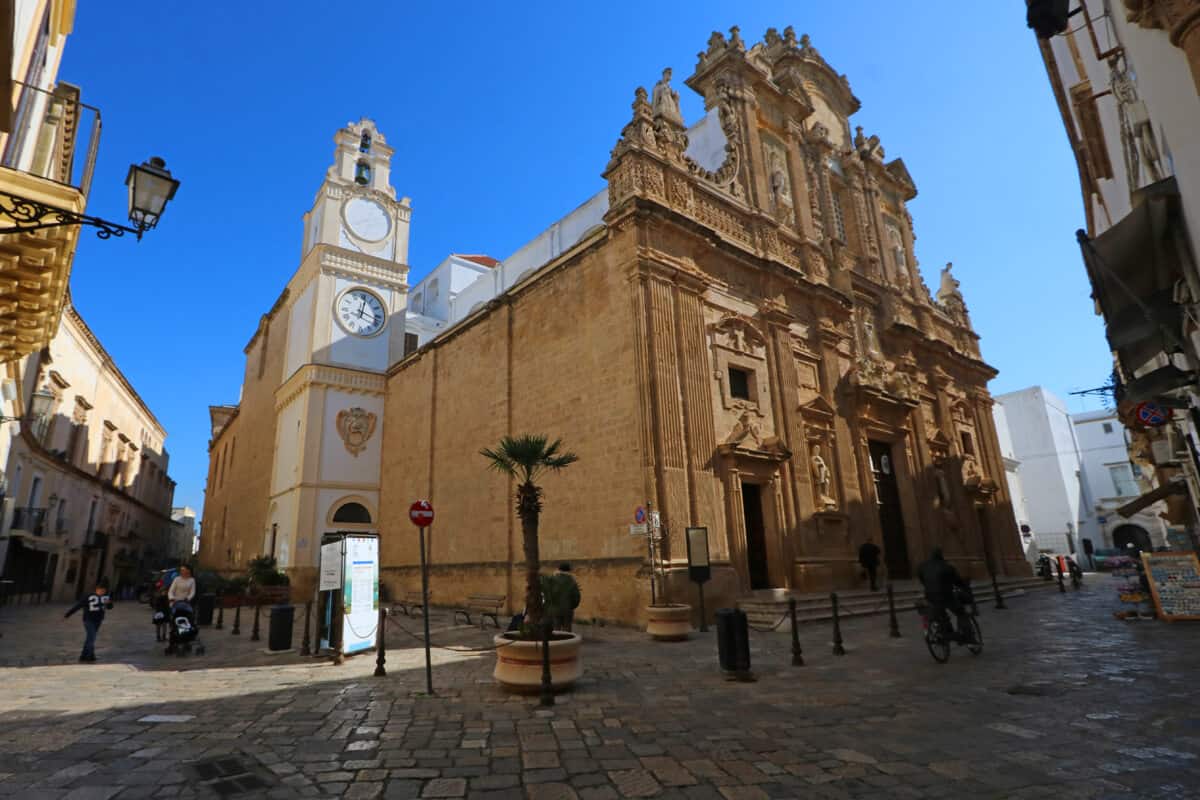 Gallipoli
(don't confuse it with the one in Turkey if Googling it)
A seaside town on the Ionian Sea that gets many Italian tourists in the summer. The Old Town is actually an island accessed from a short bridge off the mainland. Within the old town you'll see beautiful buildings and many churches including the stunning Basilica di Sant'Agata. There's also a castle looking over the harbour. At the end of the old town is a small beach located at the base of the walls. You can spend a few hours in Gallipoli (really, it's all you need to see the sights) or stay a few days as many local tourists do. It's known as a party town in the summer.
Getting there: 1 hour, 30 minutes by train (no changes required) from Lecce. It's only 30 km from Lecce so that gives you an idea of how slow that FSE train is…You can see the schedule on the Trenitalian website.
Accommodation: recommended is Dimora Corte Consiglio (comfortable, mid-priced option in the old town). Luxury option: Palazzo Presta. Gorgeous property in the old town.
---
---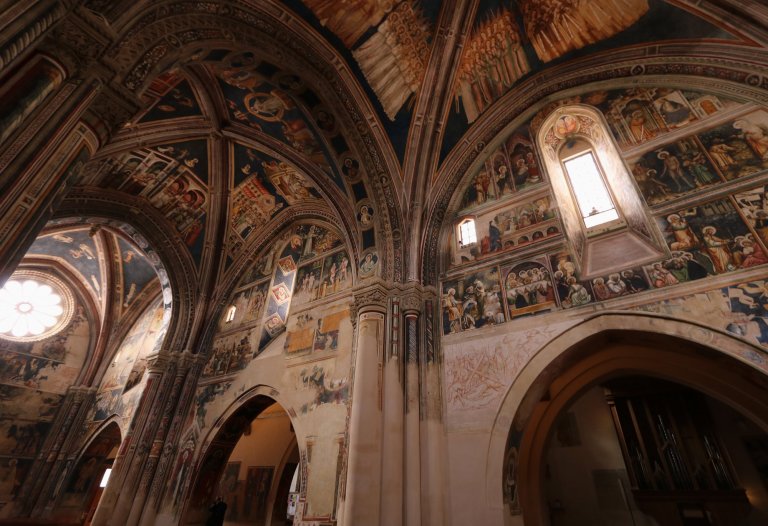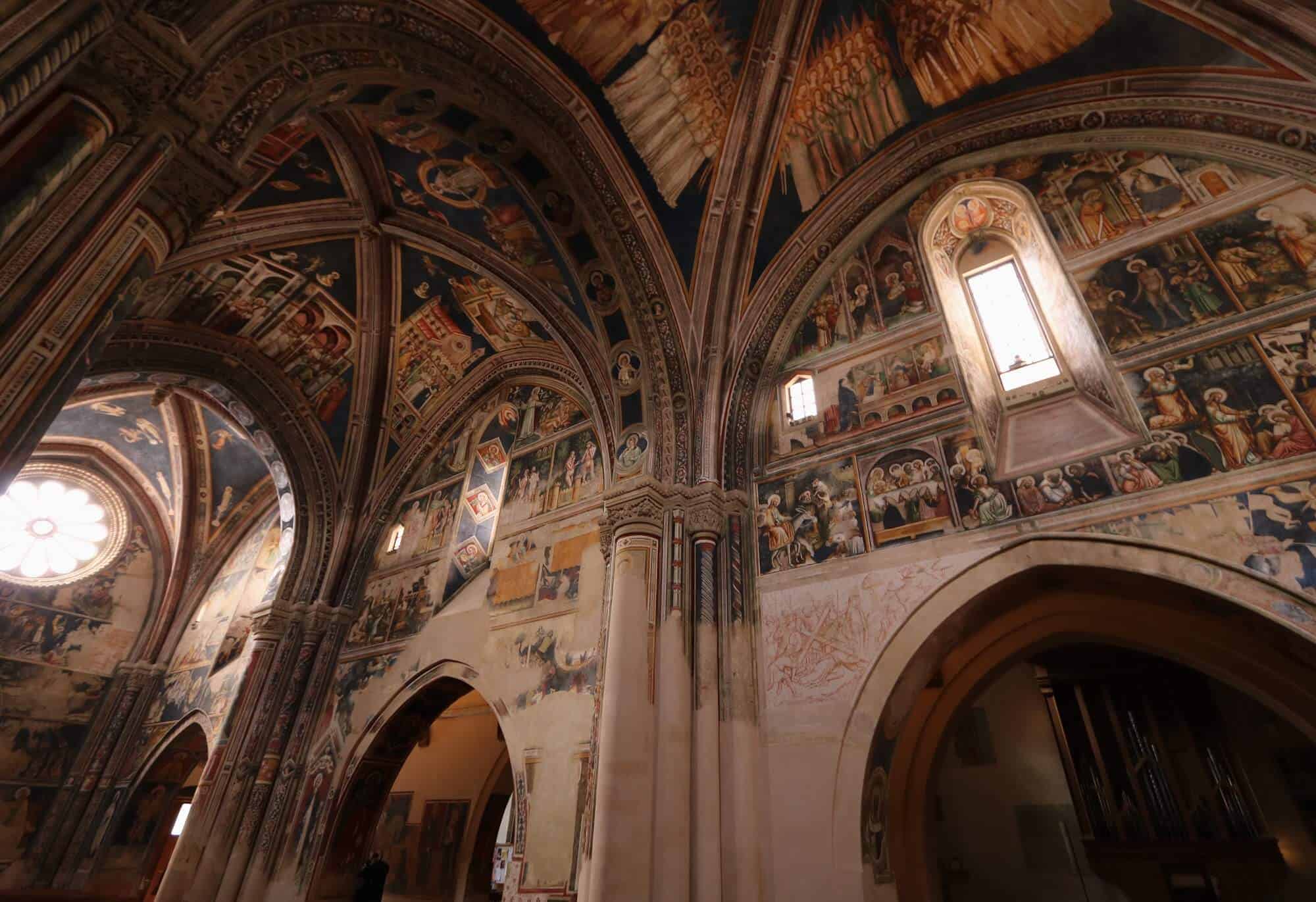 Galatina
A small town with two incredible churches. The first is the large church of Saint Peter and Saint Paul on the main square. The second church, the Basilica of Santa Caterina d'Alessandria looks plain on the outside – but the inside is absolutely incredible with colourful frescos from the 15th century adorning all the walls and ceiling. It ranks amongst the Top 10 churches we've ever seen. For this alone Galatina is worth visiting.
Getting there: 50 minutes on the FSE train from Lecce. Trenitalia.
---
---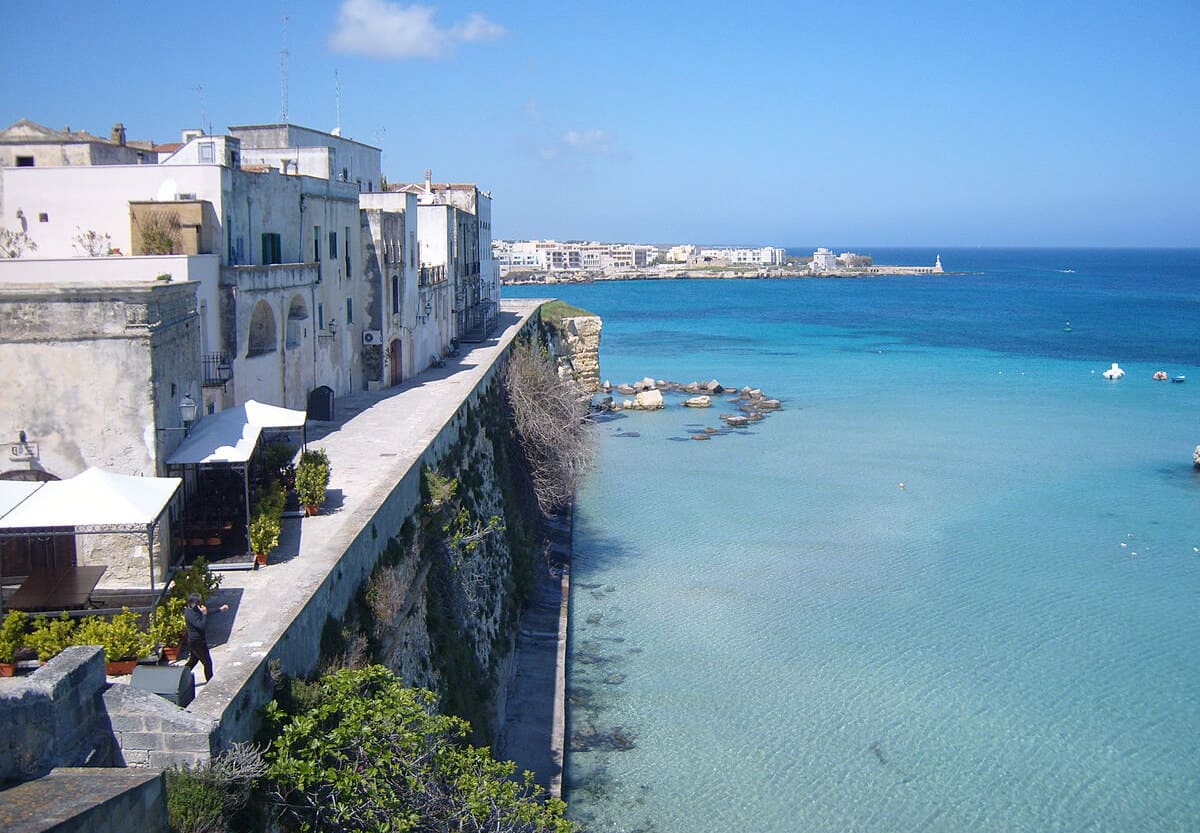 Otranto
Otranto is one of Salento's highlights and is most famous for its Cathedral. It contains one of the largest mosaics in Europe. It also has a chapel containing hundreds of skulls, the remains of martyrs who resisted Turkish invasion and refused to convert to Islam. Otranto also has a large castle with imposing walls that dominate the town. Add to that plenty of beaches – many come here for the seaside vibe alone. Overall a very picturesque town.
Getting there: In winter the train requires 90 minutes and 2 changes. But there is a direct train in the summer that takes a little over an hour.
Accommodation: Recommended is B&B Palazzo Marzo. Large, clean, good value, and right next to the Old town and the sea. Also good value is La Terrazza Sul Mare.
---
---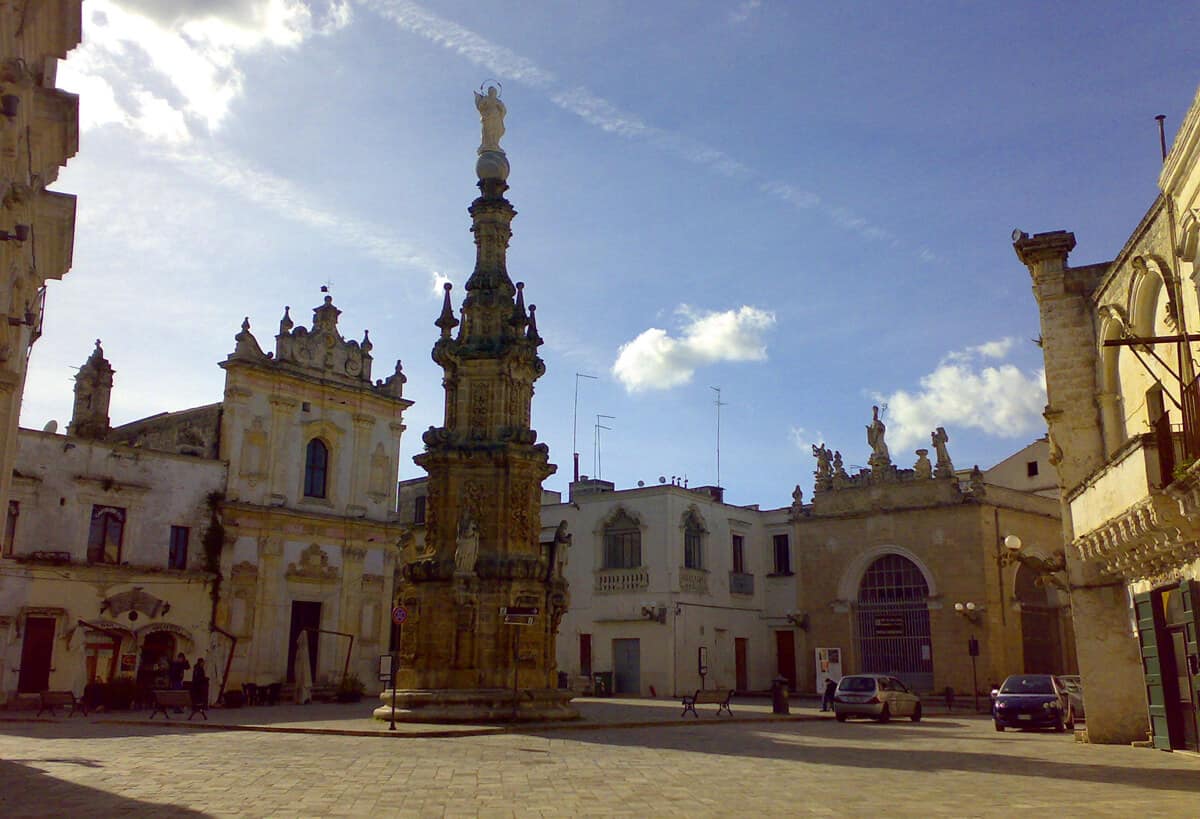 Nardò
A hidden gem, Nardò is a baroque town with lots of historical buildings, a castle and many churches. The main square, Piazza Salandra, is one of the prettiest squares in southern Italy and has a large 18th century column. Another highlight is the Cathedral of Santa Maria which dates back to 1080.
Getting there: It's about 50 minutes by FSE train from Lecce to Nardò Citta (make sure you're going to Nardò Citta and not Nardò Centrale)
---
---
3) Day Trips further away
There are a few places that we really wanted to visit that required either taking a tour, renting a car, or planning a couple of overnight stays – just because they're: a) hard places to reach by public transport and/or b) far from Lecce. But our month in Lecce was disrupted by some news (which I'll write about soon) and we ended up not seeing these places.
There were 2 places at the top of our list.

Alberobello
This town is a UNESCO World Heritage Site, famous for its trulli – trulli are whitewashed stone huts with conical roofs. In Alberobello the whole town is full of them. That makes it a very unique place.
Getting there: Alberobello is not far from Ostuni but rail connections make it complicated and it can take between 3 ½ to 5 hours to get there from Lecce including a transfer in Martina Franca (which is itself worth seeing). When we planned out our trip we had meant to combine the two towns, going to Alberobello the 1st day for a visit, then backtracking to Martina Franca (which is only 20 minutes away) where we would have overnighted. Alberobello is a small town so a few hours is sufficient.
Alternative ways of seeing Alberobello: This Full-Day Tour takes you to Alberobello, Polignano A Mare (which I covered at the top of this post), as well as Cisternino (another very pretty town in Valle d'Itria)
Accommodation if you choose to stay a night: Tipico Resort is simple but well located and excellent value. Converse fra i trulli is beautiful, right in the center, and is also very good value.
---
---
Matera
Matera is not technically in Puglia – it's about 5km outside Puglia in the region of Basilicata.
The city (along with Plovdiv in Bulgaria) are the 2019 European Capitals of Culture. That is a big step up for Matera which for a very long time was Italy's shame. This city is thought to be among the first human settlements in Italy. For centuries humans carved stone houses out of the cliffs in the area, living in them (along with their livestock) with no electricity, running water or sewage. The area was declared a UNESCO World Heritage Site in 1993 and since then has grown in popularity. There is a lot to see including churches and monasteries carved out of the rock.
Getting there: The best way to get to Matera by train is from Bari Centrale. From there it takes 1 hour 40 minutes to get to Matera Centrale on the PAL rail line. Getting to Bari from Lecce takes about 1 hour 30 minutes – so altogether it will take 3 hours plus transfer time to get from Lecce to Matera.
Matera is worth a couple of days.
Accommodation: Corte Gattini is recommended – beautiful rooms and great location. Another similar recommendation is Residenza del Corso.
Ps. If you find our blog helpful, please consider using our links to book your flights, hotels, tours, and car rentals. Have a look at our Travel Resources page.