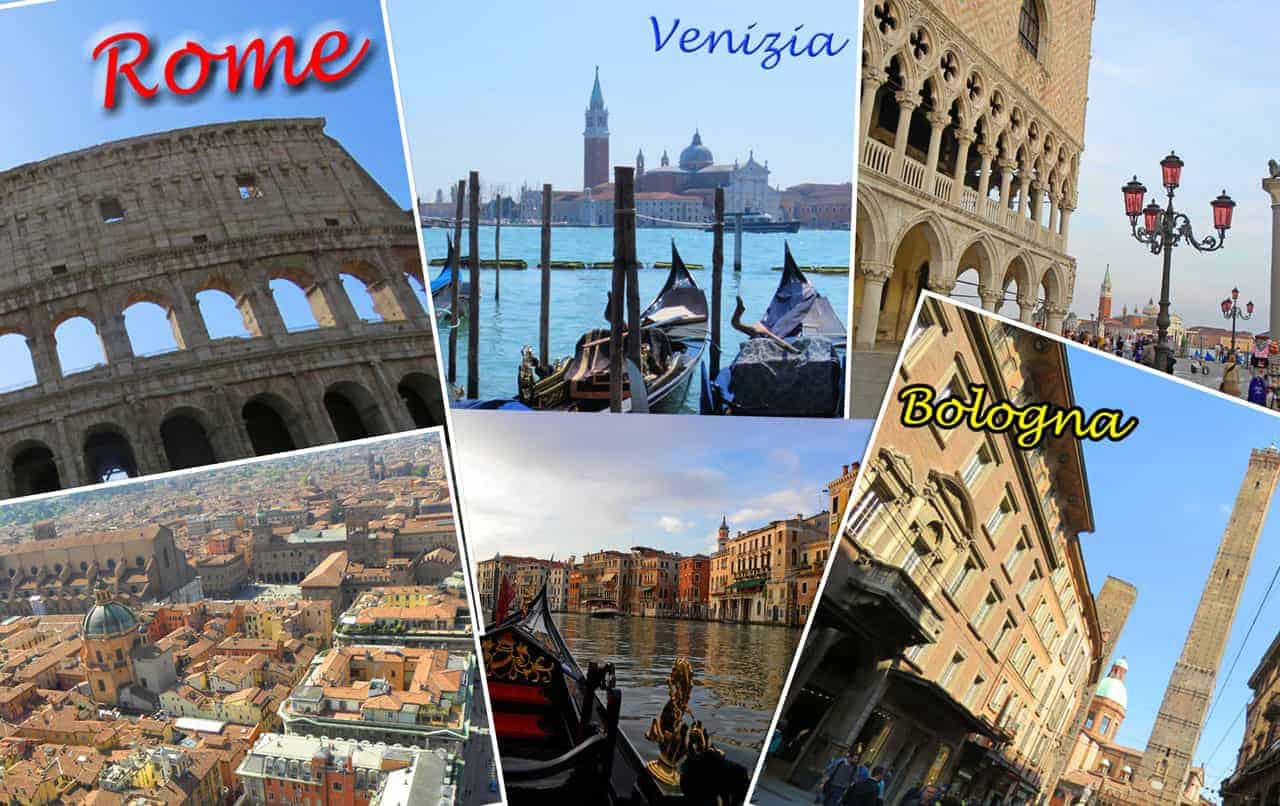 Venice, Rome or Bologna – which should you Visit?
Two Italian tourism heavyweights and a city most people associate with lunch meat. But wait, don't be too quick in dismissing Bologna.
Last year Lissette and I spent 5 weeks based in Italy. Among the cities visited this time around (we've been to Italy a few times now) were Venice, Rome and Bologna. So which city should you visit?
.
Time to Rumble – Italian style!
.
---
---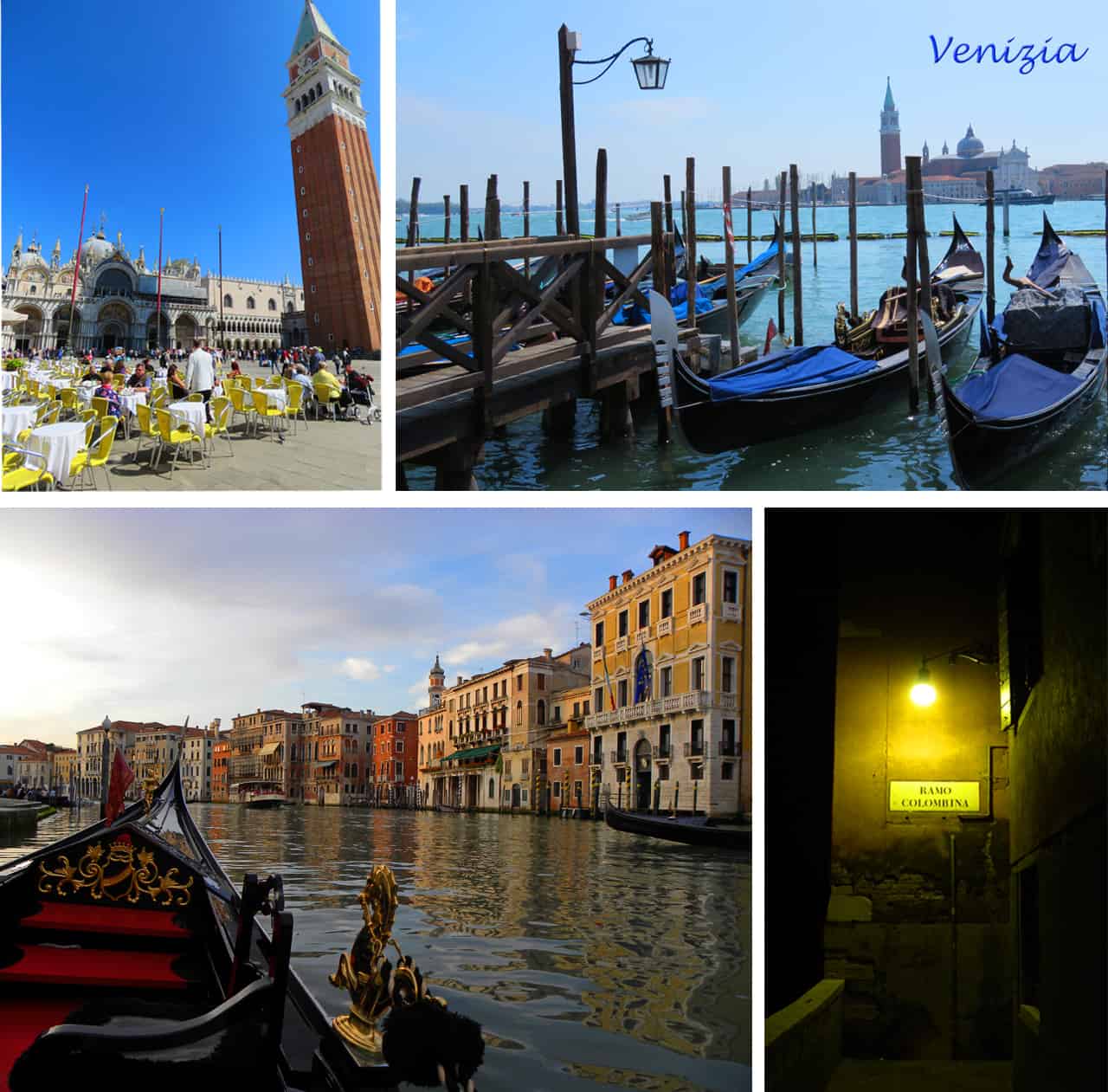 Venice
Venice is magic. It is probably the most fairy tale city anywhere. St Marc's Square is the most beautiful square in Europe (I don't care what anyone tells me, it really is). Besides some incredible sights (St. Marks' Basilica, Doge's Palace, Campanile, Rialto bridge, Bridge of Sighs, the Grand Canal…) the thing about Venice is that every view looks like a painting that you would happily hang on your wall. I can't say it enough: Venice is gorgeous.
Now for the downside of Venice: It is packed with tourists, locals aren't happy to see you, it's expensive, food will often be disappointing. Getting into many of the museums requires long lineups. If you're unlucky you might be walking around with dirty water up to your knees (the city is sinking).
Our first time in Venice (we stayed 3 days) we left feeling more stressed than when we arrived. There were just too many people. The second time we came we decided not to do the tourist stuff: we walked off the beaten path (getting lost) and sat down on a square drinking Spritz while watching everyone else getting in line for tourist sites. It was heaven. So you have to sometimes just forget about the checklist if you're going to enjoy Venice. But just the fact that we came back a second time tells you how beautiful Venice is. Having said all that about the highlights – make sure to see Doge's Palace and St. Mark's Basilica. They're incredible. This 2 hour skip-the-line tour lets you see both. Recommended. After that you can enjoy your gelato.
.
---
---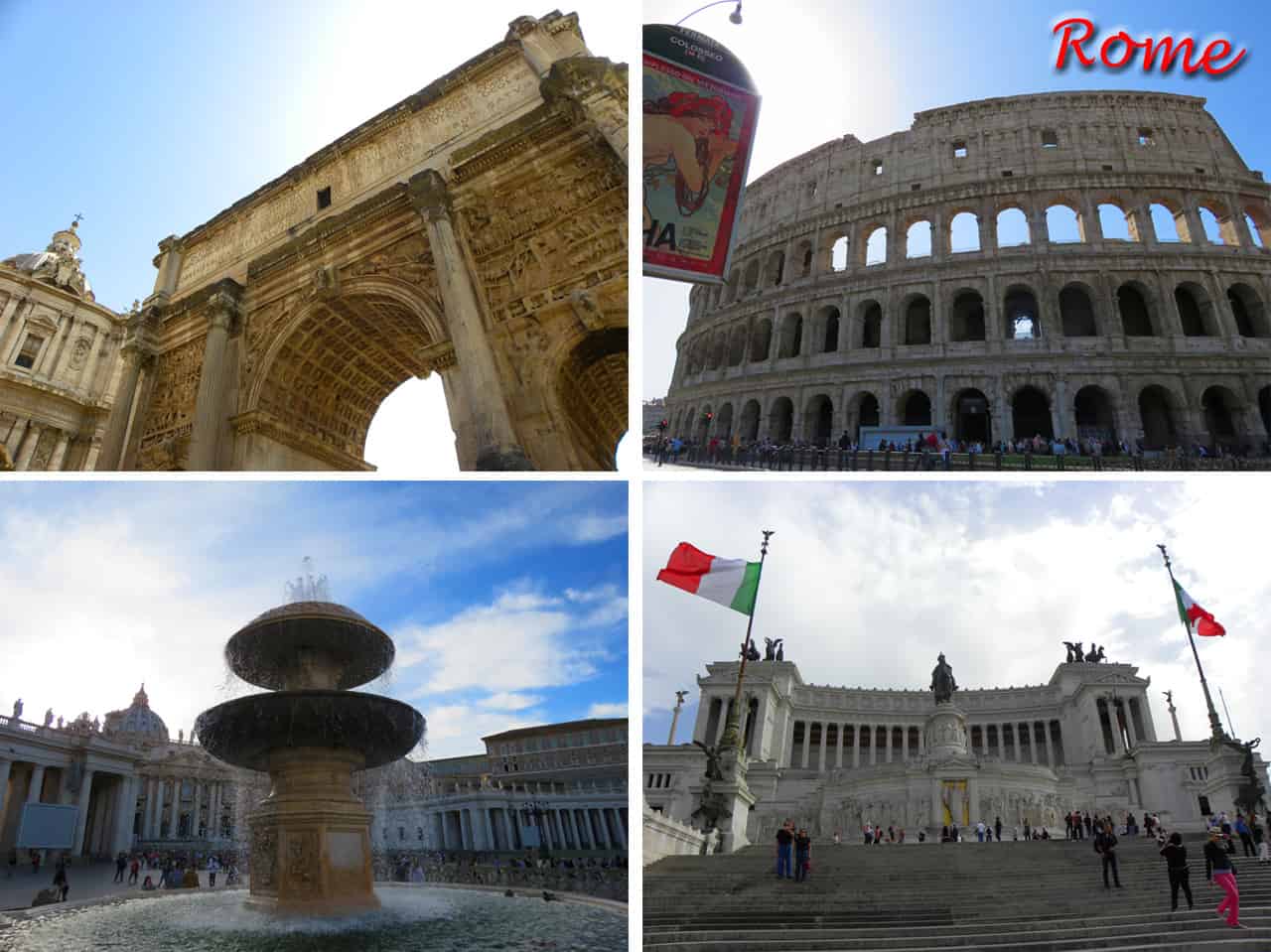 Rome
I had read so many negative things online about Rome that I didn't want to go. People will tell you that it is a big and dirty city, that transport is bad and that highlights are spread out and hard to see on a short visit. They'll say that it's packed with tourists, that locals are unfriendly and the food horrible.
Lissette insisted on going, she wanted to see the Vatican. So we spent a long weekend in Rome. We were amazed.
There are so many things to see, the most famous among them being the Colosseum, the Roman Forum, Palatine Hill, the Vittoriano, the Pantheon, Piazza Navano, Trevi Fountain, the Spanish Steps. And of course the Vatican.
Note: the Colosseum, the Roman Forum, and Palatine Hill get a lot of visitors. Take this "fast track package" to avoid the lines at these 3 destinations.
What did we do right? We did a bit of planning (details on that here). Contrary to what we had heard, we found Rome very manageable.
Rome is the cradle of one of humankind's greatest civilizations. There's TONS to see and we're already planning our next visit. Rome is incredible.
.
.
---
---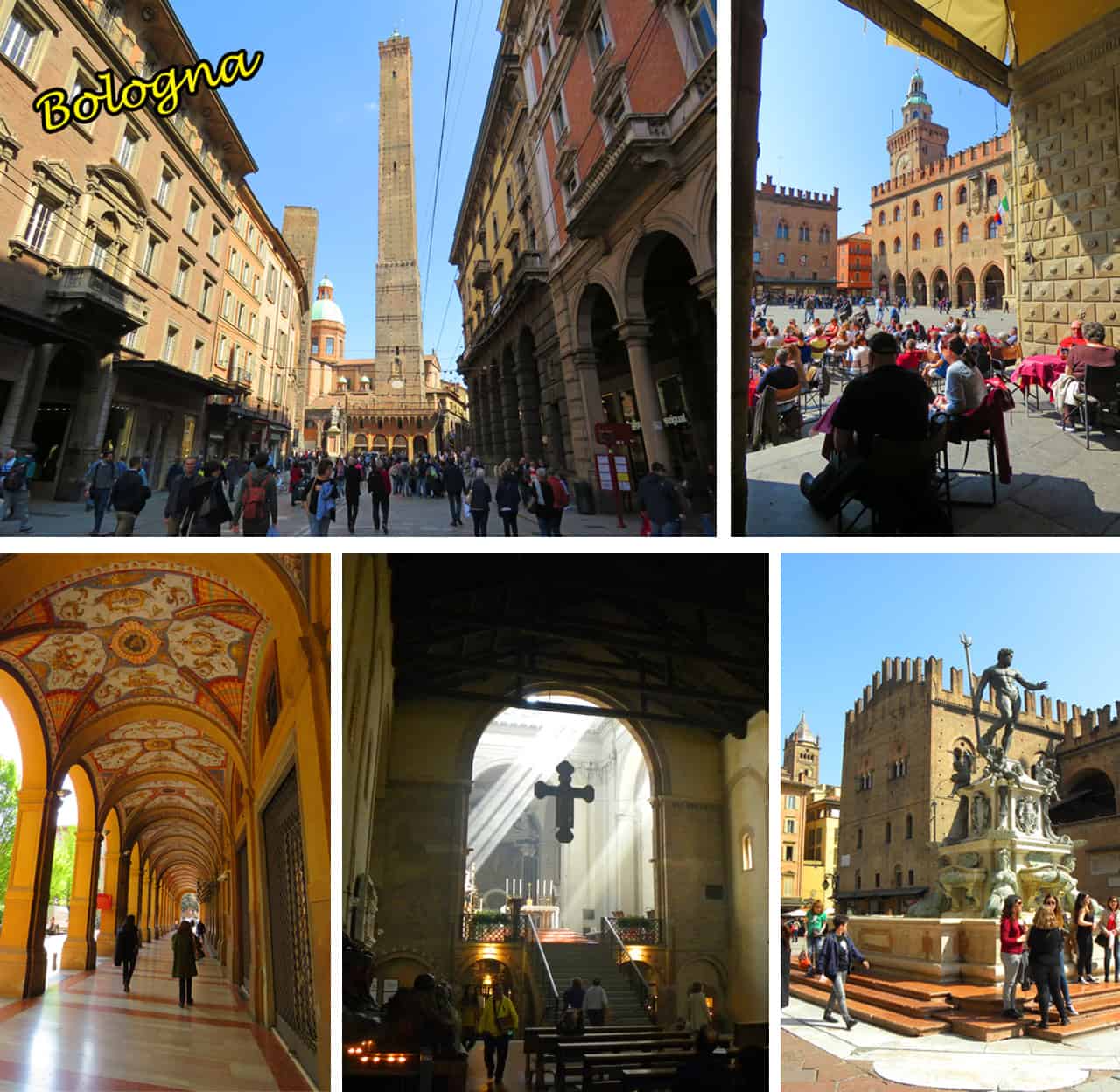 Bologna
Bologna might be the most underrated city in Italy.
It is unique. Forget the Leaning Tower in Pisa – your jaw will drop when you see (and climb) the 97m high Torree degli Asinelli. In the 12th century Bologna was the city of towers with over 100 of them (today 20 remain). Bologna is also famous for porticos and you'll see beautiful porticos (covered sidewalks) all over the city. You'll also find gorgeous squares (Piazza Maggiore and Piazza del Nettuno) as well as some of the most incredible churches we've seen in Italy including Basilica de Santo Stefano, a complex of churches, crypts, and tombs built in 430 AD. Take a private tour with a local guide.
But Bologna is more than just about tourist sites. It is a city famous for its food and is known as "Italy's culinary capital" (Prosciutto di Parma, parmesan cheese, and stuffed pastas – lasagna, tortellini, ravioli, cappelleti, and cannelloni – all originated in Bologna). Recommended: 3 hour Bologna food tour.
The city also has a lively vibe (it is a university town) and very few foreign tourists. Most tourists you'll see are Italian. It is also a very walkable city.
We had visited Bologna as a day trip. That was a mistake. It's a wonderful city that deserves more time.
---
---
So which city should you visit?
The obvious answer is all of them. They are all fantastic cities. But the one you choose might be based on your interests.
– Go to Venice to see one of the most beautiful and romantic places on earth. If you're a photographer you'll think yourself in heaven.
– Go to Rome if you want to see some of the most famous historical sights anywhere. You'll never get bored in Rome, there's lots to see (more than Venice).
– Go to Bologna if you are on a cultural holiday and want a place to fully immerse yourself into everything Italian (many people come here to take language or cooking classes). Venice and Rome would drive most people crazy after a week. Bologna won't.
Lissette and I both agree that if we absolutely could only choose one city it would be Rome. Just because of the history.
Practical info
– Many airlines fly to each city including Ryanair and EasyJet if coming from European destinations.
– train service is very good in Italy. Venice to Bologna takes 1 hr, 10 min, Bologna to Rome takes 2 hours.
Venice, Rome or Bologna – which would you choose?

PS. Looking to book flights, hotels, tours, or rent a car? Have a look at our Travel Resources page.