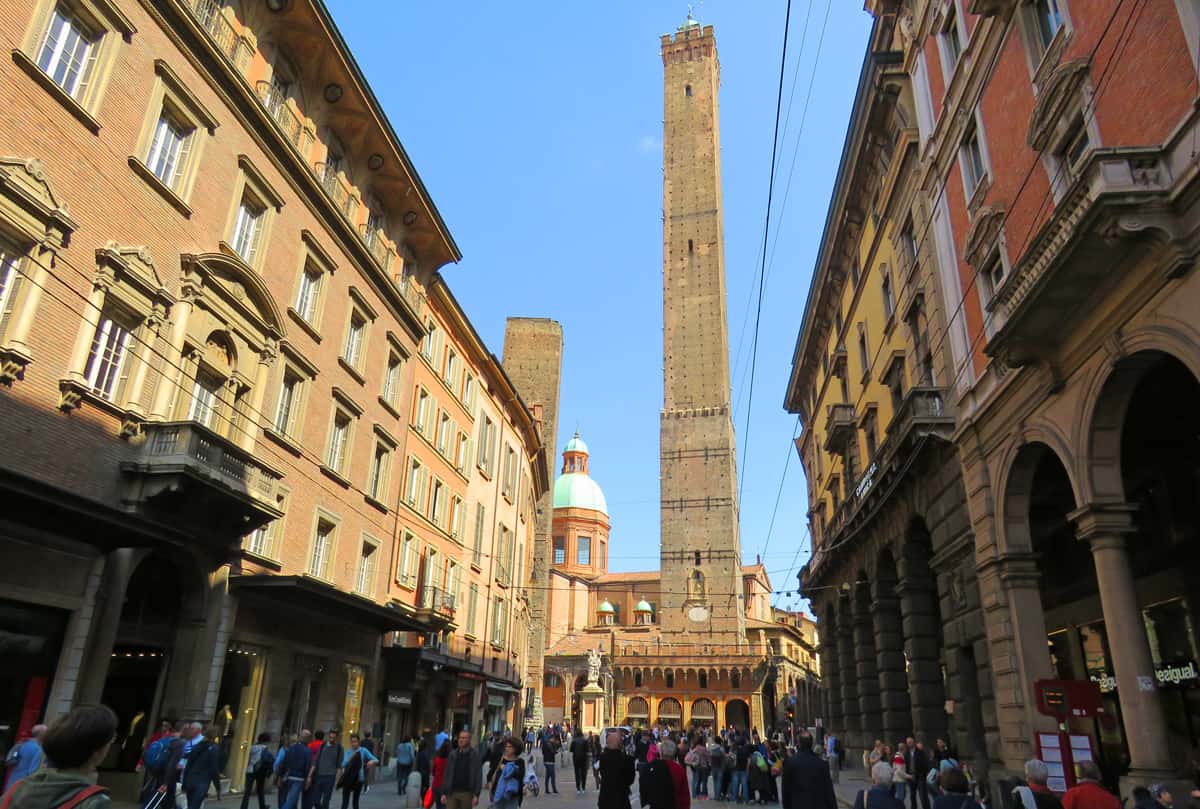 The Best of Bologna (Italy)
Some people (including Spanky) will shoot me for saying this – but I was actually more impressed with Bologna than I was with Verona. It might not have as many points of interest as Verona but the sights in Bologna are unique and you won't find anything similar anywhere else in Italy.
.
Porticos
One of the first things that stand out in Bologna are the porticos. You might think that they were built as shelter from rain or sun. No. Bologna had a huge population increase in the Middle Ages and porticos started being built to increase the amount of living space on upper floors. Whereas many Italian cities banned porticos, in Bologna they became compulsory and regulated by precise laws. There are over 40km of porticos in the city and they make Bologna a very walkable kind of place. While you'll see other cities with porticos in Italy, you won't find any place that even comes close to Bologna.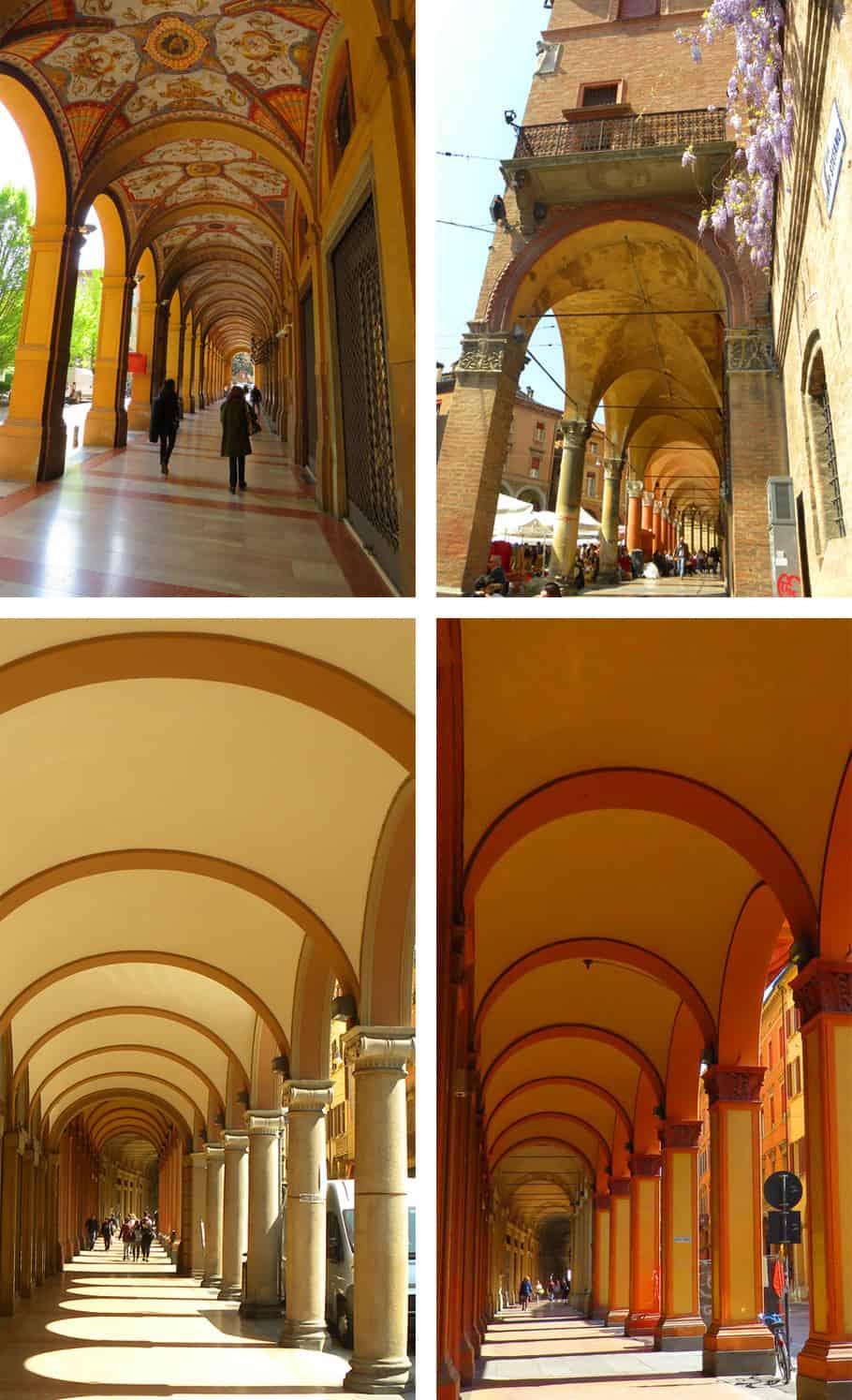 ---
---
Basilica de Santo Stefano
Bologna has some impressive churches including the Basilica de San Pietro, the main Cathedral in Bologna (I'll have photos of that later). But it is the oldest church in Bologna, the Basilica de Santo Stefano (built in 430 AD) that is really memorable. Known as Sette Chiese in Italian ("Seven Churches") it is actually a complex of churches, crypts, and tombs. It is like stepping into a Medieval stone maze. It is hard to capture the atmosphere in photos but here are a few: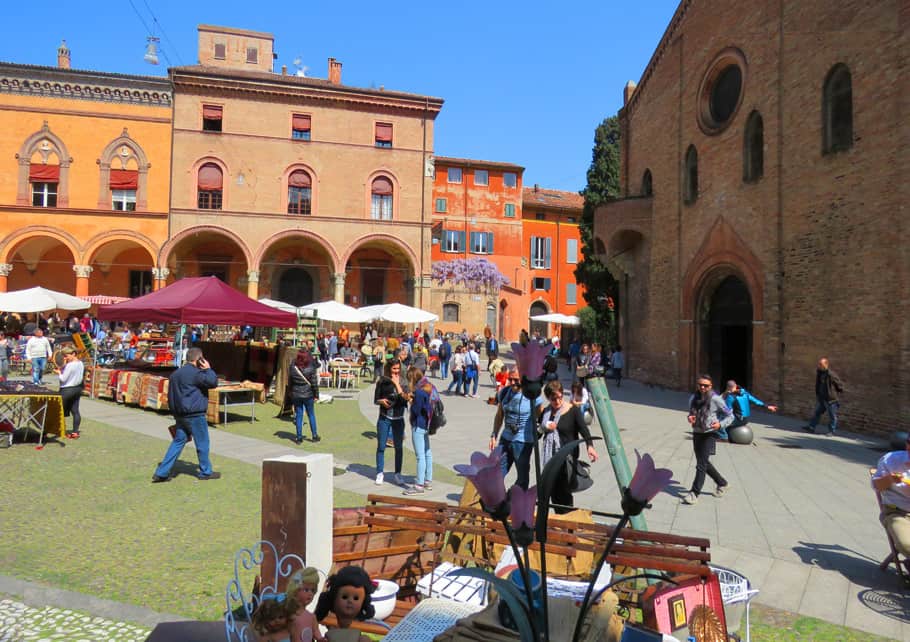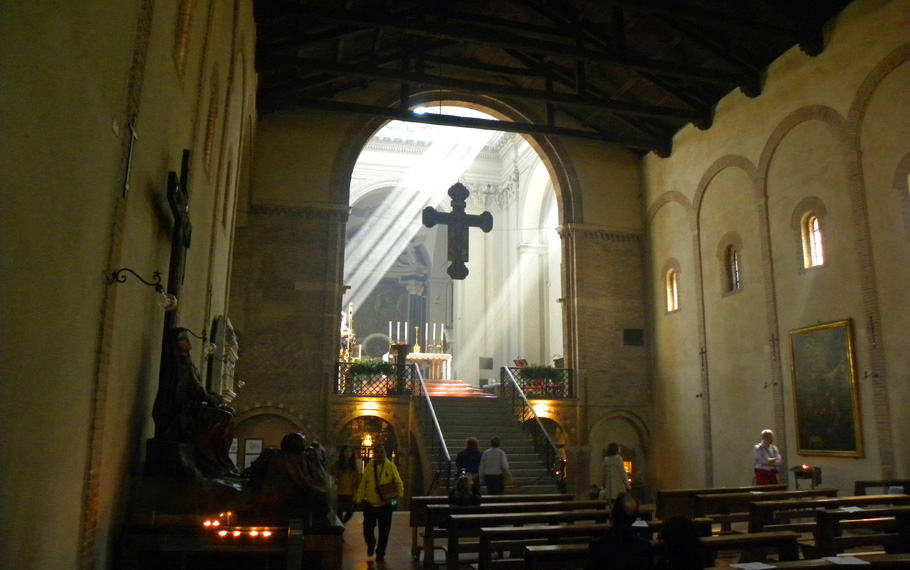 Italy has incredible churches everywhere. But we've never encountered a church like this, which makes Bologna really unique. More here on Santo Stefano.
---
---
The Leaning Towers
In the 12th century Bologna had over 100 towers. Today 20 remain, the best known of them being the Torre Garisenda (on the left. 48m with a 13m lean) and the incredible Torree degli Asinelli (97.2m, with a 1.3m lean – the highest leaning tower in Italy). You can climb the 498 steps up the Torree degli Asinelli which I of course did: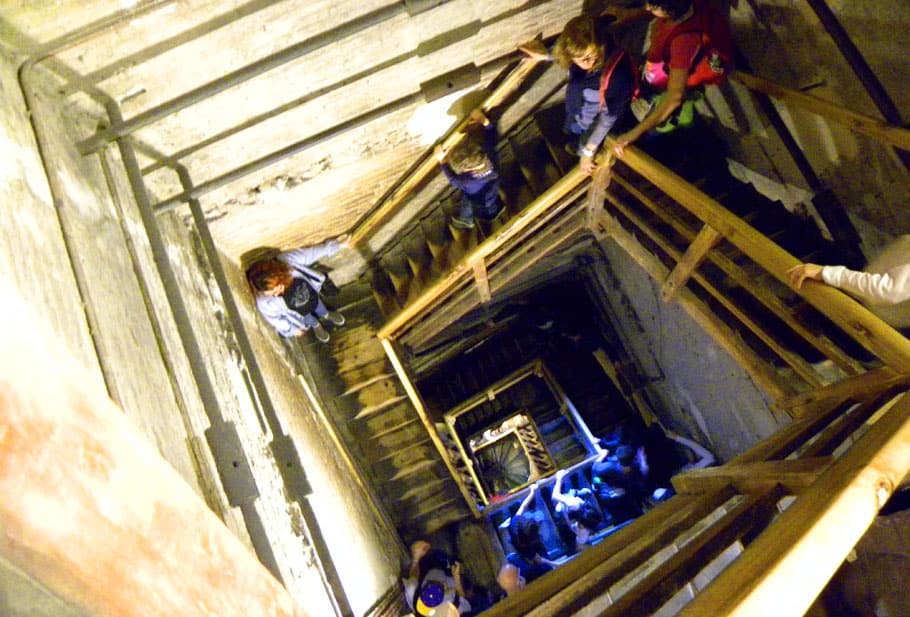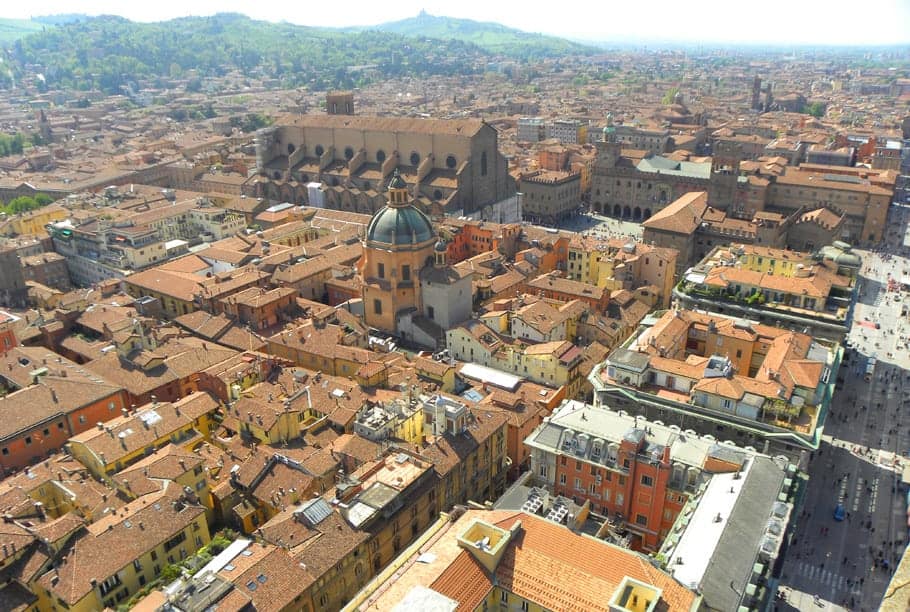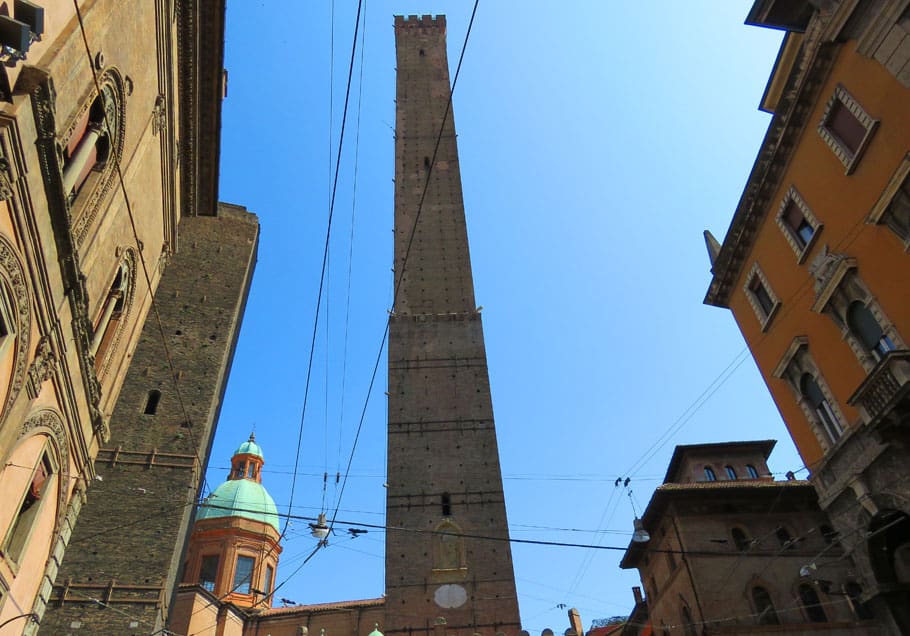 One of the things I love about Italy are towers and we've seen other places with lots of towers. San Gimignano comes to mind. But what really stands out about the Torree degli Asinelli in particular is it's height. And imagine, it's almost a 1000 years old (built in 1109). That's pretty crazy.
Anyway, the above are the 3 really unique things about Bologna that will always come to mind when hearing someone mention "Bologna".
But there's more.
---
Tours to take in Bologna
---
---
Other sights in Bologna
Piazza Maggiore and Piazza del Nettuno
In the center of the historic city (everything is close by and easily walkable) is the main plaza (Piazza Maggiore). You'll see the huge Basilica of St. Petronius (maybe not the prettiest of Bologna's churches but easily the biggest) on one side. The Tourist Information office is directly opposite (they'll give you a free map). Just next to Piazza Maggiore is Piazza del Nettuno which features a famous Neptune fountain created in the 16th century. You'll see lots of magnificent buildings on these two squares.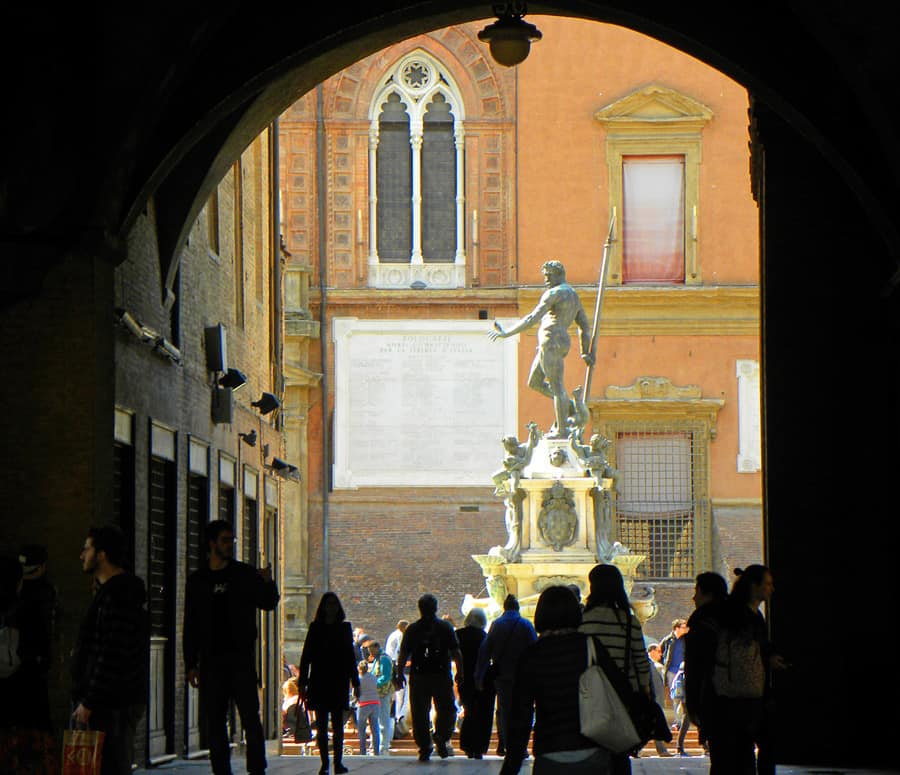 Basilica of St. Petronius (Duomo)
The Basilica of St. Petronius is within a 2 minute walk of the above and is simply gorgeous. It's only because Santo Stefano is so unique that it takes a backseat in my books, but really it is an incredible Basilica.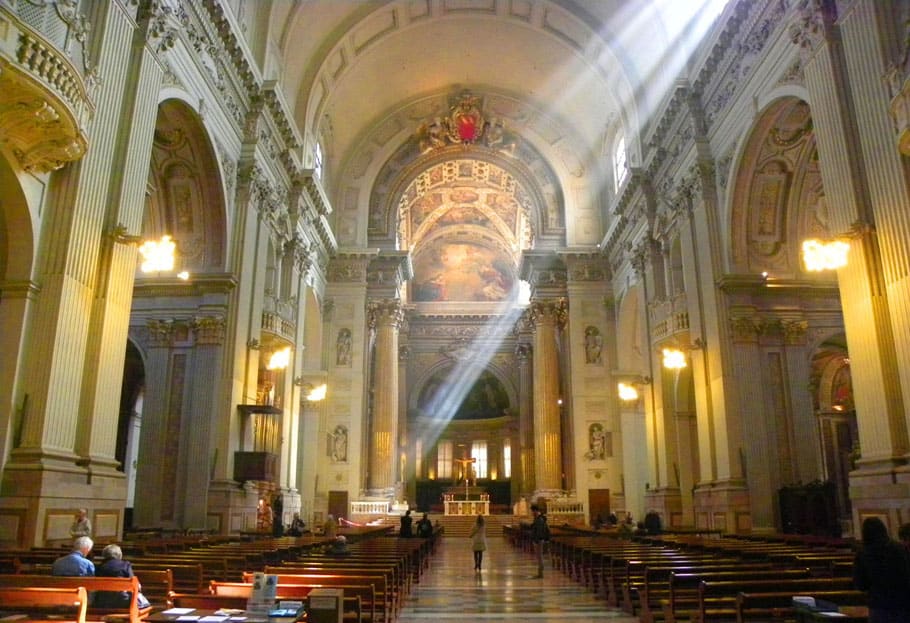 ---
---
San Domenico
Another incredible church. Simple looking from the outside, the interior is gorgeous. Saint Dominic's remains lie in a marble tomb inside the church.
A few more scenes around Bologna
.
.
.
.
Practical Information
– The Tourist Office has a good website where you can find great maps and itinerary ideas.
– Bologna is an easy city to visit in a day. Sites of interest are all within a small area and easily walkable. We spent 5 hours, including an hour for lunch, and covered all the highlights.
– We used Padova (Padua) as our base in the region and it took 90 min to get to Bologna (which is about halfway between Venice and Rome when taking the train between the two cities).
Bologna doesn't get many foreign tourists and that's shame. I wonder if it's because of the name, for many it just conjures up visions of cheap lunch meat and/or a type of spaghetti sauce.
Accommodation. Here are a few suggestions for a couple of nights in Bologna: Albergo Garisenda (historic little hotel right in the center. Very affordable), Cavalieri's Grand (very modern, clean rooms right in the center. Good value), Hotel Al Cappello Rosso (this is a luxury option for special occasions. Funky boutique hotel).
Flights. Bologna's Guglielmo Marconi Airport (code: BLQ) has flights from/to all over Europe.
Have you been to Bologna?
---
---
Ps. If you find our blog helpful, please consider using our links to book your flights, hotels, tours, and car rentals. Have a look at our Travel Resources page.