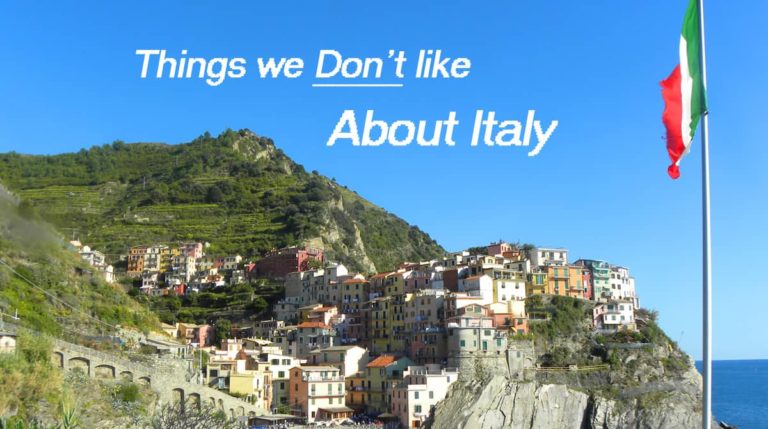 Remembering the things we don't like about Italy
We love Italy. We came here a few years back and had one of our best vacations ever exploring Tuscany. In Italy you'll always be assured of beautiful landscapes, great food and wine, and incredible history. We also love the Italian people; their passion, their outlook on life, their fashion sense. Italy is one of our favorite countries.
But it took a little over 24 hours in Trieste to also remember certain things we don't like about Italy.
We had our worst ever Airbnb stay in Trieste; the apartment was dirty, smelled of stale cigarettes, and had zero ventilation. The bathroom was equipped with a blue light and smelled like urine (you'd think you were in a nightclub). The owner, an artist, had a huge painting that featured Russian vodka and erupting penises. We're pretty liberal and paintings of erupting penises don't bother us. They do however make us wonder about the mindset of the owner.
So you're thinking "ok, so you had a shitty Airbnb stay. What does any of that have to do with things you don't like about Italy?" Well, the answer is that the apartment is a microcosm of the things we don't like about Italy.
---
---
Dirtiness. Maybe it hit us because we were coming from pristine Slovenia. But we knew we were in Italy when we saw the overflowing garbage cans and the heaps of garbage bags piled around them. We suddenly remembered something from our last trip: seeing beautiful historical monuments (that have been meticulously restored) and then seeing, not far away, the same overflowing garbage cans. Italy can do a better job with its garbage collection. But it's not just the garbage; Italian streets all look like they could use a bit of a cleaning. Kind of like the grimy kitchen in the Airbnb apartment.
---
---
Urine. We arrived at the front door of the building in which the Airbnb apartment was housed. The first thing that hit us was the strong whiff of urine. The smell of piss was overpowering. If someone pissed on the side of your building wouldn't you get a hose and hose it down? It just seems that you smell a lot of urine in Italy. As mentioned, it was only a prelude to the smell of urine in our host's bathroom. Believe me, when a bathroom smells like stale piss and is lit only by a somber blue light, you start looking around half expecting to see bats hanging from the ceiling.
.
---
---

Disorganization. Where do I start on this one?
Italy has these cafés in train stations and airports. I don't know what they're called. How they work is this: you go to the cash, you order what you want. They'll take your cash, give you a receipt. You take your receipt to another counter which looks like the long counter in a bar. There you give the staff your receipt and they make your coffee or dig up that muffin that you wanted. Could be a bit more efficient but sounds easy enough, right? Except that this is Italy where there is no line or organization of any kind. Instead everyone shows up, bumping each other to get up to the bar, waving their receipts or calling out to get the barista's attention. It's like the trading pit at the stock exchange. It took a couple of people to push by me to figure out how it worked. Then I did the same, rudely shoving myself in front of someone, waving my arms and bobbing my shoulders in that exasperated "what's-going-on-and-why-am-I-not- getting-fucking-served" gesture while trying to have the best pissed-off look on my face. It worked. But I got back to the table, coffee and muffins in hand, sweaty and with my heart beating hard in my chest. Is a coffee worth that much trouble? I don't think so.
Example 2. Later that day we were at the Mestre train station outside Venice, looking to take the shuttle bus to the airport. We followed the signs saying 'Marco Polo' (the name of the airport) until we were outside. That's where the signs end. Where do we take the shuttle bus? We finally see a stand where a girl is selling tickets. Tickets to the airport. We buy tickets from her and she points us to a bus. As we soon find out, it's not a dedicated airport shuttle, it's a city bus that stops and starts, picking up and dropping off locals on its snail's-like pace to the airport. Did we catch the wrong bus? Maybe. But we'll never know because nothing was indicated and there was nobody official around to ask.
---
---
Example 3. Arrival at Marco Polo airport. What a frigin mess that airport is, the crowds reminded me of every photo I've ever seen of Calcutta. You arrive and you find out that check-in counters are on the 2nd floor. You see them looking up the escalator – except the escalators are blocked off to oversized luggage by immovable obstacles. You have to take the elevator. Fine. But one of the two elevators isn't working and the other has people pushing and shoving to get in with their luggage and baby strollers. You can only fit in 6 people at a time. It's mayhem. 15 minutes and 5 elevator ups/downs later we make it to the check-in counters. No indications to where the Air Transat check-in is located. I leave Lissette with the baggage while I go explore. I find out that Air Transat, along with maybe 4 other airlines, actually have their check-in counters on the ground floor (the 'arrivals' floor). So we have to take the elevators back down…and then fight through everyone still trying to get on the elevator to go up. Argg. We finally get to our check-in counter. And through all this we never once saw an information desk or someone who looked remotely like they could be working in the airport..
So back to our Airbnb apartment. The host had told us to ring the bell when we arrive at his address. Ok. But when we arrived at his address we realized we needed either his apartment number or his last name to know which button to ring. He hadn't thought to tell us this critical information. When I later told him that travellers have to know this kind of detailed information he just kind of shrugged, as if saying 'this is Italy, why make anything easy when we can make it both more challenging and time-consuming?".
Maybe it's the Germanic blood in me – but I don't get it. Why can't they have a cordoned off line at the café? Why can't they have an arrow or proper indications at the train station pointing where to take the bus to the airport? Why don't they have proper signage, rolling carpets or functioning elevators at one of Italy's busiest airports??
---
---

.
Corrupt & useless employees. So we had finally gone through check-in (where they charged us extra for overweight luggage. Yes, was that kind of day) and passed through security. We decided to go for lunch while waiting for our flight to board. There are 2 restaurants in Marco Polo airport; the first is a large cafeteria style affair. After the experience at the coffee bar that morning I didn't want anything to do with lining up for food. The 2nd was a burger joint. It looked quiet. Lissette sat down while I went to the counter. Ordering two of their pre-set combos (club sandwich/fries/beer & grilled cheese/fries/water) seemed to be one of the most complicated things on earth to the guy behind the counter. After going through the order 3 times and getting 2 different price quotes, I gave him two 20 Euro bills. Flustered I didn't look at my change until I got seated…and then realized I had been shortchanged by 10 Euros. I went back and told him there had been a mistake with my change. He argued that I had not in fact given him two 20 Euro bills. To what point do you argue that? I waved my arms in frustration for the 5th time that day. I know I got screwed over. And (surprise, surprise) I had to take my bill, walk 3 feet down the counter to the cook and present him with what I ordered. Sat down. I got my club sandwich ten minutes later. No fries. Ok, fries coming. Where's the grilled cheese? Oh, forgot. We got the fries 5 minutes later. Where's the grilled cheese? Oh. 5 minutes later I lost it and went to the counter where I waited while he cooked Lissette's grilled cheese sandwich right in front of me. What a bunch of dumbasses. For the 6th time that day I threw my arm in the air in exasperation. I'm sorry, but not many places in the world would tolerate idiots like them running a store. Except Italy.
The only parallel to the Airbnb apartment was that he was another Italian dumbass.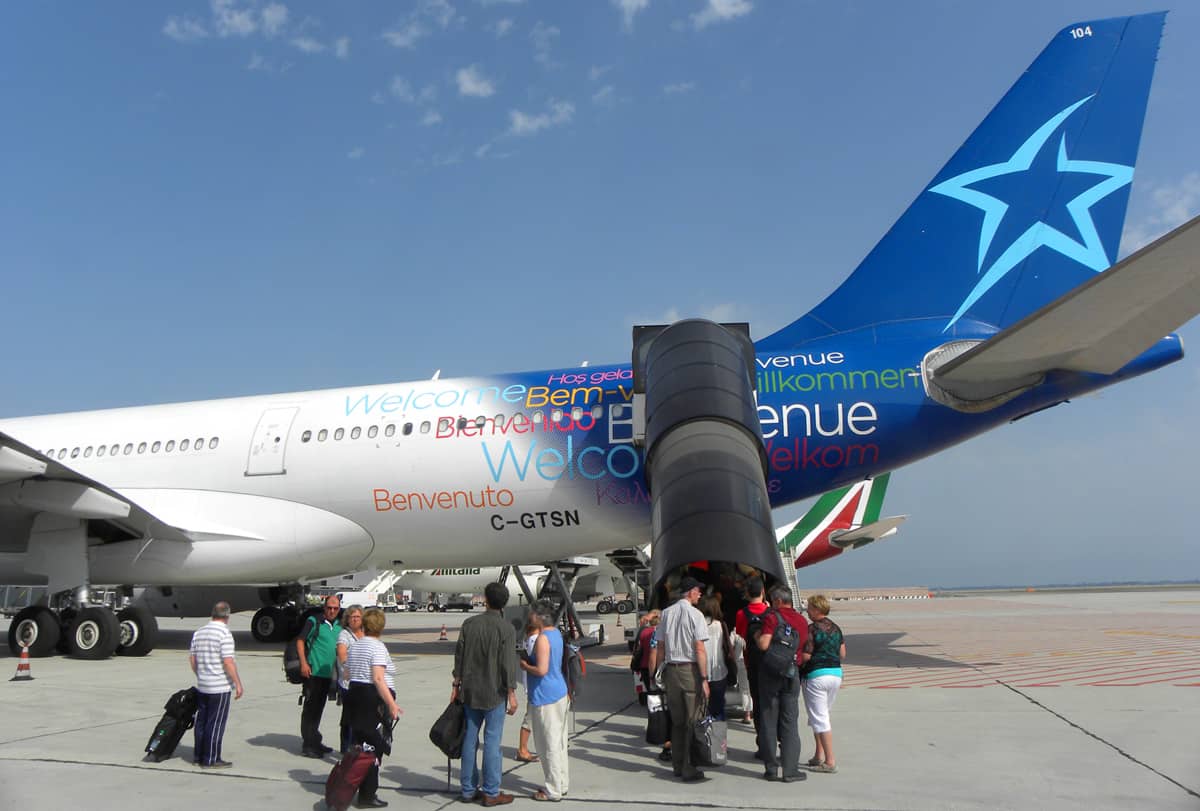 ---
---
I could list a bunch of other complaints that other people have with Italy but I just wanted to focus on our frustrations during those 24 hours. Sometime you just need a rant to get it out of your system.
The thing about Italy is that you often forget these little things. There are too many good things about Italy that you end up loving the country and glossing over the bumps. And although we had a rotten 24 hours, we also met a few people that really helped us out. Like the young man sitting outside the Airbnb apartment when we didn't know which buzzer to ring. He offered his help and lent me his cellphone so that I could call the Airbnb host. In many countries people would just ignore you. Then there was the incredibly friendly woman who sat next to us on the train to Venice and chatted with us for 2 full hours. She's invited us to come back to Trieste one day. Although we might get frustrated over how things work in Italy you tend to forget them after a while and remember the good things – like the good people and the nice gestures along the way. Somehow we've had many of both in Italy. They are the reasons we've been to Italy 3 times and why we always end up wanting to come back.
Ok, tell me what you think.
---
---

PS. Looking to book flights, hotels, tours, or rent a car? Have a look at our Travel Resources page.