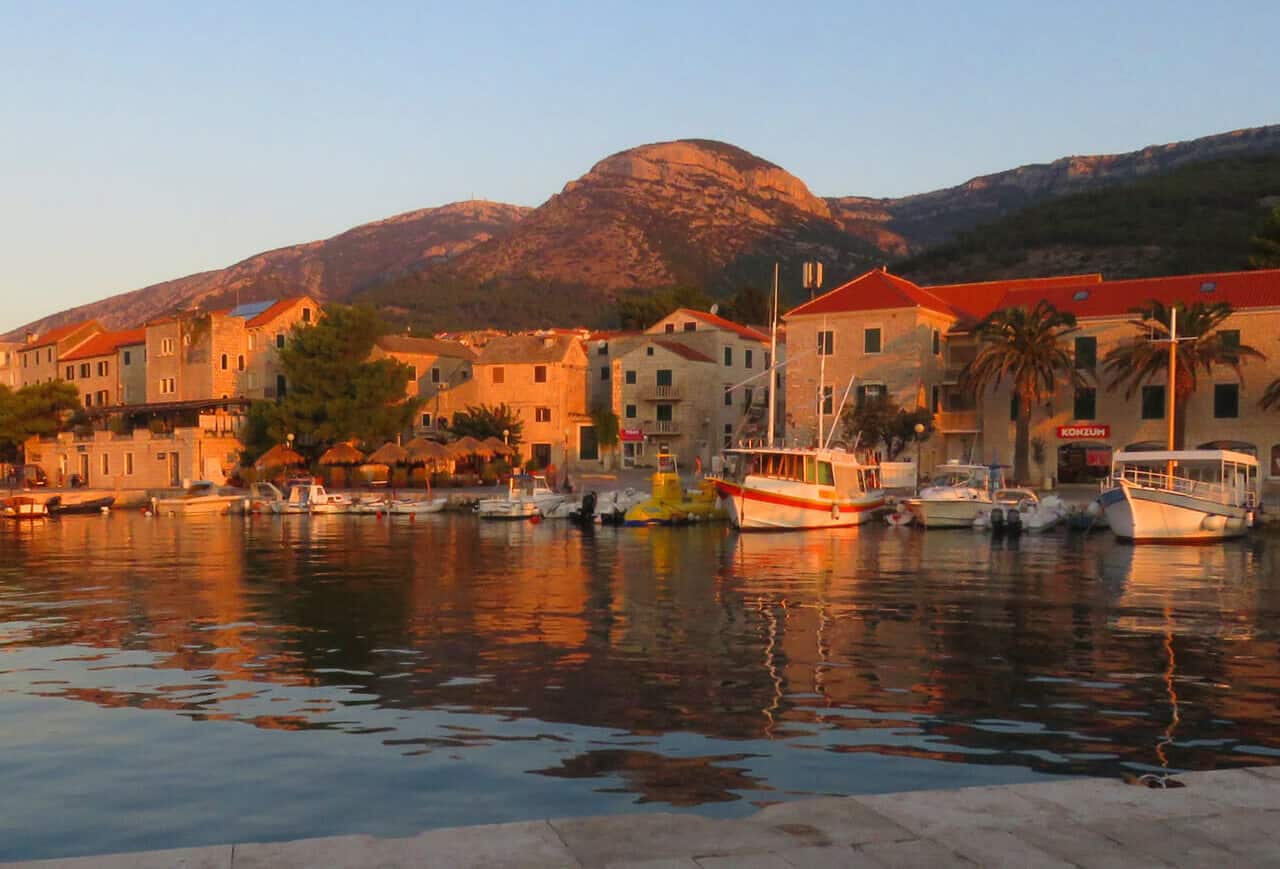 Why you should visit Bol (Brač Island, Croatia)
Bol, on Brač island, is one of our favorite island towns in Croatia.
So what makes Bol so special?
Unlike Hvar town or Korčula town, Bol doesn't have much in the way of historical attractions. It's a small and pretty town – but there are lots of small, pretty places in Croatia.
What makes Bol special are a couple of Croatia's most famous natural attractions:
– the beach of Zlatni Rat (the most photographed beach in Croatia)
– the peak of Vidova Gora (the highest peak in the Adriatic Sea)
It also has:
– a 2 km promenade lining the coast (leading to more beaches)
– our favorite winery in Croatia – a great place for some wine tasting.
.
Photos of all that and more below.


.

.
---
---
The Promenade
We knew about Zlatni Rat beach…but we didn't know about the 2 km promenade the leads from town to the beach. The whole route is shaded and lined with resorts, restaurants, and nightclubs. Most visitors who come to Bol stay somewhere along this stretch. You'll find other beaches (besides Zlatni Rat) along the route. You'll also find lots of kiosks selling souvenirs including handicrafts made of Brač stone (which is famous for its whiteness – Diocletian's Palace in Split is made from stone mined on Brač).
The next time in Bol we plan on staying on this stretch for a relaxing holiday next to Zlatni Rat beach. A few hotel recommendations: Zlatni Rat Beach Hotel, Villa Zlatni Rat, Bluesun Hotel Elaphusa.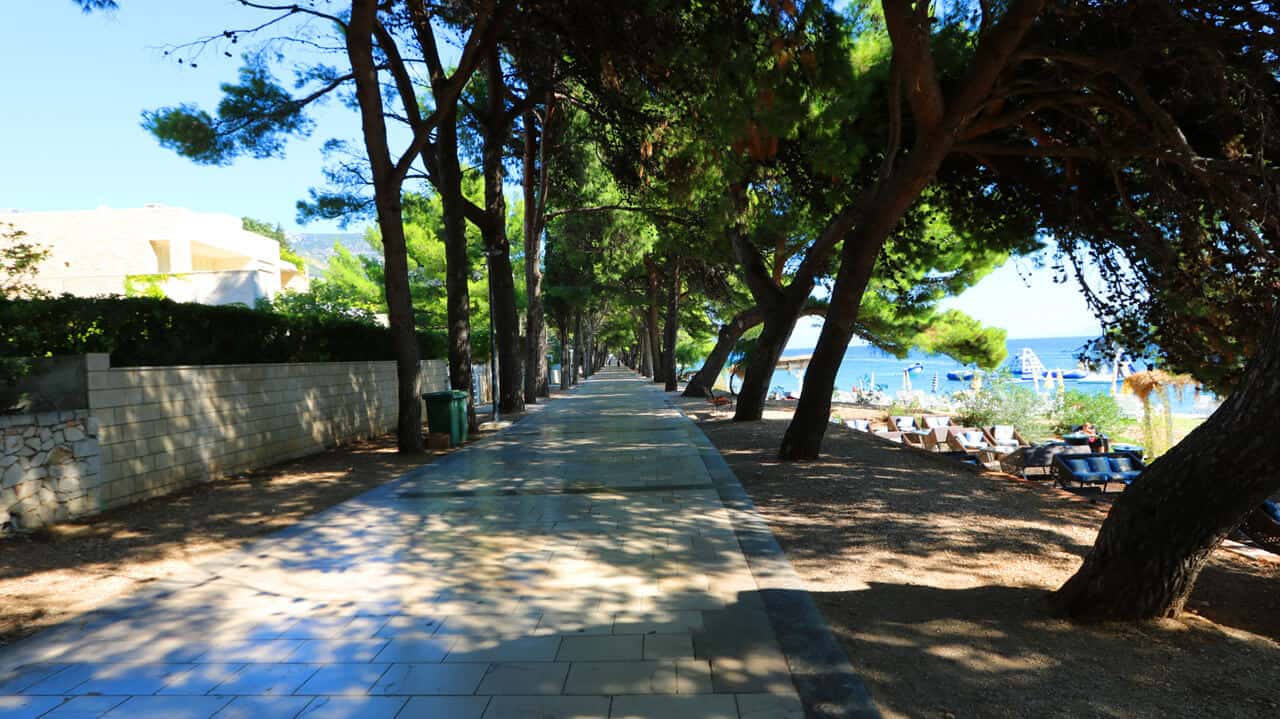 .
---
---
Zlatni Rat beach
Walking down the promenade leads you to Zlatni Rat beach. It is a white pebble beach that juts out into the Hvar channel. Its shape – a narrow spit – and the fact that the curvature of the spit often changes (due to currents and wind) makes it famous. It is regularly listed as one of the top beaches in Europe and is also one of the symbols of Croatian tourism. It's our favorite beach in Croatia for a few reasons: the fine white stones that don't hurt your feet (anyone with experience on Croatian beaches knows what I'm talking about), the beautiful shades of blue of the water, and the pine grove in the interior which provides relief on a hot day (we were here in late September – when most tourists have left – and it was still quite warm).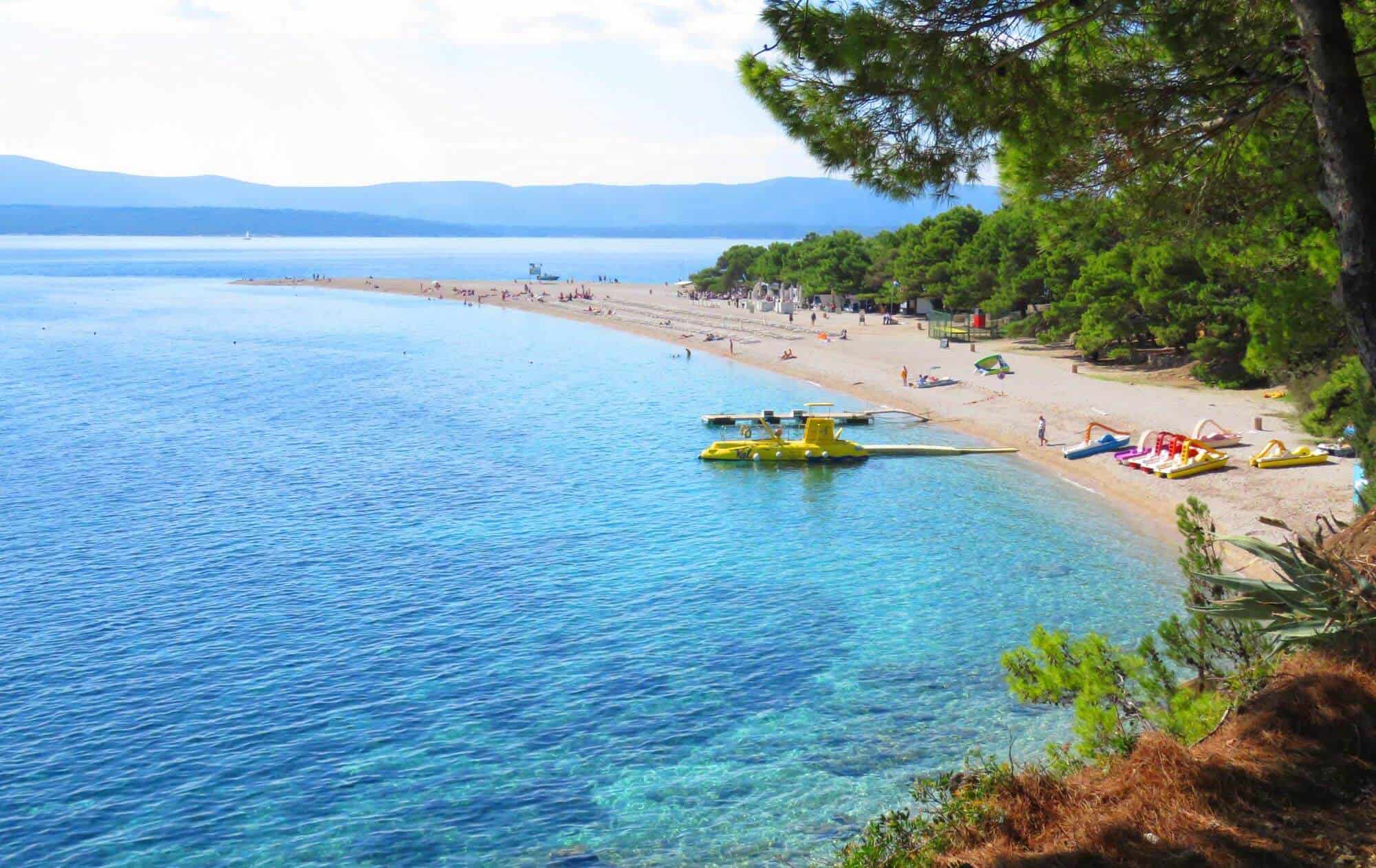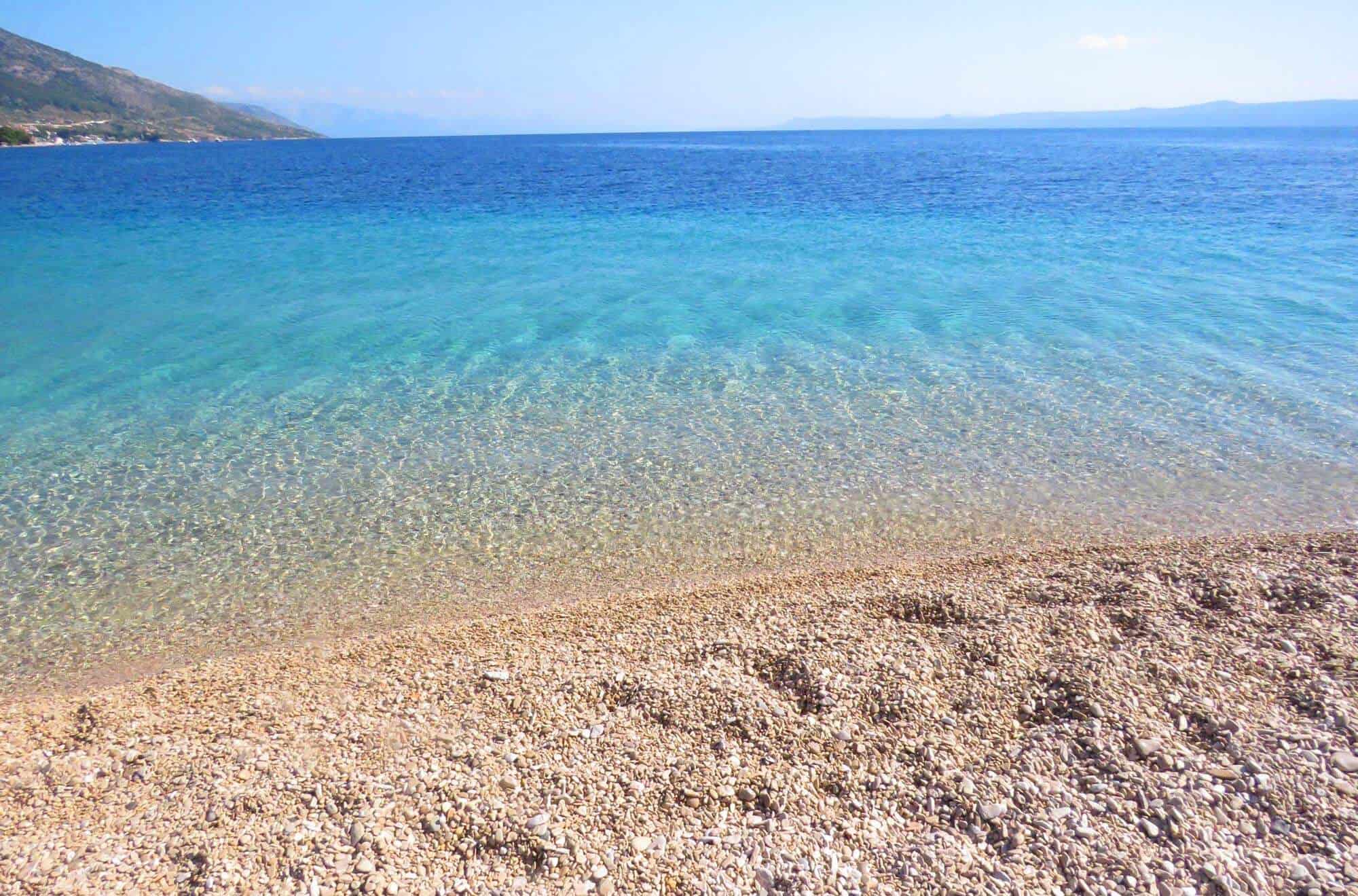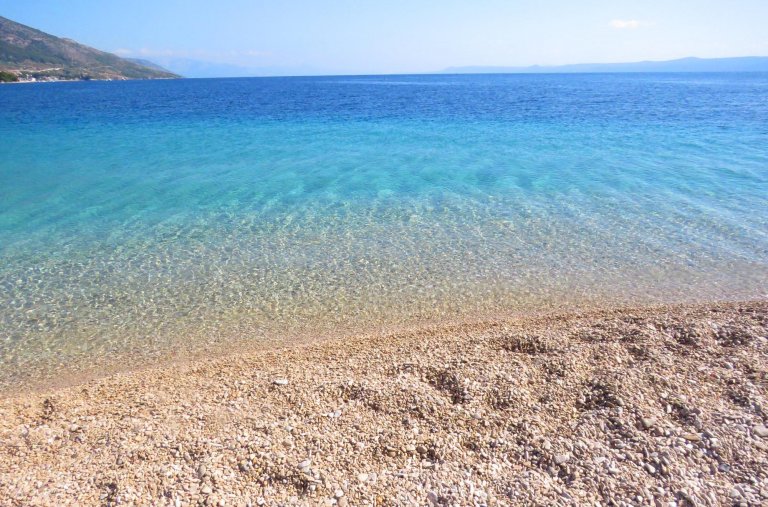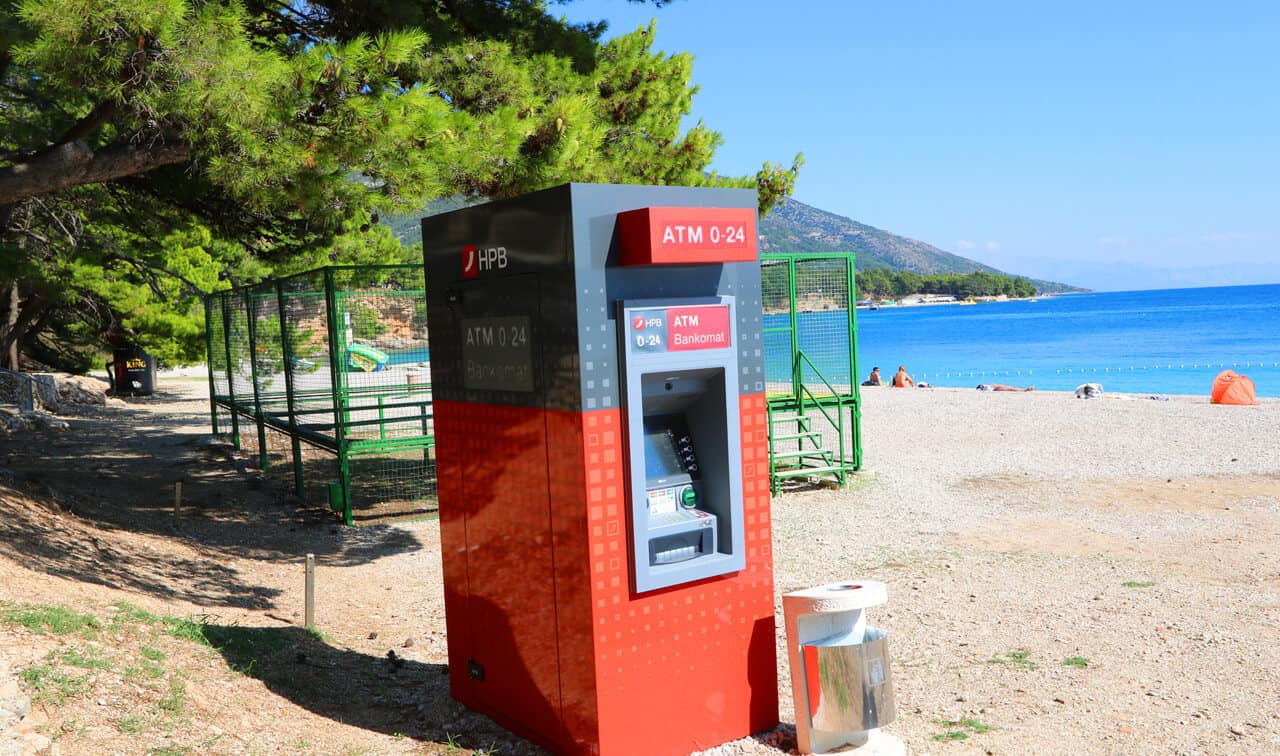 ---
---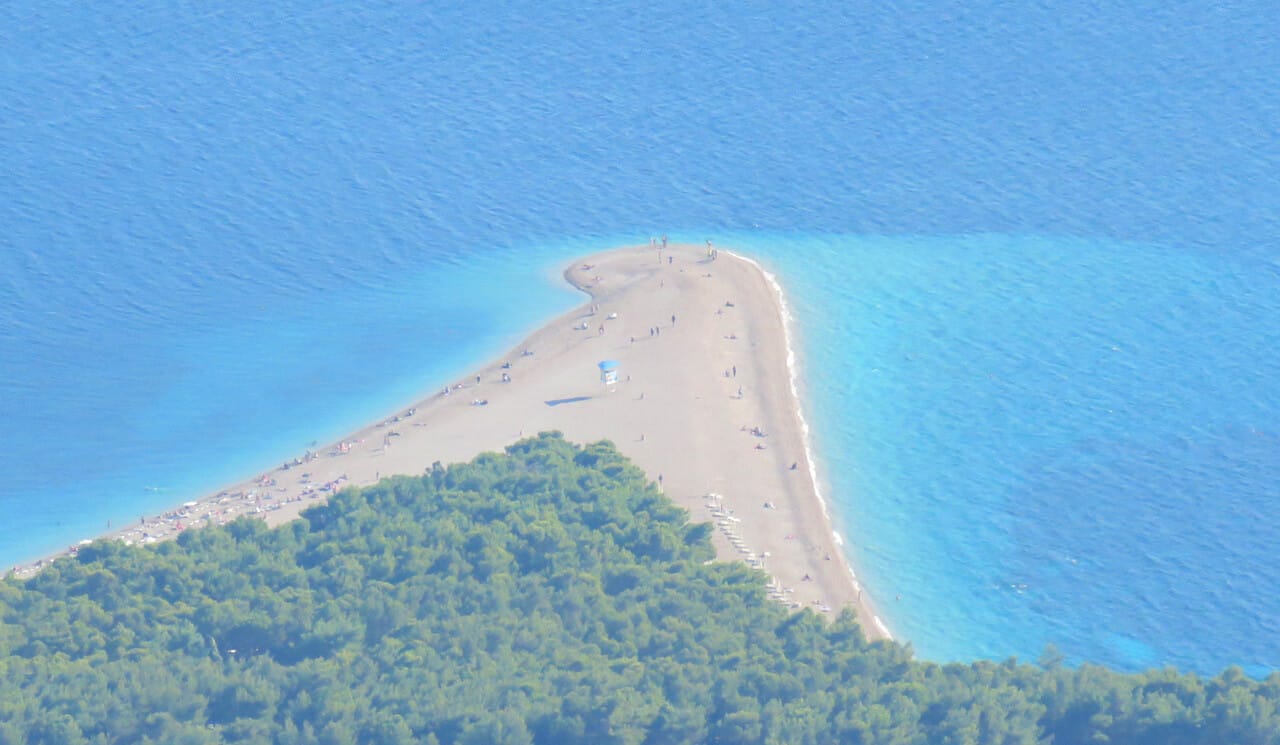 .

Vidova Gora
Vidova Gora is the highest peak in the Adriatic islands and is a (relatively) easy hike from Bol. You'll have fantastic views in every direction including direct views looking straight down on Zlatni Rat beach.
See my post on Hiking Vidova Gora for more.
.
---
---
Stina Winery
We've lived in Croatia about 11 months now as I write this. I have an admission: we're not fans of Croatian wines or of Plavac Mali (the main red grape varietal grown in Croatia). I'll write more about that sometime.
But we never give up when it comes to wine. We decided to go for wine tasting at Stina Winery, a large building along Bol's waterfront. We went for the "small label" wine tasting which featured a white, a rosé, and a red for about 15 Euros. The white and rosé were fantastic and I was looking forward to the red. Our server introduced it honestly "I think this wine is shit. I don't like it". I tasted it and it was disappointing. We started talking about wines and I told him my feelings about Croatian wines. He said "come inside". We went into the winery (beautiful interior) and sat at the bar where he proceeded to give us samplings of Stina's different wines. Great server. While we didn't love each wine we liked the complexity of Stina's wines (their wines are not strictly Plavac Mali, some of their wines include a mix of Shiraz and Zinfandel) and ended up buying 3 bottles to take home: 2 bottles of red (the Plavac Mali Majstor and the Tribidrag, a varietal of Zinfandel) and the rosé bottle of Stina Opol. Excellent wines*.
* but with an average price of almost $35 US a bottle I expect an excellent wine. If I could find excellent wines at $10/bottle like we did in South Africa then I'd be really impressed.
In short, it's been our best wine experience in Croatia and we really enjoyed it as well as the great service. The wine tasting is of good value and I personally think you can't leave Bol without trying out some of Stina's wines.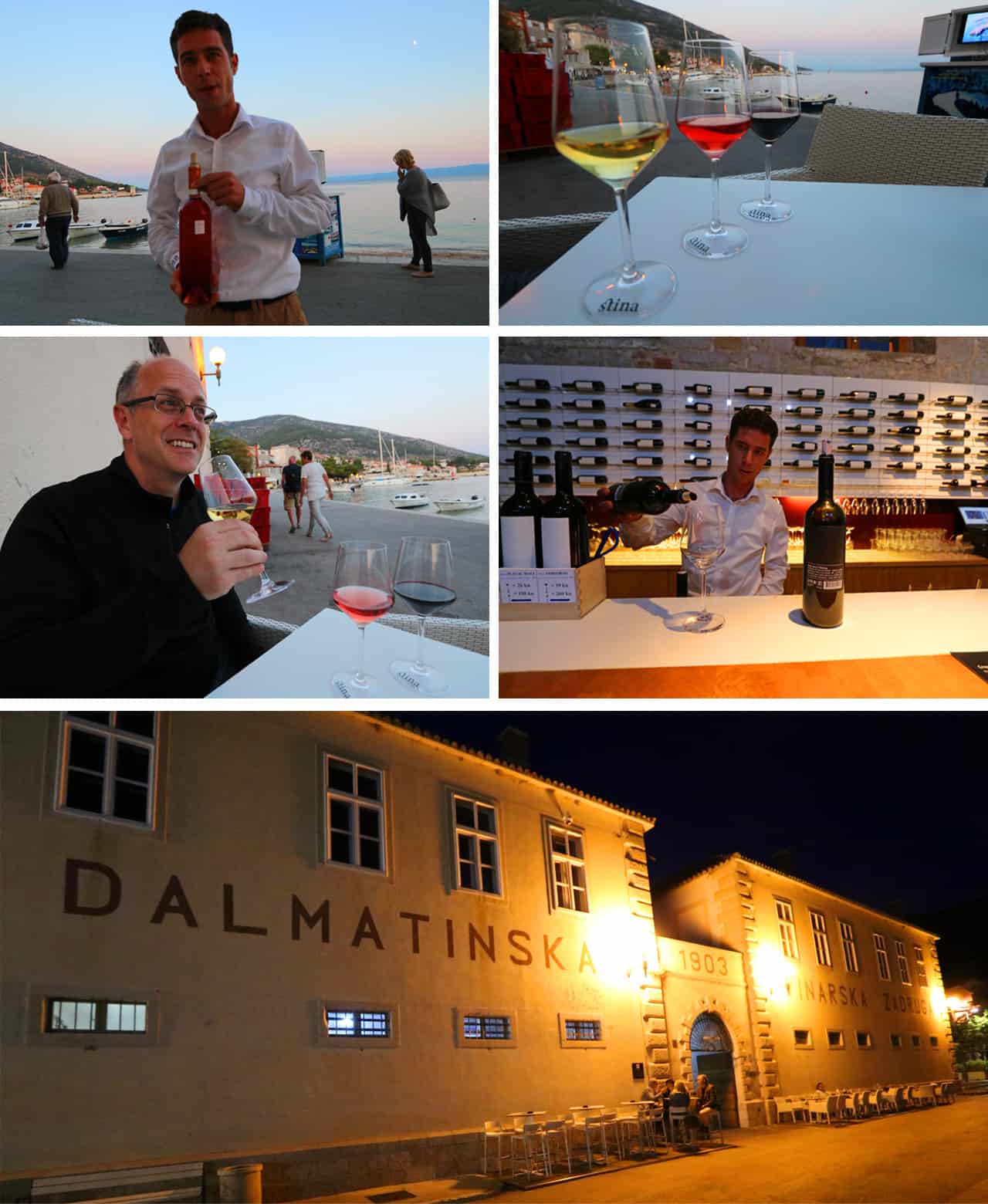 .
---
---
The next morning we were up at the crack of dawn (there is a once-a-day ferry to Split at 6:25 am). Some last views of Bol: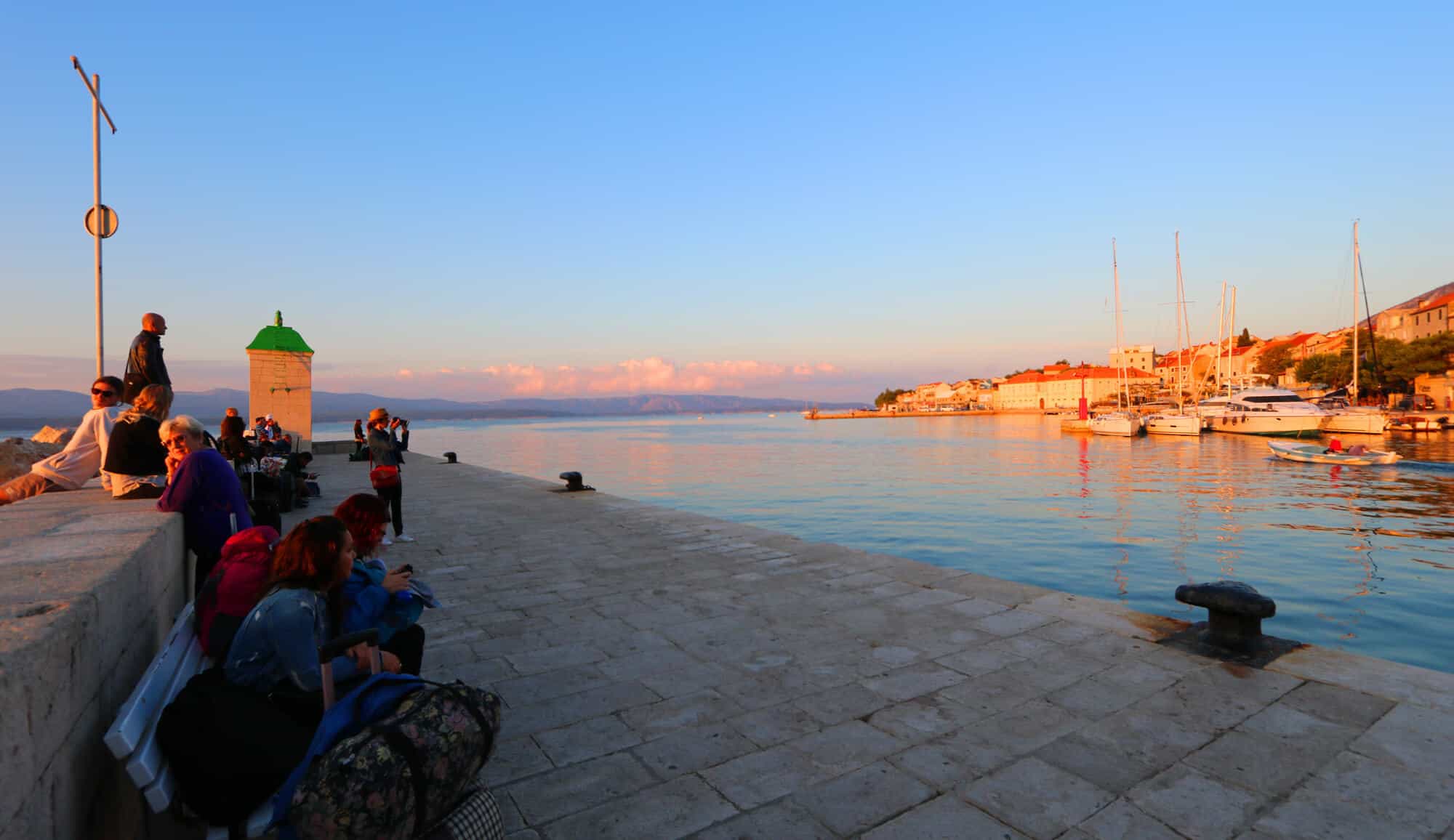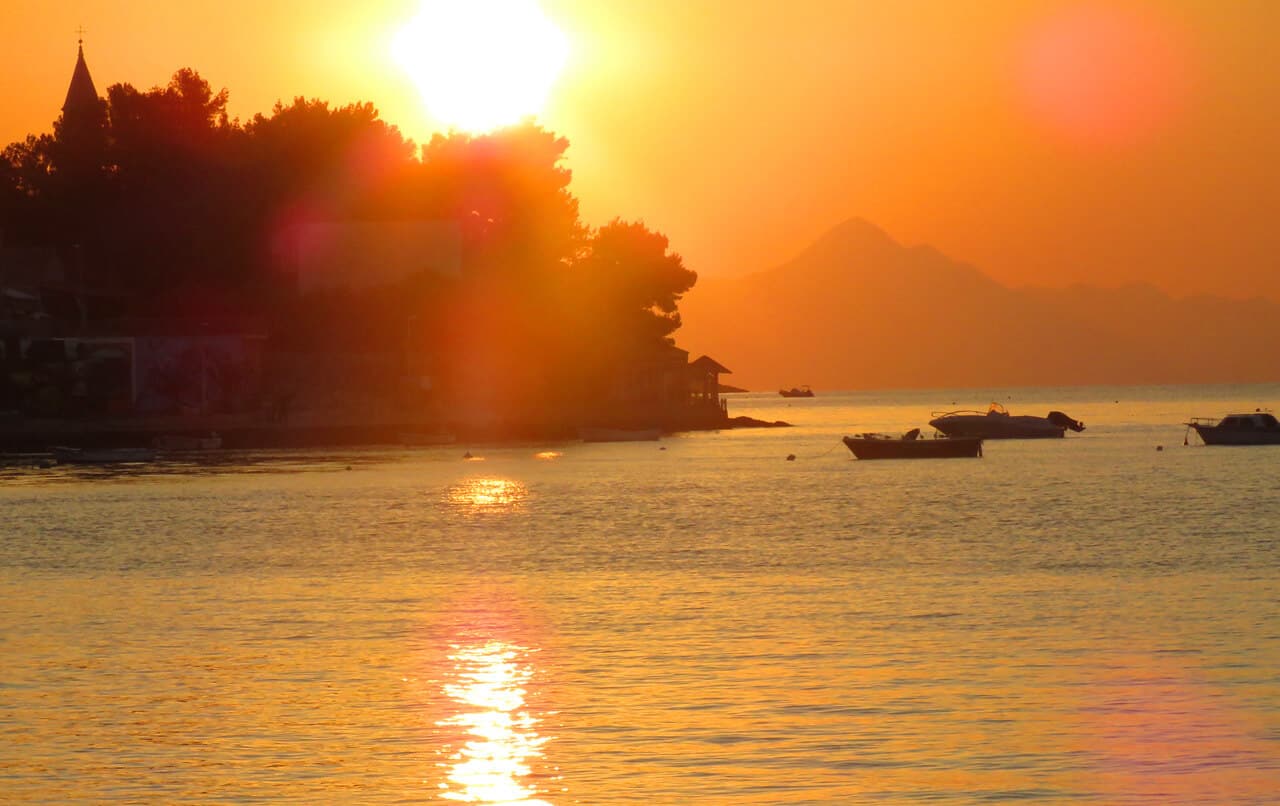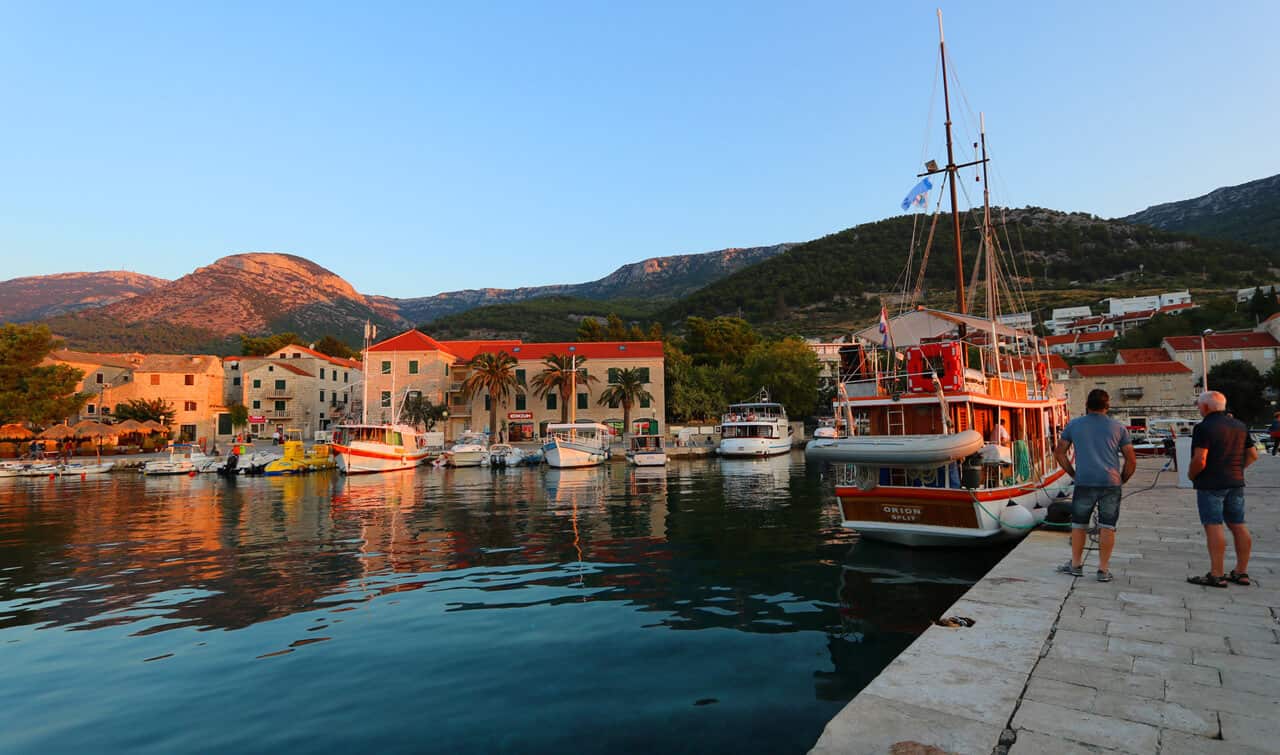 .




Summary
:

Come to Bol for nature, beaches, and a memorable hike. Enjoy the small, charming town and some great wine.
---
---
Some practical info
– Check the Jadrolinija or Krila for ferries to Bol. The town has a small pier and there are no car ferries, only catamarans (which take about an hour to/from Split). Bol also connects to Jelsa on Hvar island.
– Hotels. As mentioned above: Zlatni Rat Beach Hotel, Villa Zlatni Rat, Bluesun Hotel Elaphusa. All close to famous Zlatni Rat beach.
– Time required. We stayed 2 nights which was sufficient to see the sights but both agreed that Bol would be an ideal place to come back to to just relax for a few extra days. I mentioned some hotels further up above – next time we come here we want to have a relaxing beach vacation.
– Organized Tours. If you don't have the time to stay in Bol or take the ferry, there are some good tour options that will allow you to see the town as well as famous Zlatni Rat beach. This scenic Day Tour from Split is recommended. You can do a similar tour by Catamaran, which is a great way to see the Adriatic (and includes all the beer you can drink).
Related:

The Best Day Trips from Split (Croatia)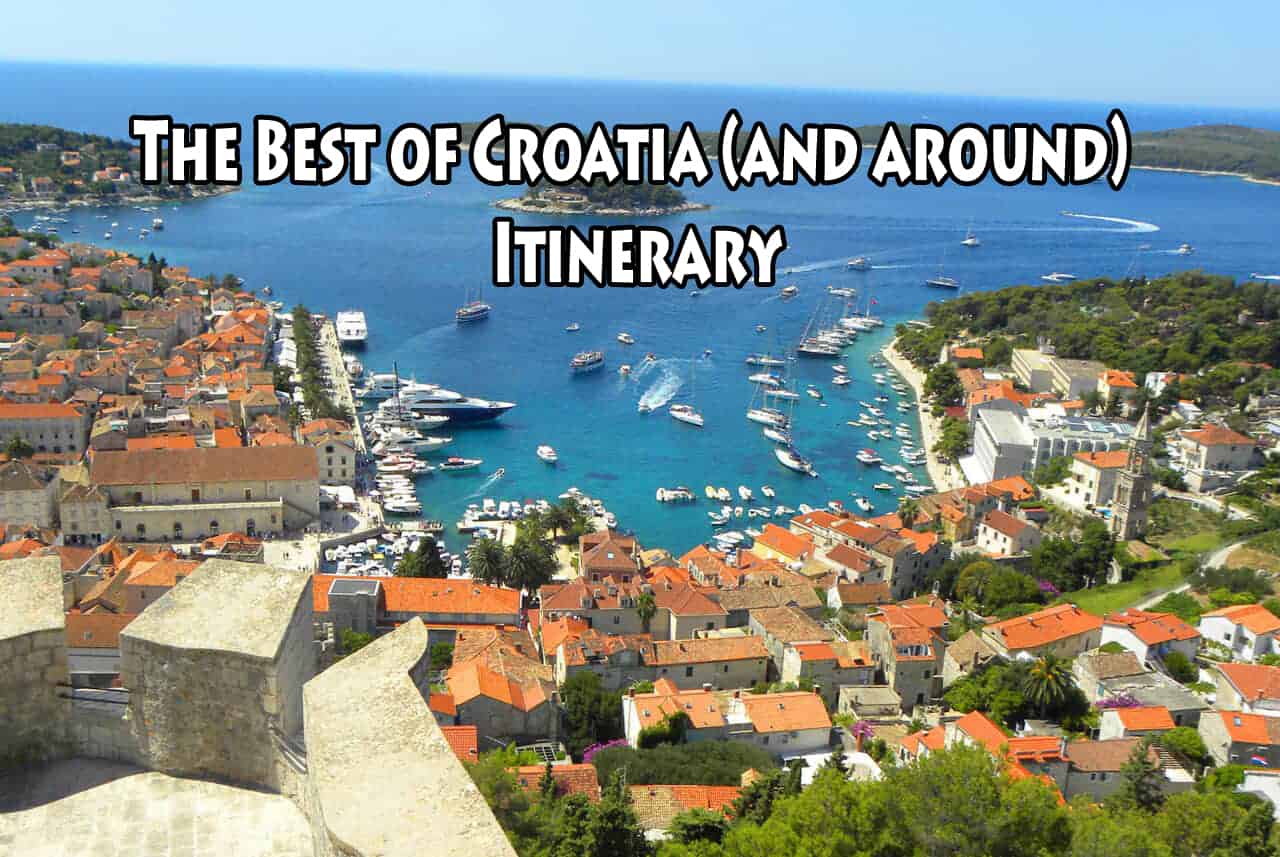 Ps. If you find our blog helpful, please consider using our links to book your flights, hotels, tours, and car rentals. Have a look at our Travel Resources page.