Dogs we've met on our travels…and the most dog-loving countries!
I figured I'd do this post on one of my favorite subjects – dogs. They're something that usually puts a smile on everyone's face.
We've met a lot of dogs on our travels and they're some of our most memorable encounters. Meeting dogs is also a great way to start a conversation with people. They might be the ultimate ice-breaker.
Lots of photos of dogs in this post along with some of our encounters (told in both of our voices)….and our opinion on which countries love their dogs the most.
Ps Photo credit to Lissette for almost every photo below.
Dog on Marjan Hill, Split (Croatia)
This was Lissette's encounter, I was in Mexico at the time.
Her encounter: Lissette doesn't usually go hiking by herself. On this occasion she did and as she made her way up the steps of a forest path this large dog suddenly showed up and blocked her route. Lissette had always been afraid of dogs. She didn't know what to do and sat on a bench. He plopped down next to her, his tongue out, drooling everywhere. She realized he just wanted to be her friend and then suddenly wished that she had brought some water to share with him. He stayed with her for about 30 minutes before deciding he wanted to go home. That experience really opened her mind to dogs.
---
---
Chihuahua in Creel, Mexico
I was in Creel Mexico, a stop along the El Chepe train route that takes you from Chihuahua to Los Mochis. I had just checked in and decided to go for a hike in the hills next to the hotel. I had gone about 100 meters when one of the Chihuahuas belonging to the hotel owner bolted out the door and sprinted after me.
He would be my hiking buddy for about 3 hours, sticking by my side the whole time. One thing you should know about Chihuahuas though – they're not the smartest dog and he wasn't much help when we got lost.
"Potluck" in Mostar, Bosnia and Herzegovina
"Potluck" belonged to the Airbnb where we stayed for a week in Mostar. When we showed up, late in the night, he went crazy with happiness, barking excitedly and running up and down the stairs leading up to our apartment. He was all legs. The owner told us she had picked him up one day by the side of the road.
He was the sweetest dog and every morning we would find him waiting for us by our welcome mat, his tail wagging uncontrollably. He never barked and knew not to come in to the apartment although I kind of wished he would. We were sad when we had to say our goodbyes.
Wolfhound in Prague
We had just arrived in Prague and entered the arrivals hall when we saw it – one of the largest dogs we had ever seen (don't be fooled by the photo – like most Czechs this lady was tall). Beautiful dog.
---
---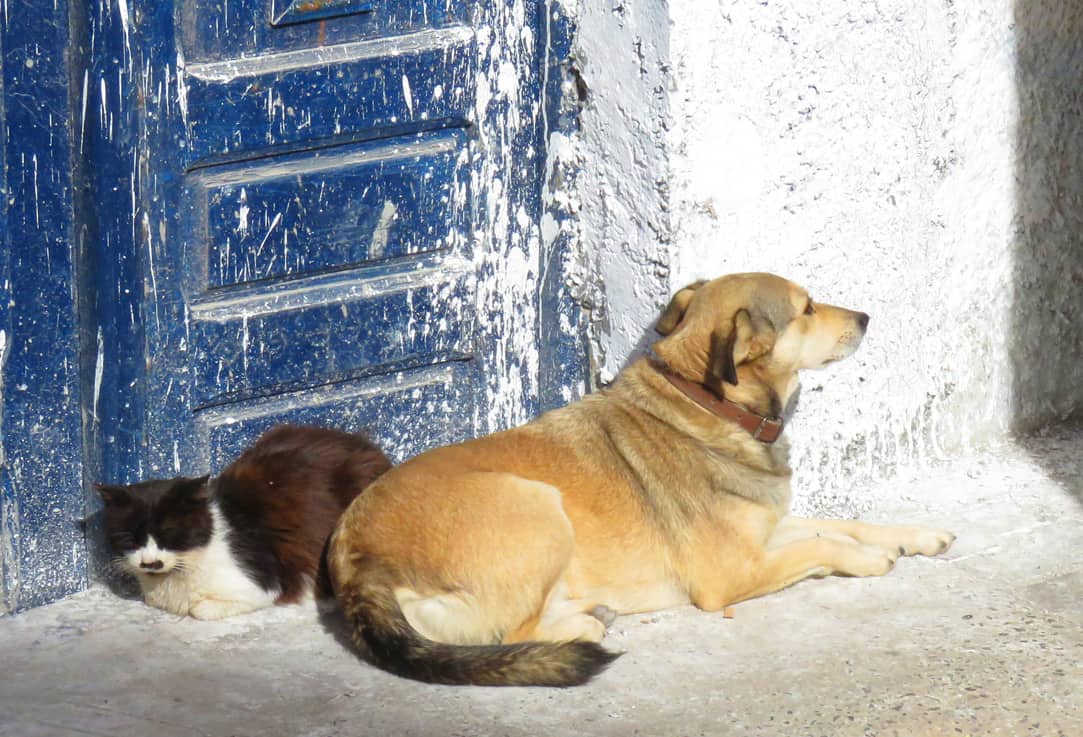 Dog and cat in Morocco
I always find if fascinating when I see cats and dogs together. This photo was taken in the Moroccan beach town of Essaouira. They look like best friends.
Chichi and Chachi, Split (Croatia)
It's one of our nicest dog stories. When we lived in Croatia we would often see these 2 dogs on our way to the gym. Chichi (the female with the pink ribbon) is the boss of the two and always hogs the attention. Chachi (the boy) always comes running up but pulls away if you go to pet him. He's the nervous type and I describe him as being "all eyes" because his eyes look like they're popping out of their sockets when he comes too close. Still, every time we would see them on the street they would come up to us to say hi.
Note: Those are the names we assigned the 2 dogs. We don't know their real names…
We left Split in early 2018 but the last time we had seen them was sometime in the autumn of 2017. It was in late 2019 when we were back in Split, walking up the same street. We saw 2 dogs in the distance, maybe 100 yards away. Lissette asked: "is that Chichi and Chachi?" It was. They saw us at about the same time we did and ran towards us. We were amazed that more than 2 years later these two little dogs remembered us.
---
---
Border control, Greece/Bulgaria
We were on our way from Thessaloniki to Sofia and had to get change trains close to the border. One of the things you'll always see in the Balkans are a bunch of stray dogs hanging around train stations. This one was no different and the dogs were friendly, particularly this one who came to make sure we weren't transporting contraband.
Dog enjoying the winter sun, Split
Lissette's movie reference: Being There: "Life is a state of Mind"
He just sat there, on the steps of the Museum of Fine Art, enjoying the sun.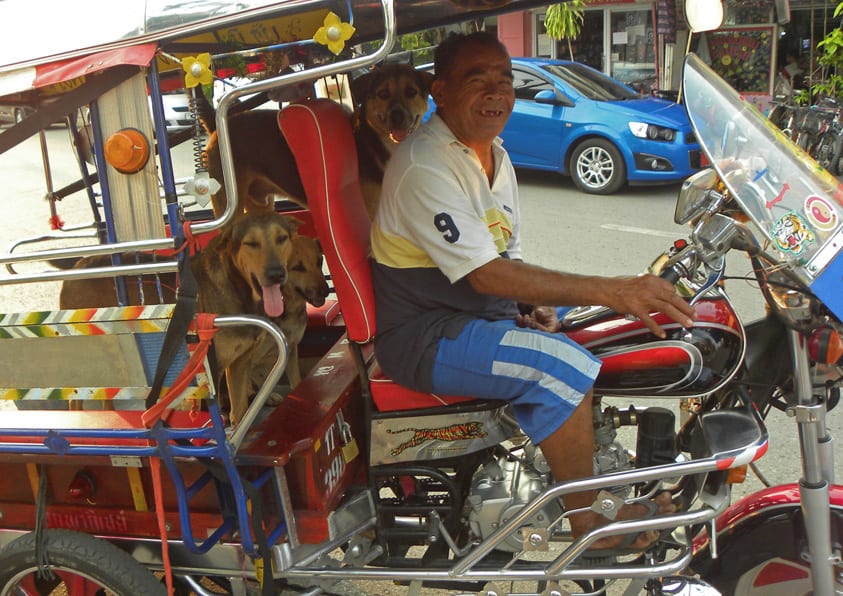 Dogs on a Tuk-Tuk, Nong Khai (Thailand)
We had seen these dogs several times hanging out on the street next to our complex and Lissette was always nervous of them. There are a lot of street dogs in Thailand and they're not always friendly.
We thought they were stray dogs until one day we saw this man with all his dogs going for a drive.
---
---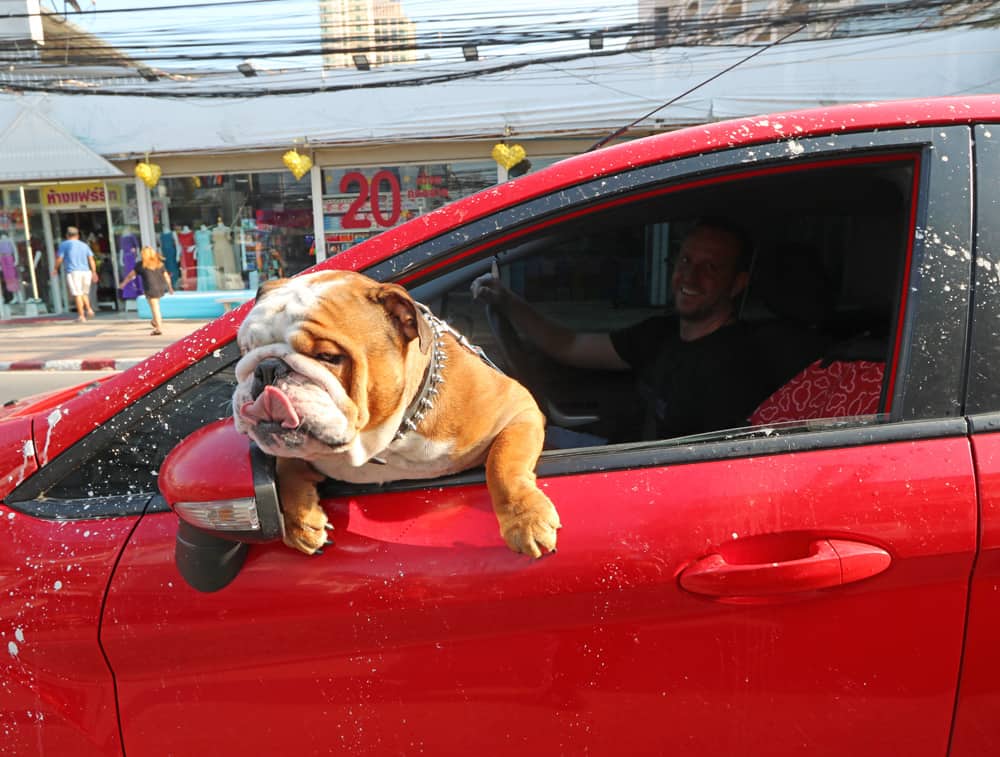 Crazy bulldog during Songkran, Pattaya (Thailand)
Another Lissette movie reference: Eyes wide shut: "No dream is ever just a dream"
Lust, fear, sex – all describe Pattaya (Thailand's sex capital) but also this dog who seemed so eager to pose for this photo that he almost fell out of the car.
Lara in Split, Croatia
Lara was our neighbor's dog in Split and would often hang out in the yard next to the main entrance. She wasn't my favorite dog to be honest, she was too jumpy. I think she was nervous of men. But on this day she had somehow gotten out of the yard and into the street. I went out and got her and tried to break the ice by bringing her a bit of water. Lissette took this photo of her sipping from her bowl.
---
---
Dogs and Girls in Tokyo, Japan
The Japanese are pretty obsessive about their dogs. They love dressing them up in crazy outfits. Japan might be the best place in the world to take photos of people and their pets.
Dog in Santa Teresa, Costa Rica
Lissette has always been a bit nervous about dogs. She'll never call out to them or touch them. So it's always curious that they seem drawn to her. This dog came out of nowhere and just decided to sit on her feet.
Boxer in Thessaloniki, Greece
It was a hot day in Thessaloniki and we saw this huge boxer suffering in the heat. We gave him some water from our water bottle and he seemed really happy. Doing so we got to talking to his owner, a man who had lived most of his adult life in the USA but who had recently come back to Greece with his dog. Spent 20 minutes with him and his dog and had an interesting conversation.
---
---
Dog and owner in Montreal
Saw this happy dog sitting on a bench during our stay in Montreal last summer.
Dog in Nong Khai, Thailand
We met an expat and his dog on our daily walks along the river promenade in Nong Khai. Friendly dog with funny teeth.
Bulldog and owner in Montreal
Met this lady and dog walking through Mont Royal park in Montreal. Both were friendly and we got to talking. The bulldog was massive and heavy, a real meatball. She was a Latina and we practiced our Spanish.
---
---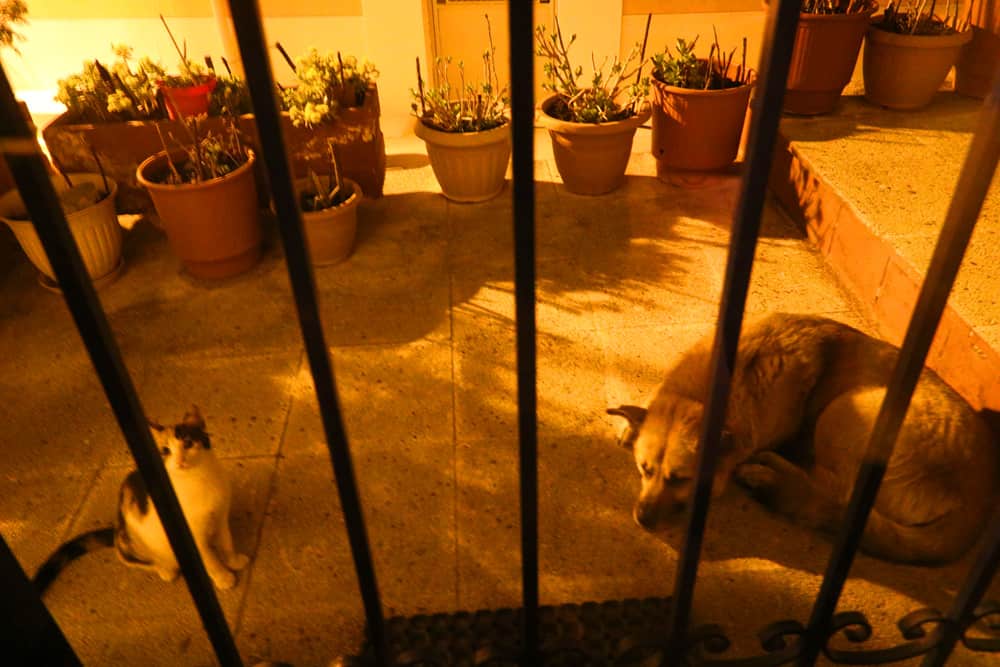 Local wildlife in Thessaloniki, Greece
We were in Thessaloniki a week and on our 2nd night noticed this big dog sleeping outside our door. He was out there every night and we felt we didn't have to worry about being robbed. He would often be joined by local cats.
Dog and girl on a ferry, Croatia
Lissette's last movie reference: Casablanca: "Here's Looking At You, Kid."
One of Lissette's favorite movies. It's what she came up with looking at this pair in their whites. It's about just being happy to be there and enjoying a moment together.
Dog in Nong Khai
Dog owned by a local restaurant. He'd always come to see us when we visited.
Dogs and cat in Essouira, Morocco
Love this photo of dogs and cat sleeping together.
---
---
The most dog-loving countries
Two countries have really struck us as the most dog loving countries during our travels.
1. The Czech Republic
Czechs are not the warmest people. They can be a bit cool and aloof when you don't know them. But if you judged them for their love of dogs they might be the warmest people on earth. They love their dogs.
In the Czech Republic you'll see dogs everywhere: on public transit, in bars, in restaurants…everywhere. They take excellent care of their dogs and the dogs are extremely well-socialized. I don't remember any badly behaved dogs in the Czech Republic. And if you want to break the ice with a Czech just admire their dog.
2. Japan
The Japanese might be a little too over the top about their dogs. They dress them up in weird outfits, compulsively groom them, carry full-grown dogs in their arms or push them in baby carriages. But they LOVE their dogs.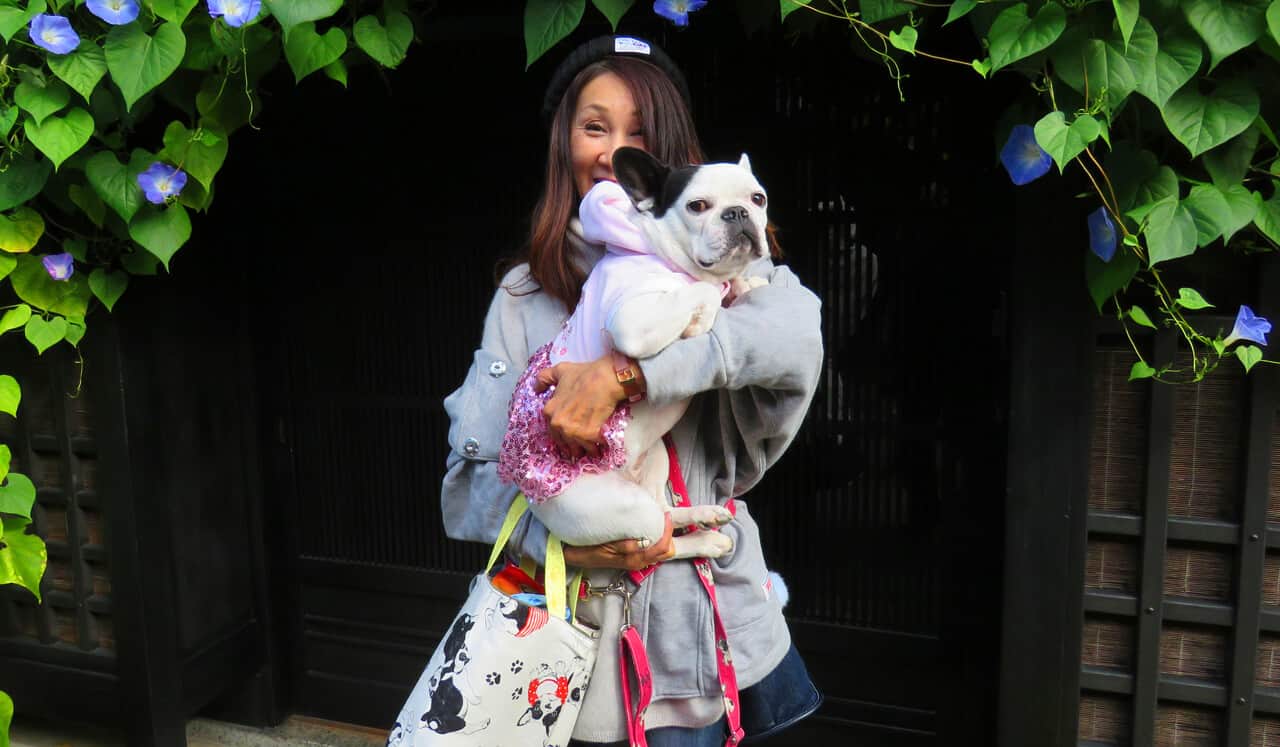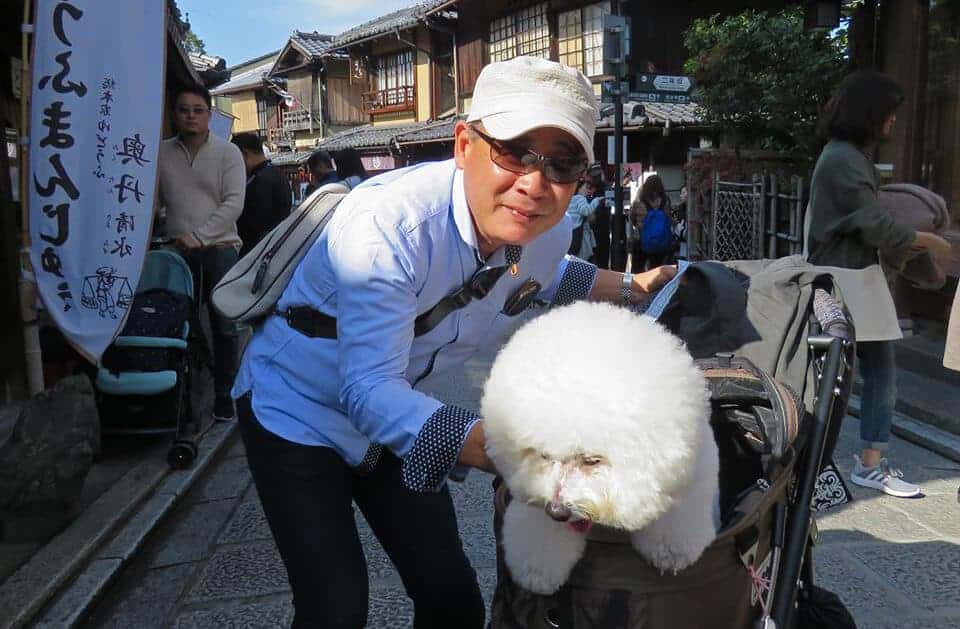 ---
---