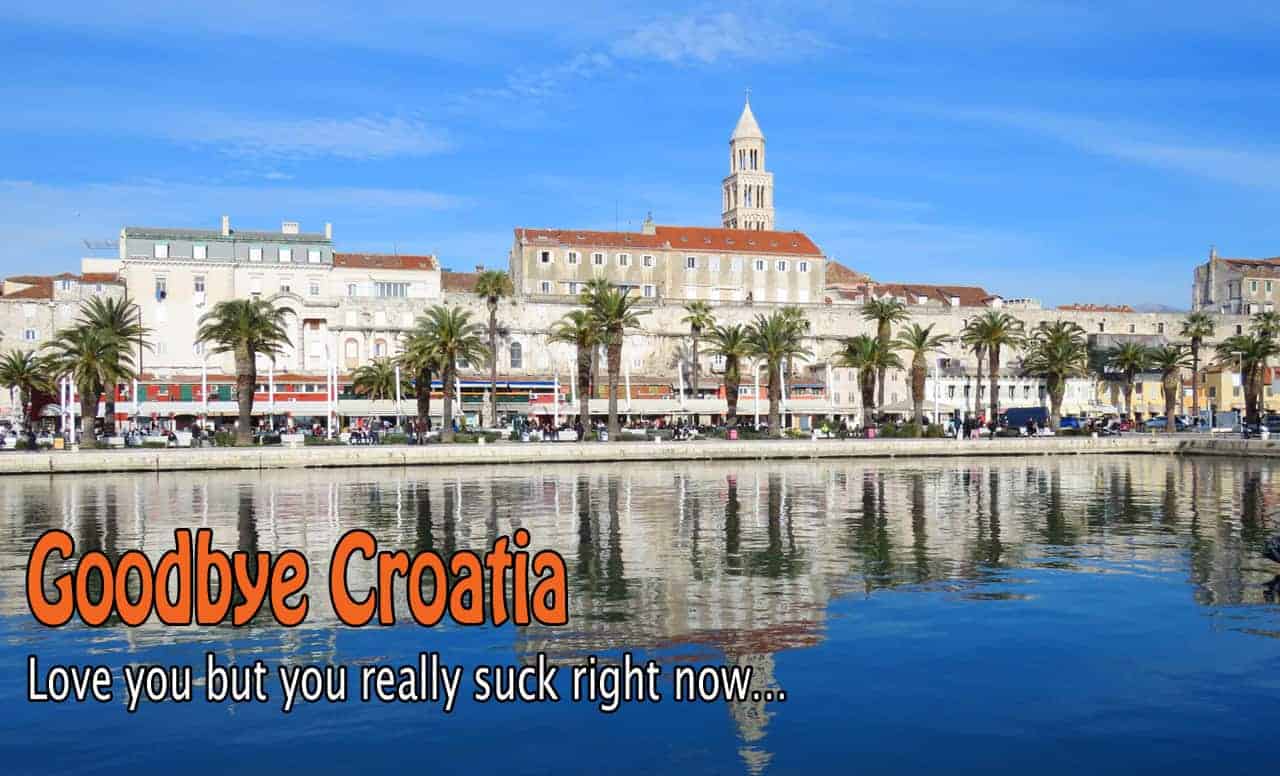 Love you Croatia but you really suck right now.

It took less than a month for our Croatian plans to go right down the crapper.

Real quick summary for those unfamiliar: in early 2017 we decided to pursue a 1 year Temporary Stay in Croatia. We leased an apartment, went through the paperwork of the temporary stay (which we were granted), and shipped all our furniture from Canada. We were happy. The goal was to continue renting the apartment as long as we could while also travelling 4 or 5 months of the year (during those months we'd rent out the apartment to tourists). A secondary goal was to work towards Permanent Residency in Croatia.
.
All was going well. In December our landlord told us he would rent the apartment to us for at least another year. We shook hands on it. We then invested in a new stove and bed. We also started taking some online courses to learn Croatian.
The first negative news we received was when talking to our lawyer about our 2nd Temporary Stay and prospects for Permanent Residency. We decided that the requirements for Permanent Residency in Croatia were too onerous – we still wanted to travel and while we love Croatia the idea of being limited to 2 months of travel per year for the next 5 years was too restrictive.
Fine, we said. We won't work towards Permanent Residency. But that doesn't stop us from keeping our apartment as a base. Our goal was to maintain the apartment while renting it out to tourists when travelling.
Note: a few people mention that what we did was illegal. Nope. The apartment was registered for rental and it was also in our rental agreement (lease). I detail that in the comments below since people brought it up.
Then the 2nd week of January our landlord hit us with THE news. His aunt (who legally owned the apartment) died. He gave us a long story – but the gist of it was that he wanted to sell the apartment and that he would not renew the lease (which expires March 1). We were suddenly in the position of having to vacate the apartment.
---
---
In case you're wondering, landlords in Croatia are only required to give tenants 1 month's pre-advice on renewment of a lease. Split is also notorious for being difficult to rent an apartment on a long term lease. 1) landlords would rather rent to tourists in the summer, 2) landlords, if they do agree to a long-term lease, rent it out furnished 'as is'. They don't want you bringing in your own furniture. What we went through (ie. getting booted out of an apartment) happens to locals all the time. It's the side effect of having an economy dependent on tourism.
.
The long and short of it was that we had 6 weeks to get ourselves and our stuff out of the apartment. We knew there was no way on such short notice to find another apartment. We also had to be out of Croatia on March 1st (the date our Temporary Residency expired).
---
---
On top of all that, we had rented out our apartment for a total of 6 weeks for the upcoming Spring/Summer season. We had to cancel those bookings.
So the last month has been all about planning what we would do, paying people back their deposits on the apartment, packing our stuff, giving some things away (like the new stove), arranging for storage and booking movers. We've both been through the 5 stages of grief, especially Lissette who absolutely LOVES Split. Are we upset? Yeah. We're pretty upset.
Last week the movers came and took our furniture to a storage facility in Zagreb. Why Zagreb? 1) there are no storage facilities in Split, 2) Zagreb is an easy transportation hub to the rest of Europe. Our next base will most likely be elsewhere.
.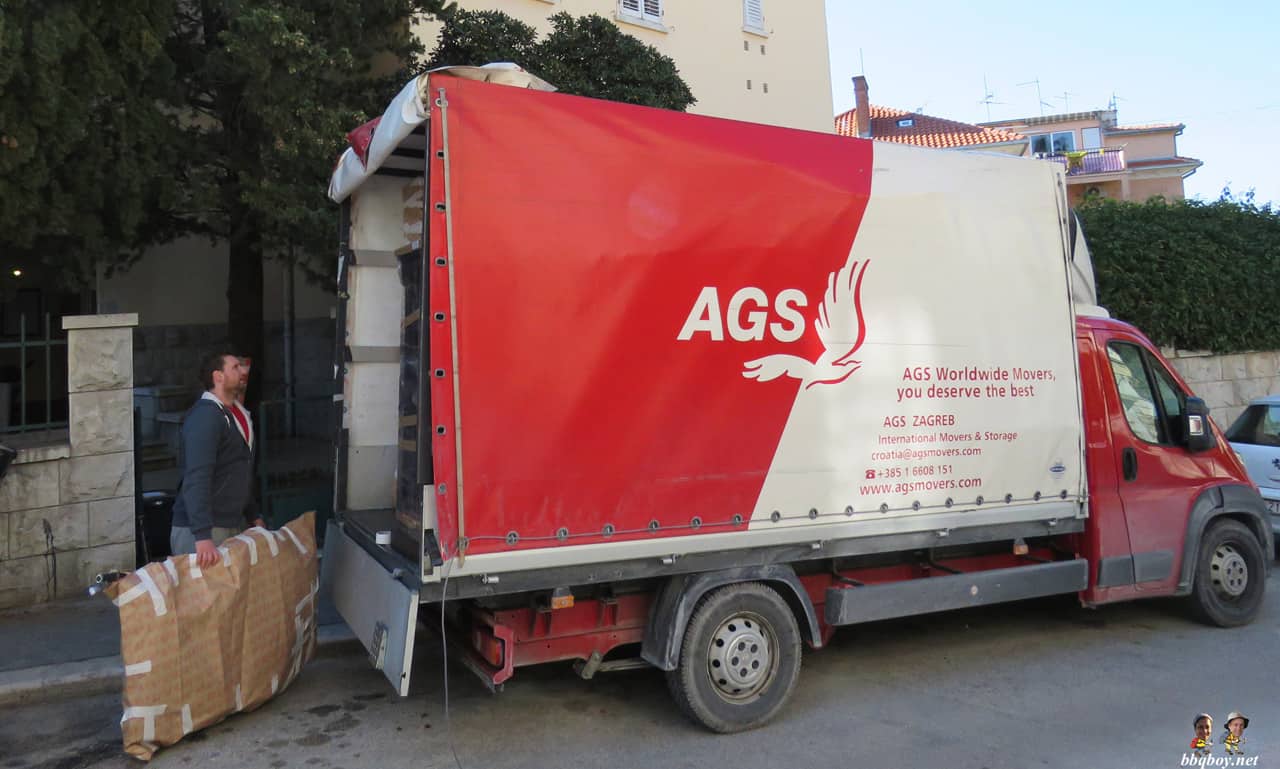 * We have used AGS movers and now have our stuff in their storage facility in Zagreb. They're the same people who last year shipped our belongings from Montreal to Split. I recommend them 100%.
---
---
Thoughts and feelings
– We're feeling pretty disappointed – and screwed over – by both our landlord and Croatia.
– Bureaucracy/government in Croatia really has to smarten up. Young people are leaving this country in droves to go places where there are opportunities – while foreigners who have money and who'd love to live here are left discouraged by the process.
– Again, I would like to apologize to those who booked our apartment for their 2018 holidays. All the bookings came from readers of the blog and we felt very bad having to cancel.
– I'm glad we didn't go through all the work and expense of trying to get a 2nd Temporary Stay. Without the lease it would all have been a waste of time.
– Croatia is beautiful. One of the most beautiful places anywhere. And Split is spectacular. I'll never forget the first time we came here back in 2015 and saw those mountains running the length of the coast. Some of the most beautiful scenery I've seen anywhere.
– Some say we could have done more to stay here. We could have bought a house/property for example. I honestly wouldn't invest money in Croatia. There's too many issues here, most having to do with government corruption.
– We're really going to miss the friends we made here. In the last few days it has been this feeling that's overshadowed everything else. We can get over Croatia (at least I can. Lissette is having a harder time of it) but we'll have a harder time getting over the friends we've made here.
.
Was having a base here a mistake? No. It was actually a blessing because 2017 ended up being the year where I had to settle a few things in Montreal (selling the condo and emptying our storage unit). Having a base gave us stability while these things were going on. Our 15 months in Split also gave us an idea of what it was like living in Croatia. On this we have different conclusions. Lissette could call Croatia home. She's always felt that she must have lived in Croatia in a previous life. I don't feel the same way. While I loved aspects of Croatia, there are some things that I wasn't always crazy about. Maybe I'll write about that once I've had time to reflect a bit more. Update: I wrote about that here: Going from Travelling full-time to having a base. Memories of the good, the bad, and the complicated.
So, just like that, our "Croatian Experience" is over. A few days ago we left Croatia. We're now in Thailand and will renew our lives travelling full-time as we used to. Eventually, down the road, we'll try to make somewhere else home. Our goal hasn't changed – we want to eventually find a base to call home and work towards Permanent Residency in Europe.
---
---
PS. Looking to book flights, hotels, tours, or rent a car? Have a look at our Travel Resources page.