It started as a simple enquiry: "How can we stay longer in Croatia?". Now, a few months later, we have a leased apartment in Split and have been granted a 1 one-year "temporary stay" in Croatia.
We've had a few of our readers ask us about the process here in Croatia so I decided to write about our experience.
---
---
Conditions for obtaining a temporary stay
Citizens of most countries can come to Croatia and are allowed to stay 90 days out in any 180 day period. Since Croatia is not part of the Schengen agreement, it has always suited us because we could skip out of the Schengen (which has the same 90 day of 180 days rule) and come to Croatia.
We fell in love with Croatia after a few visits and thought "wouldn't it be fun to have a longer stay in Croatia? We could travel around the country at our leisure". Most people would be surprised to know (Croatians included) that you cannot do this, the conditions for obtaining a temporary stay (ie. extended stay) are not set up for tourists wishing to prolong their stay.
Immigration in Croatia is handled by the police. They have a counter at the main police station in Split. We went there last summer to get some information but they are not really set up for that. They mentioned something about a lease and gave us the forms necessary for the temporary stay. They weren't very helpful however nor did they seem to speak English. We left a little deflated.
We decided to see a local lawyer. Ana Marinović Tarabarić at Hanžeković & Partners (Updated: she now works for her own. Her email: [email protected]). I recommend getting a lawyer if you want to obtain a temporary stay – you'll need it.
Ana informed us of the conditions required to obtaining a temporary stay:
A) Buy a property in Croatia
B) Establish a company in Croatia
C) Get a maximum 1 year stay with the lease of an apartment in Croatia.
Neither A or B was of interest to us at this point.
Permanent Residency: Our other question was if there was any possibility of getting permanent residency leasing an apartment in Croatia (Lissette and I have both just turned 50 so we're starting to think about the future). There is: you can get permanent residency after 5 years, citizenship after 8 years. I'll be writing about the conditions for permanent residency in another post.
We decided that for now we would opt for Option C. It fulfills the main goal which was to have a temporary base in Croatia for a year.
---
---
Leasing an apartment in Split
The first step in the whole process of getting a Temporary Stay based on the lease of an apartment is, well, to find and lease an apartment. That might seem strange – ie. you are supposed to find an apartment and sign a lease not knowing if you are even eligible to stay. What if they refuse you? On top of that, rules stipulate that you are to pay for the term of the lease in its entirety. So you could theoretically have signed a lease, paid a year's rent…and be refused your Temporary Stay application.
Finding an apartment for long term rental will be your most difficult part of the whole Temporary Stay process. As we quickly found out talking to both locals and real estate agents, most renters in Split prefer to rent out their apartments short-term to tourists during the summer – in 3 or 4 months they can make the same amount of money as they would renting out long term. During the winter they leave the apartments empty or have family stay there when visiting.
Our criteria: 2 bedrooms, within 15 minutes walking of the old town, maximum rent 600 Euros/mo. We also asked (not a requirement but it would be a criteria in our decision) that we be able to bring our own furniture. One of the agents told us right off the bat that this would be impossible, that landlords want to rent their apartments "as is".
We weren't encouraged by anything people were telling us. But we decided to at least give it a chance.
---
---
How to find an apartment. A local friend recommended we check out the Croatian classified site njuskalo. When we browsed the site in January there were very few options and most of the ads were listed by real estate agents. We decided we'd contact a few real estate agents directly and have them search for us. The first 3 agents we spoke to were disheartening, all repeating what I've mentioned in the paragraphs above. They sounded like they were trying to discourage us.
Out of desperation I looked for other agents. That's how I came across Sandra at Cio-Nekretnine. I wrote her by email and gave her our criteria. She told me that long-term rental is one of their specialties. She didn't give me any lame-ass stories about how everything was impossible. She said she would look into it and get back to me within a few days.
She contacted me the next day, saying she had 2 apartments to show us. We met her that afternoon. Both apartments were within 10 minutes of the north gate of the palace.
The 1st was modern (recently renovated) with 2 smallish bedrooms, a smallish but renovated kitchen/dining area…but there was no balcony to speak of and there was no room for any of our furniture. It was located very close to the main courthouse. Price 500 Euros/mo.
The 2nd apartment won us over. It was in a beautiful building that was well-maintained. Marble stairs led to the apartment on the first floor. The apartment itself was spacious with 2 large bedrooms. There were 2 negatives: no balcony at all and lots of crappy old furniture that should have been thrown out years ago. But the apartment had tons of potential. Price 500 Euros/mo. When asked, the owner said he could move some of the furniture out of the apartment into storage but that we'd have to pay for the moving and monthly storage.
When leaving I asked Sandra if she had any apartments available in the Bacvice area. She told me that she didn't have anything listed but that she knew someone and would contact him.
The following Monday Sandra contacted me to tell me that I could see an apartment in Bacvice.
Bacvice is a beautiful neighborhood, one of the most desirable areas in the city because of its proximity to both the old town (15 min) and Bacvice beach (2 min walk away). The apartment is on the 1st floor of one of the typical mansions you see in Bacvice. The apartment comprised of 2 large rooms, both facing out onto a huge terrace. The Terrace looked out onto a large garden and was surrounded by trees (including a palm tree) for privacy. I was pretty much blown away. But there were two negatives: 1) there was only one bedroom, 2) the owner, a very friendly man who I liked instantly, mentioned wanted to sell the apartment over the next year. So chances are we could not renew after the 1st year. Another positive: a huge, empty storage space in the basement. We could bring our furniture from Canada and move some of his furniture downstairs if we wanted. Cost of the apartment: 600 Euros/mo.
---
---
So we had 2 apartments to choose from. We ended up going with our hearts and also what our gut was telling us – the apartment in Bacvice.
Just to give you an idea of the time frame: we had an apartment within 3 weeks of starting our search. The first 2 weeks (without Sandra) we didn't have any visits. After contacting Sandra we had 3 visits over the space of a week. It took us a few more days to decide to go with the apartment in Bacvice.
Note: We (the renters) paid a commission of 1 month's rent to Sandra. That's standard in Croatia.
How perfect is this apartment for us? After spending a bit more time with our new landlord, he's told us that he'd like to continue renting to us in the future. So he's had a change of heart about selling. That works for us. He's also told us that we could rent out the apartment when we are travelling (he used to rent on Airbnb but he said it became too much work). It just so happens that our friend Vedran, who owns the apartment that we've rented on all our visits to Split, lives 1 minute away from our new apartment. So he'll be taking care of renting it out when we're away. Finally, our storage space in Montreal (which has been costing us close to $300 CAD/mo for the last 3 years) will be emptied out and our stuff shipping to Split. Whatever doesn't fit in the apartment will go in the large storage in the basement.
So we found an apartment. What's next?
---
---
The Lease and having it notarized
A requisite for the application for a Temporary Stay is that the lease be notarized and that rent prepaid for the full term of the lease. The Lease will be included in the application for Temporary Stay that will be given to the police so you have to make sure that everything conforms.
Here's where you absolutely need a lawyer.
In our case (in most cases) the lease was prepared by the real estate agent in both Croatian and English. The Lease was then reviewed by our lawyer and requests for changes made.
The most important points:
1) The lease has to state that full rent be paid at the conclusion of the signing of the lease.
2) It is very important that the Lessor has all the paperwork giving him/her the legal right to rent an apartment to you. In Croatia property is passed on among family and the proper paperwork isn't always filed. In our case, the apartment was still officially in the name of the Lessor's aunt. The Lessor had to provide a notarized letter of power of attorney proving he had authority to rent out the apartment. This is especially important if you are a foreigner renting an apartment and applying for a Temporary Stay where the police will pay special attention to make sure all is in order.
It took a few days to get the lease completed to everyone's satisfaction.
Having finalized the lease, we went to have it notarized in a government office (our lawyer had set up the appointment). We went with our Lawyer Ana, our agent Sandra, and the Lessor. There was a lot of copying of documents, signing and binding, followed by having to pay the notary 85 Kuna. It all took about 30 minutes. The only additional piece of information required by the notary were our Croatian identification numbers. Once she had our ID numbers the lease could officially be filed.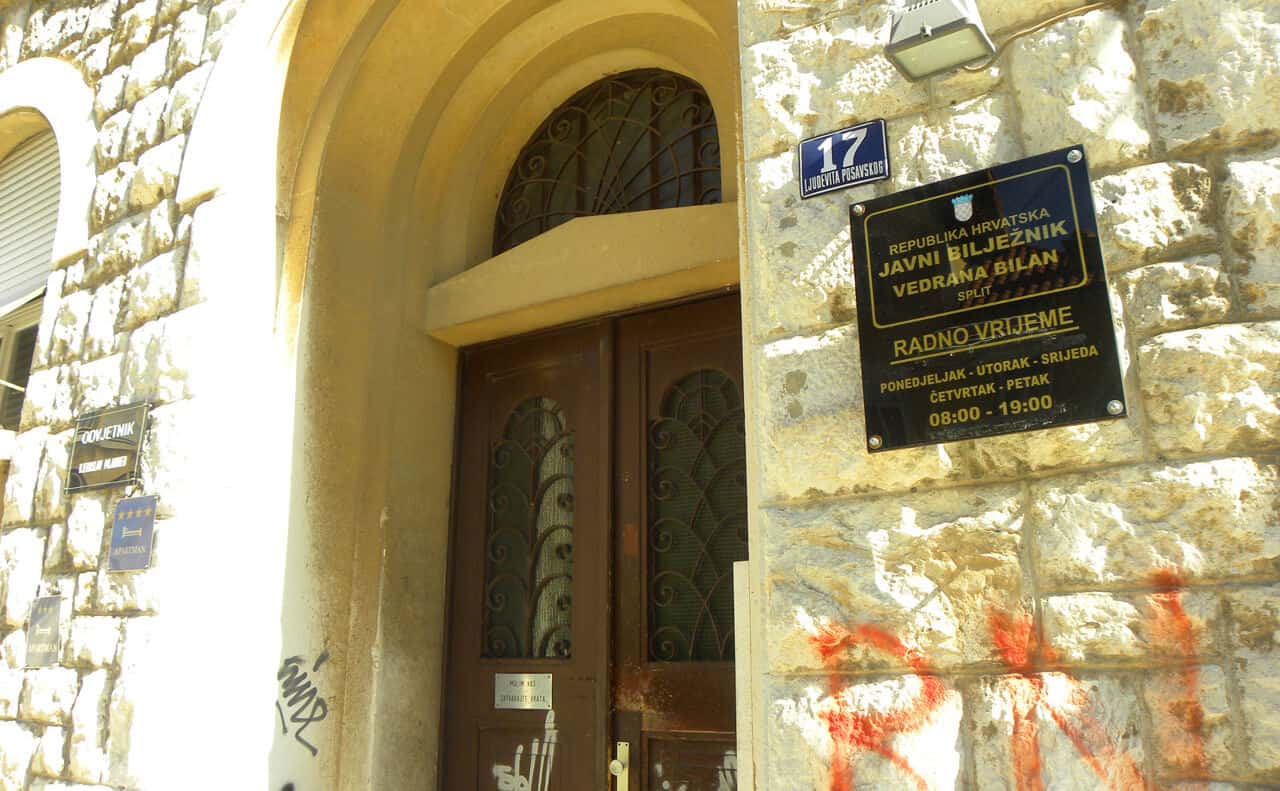 ---
---
Croatian Identification Numbers (OIB)
The next day Sandra took us to a government office to get official Croatian Identification Numbers (she didn't have to do that but she did). Required documents: the signed Lease, copies of our passports, and a form that we had to fill out (which was only in Croatian – it really helped having a local with us).
They'll print out a letter for you that includes your new Croatian ID numbers. This is very important and you will eventually need to include a copy of this letter with your application forms for Temporary Stay that you'll be giving the police.
Once I had our ID numbers, I wrote the lawyer who informed the notary. Including the numbers, she could then officially file our Lease.
.
---
---
That concludes Part 1 of the "Temporary Stay" process. The most important things gained here:
1) Having found an apartment
2) Having a signed and notarized lease
3) Obtaining your new Croatian Identification numbers.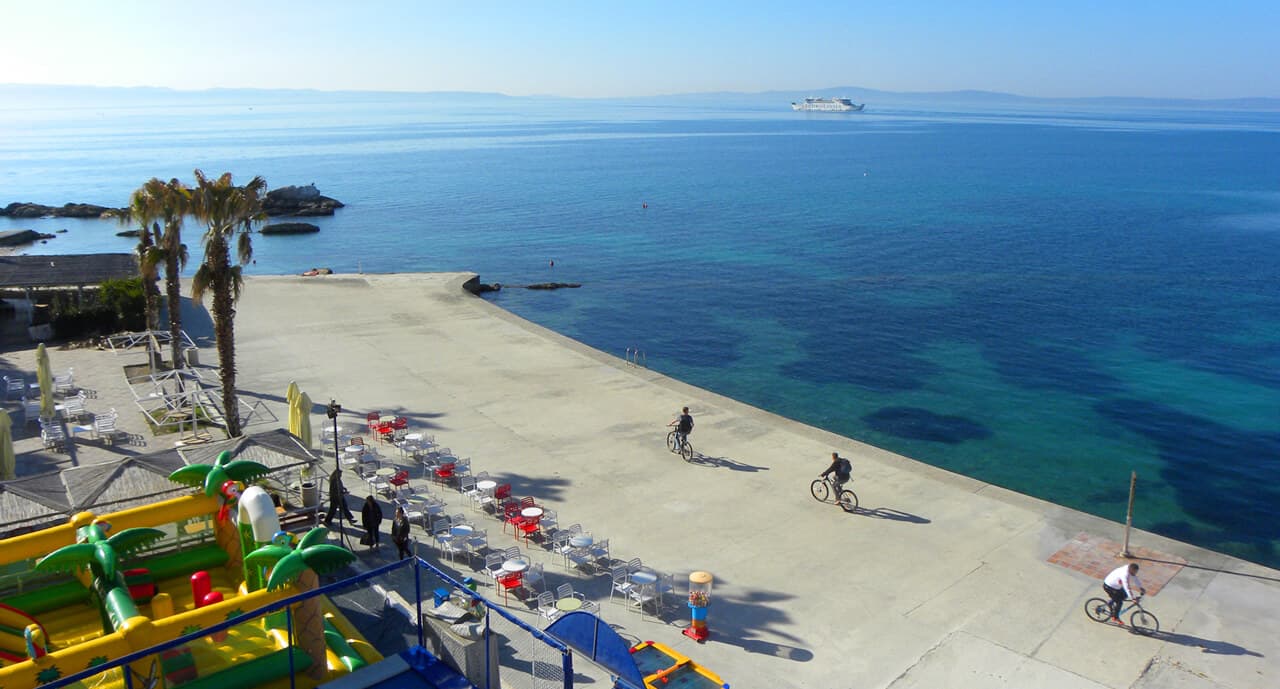 .
If you've gotten down here thank you for reading. There's a lot of detail above and I'm sure for a lot of people it's boring. But I hope it helps out others who are curious about getting a Temporary Stay in Croatia.
Have you gone through this process in Croatia? Would love to hear your story.
Ps. If you find our blog helpful, please consider using our links to book your flights, hotels, tours, and car rentals. Have a look at our Travel Resources page.