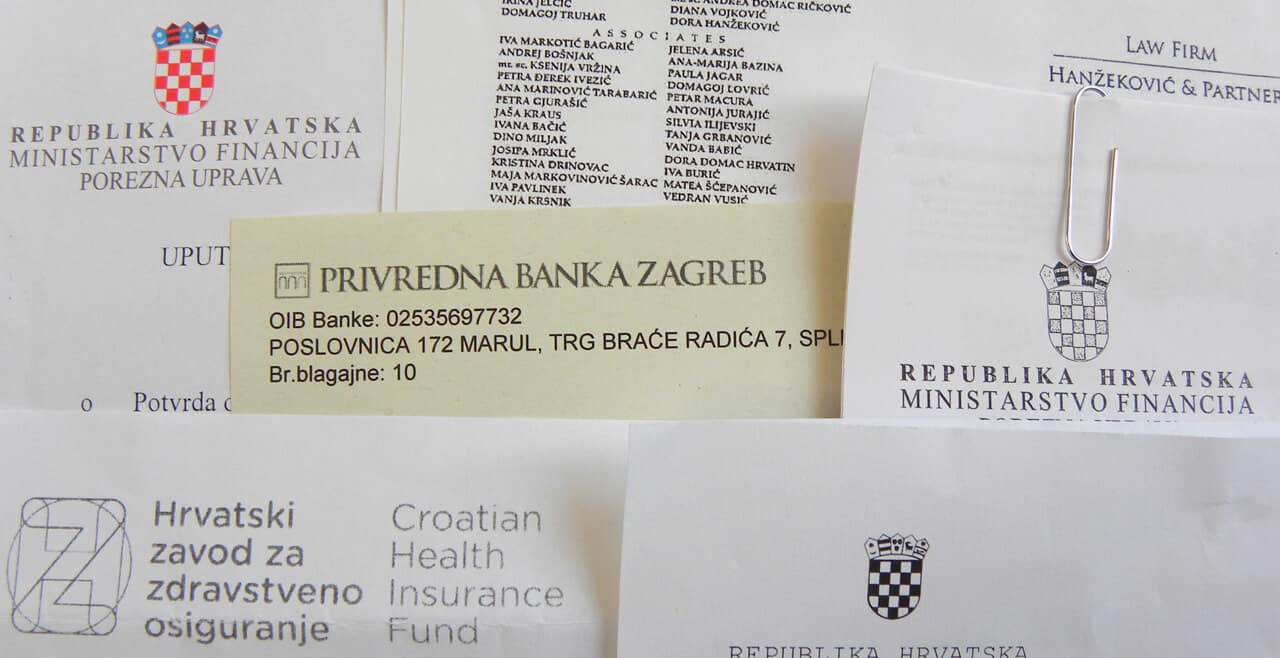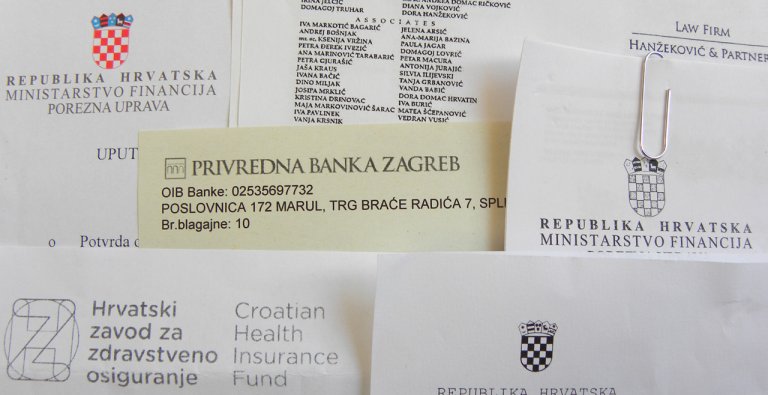 Getting a Croatian 1 year "Temporary Stay" in Split: Part 2
In Part 1 of our experience in obtaining a 1-year Temporary Stay in Croatia, I covered: 1) the conditions for getting a prolonged stay, 2) finding an apartment in Split, 3) having a proper lease and getting it notarized, 4) obtaining your Croatian Identification Numbers (OIB).
Knowing and having all the above, you are now ready for filing the paperwork required for your Temporary Stay.
---
---
.
Forms and required documentation
I've mentioned that you will have to file you application for Temporary Stay at the police station. Here are the forms and documentation required:
– The application form (we got it at the police station but you can find it online here).
– health insurance showing your current coverage. Note: our coverage ends 4 months after our application date, which leaves 8 months uncovered. This doesn't seem to be a problem though because, as we would find out, you are obligated to join the Croatian Health Care system once a temporary resident (note: prepare for a shocking cost if you are coming from a non-EU country. That will be covered further below).
– Proof of sufficient funds. We have savings and gave them a copy of our mutual fund statement. They seem more interested in current monthly income however. "Sufficient funds" depends on the number of family members: for one person it is 2,000 kn/mo, for 2 it is 2,750 kn/mo, for 3 it is 3,250 kn/mo (and goes up 500 kn for every other family member).
– 2 photos
– our newly notarized lease (as detailed in Part 1)
– copies of the letters containing our Croatian ID numbers (OIB)
Note: although the application form is bilingual, we were told by our lawyer that the answers had to be filled out in Croatian. It was a bit funny: she used "wite-out" to cover my writing, then wrote out on a piece of paper what I had to write in Croatian. I rewrote my answers on the forms in Croatian.
Once filled out, and with all the documents in hand, we went to the Police station (with our lawyer Ana) and submitted our paperwork. You have to make sure all applicants show up in person with their passports in hand.
We were told at this point that it would take 30-35 days to get an answer on our Temporary Stay application and that, if we were refused, we would have 8 days to leave the country.
---
---
.
Follow ups and opening a Croatian Bank account
A week after submitting our forms I received a phone call from the Police Station. The main question had to do with any dependents that we planned on bringing into the country. They seemed satisfied when we said we didn't plan on bringing anyone over.
Two weeks later (ie. 3 weeks after submitting our application) we received a letter from the police asking us to come in for an interview and sign a declaration. We went with our lawyer and brought all our documents. After showing our passports and our marriage certificate, a form was printed out (in Croatian), which our lawyer checked before we signed. As I mentioned previously, you need a local lawyer to get you through this process.
The last requirement required by the police: opening a bank account with a Croatian Bank and depositing the "sufficient funds" stated above – in our case 33,000 kuna (2,750 kn * 12 months).
Our recommendation: go to PBZ bank. We first went to Zagrebačka banka (the largest bank in Croatia) and they had issues with their online form*. Our 30 minutes there were wasted. We then went to PBZ (Croatia's 2nd largest bank) where we were treated very well by extremely competent staff (see Andrea at the branch in the old town – the nicest bank employee we've ever met anywhere). It took us about an hour to open up a bank account, requiring passports and tax numbers (US tax number for Lissette, Canadian SIN numbers for both of us).
*Note: If you are a US citizen, expect to have a harder time opening up a foreign bank account. Zagrebačka banka's online form couldn't handle Lissette's info (for some reason I don't understand) and even PBZ had issues. We were told that there are increased regulatory issues on American citizens opening up foreign bank accounts and that Lissette's dual citizenship actually complicated matters.
With the bank account open, we deposited the required 33,000 kunas. We asked for a printout of the bank statement showing the amount and went to our lawyer's office. They made copies. One of the lawyer's assistants then went to the police station to submit the copy to the police.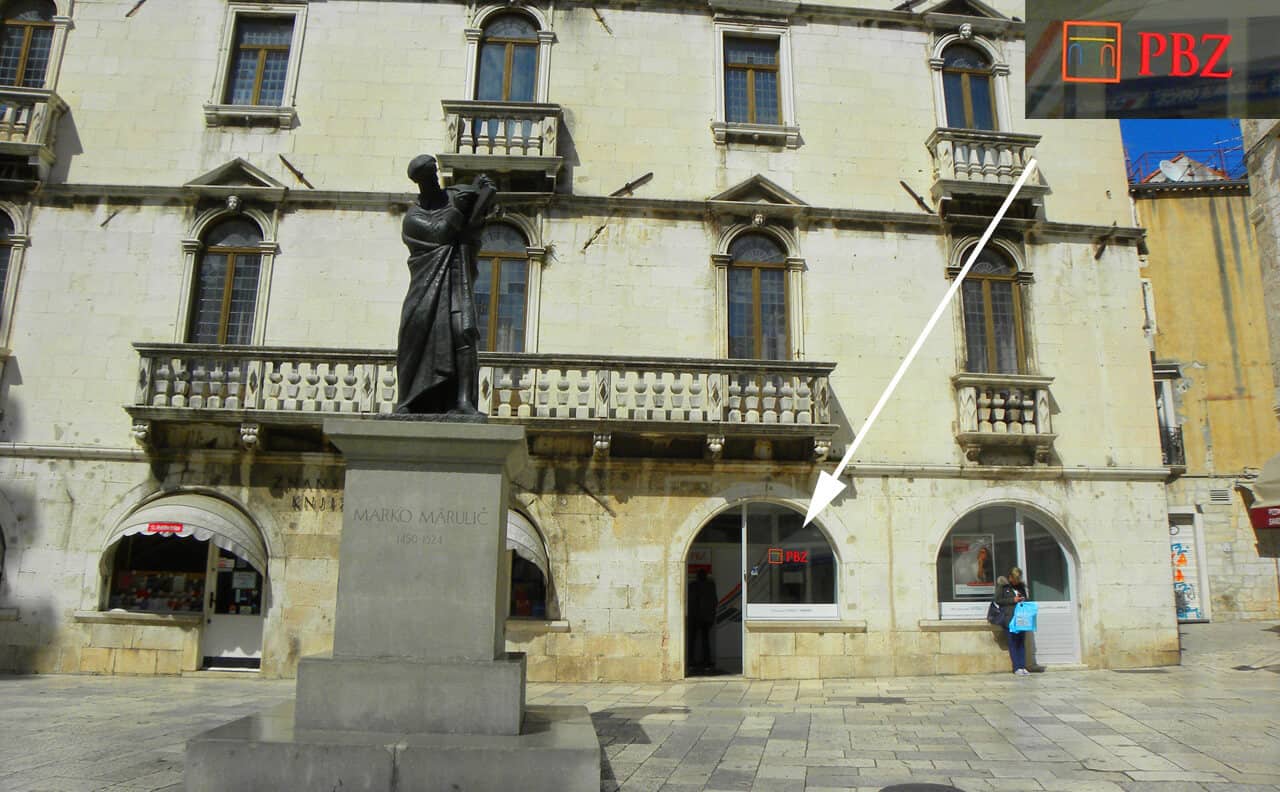 ---
---

Acceptance…and more paperwork
About 10 days later, a total of 34 days from the date we had filed our forms, we received notification from our lawyer that the police had approved our 1 year Temporary Stay in Croatia. Woo Hoo!
Once more, we went to the police station with our lawyer Ana. However, before being able to get our Croatian Identity cards we needed to:
1) Have photos done (for the cards)
2) Pay invoices given to us by the police. Total: 590 kuna each (350 kuna fee for the issuance of the temporary residence certificate and 290 kuna fee for the preparation of the biometric residence permit ie.ID card)
Note: Croatian government departments don't seem to be connected to each other, including to their Finance department. So when you pay for an invoice issued by the Police Department (the "MUP" as called in the local lingo), you have to take it to your bank (or pay online which is cheaper – Croatian banks charge a large commission). You then have to ask for a confirmation of payment from your bank which you bring back to the Police Station. We had to go through the same thing later when applying for our Croatian Health Insurance (at the HZZO).
A few days later, we came back to the Police dept with a) our receipts of payment, b) photos. We were then fingerprinted and given a receipt which was our Temporary ID card. It would take about 3 weeks to get our official ID card.
It felt pretty good to finally receive the card. My first identity card from anywhere outside Canada (with a few personal details blanked out).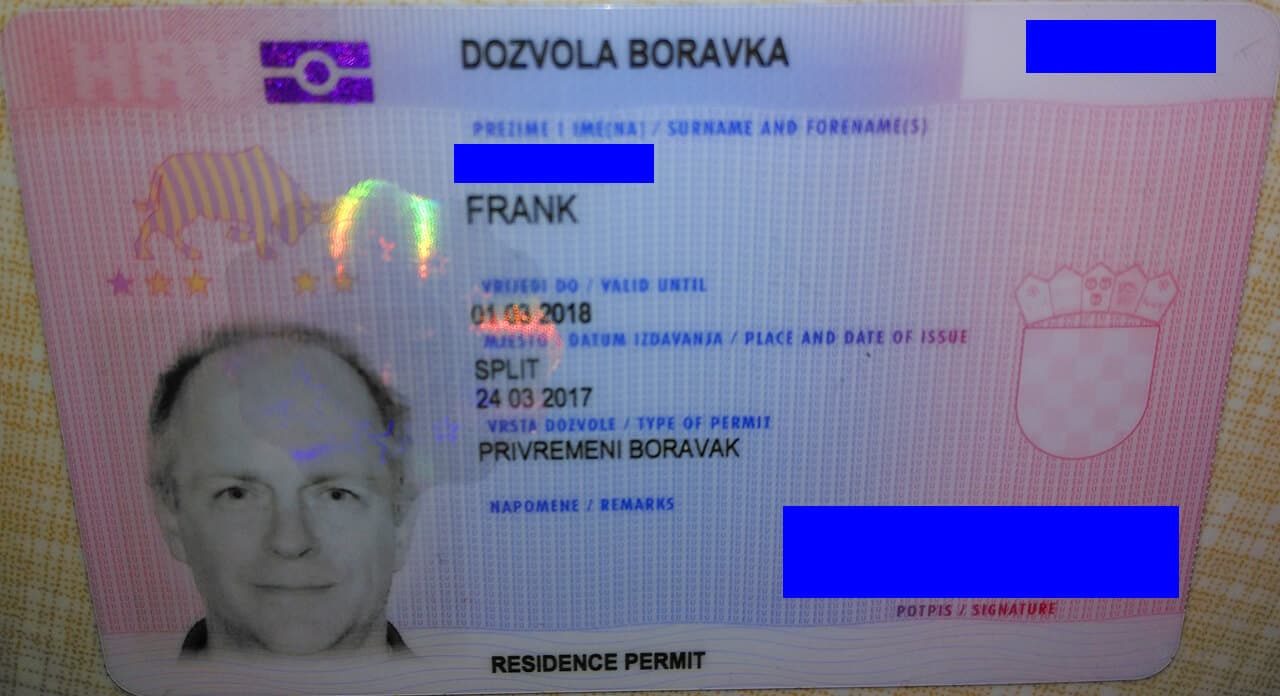 ---
---
Signing up for Croatian Health Care
We were told that we had to sign up for Croatian Health Care and that the cost would be 450 kuna per month (that $90 CAD or $65 US). What we didn't know was that as non-EU citizens we had an introductory one-time fee of 5293 kuna (about $1000 CAD) each – this amounts to the fee for a whole year. Ouch!
The good thing about Croatian Health care (which reminds me in many ways of Canadian Health Care) is that it is valid in all EU countries. In addition to your Croatian card, you can get a free EHIC card (European Health Insurance Card) at any of the branches of the Croatian Health Insurance Fund (or "HZZO"). So if anything happens anywhere in the EU, we'll be covered by Croatian Health Card just as if in Croatia. When travelling outside the EU you can get additional insurance at the HZZO (or at private insurers like Allianz) which is also backstopped by the HZZO.
For us that's all a good thing: having travelled full-time over the last few years we've lost our Canadian Health Insurance and had to take out Expat Insurance (with Allianz) which is quite expensive. We won't have to renew that.
The only thing that sucks is that one-time fee for non-EU citizens.
Anyway, how we signed up for Croatian Health Care:
– At about the same time that we received our Croatian ID cards we also received a letter from the HZZO (of course in Croatian) telling us to come to the HZZO to sign up and pay our invoices.
– We went to the HZZO building (on the waterfront below Marjan Hill) where they gave us the payment slips required to pay the invoices at the bank (for the above mentioned 5293 kuna each)
– We went to the bank, paid the invoices (the nice people at PBZ showed me how to do it on the smartphone – 2 kn commission as opposed to 75 kn per payment if you ask them to do it). They printed out a receipt of payment for us.
– We went back to the HZZO and the lady serving us filled out all the forms required. We signed. She then printed out a receipt which is also our temporary HZZO card until we receive the real thing (2 months we're told). But we are now covered by Croatian Health Insurance.
---
---
Summing it all up…and costs
So, in the space of slightly over 2 months we've found an apartment in Split (which we love), have been granted a 1 year stay, have Croatian ID cards, and are now covered by Croatian Health Care. We're all set.
Costs involved?
600 Euros – a month's commission to the real estate agent for finding us that apartment
650 Euros – to our lawyer for advising us, handling the lease and filing our Temporary Stay documents. She also went with us countless times to the Police Station and translated all documents and letters sent us by different government offices. Well worth the money.
85 Kuna – for the notary ($17 CAD or $12 USD)
1180 Kuna (about $230 CAD or $170 US for both of us (for ID and certificate) once accepted
10586 Kuna (about $2100 CAD or $1500 US for both of us one-time fee for Health Care as non-EU citizens)
It might seem expensive but we now have a foothold in Croatia (and Europe). We are told that renewing our "Temporary Stay" going forward will be much easier.
For us it is an investment in the future. We couldn't be happier 🙂 .
I hope our personal experience getting a temporary stay in Croatia helps anyone out there looking to do the same.
.
Ps. If you find our blog helpful, please consider using our links to book your flights, hotels, tours, and car rentals. Have a look at our Travel Resources page.