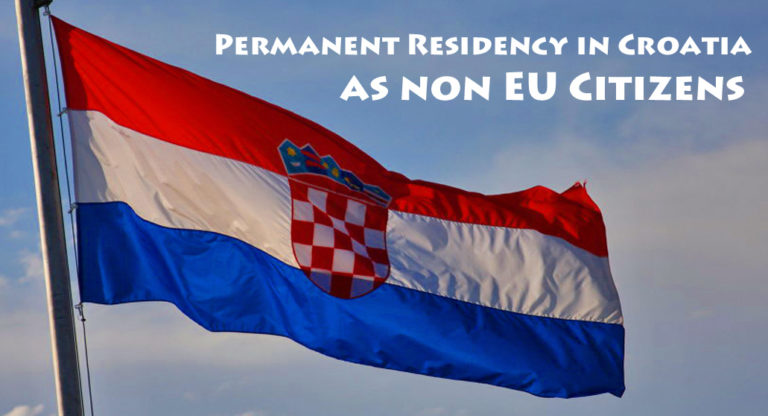 Working towards Permanent Residency in Croatia as Non EU Citizens.
I've previously written about how we obtained a 1 year Temporary Stay in Croatia. It was relatively easy and when the time came to renew the stay for a 2nd year we were optimistic. Consulting with several lawyers however, it became clearer that things would be more complicated the second time around. Looking even further ahead at the prospect of Permanent Residency gave us even more reasons for wonder if it was all worth it.
* Note: we are Canadian, and like Americans, fall under the category of Third-Country nationals (ie. Nationals of third countries are foreigners who are not nationals of European Economic Area (EEA) members)
Firstly, to get a new Temporary Stay for a 2nd year, we needed to go through the same procedure as we did in year 1, PLUS get a non-paying working contract. Huh you say? A non-paying working contract or, as our lawyer calls it "a volunteer contract" means you contact a volunteer organization and come to terms with them on some kind of contract to perform services (hours and conditions being whatever is agreed upon). Once you have that contract, you can apply for a non-paying working permit from the government. Once you have that, our lawyer(s) told us, you can apply for your 2nd Temporary Stay. We were told that if we were going to apply for more Temporary Stays in the future (up to 5 allowed) that we would need this volunteer contract (on top of the other conditions we had gone through on our 1st Temporary Stay).
Ok, so a bit of a pain but a "volunteer contract" (which is the "Humanitarian Grounds" reason to allow Third-party nationals to stay) is something that theoretically should not be too hard to procure. I'm sure a donation would grease the way somewhat to whatever working terms you can fulfill.
---
---
You'll find the different types of Visas in the link above. If you're a non EU citizen (ie. Third-country National), scroll down to the bottom where it says 'Everybody Else'. Our 1st year we filed under "Miscellaneous Visa", but that's only good for one year. The 2nd year we would have to file under "Humanitarian Grounds".
Longer term however – and the reason to get that 2nd Temporary Stay – we needed to understand the conditions for Permanent Residency.
Here is how the conditions for Permanent Residency were laid out to us:
– Permanent residency may be granted if you, at the time of submitting the application, have had possession of a temporary stay permit for an uninterrupted period of 5 years before the submission of the application.
– It shall be deemed that your stay in the Republic of Croatia has been continuous, without any interruptions, if your several-time absence from the country within a period of five years has not lasted longer than 10 months or if your one-time absence within a period of five years has not lasted longer than 6 months.
Application for permanent residence must be submitted at the police department/station authorized according to your place of residence, and the application will be decided by the Ministry of Interior.
Permanent residence will be granted if you:
a) have a valid foreign passport,
b) have the means to support yourself,
c) have health insurance,
d) know Croatian language and Latin alphabet and are familiar with Croatian culture and social organization,
e) pose no threat to public order, national security or public health"
Addendum Feb 17, 2018: I've been told through the Split Expat group that Non EU Expats living in Croatia on a Temporary Visa are not allowed to leave Croatia for more than 30 days on any given trip. Doing so could affect your application for Permanent Residency. This new law, which supposedly came into effect in late 2017, was cited by the Split Chief of Police. Of course there doesn't seem to be anything on that in writing anywhere so I can't confirm 100% that this is accurate. Welcome to Croatia.
---
---
After speaking to the lawyer, Lissette and I decided not to get a 2nd Temporary Stay at this point, therefore interrupting any chance of working towards Permanent Residency.
The major sticking points for us:
– Being out of the country a maximum of 10 months over 5 years. We both like to travel, plus I have family outside Croatia. Being limited to 2 months per year out of the Croatia over the next 5 years is not something I'm ready to do at this point in my life.
– You can only apply for 5 consecutive Temporary Stays. That means you better be ready to pass your Croatian language test after 5 years. If we were able to apply for more Temporary Stays (7 or 8 for example) we might feel more comfortable with the prospect of passing a Croatian language test at a certain point…but being locked into a maximum of 5 Temporary Stays means that we would have to be able to pass the language test in 4 years*. Being realistic we know that won't happen.
* Note: if you are 65 and over, you don't have to do the Croatian language test.
Basically, I guess you can sum at it as not being fully committed to the process at this point in our lives.
These were the major reasons we decided to give up on the idea of working towards Permanent Residency in Croatia.
Note: While writing the above we received some news that has spelled the end of our time in Croatia.
I wrote about that here: Goodbye Croatia. Love you but you really suck right now…
---
---