The Friendly Faces of Japan (and some pets)
If there's one thing that we'll never forget from our time in Japan it's the people. Always helpful and friendly, they go out of their way to make you feel welcome as a visitor.
This photo essay covers the many friendly faces we met along the way. You'll also see some dogs and cats. I don't think we've ever seen pets as spoiled as Japanese pets.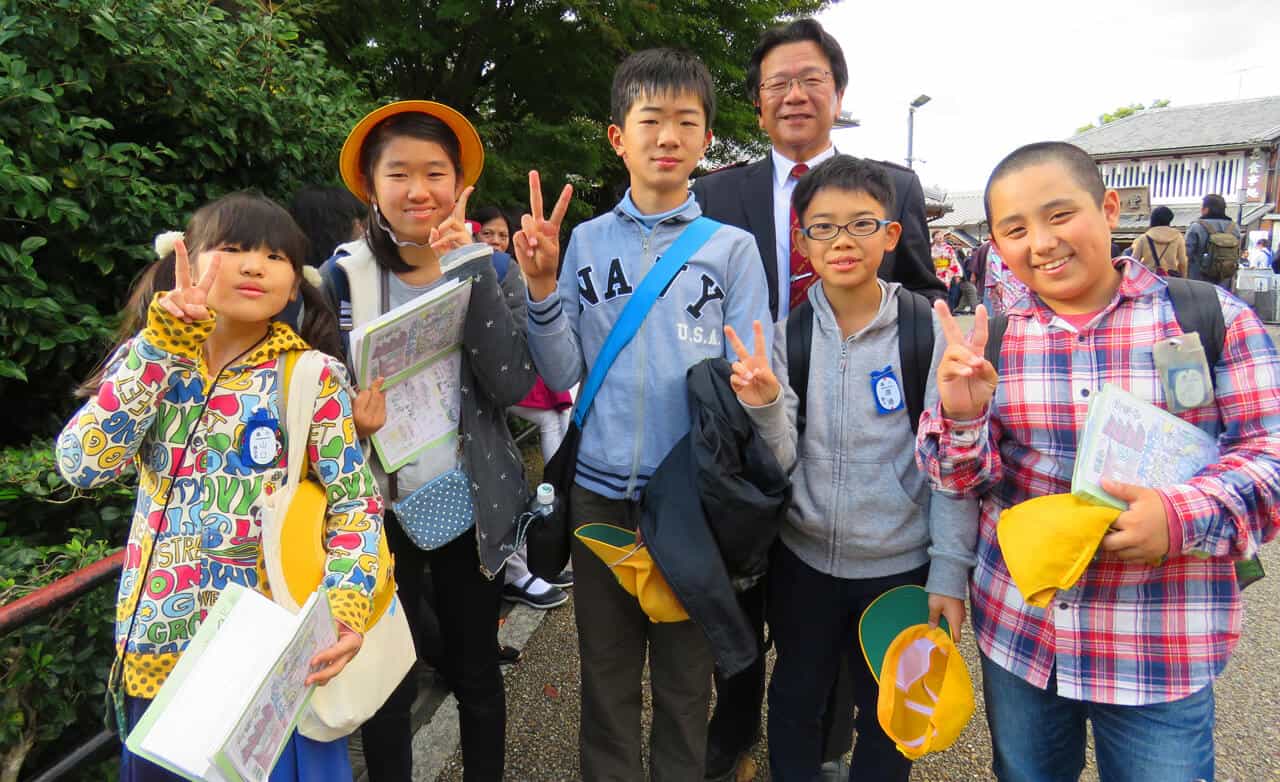 School group. If you're a foreigner wandering around you'll probably encounter them at some point. "Can we speak to you?" they'll ask. Accompanied by a teacher they're just trying to practice their English. In a few sites you might find yourself stopped several times…we always made time for the kids though.
You'll also see a lot of girls wandering around in kimonos, especially in Kyoto. They're tourists, most from other parts of Japan and wandering around in kimonos seems to be the thing to do. There are lots of stores where you can rent a kimono for the day.
Harajuku Girls in Tokyo. You'll find them in the Harajuku section of the city, an area known for its funky fashion.
Father and son in the small town of Tokayama, in Central Honshu.
More kimonos in Kyoto. This photo was taken just outside the Tenryu-ji temple near the Arashiyama Bamboo Forest.
Our host for the Tea Ceremony at the Keio Plaza Hotel, Tokyo.
Vendor in Asakusa, Tokyo
Friendly attendant at the Tokyo Skytree, Asakusa.
Related: Asakusa and Ueno – why everyone should visit Northern Tokyo
Above photos: the Meiji Shrine, one of Japan's most popular shrines and many people come here for various festivals and ceremonies. We were here in November and got to see young girls and boys celebrating Shichi-Go-San, a traditional rite of passage for three and seven-year-old girls and five-year-old boys.
People with their Pampered Pets
We've never seen as many dogs and cats dressed up in cute little outfits or being transported around in baby carriages or carried in people's arms. A little over the top? Yes, maybe…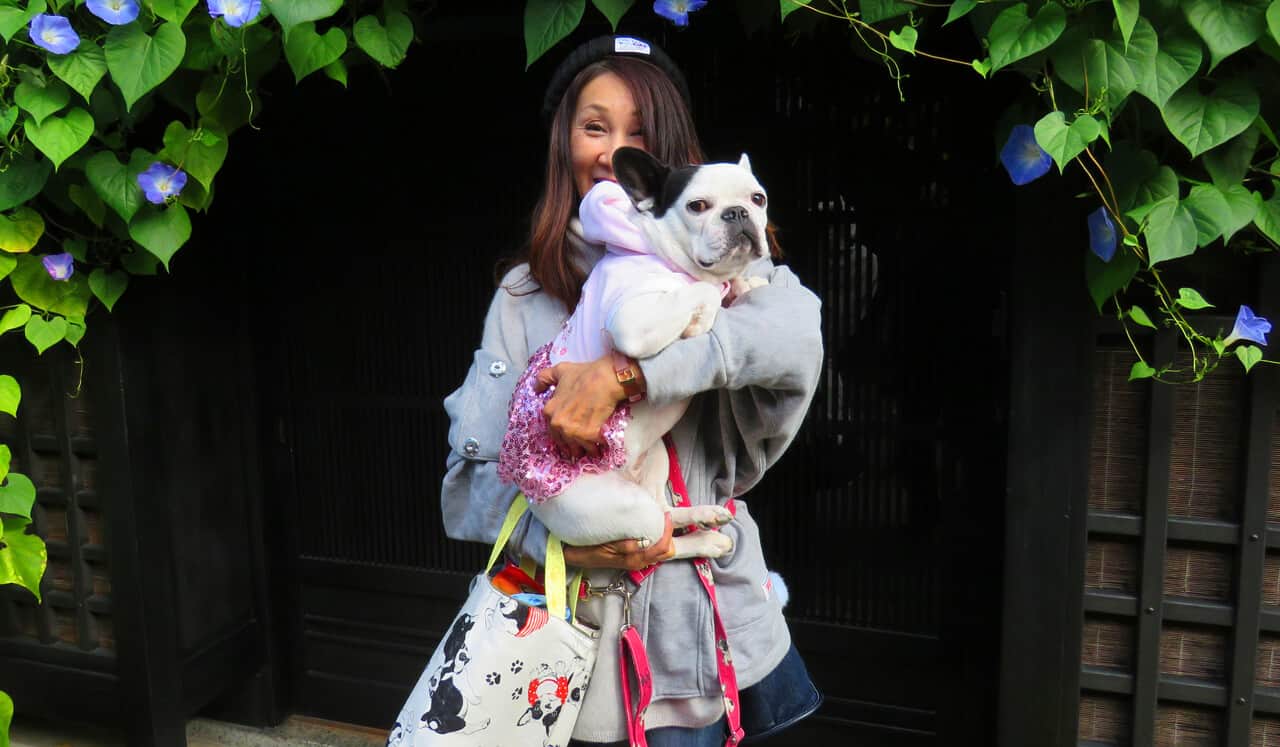 More People Pics
Performer in Ueno Park, Tokyo.
Girl dressed as Geisha, Higashiyama district of Kyoto.
Kids will always be kids, even if all dressed up in kimonos.
Characters outside Matsumoto Castle, Matsumoto (Central Honshu)
Cook in Kyoto restaurant.
Colourful kimonos at the Kiyomizu-dera temple, Kyoto.
Vendor in Kyoto.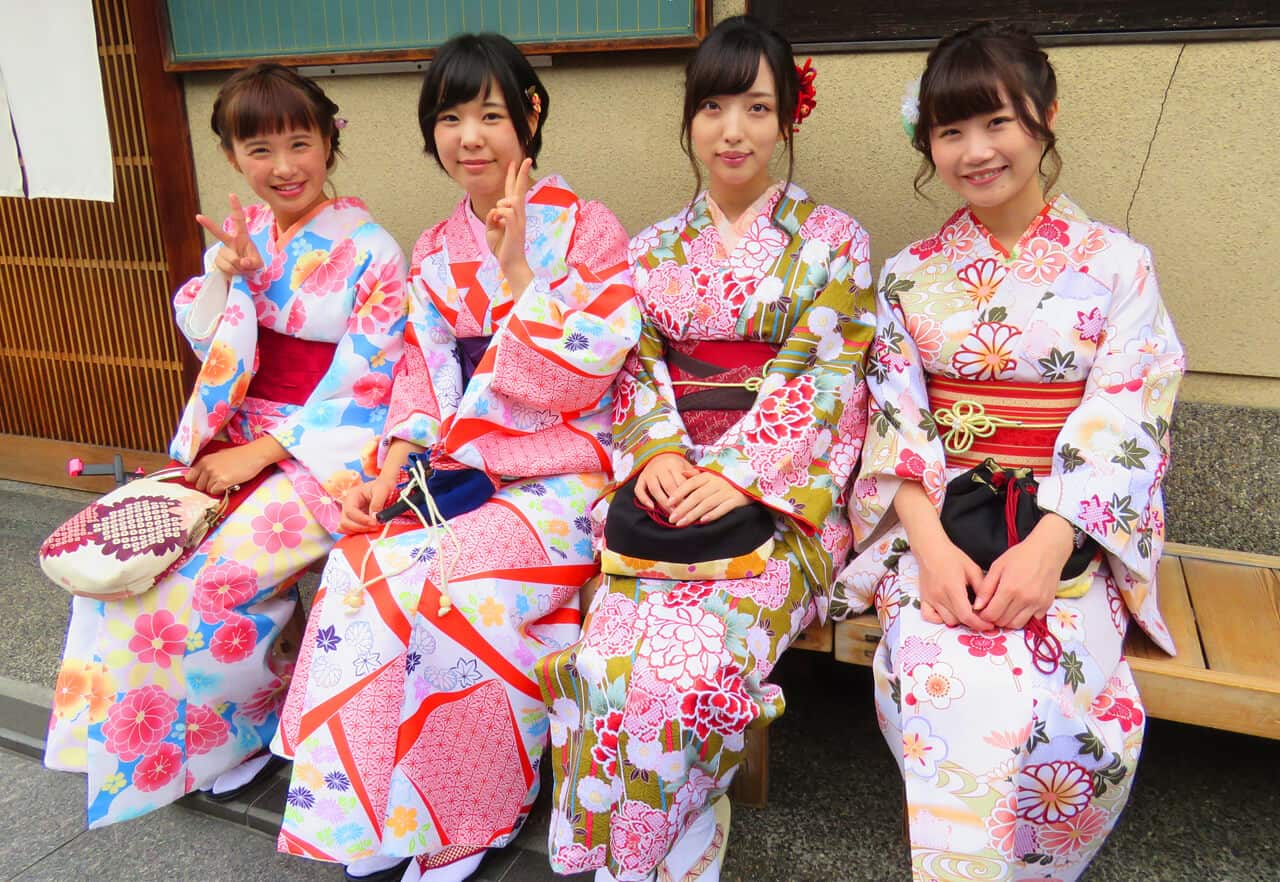 Girls in Gion district, Kyoto.
Above left: loved that dog, friendliest bulldog I've met. Above right: Man who befriended Lissette while I was off climbing somewhere.
Another pretty girl with kimono in Kyoto.
More school kids. They were from a small town outside Osaka (photographed at the Kiyomizu-dera temple in Kyoto).
Robot and kid at main train station, Kanazawa (Central Honshu).
Vendor at Sake store in Tokayama.
Friendly passerby in Asakusa district, Tokyo..
Japan is an easy country to photograph people – taking photos is the national sport and the Japanese don't seem shy when asked. Photo credit to Lissette, she's great at taking photos of people. Every single photo up above is hers.
.
Thank you Japan for your incredible hospitality and helpfulness. Your people make Japan a very special place in our hearts.
Ps. If you find our blog helpful, please consider using our links to book your flights, hotels, tours, and car rentals. Have a look at our Travel Resources page.