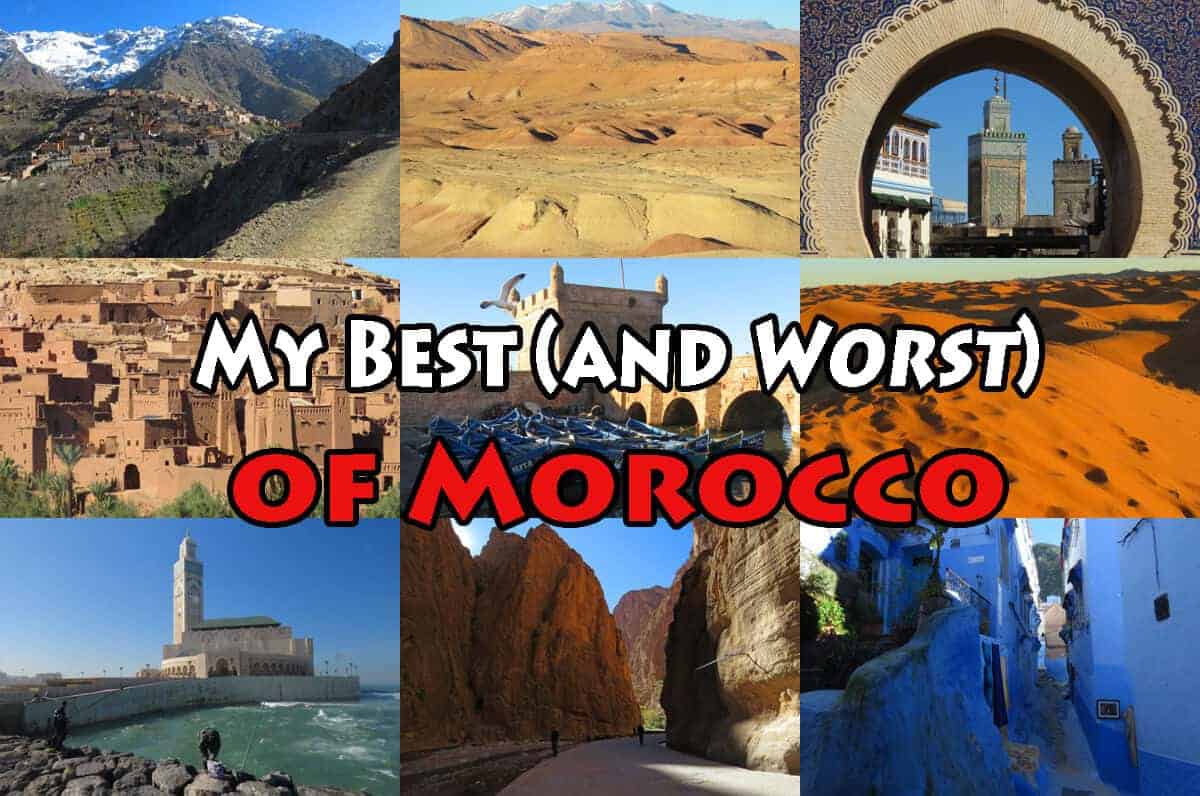 Updated October 2023
My Best (and worst) of Morocco, a.k.a why Morocco is one of the most beautiful places I've been but why I also hated many aspects of it, a.k.a why Morocco would be great if was uninhabited…
I could have many titles for this post. I spent 5 weeks in Morocco and half the time I hated it, the other half I loved it. It's a place that I think people should visit because they'll see and experience things that they'll never see or experience anywhere else. You'll probably leave feeling dazed and amazed – but also relieved.
---
Related: 5 weeks in Morocco (and on dealing with liars, scammers and bullshit)
---
This post covers things and places I loved in Morocco and well as the things and places I didn't like at all…
---
---
My Best of Morocco

The Geography
Morocco is up there with some of the most beautiful geography I've seen anywhere. Not just beautiful but varied geography: mountains, desert, coasts, gorges…
Here are my Top 6 Places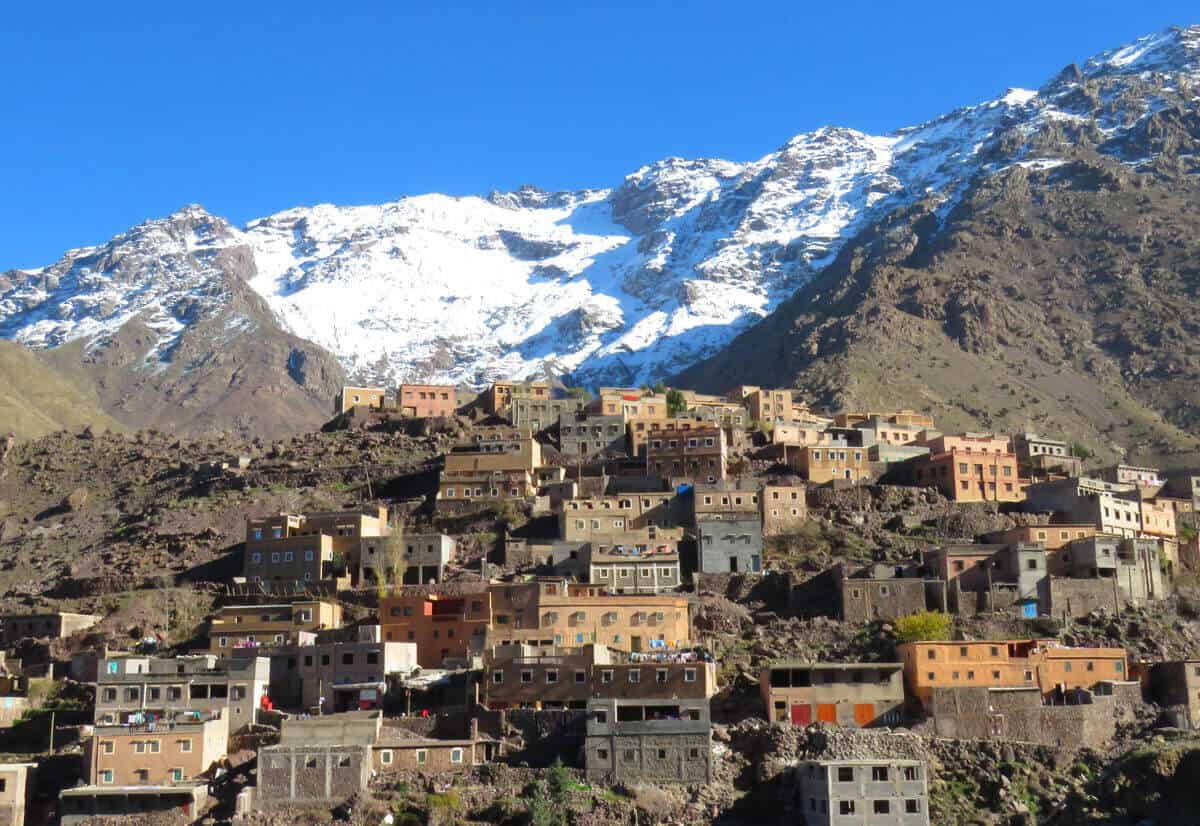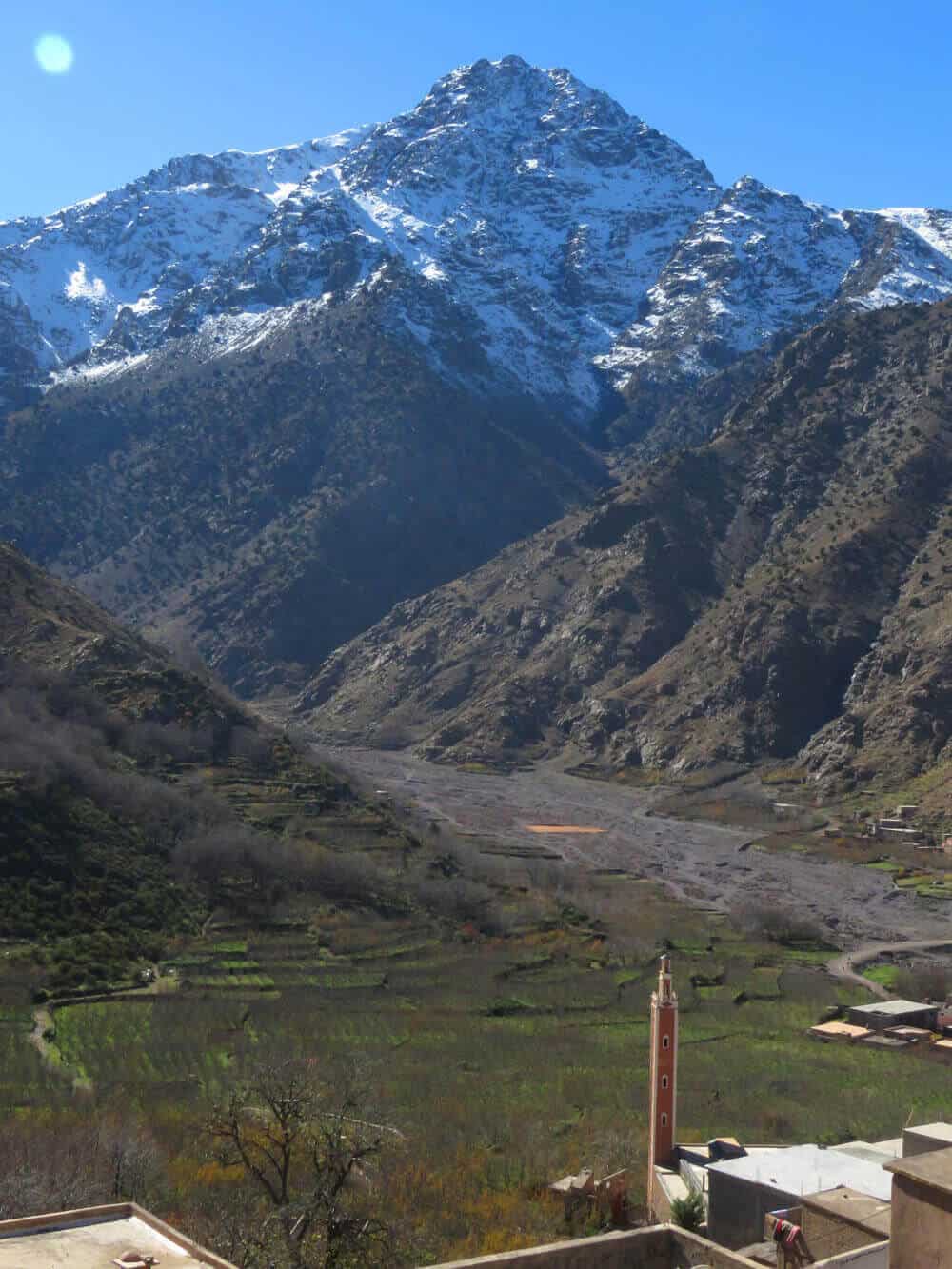 1. Toubkal National Park.
I spent 3 days hiking in the mountains just south of Marrakesh. The main gateway to the park is Imlil (1 ½ hours from Marrakech) but I really recommend that you go to Aroumd which is straight up from Imlil. It's a small town that looks out at the whole valley. The best way to get up there is by mule. The area has some of the best hiking I've ever done and the geography is varied: you'll have dry landscapes and bare rocks but you'll also pass through valleys where you'd swear you were in Switzerland but at non-Switzerland prices: my riad (ie. hotel) came out to $35 US (including meals) and the mountains guides I hired cost the same. Incredible. Lots of detail on my 3 days of hiking around Toubkal.
---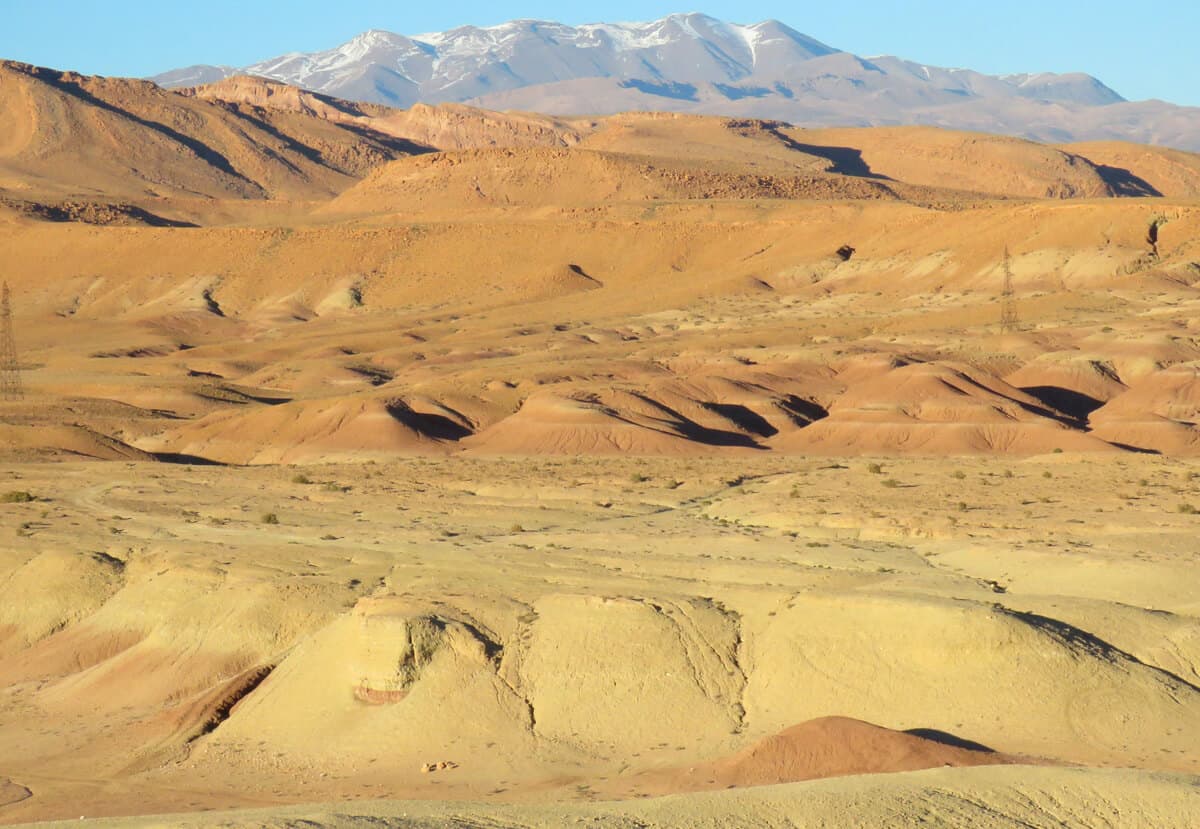 2. The Semi-desert landscapes on the way to (and around) Ait Benhaddou.
Coming from Marrakesh in the direction of Ait Benhaddou you'll go over the Tizi-n-Tichka pass. That's impressive enough. But instead of continuing along the main road after the pass, the road to Telouet is all semi-desert with red earth, plateaus, green valleys, snow-capped mountains and a river gorge that cuts through the landscape. It is stunning and you might not see anyone else along the way (it's a bit off the beaten path. Best to do what I did and get yourself a private driver from Marrakech). Getting from Marrakech to Ait Benhaddou. Make sure to stop at Kasbah Glaoui.
---
---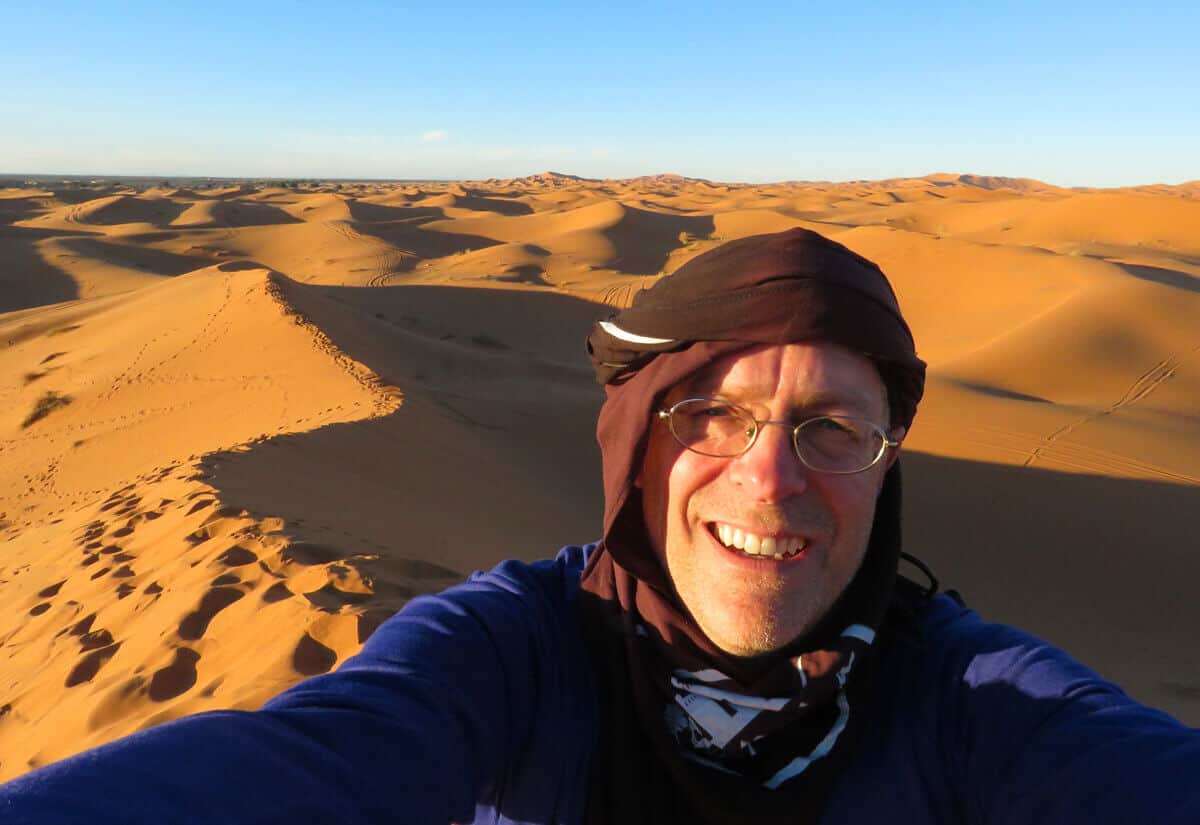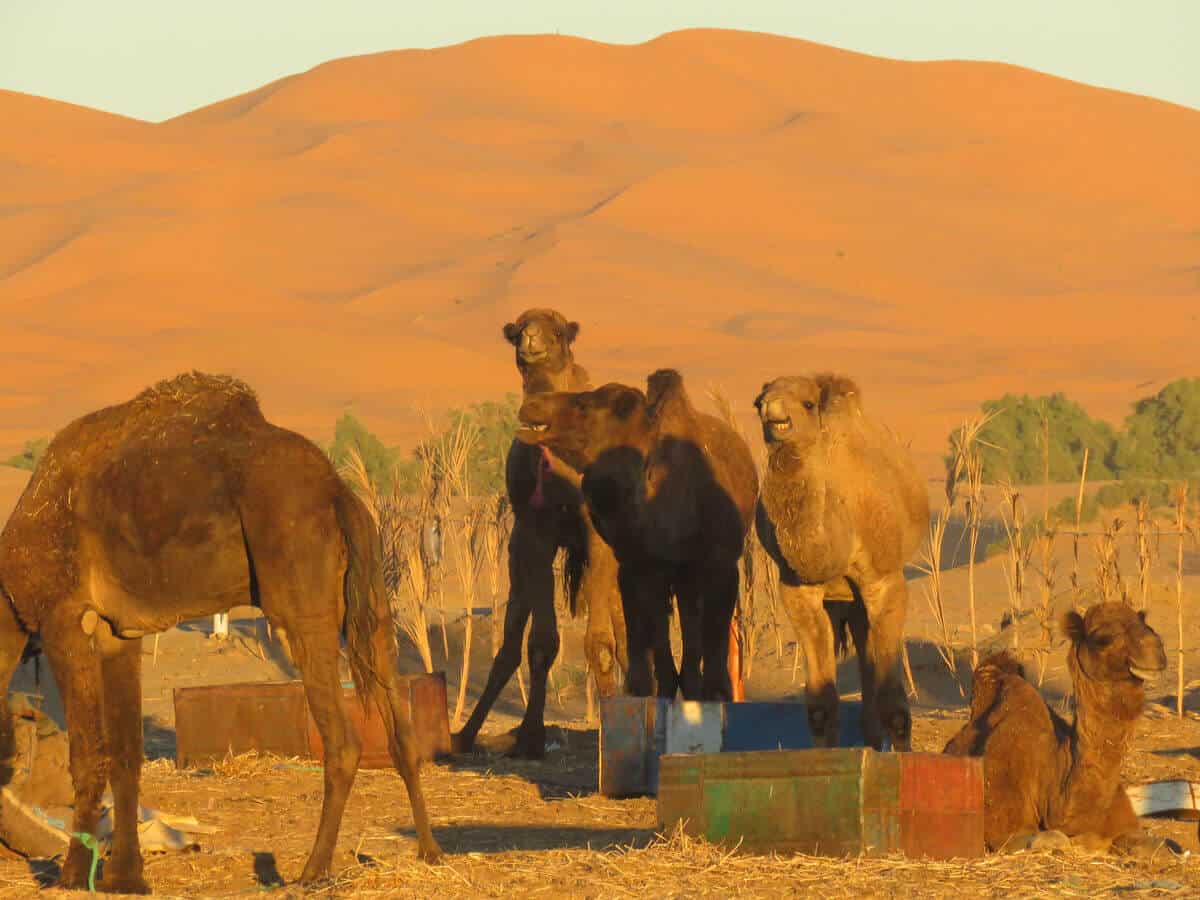 3. Merzouga.
Prior to Merzouga I had never been in the desert. I spent 3 days there hiking, taking camels rides, and driving an ATV. But I've never forget the stillness and solitude of the desert and my highlight was an afternoon spent walking through the desert and sitting on a dune looking out at the highest dunes in Morocco. Why Merzouga is a highlight of any Morocco trip.
---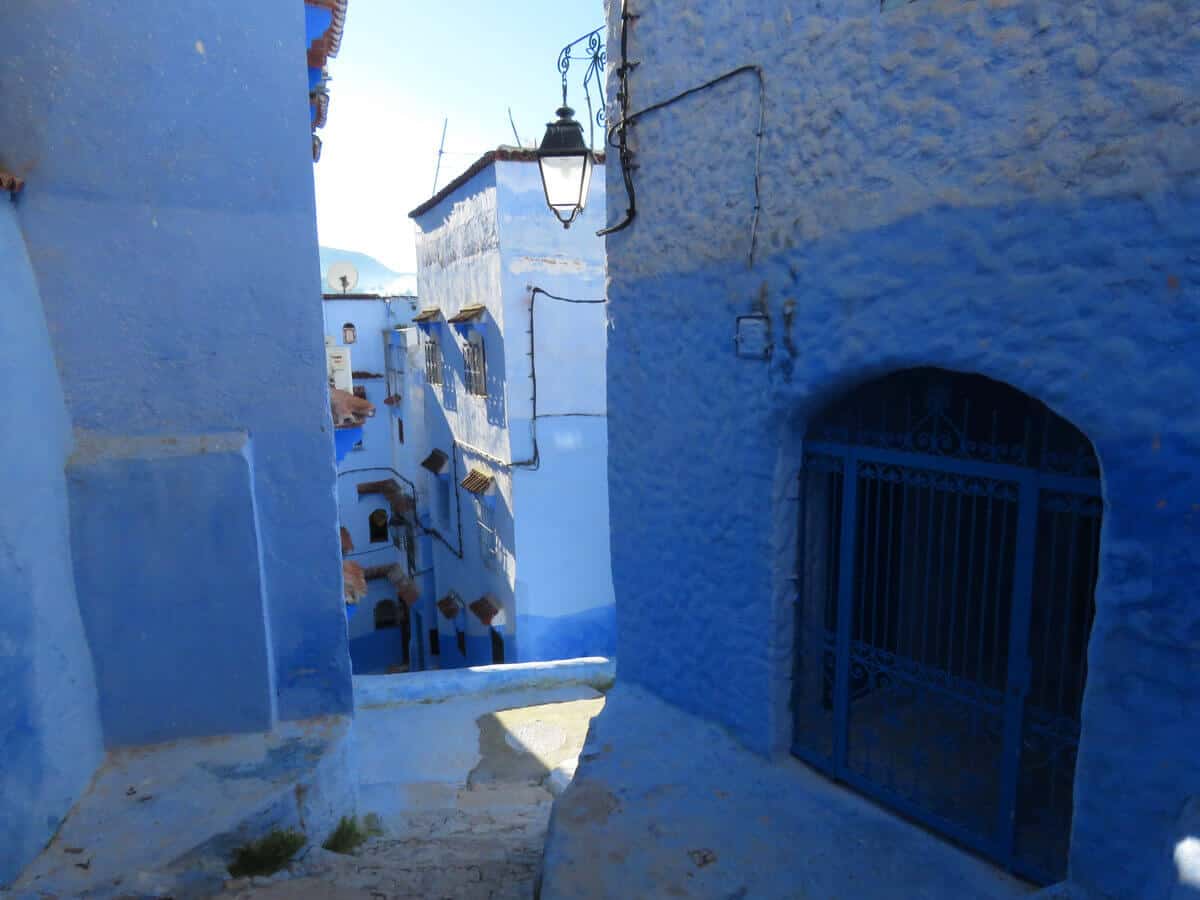 4. The Blue City of Chefchaouen

.
Nothing new here and if you know anything about Morocco you know about Chefchaouen. It's a favorite of Instagrammers which is reason enough to hate the place – if it wasn't so beautiful. It's one of those towns (like Guanajuato in Mexico) that you'll always remember. I'll remember Chefchaouen for having been bitten by bedbugs. Didn't stop me from loving the place though.
---
---

5. The Atlantic Coastline at Essaouira

.
I spent a week in Essaouira and would enjoy walking along the beach in the morning, looking at the rising mist over the Atlantic. There's not much to do in Essaouira and it is touristy…but it's a lovely, picturesque town with lots of history and a very different geography than what I saw anywhere else in Morocco.
---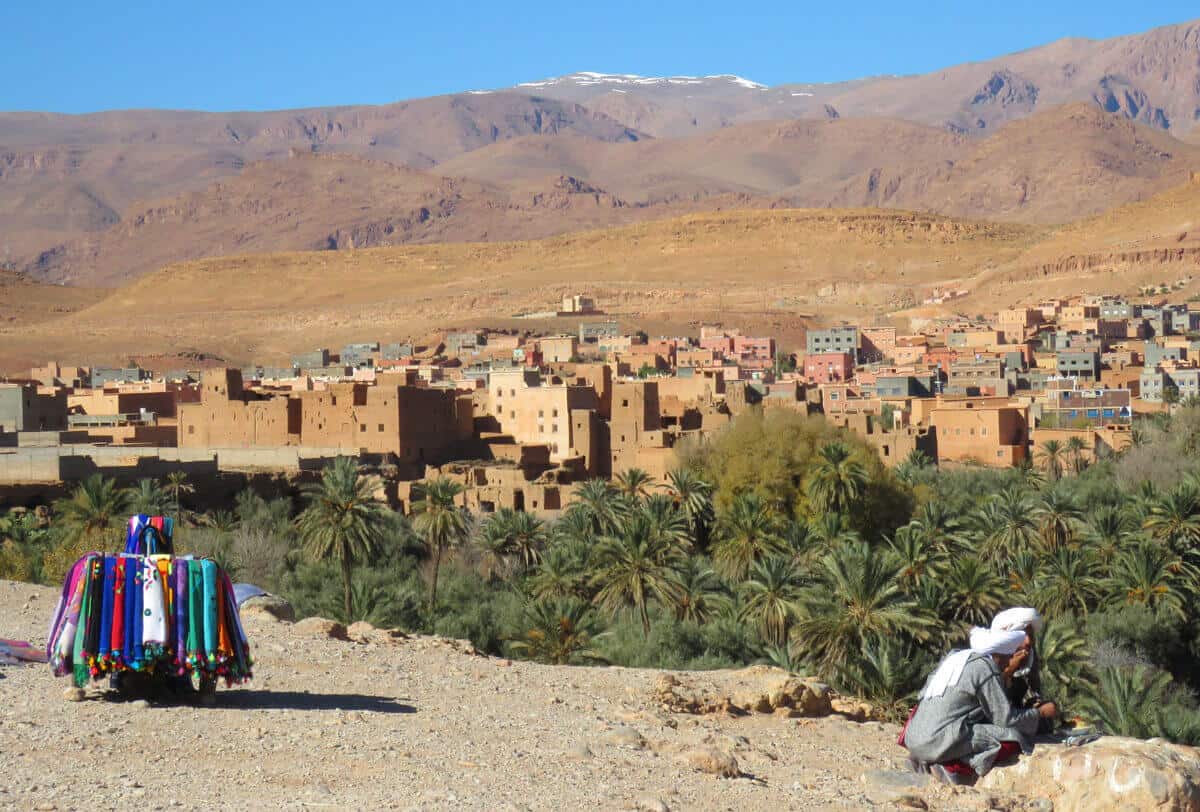 6. The gorges, mountains, and valleys on the road from Ait Benhaddou to Tinghir

.
More incredible semi-desert landscapes with gorges thrown in. Again, the best way to explore this route is with a driver. More on the landscapes and highlights between Ait Benhaddou and Merzouga.
Really, the geography that you see above was my absolute highlight in Morocco. My biggest advice is to leave the cities behind* and to get out into the countryside.
* I wrote about Fez and Marrakesh here. But Moroccan cities weren't a highlight for me.
But there were other aspects of Morocco that impressed me.
---
---
The Old Forts
Morocco has lots of old forts and palaces and most travellers miss them visiting the cities. Some of my highlights were Kasbah Glaoui (outside Telouet), Kasbah Amridil (near the town of Skoura), and the whole of Ait Benhaddou which is a fortified village and UNESCO world heritage site. I love the tilework that you see in many of the palaces, it is for me one of the most beautiful aspects of Moorish design (see the Saadian Tombs and El Bahia Palace in Marrakesh and El Glaoui Palace and Bou Inania Madrasa in Fez).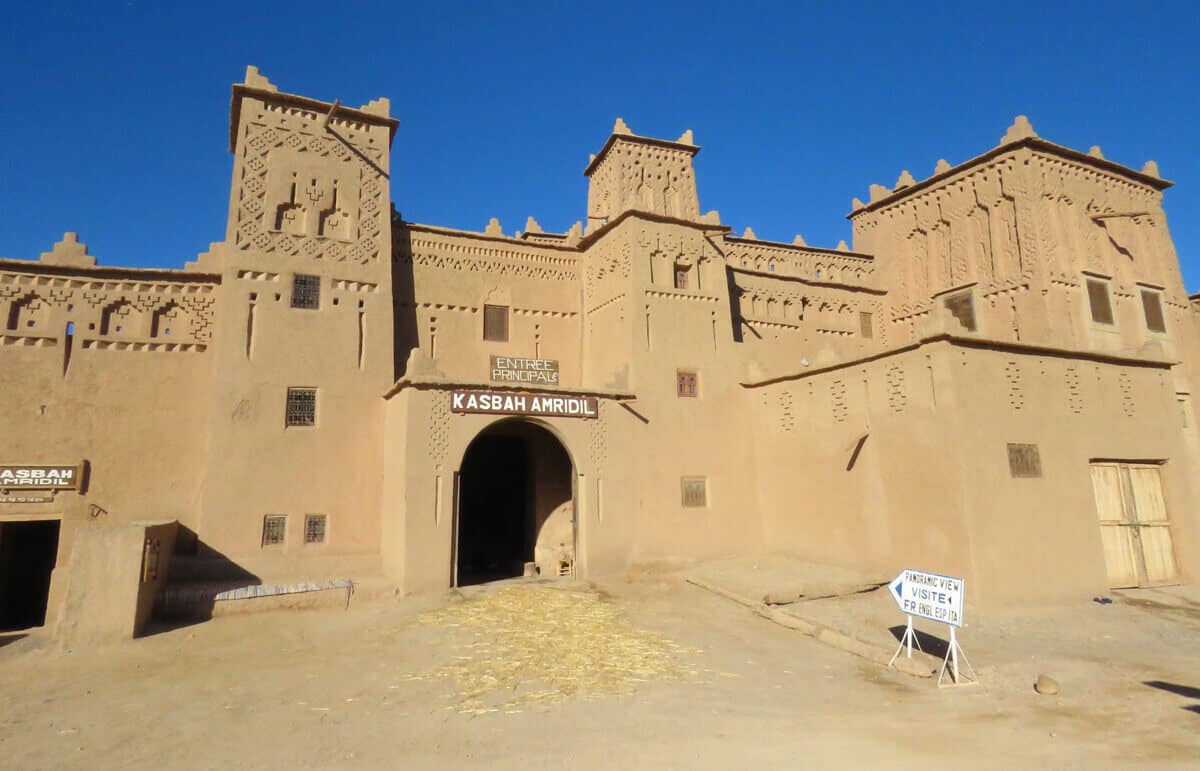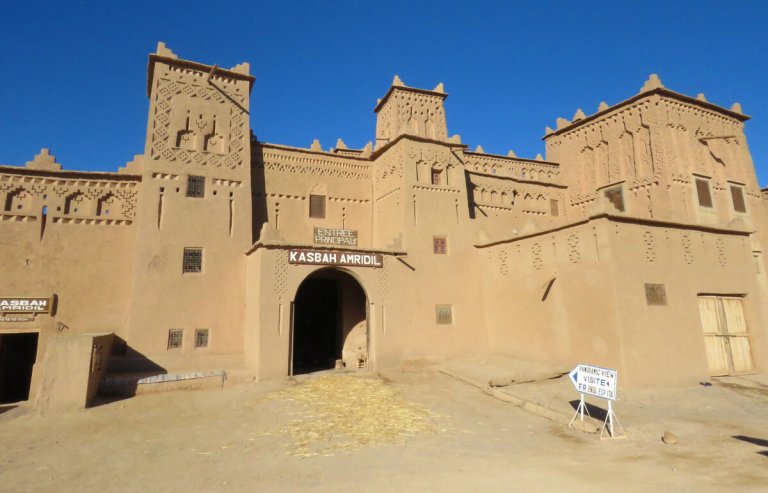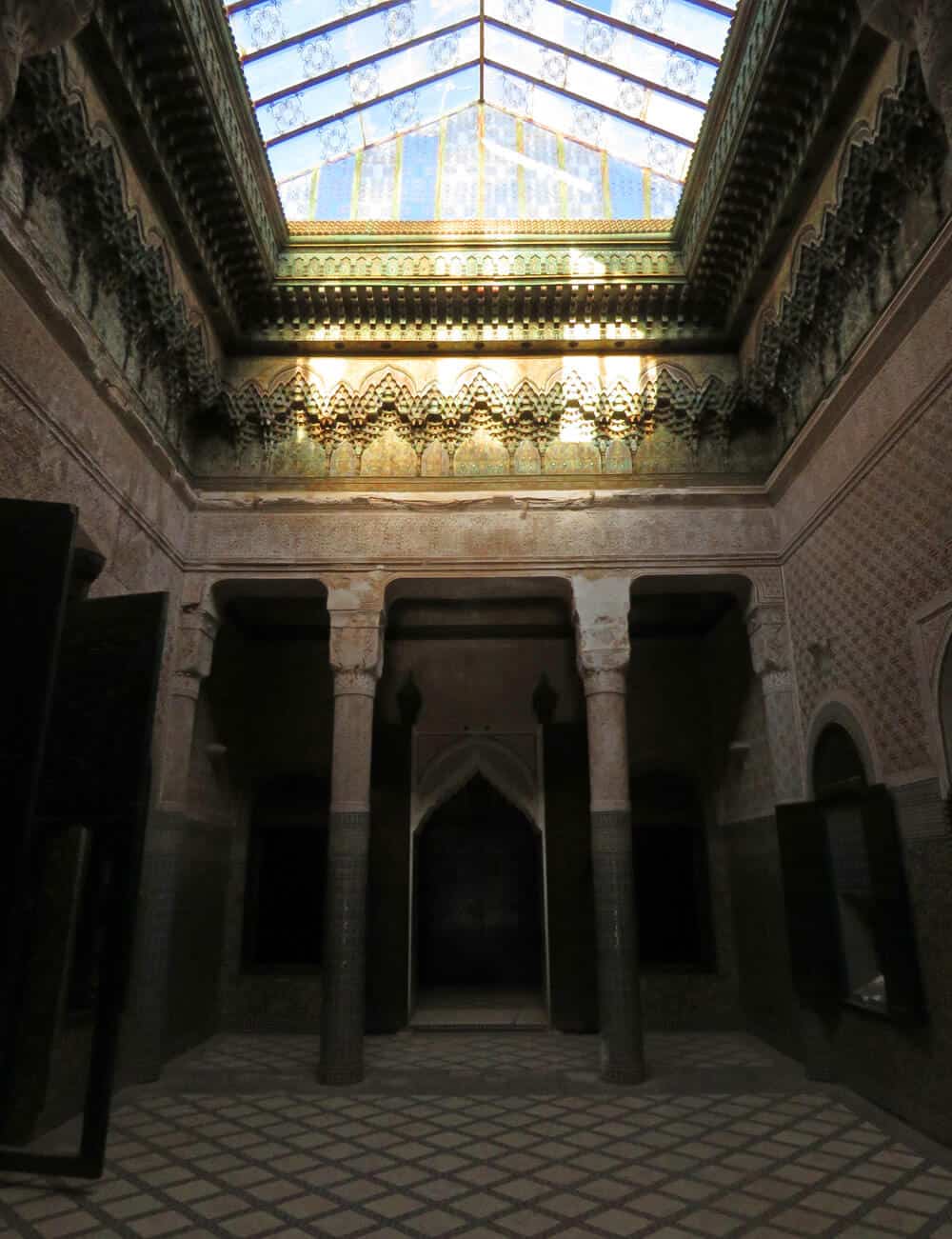 ---
---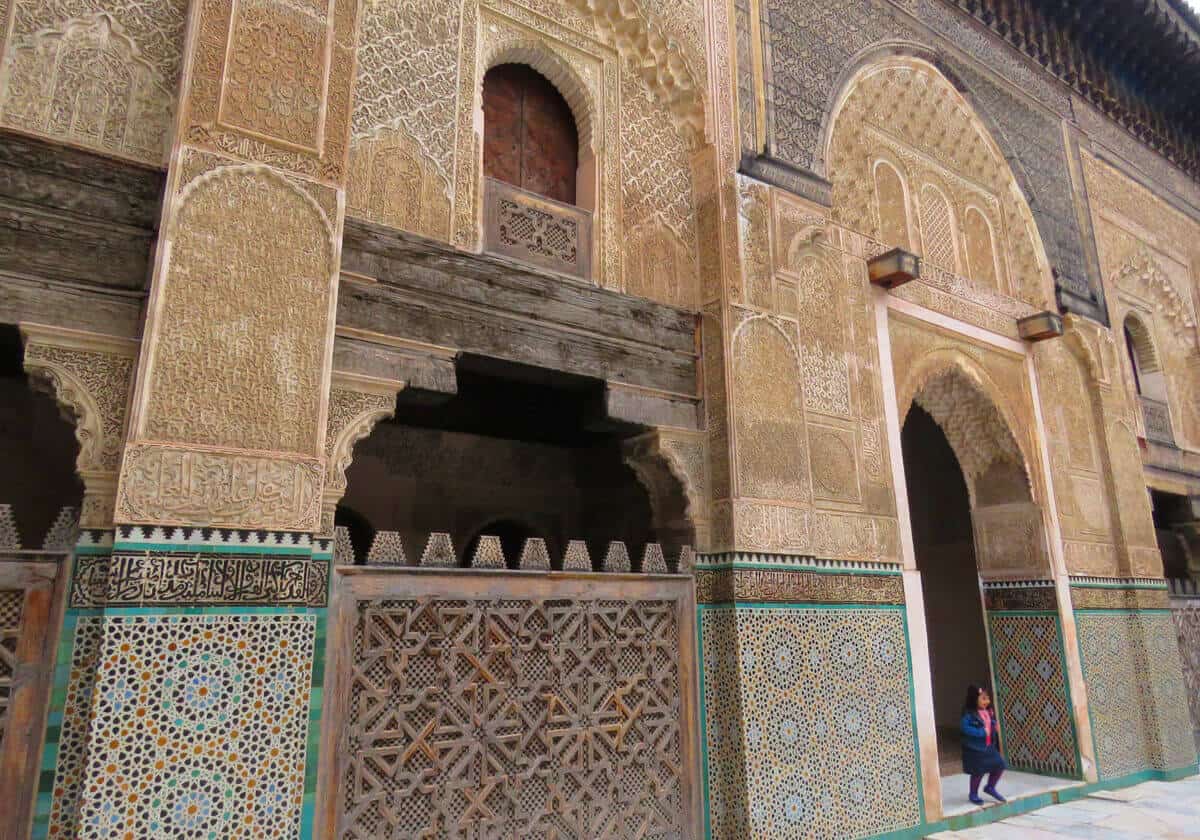 ---
---
Markets
Markets in Morocco have a lot of colour and you'll see lots of beautiful carpets, leatherware, ceramic plates and materials. If you're a shopper you'll go crazy.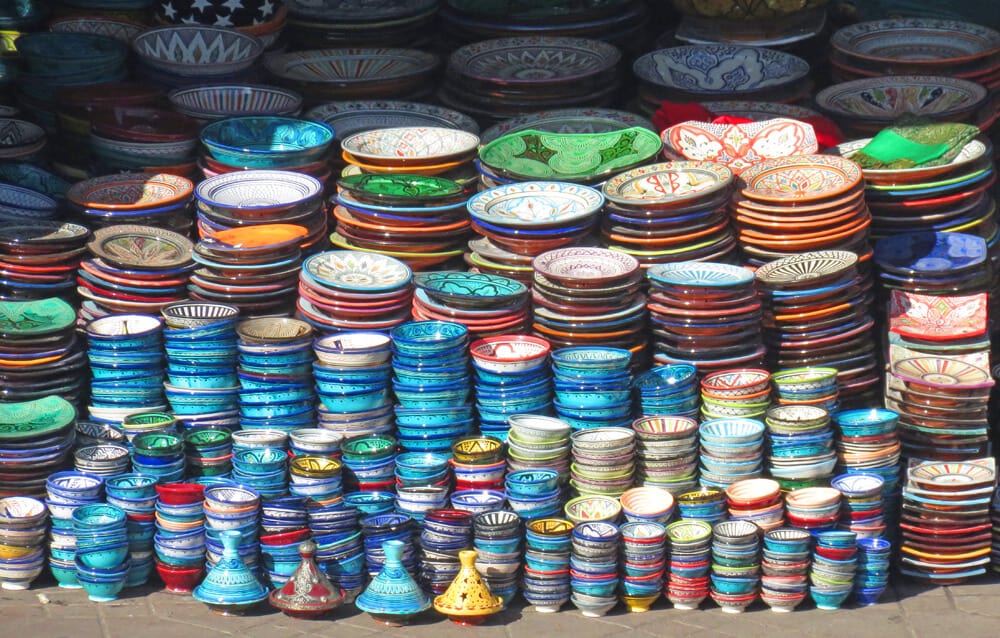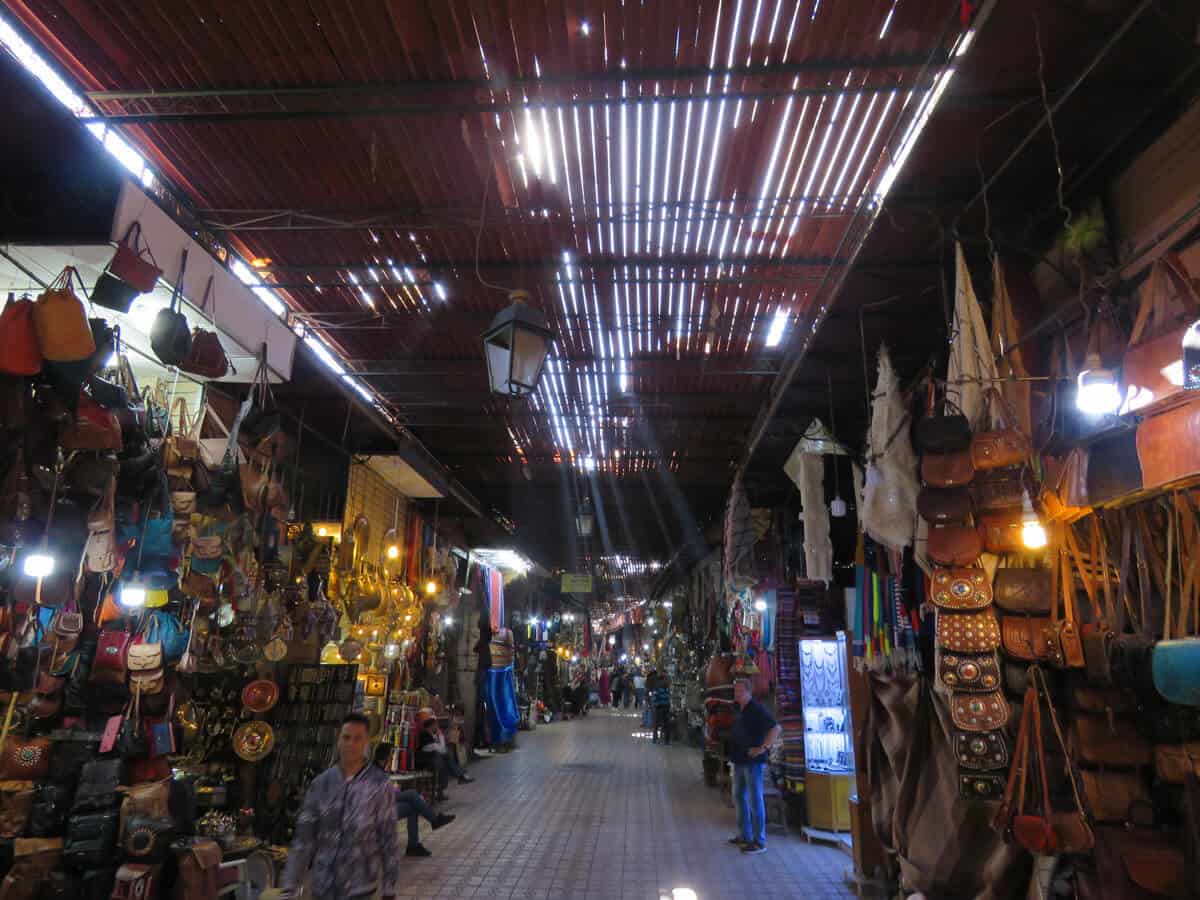 ---
---
Mint Tea
I didn't much like the food in Morocco (more on that below) – but I LOVED the mint teas. They'll serve it to you whenever you check into a hotel, it's what you can count on more than anything. And they'll usually bring you cookies to go with it. I love Moroccan tea more than any other tea anywhere in the world (btw, their coffee, "nous nous" is fantastic as well).
R

iads
You should stay in a Riad in Morocco, which is a hotel in a typical Moroccan house with an interior courtyard. There are riads of all kind, from budget to super exclusive. But all have that beautiful Moorish architecture with the tile work, colourful carpets and pillows, and romantic lamps. The best riads I stayed in were Ibn Battouta (in Fez), Ksar Bicha (in Merzouga), Riad Maison du Sud (in Essaouira). Click on them just to see what a riad looks like.
---
---
My Worst of Morocco
If I didn't like a place in Morocco, it wasn't so much about the place itself. I didn't like Marrakesh, but that's not so much because of Marrakesh. It was the people (I'll get into that below). Same for Fez. I've heard people hating on Fez because of the pushiness. I think it's a lot less pushy than Marrakech. I didn't mind Fez, it was my favorite of the cities I visited. I didn't like Casablanca because it's not a pretty place and I wasn't really that impressed with the Hassan II Mosque (yes, it's the largest mosque in Africa. But it was built in 1993 – I found it to be a modern mosque with no ambiance). But again, I didn't dislike Casablanca. In fact the one thing I liked about it was that I was able to walk around without anyone hassling me.
But here's what I didn't like:
People and culture
I didn't like the people in Morocco. There, I said it. Pushy, moody, unfriendly, brusque. Of course there's exceptions: I did meet some nice locals, mostly on those long bus rides that I took around the country or in the riads I stayed at. But mostly I found that they were all out to make a buck off you and if they were friendly well, it was to make a buck off you. I wrote a post about it on my first few days. I adjusted to Morocco, but that was by hardening my attitude.
It's a very male-oriented society. I've never seen men arguing like I saw in Morocco. Yelling loudly at each other while waving their arms around. A crowd of other men would form around them. It was like a piece of theatre, other men holding back each combatant while they continued yelling at each other. I'd see this over and over again and this drama struck me as some kind of fake machismo. They struck me as backwards. And don't even get me started on how they throw their trash all over the place. I've never seen a people less conscientious of their natural environment.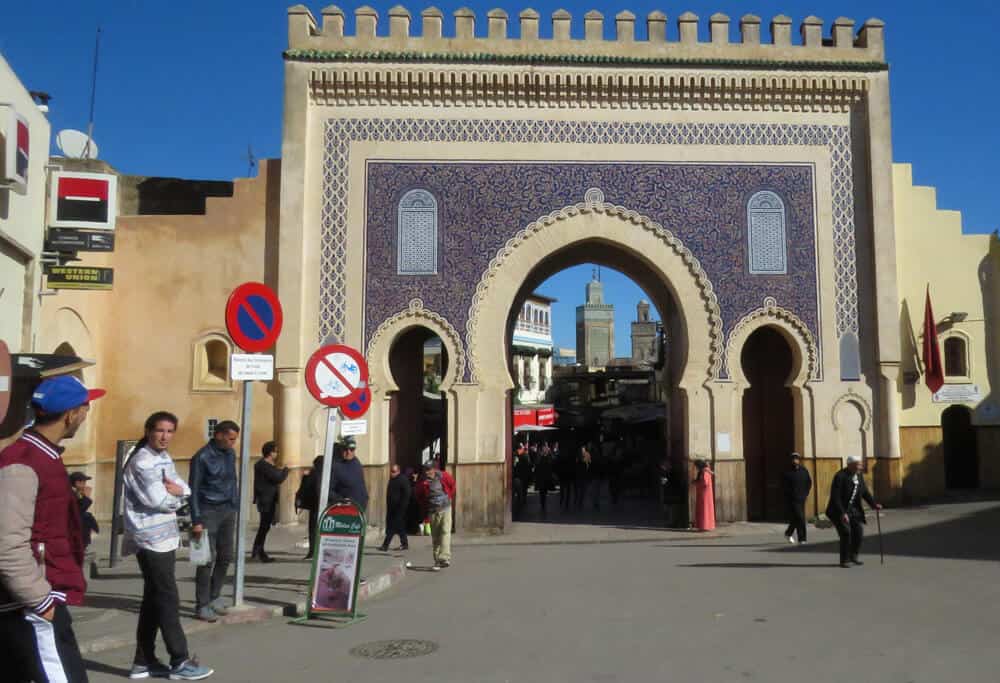 ---
---
Food
If I never have a tagine again in my life I consider myself lucky. If I had to compare it to anything it would be baby food: the flavour might be different but the texture is basically the same. Couscous is something else you'll often find on a menu, usually served with chicken/beef/lamb and vegetables. But it has the same consistency as tagine (ie. baby food). It was ok the first week, by the time the 2nd week came I was looking for a burger (I actually became a regular eater of camel burgers. Pretty good). I just didn't find traditional Moroccan food very inspiring.
---
---
Would I go back to Morocco?
I'll never love Morocco. But I would go back, mostly to show the country to Lissette. Morocco is exotic, beautiful and colourful. I think it has to be on every traveller's list. But having travelled around the country for 5 weeks I would do it differently. I think to fully appreciate Morocco you have to spend a bit of money (and I say "a bit" because it's not an expensive country). Stay in a nice (romantic) riad, hire a driver so you can get to some of those beautiful places in the countryside, and have a guide show you around the cities like Marrakesh and Fez. Do it in style. You'll enjoy Morocco a lot more doing it that way.
What do you think? Would you go to Morocco?
Or, if you've been – what do you think?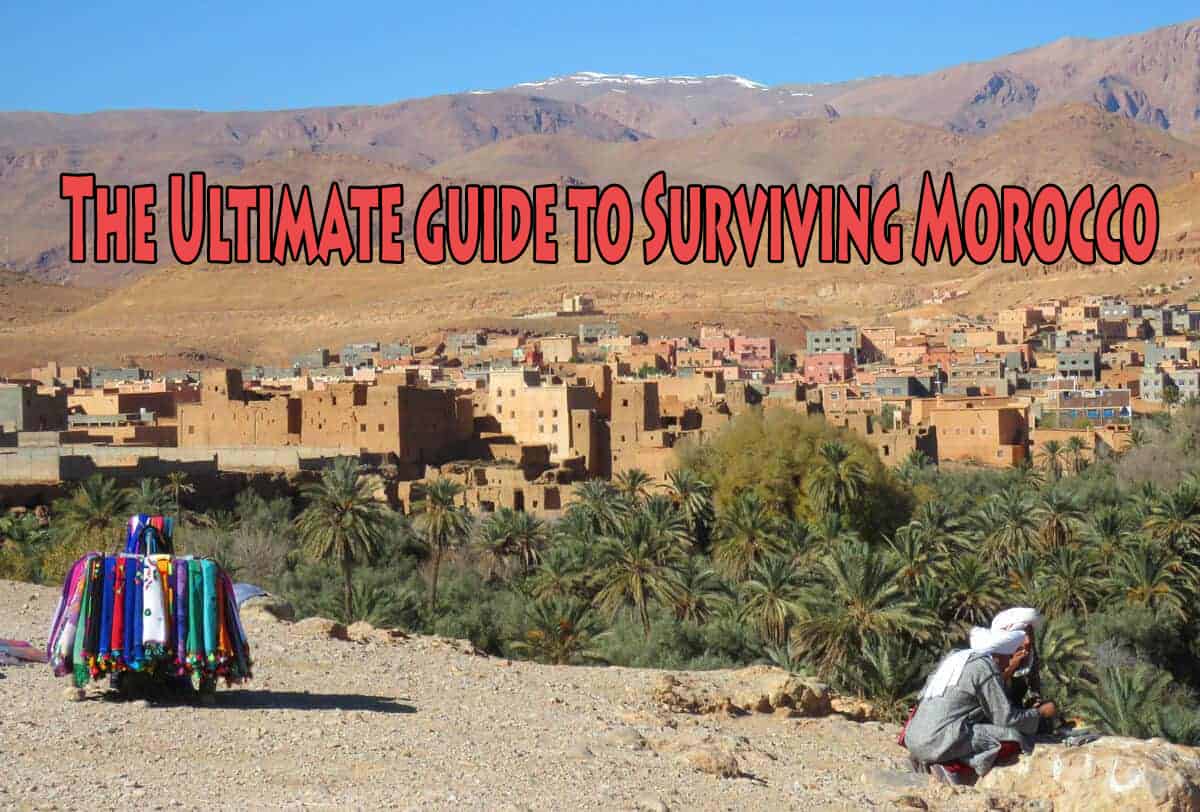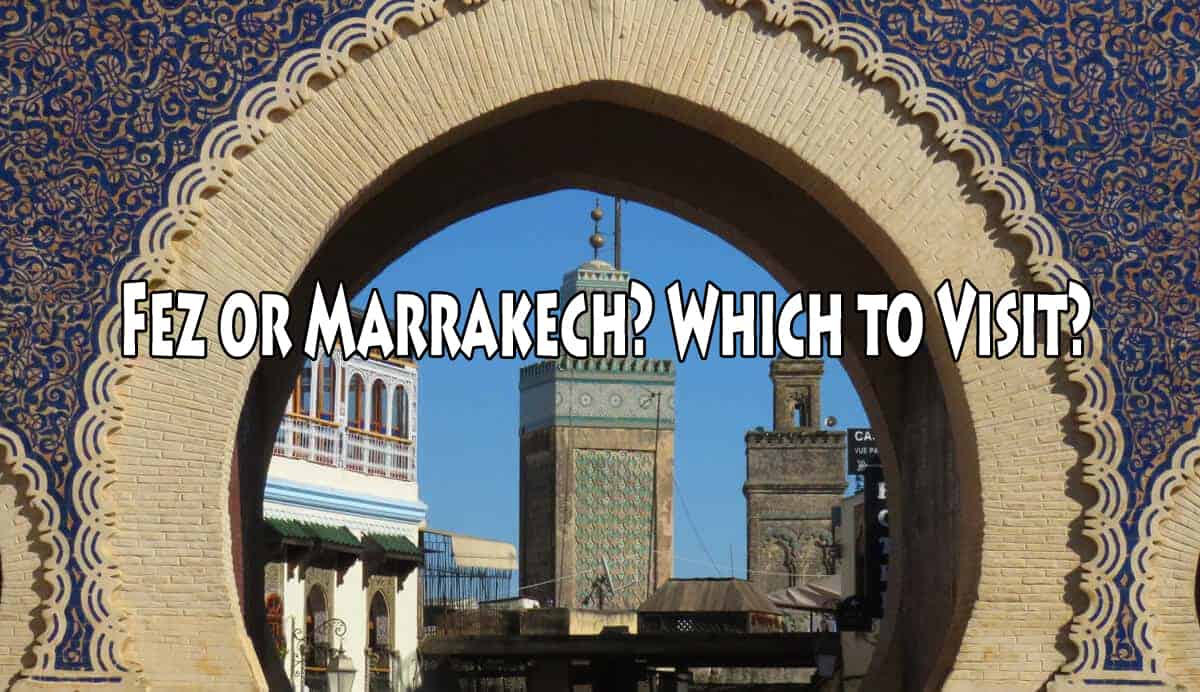 PS. Looking to book flights, hotels, tours, or rent a car? Have a look at our Travel Resources page.