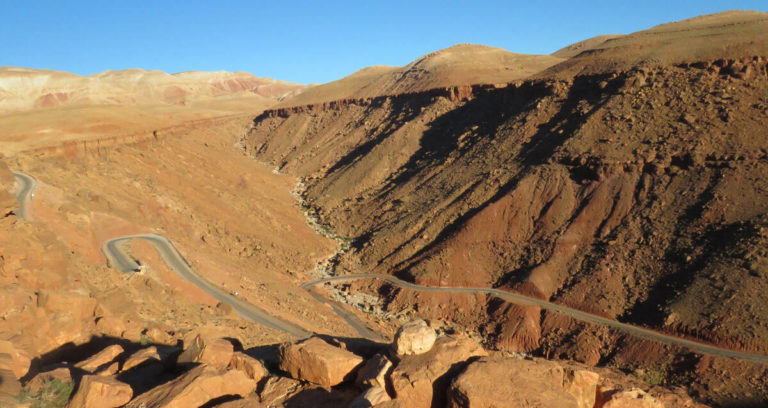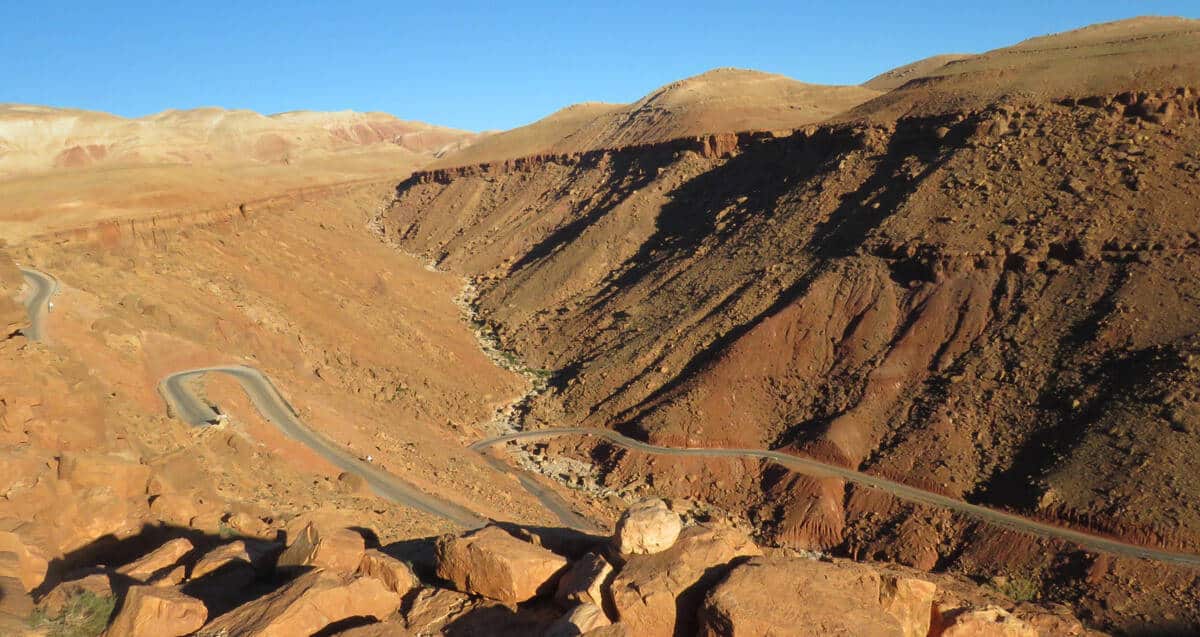 Getting from Marrakech to Ait Benhaddou
One of the often asked questions is how to get to from Marrakech to Ait Benhaddou. I had to do the trip myself so I did some research. An added feature: the region is one of the most scenic in Morocco and there are lots of highlights along the way.
There are 3 different options.
Option 1 – take the bus for Ouarzazate and get out at the crossroads
The cheapest option is to take the bus in Marrakech heading for Ouarzazate. The bus usually takes about 5 hours in all up to Ouarzazate.
There are 2 main companies. One is Supratours. They have 4 buses a day from Marrakech. You can see the schedule here. I'm told that the ticket price is 90 Dirhams (somehow the official ONCF site doesn't seem to pull up this info). I'm also told that you can only buy tickets online using a Moroccan credit card. So it's best to pre-buy your ticket the day before at the Supratours terminal which is located next to the Marrakech train station (in a section of town called Gueliz. It is 3 km from the Koutoubia Mosque). The other main bus company is CTM and according to their schedule they have 7 buses/day (including 2 night buses) going to Ouarzazate. Price also 90 Dirhams (about 10 USD). Their terminal is also next to the train station (and next to the Supratours terminal). I'm told that although their website allows you to buy online tickets that few foreigners actually succeed in buying their tickets online. So again, buy your tickets the previous day if you can.
Buses don't have toilets. They do stop for a 25 minute break about halfway through the journey.
Although the bus ride is scenic through the Tizi-n-Tichka pass you of course won't be stopping for any photo opportunities. You'll also be travelling along the less scenic route when coming down from the pass and continuing to Ouarzazate.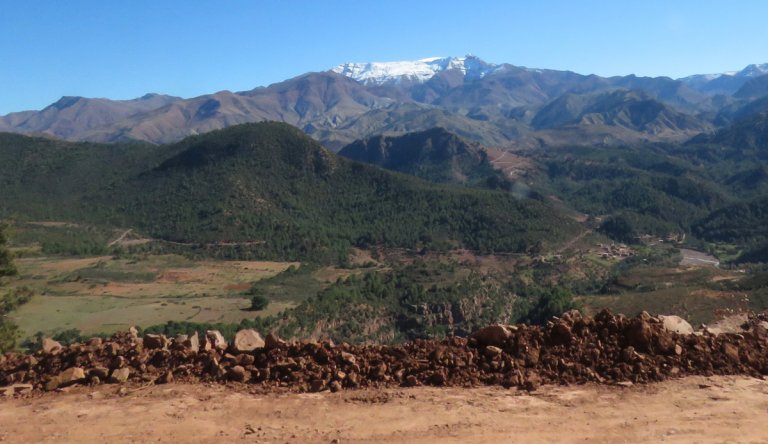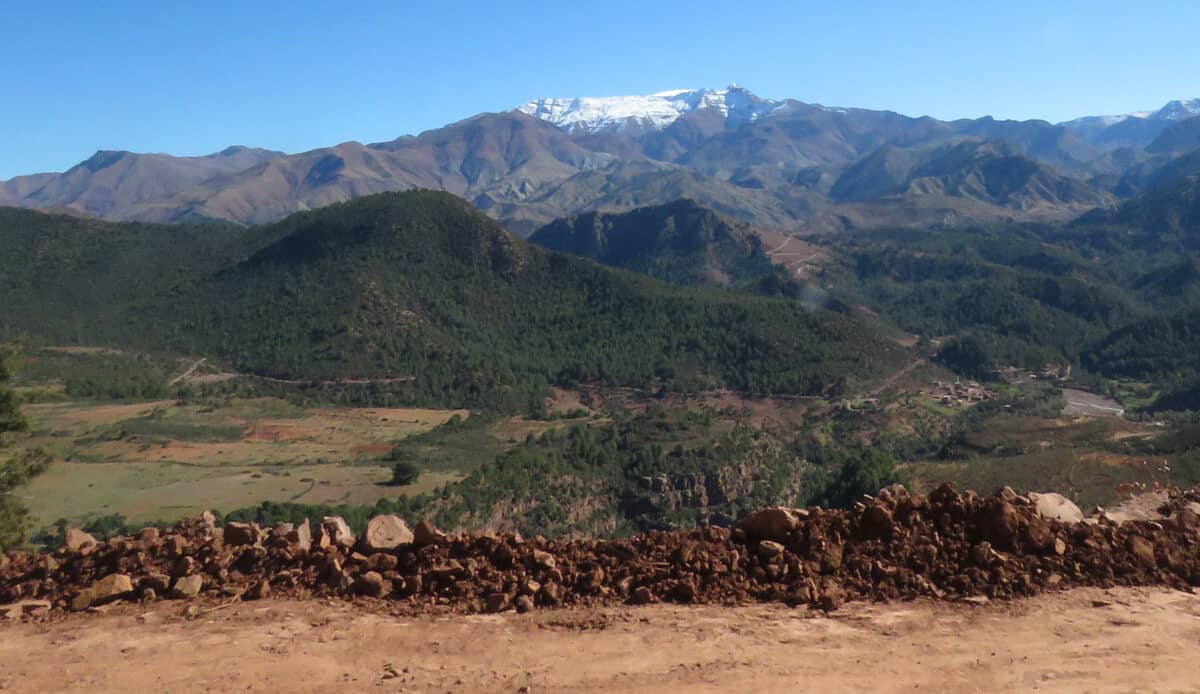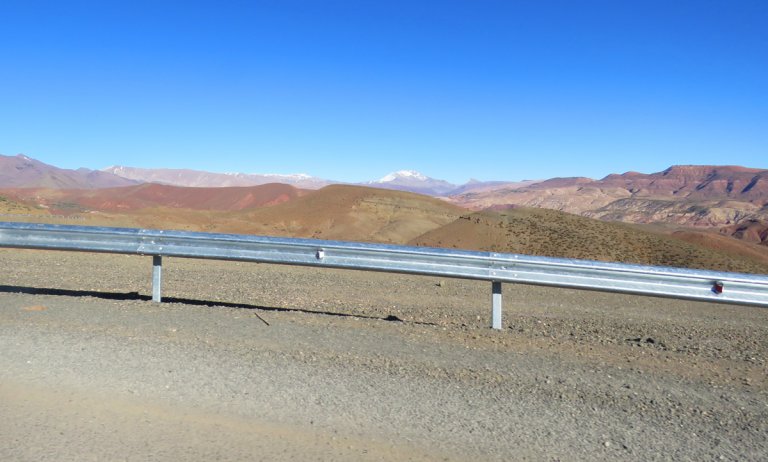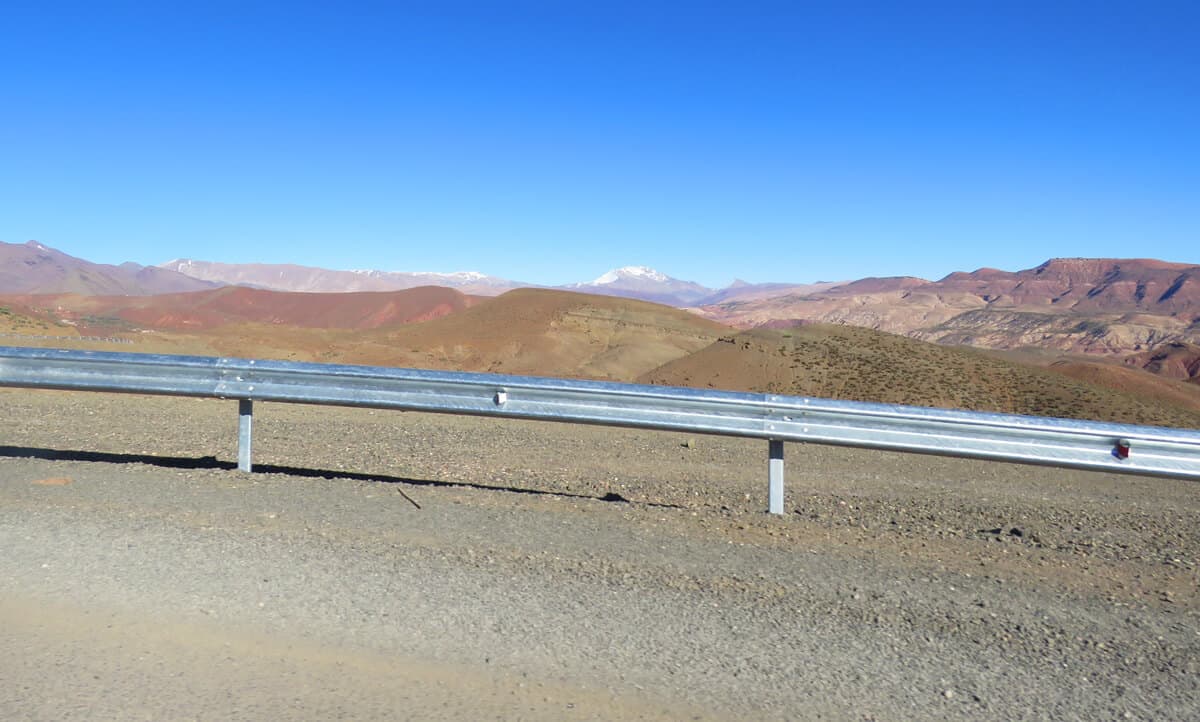 ---
---
If going to Ait Benhaddou, you want to get out of the bus 19 kilometers before Ouarzazate. That's where the crossroad to Ait Benhaddou is (from here it is 9 km to Ait Benhaddou). Buses regularly stop at this intersection, but you should mention it to the driver before.
Once you've gotten off the bus you can take a shared taxi (un grand taxi) to Ait Benhaddou. I'm told there are always taxis at the crossroads during the day (I would not risk however arriving at night. I don't know if anyone would be waiting there at that time). Worst case you stick your thumb out and hitch a ride, it's a touristy stretch and I'm sure someone will pick you up.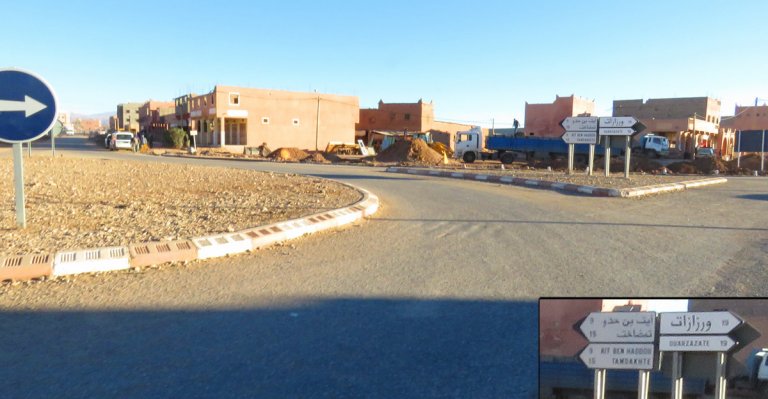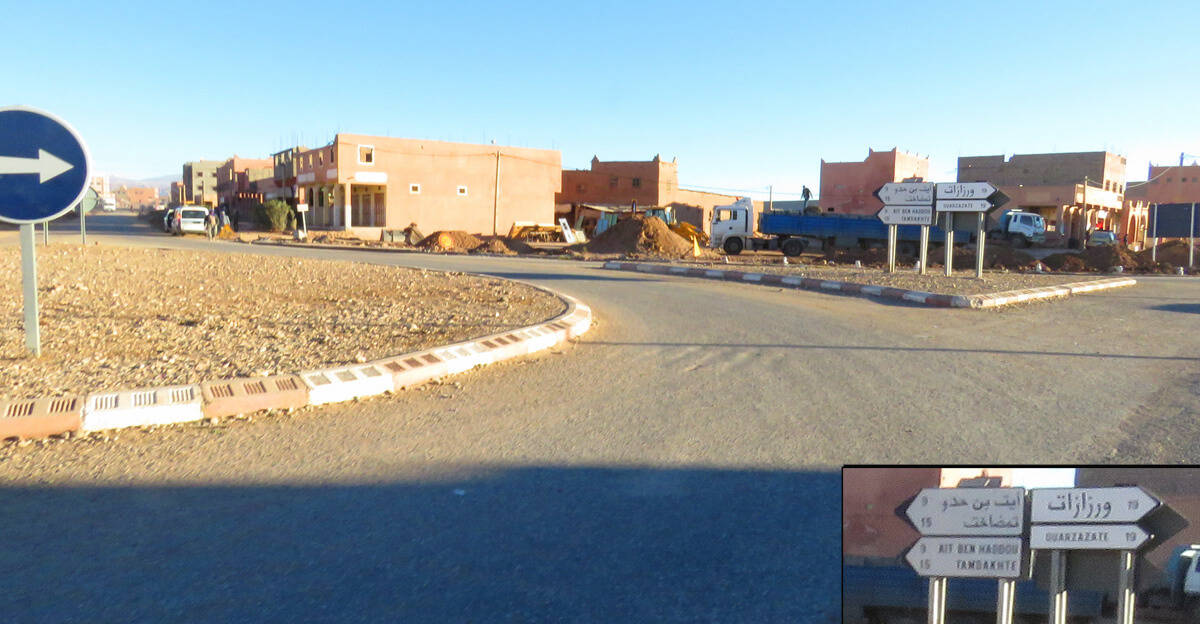 It should cost 10 dirhams for a Grand Taxi from that intersection and it'll take 10-15 minutesto get to Ait Benhaddou. As I say, it's 9 km so it's not too far.
So that's the cheapest (but not the easiest) way to get from Marrakech to Ait Benhaddou.
* if you've had experience taking the bus I would love to hear all about it.
---
---
---
Option 2 – Get a Private Driver
I ended up getting a private driver through Marrakech Airport Transfer. It cost me 950 Dirhams (100 USD). I did it for a few reasons: 1) I was coming from Imlil that day and only arriving in Marrakech around noon. I didn't know if I'd have issues getting a bus ticket and I didn't want to arrive at the crossroads in the dark. 2) There is some beautiful geography between Marrakech and Ait Benhaddou that I wanted to see. And it's especially beautiful when taking the scenic route below the Tizi-n-Tichka pass (which the bus doesn't take). Along that stretch you'll pass the town of Telouet and it's famous Kasbah: Kasbah Glaoui. Taking the driver ended up being a transfer/private tour guide in one. For me it was really worth it. Going the scenic route – with a few stops along the way – resulted in the entire trip taking 6 hours. So I got my money's worth.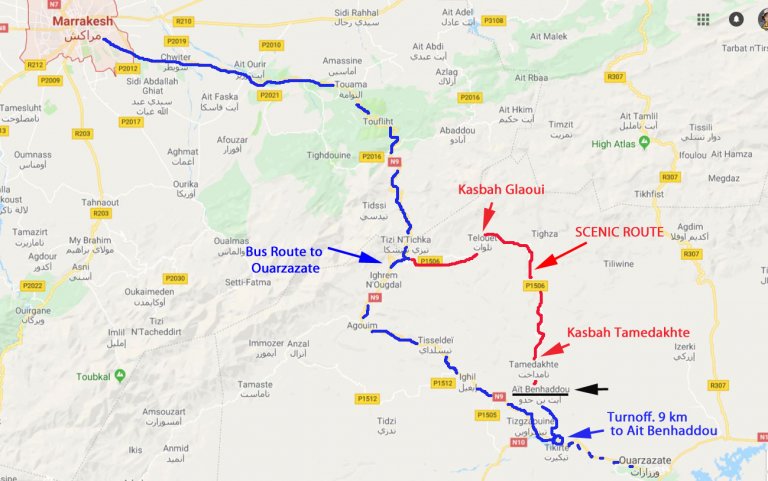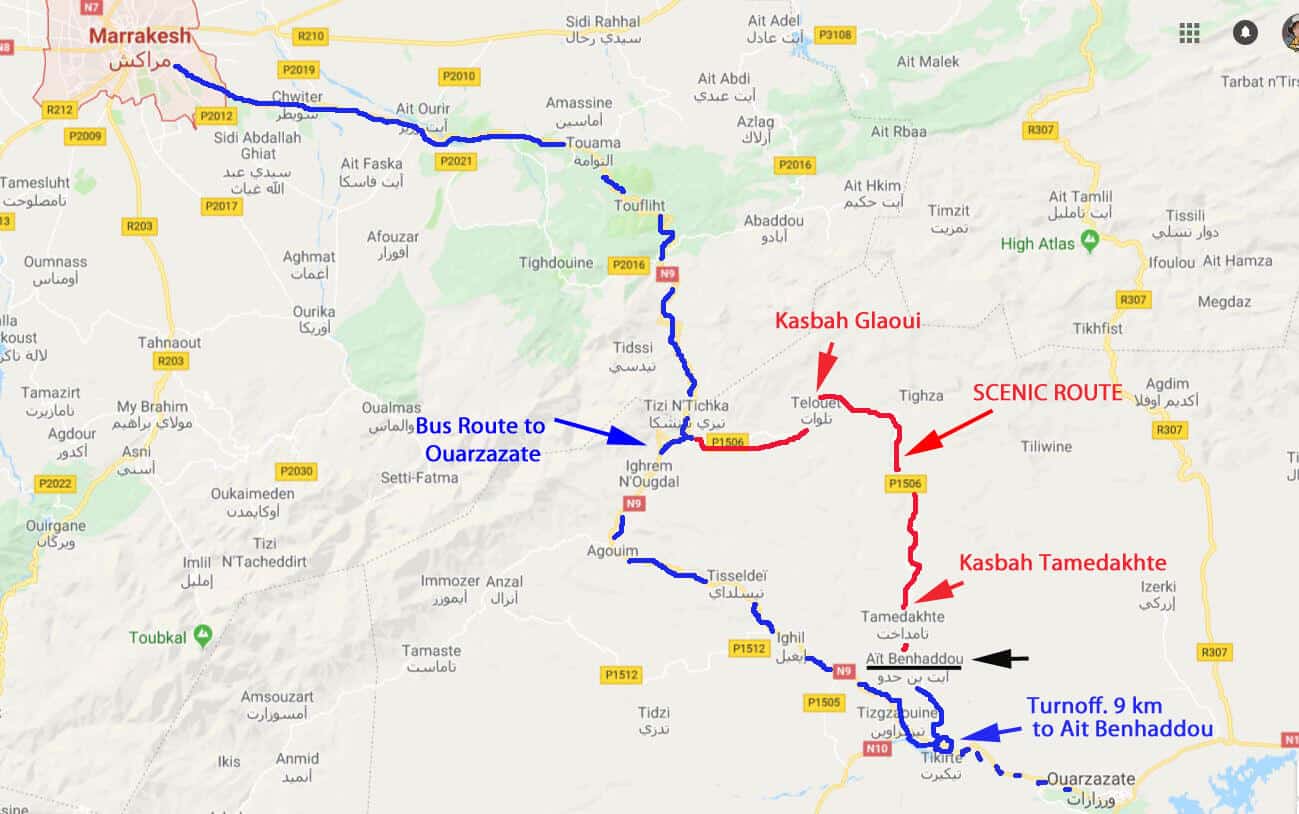 ---
---
Option 3 – Rent a car in Marrakech
I've met many tourists on this trip who've rented a car in Marrakech and who've used it to drive to Ait Benhaddou and then further into the desert. Having spent the last few weeks in Morocco I think it's the ideal way to visit this country. And the best thing is that if you rent your car at Marrakech airport you can bypass downtown itself. It's pretty easy driving, you just have to be careful when passing through little towns on the way because you'll see locals on bikes or mules pulling carts. But if you're careful you'll have no problem driving in Morocco.
But the best thing about driving is what I mention above ie. being able to stop along the way and to see the sights. And as much as I enjoyed Ait Benhaddou and (later) Mergouza, I often wished I had wheels. There's no other way around this part of the country.
We always use Rentalcars.com when renting a car (they dig up the cheapest rates and best options from all the major car rental companies). Approximate cost? About $32 US/day. If you input a week it comes out to about $120 US/week. So basically $20 more than what I paid for the private driver (excluding gas). I think renting is the best option if visiting Morocco.
---
---
There's actually a 4th option…
You can take a day trip that will take you from Marrakesh to Telouet to Ait Benhaddou…and then back to Marrakesh for the evening. Great for those with limited time – plus you get to see Telouet which I cover below.
Highlights between Marrakech and Ait Ben Haddou
The mountain views in the Tizi-n-Tichka pass are impressive. You'll see different tones of colours, browns, greens, greys and reds. There are quite a lot of places along the road where you can pull over for photos.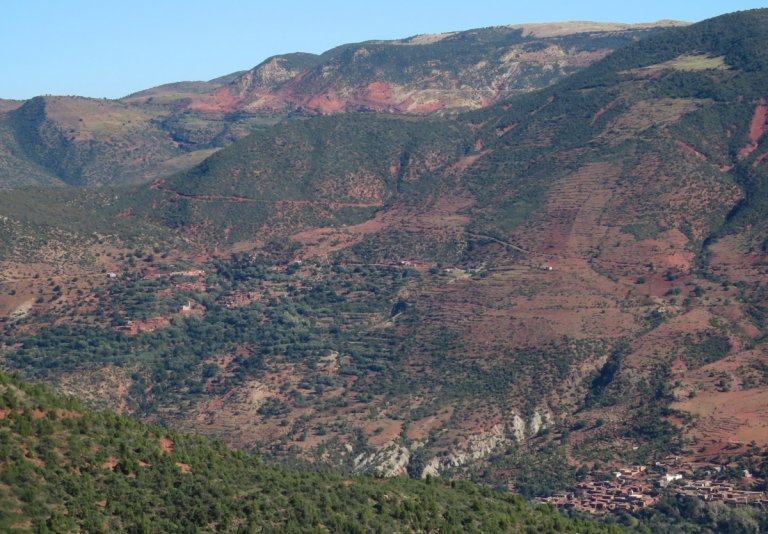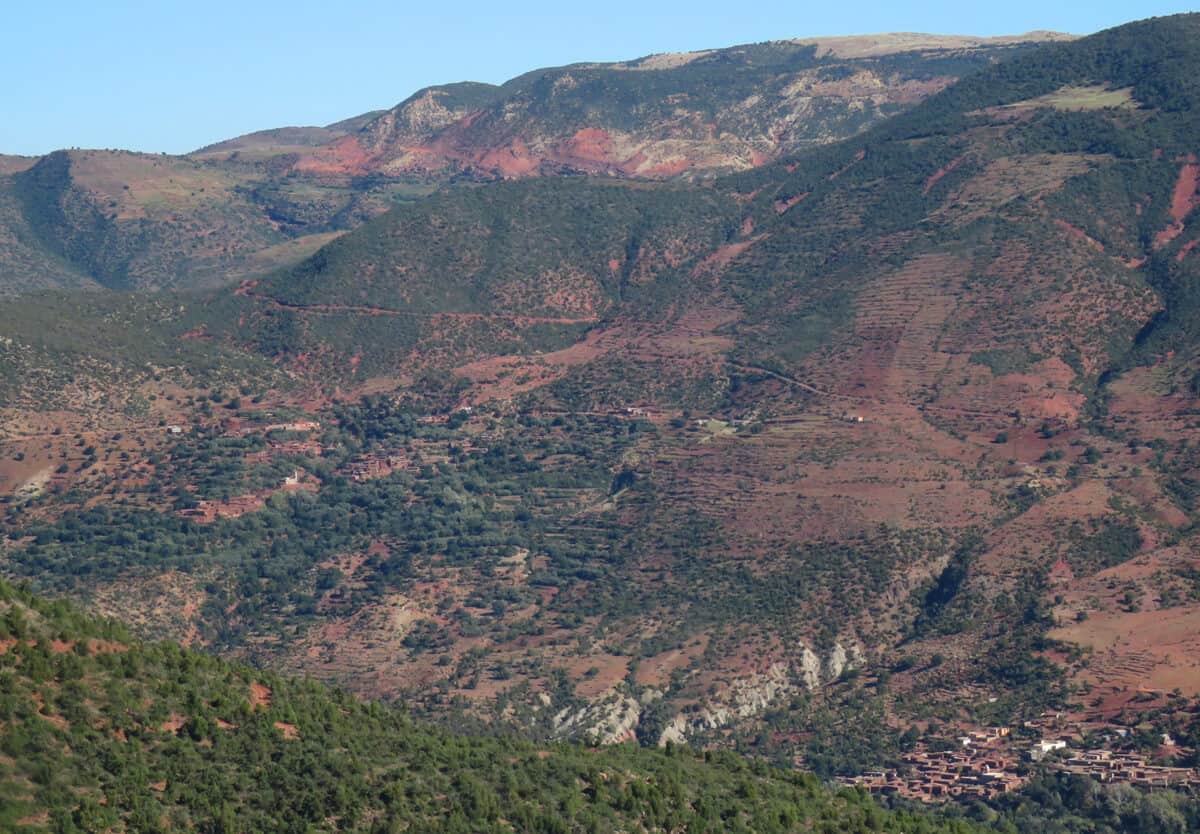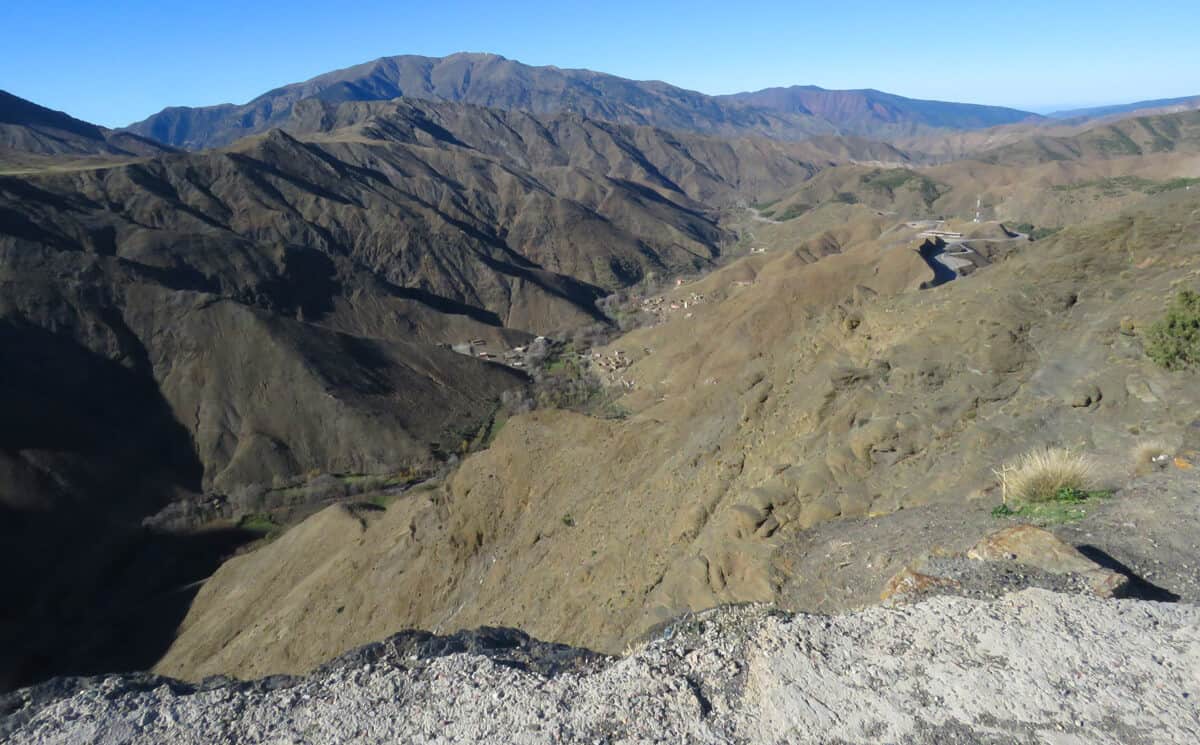 But for me the most impressive stretch of road was when we left the main road for the "scenic road" towards Telouet. Here the geography becomes semi-desert, with canyons and plateaus. The colours are more reddish, interrupted by green in the valleys and the occasional white snow on far away mountains. You'll see more and more traditional villages where buildings are made of earth, camouflaged by the similarly coloured background.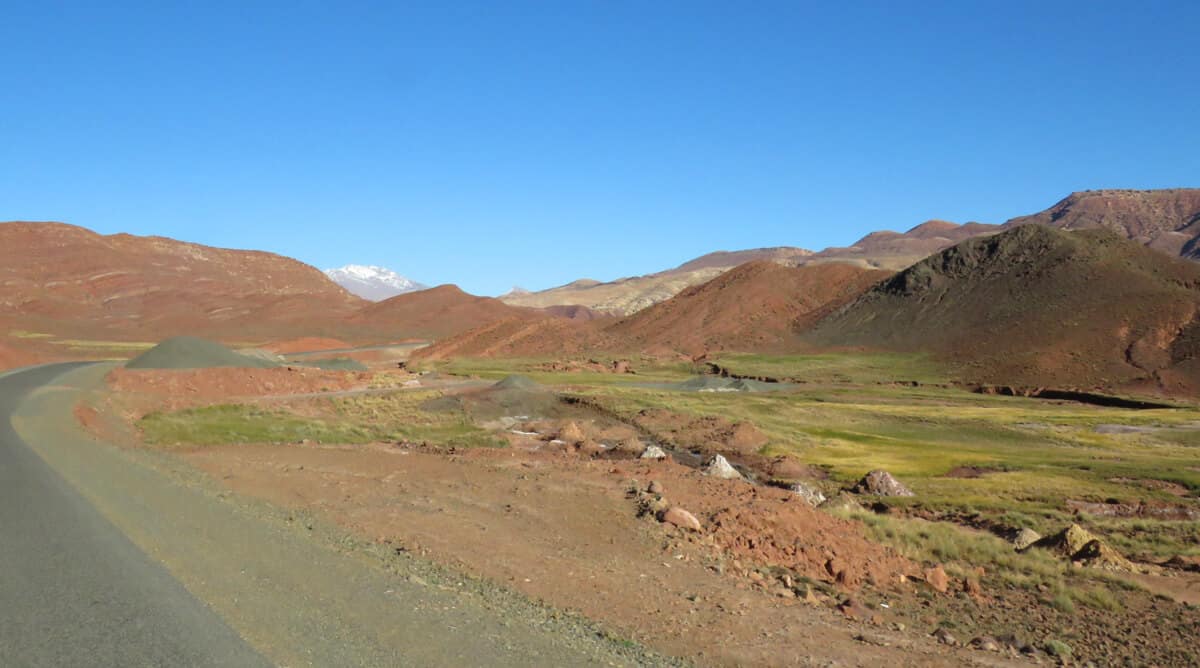 ---
---
A highlight of the entire region is the Kasbah Glaoui in Telouet. It was built in the 1800's by the Glaoui family. Thami Glaoui was a rich and powerful man, made even more so during the French occupation when he was Pasha of Marrakech. The position of the Kasbah meant he looked over the trade route coming through the region. His position and power ensured that he received "gifts" from the travellers and merchants making their way through the valley. Many saw him as a brutal warlord.
When Morocco pushed for independence he was labelled a traitor. Glaoui died in his Kasbah a few months after independence in 1956. Because of the stigma of the Kasbah it was abandoned and left to ruin. In the last few years there's been a bit of restoration but most of the Kasbah is falling apart.
I thought it was quite spectacular. I was the only visitor and it was eerie walking through the empty palace. A few photos.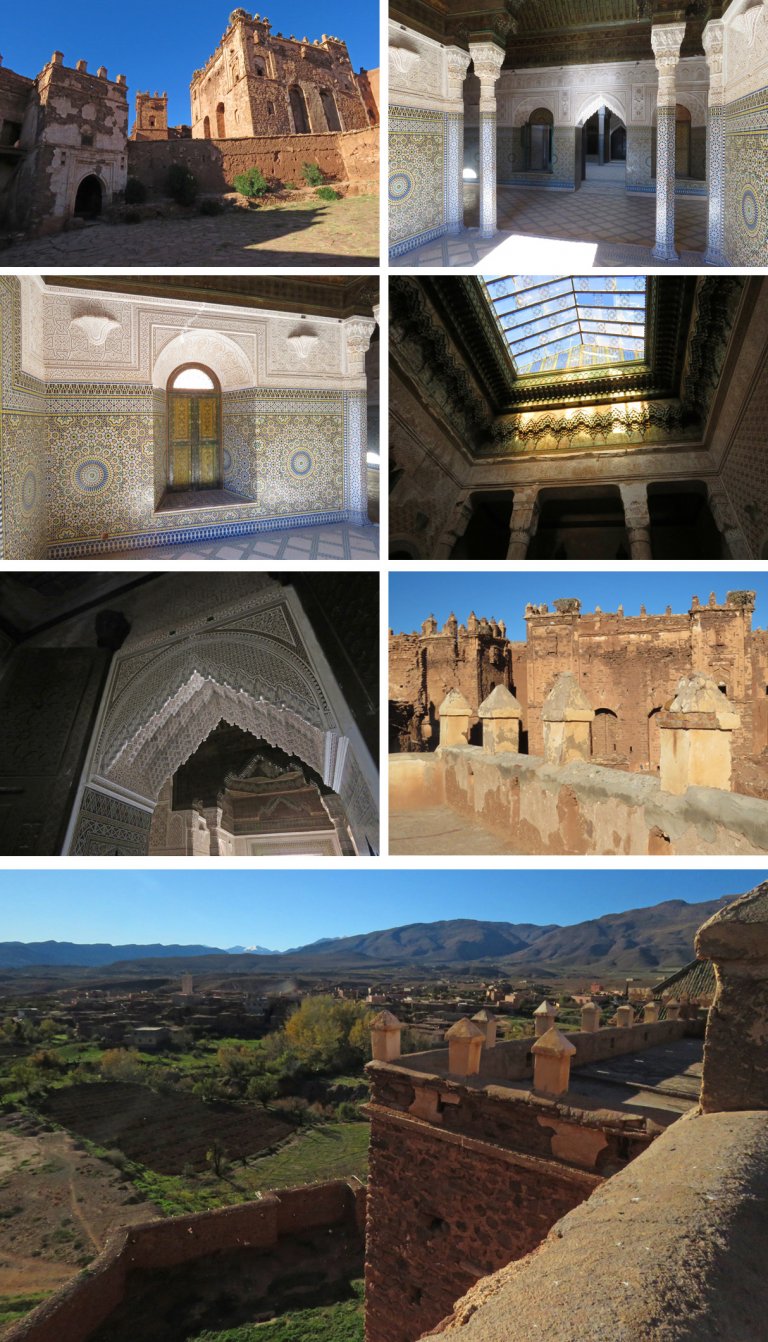 ---
---
Back on the road after Telouet, you follow a long, winding gorge dotted with earthen towns. The vistas are spectacular.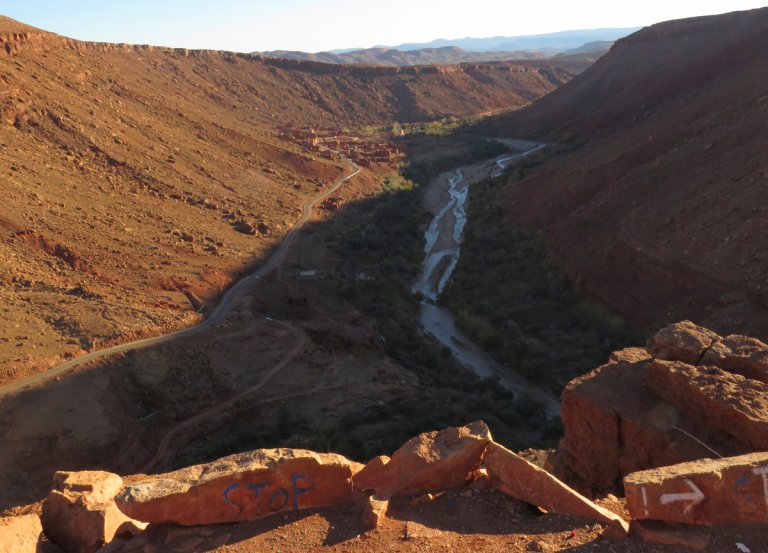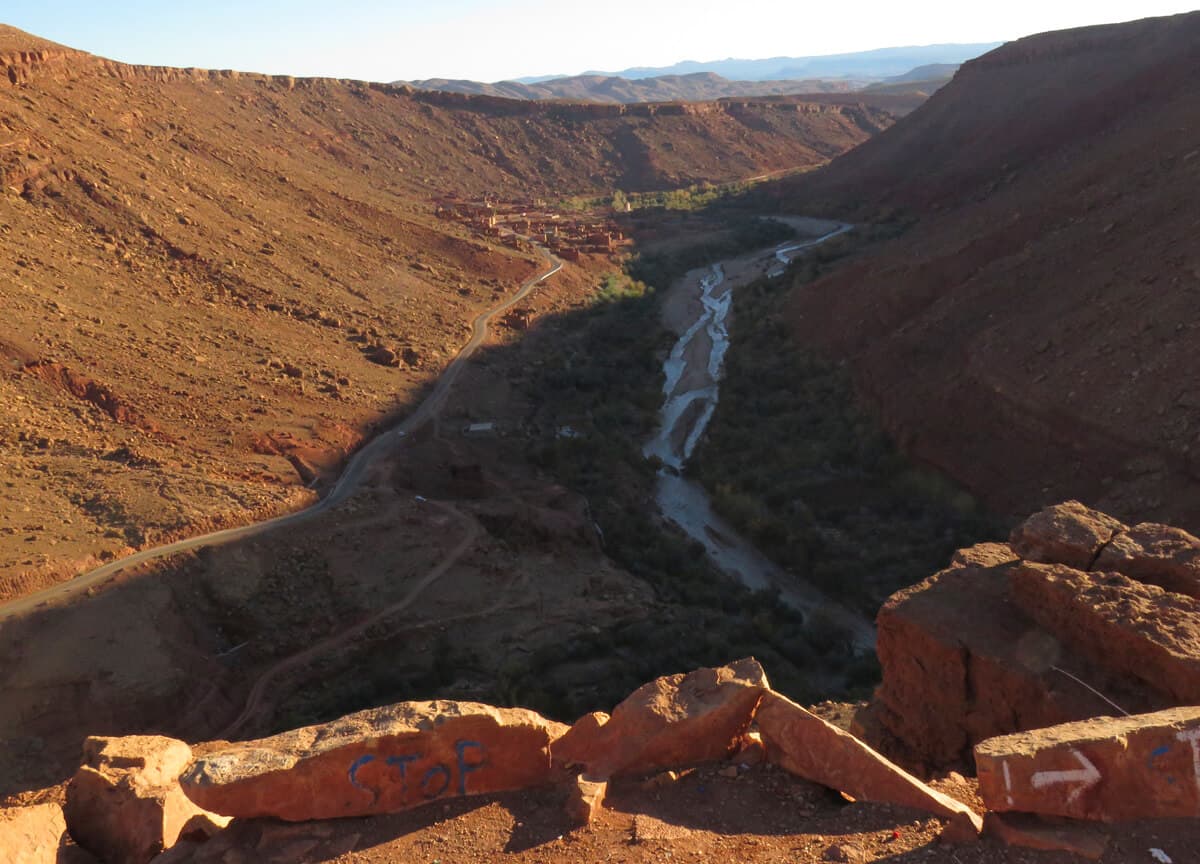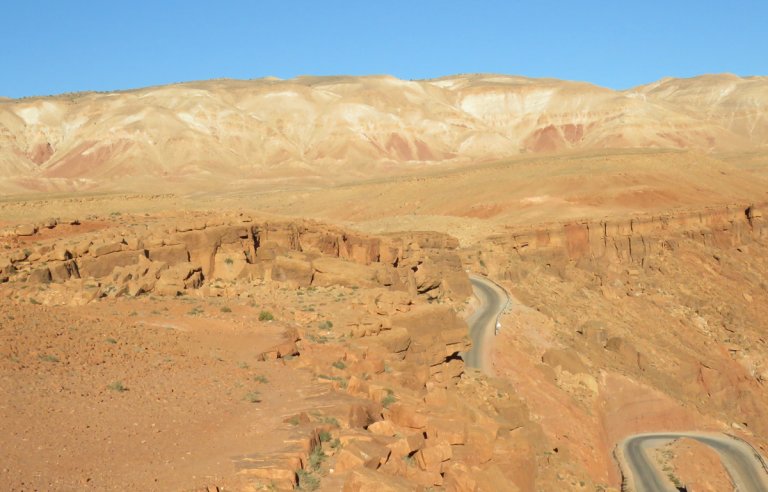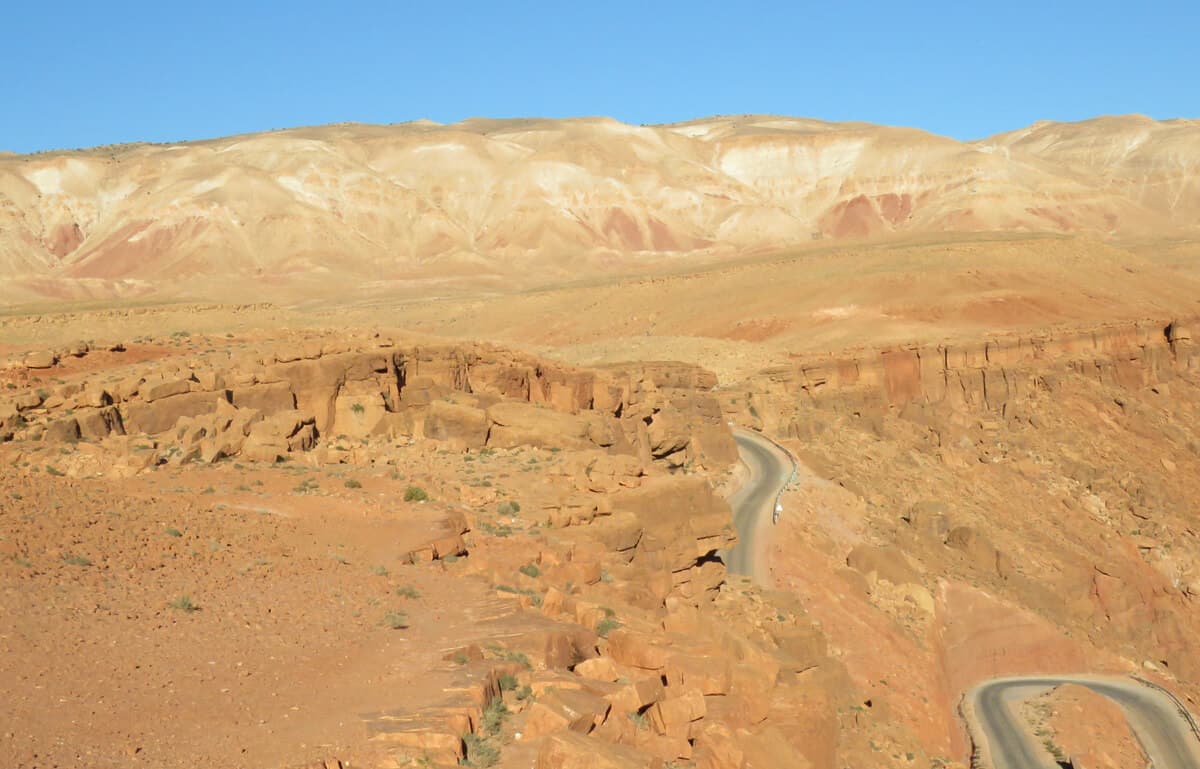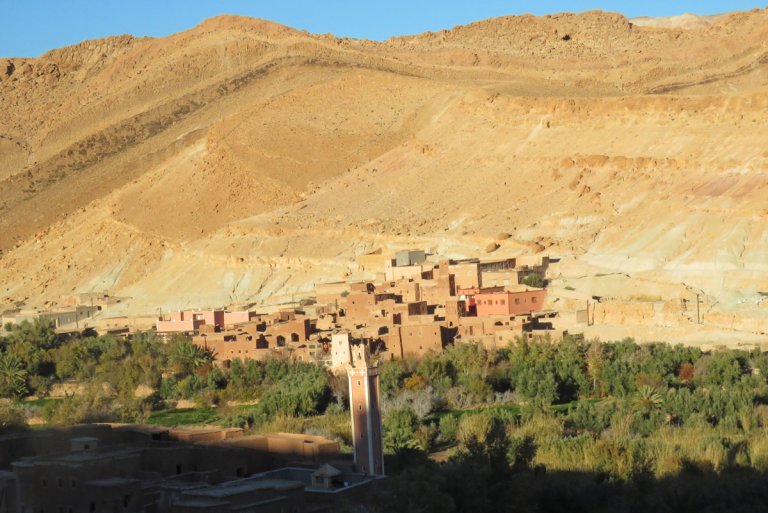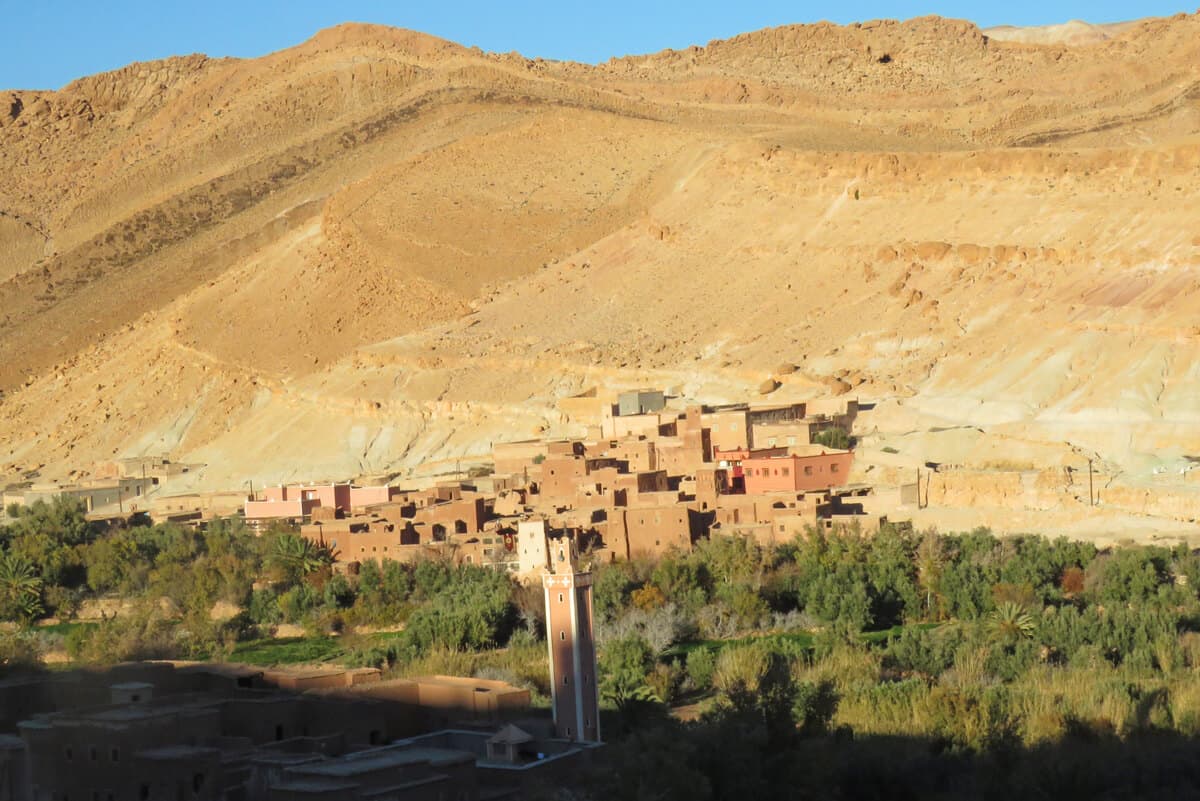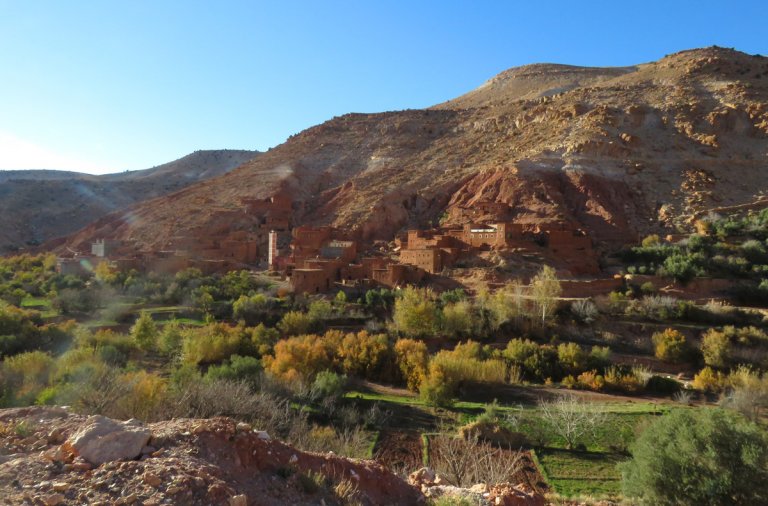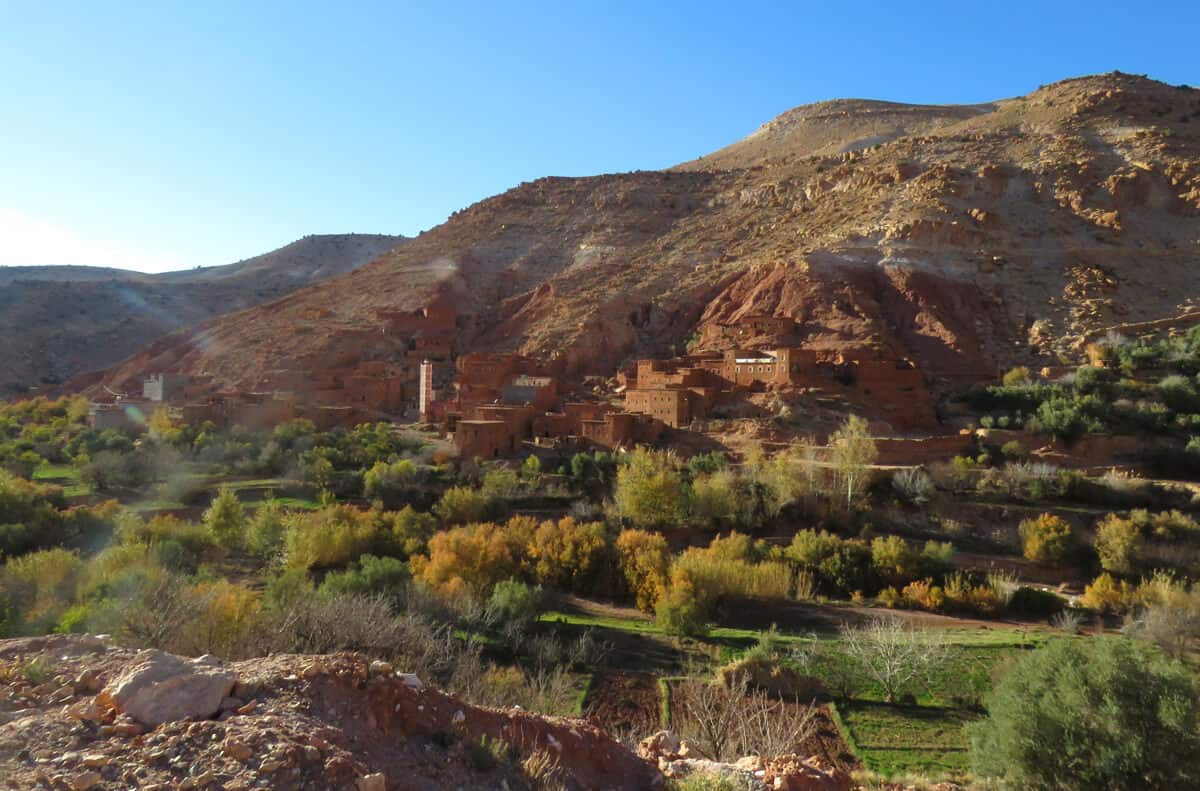 6 km before Ait Benhaddou is the Kasbah Tamedakhte. It looks spectacular from the outside (and can be visited. But we were running short of time).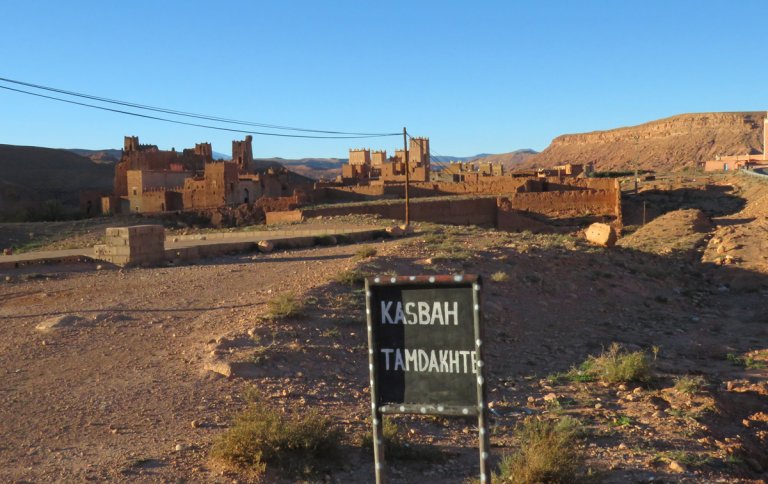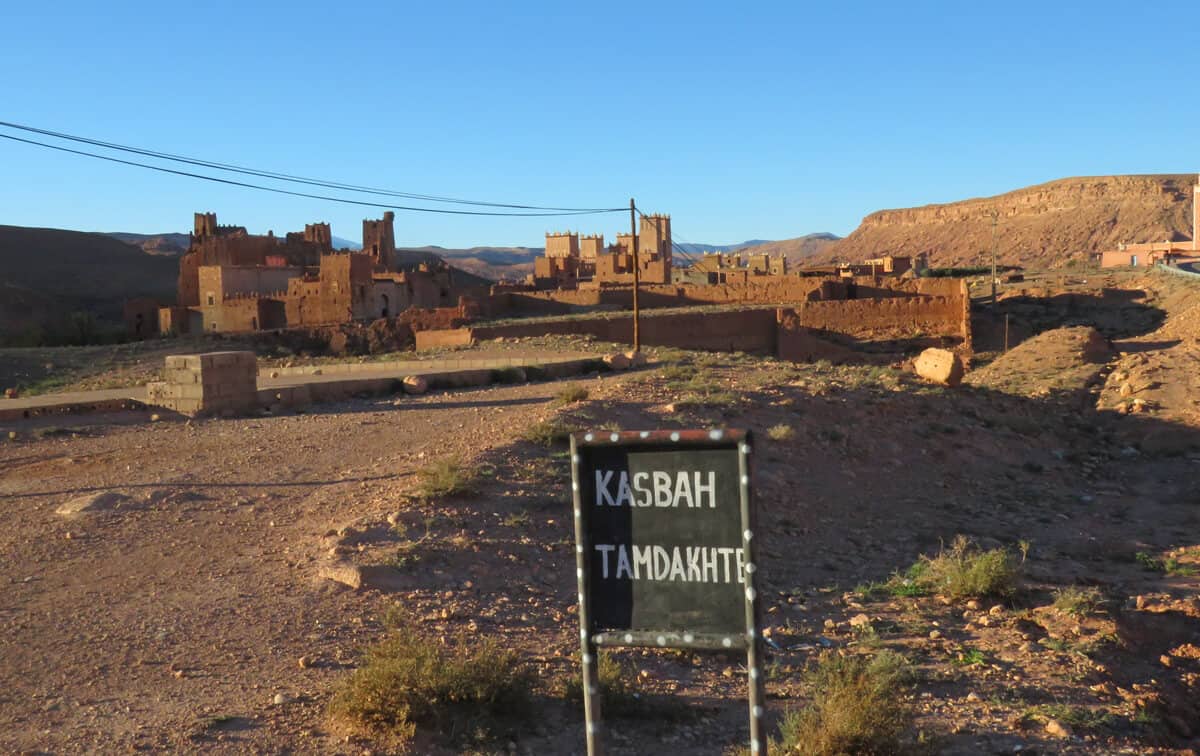 ---
---
From Tamedakhte it takes about 10 minutes get to Ait Benhaddou. All together – with many stops along the way – it had taken 6 hours to get from Marrakech to Ait Benhaddou.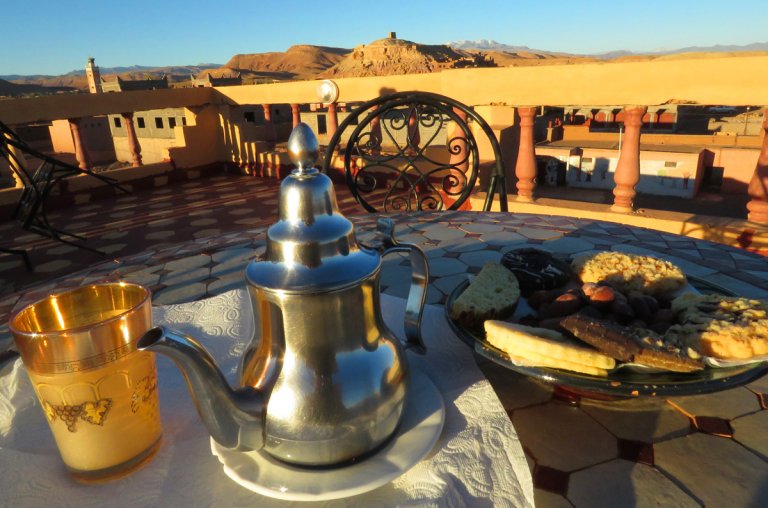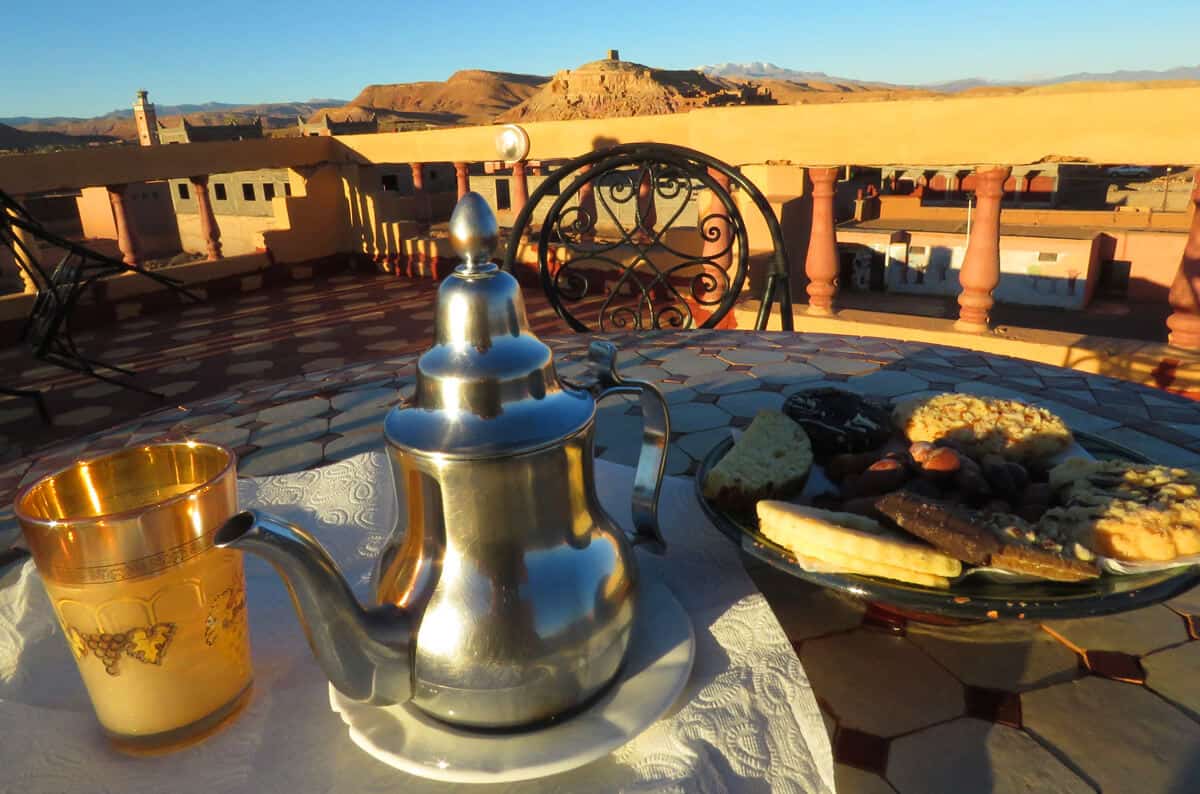 Accommodation in Ait Benhaddou: I stayed at Kasbah Valentine which was excellent. Most comfortable room I've had to date in Morocco. And the restaurant is the highest rated in Ait Benhaddou. Recommended. I paid 350 dirhams/night including breakfast (That's $37 US).
Ps. If you find our blog helpful, please consider using our links to book your flights, hotels, tours, and car rentals. Have a look at our Travel Resources page.