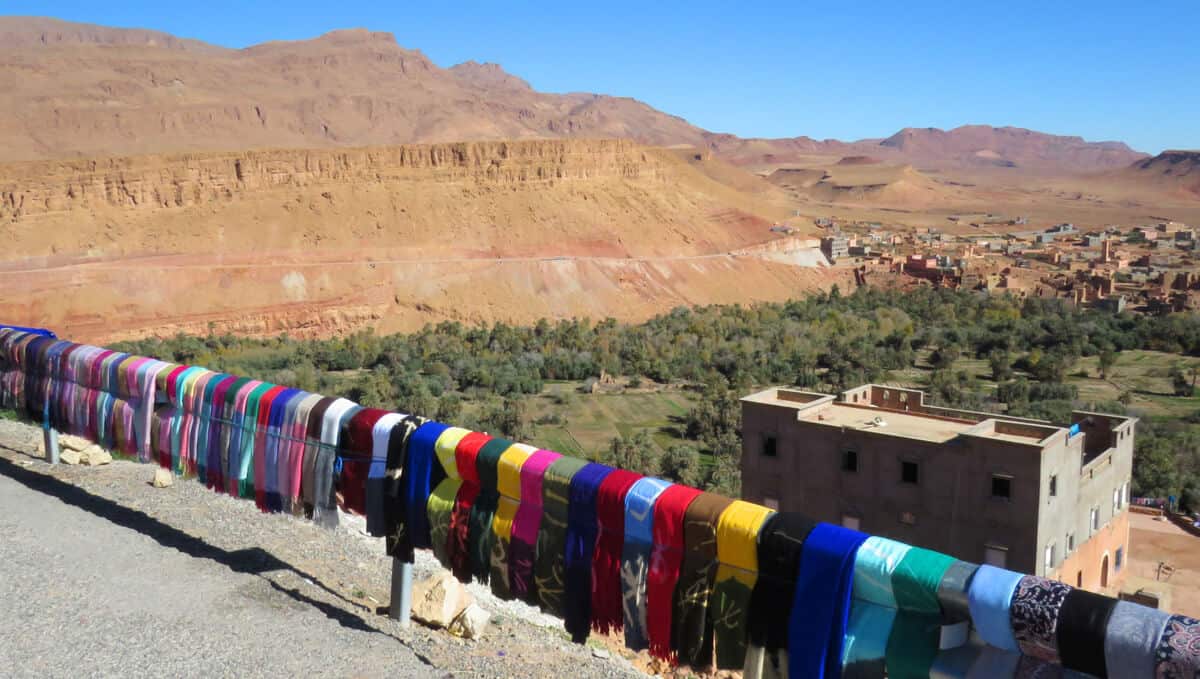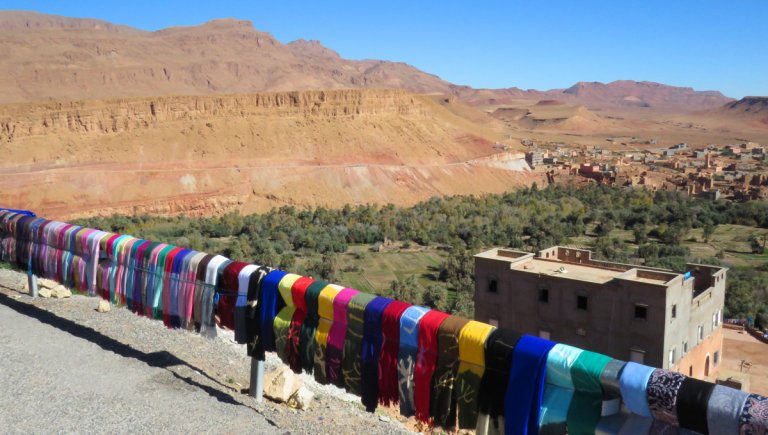 Ait Benhaddou to Merzouga

There are a lot of highlights on the route from Ait Benhaddou to Merzouga. In fact, many visitors will say that this region was the most memorable of their trip through Morocco.
I'll cover those highlights in this post.

---
---
The area around Ait Benhaddou/Ouarzazate is semi-desert, with rocky knolls, plateaus and snow-capped mountains broken up by the occasional palm-filled river valley. Towns are located in these valleys. But for the most part it is a wide open, very arid countryside made stunning by the multi-coloured sand/rock and those far away mountain ranges.
Our 1st stop, about an hour from Ouarzazate, was Kasbah Amridil outside the town of Skoura. It's famous – you'll see an image of it on Morocco's 50 Dirham bill. The Kasbah itself is 300 years old and it still owned by the same family who built it. They actually live onsite and carry on their activities as they did in the past. It's a beautiful, well-maintained Kasbah that obviously gets a lot of visitors.
Ps. There's a hotel attached to the Kasbah for those who'd like to experience this setting for a little more time.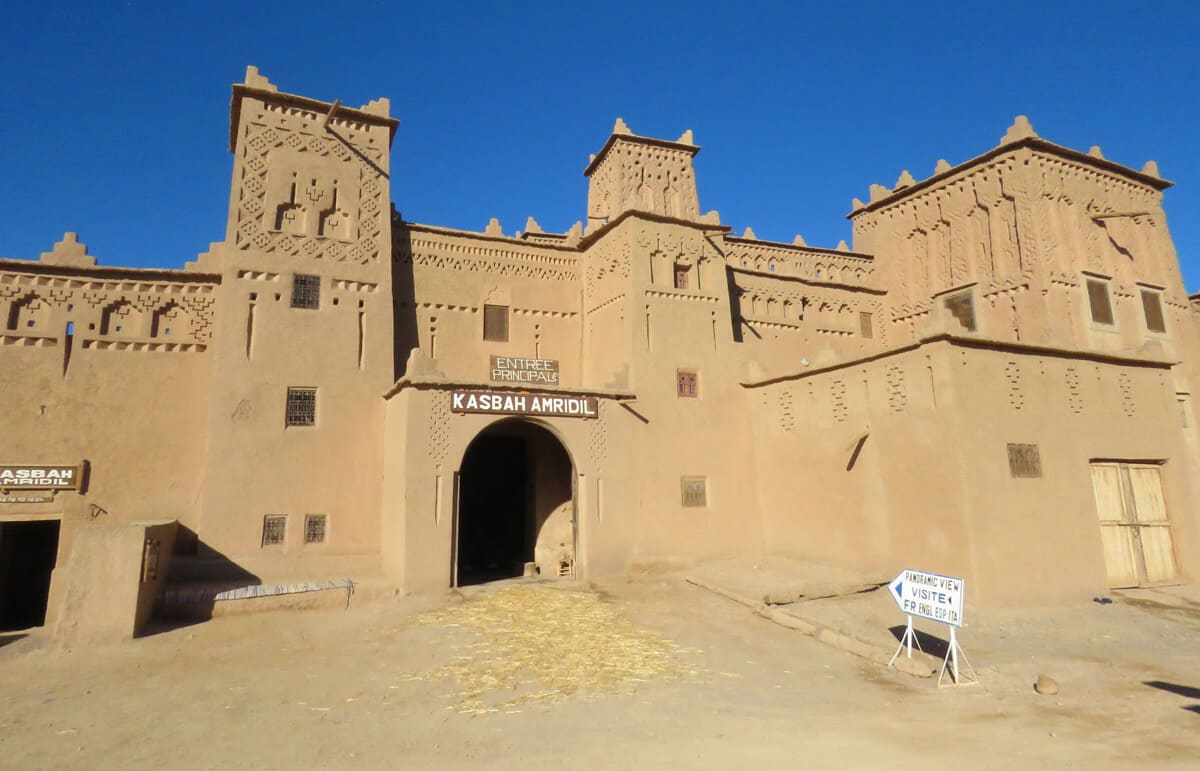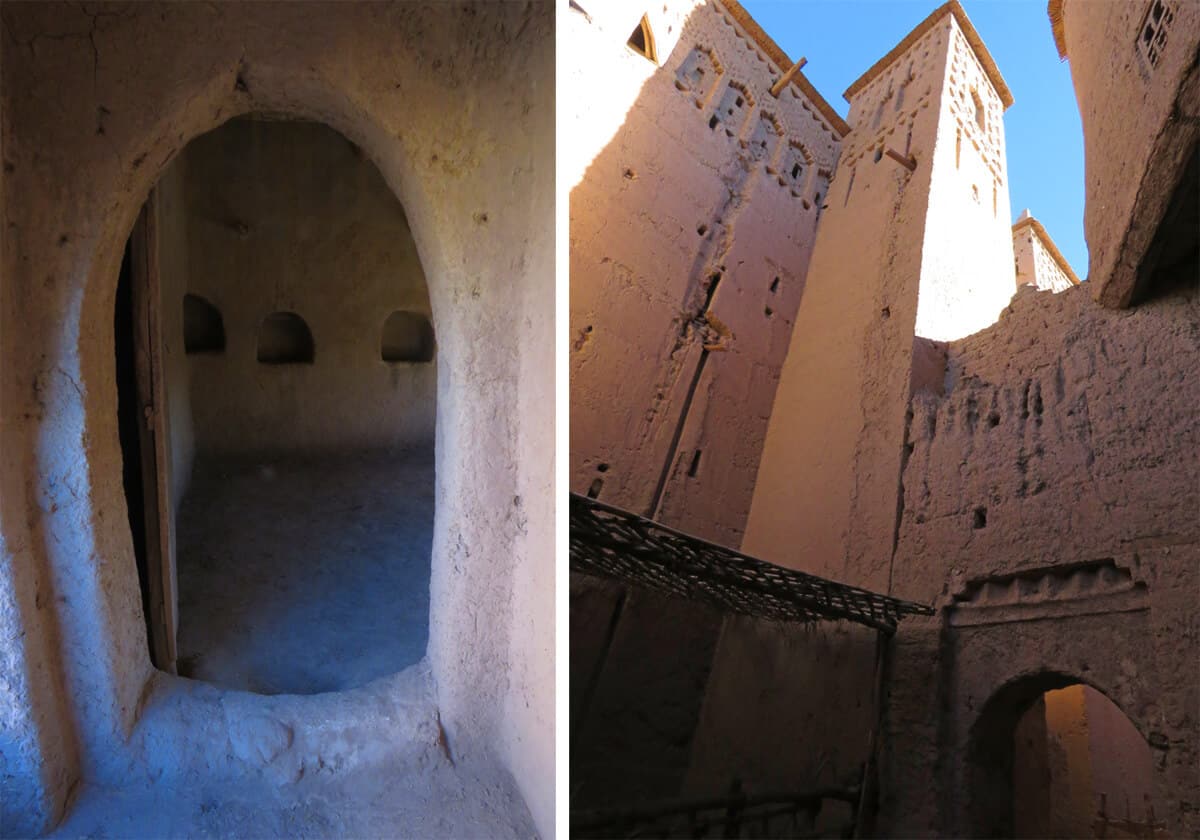 ---
---
An hour further on is the Valley of the Roses. In April every year the valley explodes with colourful roses. The whole industry of the town is based on it. You can get rose soap, rose water…but the majority of the roses are bought by large French perfume companies. Every year, after the harvest is completed (in May) they hold a large rose festival.
---
---
We didn't stop at the Dades Gorge which is a deviation from the Ouarzazate – Merzouga road (we would stop at the Todra Gorge instead). Here is what the Dades Gorge looks like (photo pinched from Wikimedia).

But we did stop at nearby Boulemane Dades, a bustling town overlooking a long green valley. There's a lookout point where you can pull over and enjoy the views.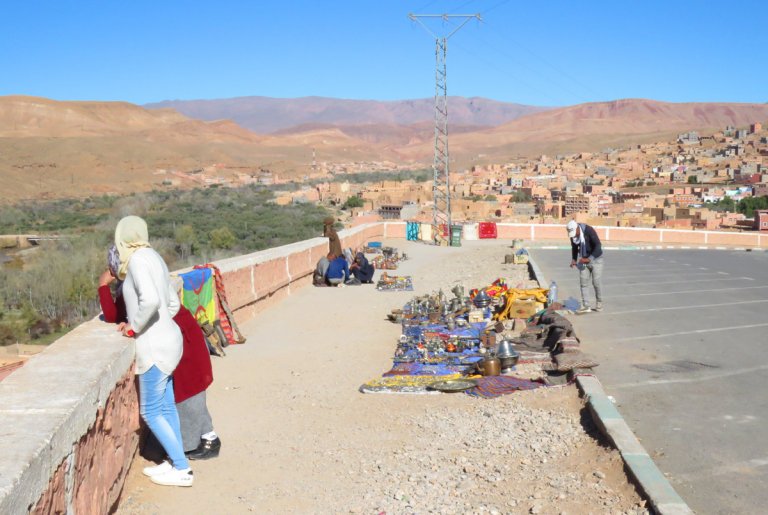 ---
---
An hour later, the scenery still spectacular (more of the multi-coloured sand/rock and far away mountains that we'd been seeing since Ouarzazate), we arrived at the town of Tinghir. From there it is a 15 minute deviation off the main road to the Todra Gorge. Just getting to the gorge from this point affords great views. A few photos from the viewpoints along the way.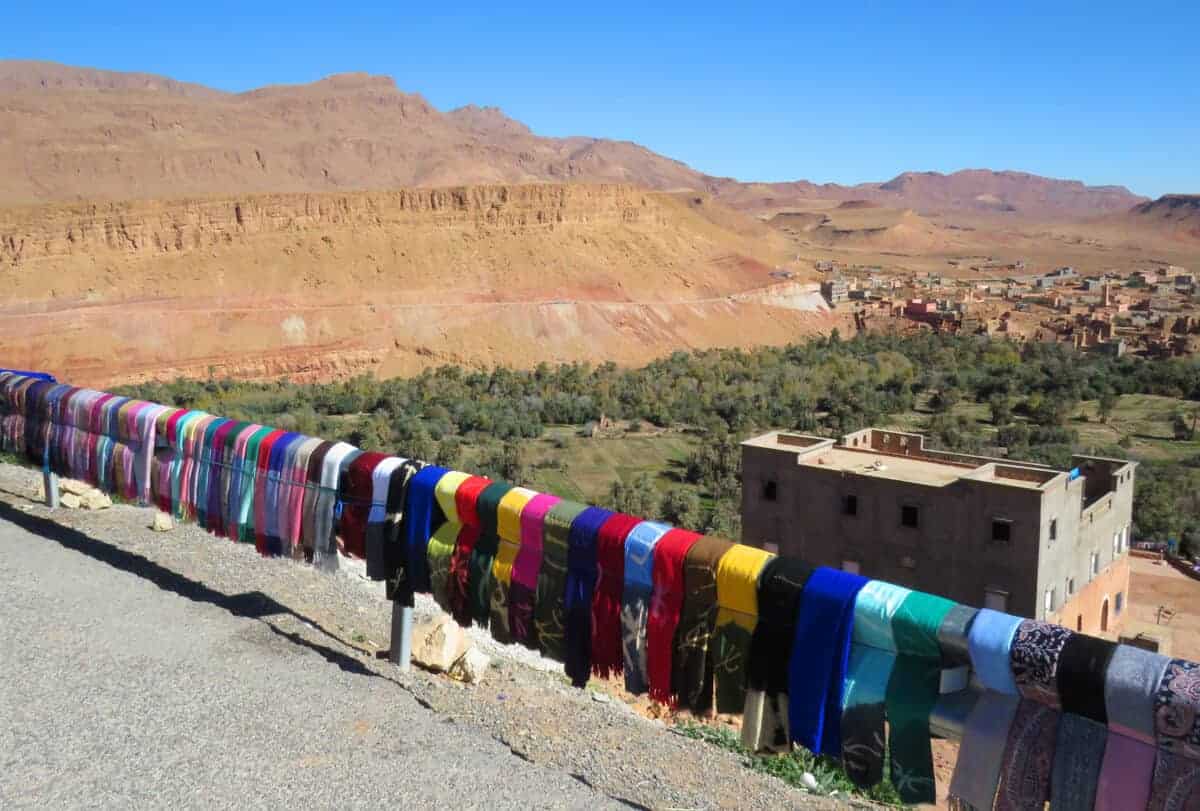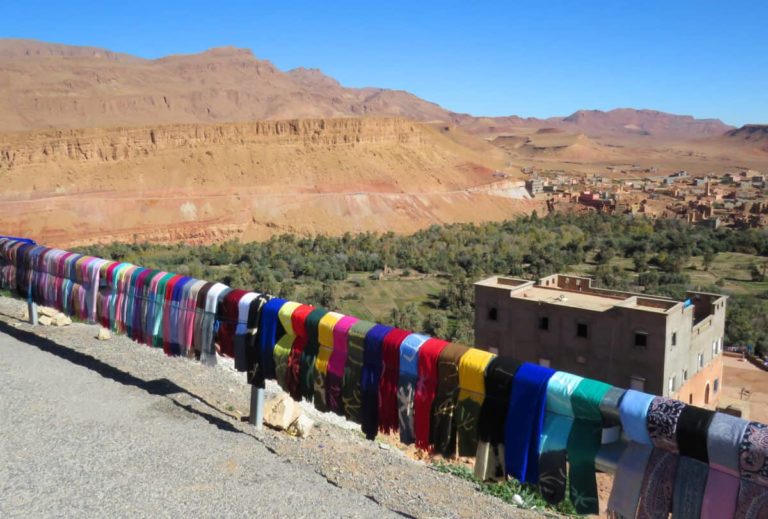 Then you arrive at the Todra Gorge. The Gorge is very narrow, in some places only about 10 meters wide. There's a river running along it which is only a stream in the dry season but which becomes a torrent when it rains. But what makes the Todra gorge impressive are the sheer rock walls that rise about 160 meters above the level of the river. As a visitor you can walk along the small road along the canyon floor, looking straight up at the cliffs above you. Bring a sweater – because of the height of the cliffs you'll be in shade most of the time and you'll be surprised by the cold wind gusting through the gorge.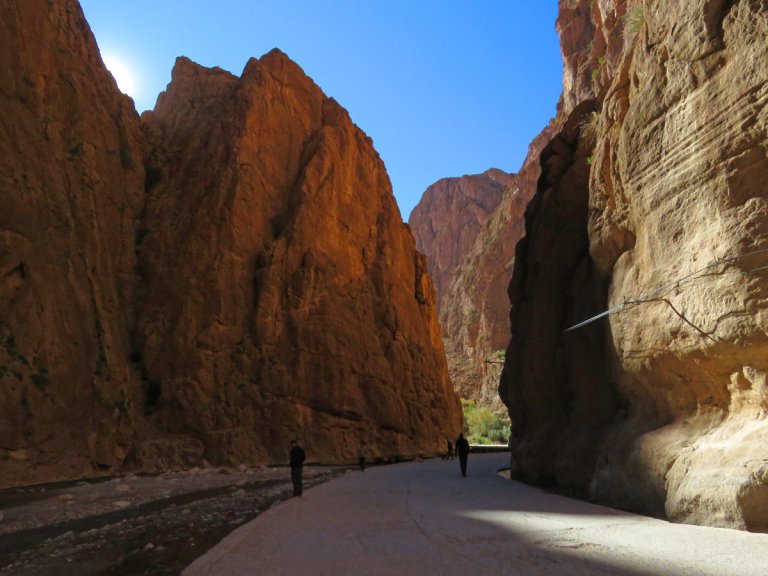 ---
---

After getting back on the main road, it is a long (3 hours) and somewhat monotonous drive to Merzouga. You left behind the mountains behind at Tinghir. This stretch is basically all flat and rocky.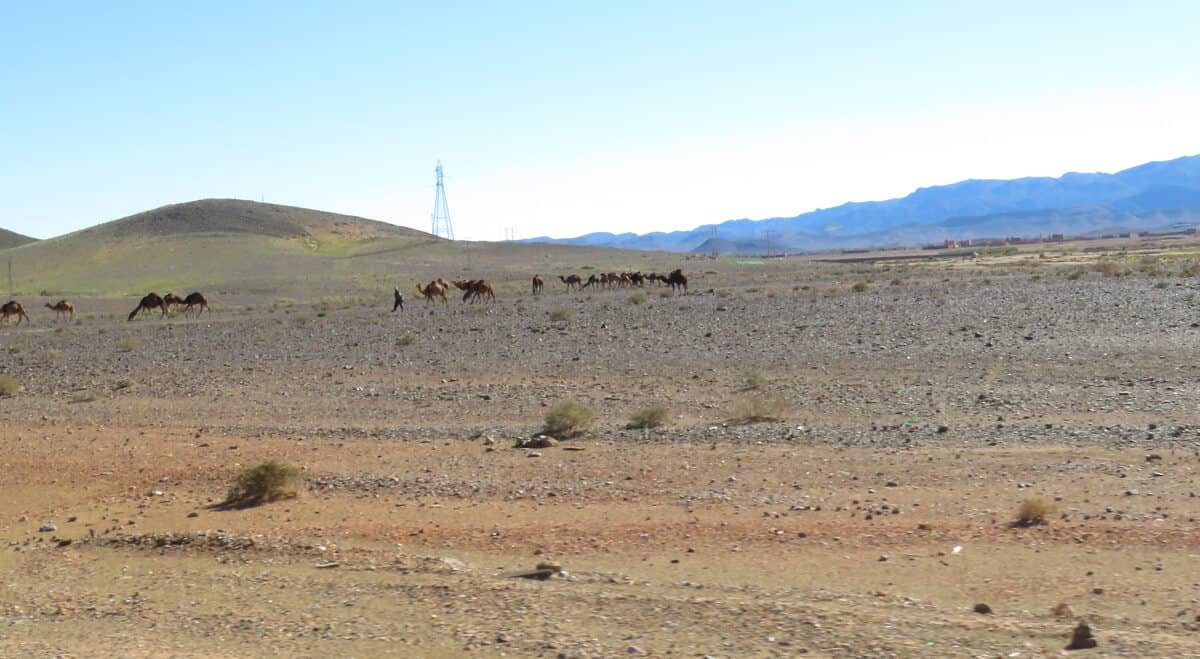 Then you suddenly see the dunes in the distance. That's Merzouga.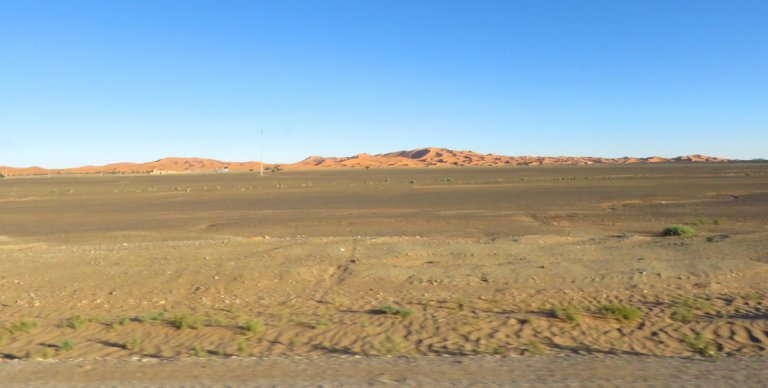 The entire drive, with stops, took about 8 hours. If you drove it straight without stopping it would be 6 hours. But it was all worth it – as would be my 3 days in Merzouga. The dunes are phenomenal. Some of the most spectacular scenery I've seen in my life.
---
---
Practical Information
– Getting there. There are basically 3 ways to get from Ait Benhaddou to Merzouga.
The bus. You'll have to get to Ouarzazate by Grand Taxi. Supratours does Ouarzazate – Merzouga every day, leaving at 1pm from Ouarzazate, arriving at 9pm in Merzouga. Official website here.
Rent a car. Have a look at our Rentalcars.com link. Prices start around $30 US per day. It's an easy drive being mostly just open countryside and it allows you to stop anywhere you want. Ideally this is what I would have done.
Get a private driver. I didn't want to drive without Lissette (as much as I curse when I drive I need someone to vent to) but didn't want to miss the things along the way either. So I used Marrakech Airport Transfer. It cost me 200 Euros but I figured it was worth it on this leg of the trip. I'll be using public transportation between all my other destinations in Morocco.
– Organized Tour. This 3 day desert safari starts in Marrakesh and includes a night in the desert in Merzouga. BUT it also includes stops in the Tizi-n-Tichka pass (which I covered here) as well as the Dades Gorge and Todra Gorge. It's actually very inexpensive – if you don't mind doing a tour with other people. This tour is basically the same, except that you also stop at Ait Benhaddou on the way.
– Accommodation. I stayed at Kasbah Valentine in Ait Benhaddou and Ksar Bicha in Merzouga. Both were excellent.
---
---

Ps. If you find our blog helpful, please consider using our links to book your flights, hotels, tours, and car rentals. Have a look at our Travel Resources page.