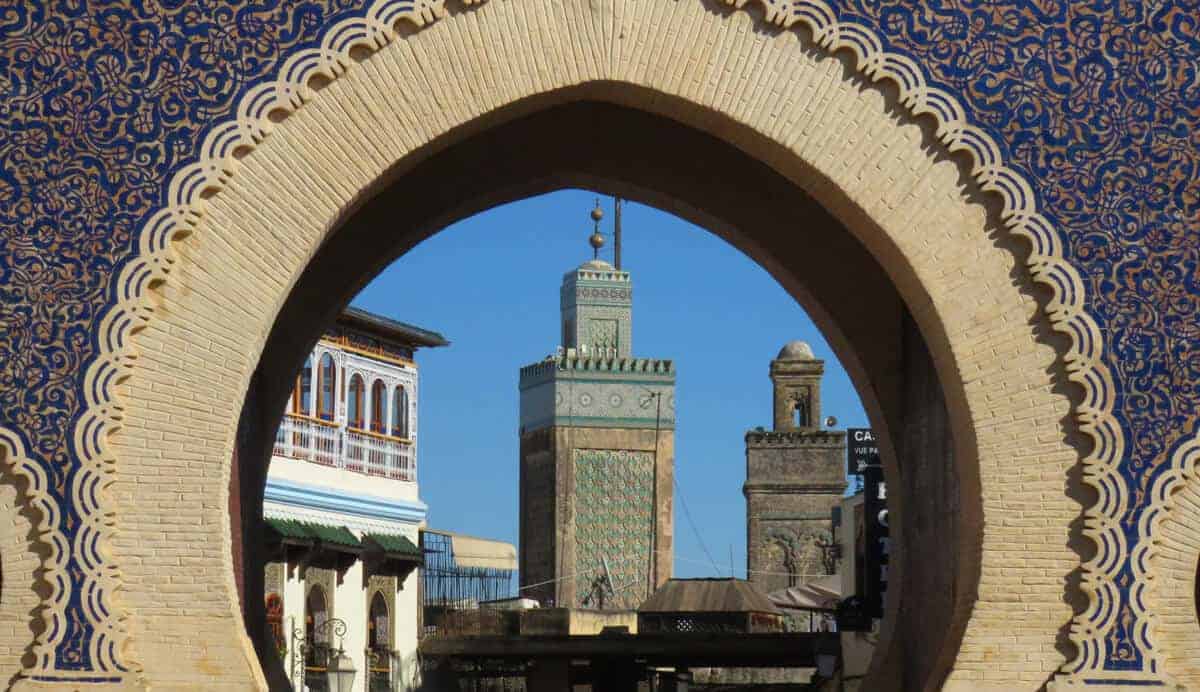 Fez or Marrakech? Which to Visit?
Fez and Marrakech are the two oldest cities in Morocco and the first capitals of the country. Fez is in the north, Marrakech in the south. Both cities are interesting and exotic with wonderful highlights. Both are also UNESCO World Heritage Sites. So Fez or Marrakech? Which to Visit?
So which should you visit?
Some people might answer "neither" to the above. When I first looked up information on either city, and when I further researched for this post, I came across many reviewers who absolutely hated both. If either cities get hate from visitors it is entirely due to the special attention you get as a visitor (ie. the pushy, persistent, and at times very aggressive merchants).
Before I get into this post, I have 2 recommendations for visitors to either city. 1. Get yourself a guide, especially for that first day when you've just arrived. The layouts of both cities are confusing and a guide will: a) show you around and help you get orientated, b) ward off the unwanted attention so that you can actually enjoy the sights. 2. Get a SIM card, they're very inexpensive and you can use Google Maps to head you in the right direction. I got an INWI Sim Card and was surprised by how inexpensive it was. When I initially bought it, I got the card and 10 days coverage (telephone and internet) for 60 Dirhams (that's $6 US). I later extended it and got 1 months coverage for 100 Dirhams ($10.50 US). It saved me many times during my 5 weeks in Morocco.
---
---
Marrakech
Marrakesh is the 2nd oldest city in Morocco (founded in 1071) and was also the 2nd capital (after Fez).
Marrakech was the starting point of my Morocco trip. I think it's the worst place to start a trip in Morocco because nowhere else are merchants and resident scammers as pushy, persistent, aggressive and annoying as they are in Marrakech. I absolutely hated my first 2 days there as I wrote about here: Dealing with liars, scammers, and bullshit in Morocco.
I did a couple of things the 3rd day that changed my experience. The first was my attitude. I had had enough by the 3rd day and I just either ignored people or waved them off when they tried to speak to me. The 2nd thing was getting that SIM card. When people would stop me and say "Mister, where you go? The square is over in that direction" I would wave them off, confident now with my Sim card that I was heading in the right direction.
So I basically tuned out the people and concentrated on seeing the sights. Of which there are many.
The Highlights in Marrakech and my thoughts on them:
Djemaa El-Fna, the huge square and market place in the medina (the old city). No doubt a place you have to see (and can't avoid even if you tried because it is in the center of everything). Tons of activity, tons of stalls, lots of musicians, snake charmers, men with monkeys who want you to pay to pose with them. The square is actually everything I despise as I don't like crowds. But everyday I would go for tea at a café overlooking the square (there's a café right next to Hotel Restaurant Café de France which is has great views and is unpretentious). Looking over the square, there's never a boring moment.
The souk (ie. market) in the Medina. Marrakech (and Fez) both have a sprawling network of streets and alleys filled with tons of little stores selling everything under the sun. I think I walked most of them during my 4 days. My favorite was rue Souk Semmarine in the middle of the Medina.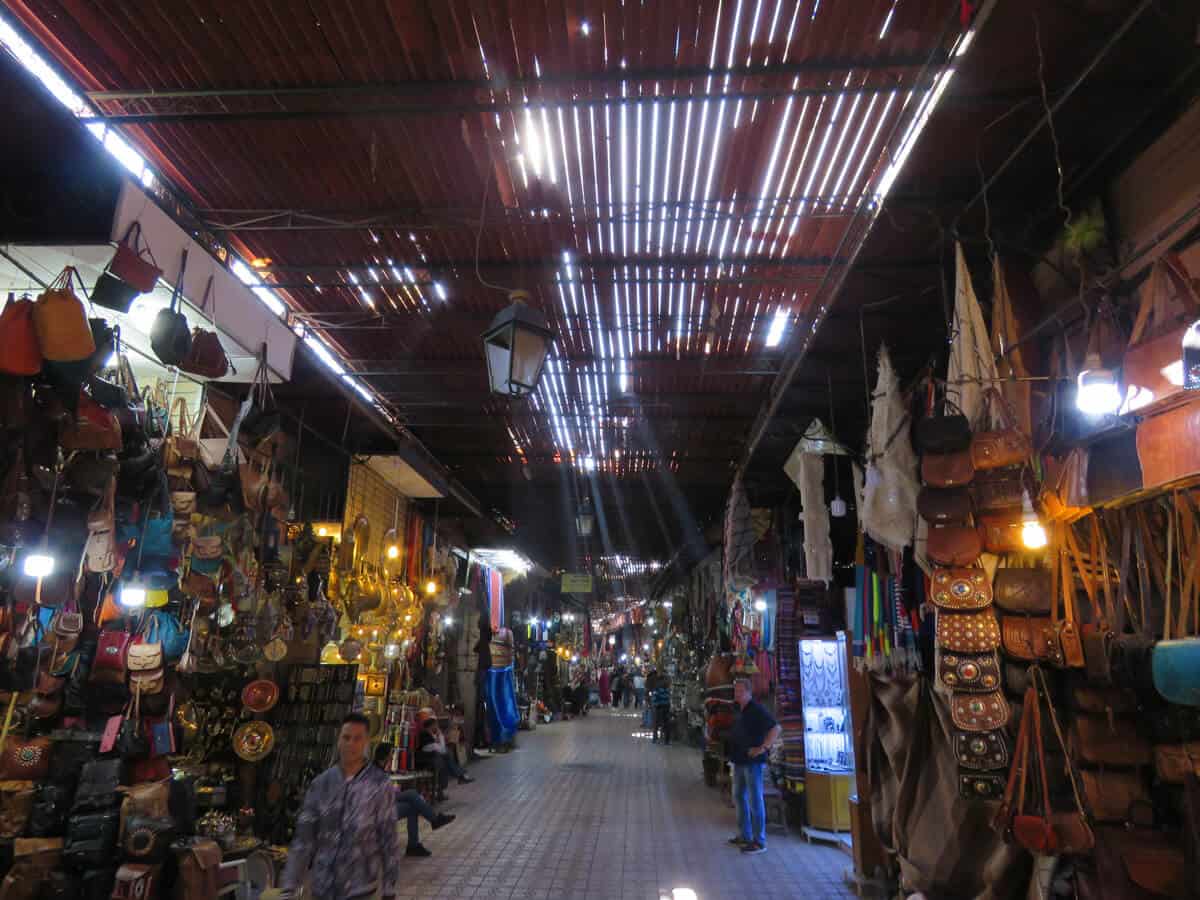 The Tanneries.

A tourist trap

and if you're going to Fez skip the one in Marrakech. Even if you're not going to Fez just skip it. Really nothing special and you'll be pestered like there's no tomorrow.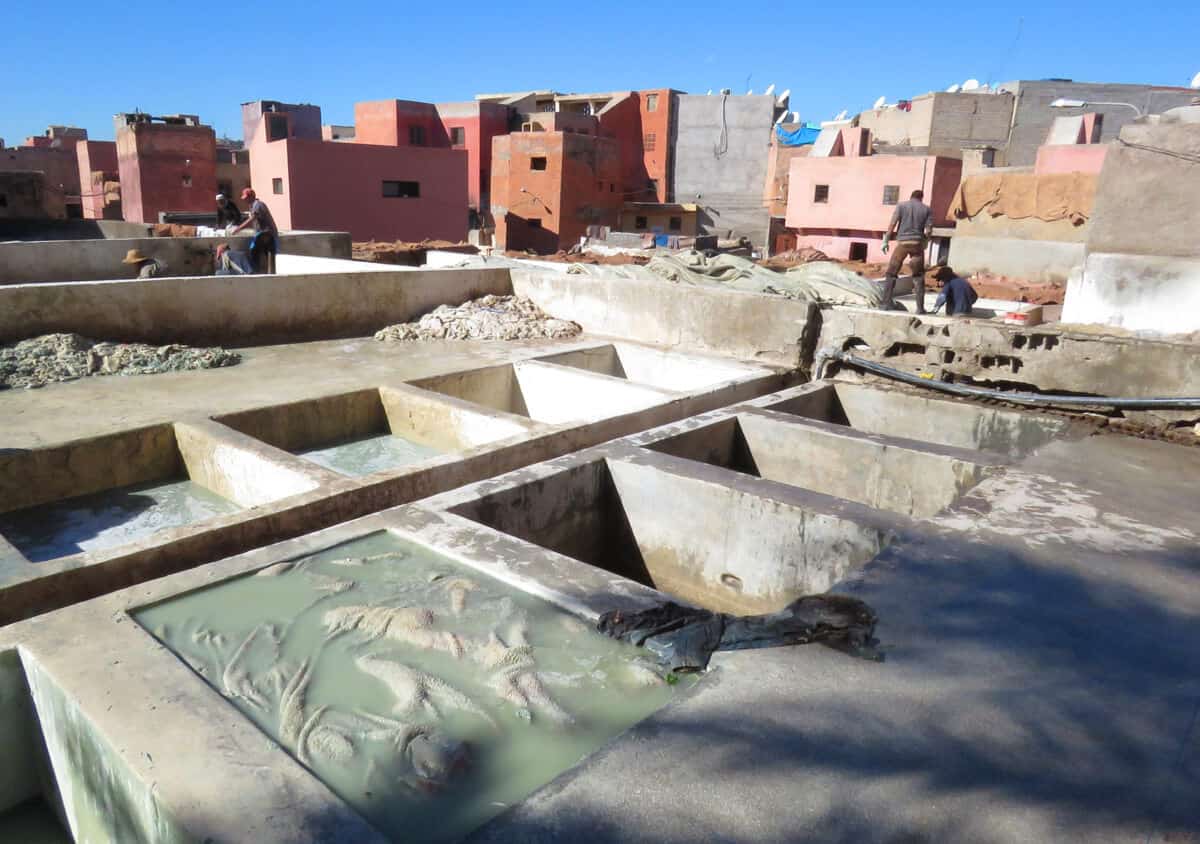 Koutoubia Mosque. You can't miss it, the highest minaret in Marrakech. As a non-Muslim you can't enter, but you can walk around the pretty gardens that surround the mosque and suddenly feel very peaceful.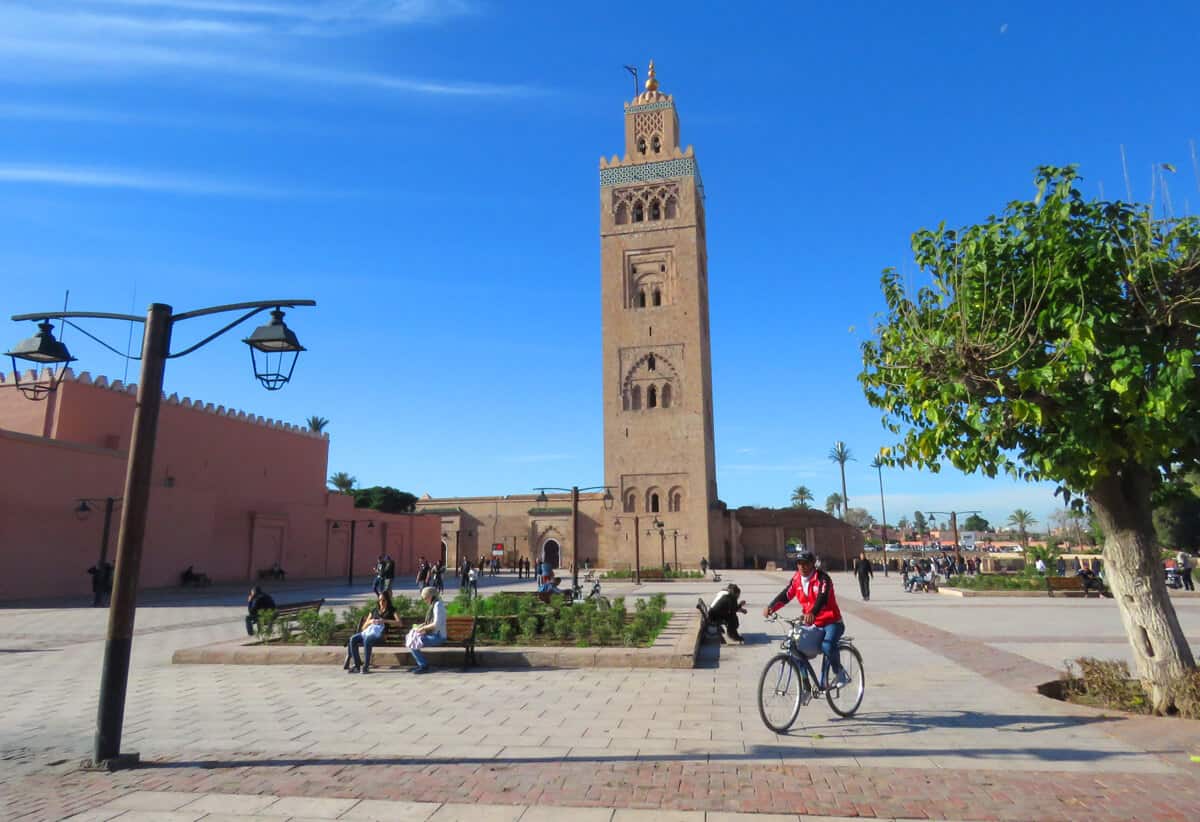 ---
---
Saadian Tombs. The tombs of members of the Saadian dynasty (1578-1603). Located within a beautiful mausoleum. The whole site is impressive and the Saadian Tombs were one of my highlights in Marrakech.

Kasbah Mosque. A very attractive mosque right next to the Saadian Tombs. Again, you can't enter but you can walk around the complex which in my opinion is just as impressive as the Koutoubia Mosque. Go to the Kasbah Café across the street for great views of the Mosque (touristy but it has good food).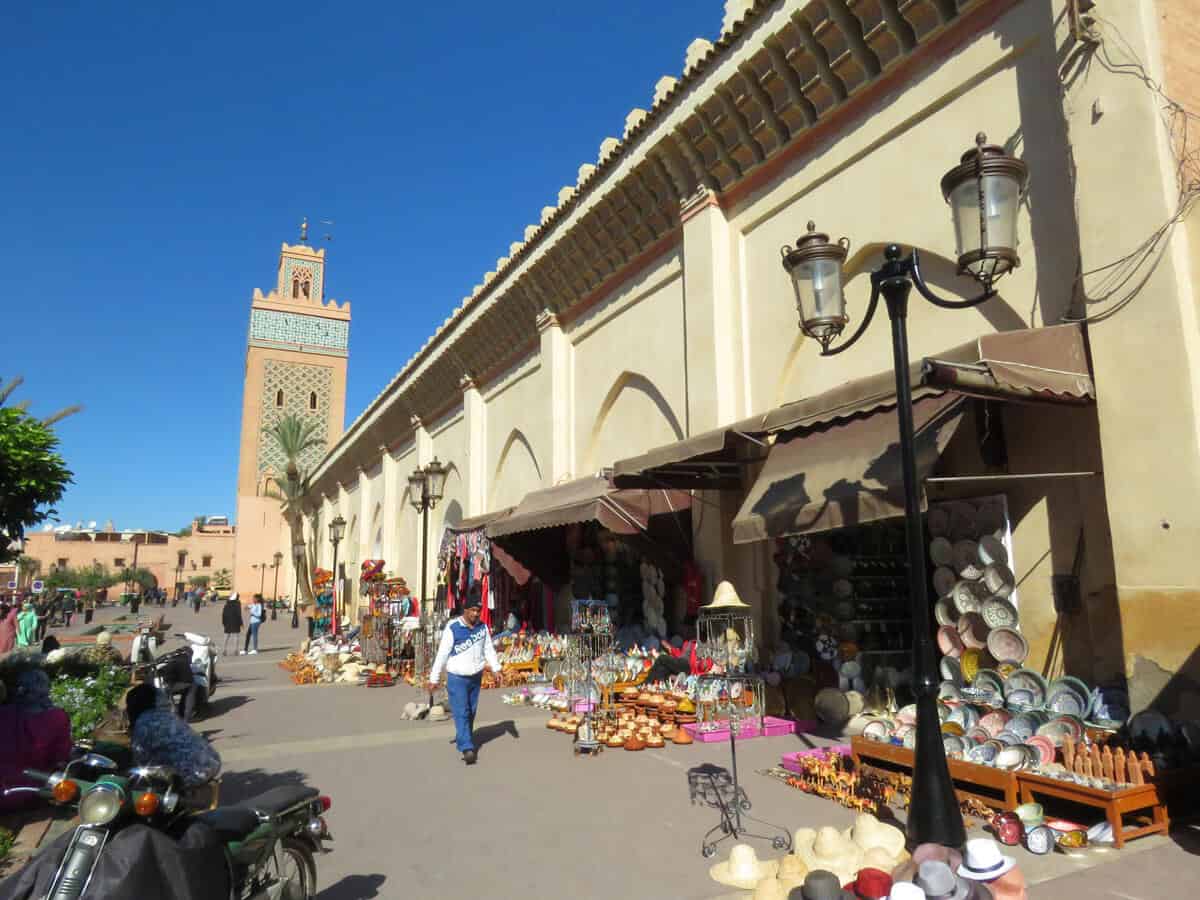 ---
---
El Bahia Palace. This Palace was my sightseeing highlight in Marrakech. A large, beautiful palace with several courtyards, gardens, and some incredible architecture and tilework. It was built in the late 1800's as the palace of Si Moussa, Grand Vizier of the Sultan. A must see in Marrakech.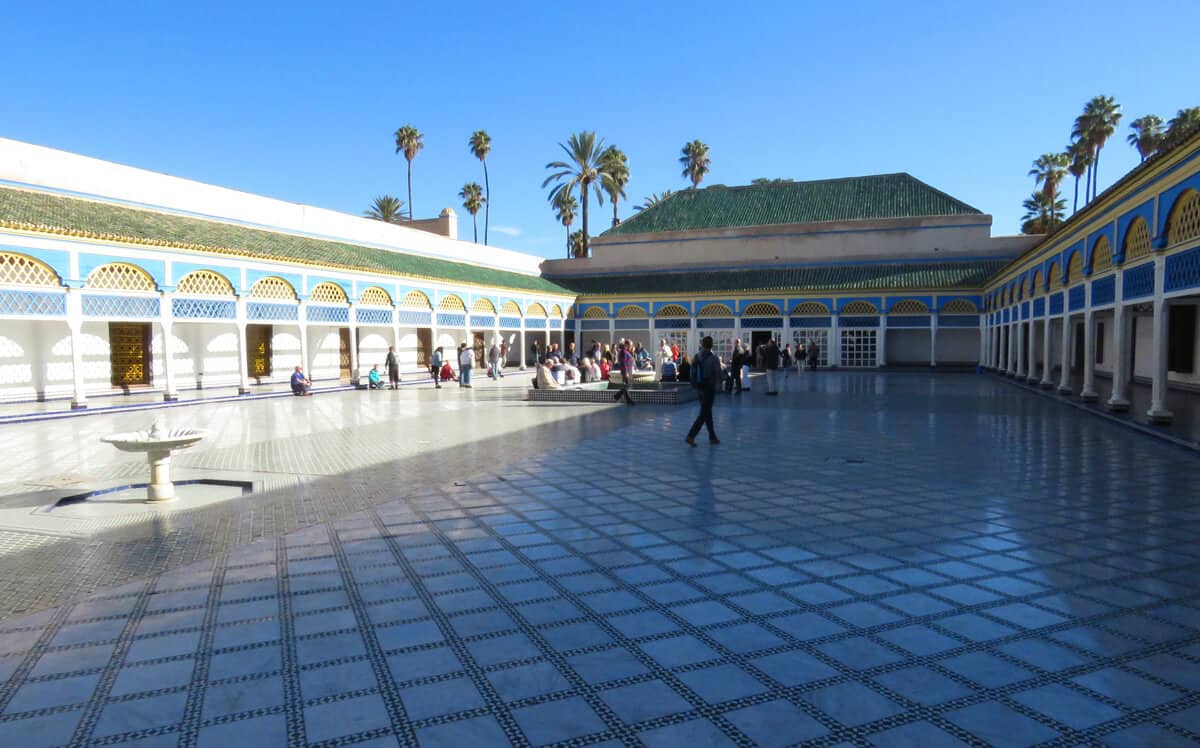 Majorelle Gardens. A 2 ½ acre botanical garden built by artist Jacques Majorelle in the 1920s. In 1980 it was purchased by fashion designer Yves Saint-Laurent who restored it. The Gardens are very popular with tourists, ridiculously so (it's just a garden, right?). Come and visit if you've seen everything else but don't go out of your way if you are only in Marrakech for a short time.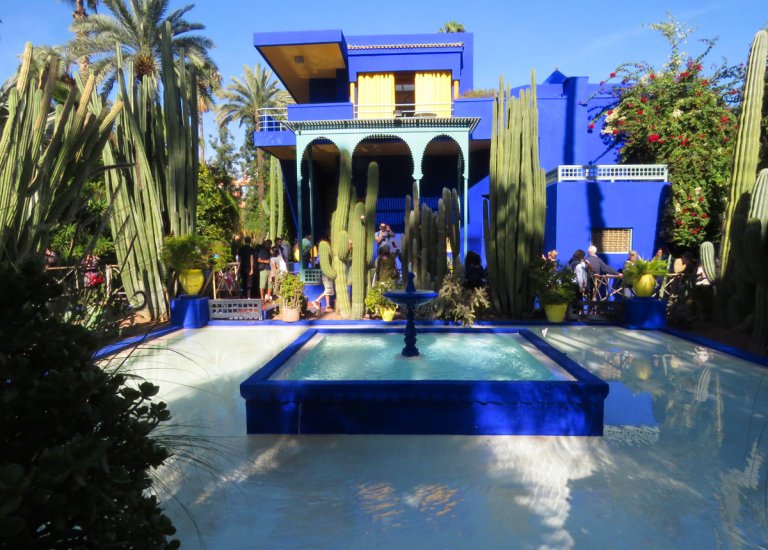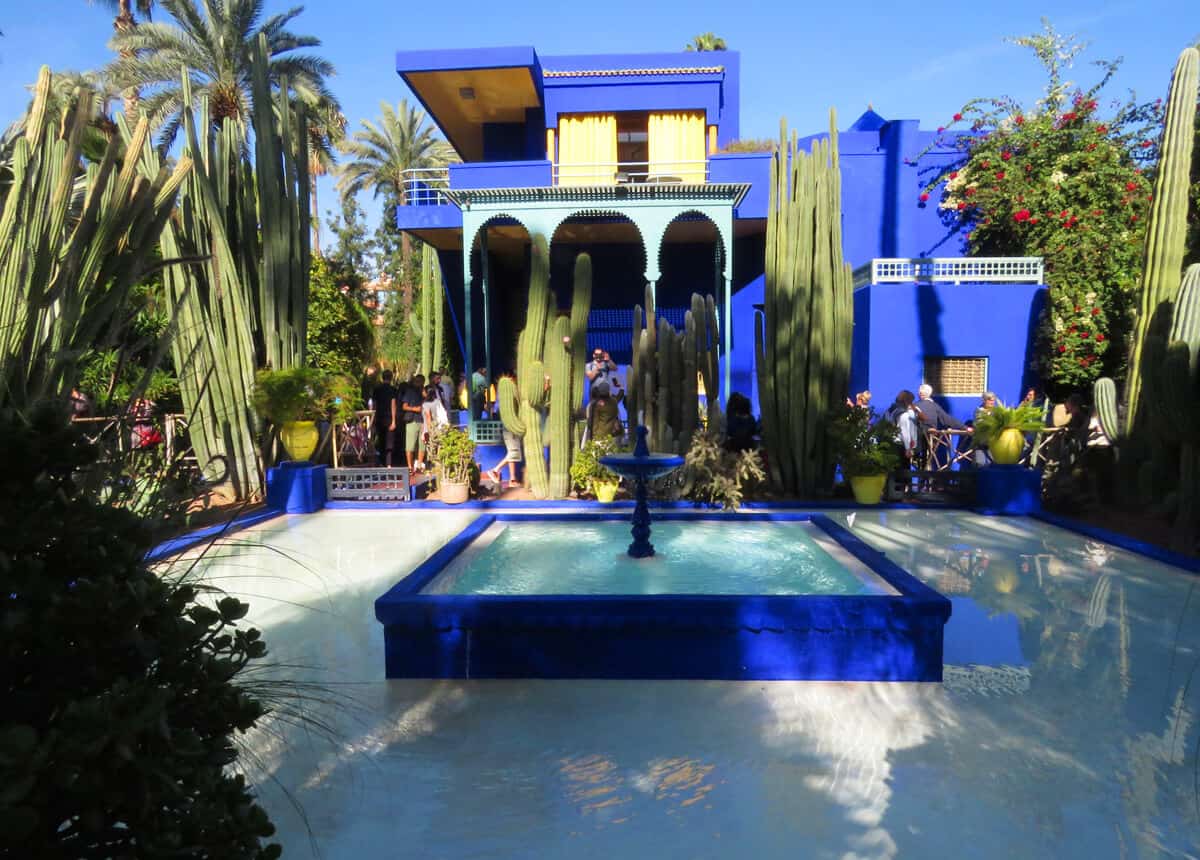 Museum of Marrakech. An art museum located within an old palace. The art is forgettable. The building is interesting but limited to one large room. Again, visit if you have time on your hands.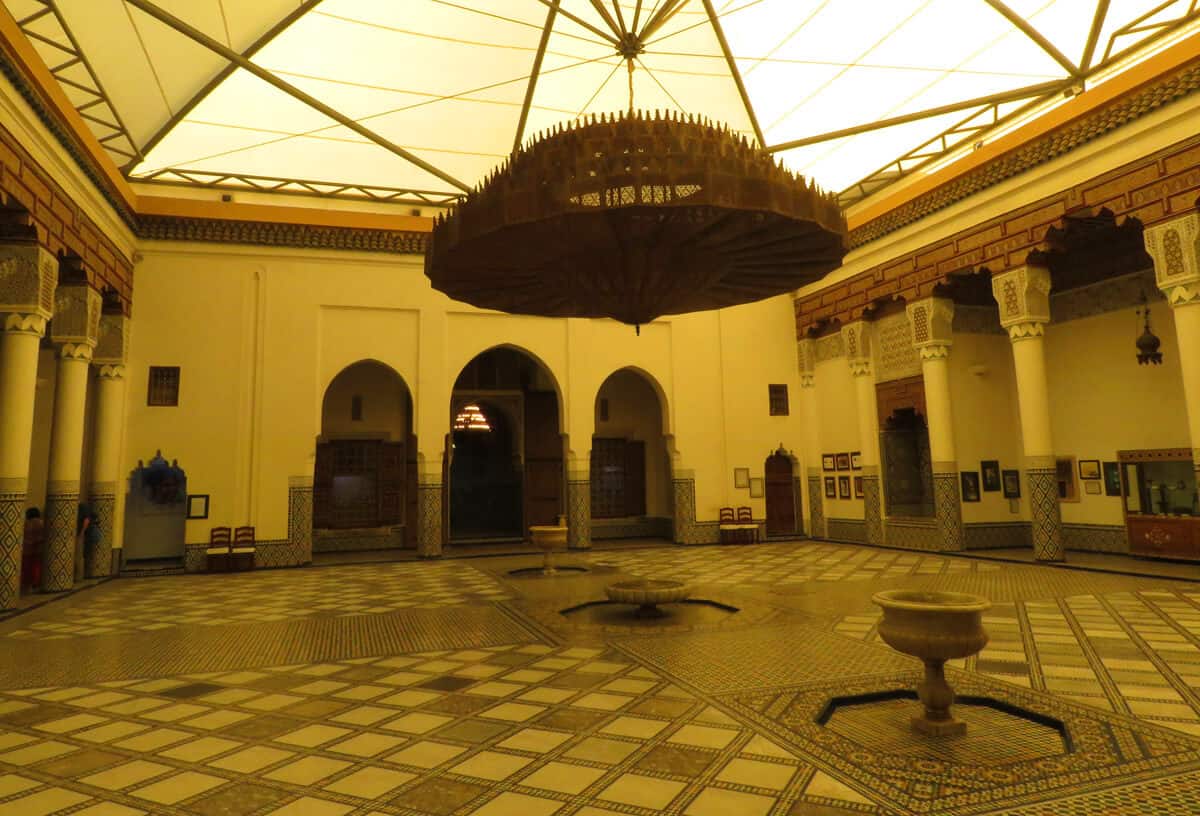 ---
---
Ben Youssef Madrassa. One of the highlights in Marrakech, unfortunately it was closed when I went (in December of 2018). It was a religious school for 400 years and the largest Islamic college in Morocco. If it is open, make sure to see it.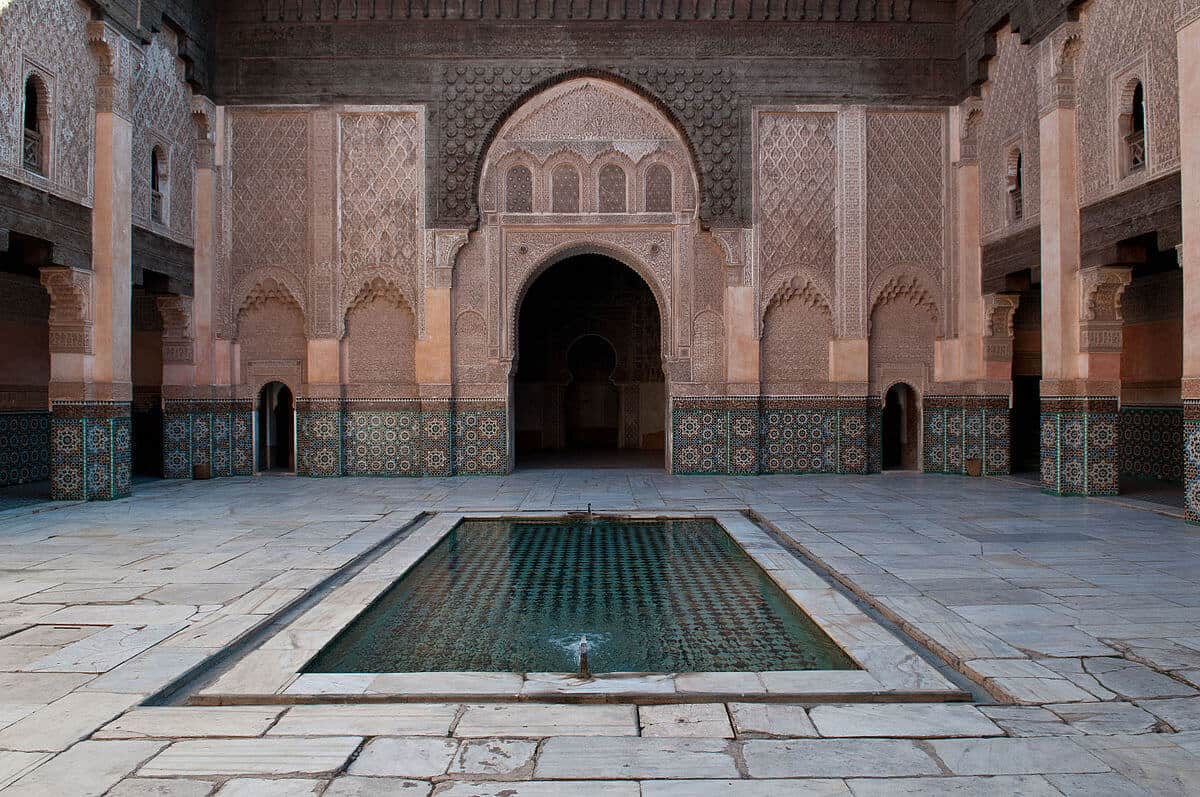 Photography Museum. You'll see a lot of photos of Morocco's various tribes, many of the photos dated. Interesting enough. But the highlight are the views of the city from the rooftop café.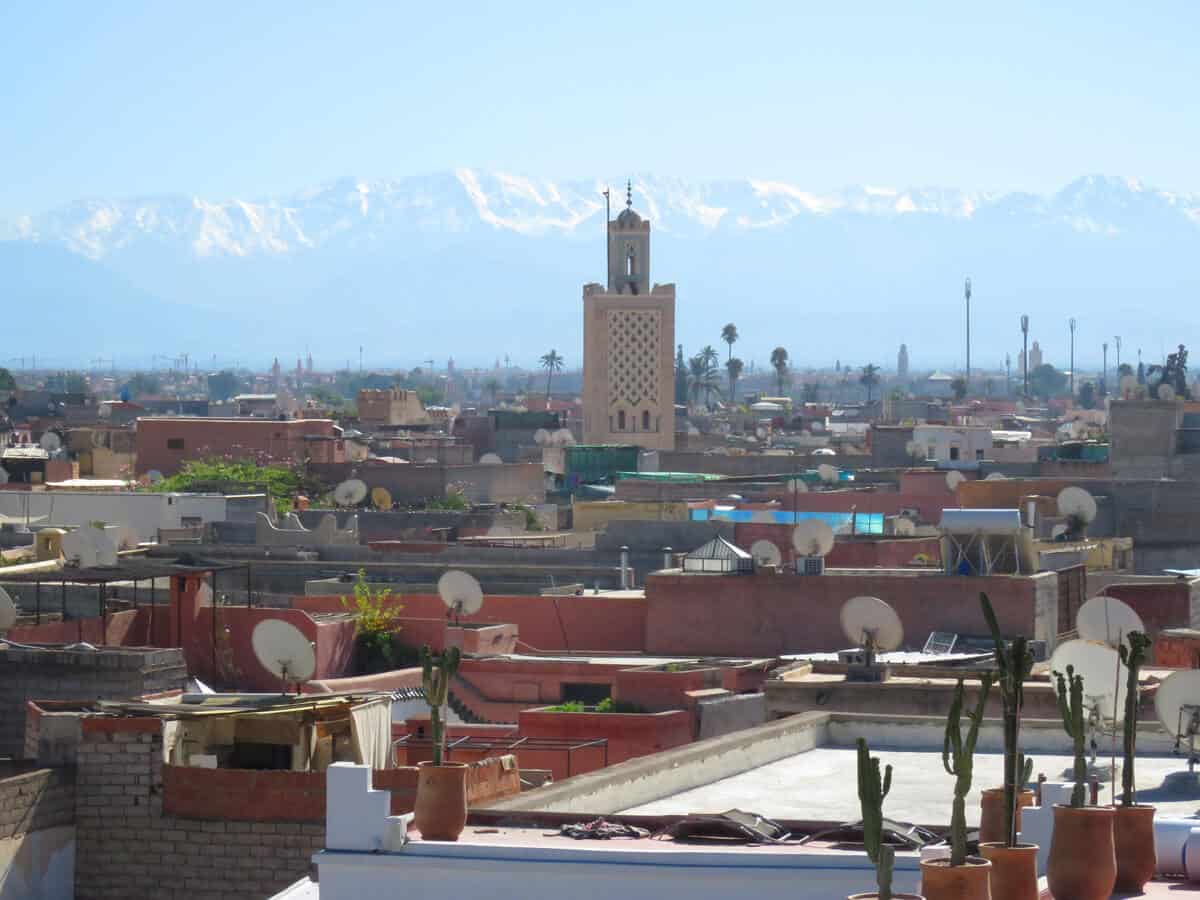 Bab Agnaou. A gorgeous gate into the city, leading to the Kasbah Mosque and Saadian Tombs in the Southern part of the city. Worth seeing if in this area.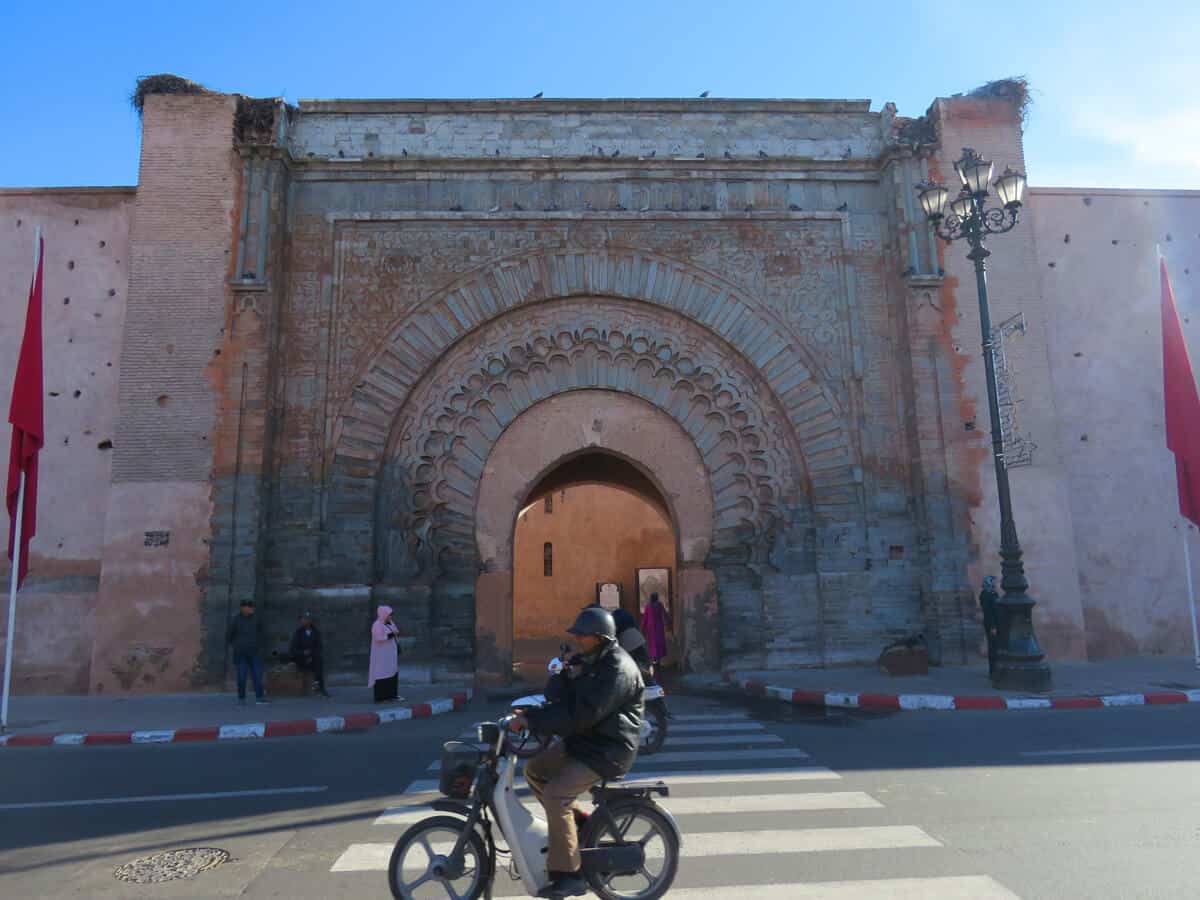 My highlights? Definitely the Saadian Tombs and El Bahia Palace. I was disappointed that the Ben Youssef Madrassa was closed.
---
---
Marrakech as a gateway to other destinations
Besides the above highlights, one of the draws of Marrakech are some of the natural attractions in the vicinity. 2 hours away are Imlil and Aroumd in the High Atlas mountains. I was there 4 days hiking in the region and it was the highlight of my 5 weeks in Morocco (more on that here). Driving east takes you through the incredibly scenic Tizi-n-Tichka pass and, if you plan it right, through route P1506 that takes you through Telouet. Continue on this route and you'll arrive at incredible Ait Benhaddou (more on all that here). The most beautiful stretch of Geography I would see in Morocco was in this region and Marrakech is the gateway to it all. Also, to the west is the pretty beach town of Essaouria, another great highlight in the vicinity of Marrakech.
These are all the Pro sides of Marrakech.
Now for the negative. Marrakech is a stressful experience for the visitor. Nowhere else in Morocco will you be harassed the way you'll be harassed in Marrakech. It's crowded, polluted, and the drivers are very aggressive, including the motorcycle drivers barrelling their way through the tiny streets of the Medina.
---
---
Practical Information – Marrakech
Accommodation. I stayed in Riad Rockech while in Marrakech. It was basic but good value for the money (about $35 US/night) on the southern end of the city a 10 minute walk from the Kasbah Mosque. A 2 minute walk away is the Clock Café (more on that below). If you want to be right in the center (near Djemaa El-Fna) and stay at a slightly fancier riad, I recommend Ryad Hamza or Riad Atlas Acacia.
Tour. As I say, book yourself a tour for that first day in Marrakech. I didn't (I assumed the riad would have a recommendation) and I got thoroughly lost and wasted time. This private half day walking tour is inexpensive and detailed. Recommended.
Restaurants. Close to my riad (Riad Rockech) is the Clock Café which has a relaxed vibe and excellent food. They even have camel burgers if you're interested in trying that out. A bit far if you're in the center but if you're in the southern end of town closer to the Kasbah Mosque then you should go. Across the street from the Kasbah Mosque is the very nice Kasbah Café which has great views over the Mosque. I pretty much stayed with these during my stay, along with a few of the small local restaurants on the street which were inexpensive and good.
Flying In. Marrakesh Menara Airport (code: RAK) is about 8 km (5 miles) from the city center. Expect to pay 15 Euros for a taxi (which is ridiculous. Ask your riad how much they charge for pickup).
---
---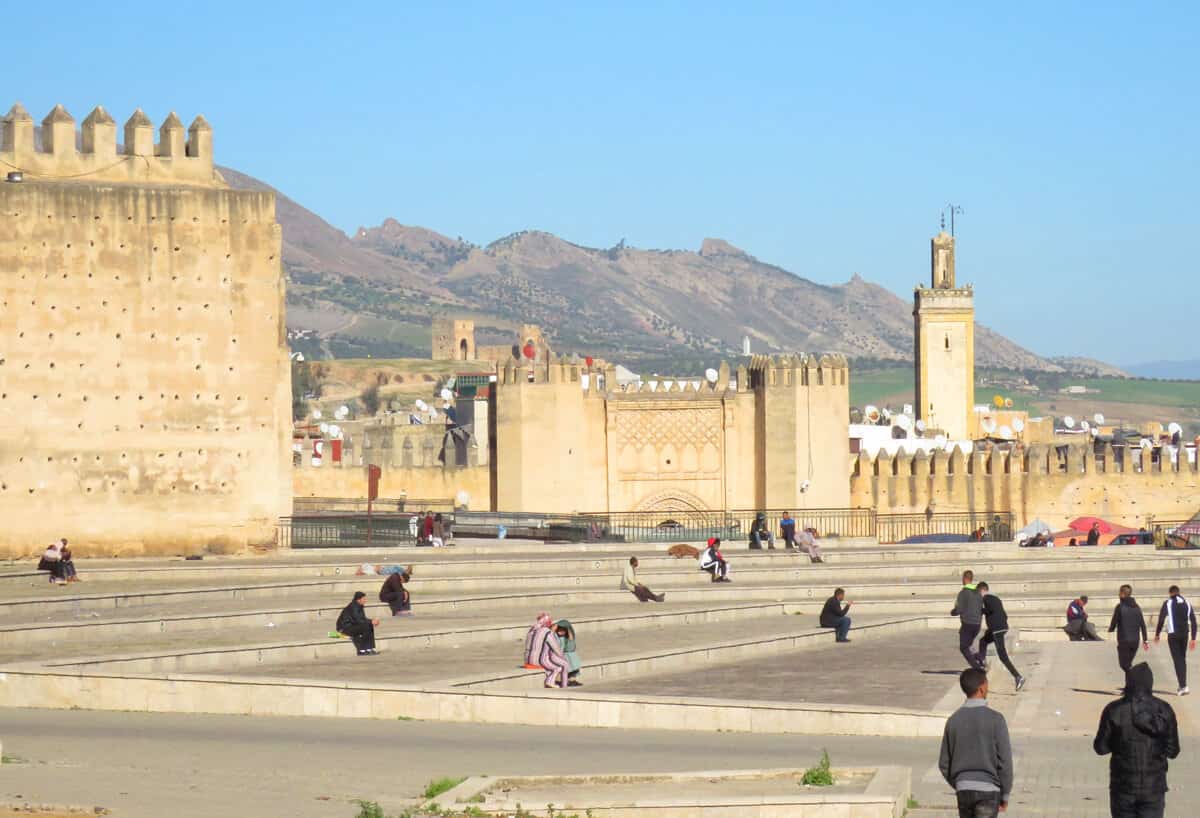 Fez
Fez is the oldest city in Morocco (founded in 789 AD) and was the first capital. It has what many say is the best preserved city in the Arab world. It has a huge medina (which even locals will tell you is a labyrinth where you are assured of getting lost) and is surrounded by fortified walls. The terrain is hilly and there are a few nearby forts in the hills where you get great views over the city.
The highlights of Fez:
The Medina. A lively maze of alleys and small streets filled with stalls, restaurants, cafés. Every street has a mosque, a fountain, a bakery and baths. Most of the city's highlights (which I list below) are located within the Medina.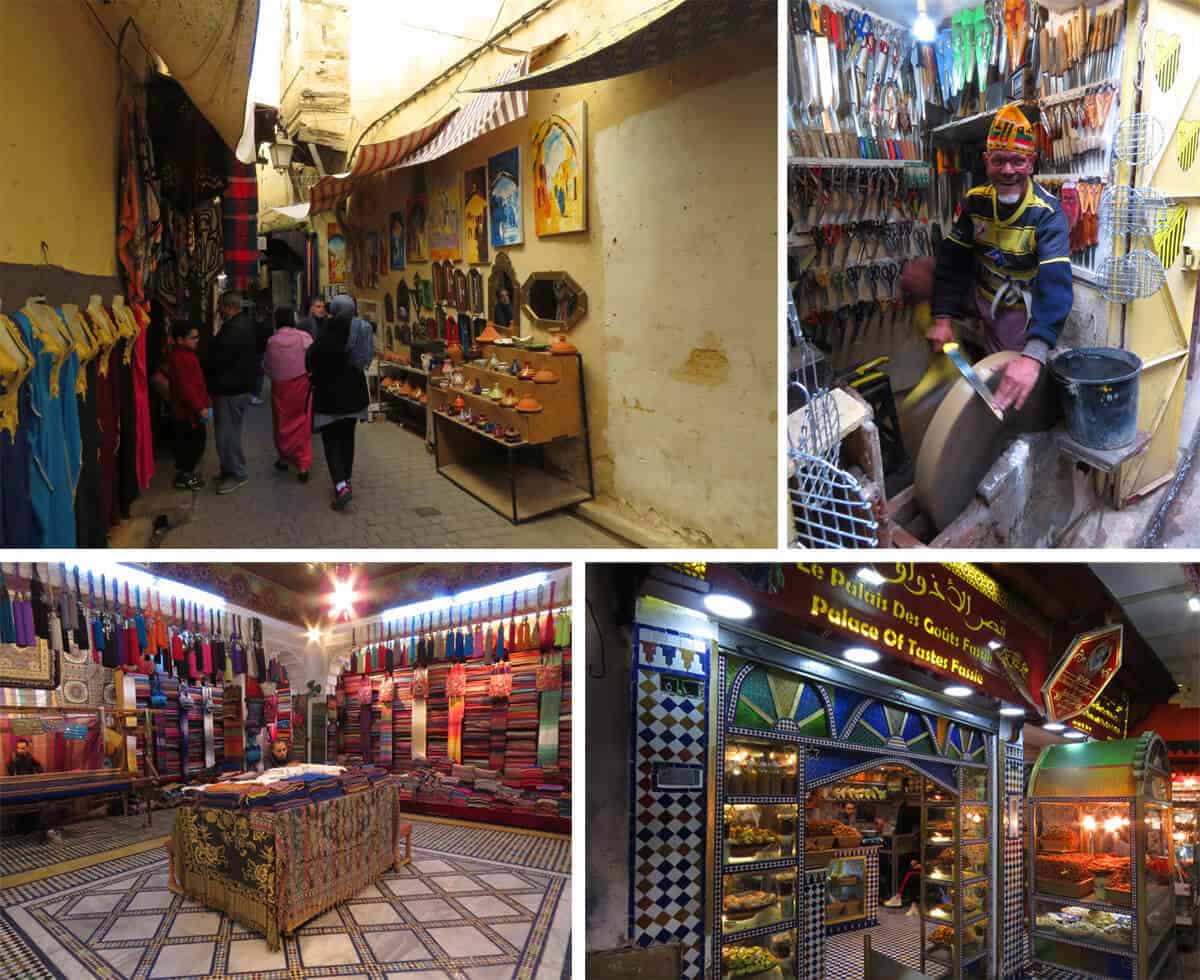 Bab Bou Jeloub. The ornate and beautiful City Gate. One side is predominantly blue (the colour of Fez), the other predominantly green (symbolizing Islam)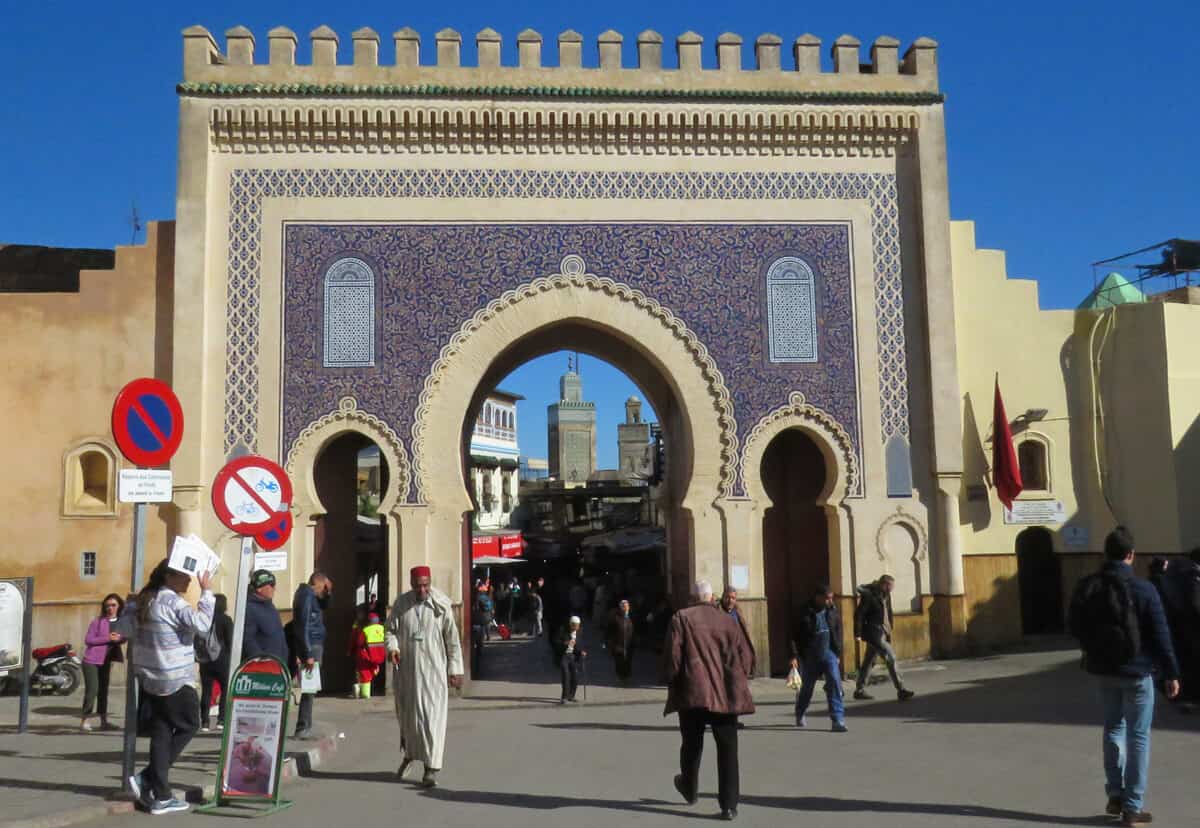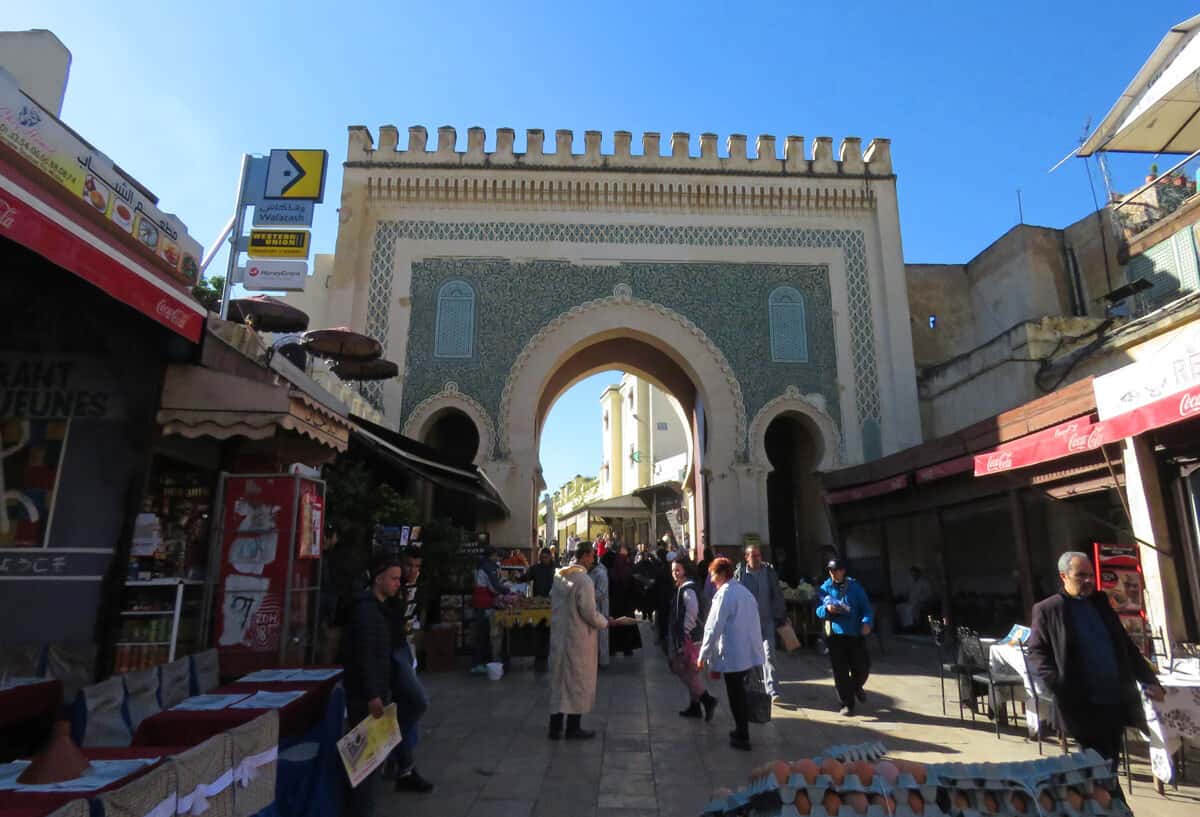 Tanneries. The Chouara Tannery is the most famous tannery in the world and you are taken to a series of balconies above the pits where you can see where the skins are cleaned and then soaked in colours (all natural colours). Make sure to come here with a guide as I did. They'll still try to get you to buy something but you won't be endlessly harassed.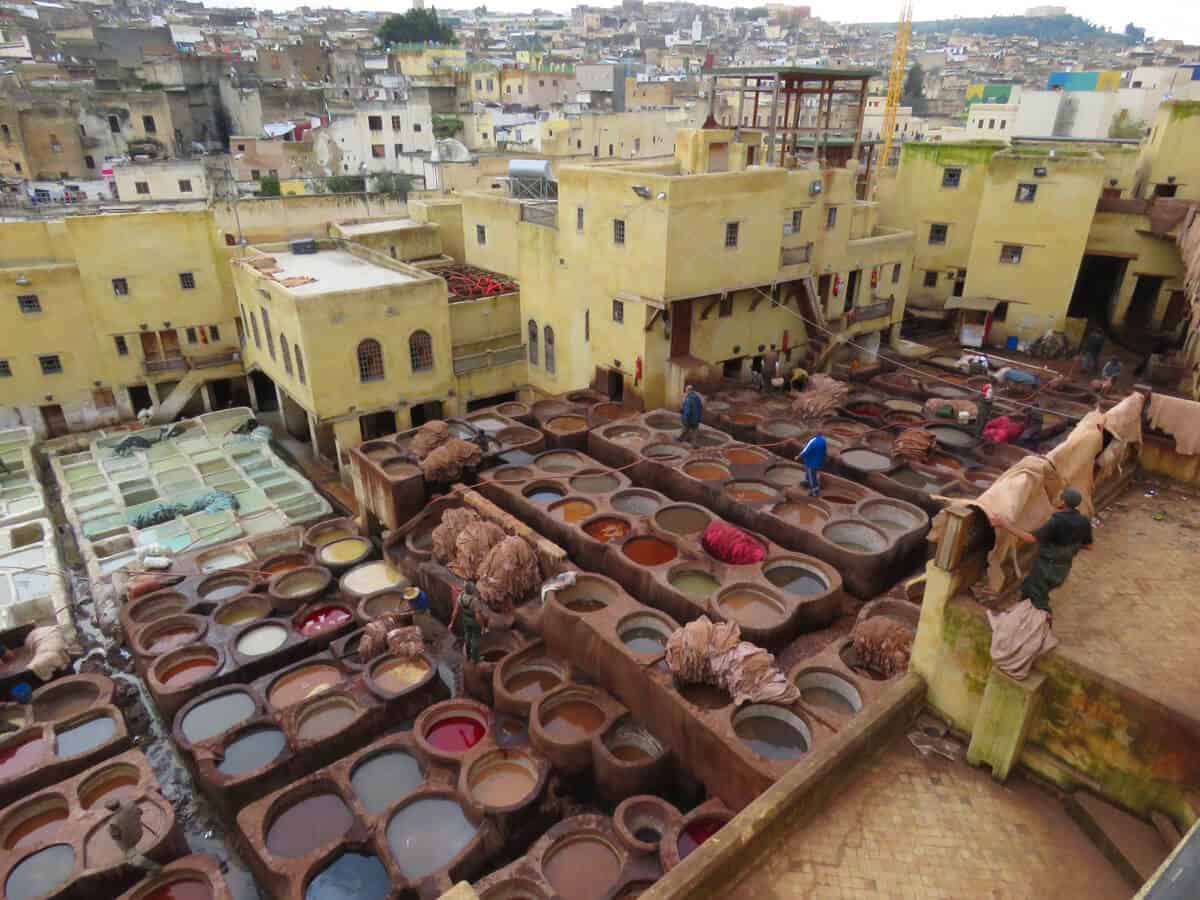 ---
---
Bou Inania Madrasa. A religious school, one of the few religious buildings a non-Muslim can visit in Fez (or Morocco for that matter). You don't see much – you'll be ushered into a courtyard where you can admire the intricate architecture of the building around you. It's beautiful though.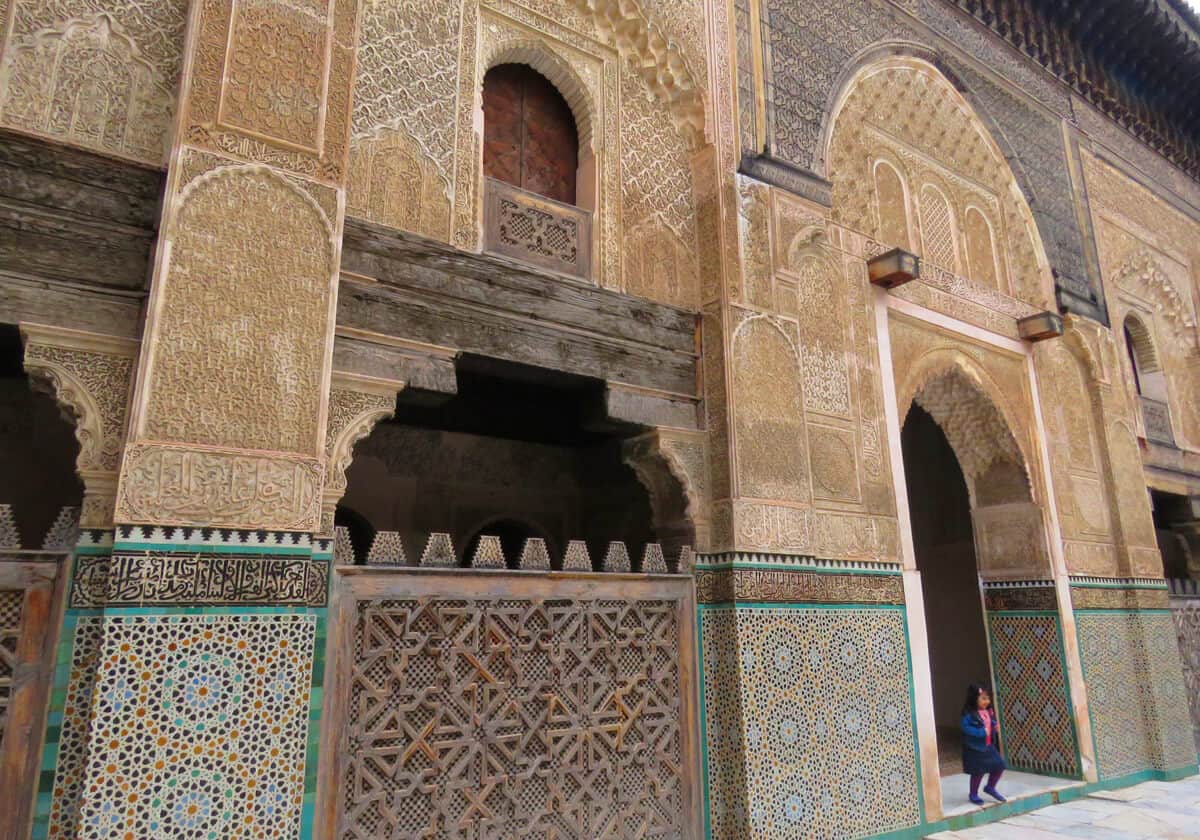 Funduq al-Najjariyyin. A Funduq was a merchant's hotel and catered to merchants coming to Fez with their wares and animals. They could stay there (along with their animals) and also trade goods on the ground floor. The building is interesting and you can go to the rooftop for views of the Medina and the surrounding hills.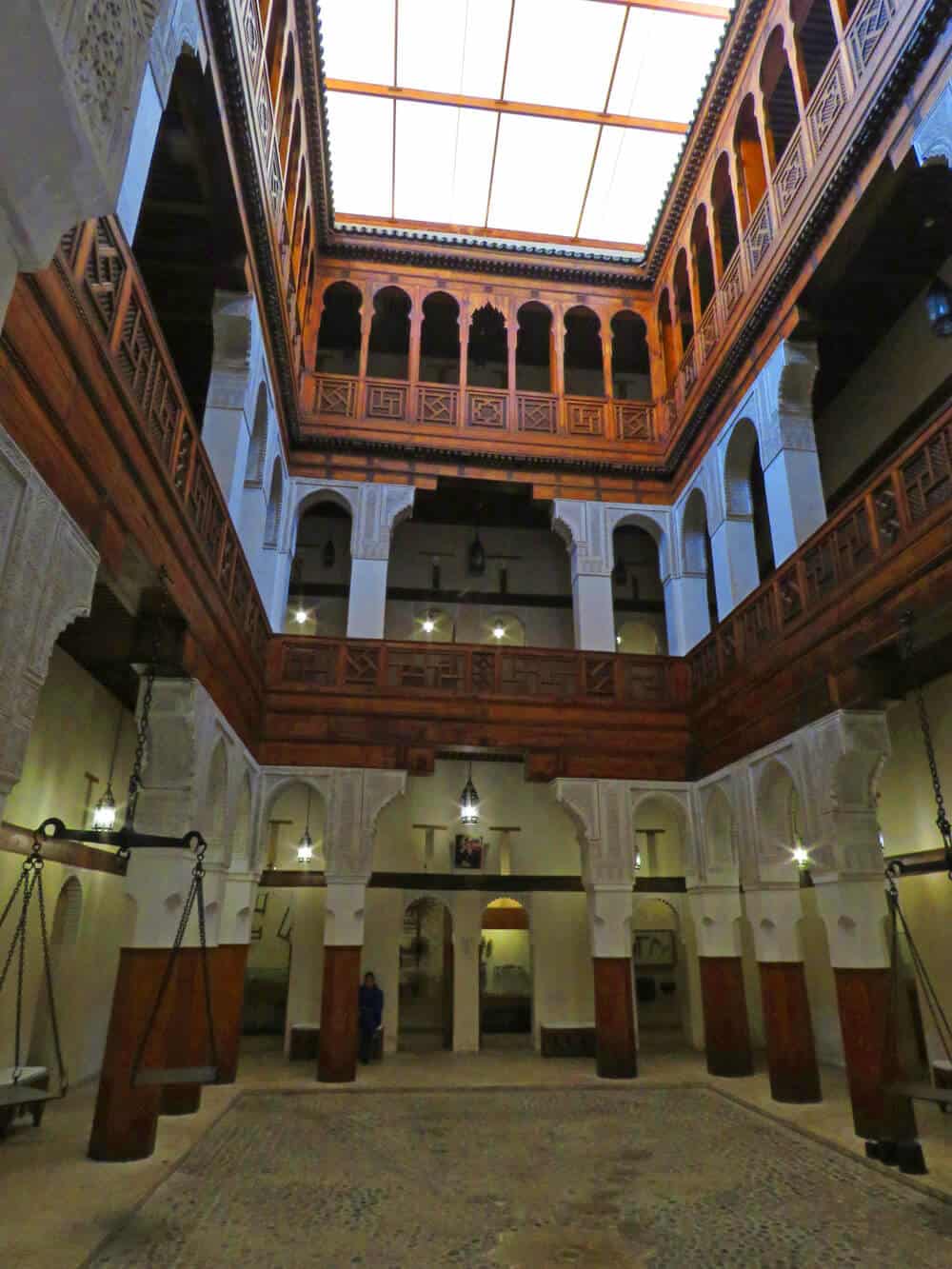 Moulay Idriss II shrine. The tomb of Moulay Idris II who is considered to be the founder of Fez. A beautiful building but as a non-Muslim you can't go in (you can admire the door and look in and take a photo. But that's it).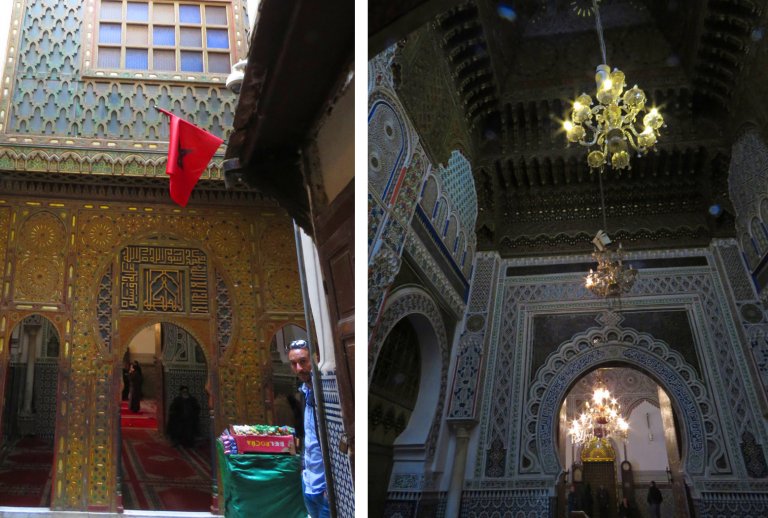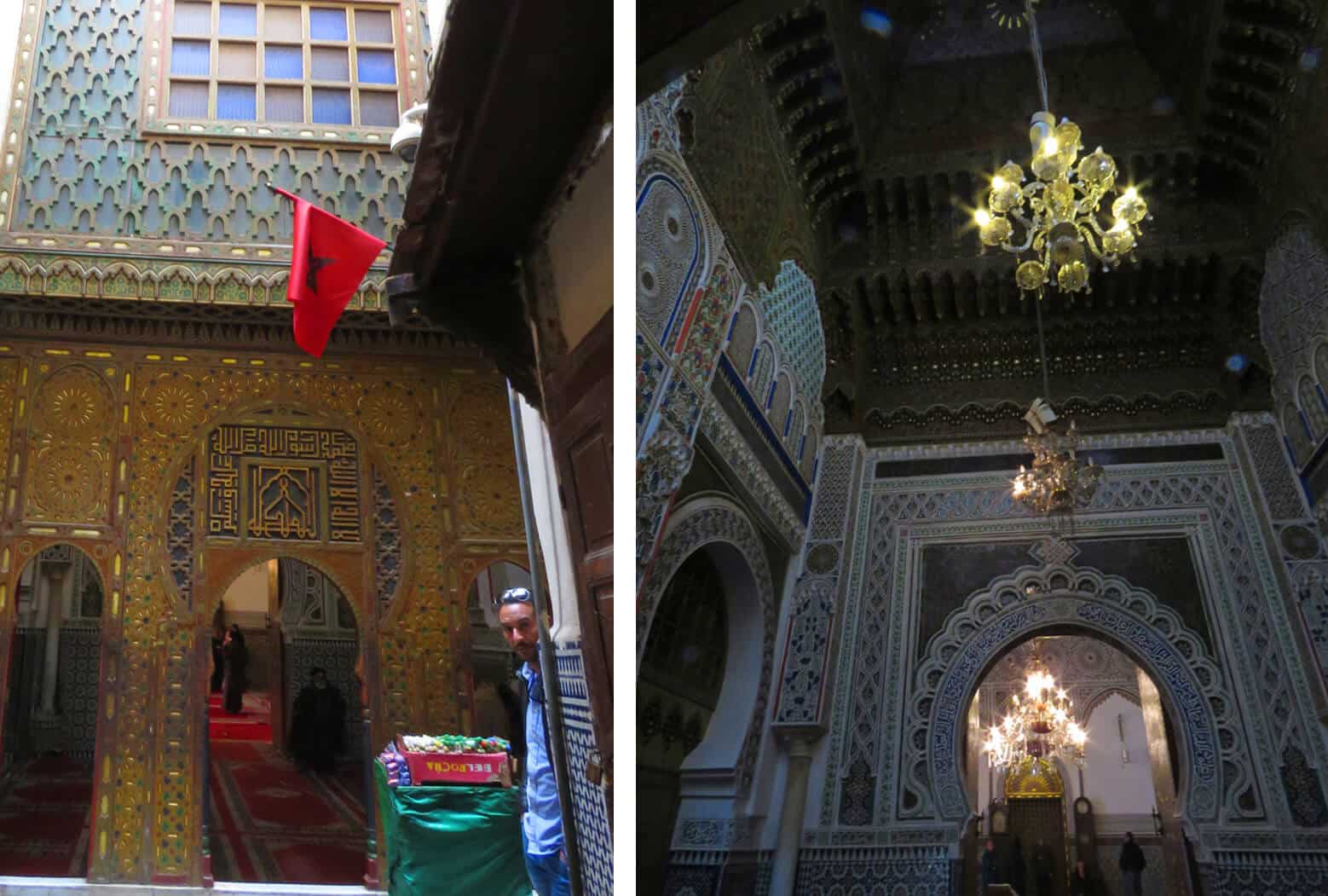 ---
---
Kairaouine Mosque. The holiest mosque in Morocco as well as the 2nd largest in the country. Again, as a non-Muslim the only glimpse you'll get is the one below (peeking in from the street).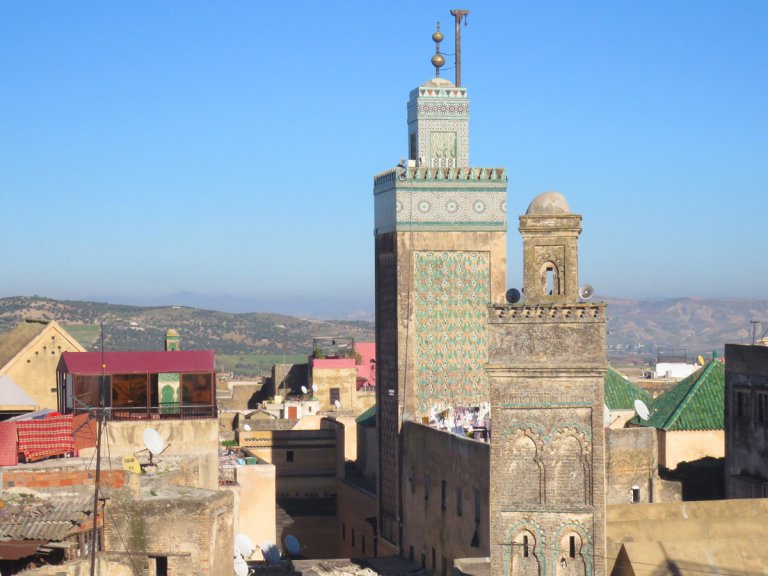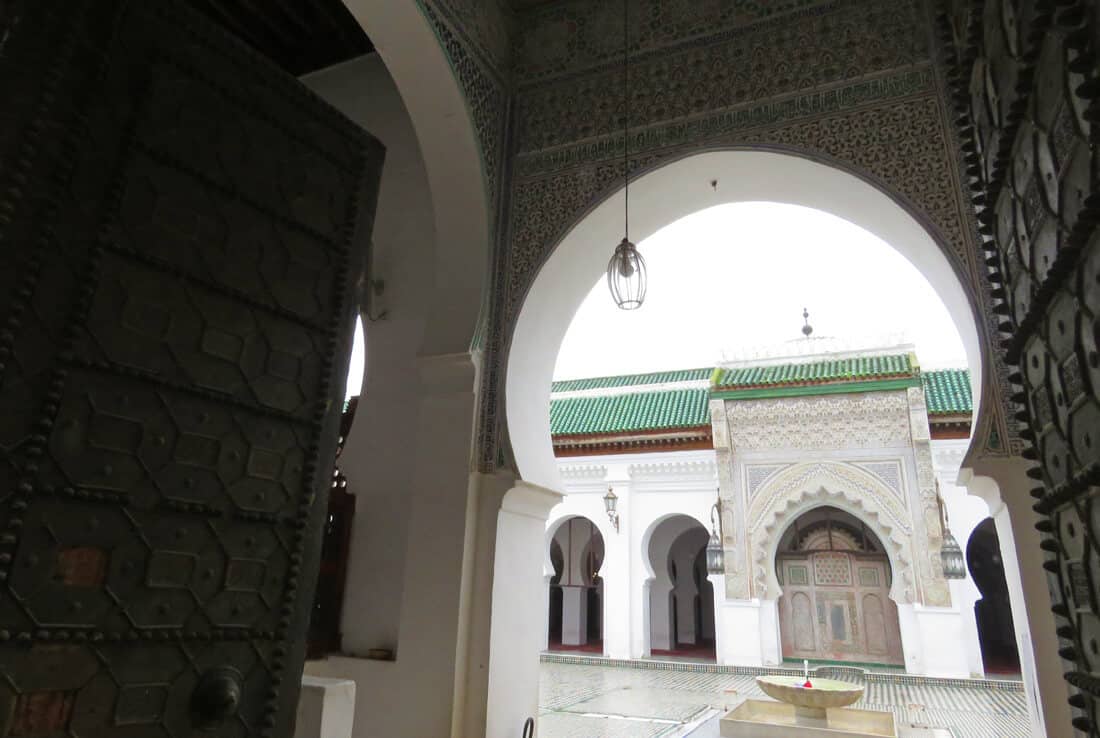 El Glaoui Palace. Fantastic. Everyone had told me it was closed, including the guide who had shown me the medina. I stumbled upon it and went in. The palace has seen better days but that's the beauty of it – it is faded but original, the tilework magnificent. And I guess everyone thinks it's closed because nobody else goes there. Look it up. It's really worth it.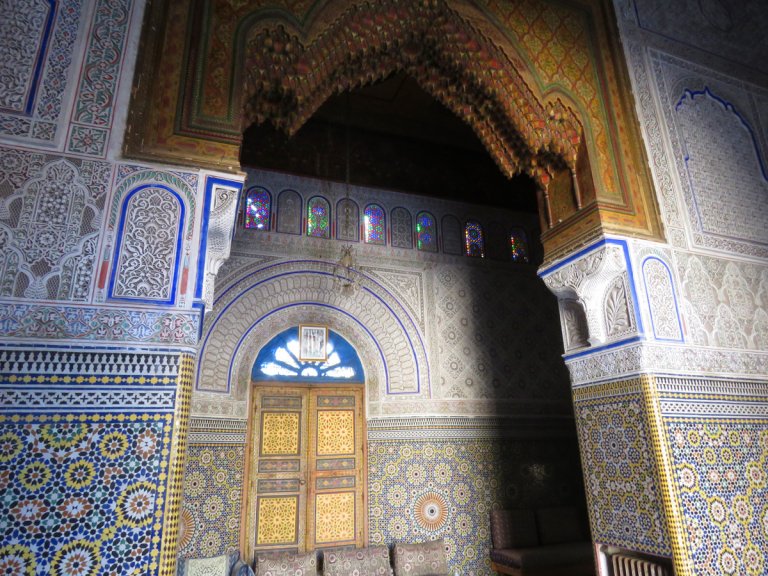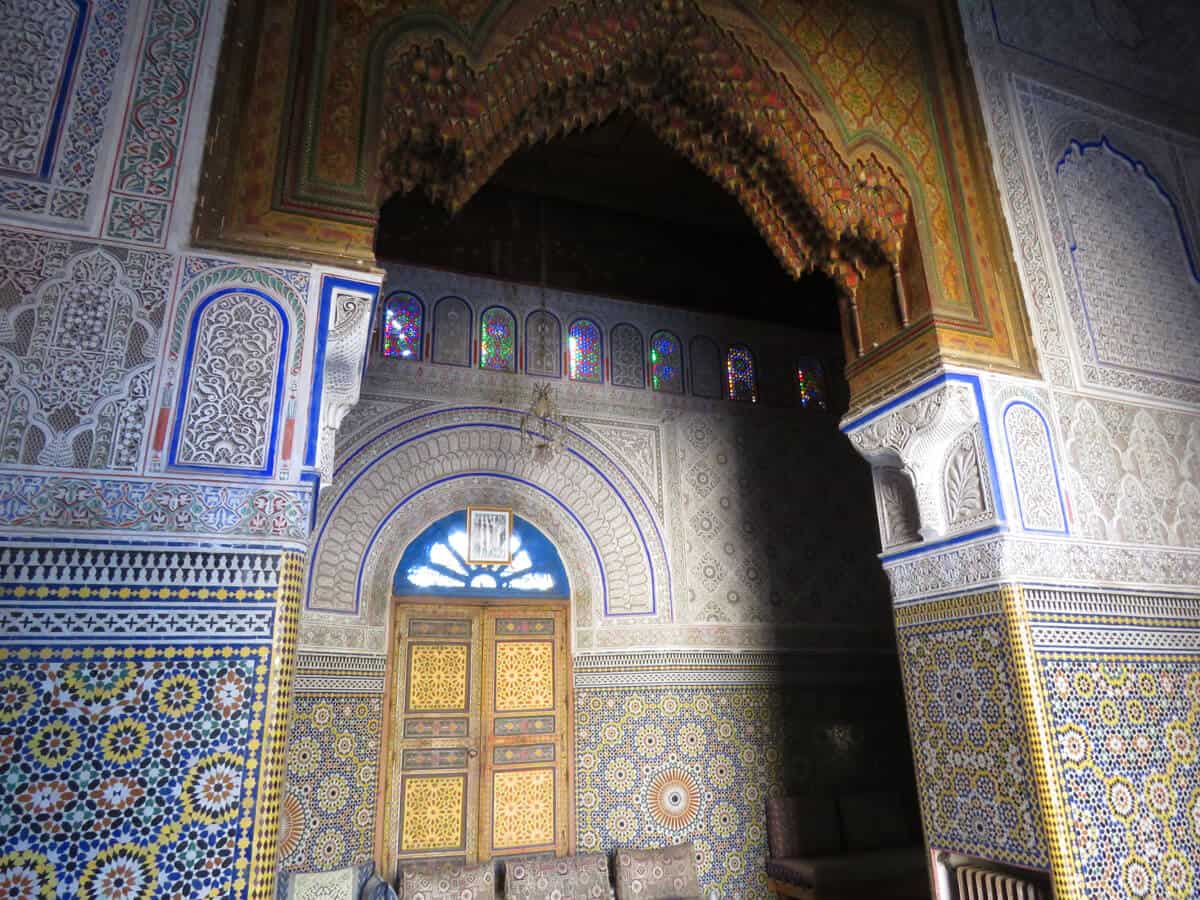 El Mokri Palace. Closed when I was there (it was when searching for El Mokri that I came across El Glaoui). It is supposed to be just as interesting.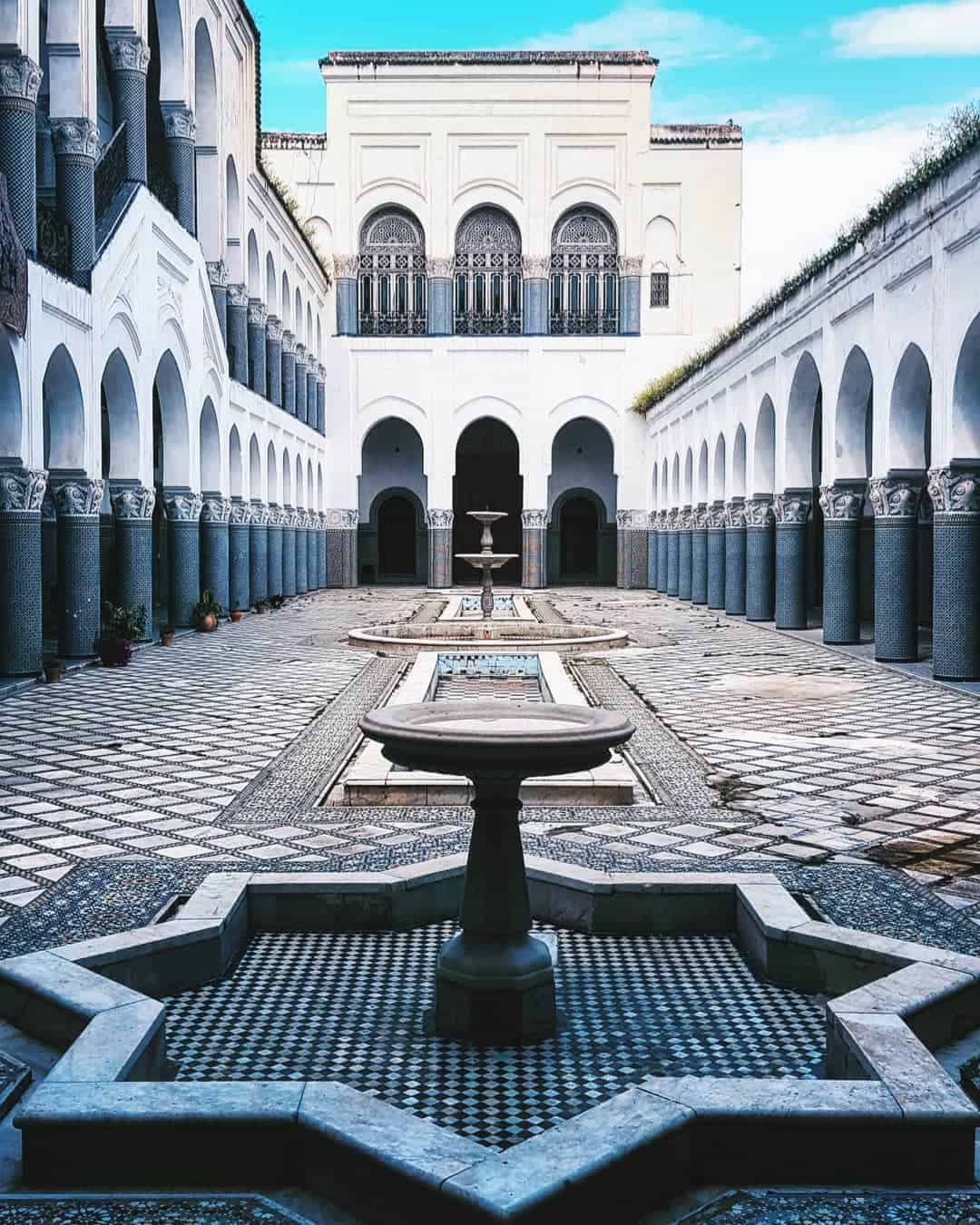 ---
---
Borj Nord. The large fort up on the hill overlooking the city. An easy walk from the city center. The fortress is a weapons museum and has an interesting collection of swords, sabers, guns and cannons. But the highlight for me were the views over the city and the city walls.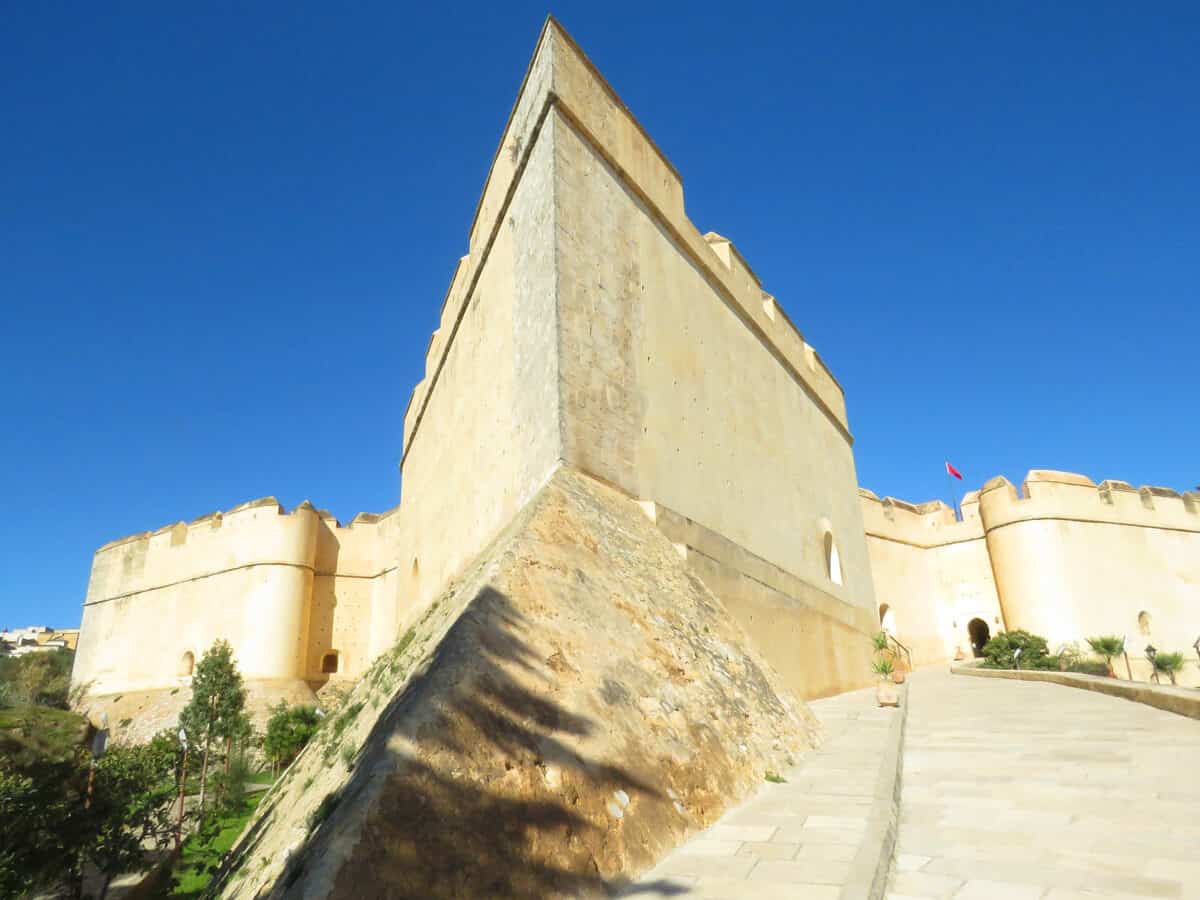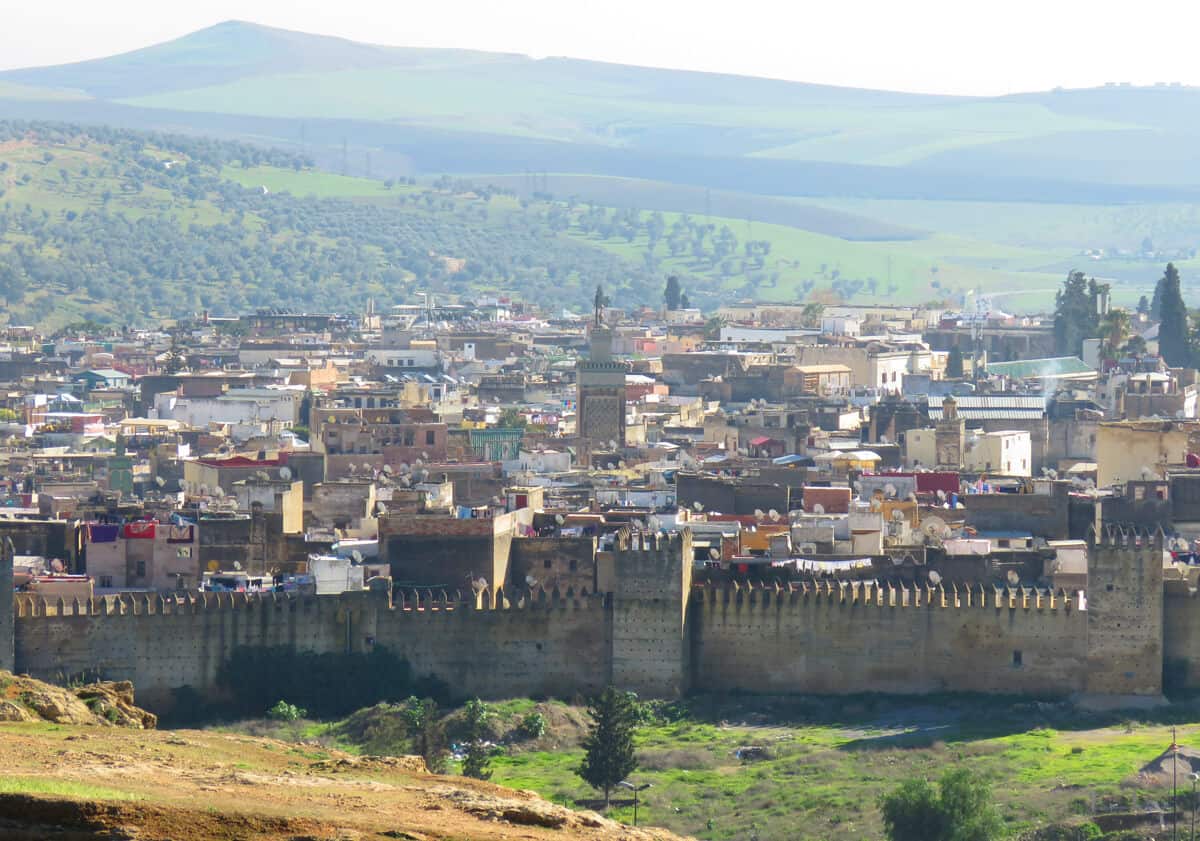 Dar Batha. A large, pretty park right next to the city center. It's fine as a break from the city but shouldn't be too high on your list.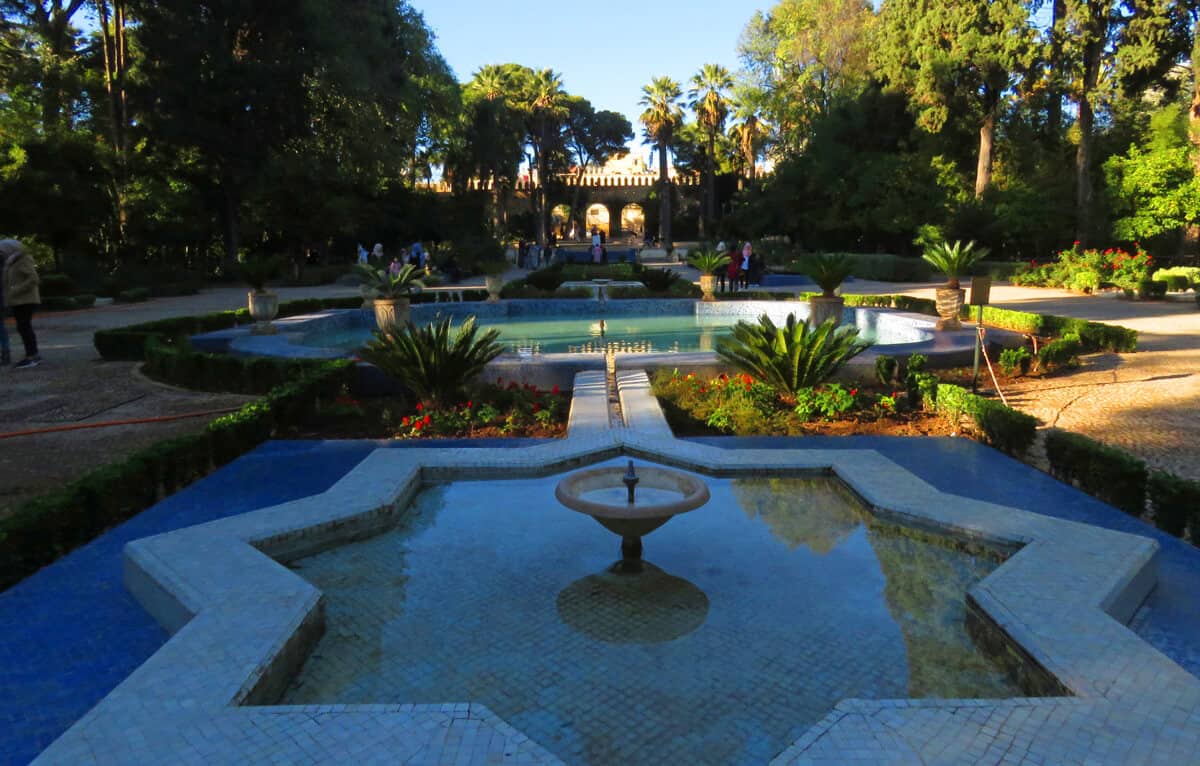 Royal Palace. The Palace is huge and surrounded by walls and guards. No visitors are allowed. What everyone comes to see however are the doors to the Royal Palace.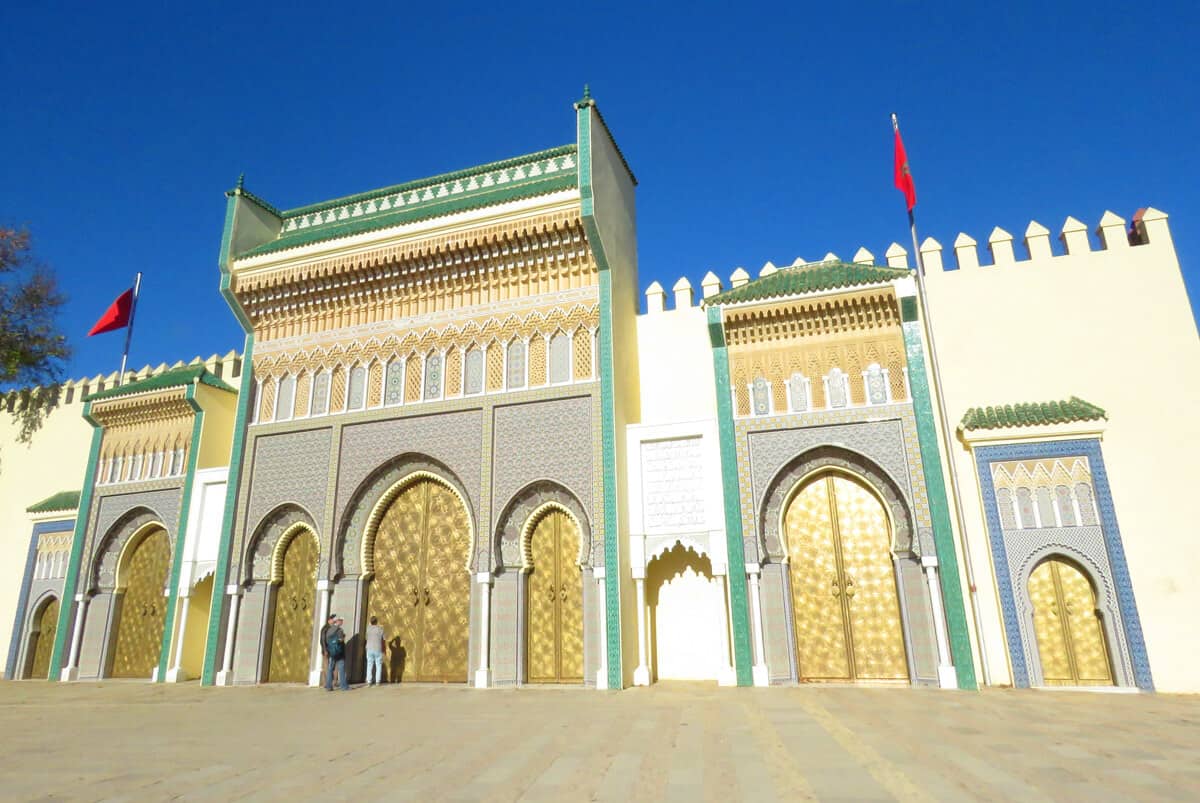 My highlights were Bab Bou Jeloub, the tannery, El Glaoui Palace, and the views from Borj Nord.
I really enjoyed walking around Fez, seeing the walls and the mountains. It was peaceful and I was never bothered. In fact I found people pretty friendly.

---
---
Fez as a gateway to other destinations
1 ½ hours away is the holy town of Moulay Idriss. 4 km from that are the Roman ruins of Volubilis. The Imperial city of Meknes (about 40 minutes from Fez) is another hightlight. These are the most popular day trips from Fez. Further away, the town of Chefchaouen is beautiful.
Negatives in Fez? I can't really think of any. Yes, there are still crowds in the narrow alleys of the Medina and if you feel claustrophobic with lots of people around you won't enjoy it. But that's part of visiting either city.
Practical Information – Fez
Accommodation. I stayed in Riad Ibn Battouta which was one of the nicest riads I stayed in during my 5 week trip (about $50 US/night). Right next to the Medina. Recommended.
Restaurants: The Ruined Garden was my favorite restaurant in Fez. Beautiful setting, great food, good prices. Otherwise I would eat at a small local restaurant on the street next to the riad.
Tour. I think getting a guide is essential in Fez. Everyone gets lost in the Medina, even locals. This 7 hour tour is highly recommended. You can visit Meknes, Moulay Idriss, and Volubilis on this full day tour (it's a group rate – so it's best done if you're a bunch of people).
Flying In. Fes Sais International Airport (code: FEZ) is about 17 km (10 miles) from the city center.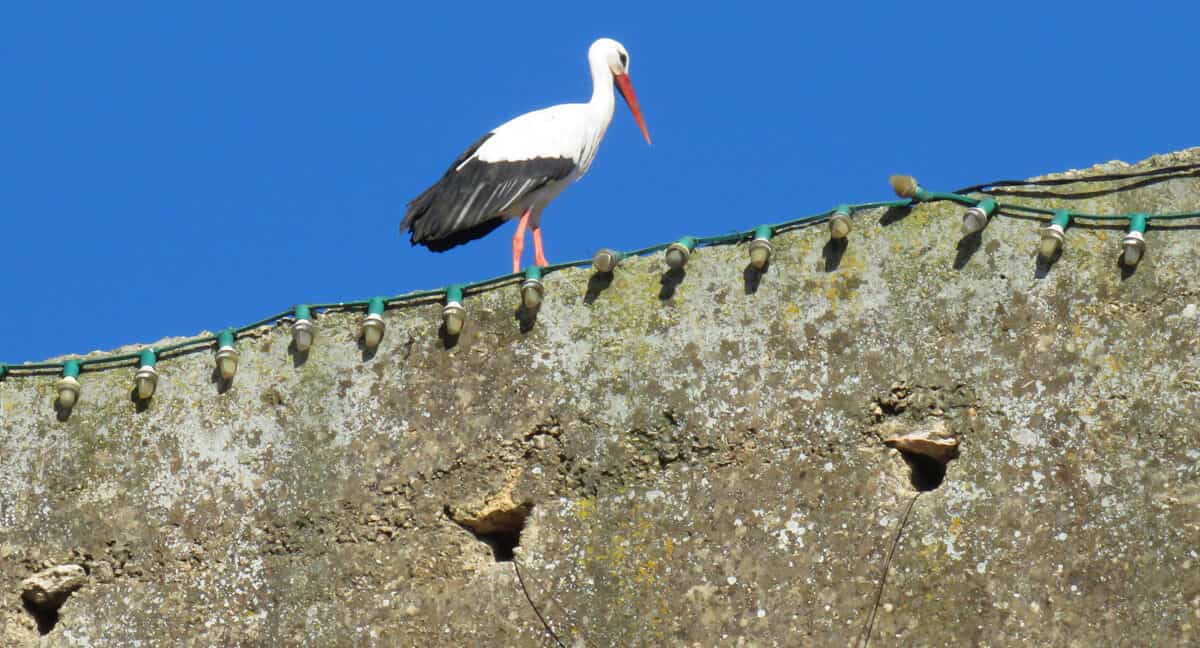 So which to Visit? Fez or Marrakech?
The obvious answer is both if you can.
But if you can't, then my answer depends on the reason you are visiting either city.
If Fez or Marrakech is only your gateway to Morocco and you intend on seeing highlights in the region, then I would choose Marrakech. In my opinion, the highlights in Southern Morocco are more spectacular than they are in Northern Morocco.
If your decision is based on just visiting the city, then I would choose Fez. I think it's a more attractive, more interesting, less touristy, and less stressful city than Marrakech. I enjoyed Fez much more than Marrakech.
Have you been to Fez or Marrakech? I'd be very interested in hearing your impressions of both of them…and of your favorite of the two.
Ps. If you find our blog helpful, please consider using our links to book your flights, hotels, tours, and car rentals. Have a look at our Travel Resources page.