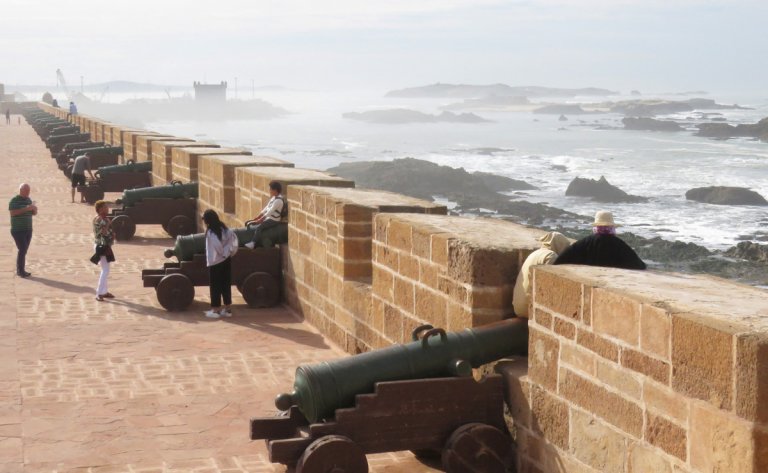 A Visit to the UNESCO beach town of Essaouira Morocco

Essaouira was the last stop on my 5 week Morocco trip. I have to admit it felt very un-Moroccan compared to other places I visited. There is a relaxed vibe in the air. Locals are friendly and unhurried. Merchants don't hassle you when you walk by, which might have had something to do with the abundance of tourists (I was there between Christmas and New Year's. I was told that every Riad in town was full up).
Essaouira is more than just a beach town. It is also a UNESCO World Heritage Site with a history dating back to the 5th Century BC. The Phoenicians, Carthaginians and Romans took turns controlling the town. In the 15th century the Portuguese came here and built the first fort. In 1510 they lost control of Essaouira and the town became a haven for pirates. But it was the Moroccan king, Mohammed III, who (in the mid 1700's) oversaw the fortifications you see today. Essaouira would become Morocco's principal port, using it to ship goods coming from the caravan trade, goods that originated in Sub-Saharan Africa, and came through Timbuktu on the way to Marrakech.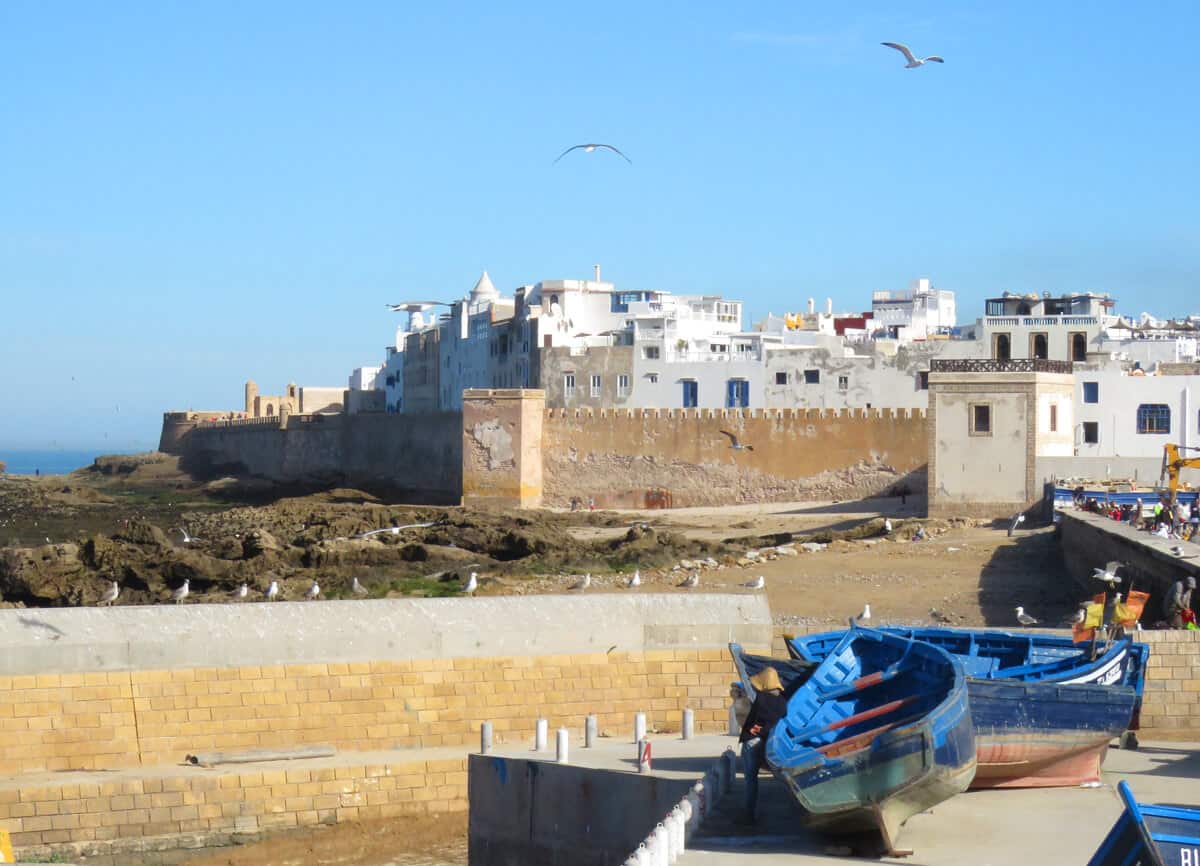 I was in Essaouira a week which for the normal visitor will be too much. You can do and see almost everything you have to in Essaouira in a day.
---
---
Things you "have to" do in Essaouira
'1) Walk the ramparts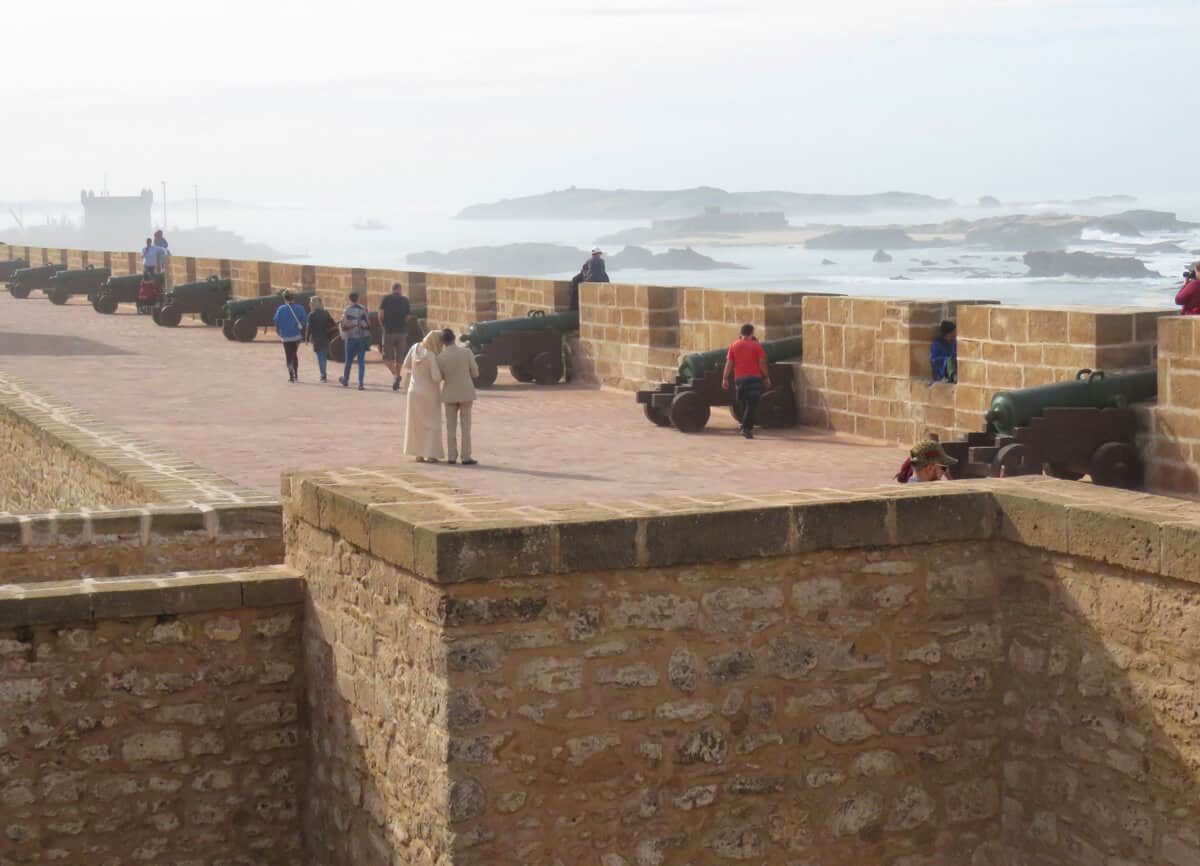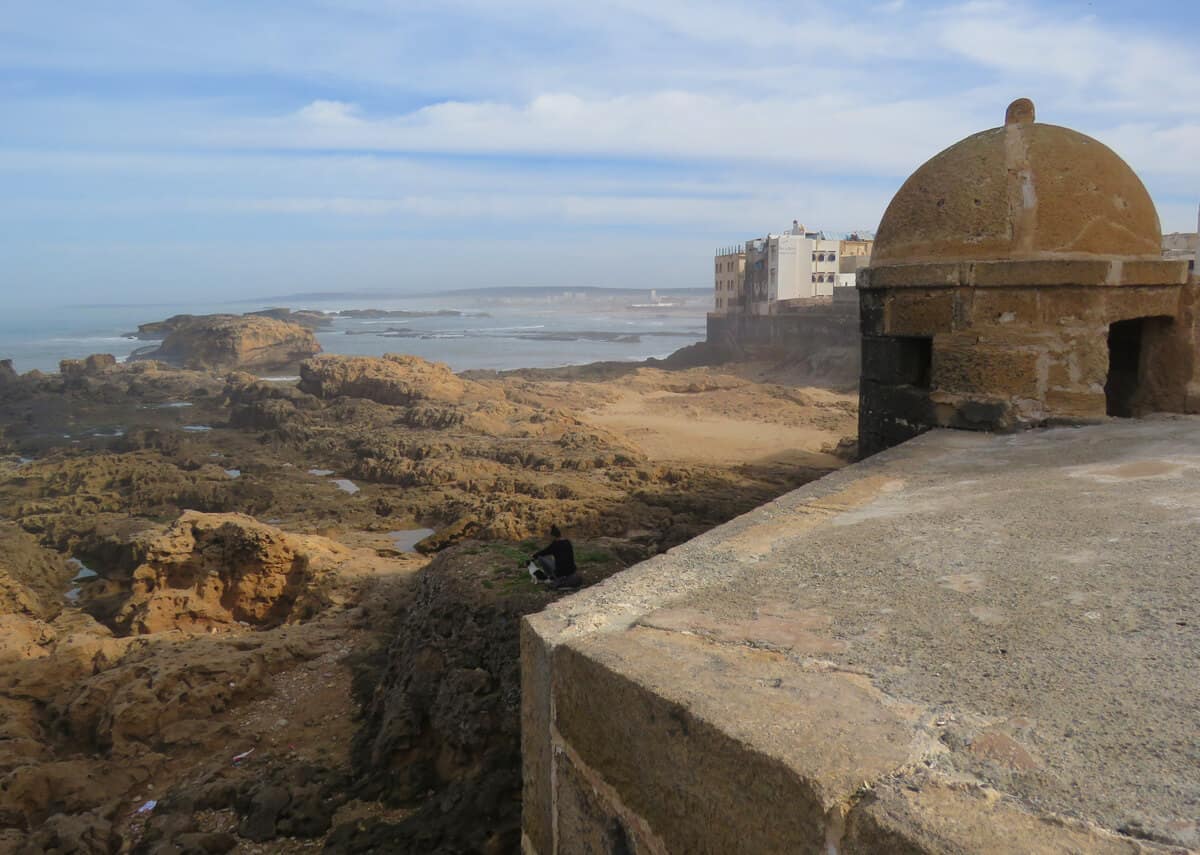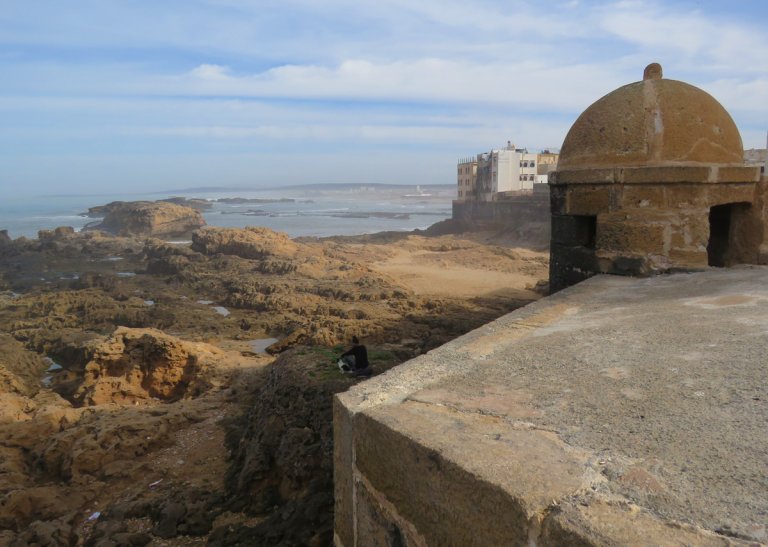 2) Go to the port for a look at the boats, the fishermen and their catch

3) Explore the citadel (called the scala or sqala) at the port
---
---
But really, Essaouira is a place to just walk and enjoy. Walk to the end of the beach. You'll get offers to ride a horse or a camel. Walk through the medina, it's a good place to buy your Moroccan souvenirs. Or walk around the town, following the walls. Sit on a square and order a mint tea or a "nous nous" (a coffee – half coffee, half milk). Walking and sitting, and taking jogs down the beach are what I spent most of my time in Essaouira doing.
As I say, you can see all of Essaouira in a day. I would recommend 2 full days in Essaouira for the average visitor. But it's a chilled out place where full-time travellers like to stay longer, like our friends Paul and Paula who are there for a month (which they wrote about here). I like to say that Essaouira is Morocco-lite: with all of the beauty of Morocco but less of the hassle and hustle that most travellers have to put up with when travelling in other parts of the country.
So should you make Essaouira part of your Morocco itinerary? Yes, definitely.
Related: 5 weeks in Morocco (and on dealing with liars, scammers and bullshit)
---
---
Practical Information
Accommodation. I stayed in 2 different riads while in Essaouira. The better of the two is Riad Maison du Sud which was excellent in every respect. Recommended.
Food. There are some local restaurants on the main street of the medina that are both good and inexpensive. My favorite was a tiny little place next to Pizza Samaresh where they have sandwiches, salads, and pizza (which you can all order to take away as I usually did). There is also a great little Italian restaurant called Taverna Bolognese Da Maurizio where I would go for a pasta and a glass of wine. Very nice.
Getting to Essaouira. I took CTM buses to get to Essaouira from Casablanca (8 hours), and Supratours from Essaouira to Marrakech (3 hours). The service is the same with both but I would recommend Supratours because their bus terminal is right next to the old town (the CTM terminal is about 2 km away). No toilets but they stop for a toilet break.
Transfers and Tours. Instead of taking the bus, you can get this 1st class Private Transfer from Marrakech (fixed group rate). Below you'll find some popular activities in Essaouira.

Weather. Essaouira is known for its winds which can make it a very chilly place. Funny enough, locals tell me it's colder in summer (when the winds are strong) than in winter. December was near perfect weather with little wind, clear skies, and temperatures in the high teens (Celcius).
Ps. If you find our blog helpful, please consider using our links to book your flights, hotels, tours, and car rentals. Have a look at our Travel Resources page.