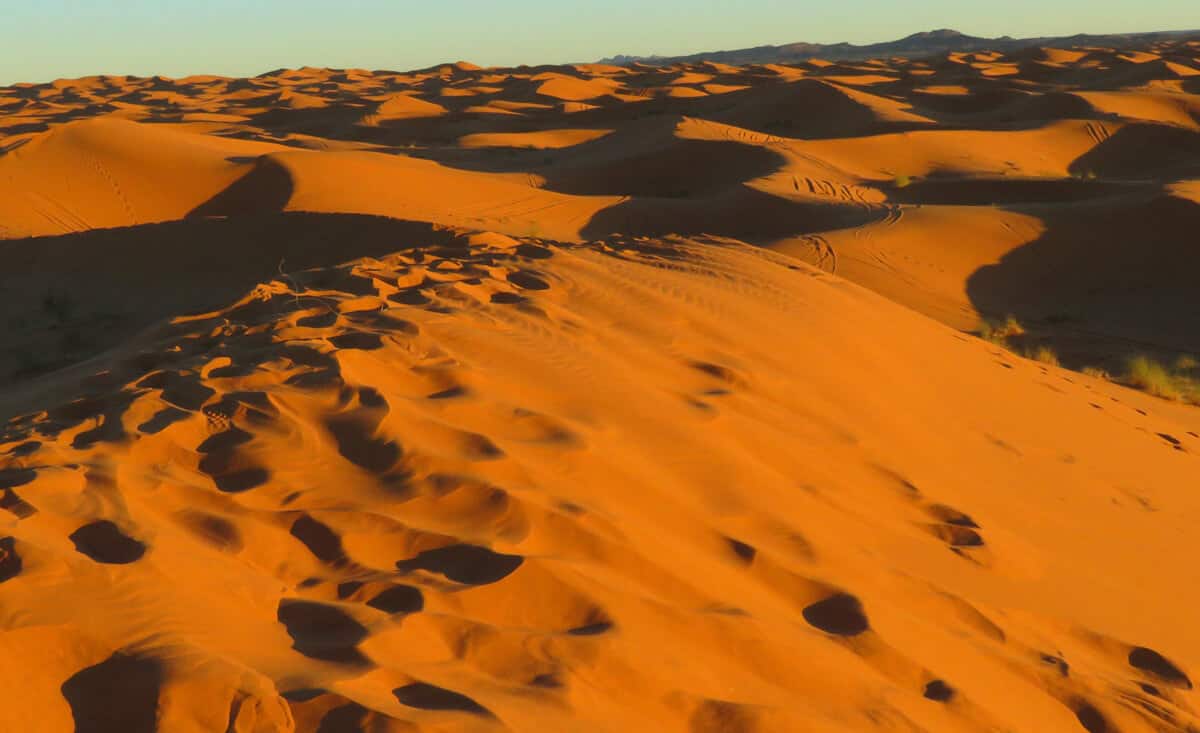 Visting Merzouga Morocco
I've never been in the desert. This was my first time and it was amazing.
I'm going to keep this post short because honestly there is not that much to write about. But my 3 days there made a big impression on me.
Merzouga is the easiest place to see the desert in Morocco. The dunes basically start a few hundred meters away from where all the hotels are located in "Merzouga" (is there really a "town"of Merzouga? No. It's just a collection of hotels and camels in close proximity to the dunes). The dunes ouside Merzouga are called Erg Chebbi – "Erg" meaning "Seas of Dunes". Merzouga is on the Western side of the dunes. Looking eastwards are 5-7 kilometers of sand dunes. North to South the dunes are 28 km long.
The dunes here are also the highest in Morocco with some of the dunes being over 150 meters high (500 feet).
---
Related: Ait Benhaddou to Merzouga
---
---
Here are a few activities I did over 3 days in Merzouga.
Day 1 – A walk/hike in the dunes
My goal was to get to the highest dunes I could see in the distance. As I say, in Merzouga you're just a few hundred meters from where the dunes start so you can just come out of your hotel and start walking…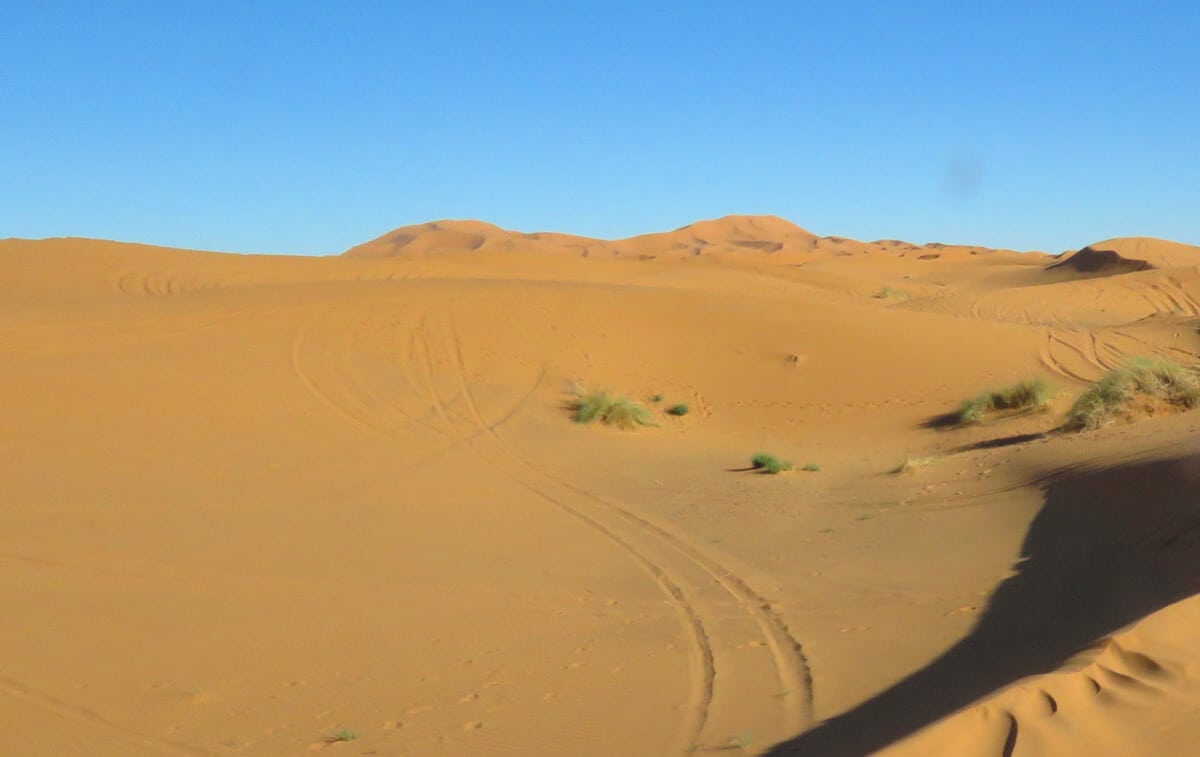 I loved it. For the first few kilometres it was an easy walk. I could see the town behind me. But then the dunes got higher and I lost sight of the town. I just kept heading in the direction of those dunes, climbing dunes, sliding down other dunes…It was amazing, the vastness of the desert and the solitude you feel walking by yourself with nothing but sand around you. And if you've never walked through dunes let me tell you that it's like you probably suspected – it's like walking through sand at the beach. In some places it's hard packed and it's easy walking. In other places you're trudging through 6 inches of sand and for every 2 feet forward you feel you're sliding 1 foot back.
Another thing I learned: distances are deceiving in the desert. From town the two camel-backed dunes that I saw in the distance didn't look that far. Going through the dunes, and then seeing hundreds of dunes in between, those big dunes seemed to be getting further and further away…
I finally got to those two large dunes and had a bit of a surprise. There, below, you'll see camps. When the hotels in Merzouga offer you a night in the desert (which you get to by camel), it is to these camps. Firstly, they're basically sitting next to each other. Secondly, they're at the end of the dunes. The dunes end here (which means I walked 5-7 km). Beyond the camps the terrain is rocky. I would be told the next day that this was the "black desert". Just a few kilometres away in this black desert is the Algerian border.
Somehow I had imagined that the Sahara was all sand and that it would extend from Merzouga all the way to Egypt. I guess that makes me officially stupid.
It took me about 2 hours to get to those dunes and about 1.5 hours back. But I can now boast of having hiked across Erg Chedi.
---
---
Day 2 – an ATV tour
The next day I did an hour tour on ATV. I've never driven an ATV and it was a fun thing to do but expensive: a total of 70 Euros (I was later told by someone I met that Ksar Bicha, where I stayed, charges on the high side. The going price should be 35 Euros + 20 for the guide = 55 Euros for an hour). So now you know should you come here wanting to drive an ATV. Was it worth it? Not for me.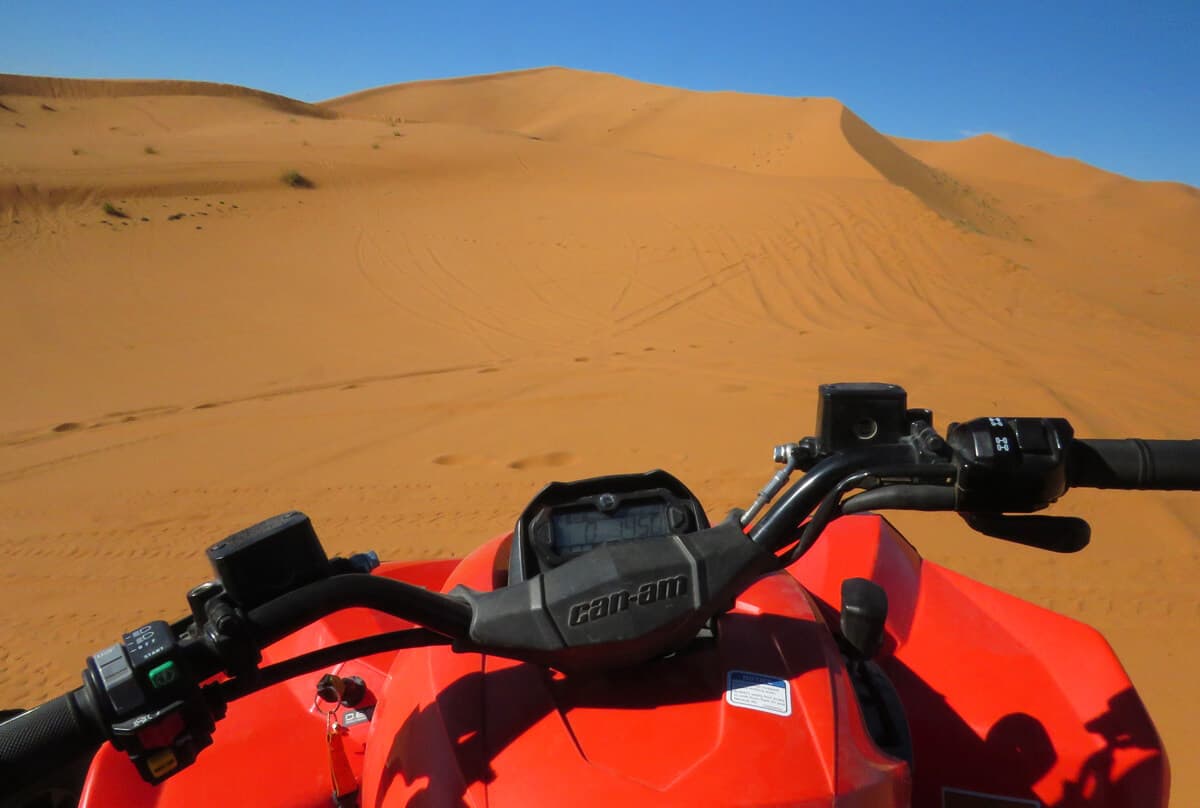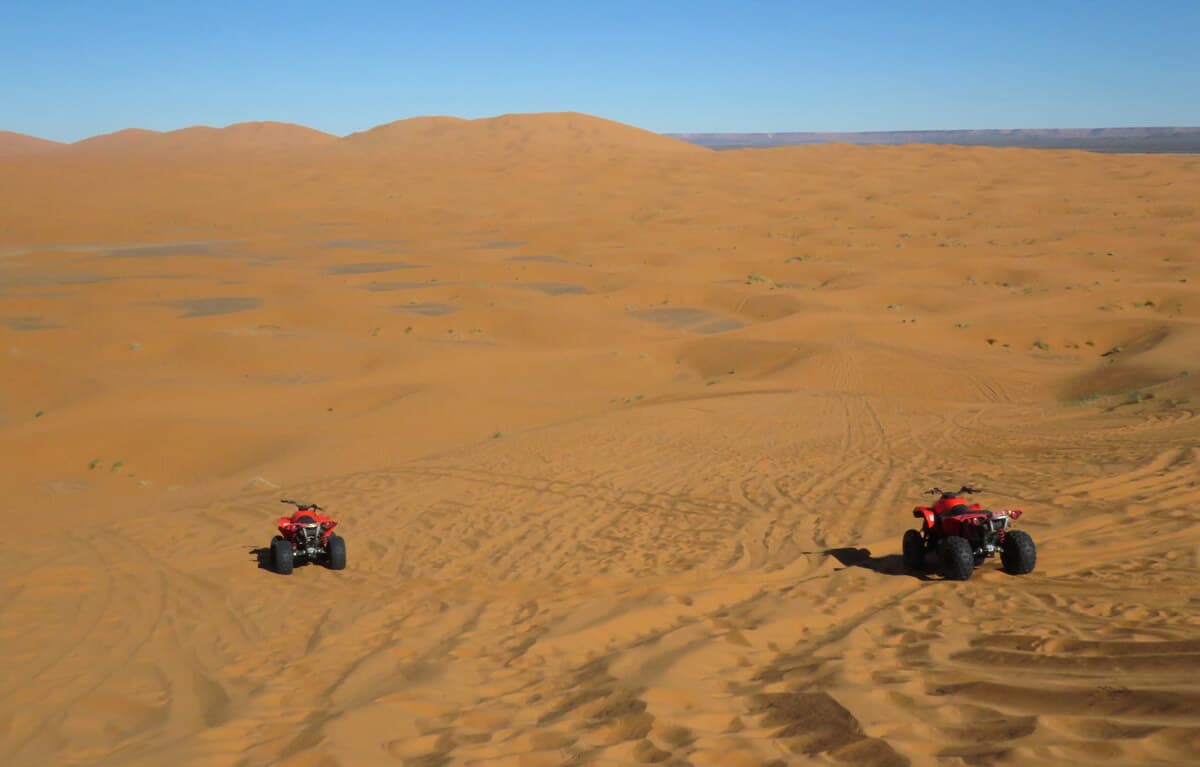 ---
---
Day 3 – A sunset camel ride
The last day I did a camel ride into the desert. Riding the camel, with a guide leading the camel, we walked through the dunes for about 45 minutes. He then told me to climb a dune. There I saw the sun setting behind the dunes. It was fantastic. And again, what I loved about it was the solitude, peace, and the beauty of the dunes. It is spectacular. Cost of the camel and Guide = 15 Euros which was totally worth it. A great experience. I rode the camel back to camp in near darkness.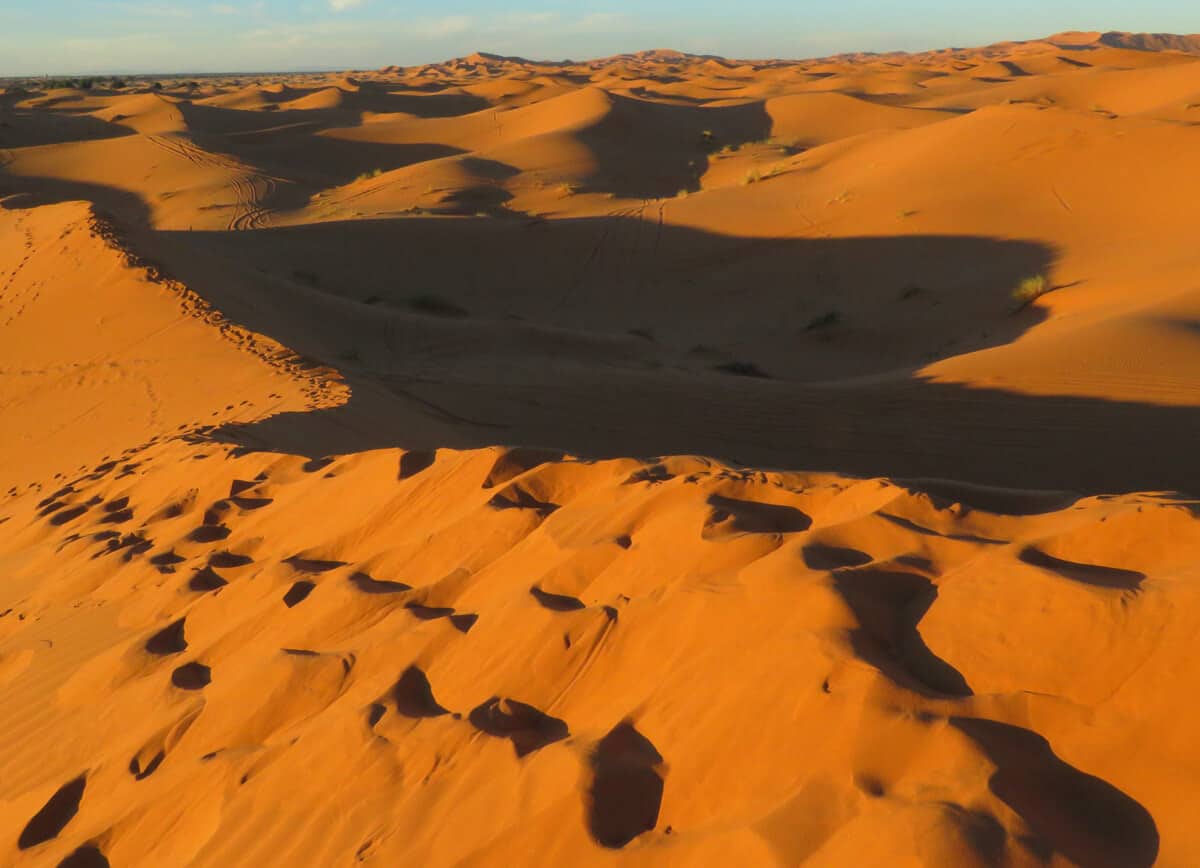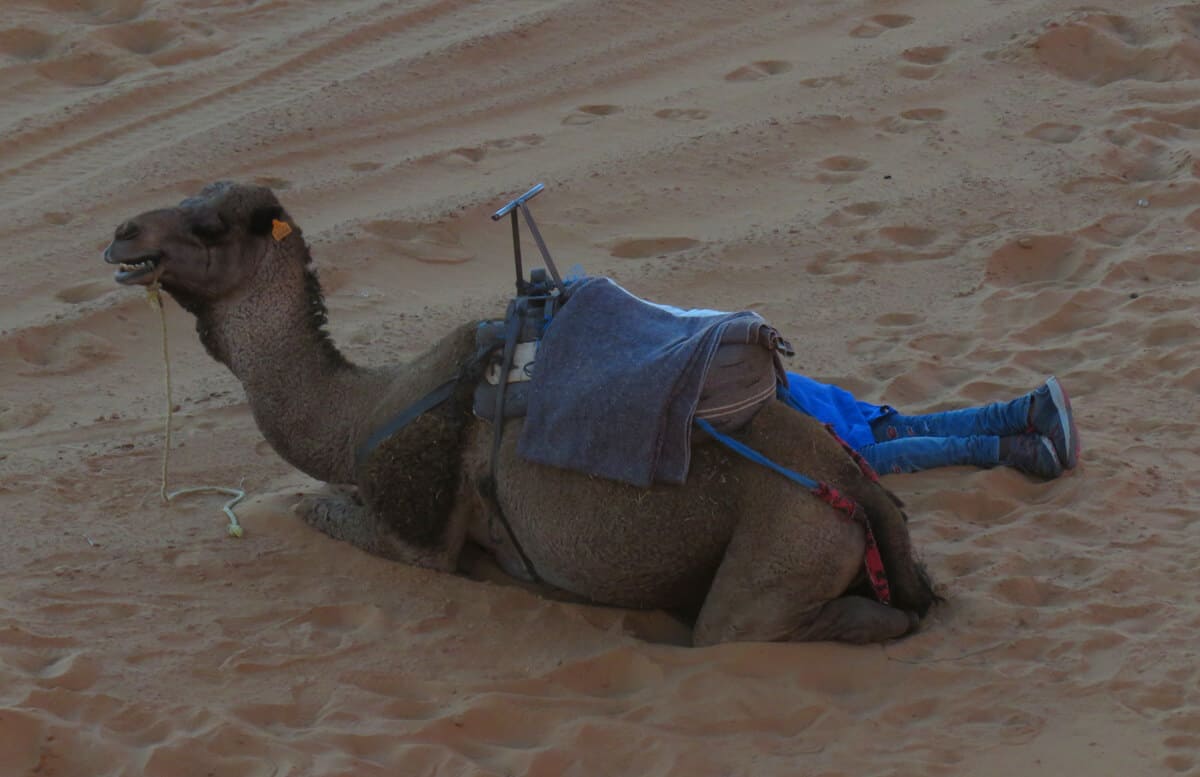 ---
---
By the way. Another thing I learned. There are no camels in Morocco. The "camels" you see are "Dromedaries ". Traditional camels have two humps, are from Central Asia, and have a permanent coat. Dromedaries have 1 hump, have a sheep-like covering (that sheds in summer), and are found in the Sahara. Technically they are in the camel family, but are not "officially" camels (if that makes sense). Anyway, you'll never be asked about a camel ride, anyone asking in Morocco will refer to them as dromedaries.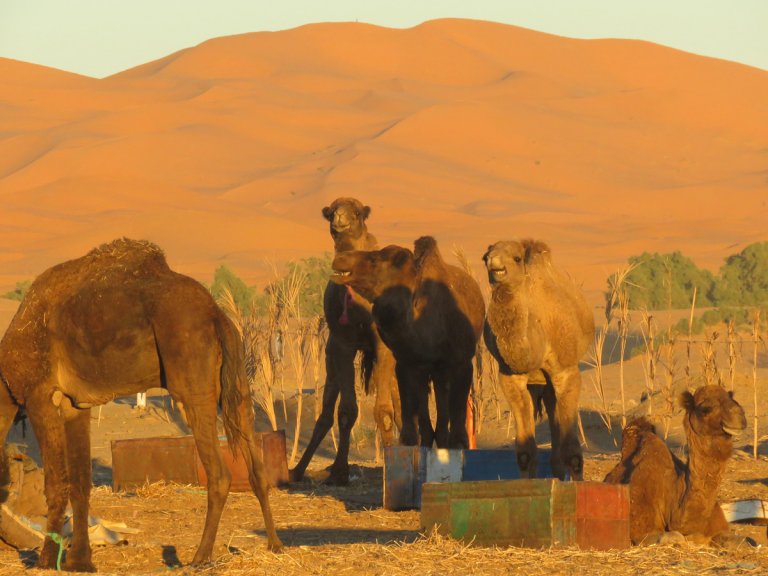 What every resort will offer you is a night out at their camp in the desert (the camps that I mention seeing on my hike). They'll take you for a 2 hour dromedary ride to the camp where you'll eat around the campfire and sleep in a tent. In the morning you'll have breakfast and ride the dromedary back to the hotel. It's supposed to be a great experience and the reason most people come to the desert. I chose not to do it, it seemed like a weird thing to do by myself. But if I ever come back with Lissette it is something we would do.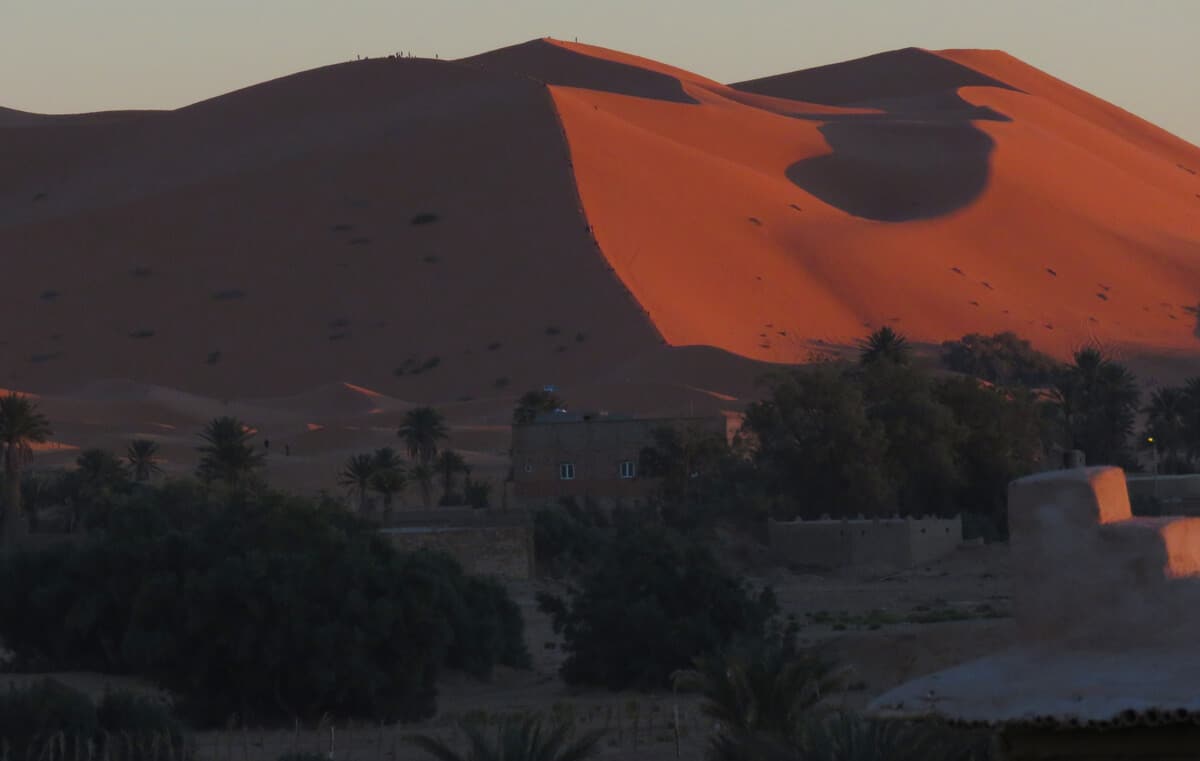 ---
---
Summing it up
So should you come to Merzouga? Definitely. I'm 52 years old and I've never seen the desert. This was something I've never experienced and I'm glad I did. It was one of the reasons I came to Morocco. It was a highlight of this trip and I would do it all again. How much time should you spend in Merzouga? I think 2 full days (ie 3 nights) would be enough. During that time you can walk the dunes, have a camel ride, and even spend a night in the desert.
Practical Information
Accommodation. I stayed at Ksar Bicha which was excellent. It's a large resort with beautiful rooms, a pool, a great restaurant area. Very nice staff. The food is great. As I say, the prices for their ATVs is on the high side. You can find lower prices going to some of the neighbouring hotels. Otherwise Ksar Bicha gets a perfect rating from me.
Getting here. I had a private driver which I mentioned in this post. Others rent a car or take the bus (Supratours gets here from Ourzazate and Fez). There are also tourist buses that do the trip between these destinations.
Organized Tours. If you're getting to Merzouga yourself, you can do this 1 day desert tour from town. If you want the whole thing to be organized for you, this 3 day Sahara Tour from Marrakech is a good deal (and you stop at a lot of scenic places along the way).
---
---
Ps. If you find our blog helpful, please consider using our links to book your flights, hotels, tours, and car rentals. Have a look at our Travel Resources page.