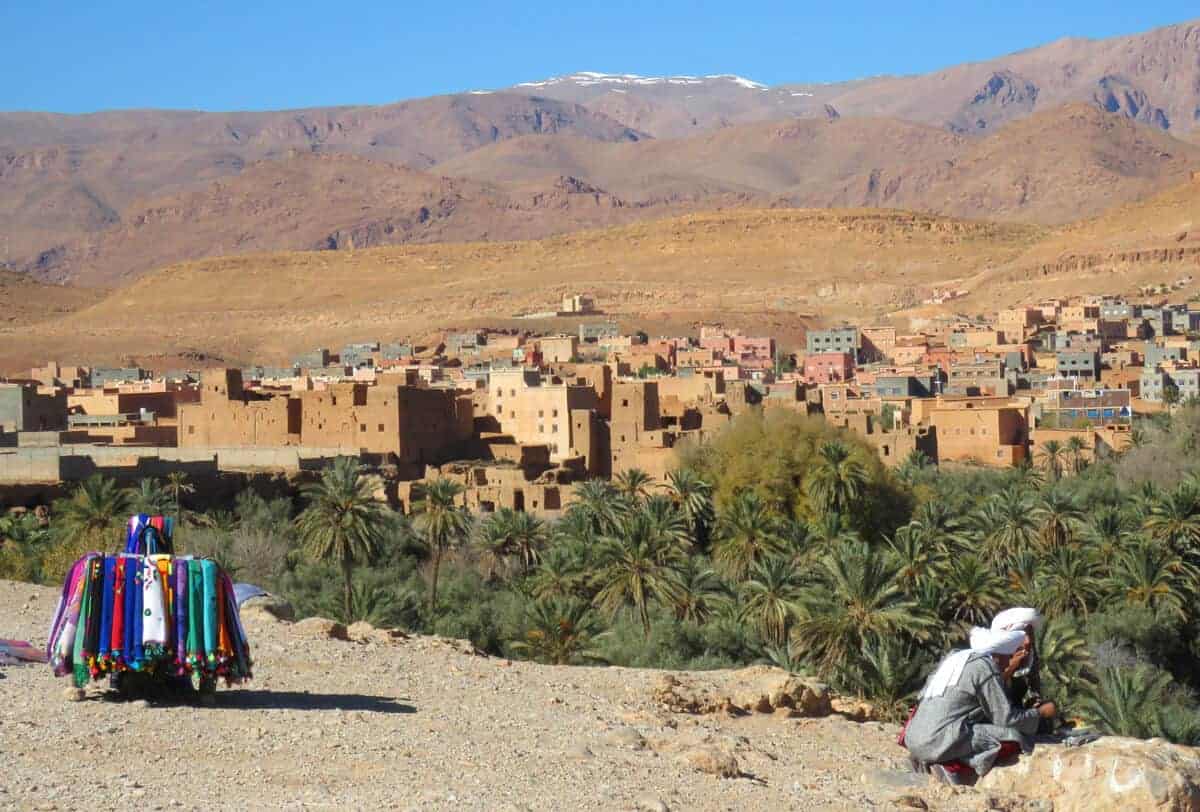 The Ultimate guide to Surviving Morocco.
There is no other country where I have as intense a love/hate relationship as I have with Morocco.
Morocco is one of the most stunning countries anywhere. The geography is incredible. You'll see snow-topped mountain ranges, dune-filled deserts, green valleys, and sweeping coastlines. The country has fantastic fortresses, fortified towns and palaces, built out of clay and decorated by magnificent Moorish tiles. Markets are colourful and vibrant. If you like outdoor adventures, I had some of the most incredible adventures hiking and climbing in the mountains and deserts.
Morocco might be the most beautiful, most exotic place you'll ever visit.
Morocco is also the most maddening, frustrating country I've ever been. I spent 5 weeks travelling independently around the country and got sick of the hustlers. As a foreigner you're seen as a walking ATM machine and locals try to withdraw money from you by friendly cajoling, charm, pleading/begging, persistent harassment, or outright intimidation. It's enough to ruin your trip.
I usually start most of my guides listing the top places to visit. Since this is the "Ultimate guide to Surviving Morocco" I'm doing it differently here: I'm starting with some essential tips on how to survive (and actually enjoy) Morocco.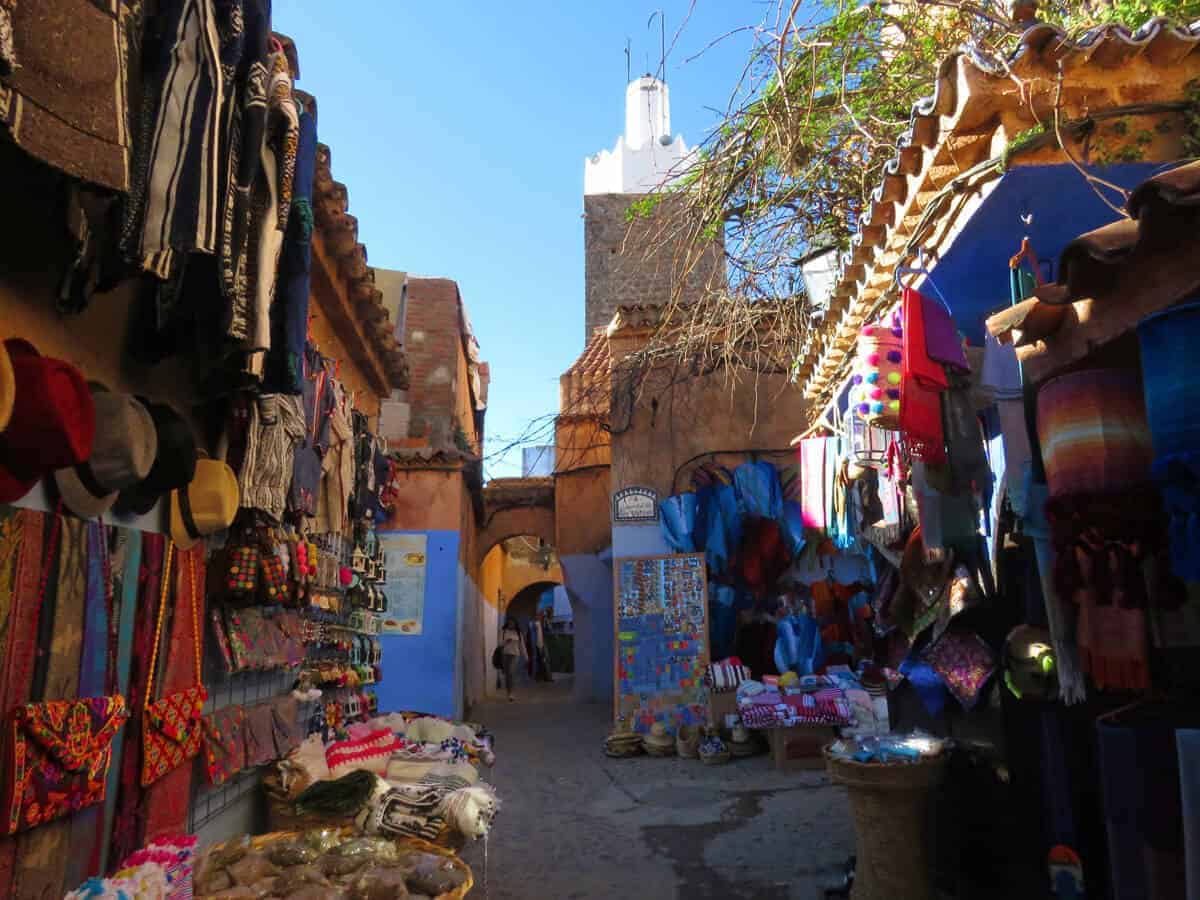 ---
---
Essential Tips on Surviving Morocco
The worst place in Morocco is Marrakesh. Nowhere else was I so endlessly harassed. Fez is another place that travellers complain about. I had no issues in Fez, but that's maybe because I had adjusted the way I travelled by then.
Tips on surviving Morocco
When exploring Marrakesh and/or Fez, get a guide to show you around. A guide keeps the hustlers away and you can just concentrate on the sights. But on top of that, the "medinas" (or old towns) in these two cities are incredible mazes of little streets where you'll get lost if by yourself. At the very least, get a guide on your first day to get yourself orientated. Note: guides are inexpensive in Morocco and I can't think of any place where they're more worthwhile.
If you're spending a bit of time in Morocco, get yourself a SIM card (Orange, Inwi, and Maroc Telecom are the main companies. All are very inexpensive). After a few days on my own in Marrakesh I got one and it made a big difference. With the SIM card I was able to use Google Maps and get my bearings (if you look lost you'll be stuck with wanna-be-guides wanting to take you somewhere). It made a big difference for me in conjunction with my next point…
Wear earplugs. Even if just pretending you're listening to music. Hustlers will be less likely to bug you with their constant "hey Mister, where are you going?" when they see you with earplugs.
It's ok to be rude. When all the above fail and you still have people wanting to take you by the arm or trying to get you into their shop, just either ignore them or wave them away. The faster I learned not to be a friendly Canadian, the less I was hassled.
See my rant on dealing with liars, scammers and bullshit in Morocco.
---
---
More tips on getting the most of Morocco
Spending a bit more money in Morocco will make a big difference on how you experience the country.
I travelled through much of the country taking the bus. But on a couple of routes I hired a private driver just because I knew there was some great scenery or interesting stops along the way. It made a huge difference. I'll cover some of these routes below.
I found accommodation in Morocco to be generally good value and stayed in some nice riads (local hotels) where I paid on average 30 Euros per night. But in a few places I splurged and it was really worth it. Some riads look like palaces on the inside with large courtyards, fountains, and sumptuous interiors. I recommend spending a bit more, especially if travelling with a partner.
Generally I think to fully appreciate Morocco you have to spend a bit of money (and I say "a bit" because it's not an expensive country). Stay in a nice (romantic) riad, hire a driver so you can get to some of those beautiful places in the countryside, and have a guide show you around the cities like Marrakesh and Fez. Do it in style. You'll enjoy Morocco a lot more doing it that way.
---
Morocco is perfectly suited to Organized tours/excursions
---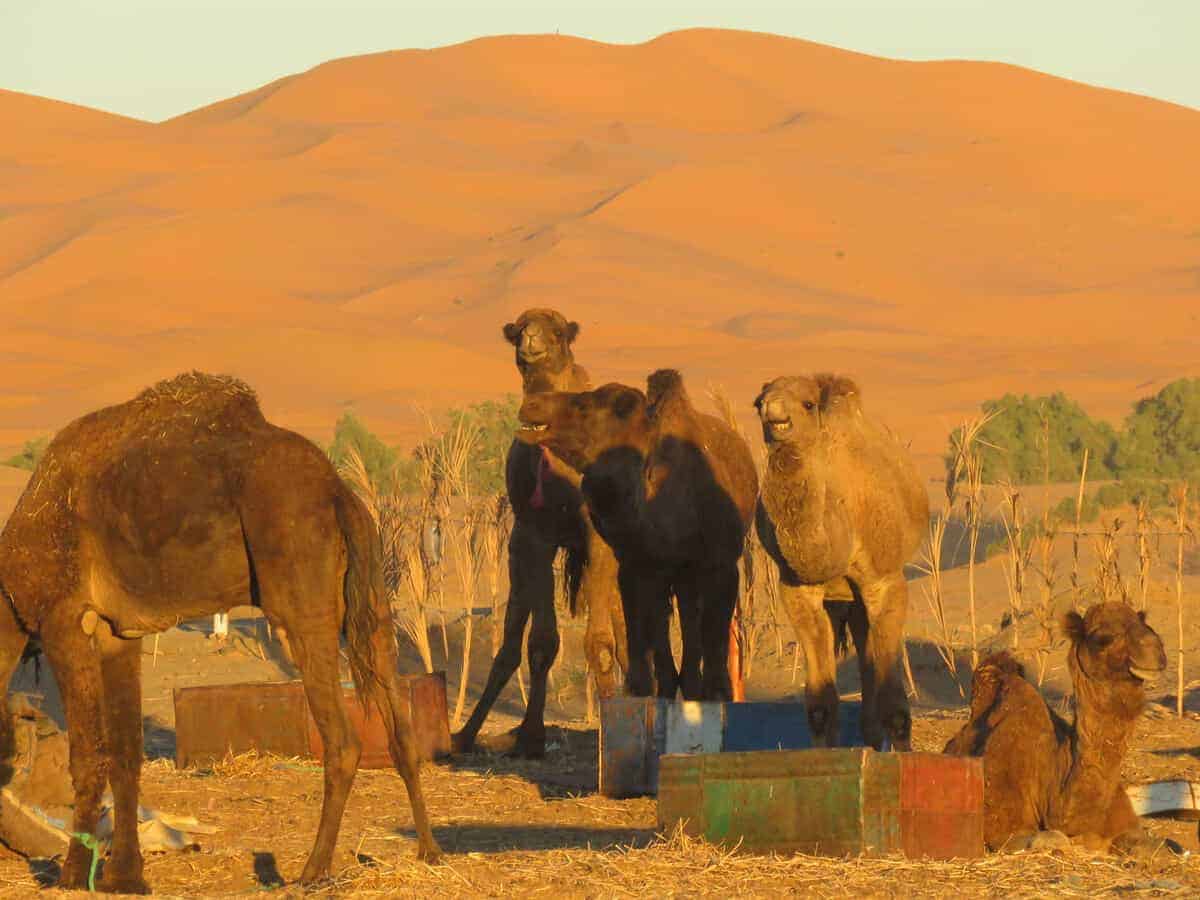 Top Places to See in Morocco

Marrakesh
Marrakesh will most likely be your first stop in Morocco. It is a popular destination and the airport is the 2nd busiest in Morocco, making it the primary entry point for most international travellers.
Marrakesh has lots of things worth seeing. It is the 2nd oldest city in the country (the oldest is Fez) and was Morocco's 2nd imperial capital (Morocco has had 4 capitals: Fez, Marrakesh, Meknes and Rabat).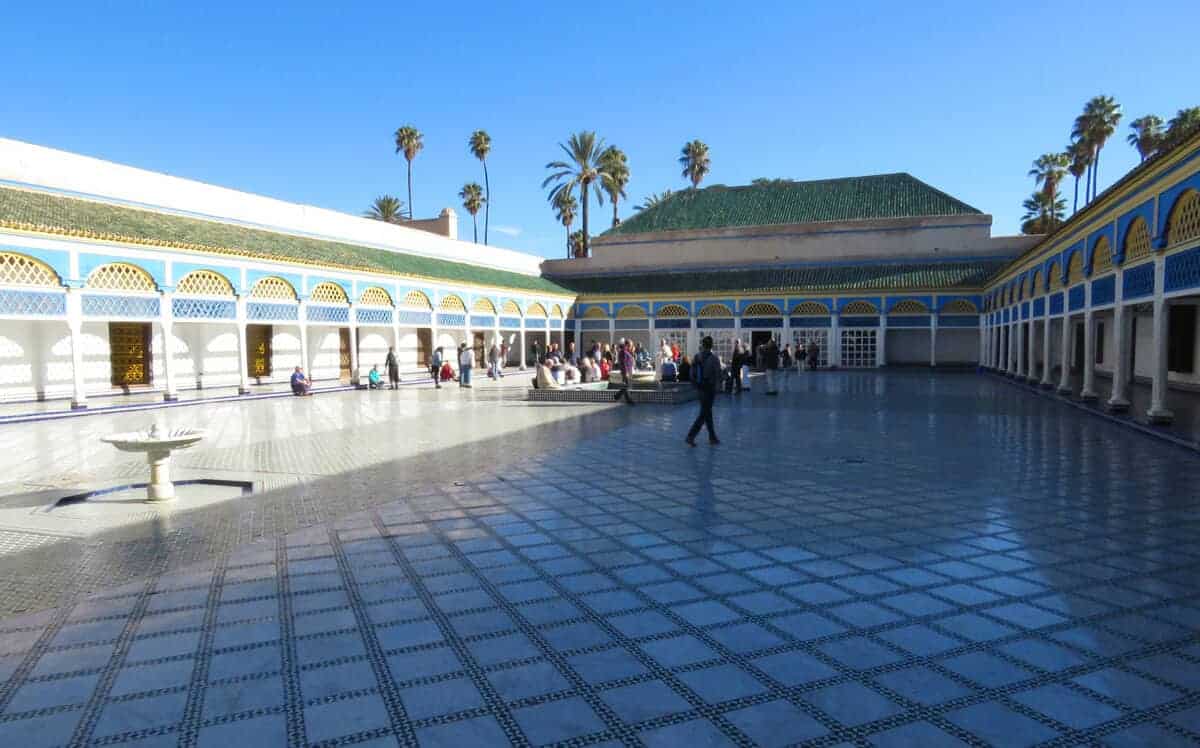 ---
---
"Must see" highlights of Marrakesh
Djemaa El-Fna, the huge square and market place in the medina (the old city). Tons of activity, tons of stalls, lots of musicians, snake charmers, and men with monkeys. Djemaa El-Fna is the center of action in Marrakesh.
The souk (ie. market) in the Medina. Marrakech has a sprawling network of streets and alleys filled with tons of little stores selling everything under the sun. My favorite was rue Souk Semmarine in the middle of the Medina.
El Bahia Palace. A large, beautiful palace with several courtyards, gardens, and some incredible architecture and tilework. It was built in the late 1800's as the palace of Si Moussa, Grand Vizier of the Sultan. Make sure to visit.
Saadian Tombs. Located within a beautiful mausoleum, you'll see the tombs of members of the Saadian dynasty (1578-1603). Very impressive.
Ben Youssef Madrassa. One of the highlights in Marrakech, unfortunately it was closed for renovation when I went. It was a religious school for 400 years and the largest Islamic college in Morocco. Have a look at the official website and make sure to visit if it's open.
Koutoubia Mosque. You can't miss it, the highest minaret in Marrakech. As a non-Muslim you can't enter, but you can walk around the pretty gardens that surround the mosque.
Kasbah Mosque. A very attractive mosque right next to the Saadian Tombs. Again, you can't enter but you can walk around the complex which in my opinion is just as impressive as the Koutoubia Mosque.
This private half-day walking tour will give you an overview of all the must-see highlights.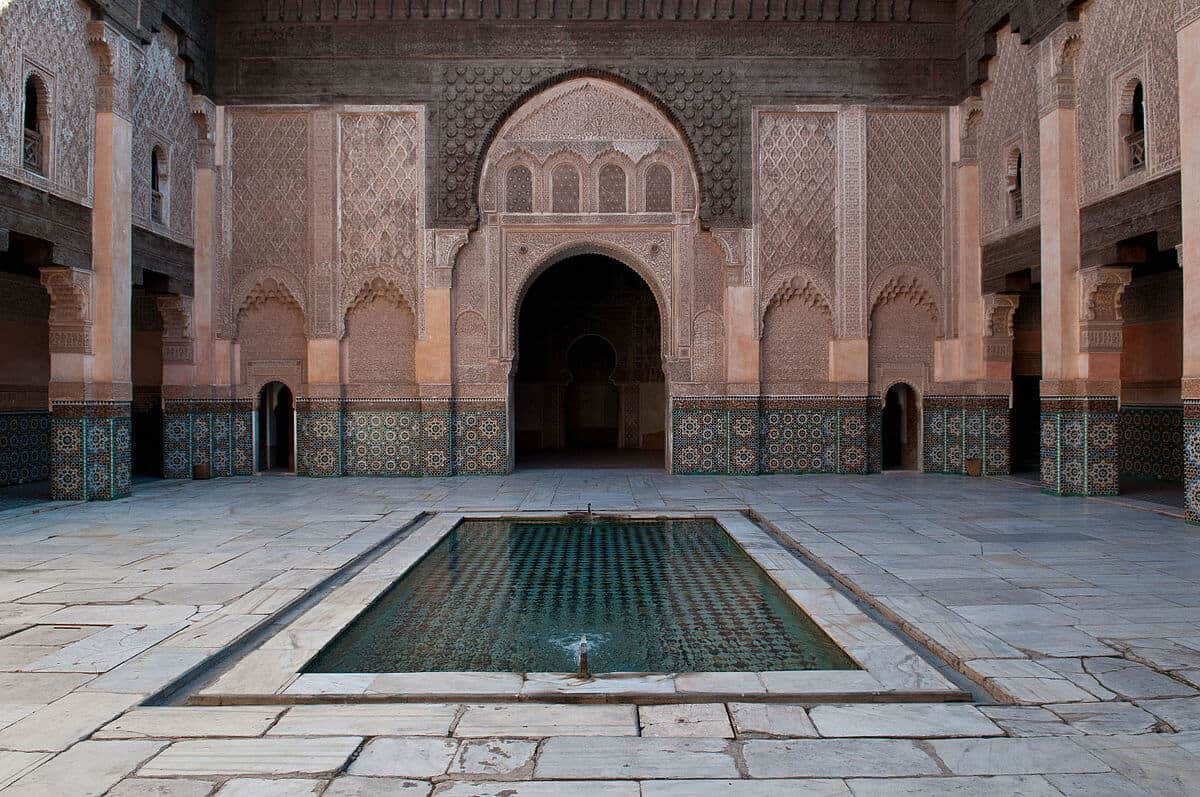 ---
---
If you have more time…
Majorelle Gardens. A 2 ½ acre botanical garden built by artist Jacques Majorelle in the 1920s. The Gardens are very popular with tourists posing for Instagram photos. Pretty place but don't put it at the top of your list.
Photography Museum. You'll see a lot of photos of Morocco's various tribes, many of the photos dated. Interesting. But the highlight are the views of the city from the rooftop café.
Bab Agnaou. A gorgeous gate into the city, leading to the Kasbah Mosque and Saadian Tombs in the Southern part of the city. Worth seeing if in this area.
My highlights in Marrakesh? Definitely the Saadian Tombs and El Bahia Palace. I was disappointed that the Ben Youssef Madrassa was closed.
Accommodation. Higher end: I recommend Ryad Hamza or Riad Atlas Acacia in the center. Both are beautiful, romantic options. Budget: I stayed in the Riad Rockech. It was basic but good value for the money (about $35 US/night) on the southern end of the city a 10 minute walk from the Kasbah Mosque.
---
---
Aroumd / Imlil / Toubkal National Park
Some of the most beautiful mountain scenery anywhere is found a little less than 2 hours south of Marrakesh. Mount Toubkal is the 2nd highest mountain in Africa as well as the highest peak in the Arab world.
I spent 3 days here and spent them all hiking. The region ranks among the most spectacular I've seen during my travels. 3 days of hiking in the Toubkal National Park area here.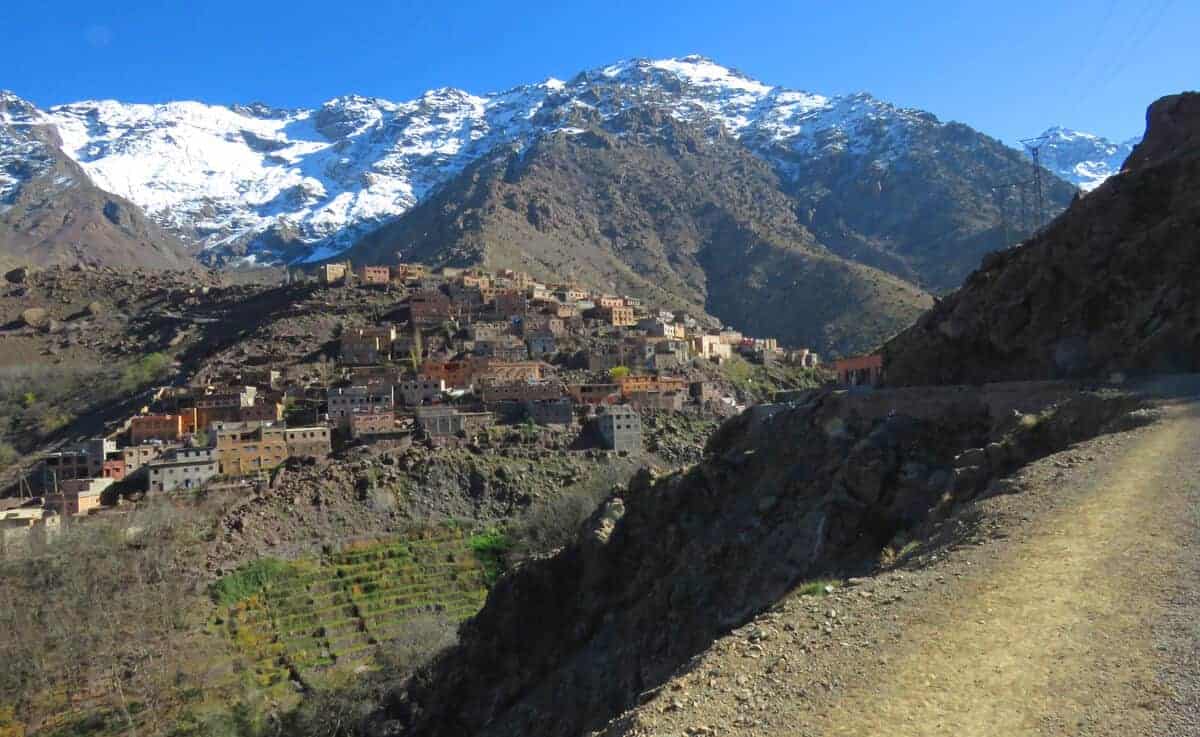 Most people will stay in Imlil at the base of the valley. It's a pretty town and a fine choice. But I stayed in Aroumd, which is a tiny town up the mountain. You can get there from Imlil by 4×4 or by mule (will take about an hour getting up to Aroumd). But if your goal is hiking and being in the middle of incredible geography this is your best choice.
Accommodation: I stayed in Dar Imperial. Incredible location and very nice hotel (simple, but very nice). They serve breakfast (included in the rate) and you can pay extra for diner which I recommend (because there's nothing much in Aroumd). I paid a total of 300 dirhams/day (ie. $35 USD) for everything (the room, breakfast, diner).
Note: If you don't have a lot of time in Morocco, I recommend this day tour to Imlil from Marrakesh. It includes some of the spots from day 3 of my hike to Tizi n'Tamatert.
---
---
Telouet..and the road from Marrakesh to Telouet to Ait Benhaddou
The most impressive scenery I saw in Morocco was the drive from Marrakesh to Talouet to Ait Benhaddou.
The road east takes you through the Tizi-n-Tichka pass in the High Atlas Mountains. You'll see some magnificent mountain scenery along this stretch. But the highlight for me was when we made it over the mountains and turned off the highway on the road to Telouet. The geography becomes semi-desert, with canyons and plateaus. The colours are reddish, interrupted by green in the valleys and the occasional white snow on far away mountains.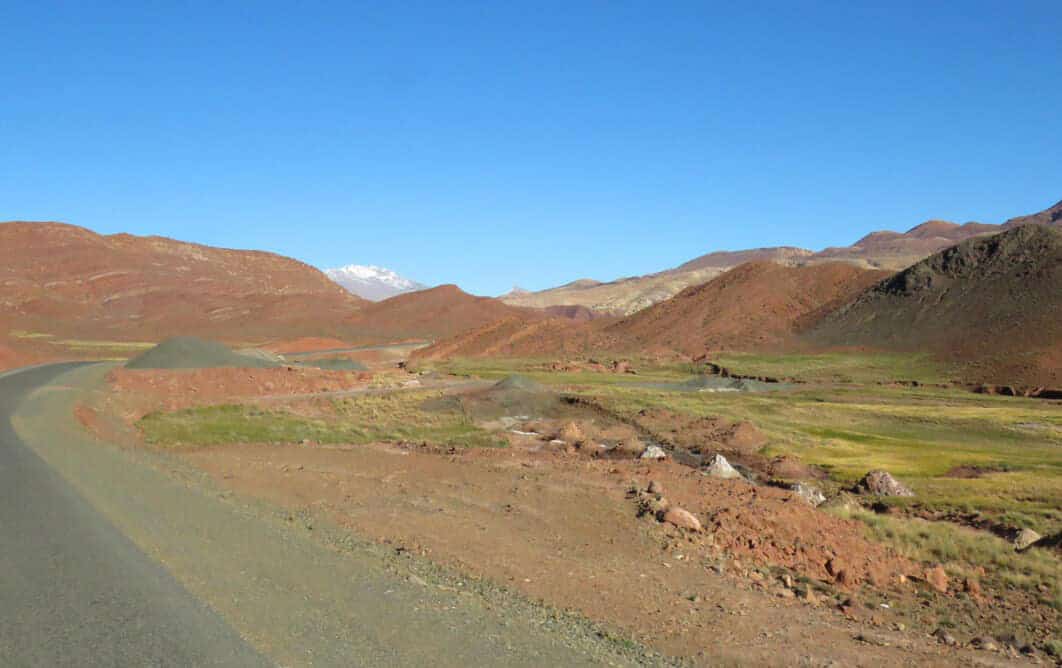 In Telouet is the Kasbah Glaoui: a palace that was abandoned and left to ruin. If you're lucky, you'll have the palace all to yourself as I did. Some of the rooms still have magnificent Moorish tilework. You can step on a balcony and have sweeping views of valleys and mountains. It is breathtaking.
Continuing from Telouet to Ait Benhaddou, you follow a deep, winding river gorge that cuts through sand-coloured cliffs. Along the way you'll see more palaces and earthen towns built along the riverbed.
The landscapes on this trip are mind-blowing. I cover it in this post: Getting from Marrakech to Ait Benhaddou. And Highlights along the way.
How to do it? You need to do this stretch on your own, either getting a private driver, renting a car or taking a tour. I used Marrakesh Airport Transfer for a 1-way transfer to Ait Benhaddou (I spent 4 days in Ait Benhaddou as part of my 5 week Morocco trip). Tours: If you have less time, I recommend this tour: it's a full day trip that will take you from Marrakesh to Telouet to Ait Benhaddou…and then back to Marrakesh for the evening.
---
---
Ait Benhaddou
A UNESCO World Heritage site that you might recognize from the Game of Thrones, Ait Benhaddou is just a phenomenal with its earthen buildings and defensive walls. It is a Ksar, a fortified village that was a stop along the trade route between Marrakesh and the Sudan and which flourished between the 8th and 16th centuries.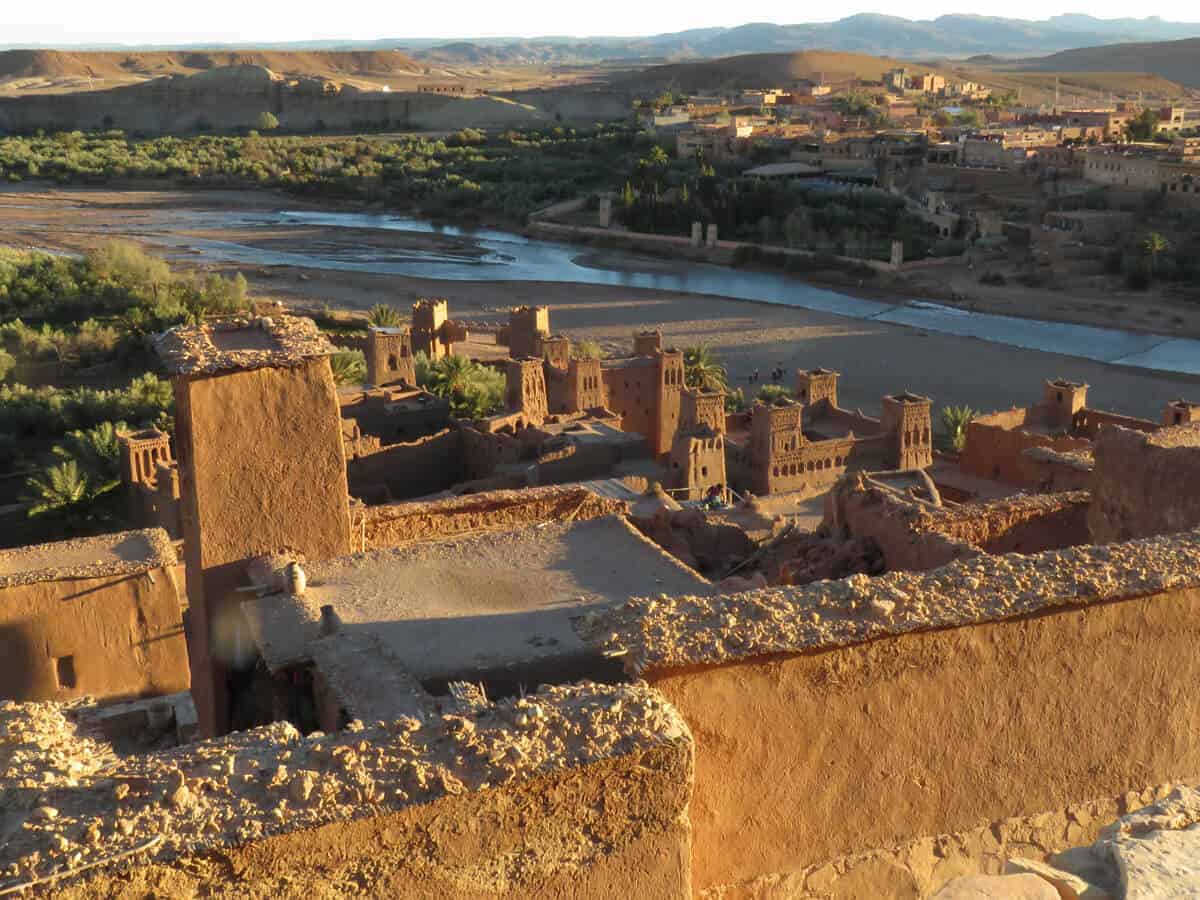 Have a look at this post which covers Ait Benhaddou as well as nearby Ouarzazate in detail.
You don't need a long time to explore Ait Benhaddou, 1 day is enough. A second day is recommended though if you also want to explore Ouarzazate.
Accommodation. I stayed in Kasbah Valentine while in Ait Benhaddou. Very, very nice and they have an excellent restaurant (which is rated #1 on Trip Advisor).
Tours: you can see Ait Benhaddou on a day tour from Marrakesh. I would recommend this tour which also includes Kasbah Glaoui in Telouet (which I covered higher up in this guide).
---
---
The Gorges…the road from Ait Benhaddou to Merzouga
I previously mentioned great road trips in Morocco when covering the route from Marrakesh to Ait Benhaddou. My 2nd favorite road trip was the long trip from Ait Ben Haddou to Merzouga.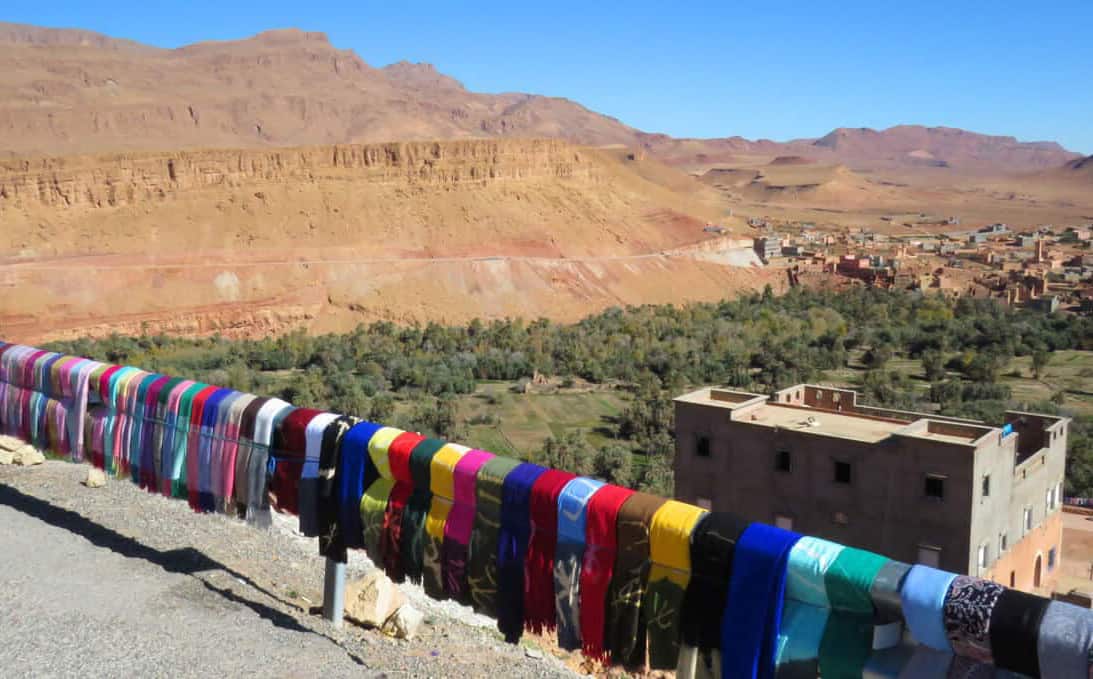 Highlights of this road trip: Kasbah Amridil (another fantastic earthen palace), Valley of the Roses (incredible geography…and if you come here in April it is all covered in roses), and then the gorges: Dades Gorge and Todra Gorge. I have a very detailed post covering it all here: Ait Benhaddou to Merzouga. And the stunning landscapes and highlights along the way.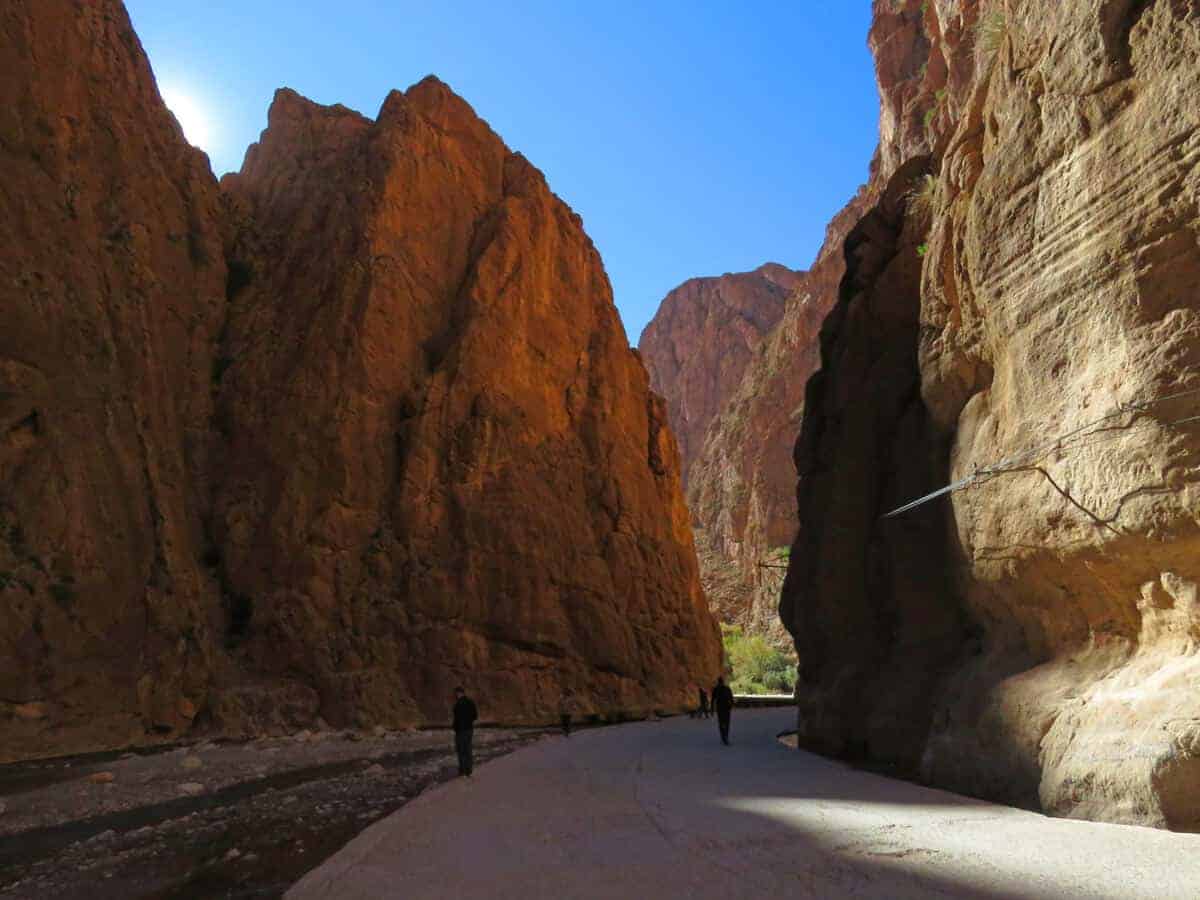 How to do it? The best way is to rent a car. Another option is to ask around for a private driver. A 3rd option is to take a private tour covering many of the places covered in this guide: this 3 day tour takes you from Marrakesh to Ait Benhaddou, Ouarzazate, the Dades and Todra Gorges, and on to Merzouga where you can ride a camel in the desert and stay overnight in a desert camp. I cover Merzouga below.
---
---
Merzouga
One of the most amazing experiences I've had in my life. On the 1st day I walked about 7 km through the desert. On subsequent days I rode an ATV and a camel (actually, a "Dromedary" is the technically correct term). The desert in Merzouga has the highest dunes in Morocco. A phenomenal experience. I wrote about it all here (including how to get to Merzouga): Visiting Merzouga. And why it is one of the highlights of my 5 week Morocco trip.
Accommodation. I stayed in Ksar Bicha which was excellent. They can organize a whole bunch of activities for you if you like. Or you can do what I did – walk out of the hotel and through the desert. It might actually have been my favorite activity.
---
---
Fez
Fez is Morocco's oldest city (founded in 789 AD) and was Morocco's first capital. Many say it is the best preserved city in the Arab world.
Marrakesh and Fez – which to Visit? I liked Fez more. Marrakesh may have more "wow"- worthy sights, but Fez is more walkable, more attractive, and a lot less stressful than Marrakech.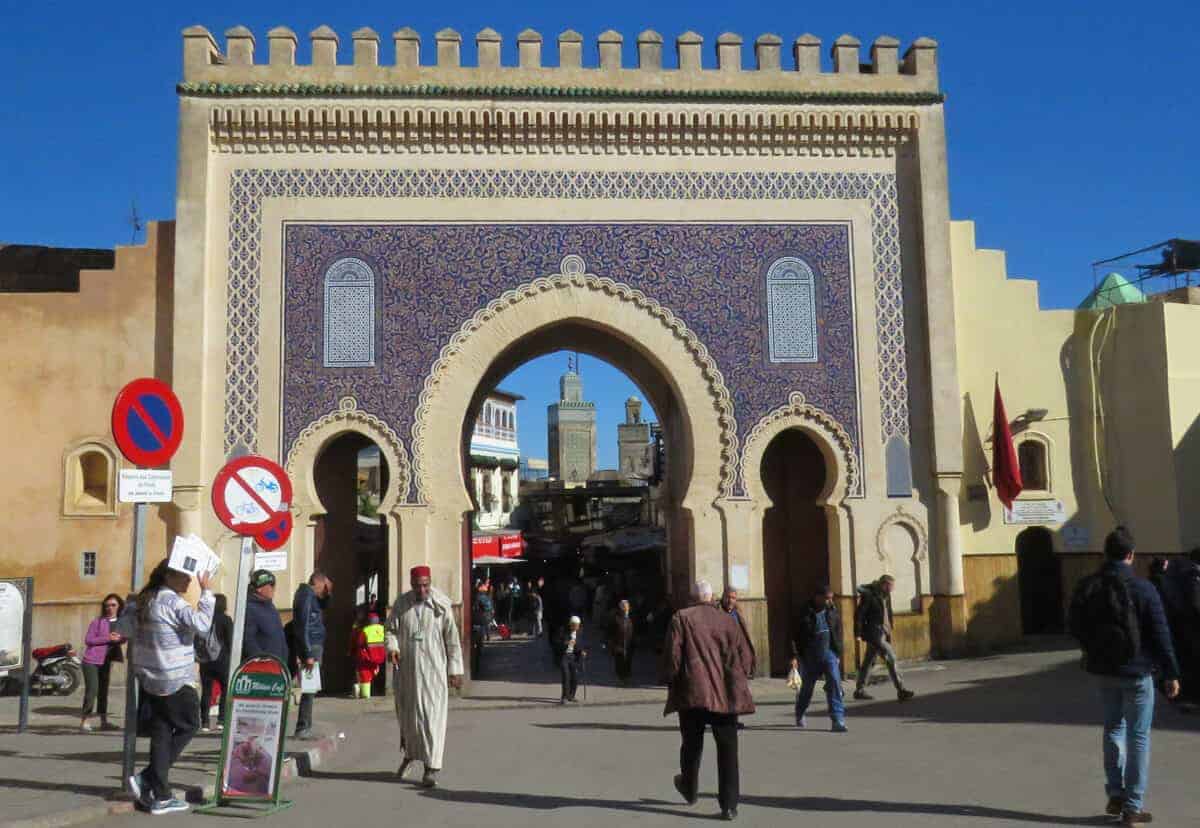 "Must see" highlights of Fez
The Medina. A lively maze of alleys and small streets filled with stores, mosques, fountains, baths, restaurants, and cafés. Most of the city's highlights (which I list below) are located within the Medina.
Bab Bou Jeloub. The ornate and beautiful City Gate. One side is predominantly blue (the colour of Fez), the other predominantly green (symbolizing Islam).
Tanneries. The Chouara Tannery is the most famous tannery in the world and you are taken to a series of balconies above the pits where you can see where the skins are cleaned and then soaked in colours. Make sure to come here with a guide as I did. They'll still try to get you to buy something but you won't be endlessly harassed.
Borj Nord. The large fort up on the hill overlooking the city. An easy walk from the city center. The fortress is a weapons museum and has an interesting collection of swords, sabres, guns and cannons. But the highlight for me were the views over the city and the city walls.
Bou Inania Madrasa. A religious school, one of the few religious buildings a non-Muslim can visit in Fez (or Morocco for that matter). You don't see much – you'll be ushered into a courtyard where you can admire the intricate architecture of the building around you. It's beautiful though.
Funduq al-Najjariyyin. A Funduq was a merchant's hotel and catered to merchants coming to Fez with their wares and animals. They could stay there (along with their animals) and trade goods on the ground floor. The building is interesting and you can go to the rooftop for views of the Medina and the surrounding hills.
Moulay Idriss II shrine. The tomb of Moulay Idris II who is considered to be the founder of Fez. A beautiful building but as a non-Muslim you can't go in (you can admire the door and look in and take a photo. But that's it).
Kairaouine Mosque. The holiest mosque in Morocco as well as the 2nd largest in the country. Again, as a non-Muslim the only glimpse you'll get is the one below (peeking in from the street).
El Glaoui Palace. Fantastic. Everyone had told me it was closed, including the guide who had shown me the medina. I stumbled upon it and went in. The palace has seen better days but that's the beauty of it – it is faded but original, the tilework magnificent.
El Mokri Palace. Closed when I was there (it was when searching for El Mokri that I came across El Glaoui). It is supposed to be just as interesting.
Royal Palace. The Palace is huge and surrounded by walls and guards. No visitors are allowed though as it is still used as a residence by the King when visiting Fez. What everyone comes to see however are the beautiful doors to the Royal Palace.
My highlights in Fez were Bab Bou Jeloub, the tannery, El Glaoui Palace, and the views from Borj Nord.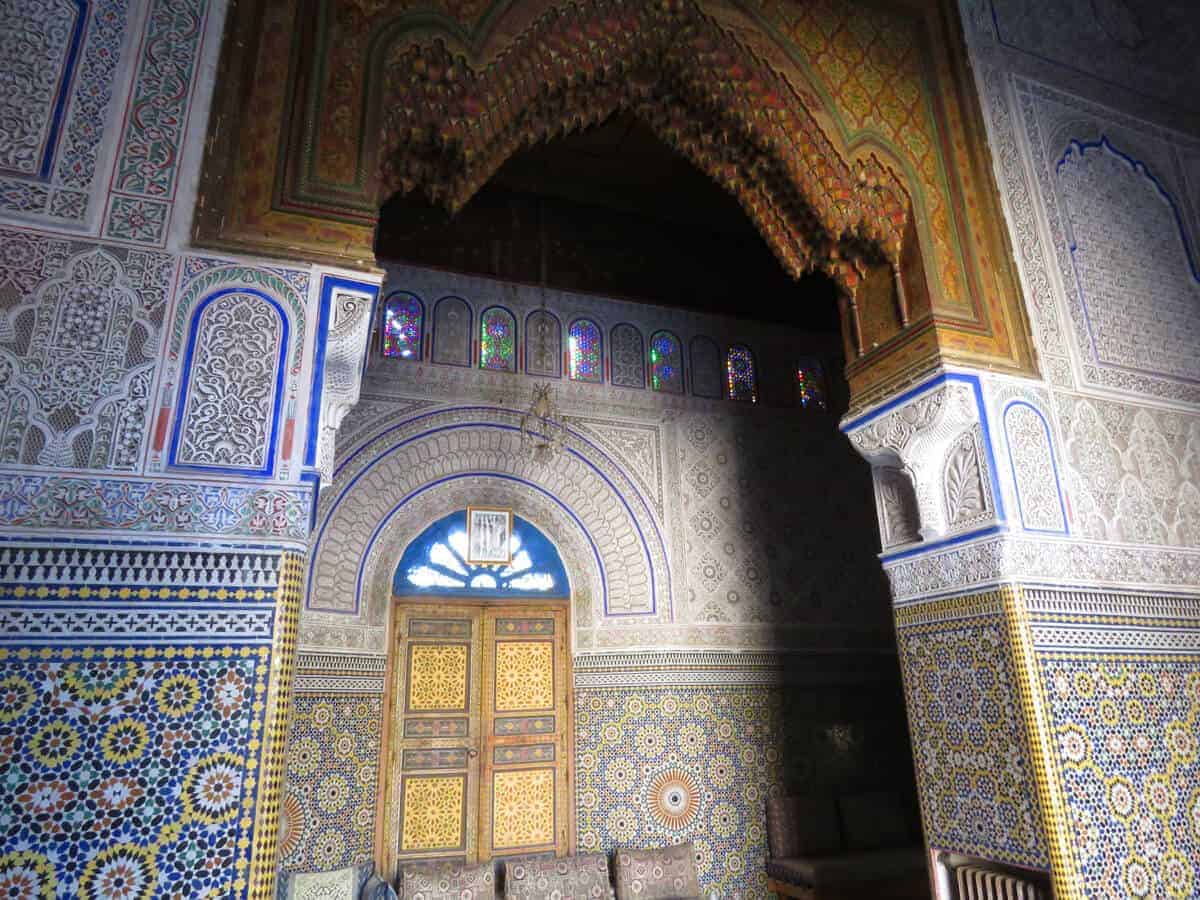 Accommodation: I stayed in Riad Ibn Battouta which was one of the nicest riads I stayed in during my 5 week trip. Right next to the Medina. Also recommended is the slightly less expensive Riad Farah.
---
---
Chechaouen
The "blue city", Morocco's prettiest town. Just a beautiful place with a stunning location in the Rif mountains. It's one of Morocco's most popular places but it's worth a few days. Have a look at my post: What to Do in the Blue City of Chefchaouen.

Make sure to walk up to the Spanish Mosque for great views and to the Kasbah, the fortress in the middle of town. Otherwise just walk around exploring one of the prettiest towns you'll see anywhere.
Accommodation: I was bitten by bedbugs when in Chefchaouen so I won't recommend the hotel where I stayed (Hotel Koutoubia). Instead I recommend the Casa Sabila or La Petite Chefchaouen. Both are a little more upmarket than Hotel Koutoubia. But you won't have to deal with bedbugs.
---
---
Essaouira
Another UNESCO site as well as another location that starred prominently in Game of Thrones, Essouira is located on the Atlantic coast and has a long history dating back to the 5th century BC. You'll see forts, ramparts, and walls surrounding the town. It's a great place to walk around and explore. It is also a popular beach town and attracts a lot of tourists who come here just to enjoy the surroundings (I call Essouira "Morocco-lite" because it is much more relaxed in character than any of the other places I visited in the country).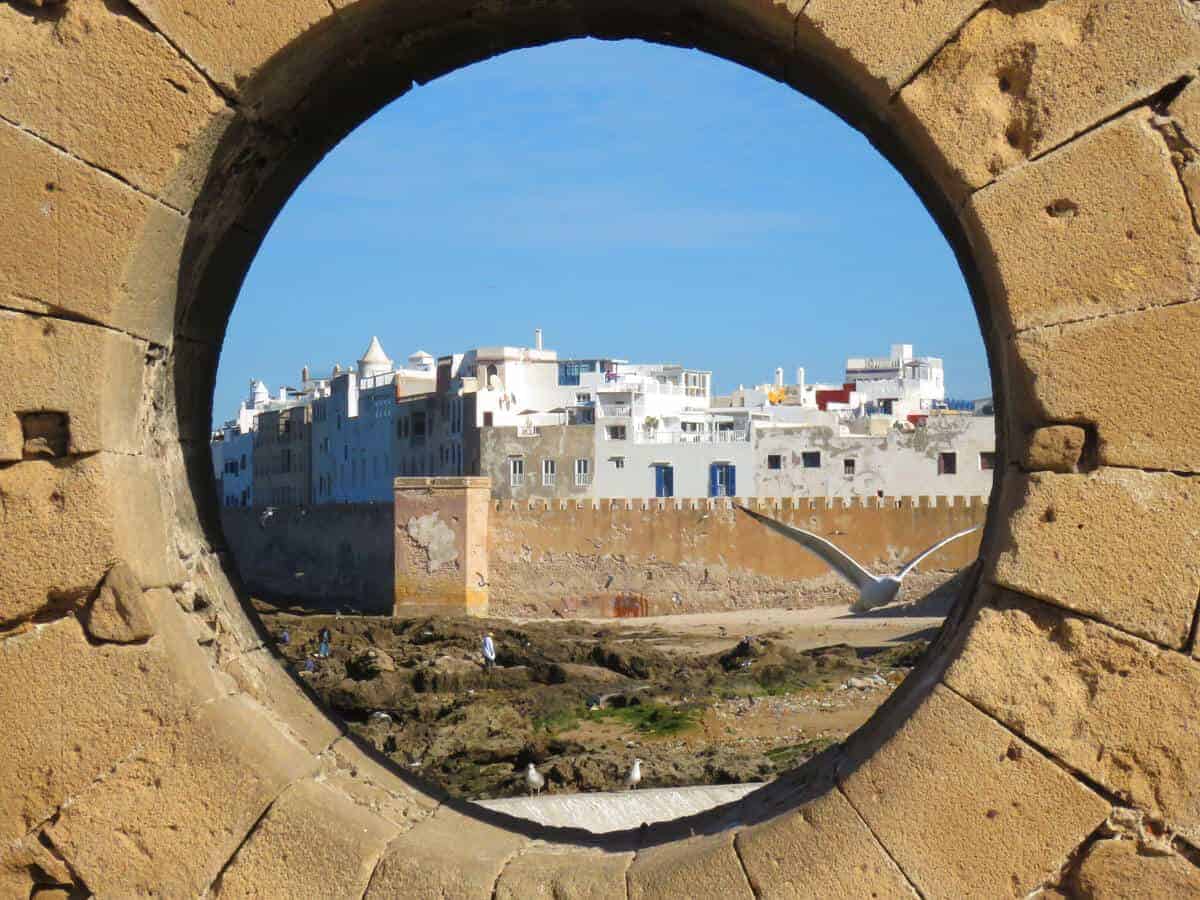 All about Essouira in this post: A Visit to the UNESCO beach town of Essaouira.
Accommodation: I stayed Riad Maison du Sud which was excellent in every respect. Recommended.
---
---
Summary…and other destinations in Morocco
The above were my highlights in Morocco and I recommend each. That's including Marrakesh, a city that I hated because of the hustlers. But as I mentioned off the top, follow some of my tips and you'll appreciate Marrakesh much more than I did.
There are some other places that people recommend. Meknes and Rabat for example. But since most people have limited time in Morocco I would recommend Marrakesh and Fez (the two oldest cities) as cities to discover. People also recommend visiting Casablanca for the Hassan II Mosque. It didn't impress me (it was built in 1993 and is a modern mosque. Just felt sterile to me).
For me, the highlight is the countryside outside the cities. Morocco has some of the most beautiful, most varied geography you'll find anywhere in the world and much of it is dotted with old palaces (like Kasbah Glaoui and Kasbah Amridil) and fortified cities like Ait Benhaddou. These are what made Morocco special for me.
Whatever your preference, you'll never forget Morocco.
Ps. If you find our blog helpful, please consider using our links to book your flights, hotels, tours, and car rentals. Have a look at our Travel Resources page.