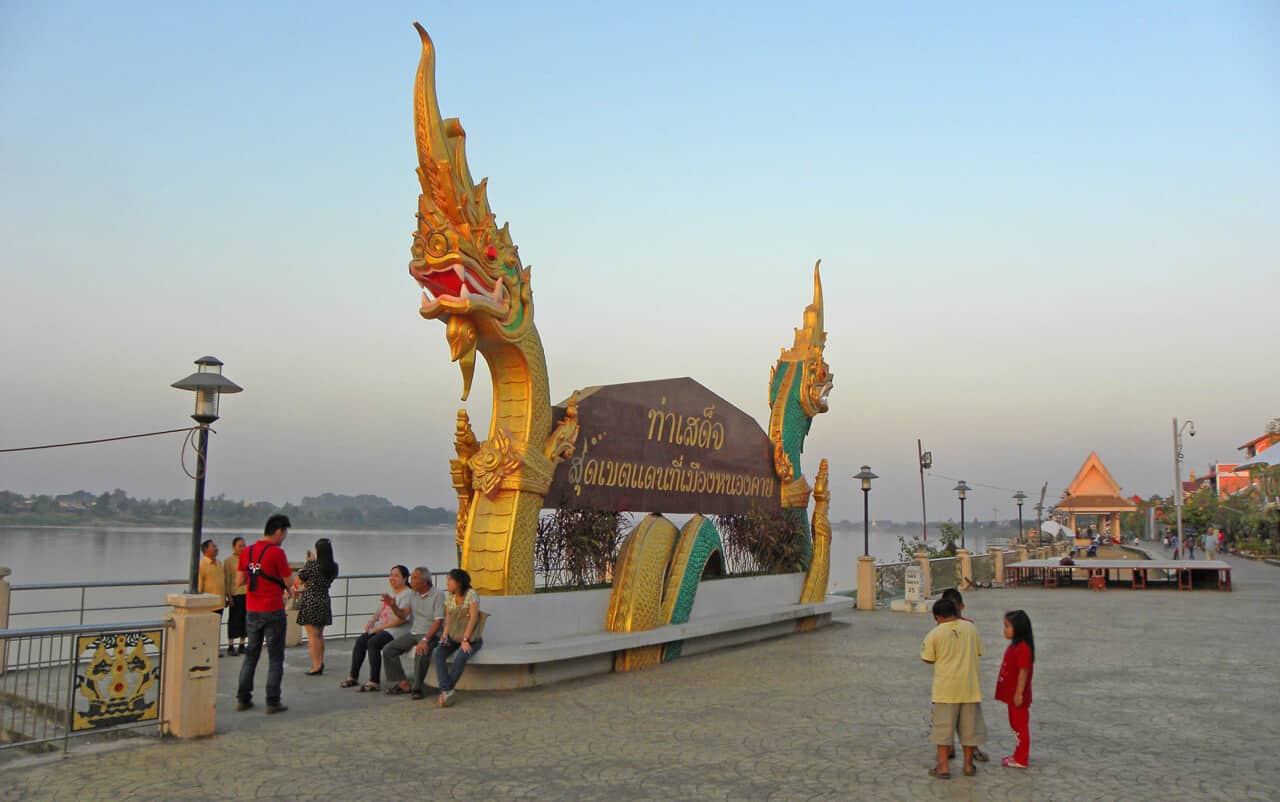 Guide to Nong Khai
We've stayed almost 4 months in Nong Khai. We love this little town and if/when we come back to Thailand we will make it our base in the region. What makes this town so unique? It's pretty, clean, peaceful, is not touristy (you may find yourself saying "hey look, there's a white tourist!") yet it has just enough of an expat population to ensure a few of the basic comforts of home. Most importantly, it hasn't lost its authentic small-town Thai feel.
This guide is meant to help short-term or slow travellers who intend on spending anything from a day to a few months in Nong Khai. I'll cover how to get to here, accommodation, and food options (including our favorite restaurants). I'll also tell you what you should see and do while in Nong Khai.
Getting There
Air – Most people get to Nong Khai by flying from Bangkok to Udon Thani. Nok Air, Air Asia, and Thai Lion Air fly from Bangkok's Don Muang airport, while Thai and Bangkok Airways fly out of Suvarnabhumi (Bangkok's international airport). All do the Bangkok–Udon Thani Route a couple of times a day. Flying time is 1 hour. We book all plane, train, bus and private transport using 12Go Asia. They're the best booking site in Asia.
Once at the airport in Udon Thani, you can take a minibus to Nong Khai. Minibuses cost 200 Baht/person. For a taxi you will be quoted 900 Baht (note: We paid 600 Baht when we left Nong Khai by booking a driver through the guesthouse. So you may be able to get a better rate if you pre-arrange your taxi).
Train. Daily trains do the Bangkok-Nong Khai run. We know a few people who prefer this to taking the plane. They recommend getting a 1st class sleeper cabin (tip: bring warm clothing, they really pump up the AC).
Train with 1st class sleeper cabins leave Bangkok at 8 pm arriving in Nong Khai at 7:45 AM.
Train with 1st class sleeper cabins leave Nong Khai at 6:20 pm arriving in Bangkok at 6:00 AM.
Again, look at the 12Go Asia link that I have above for all transportation options.
---
---
Note: This post dates back to 2015 and prices listed below have most likely changed.



Guide to Nong Khai, Thailand

– Accommodations
1. Pikul Apartment Hotel. This is where we stayed for 3 ½ months and is the preferred accommodation option in Nong Khai for slow travellers (and the only one we came across that offered monthly rates). The location is perfect, the building modern and attractive, the rooms large. There is a fridge in the room but no kitchen (as is the case for all Thai guesthouses that we've come across). Pikul is not in any way luxurious: the furniture is beat up and they could do a better job with the upkeep of the rooms.
Rate: 6500 Baht/month plus electricity (approx 1200bt/month) plus water (approx 120 bt/mo). Get everything in writing. If you are here for a month or two Pikul is the place to stay.
---
---
The guesthouses listed below offer accommodation charged on a nightly basis. We went to a few inquiring about monthly rates but had no luck. 400/Baht per night seems to be the going base rate with higher rates depending on amenities such as Air Conditioning and room size. Note that all rooms usually include a fridge but not a kitchen. You'll notice that all the places I recommend are in Central Nong Khai – this is the place to stay if a short term visitor. Don't make the mistake of staying outside the center.
2. Mut Mee guesthouse is an institution in town and the preferred spot for short stays. Their location is ideal, with a pretty garden and good restaurant (covered below) overlooking the river. It is the place to come for tourist information and services. You can arrange Visa runs to Vientiane here and even exchange Baht for USD. They also offer yoga classes, have a book store, as well as their own boat for nightly river cruises (covered below). Their website offers lots of good tourist information.
3. Siri Guesthouse is right around the corner from Mut Mee and is a quiet option for those wanting a reprieve from the more popular neighbor. Very clean with nice facilities and the people seem friendly.
4. There are a bunch of Guesthouses within very close proximity along Rim Khong Road. The first of these is the Rim Khong Guesthouse. Very nice building and we inquired about monthly rates (they said no and didn't seem very friendly about it). A shame as the facilities look sparkling and the location is perfect.
5. A few steps down the street is the very popular Ruan Thai Guesthouse. Gets good reviews. Right next to Ruan Thai is Jing Joe Restaurant (covered later in the food section) which also rents out rooms.
6. There are a couple of guesthouses directly on the promenade and both look good. The first of these is the Baan Sabai Rim Khong Guesthouse. Very pretty spot and the balconies have views over the promenade and the Mekong.
7. Just a little further down the promenade is the Pan Guesthouse. Like the Baan Sabai Rim Kong, it is very clean. The only downside to these two guesthouses is that it can at times get loud along the promenade at night. Otherwise they are both great spots to enjoy the views, especially on Saturday when the night market is in full swing.
---
---
Guide to Nong Khai, Thailand

– Eating
Those staying longer-term will want to pick up supplies at the big Tesco Lotus store. It is a 10 minute Tuk-tuk ride from the center (going rate is 60 baht). The other place we liked to pick up supplies was the German Bakery (covered below).
Most travellers will frequent the many restaurants in Central Nong Khai which are quite affordable compared to other places in Thailand. We would eat out for lunch every day and if I averaged it out the cost would add up to about 300 Baht for two main courses, a shared salad, and two beers (ie. 150 Baht, or about 4.50 USD each). I'm not talking about street food, I'm talking about some nice sit-down restaurants.
.
Here are some of our favorite restaurants:
.
1. Macky's Riverside Restaurant opened up on the promenade during our stay and quickly became one of our favorites. Very good Thai and Western food and a fantastic location right on the promenade. If you go, start with a shrimp-cake or fish-cake salad. Really good. Our preferred main dishes were chicken (or tofu) with basil served with rice. The Masaman Curry is also very good. We loved the ambiance of this place, especially on Saturday nights when the activity of the market is right at the doorstep of the restaurant. If you go to Macky's say hi to Bart and tell him we recommended the restaurant (Note: We received no compensation for this or any other review).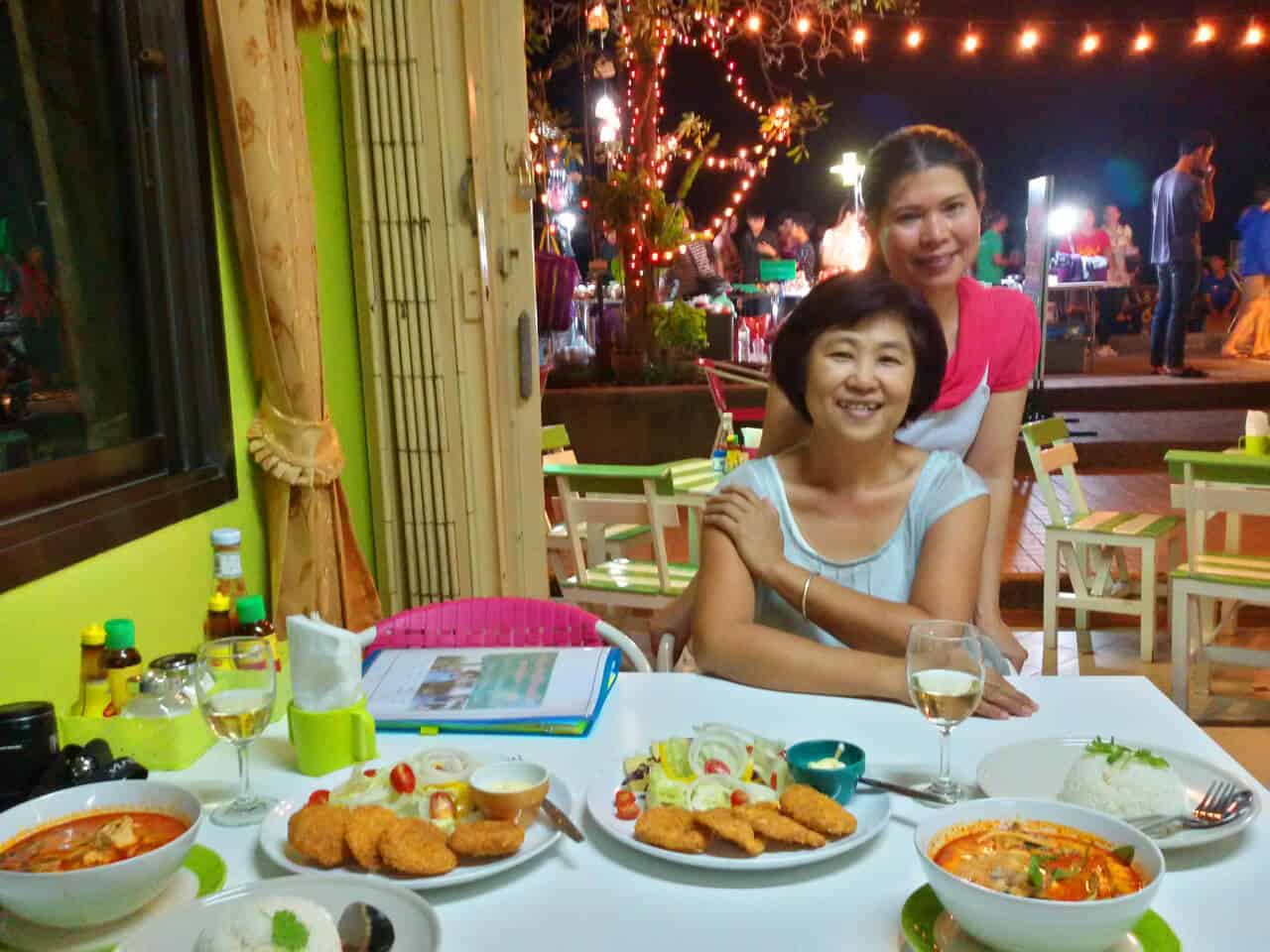 .
2. Jing-Joe Restaurant has the best pizza as well as, in our opinion, the best breakfast (the 'Big Aussie') in Nong Khai. They are also the only place we came across that does delivery. We had pizza delivered to our door at least once a week. Our favorite pizzas: the Jing Joe Special (with all the toppings), the Hawaii pizza, the Pad Kapow Gai (Thai inspired pizza. Really good). Nice place and good people.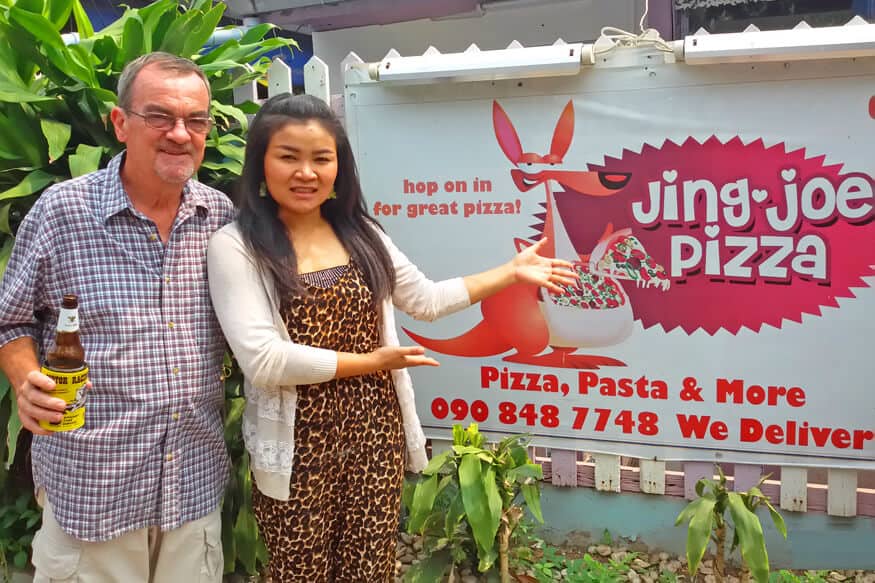 ---
---
.
3. German Bakery. We love Rudi at the German Bakery. It is located about a 5 minute walk out of the center behind the hospital. Here you can have authentic German sausages (with real German mustard) served on a bun. Rudi's bread is the best in Nong Khai and the same can be said for his salami and cheese. We would come here once a week and stock up with sandwich-making stuff. He makes a fantastic breakfast and his pate is incredible. If I called Jing Joe's breakfast the best in town then I would call Rudi's breakfast the most refined. But the best, the very best thing, is Rudi's apple pie. It's the best apple pie we've ever had. If I had a restaurant in town I would get Rudi to supply me with apple pies. Many people come here just for a beer or coffee and a piece of pie.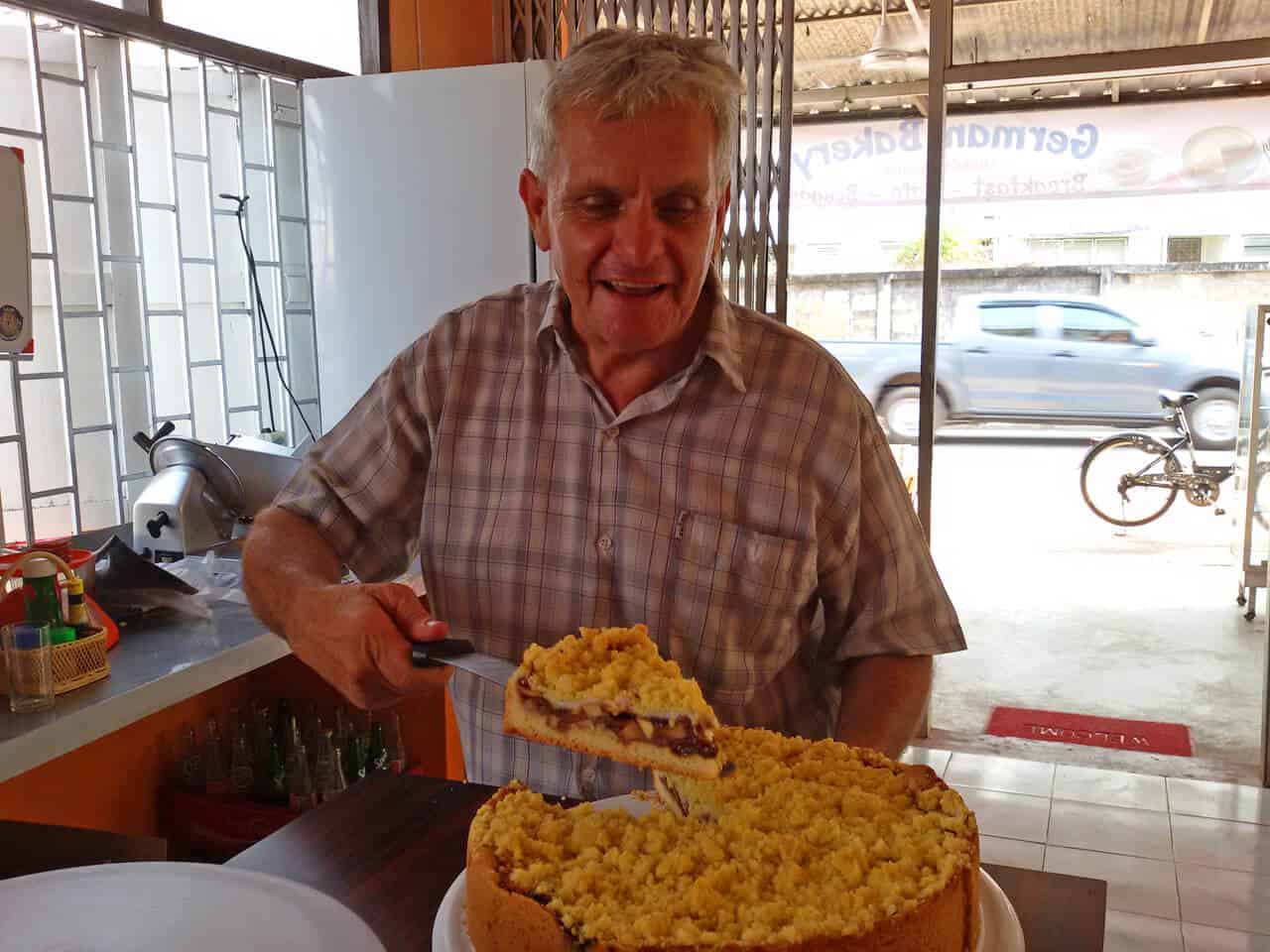 .
4. Daeng Namnuang Vietnamese restaurant is the most popular restaurant in Nong Khai and one of the most popular in all of Thailand. It is famous. It is also the largest employer in town. People come from out of town in tour buses to eat here. A Thai princess comes to Daeng Namnuang once a month. Locals love this place.
The menu is incredibly simple and lists only about 12 different items. But the food is fresh and tasty. Westerners may be confused on how to eat it. Order the 'salad' bowl pictured on the menu's top left corner, it should accompany everything you eat. The trick is to wrap the pieces of whatever you're eating with the salad and to dip the ensemble into the dipping sauces served you. Use your hands, it's what everyone does. Most people order a variety of dishes and just mix a whole bunch of stuff together. We would usually end up eating here once a week.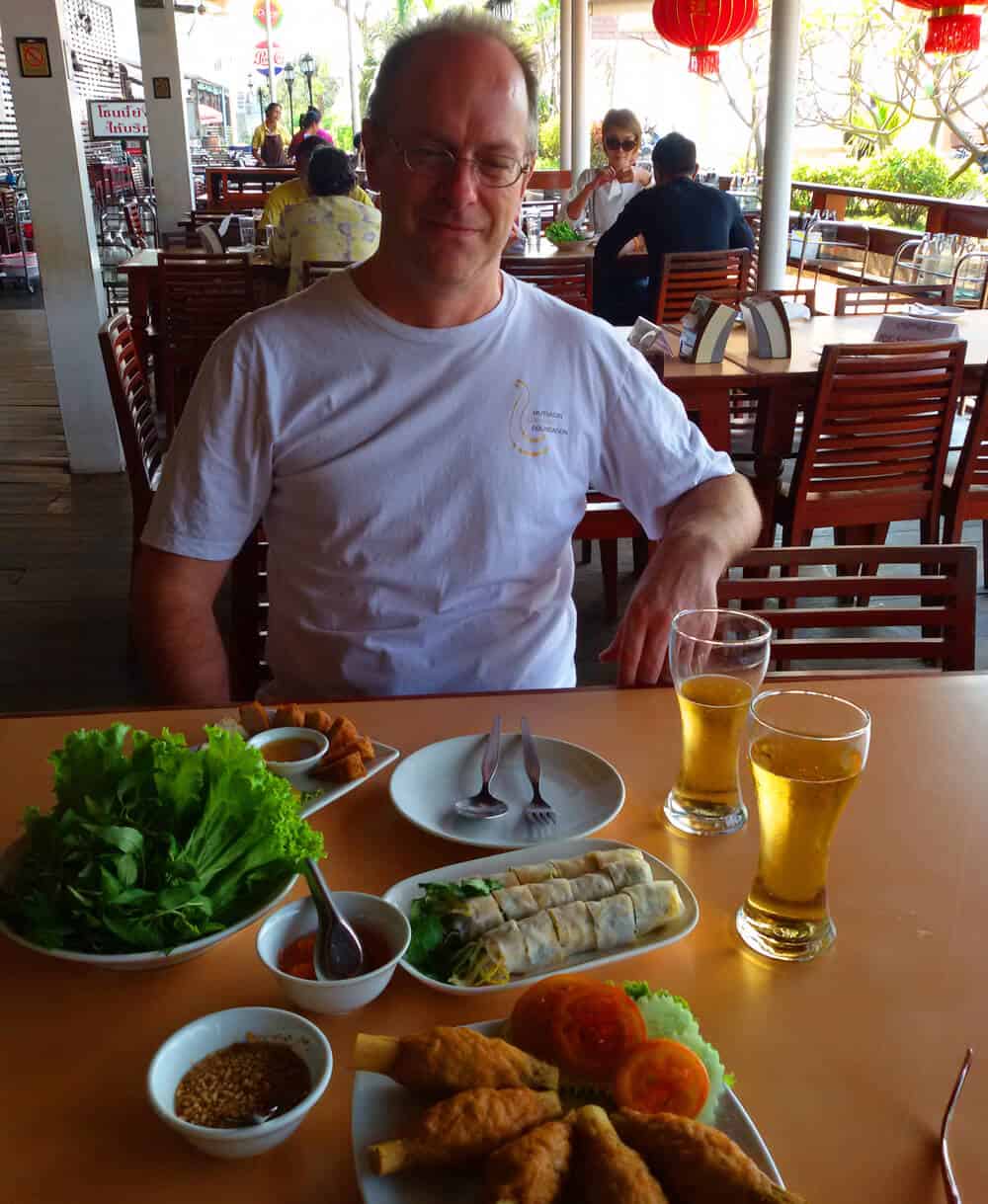 5. Brendan and Noi's is an expat favorite and features good local as well as Western food. My only criticism is that the food and level of service can vary greatly. We ate here a few times and swore that the food was the best in Nong Khai. We came back a few other times and the food was bland. Tell them if you like your Thai food spicy because they tend to err on the side of prudence…
---
---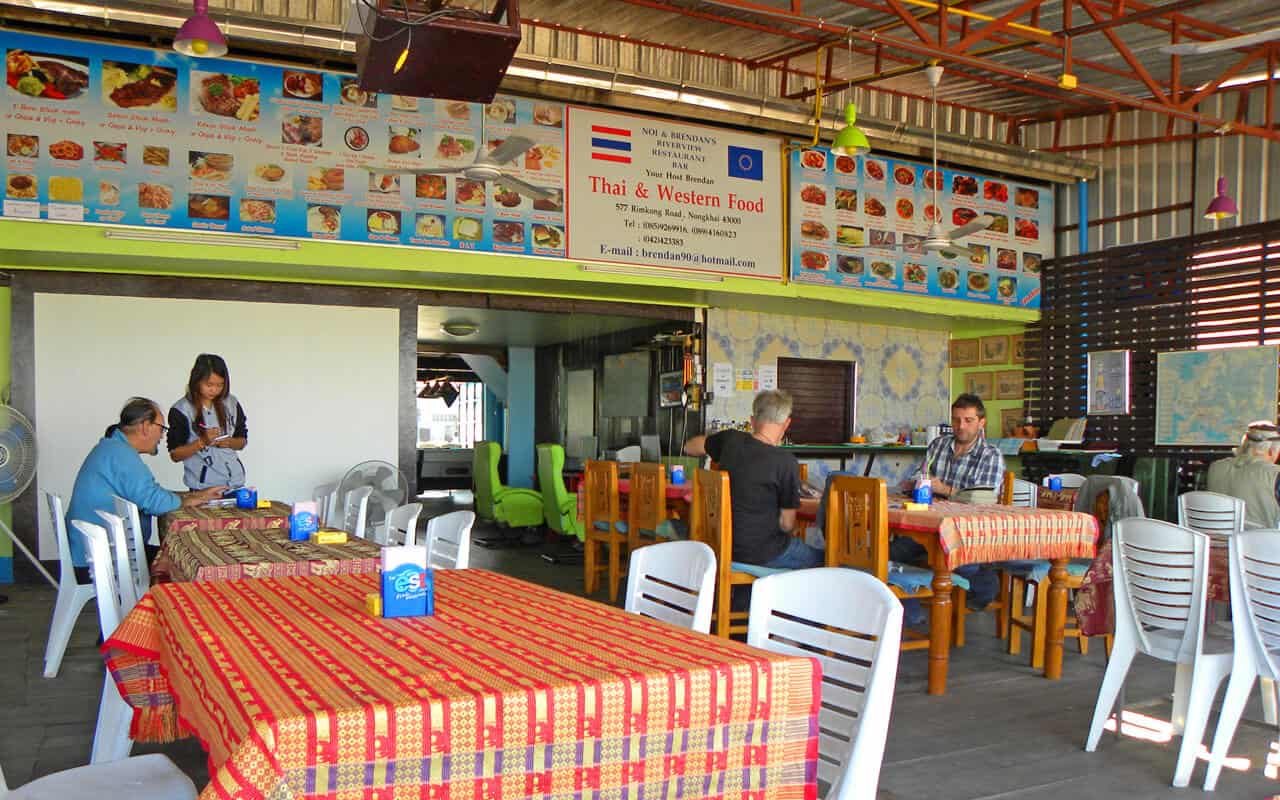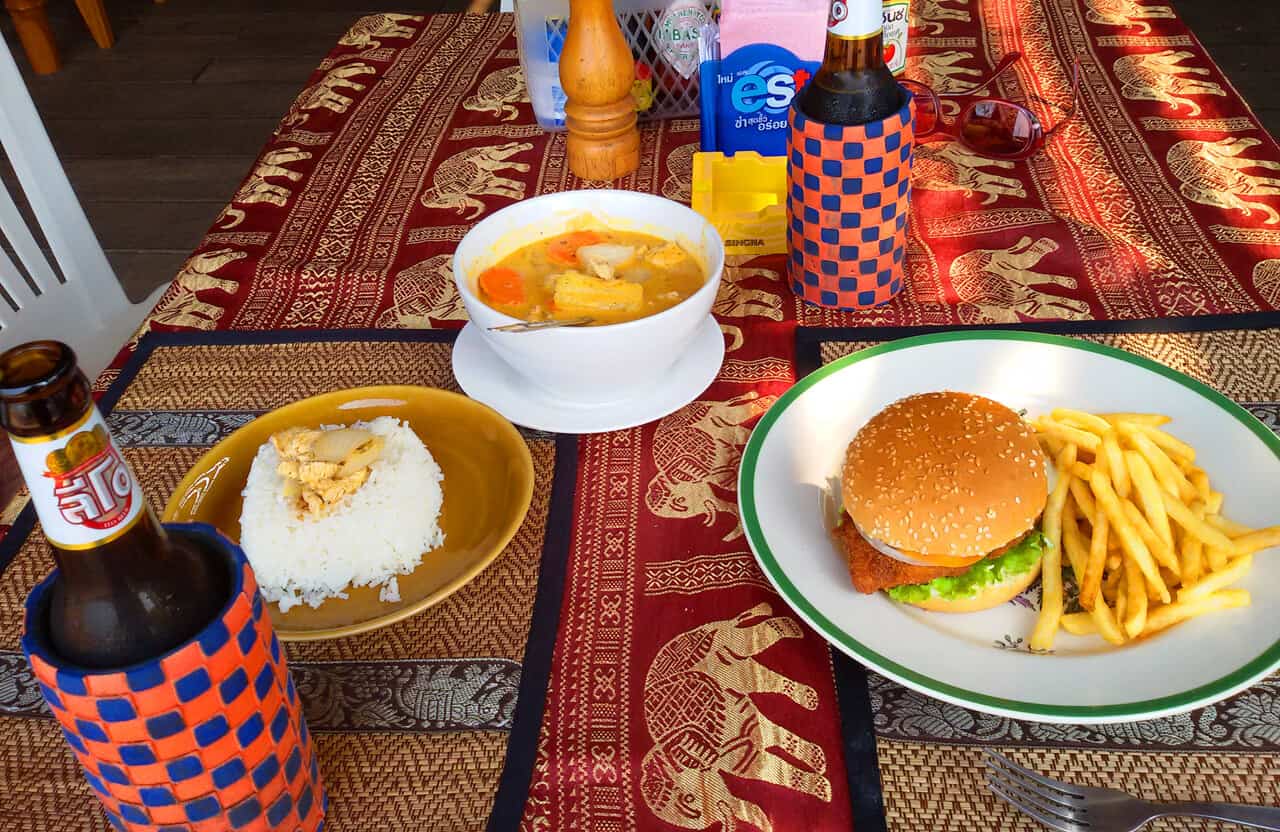 .
6. Mut Mee Guesthouse has a very good restaurant which has the lowest prices of any of the places I've listed. I've mentioned before that the location is idyllic with beautiful gardens and a prime spot on the river. It is also the most popular guesthouse in town (see above). A unique vibe.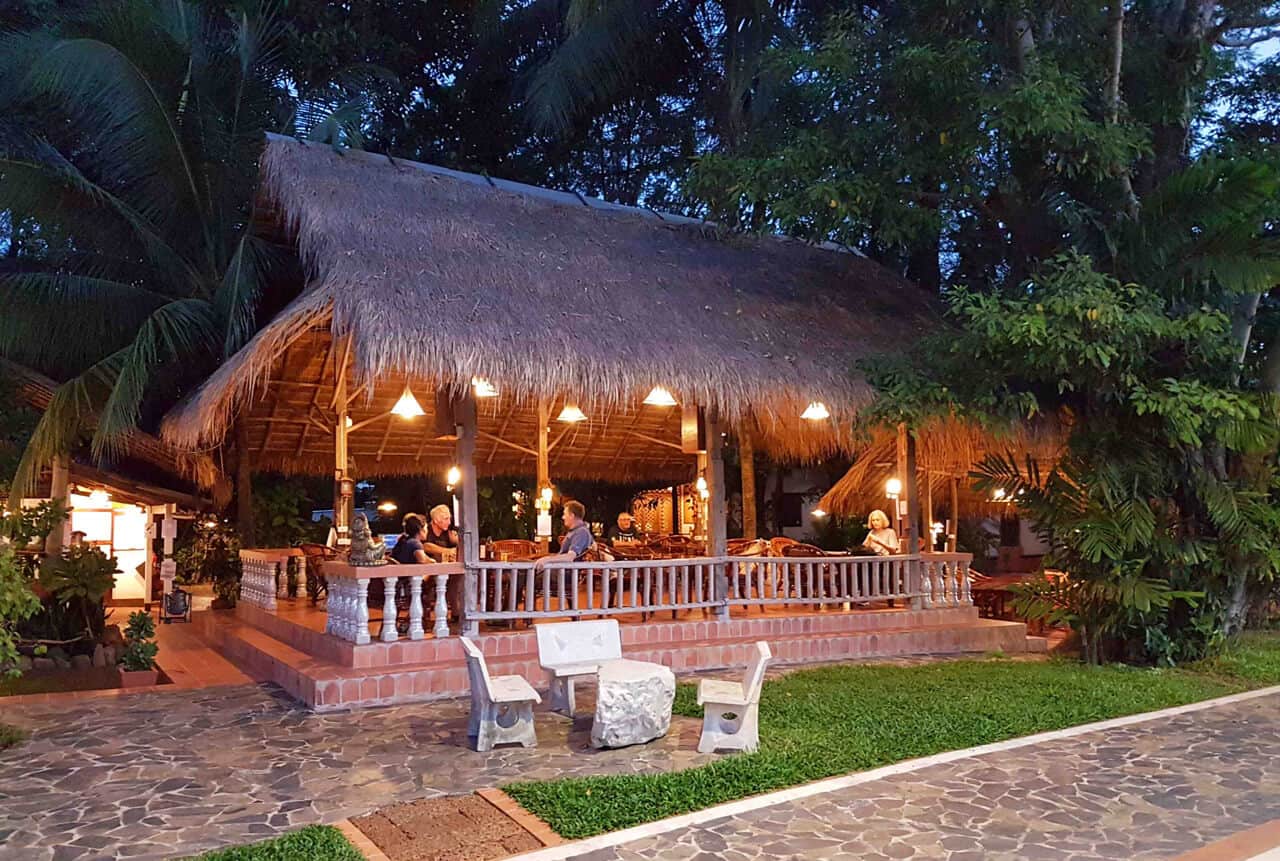 .
7. Cake at Toey – for the best coffee in town. It's around the corner from Pikul so we came here almost every day for an ice cappuccino. Their American brownies (you'll see them for sale on the counter) are good. Very nice setting, like Starbucks at one-third the price. We'll miss this place.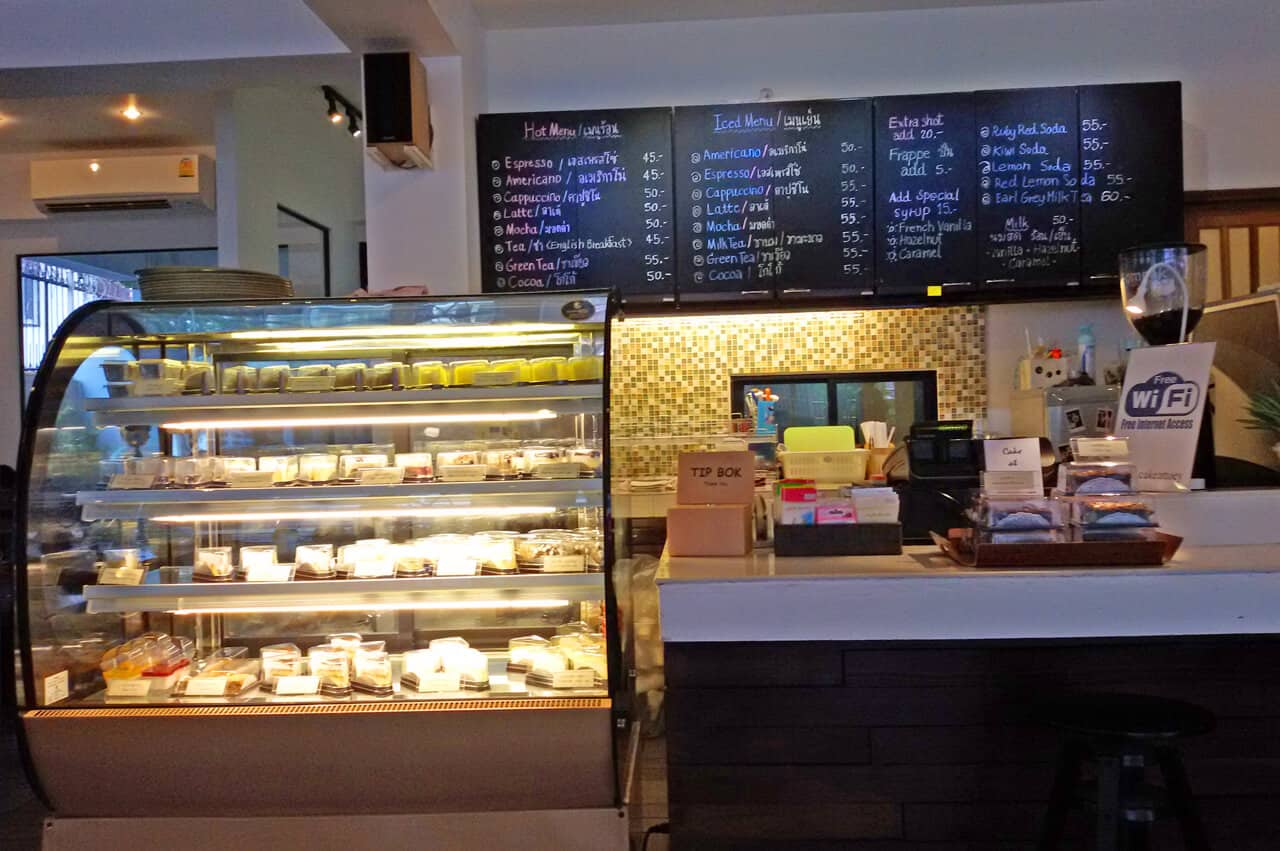 The above were our favorites and by no means a complete list of restaurants in Nong Khai. If anyone reading this has any recommendations feel free to write a comment below. We might try them out the next time in Nong Khai.
---
---
Guide to Nong Khai, Thailand – What to see and Do


.
1. Sala Keoku, the sculpture park about 15 minutes outside the center, is the highlight of the area. Worth a couple of visits. I did a detailed post here with a lot of photos of this amazing attraction.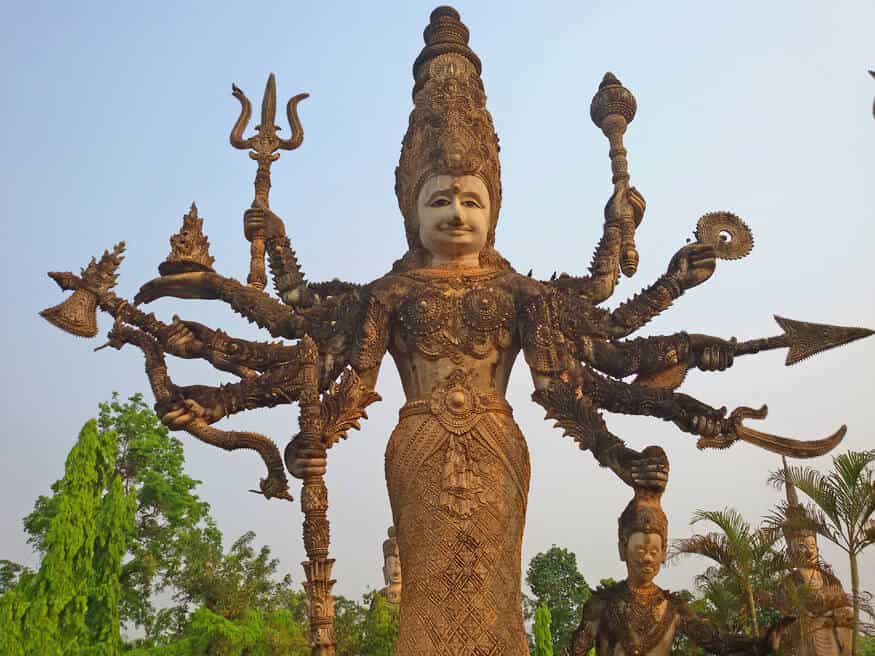 .
2. Markets. I've previously detailed the Saturday Night Market as well as Tha Sadet market. If you're only coming to Nong Khai for a few days plan it so that you are here over a weekend. We love the Saturday market.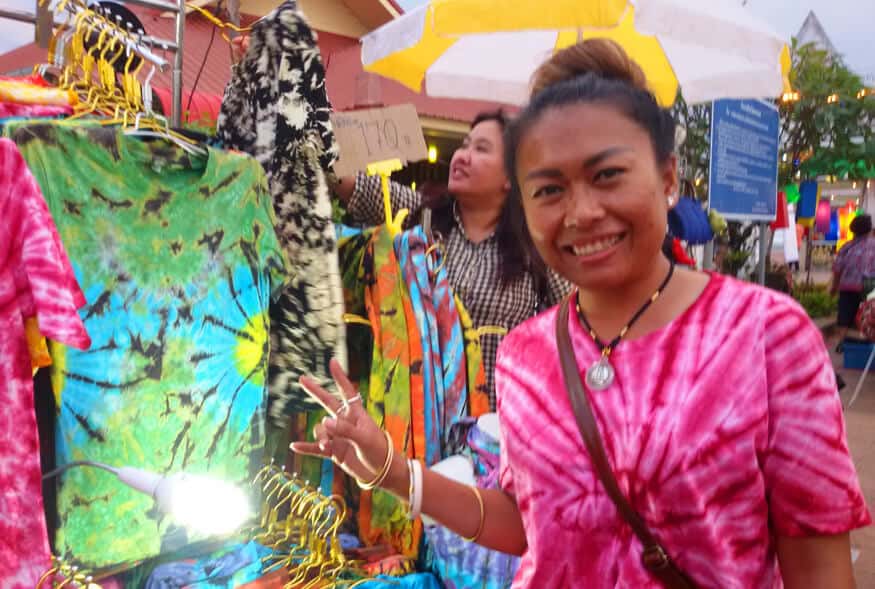 .
3. Wat Pho Chai is the main temple in Nong Khai and is worth a visit. It is a bit of a walk from the center (it took us about 30 minutes) and it is worth taking a tuk-tuk (60 Baht).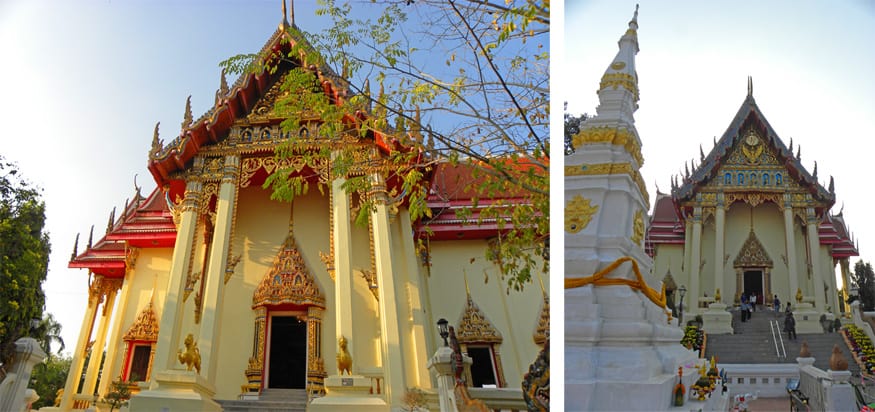 .
---
---
4. Walk the 2.3 km down the river to Phra That Chedi. You'll get good views of the river, see some pretty temples, and get a feel for the town outside its center. Late afternoon is best. You'll see photos along this route on this post.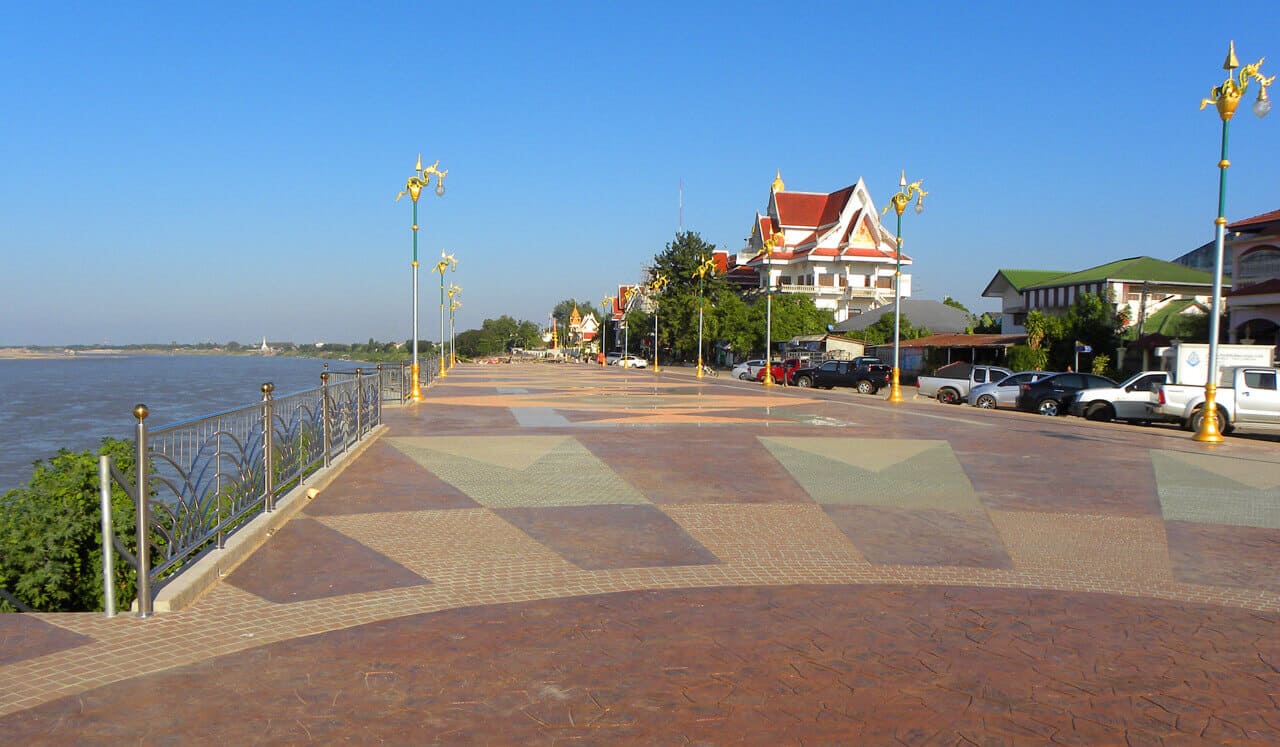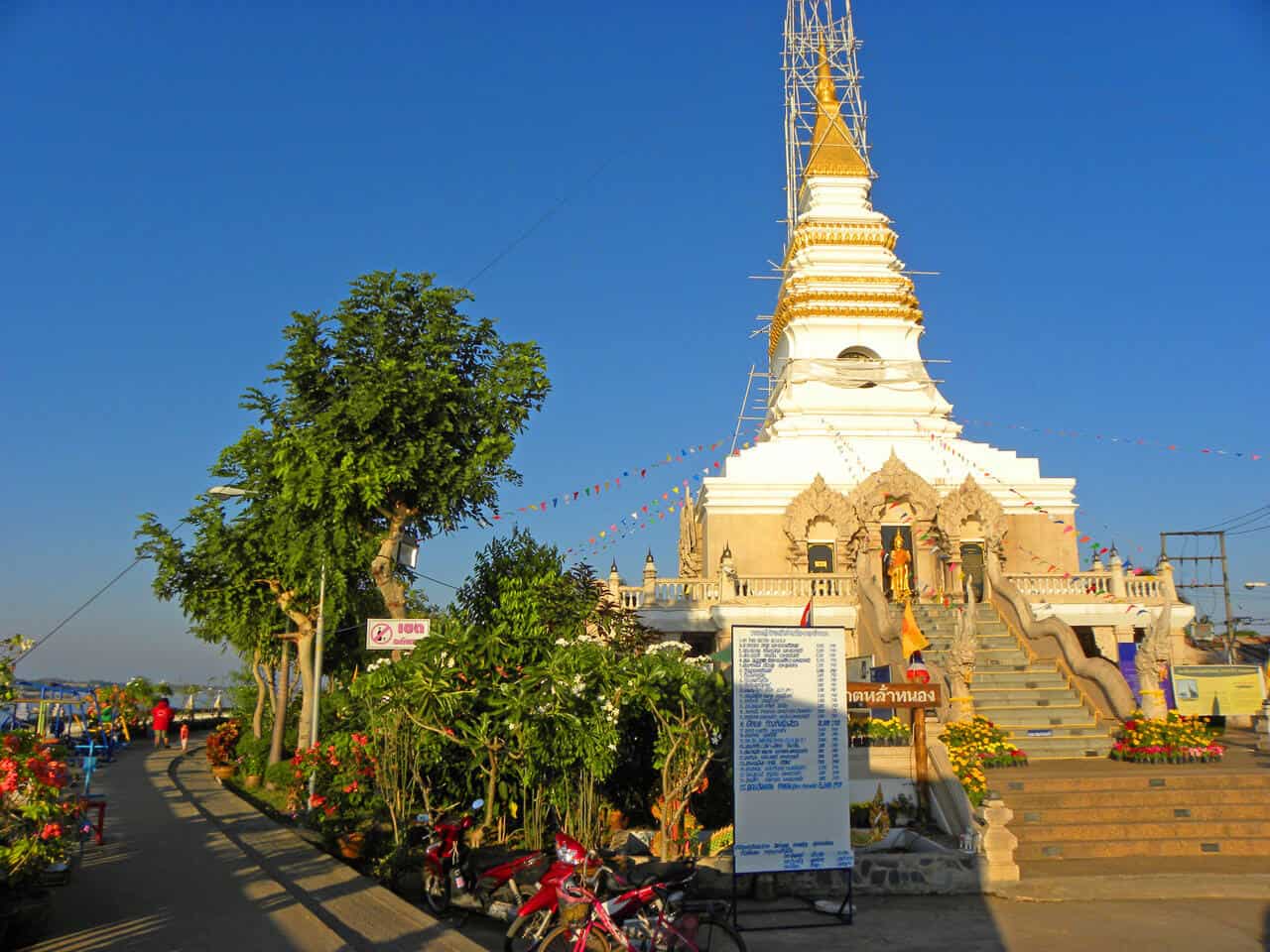 .
5. Visit some of the colourful temples in central Nong Khai. Wat Sri Muang, Sala Jao Phu Ya(the Chinese temple listed on the map at the top), and Wat Tung Sawang are worth a visit.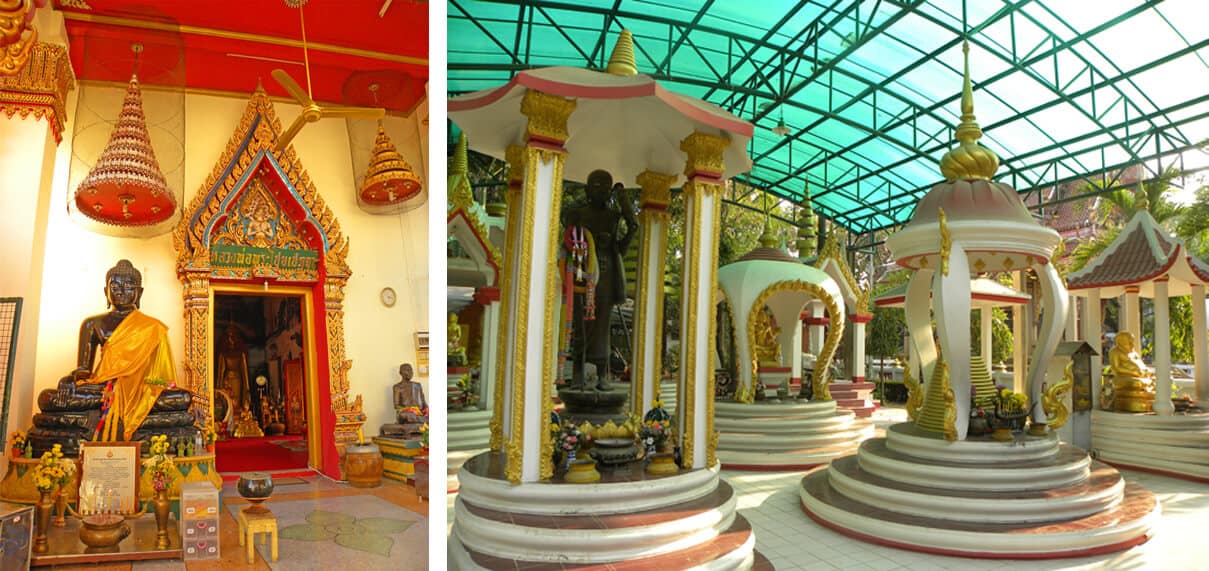 .
6. Take a cruise on the river. Leaves at 5pm every day from Mut Mee, lasts an hour and costs 100 baht.
.
7. Visit the aquarium. We didn't go but have been told it is worth a visit, especially if visiting with kids.
.
Reminder: Before getting into a tuk-tuk make sure to negotiate the price beforehand.
The top 3 above are 'must do's, along with just walking along the promenade and enjoying the views and peacefulness of the river. This was for us was the highlight of Nong Khai and the reason why we fell in love with the town.
We hope this helps. Feel free to give us your thoughts on Nong Khai.
---
---

Ps. If you find our blog helpful, please consider using our links to book your flights, hotels, tours, and car rentals. Have a look at our Travel Resources page.