Visiting Sala Keoku in Nong Khai
Sala Keoku is the most popular tourist site in Nong Khai and is worth a detour if in the area. If you are staying in Nong Khai for even just one day it is a must-see. I'm almost at a loss to describe the site. It is called by many a 'sculpture park' but for others it is a place of worship and meditation. One thing for sure: it is fantastical. The word that comes to mind is 'Burton-esque' because some of the characters could come right out of a Tim Burton movie.

.
---
---
The creator of the park is Bunleua Sulitat. Born in 1932 in Nong Khai province, the story goes that he fell into a cave where he met a hermit called Keoku. Keoku would become his spiritual mentor (and later the namesake of Sala Keoku).
After graduating from his apprenticeship with Keoku, Sulitat took to sculpting and in 1958 built his first concrete sculpture garden in Laos (Buddha Park near Vientiane). When the Communists came to power he worried that his unorthodox views might not be accepted and crossed the Mekong to Nong Khai. In 1978 he started the construction of Sala Keoku.
---
---
Sala Keoku has many sculptures, some towering 25 or so meters into the sky. Sculptures of that height aren't unique in Thailand but it's the style of the statues and the sheer number of them that makes this place special. Altogether there are over 100 sculptures.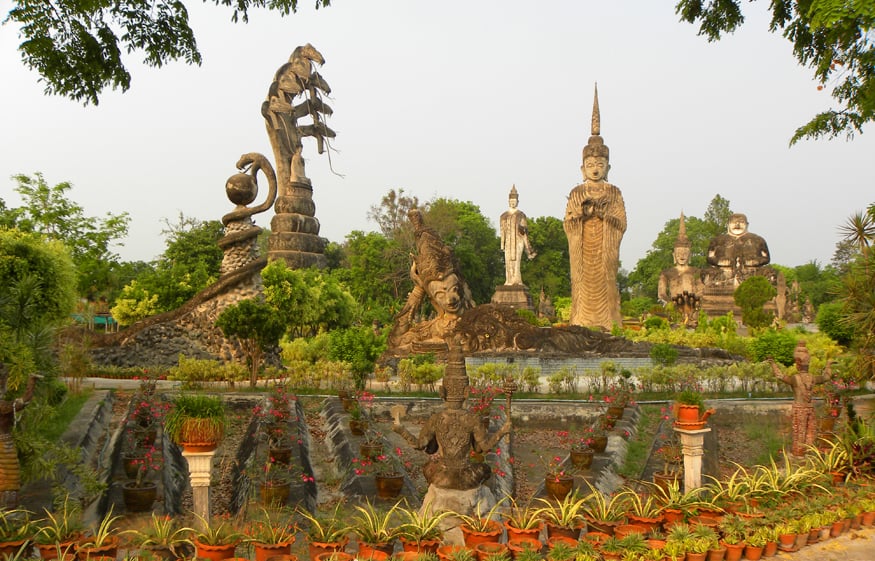 ---
---
Sourirtat's style of buddhist and Hindu along with his eccentric style made him popular with many locals. Much of the building materials were donated and Sala Keoku became something of a religious sect headquarters.
---
---
Sulilat's vision found its most detailed expression in depictions of the karmic Wheel of Life (present in both of his gardens). The version in Sala Keoku (pictured below) is the more elaborate of the two and mixes traditional and contemporary figures arranged in a circular pattern. It reveals the human progression from birth to death.
---
---

Souritat died in 1996 from complications arising from a fall from one of his own sculptures. His body resides in the main building and his followers claim his hair still grows.
---
---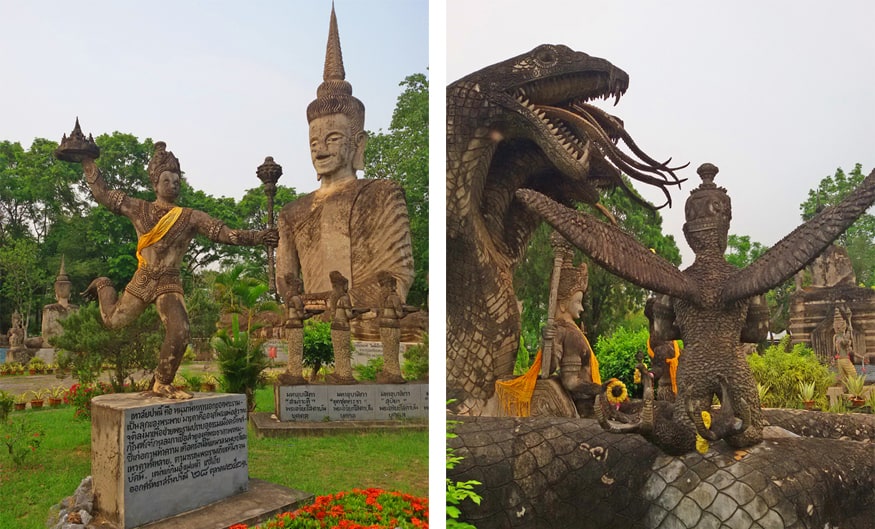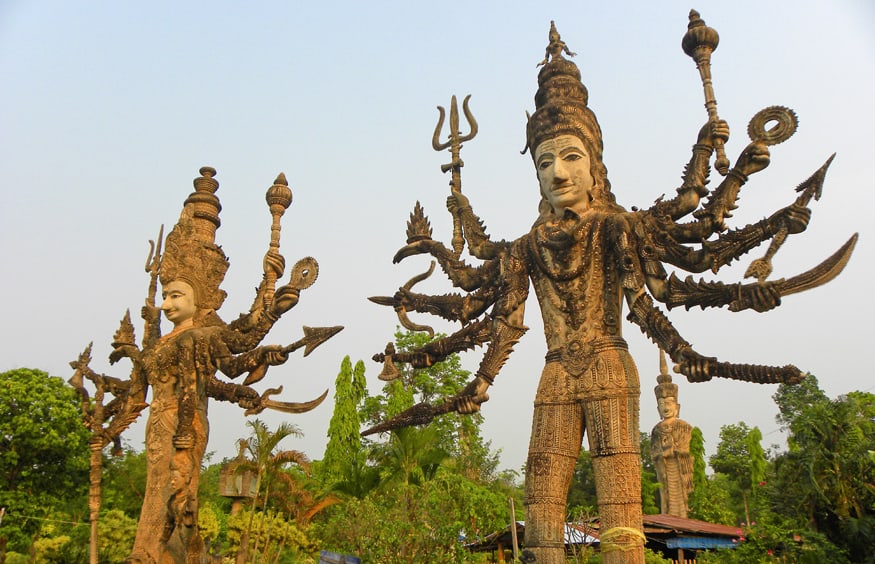 ---
---
Practical Information
Getting here: About 15 -20 minutes from central Nong Khai by Tuk-tuk. Follow highway 212 heading east out of town. Sala Keoku is well indicated and is a right turn off the highway. We paid 300 baht for a tuk-tuk driver to bring us there, wait an hour, and bring us back to Nong Khai. I recommend you arrange for return transport because we didn't see any other tuk-tuks around.
Entrance fee: 20 Baht.
Time to see the site: We took an hour but ideally we could have used an extra 30 minutes. So if you really want to explore everything thoroughly give it 90 minutes.
Facilities: Kiosques selling drinks and ice cream, souvenir stores, bathroom facilities.
Ps. If you find our blog helpful, please consider using our links to book your flights, hotels, tours, and car rentals. Have a look at our Travel Resources page.