Why Vientiane is worth a visit
Vientiane gets no respect from Western travellers. We saw many travellers, mostly backpackers, at the Thai consulate getting their Thai visas or lounging around the backpacker hostels. Some could be seen walking along the main street (Setthathirath Road). But the general sense was that Vientiane was a place to kill time before moving on. We didn't see Westerners at any of the tourist sites. And that's a shame – because Vientiane has some highlights that are definitely worth seeing. We think Vientiane deserves a couple of days and at least two nights. Even if not coming here on a visa run. I'll explain why.
.
Having been in Thailand the last 4 months we appreciated the difference that is Laos. The first thing that you'll most likely notice are the Lao and Soviet flags flying side by side almost everywhere you go.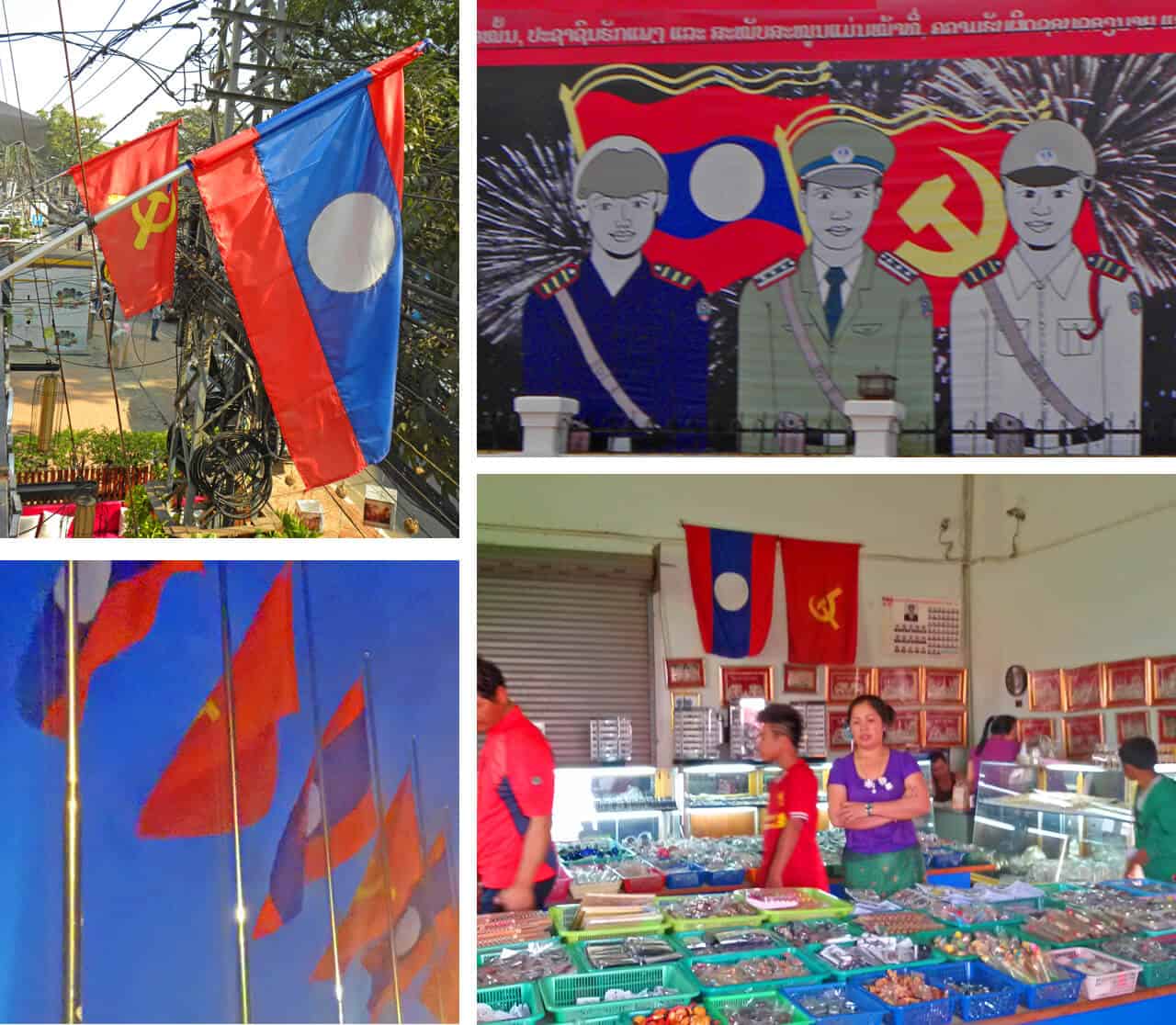 ---
---
A lot of travellers come to Laos these days and it's easy to forget that the country is still communist. The symbolism of the flags almost comes as a shock.
The second thing you'll notice is the French influence. Government buildings all have French signage, street signs start with 'Rue', and the city has wide boulevards that you would only find in a former French colony. But the biggest influence is the degree of sophistication in the restaurant and café scene. Walking through parts of Central Vientiane you could actually think yourself in Paris or Montreal.
---
---
You'll also see a of stores selling nothing but wine. While you can find wine in Thailand you won't find whole stores dedicated to it. In Vientiane you'll find them everywhere (we stocked up with a few bottles).
I'll have a few restaurant recommendations at the bottom of this post. Generally, we found cuisine in Vientiane of outstanding value.
.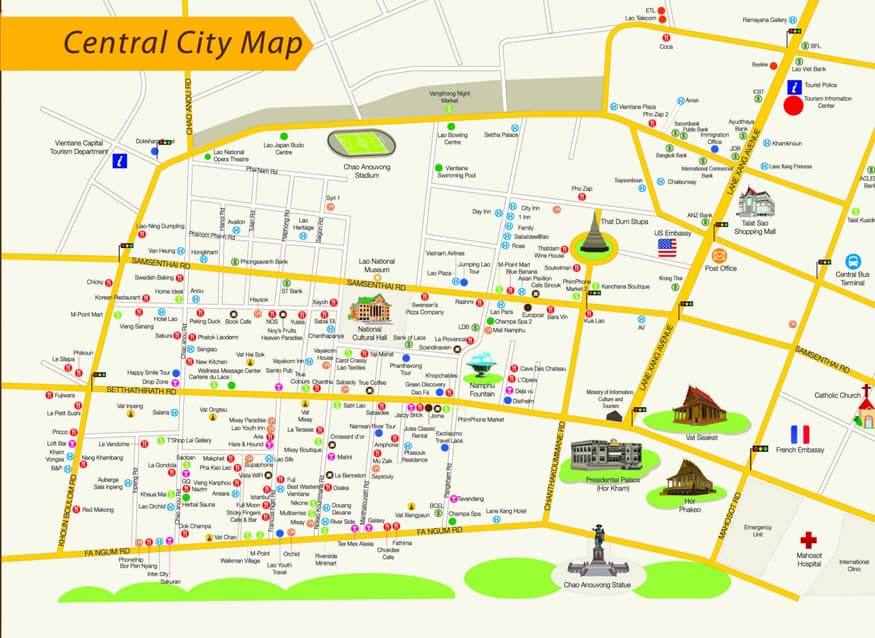 Accommodation in Vientiane
We stayed at the Avilla Phasouk Hotel which was excellent and very centrally located. Also recommended is the Vayakorn Inn (which is near the Avilla Phasouk).
---
---
.
Tourist Highlights
We spent the better part of two days going back and forth between our hotel and the Thai consulate (we came here to apply for a Thai Visa) and eating/drinking at restaurants and cafés. The 3rd day we hired a tuk tuk and toured the city's highlights.
Wat Si Saket
An easy 5 minute walk from the downtown cluster of restaurants is Wat Si Saket, the oldest wat in Vientiane. Although not the most visually stunning wat you'll ever see, the small interior is impressive because of all the cubby-holes in the walls, each containing a small buddha. The wat has over 2000 ceramic and silver buddhas as well as several stupas and some beautiful buildings where monks reside. It makes for a peaceful and interesting visit.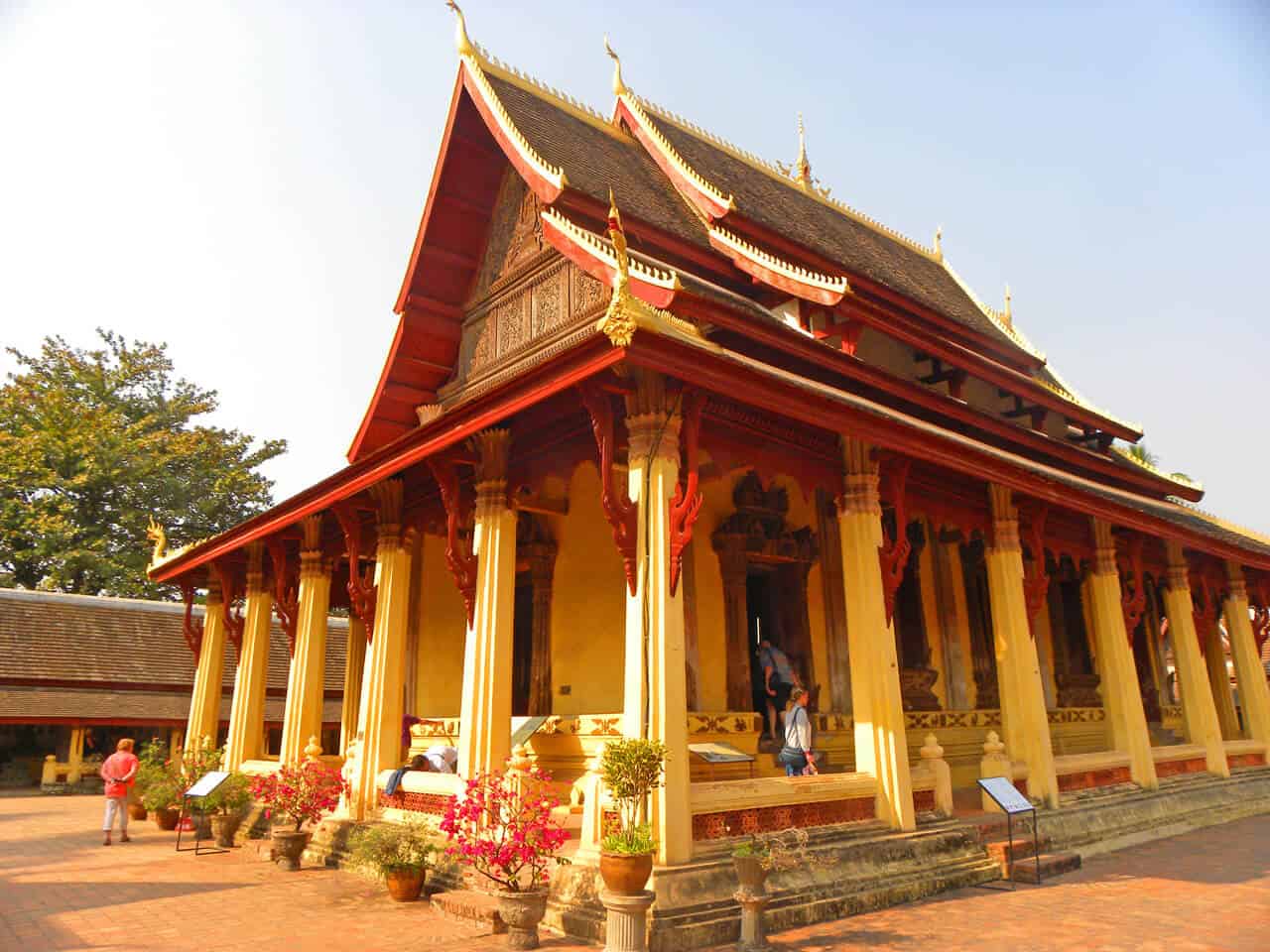 .
Wat Ho Phra Keo
This wat is just across the street from the wat above (and right next to the presidential palace). It has been destroyed a few times by conquering forces (most notably the Siamese) and the current temple was rebuilt in the late 1930's. What is particularly striking about this temple are the bronze buddhas on the outside.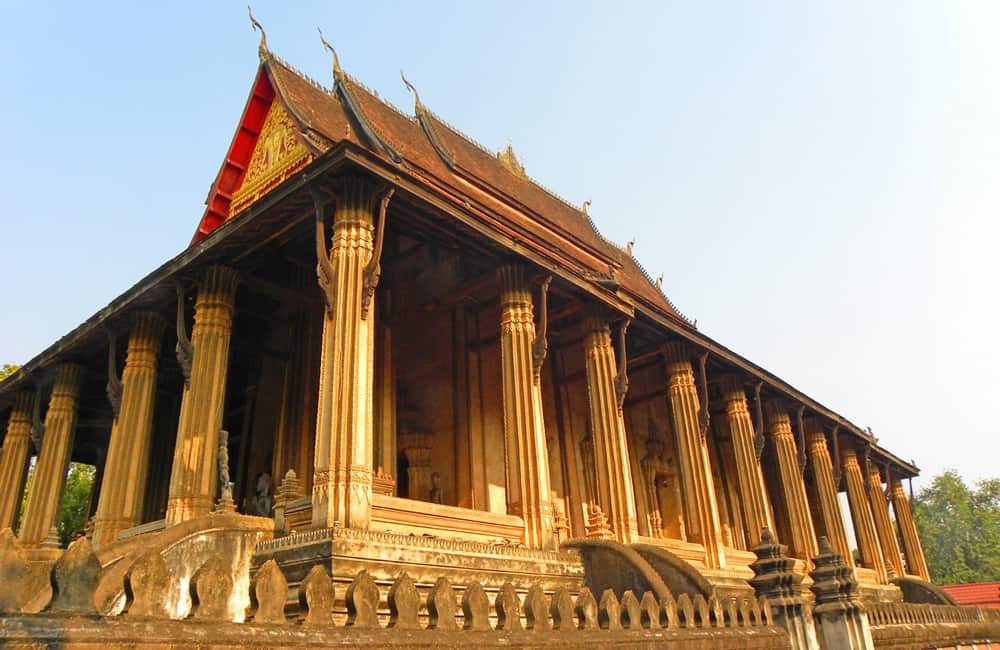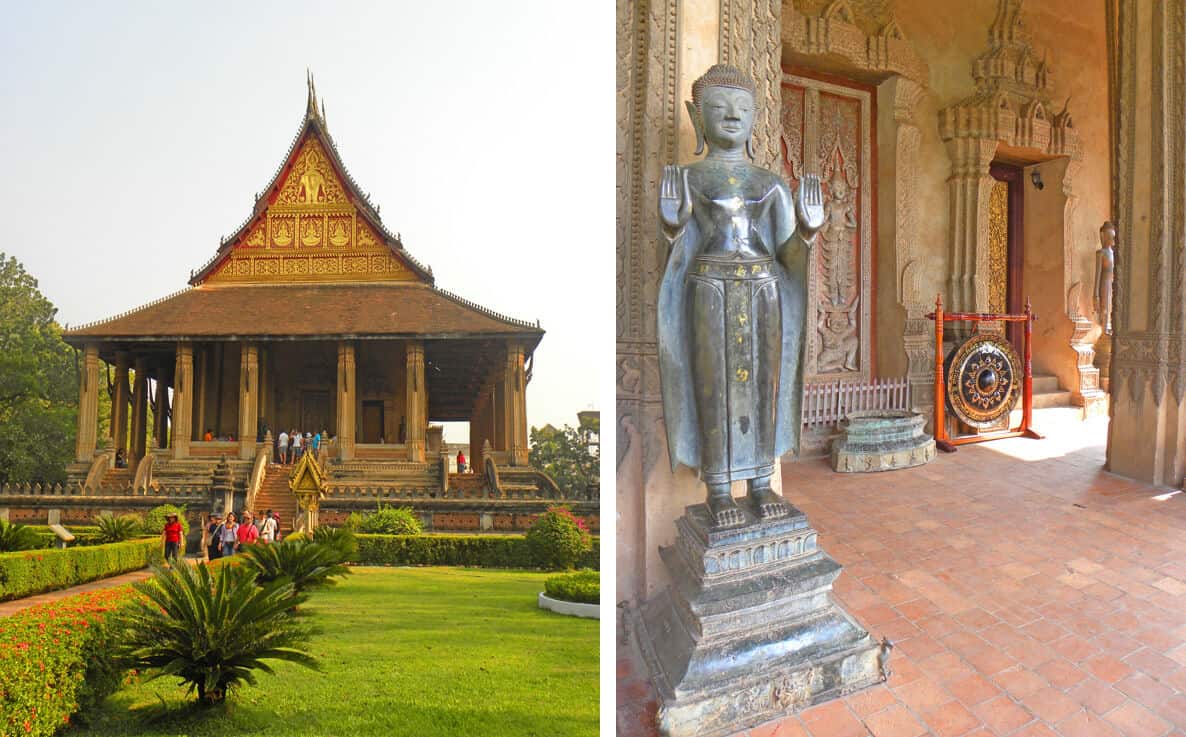 ---
---
.
Wat Si Muang
This is the 'people's' temple and is considered to be the home of the guardian spirit of Vientiane. Locals come here and pray for health, happiness etc. A pretty and intricate interior where you'll see monks giving out blessings as well as lots of colourful buddhas and deities on the outside.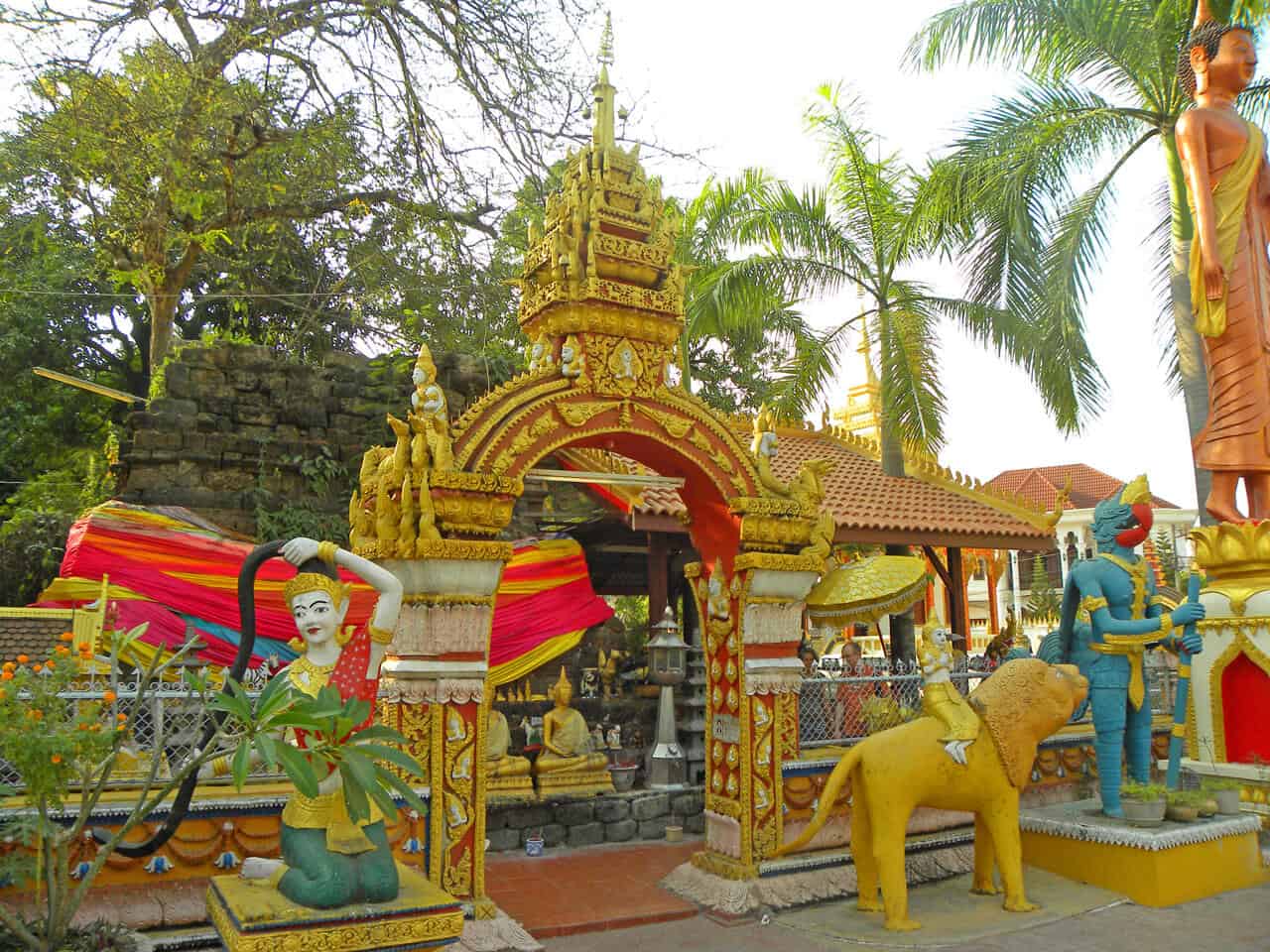 .
Patuxai
The Patuxai ("Victory Gate') has an interesting history. In the 1950's, the US gave Laos money to build a runway. Instead they built this monument (between 1957-1968) dedicated to Laotian soldiers who died in WWII and in the Independence war with France. It is modeled after the Arc de Triomphe in Paris. It is nicknamed 'the vertical runway'.
It is very popular with Asian tourists, most arriving in large tour buses. As I mentioned at the top, we never ran into any other Westerners on our tour. You can climb up 7 stories for nice views of the city and the gardens at the base of the monument. Very impressive!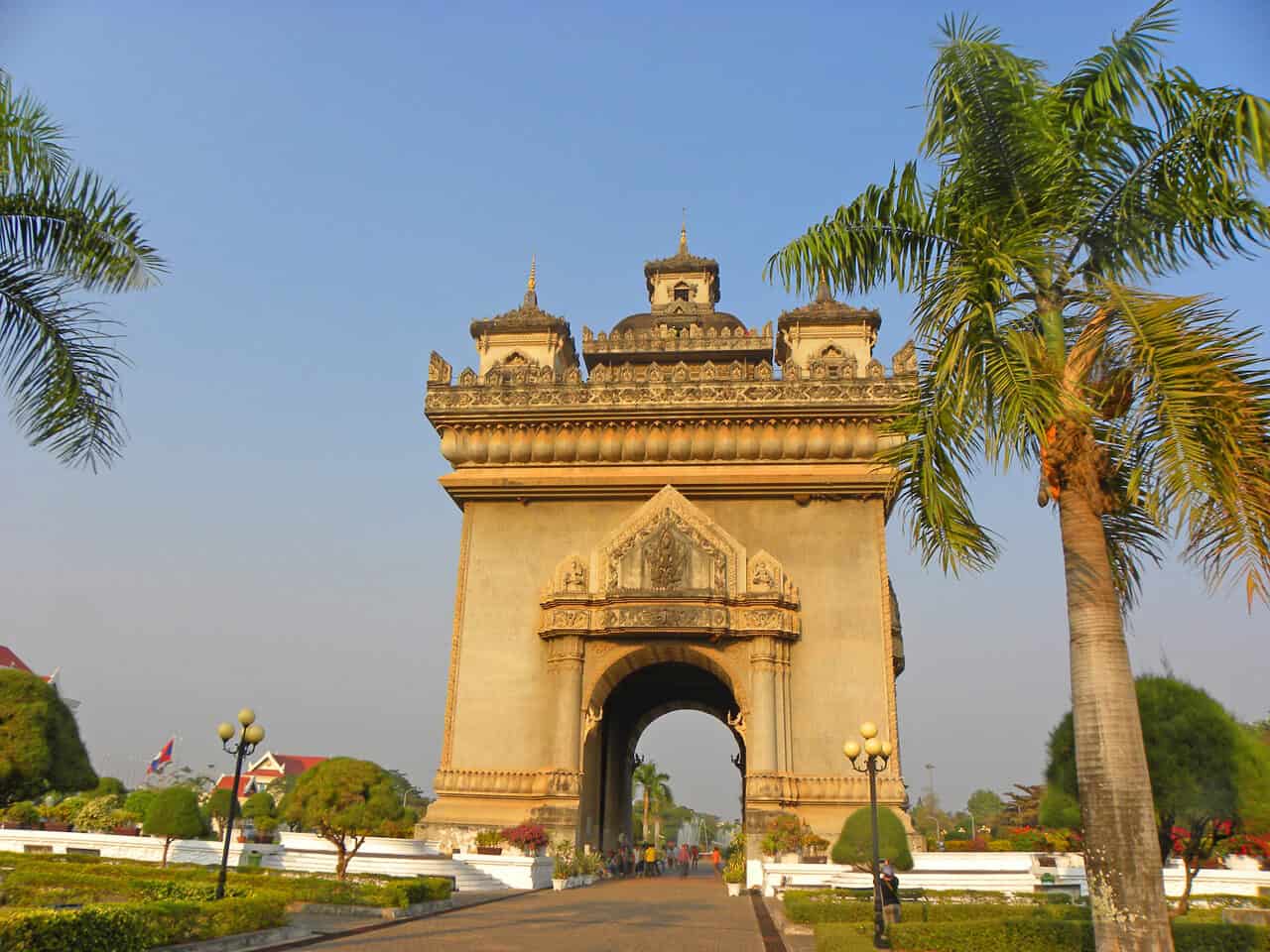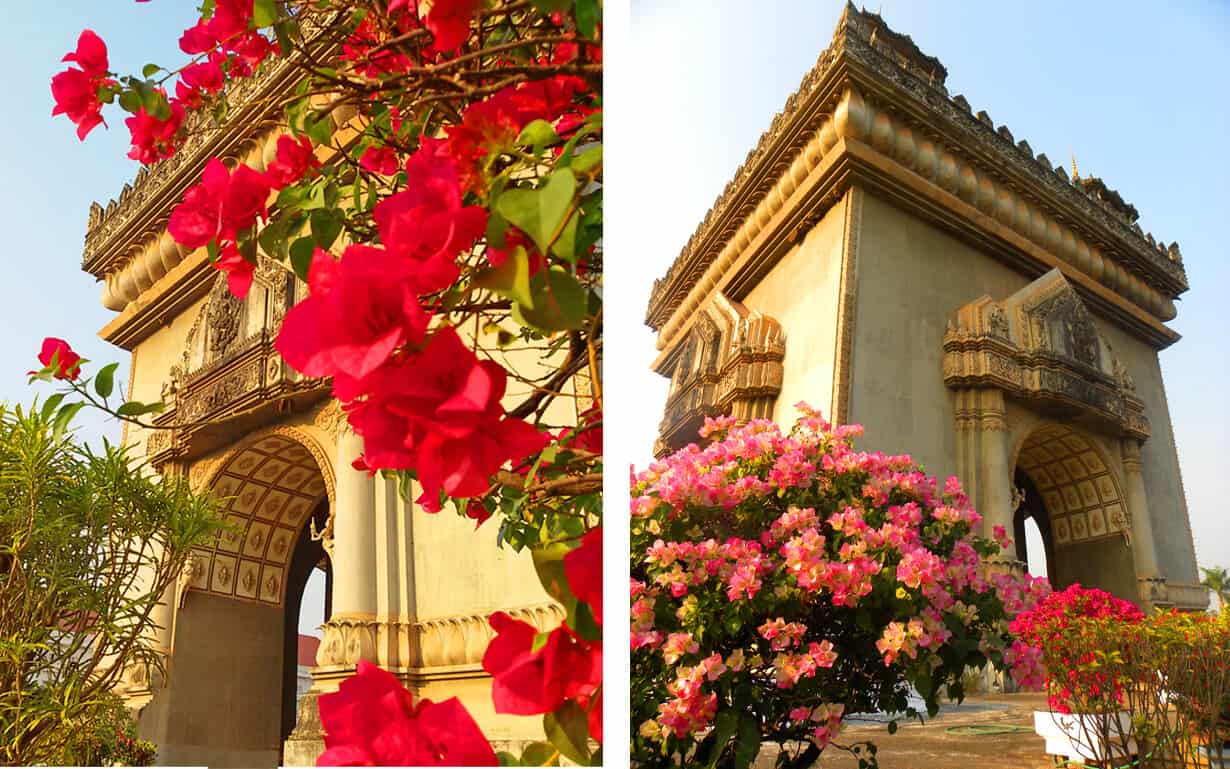 ---
---
.
Pha That Luang
The whole area is around Pha That Luang should not be missed by any visitor to Vientiane.
Pha That Luang refers to the stupa itself, a huge, gold-leafed stupa that has been re-built many times (because it was destroyed many times over by invaders). The stupa marks the spot where a Hindu temple was build in the 3rd century and which later contained a relic of Lord Buddha. The architecture of the building includes many references to Lao culture and identity and has become a symbol of Lao nationalism. The stupa is roughly 68m by 68m at its base, rising up 44m in height.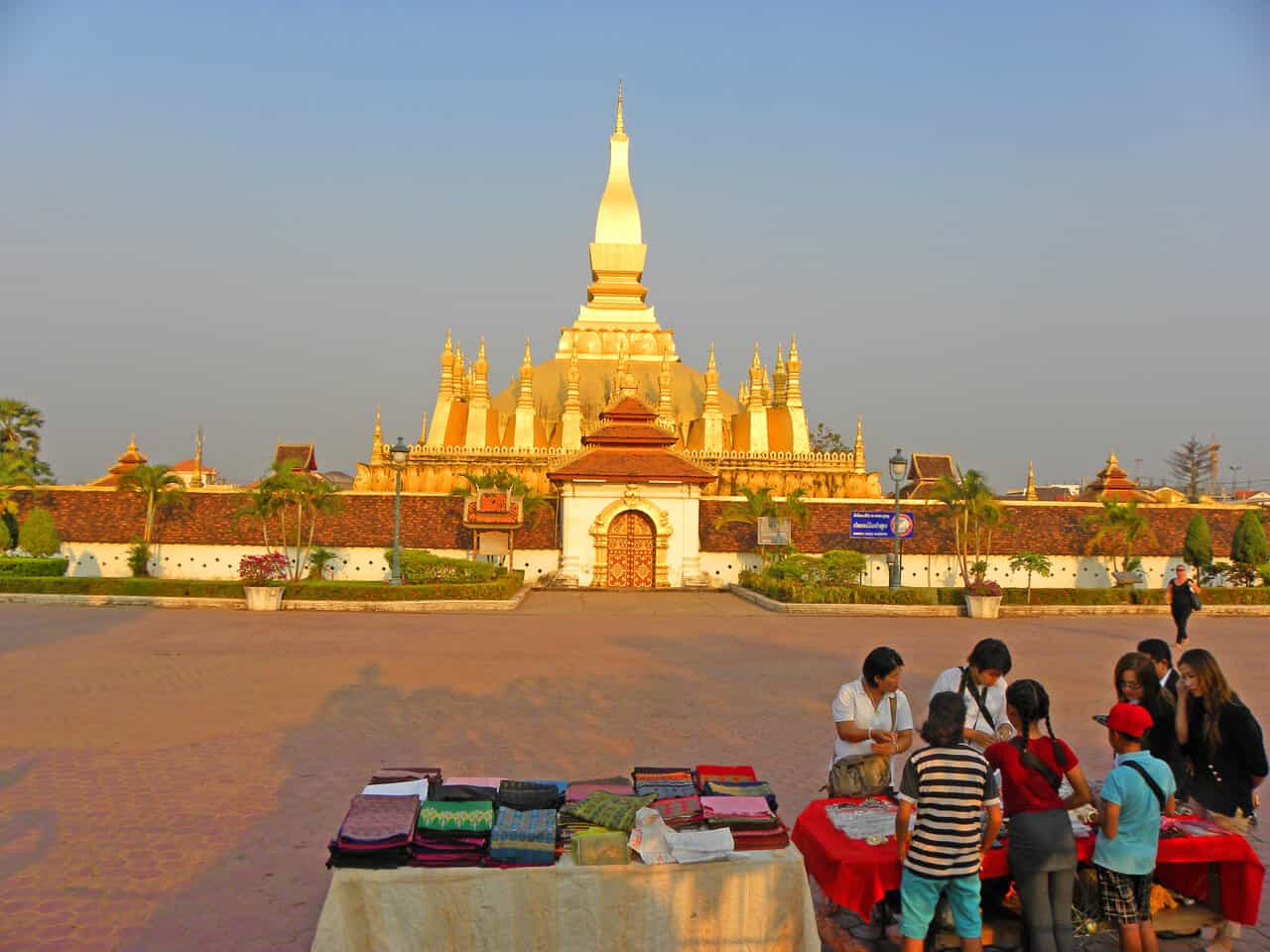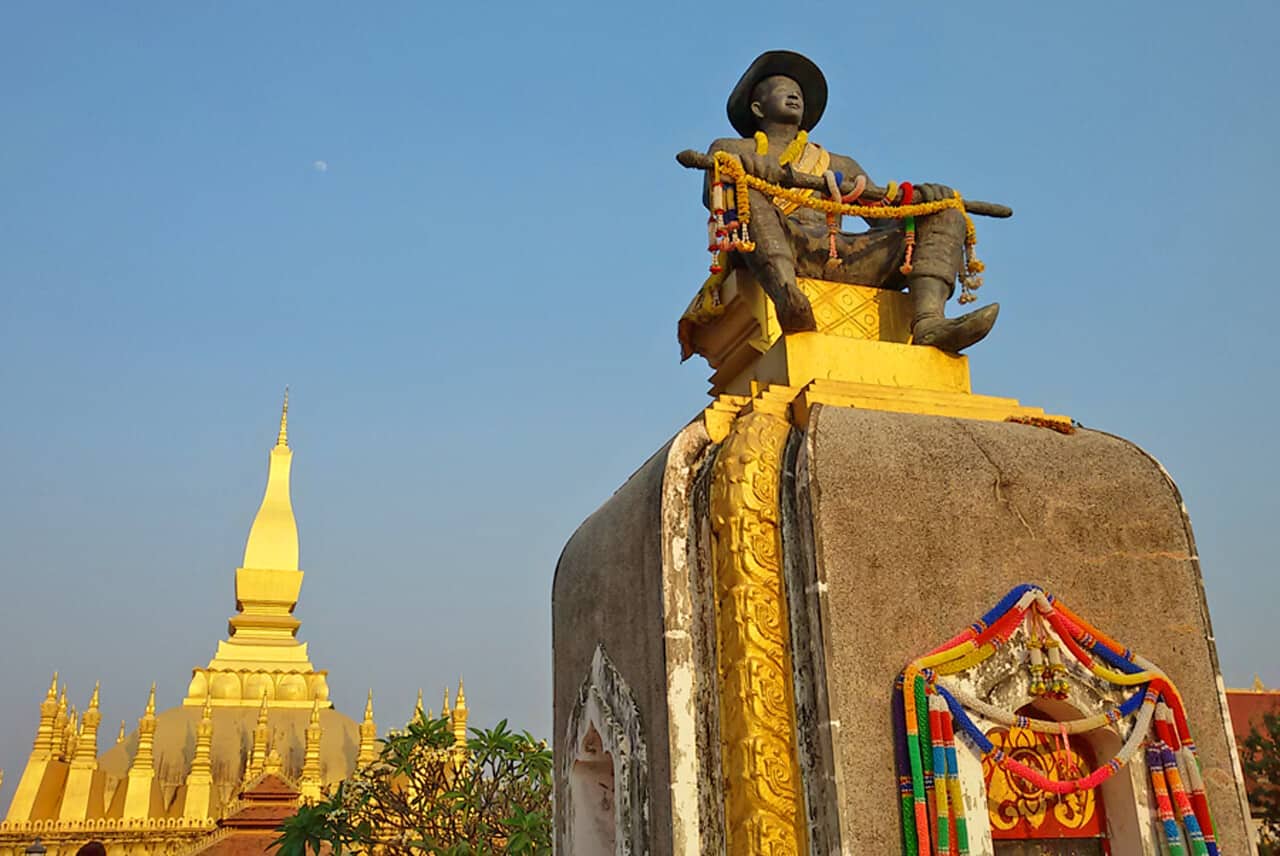 .
A large area surrounding Pha That Luang is closed off from traffic and is a peaceful spot containing some impressive temples and a huge sleeping buddha: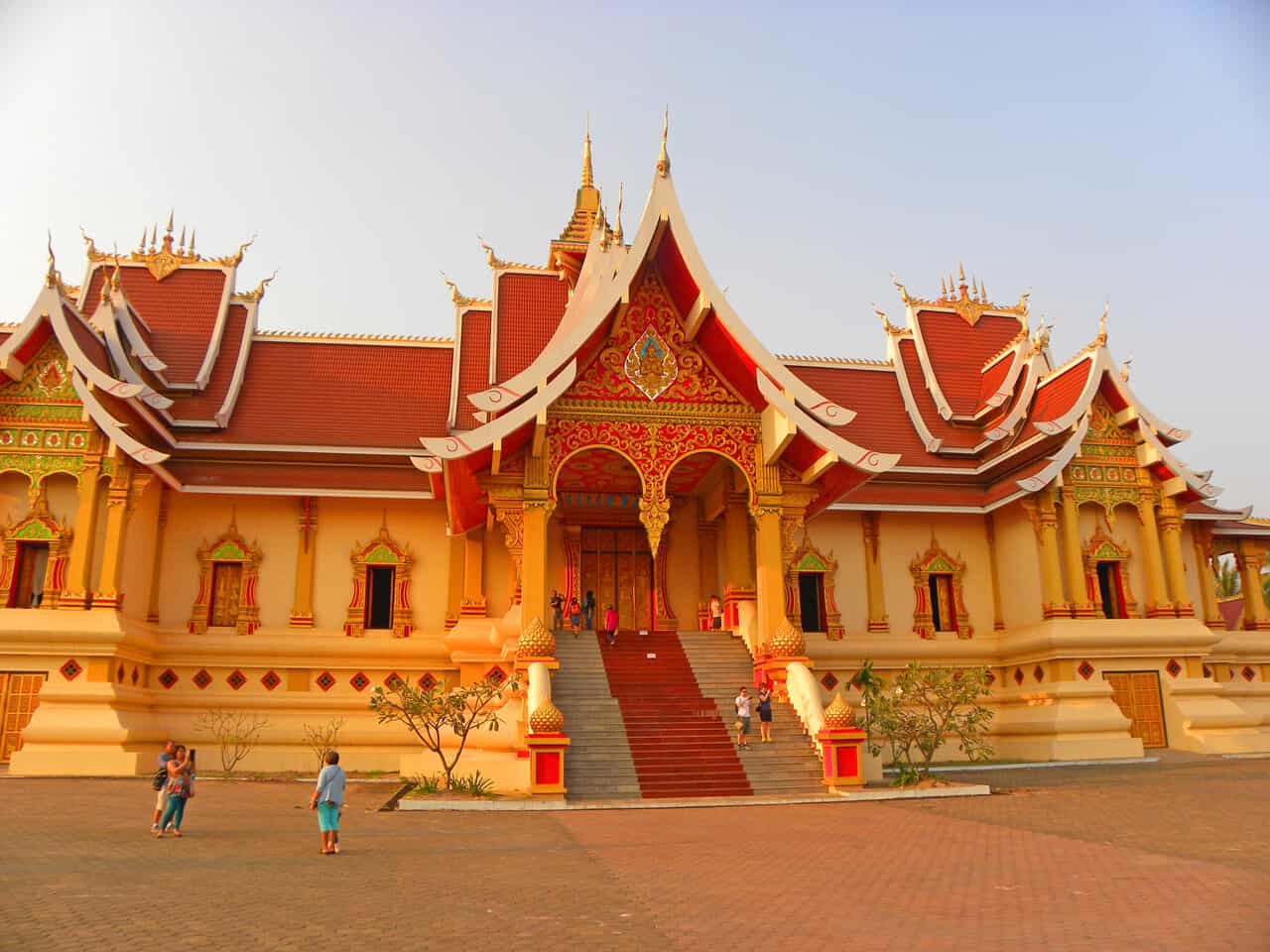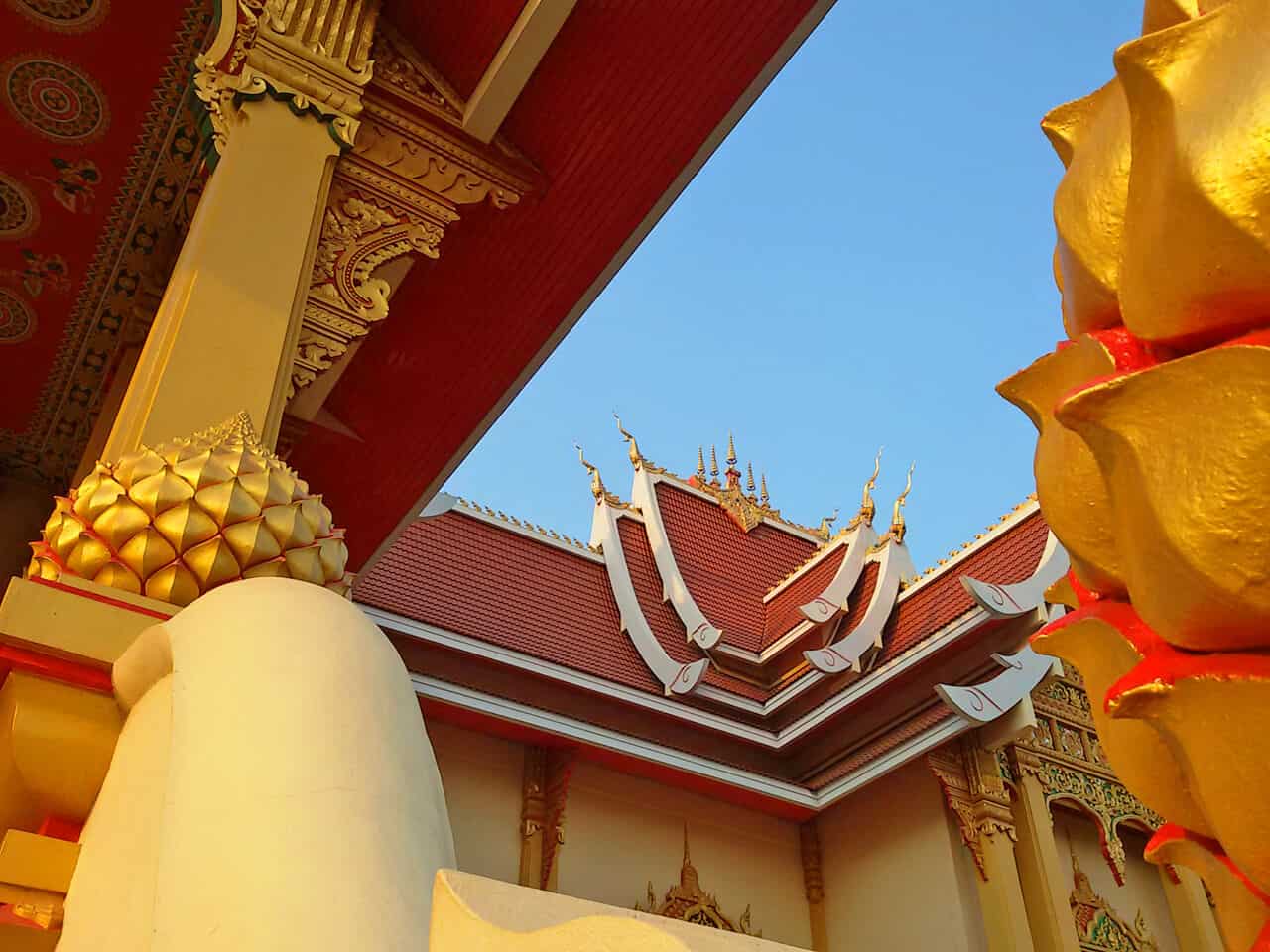 .
---
---
That was the end of our tour. But there is more to see in Vientiane. Just walk around Central Vientiane and you'll come across temples. The one below is Wat Mixay: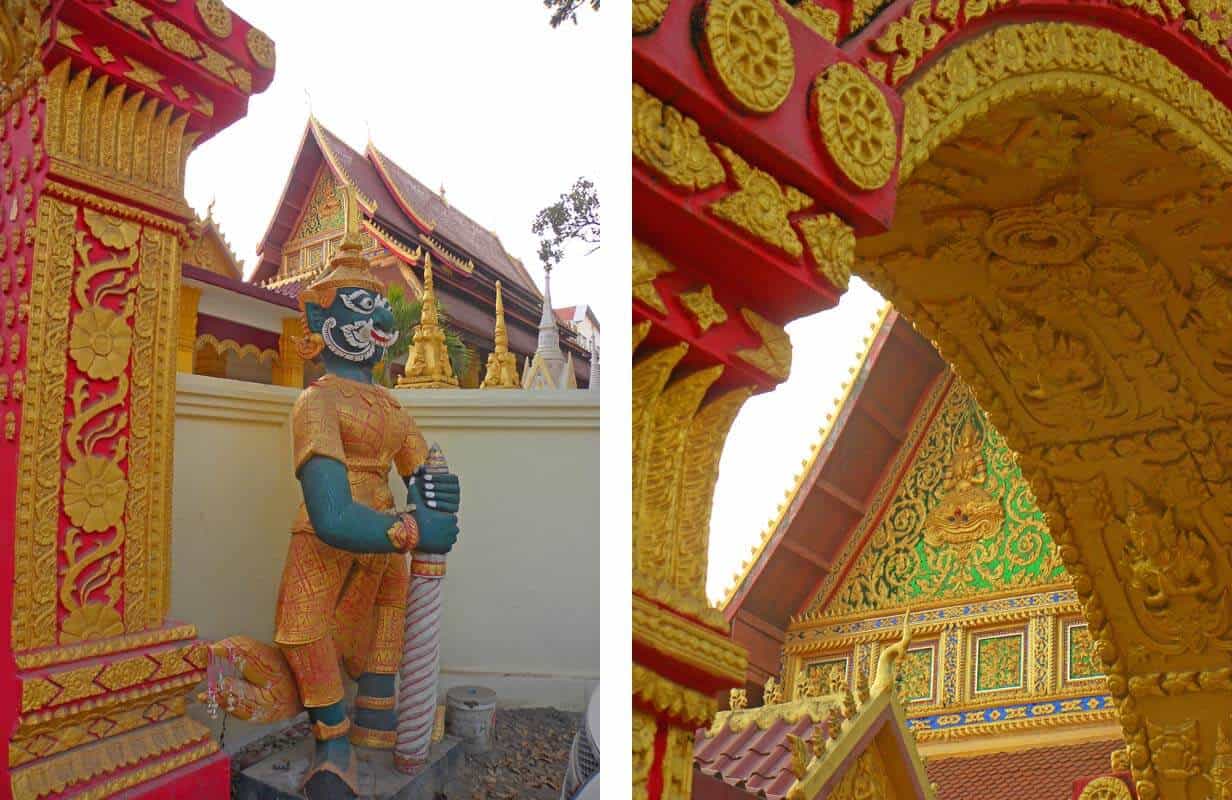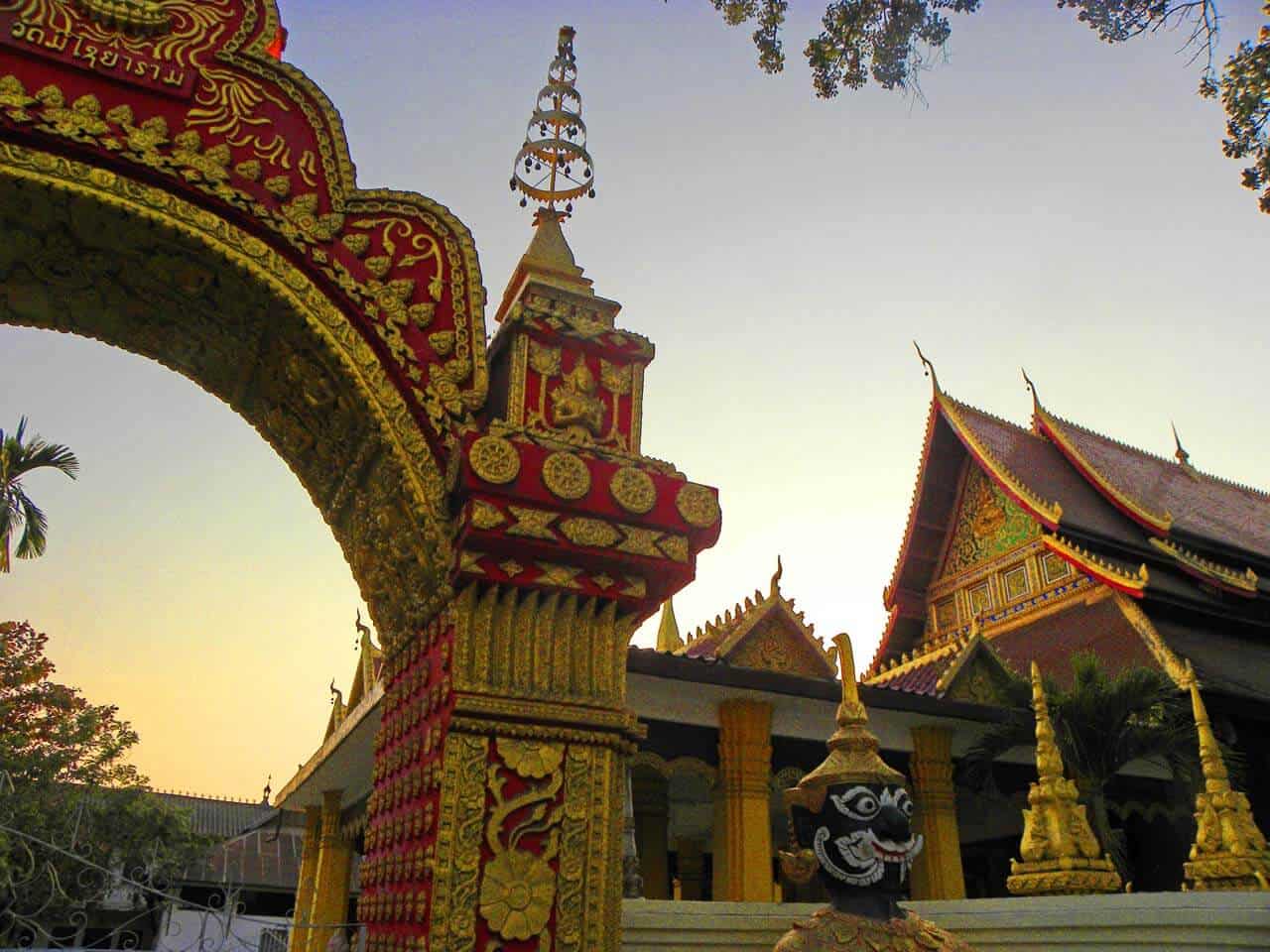 .
And if you wander down by the riverfront there is a large night market: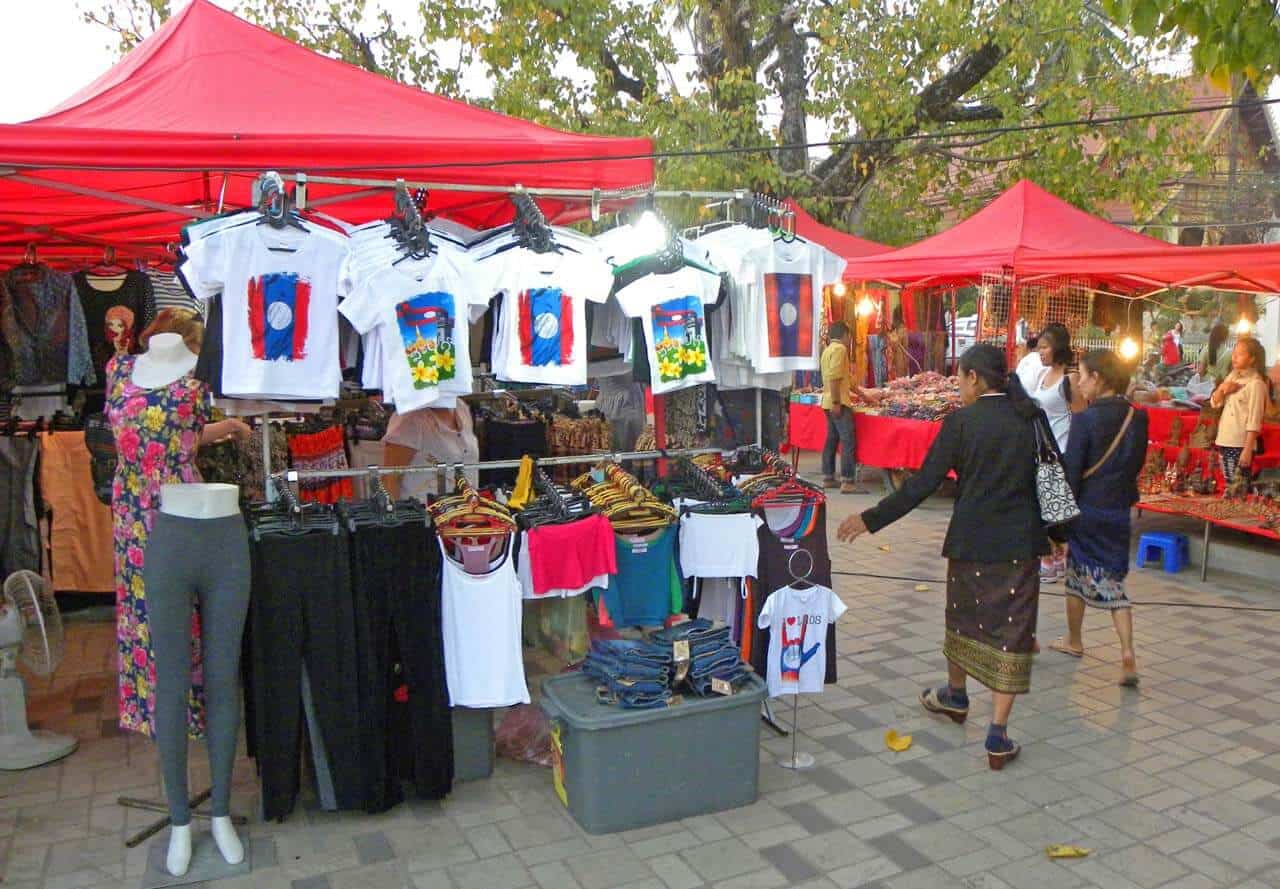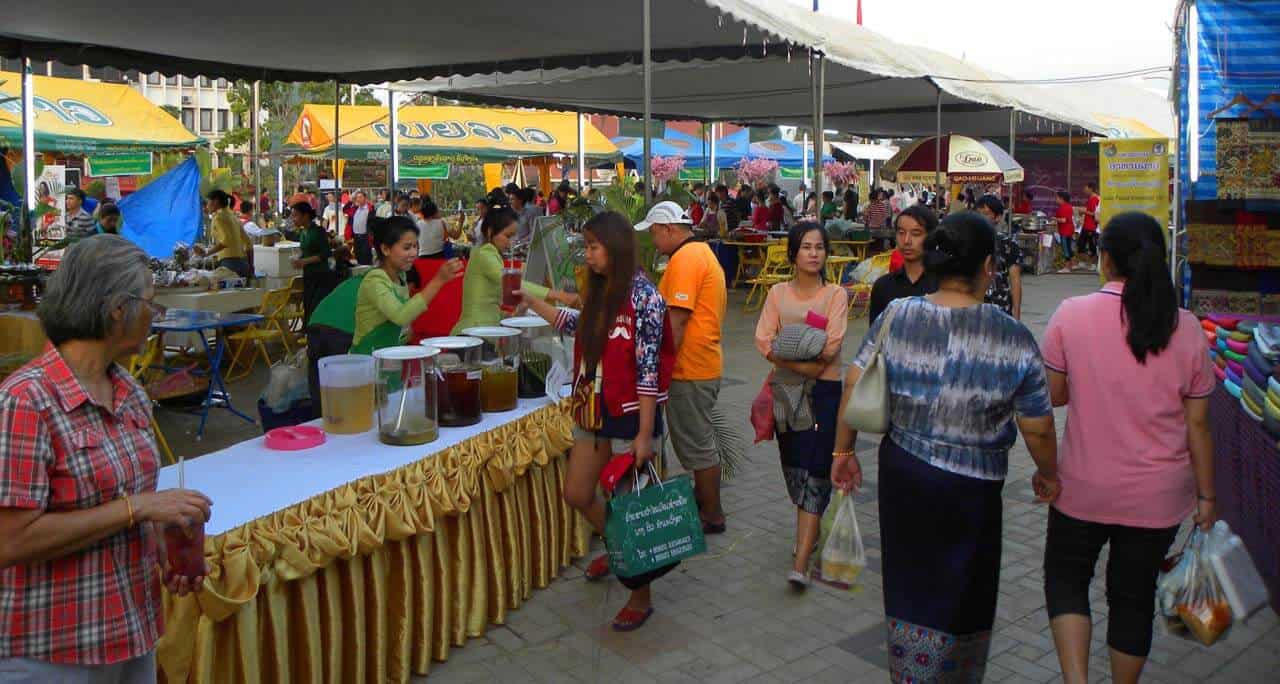 .
---
---
You can also enjoy the views at the river or go have a beer at one of the popular bars next to the night market.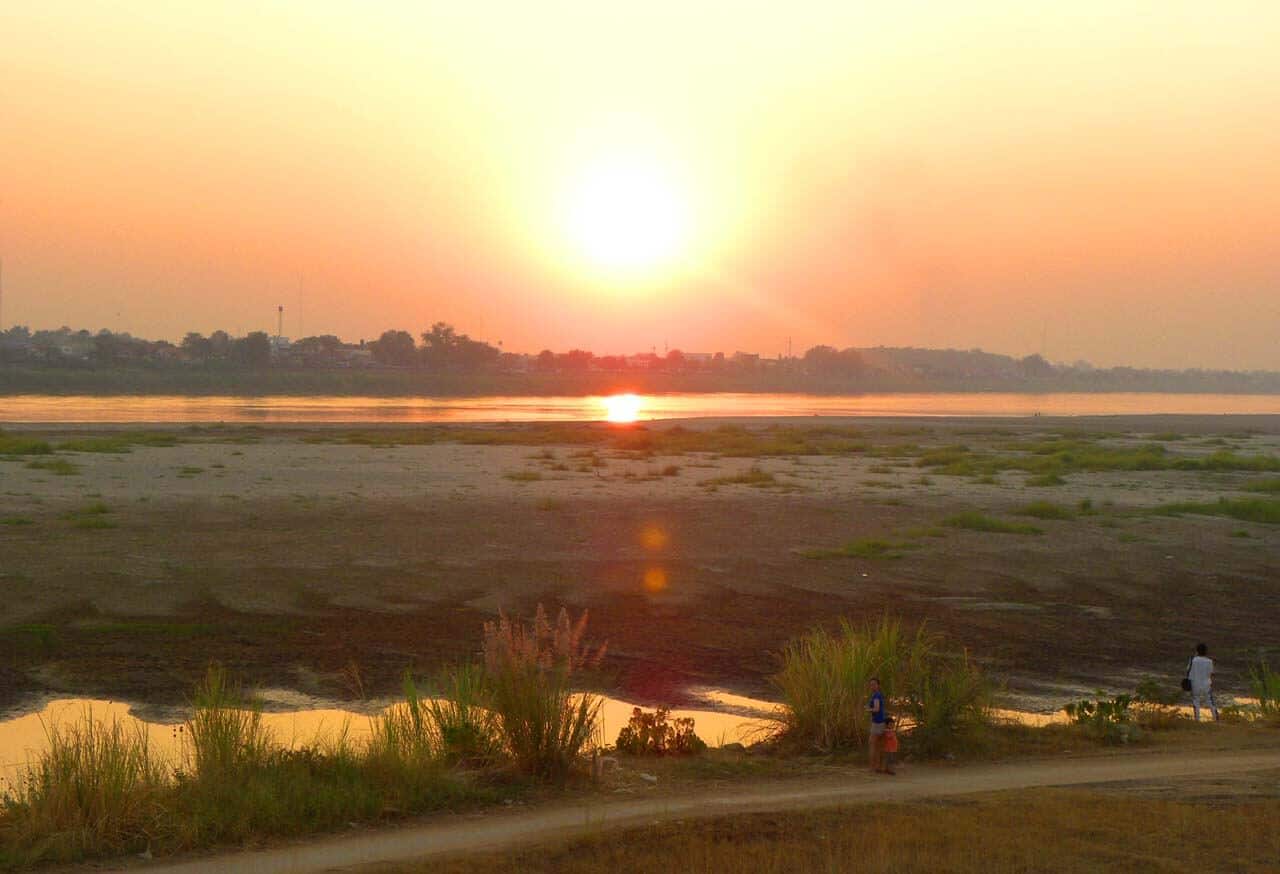 .
I mentioned previously that Vientiane has some wide French-influenced boulevards. A few images from our days getting around the city: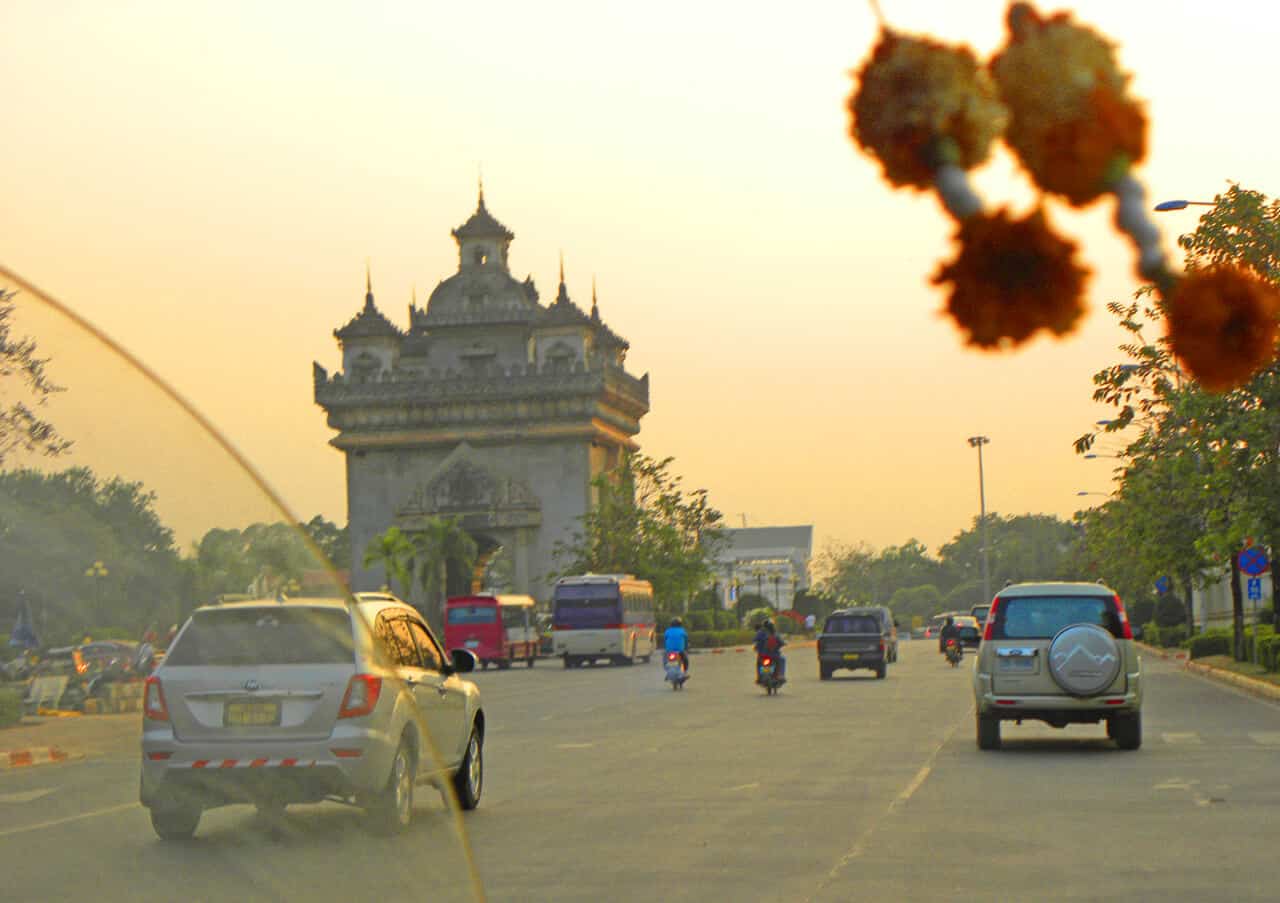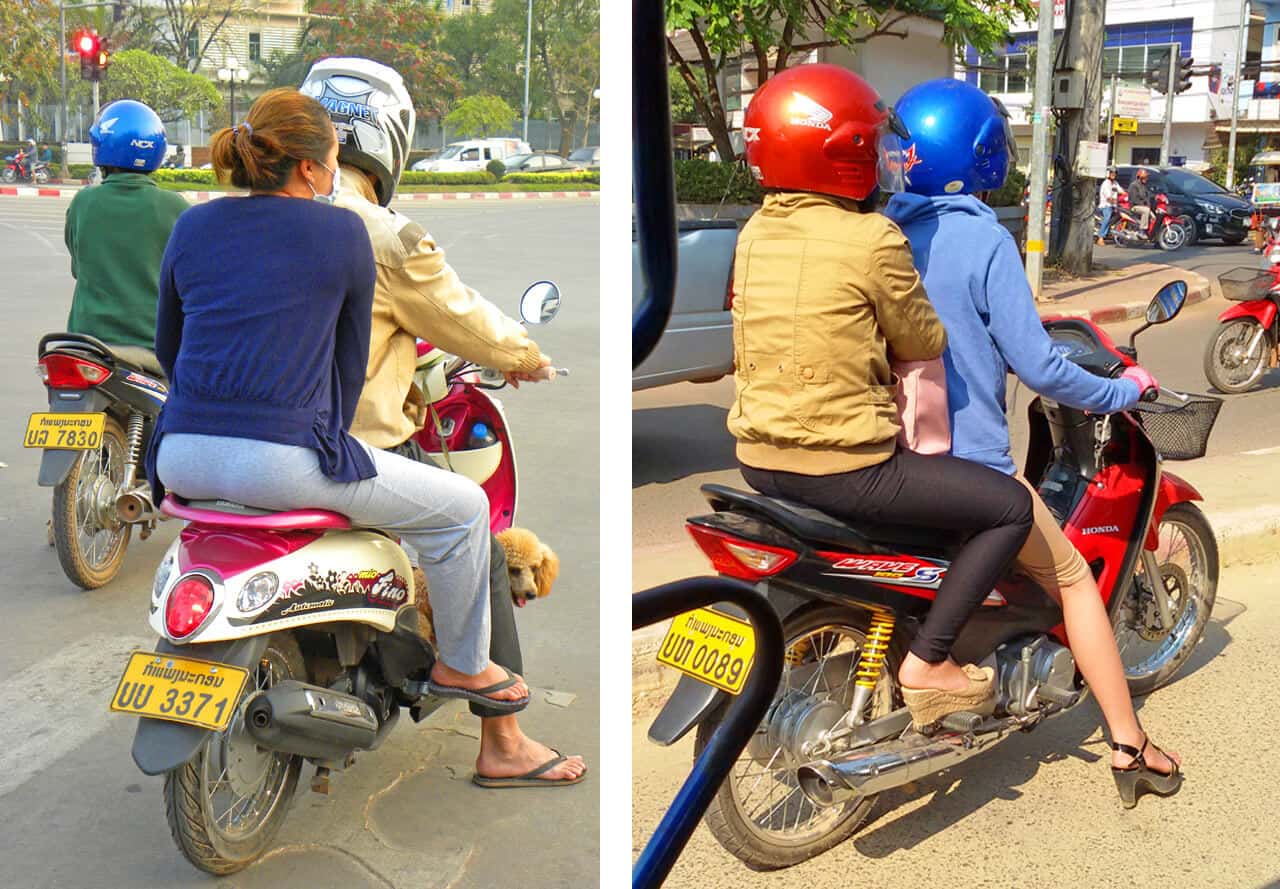 ---
---
Practical Information
Getting to Vientiane from Nong Khai, Thailand. It took us 90 minutes door-to-door from our room in Nong Khai to our hotel in Vientiane. Flying in? We book all plane, train, bus and private transport using 12Go Asia. They're the best booking site in Asia.

Accommodation: As mentioned up top, we stayed at the Avilla Phasouk Hotel which was excellent
Currency: You can pay with Lao Kip, USD, or Thai Baht for almost anything in Vientiane and restaurant bills will state the amount in all currencies. You'll get your change in Kip though (8,000 Kip = 1 USD). Try to get rid of all your Kip before leaving Laos because it is worthless anywhere else.
Restaurant: We ate almost every night at Khop Chai Deu. We found both their Lao food and Western food excellent and very reasonably priced. For an incredible French dining experience, go to L'Adresse de Tinay. We're from Montreal so we're used to good food – but this was the best dining we've had in years. Be prepared to pay though; our 3-course meal with wine came out to almost 200 USD for the two of us (that's ok, it was our anniversary). Fantastic evening.
.
Summary: We love Nong Khai (Thailand) where we are currently residing. But we both agree that if we were to make it our home for a longer period that we would have to break it up with a trip to Vientiane every 6 weeks to 2 months. It is refined, cultured, and different. Some people back home in Montreal make it a point to go to New York for shopping and a night out. This is our equivalent.
As you can see, there's lots to like in Vientiane. I hope we've convinced you that it's worth a visit 🙂 .
Have you been to Vientiane? Would love to hear your opinion.
Related Posts (especially if coming to get a Visa)

Ps. If you find our blog helpful, please consider using our links to book your flights, hotels, tours, and car rentals. Have a look at our Travel Resources page.