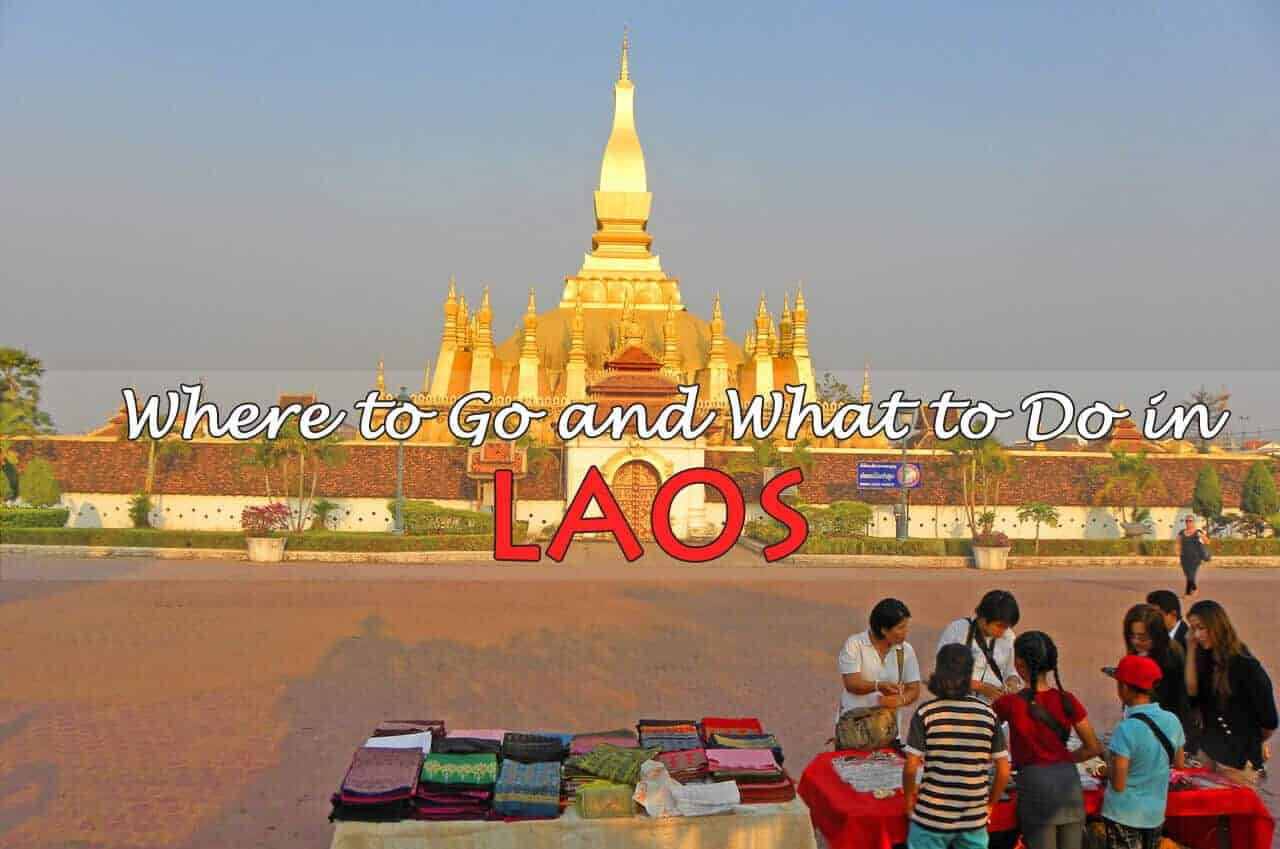 Laos Travel Guide: Where to Go and What to Do.
Laos is what Thailand was 20 years ago– aside from the tourist centers of Luang Prabang and Vang Vieng, the country is very much unexplored by the tourist masses and is still very laidback, friendly, with an old-fashioned charm. The country has much to offer, from sophisticated charm and luxury resorts, to some of the best off-the-beaten-path treks and activities to be found in Asia (at very good value). The country has a rugged terrain of mountains and rivers valleys, dense rich forests, rice paddies and towering karsts. The Mekong river is the lifeline of Laos, running the length of the country. The population consists of Buddhist Lao in the river valleys and a variety of hill tribes at higher elevations. French colonialism has left traces in the larger cities of Vientiane and Luang Prabang where you can find bakeries producing baguettes and croissants.
Caught between China and Thailand – and the increasing trade and traffic between these two countries – you can expect Laos to be opened up with highways and rail lines in the near future. Now is the time to go!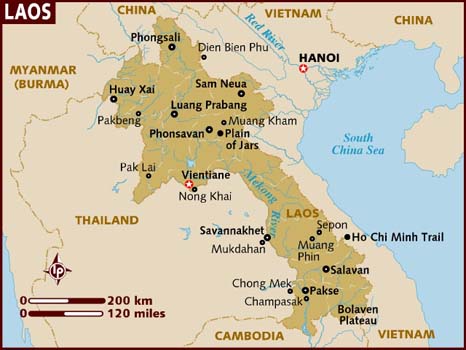 ---
---
Places to See
Vientiane
Set on a broad curve of the Mekong river, it is probably the most tranquil of Southeast Asia's capital cities. It is more a city in which to adjust to the relaxed Lao pace than a place of sights – many come here to relax, indulging in spas and sunset drinks on the banks of the Mekong. The city has attracted more visitors in recent years, bringing about a steady "prettification" to the city. There are more boutique hotels, cosmopolitan restaurants, and cafes today than at any time in the past (including in the late 19th century when it, along with Phnom Penh and Saigon were classic Indochinese cities under the French). The city does have a few highlights though: Wat Si Saket is the oldest temple in Vientiane and has over 2000 silver and ceramic Buddha images as well as over 300 seated and standing Buddhas. Next to the temple is Haw Pha Kaew which is the national museum of religious art, housing the best collection of Buddha images in Laos. Patuxai (the Victory Gate) is Vientiane's version of the Arc de Triomphe. You can climb up to the 7th story for nice views of the city. A little further away, Pha That Luang is the most important national monument in Laos and is a symbol of Buddhist religion and Lao sovereignty. This stupa (which legend has it was erected by Indian missionaries) is located about 4 KM northeast of the city center. 25 km southeast of the city is Xieng Khuan (Buddha Park) which for many tourists is the highlight of attractions in and around Vientiane. Built by a yogi-priest-shaman who merged Buddhist and Hindu philosophy and mythology, this riverside park has mammoth-sized Buddhist and Hindu sculptures. One of Laos's most bizarre sights.
Accommodation in Vientiane: We stayed at the Avilla Phasouk Hotel which is excellent and very centrally located. Also recommended is the Vayakorn Inn (which is near the Avilla Phasouk).
---
---
Vang Vieng
4 hours north of Vientiane, this town is set in a landscape of glimmering green paddies and karst hills. A great spot for caving, kayaking, rock climbing and long walks in the countryside. Unfortunately the town is best known as the country's party capital for young backpackers and for its wild tubing scene. It is a beautiful area however and there are many activities for the adventurous traveller (including hot air ballooning over the fabulous countryside).
Hotel recommendations: Vang Vieng Central Park Hotel.
North of Vang Vieng, the road to Luang Prabang (which takes about 7 hrs) winds through some of Laos's most stunning scenery.
.
---
---
Luang Prabang
This town is why most travellers make it to Laos in the first place. Lonely Planet refers to it as 'Shangri La', citing its historic Buddhist temples, colonial buildings, and top-notch cuisine. The town is popular as a place to wind down, go to a spa, do some shopping at the night market, take a cooking class, or just rent a bike to explore the peninsula. It is also a great base for trekking or elephant riding in the countryside. Sights in town: Royal Palace Museum (housing a gold standing Buddha), Wat Xieng Thong (the most impressive of Luang Prabang's 33 temples), Wat Wisunarat, Phu Si (a hill with the best views of the city – tourists come here for sunset views), Wat Xieng Muan. Outside of town: the Kuang Si waterfall (32 km from the city) are gorgeous with a multi-tiered cascade tumbling over limestone formations into menthol-green pools. Set in a public park, you can refresh yourself in the water or see sun bears in nearby enclosures. The Pak Ou Caves are two riverside grottoes filled with thousands of Buddha images. You can also take a boat trip to Ban Xang Hai, also known as 'Whiskey Village".
Accommodation: We stayed at the Villay Vanh Place House. Great spot, recommended.
Organized Tours: This 5 day tour covers all the highlights of Vientiane and Luang Prabang, including Kuang Si waterfall.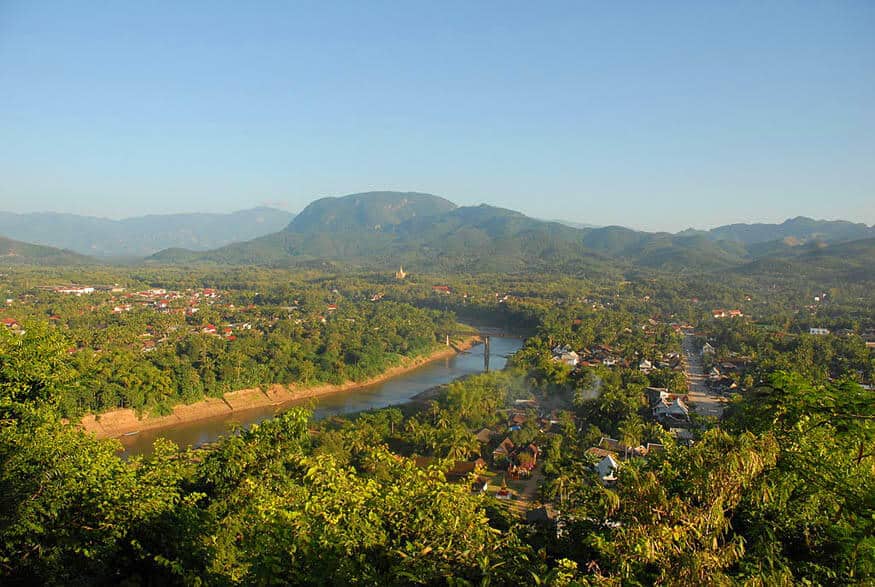 ---
---
North of Luang Prabang
The quiet town of Nong Khiaw, a few hours north on the Nam Ou River, is surrounded by towering limestone peaks and a is great base for trekking and kayaking in the region. Just a little further up the river, and only accessible by boat, Muang Ngoi Neau is a popular travellers' spot. Enjoy the incredible views of the karsts or go trekking, caving, or kayaking. A good alternative to Vang Vieng for those who don't like the young, stoner scene.
Hotel recommendation: Nong Kiau Riverside
Western Laos – Coming across the border from Chiang Khong (Thailand) to Huay Xai
I mention this crossing (5 minutes by long tail across the Mekong) because it is a popular border crossing for those coming from Northern Thailand to experience some of the more off-the-beaten-path experiences to be had in Western Laos. Huay Xai (otherwise reached by a 6 hour boat ride from Luang Prabang) is a mostly non-descript town known mostly for the Gibbon Experience ("Laos' most talked about jungle adventure" according to Lonely Planet). North of Huay Xai is Luang Nam Tha, one of the best places in Laos for jungle treks (being located right next to the Nam Ha National Protected Area). A little town with lots of cheap guesthouses, restaurants, a lively market, and several banks and internet cafes, it is also a great base for rafting, canoeing, and mountain biking. Further north Muang Sing is another base with some incredible countryside and is Southeast Asia's most ethnically rich area (it is in the heart of the 'Golden Triangle' and a few kilometers from both the Chinese and Burmese borders).
---
---
Eastern Laos
The Plain of Jars is a large area extending around the town of Phonsavan, where huge limestone jars (of unknown origin and undetermined age) are scattered around the landscape. The stone jars appear in clusters, ranging from a single or a few to several hundred jars, and vary in height and diameter between 1 and 3 meters. The stone jars are undecorated with the exception of a single jar that has a human bas-relief carved on the exterior. Research of the Plain of Jars suggests that the stone jars are associated with prehistoric burial practices.
Further east, approaching the Vietnamese border, the Vieng Xai caves are an extensive network of caves that served as a hidden city during the Vietnam War. The area was home to the Communist army (who were fighting the royalist forces based in Vientiane) and was unrelentlessly bombed by the US army. Up to 23,000 people lived in the caves, which contained a hospital, military barracks, bakeries, shops, and even a theater. The Lao government hopes to promote the caves as a tourism destination, similar to the Củ Chi tunnels in Vietnam.
Central Laos
One of the highlights of a trip to Laos is a visit to Tham Kong Lo cave. Hidden in the wilderness of central Laos, the limestone cave is an awe-inspiring 7.5km long and up to 100m high in places. You can hop in a small boat and navigate the vast river passage, stopping off to explore on foot. Lodging is at the Kong Lo Village (about 1 km away from the cave) or at the larger town of Ban Khoun Kham.
---
---
Southern Laos
Savannakhet is a pleasant urban retreat with an architectural charm second only to Luang Prabang. A cultural mix of Vietnamese and Lao, it has honey-coloured French villas and a sleepy old town, a war museum, the oldest monastery in Southern Laos, as well as a Dinosaur museum!
Pakse, a usual stopover for those going south, has over 20 wats. The claim to fame here though are the ziplines, hiking treks, tours and elephant treks run by Green Discovery.
Not far from Pakse is the pretty riverside town of Champasak. There are some faded colonial villas, a boutique hotel, and a couple of upscale restaurants. The highlight here though is the Unesco World Heritage Site of Wat Phu, a ruined Khmer temple complex located at the base of mount Phu Kao. Wat Phu is small compared with the monumental Angkor-era sites in Cambodia but the tumbledown pavilions, enigmatic crocodile stone and tall trees that shroud much of the site give Wat Phu a mystical atmosphere. The temple is still in use as a Buddhist site today.
At the southern tip of Laos, where it meets up with the Cambodian border, is Si Phan Don (Four Thousand Islands). They are a beautiful set of islands in a swollen, scenic section of the Mekong River where the principal activities are tubing, kayaking, and cycling among the three principal islands of Don Det, Don Khon and Done Kong. You can also visit waterfalls or spot the rare Irrawaddy Dolphin.
---
---
Costs
Laos is one of the least expensive of all South East Asian countries. The local currency is the Kip. There are roughly 8,800 Kip to 1 USD.
Lodging: You can easily find a Budget room (including private bathroom) in the $10 range. $15-25 will get you a very nice mid-range room with air-conditioning. For those willing to pay a bit more, there are some unique, high quality lodgings in tradional Lao style.
Food: $5 will easily cover a meal (including a beer) in a budget restaurant. You can eat even more inexpensively buying from street food vendors or at open-air markets.
Transportation: Sample bus fares: Vientiane to Vang Vieng (4 hrs, 40,000 kip or approx 5 USD), Vang Vieng to Luang Prabang (7 hrs, 100,000 kip or about $12 USD).
Flying In. Main airports are Wattay International Airport in Vientiane (code: VTE), located 3 km outside of the city centre and Luang Prabang International Airport (code: LPQ), located about 4 kilometres from the centre of Luang Prabang. We book all plane, train, bus and private transport using 12Go Asia. They're the best booking site in Asia.
Ps. If you find our blog helpful, please consider using our links to book your flights, hotels, tours, and car rentals. Have a look at our Travel Resources page.
---
---