Markets and crazy thing on wheels in Nong Khai
We have lots of photos – taken over 3 months – in this post. We've come to love the markets in Nong Khai, especially the Saturday Night Market. It's the one night of the week when this quiet town wakes up and brings all of its residents to the riverside promenade.
Having spent so much time here, it has become a social outing for us and an occasion to chat with our neighbors and favorite vendors. We love it.
Nong Khai is also famous for the Tha Sadet Market. It is also called the Indochina Market, due to the availability of goods from neighboring countries such as Laos and Vietnam (as well as China). It has to be one of the most interesting markets in all of South East Asia.
This photo post is a collection of our memories in Nong Khai. These memories comprise mostly of the people we've met along the way, the colours of the markets, and the sheer variety of goods (some of them bizarre) that you'll see on sale. We're also including some of the strange sights you'll sometimes see rolling down the town's streets.
.

The Saturday Night Market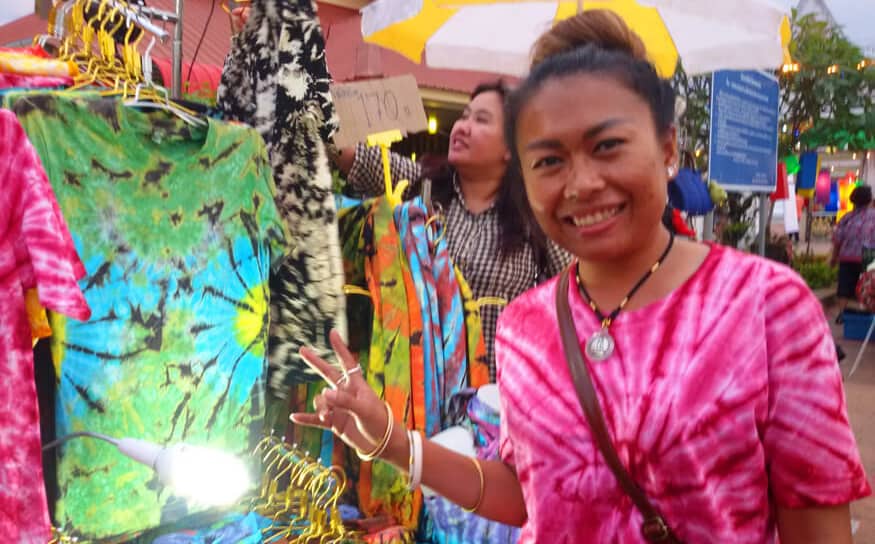 Below: The focal point of the promenade, decorated with colourful lanterns to celebrate the Chinese New Year.
Below: All kinds of food, including snacks and desserts. Popcorn, cookies, chocolates, cakes…and coloured sweets made of some kind of soybean concoction.
Below: A section of the promenade and the stalls set up down its length.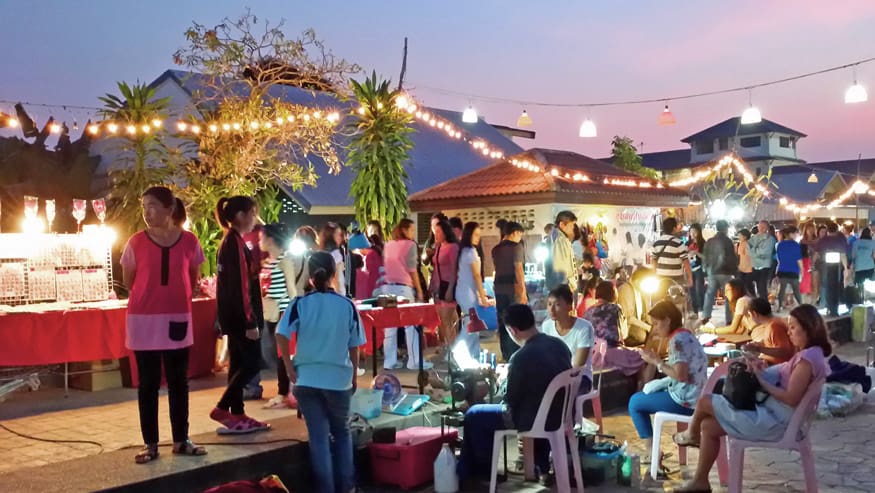 Below: Musicians.
Below: These are bowls made out of coconut shells. We've already bought 5 from this guy. Just love them…
Below: You'll see lots of babies at the night market. They're cute but not for sale though.
Below: There's always a ceremony and entertainment at the Saturday market. This one featured Ladyboys.
Below: This girl just decided she'd pose for us. Thais seem to love being photographed.
Below: Weird t-shirts. I wonder if that guy even knows what it says on his shirt…
Below: This pretty lady sells all kinds of jewelry. She's one of the friendliest vendors we've met.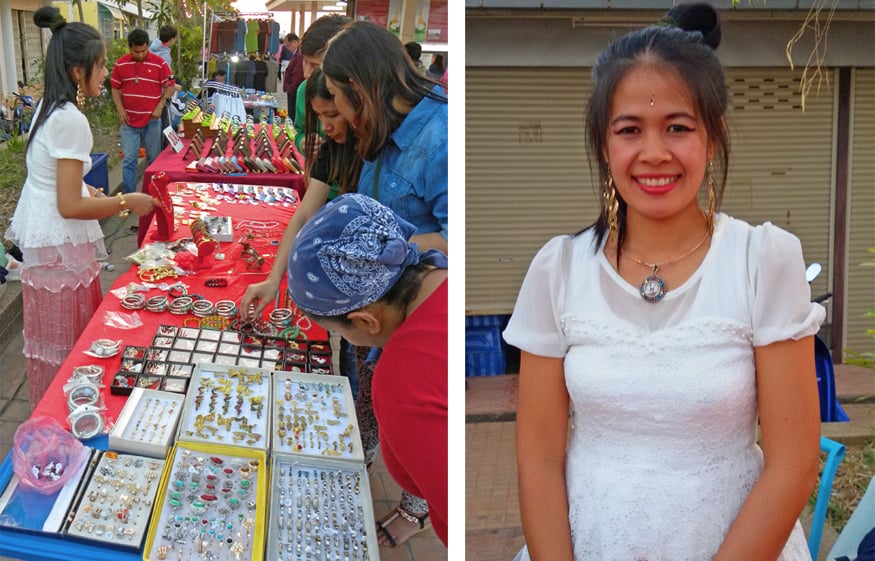 Below: Turtle pillows and Transformers.
Below: Sunset over the Mekong River with the lights of the market on the left.
Below: More bowls. So beautiful…we might pick up another before we leave.
Below: Making a huge batch of soup
Below: You can even find plants for sale.
Below: Squid. We bought one. Not my favorite thing but very popular with locals. We also ate fried crickets and silkworm.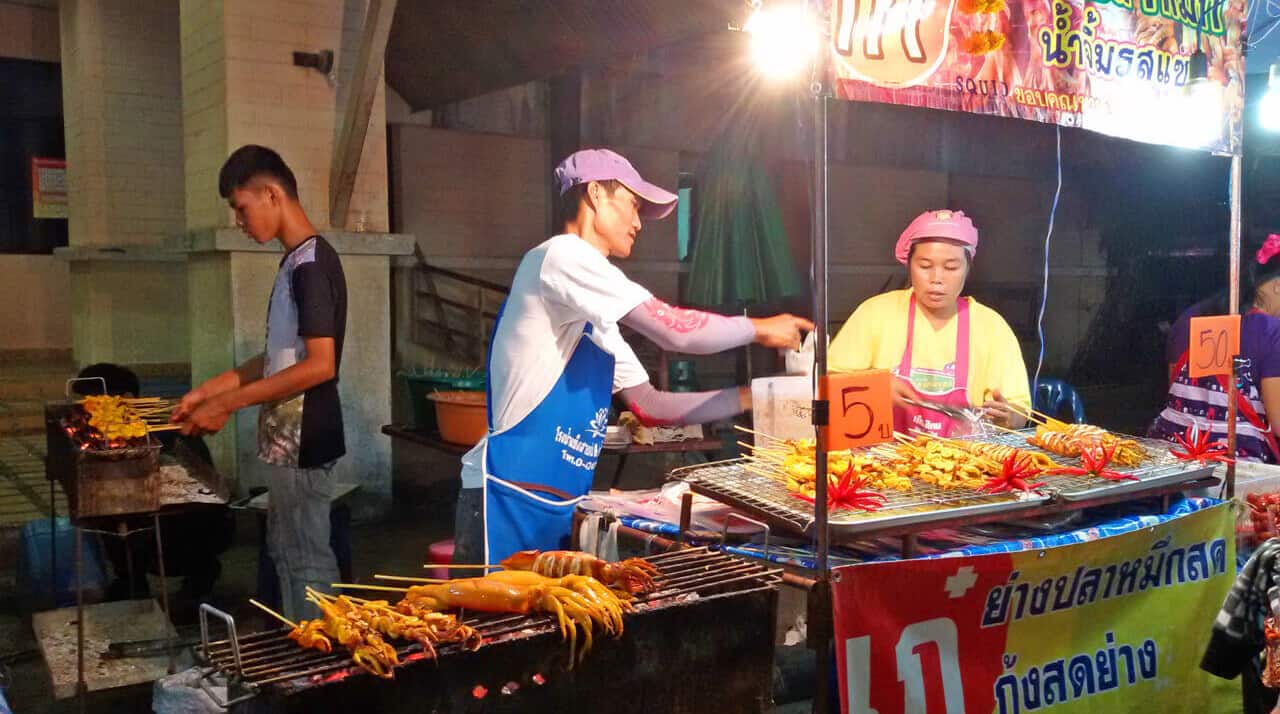 Tha Sadet Market
Open everyday between about 7 am to about 6:30 pm. There is a long covered market (1st photo) that extends almost a kilometer. It branches off in some areas and in other areas it is uncovered. A huge amount of stalls selling just about anything you can imagine.
Below: Monks shopping for Buddhas.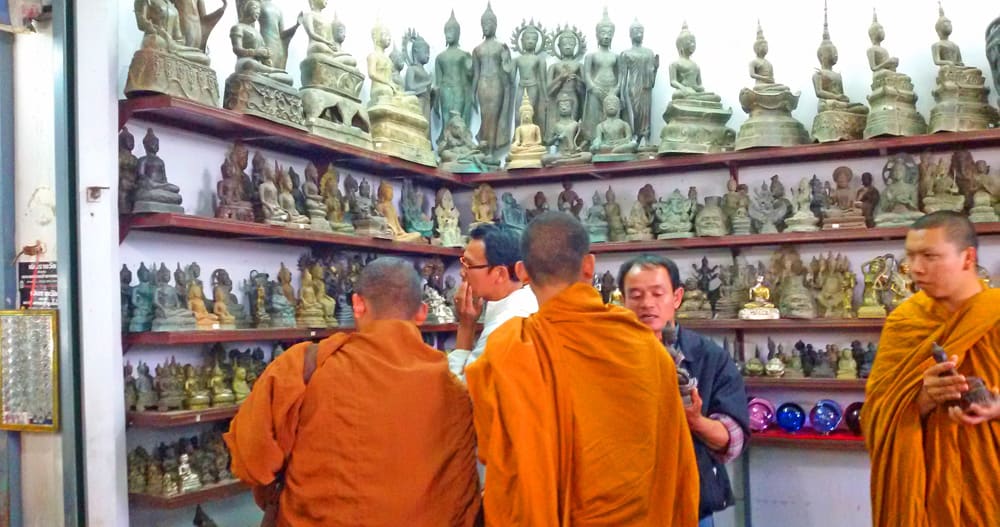 Below: And right next to the Buddhas you can find yourself a big penis if you're in the mood for one…
Below: Candy in colourful packaging.
Below: Buying time.
Below: Wicker baskets, chimes, wooden spoons and forks…
Below: Tuques and a Tuk-tuk
Below: Musician and his baskets.
Sights around Town
Above: Mobile sales unit selling plastic flowers and mugs
Above: This guy bikes around selling brooms.
Above: I snapped this one last week. It's one of my favorite photos of all time. The dogs in the back are the street dogs that hang out in front of our building. From left to right: On Guard, Howler, and Sleepy. We've thought for 3 months that they were just soi dogs with no owners. Then last week we see the man, a neighbor, with these dogs in the back. "My dogs" he said proudly. The dogs looked so happy to be taken for a drive.
Above: these are mobile coffee stands, built on the frame of a motorcycle. We couldn't believe our eyes the first time we saw one driving down the street…
Above: This man pushes a cart, selling baskets that are piled up high.
We hope you found the above interesting. For us this post represents memories of our 4 months here.
It's a place we're going to miss.
Like This Article? Pin it!
.PS. Looking to book flights, hotels, tours, or rent a car? Have a look at our Travel Resources page.