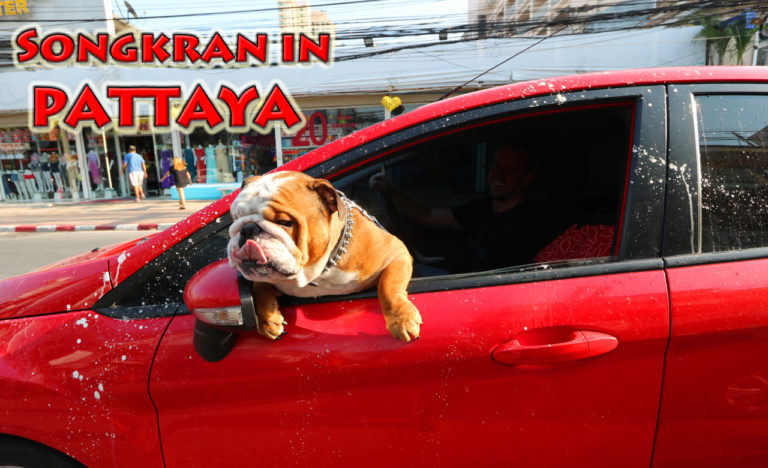 Songkran in Pattaya
I had come to Pattaya 15 years ago. I hadn't liked it. It was the most "unThai" place I had visited in Thailand: locals were outnumbers by tourists, even the Thais were indifferent bordering on unfriendly. Pattaya is a beach town that's not really a beach town (unless you enjoy bathing in raw sewage) and its grid of streets are mostly uniformly unattractive: enveloped by girly/go-go bars and mostly Western restaurants catering to short-term tourists.
The only reason people have ever come to Pattaya was to enjoy the seedy nightlife (many call Pattaya 'Thailand's Sex Capital').
Things haven't changed, in fact it seems that Pattaya has tripled in size since over the last 15 years (maybe I have a bad memory?). It's no longer a town, it's a full blown city that stretches way past what most tourists see. It is still full of restaurants and bars catering to tourists, the major difference being the demographics. These days most of the tourists coming to Pattaya seem to be Indians (packs of Indian men) and Chinese. I have to admit I found it a sad sign of the times seeing Chinese tour groups following their flag-carrying leaders down Walking Street, pausing only to gawk and take photos of the scantily-clad Go-Go girls and ladyboys trying to entice customers into their bars. Amidst all this you see couples pushing baby strollers over broken sidewalks and past the prostitutes and overflowing garbage bins that line Beach street.
Jeez Golly, who the hell brings kids here?
I know I'm not a painting a very pretty picture of Pattaya.
After Chiang Mai, Sukhothai, Ayutthaya and Bangkok, I had wanted to show Lissette an entirely different side of Thailand. What many will say the worst side of Thailand. What I didn't plan on was enjoying Pattaya. Or on Lissette enjoying Pattaya. We actually ended up having a great time. We also met some nice people, mostly Expats, along the way who made us see the city from a different angle.
Another reason we visited Pattaya was to experience Songkran. I knew Songkran in Pattaya would be fun. It was more than fun.
---
---
Songkran in Pattaya
Songkran is the Thai New Year. It is on April 13th every year and usually lasts 2 or 3 days. For most people it is a good excuse to buy a water gun (or to just bring a bucket), a wig (many Thais like to dress up), and to douse anyone they see. It's basically a huge water fight.
On April 13th we were told that Soi 6 was the place to be. So we went armed to the teeth and with Lissette sporting a blue/black wig.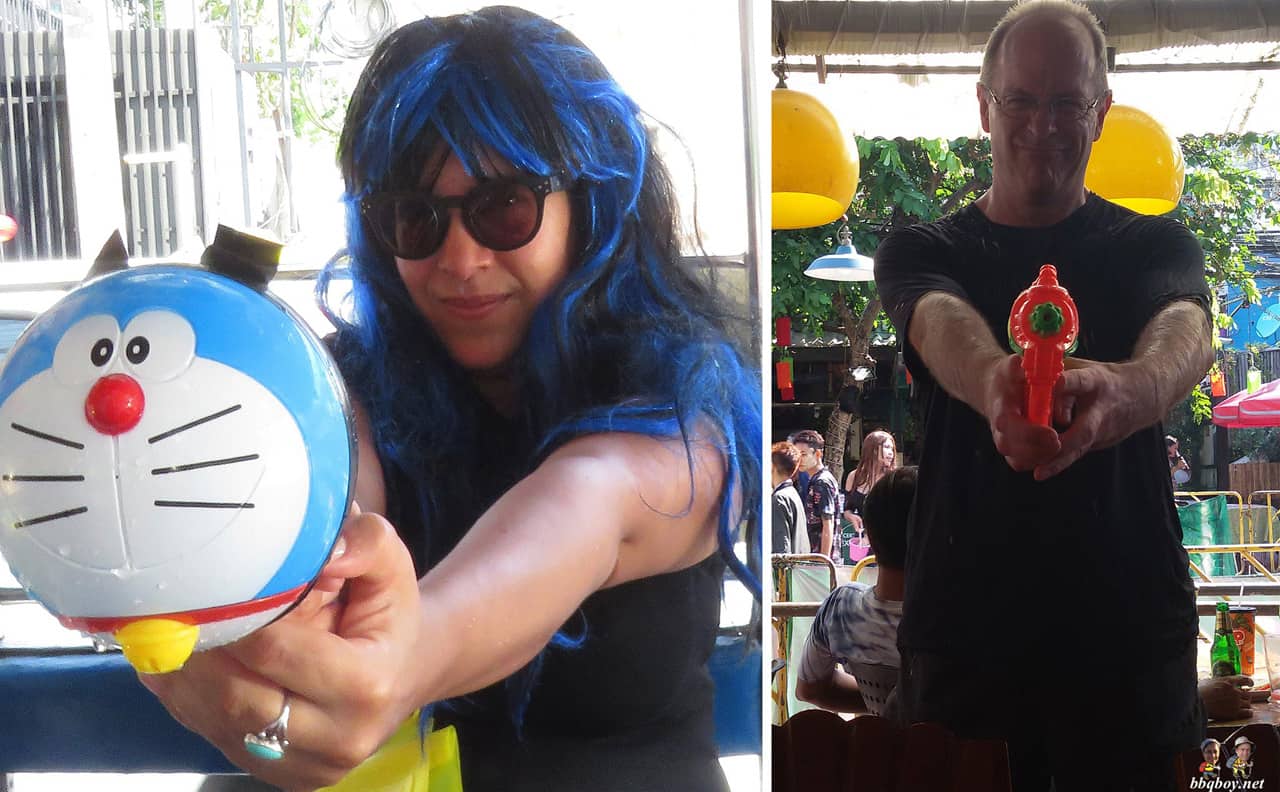 .
But first we got soaked by the neighborhood kids (even the old ladies didn't get a break)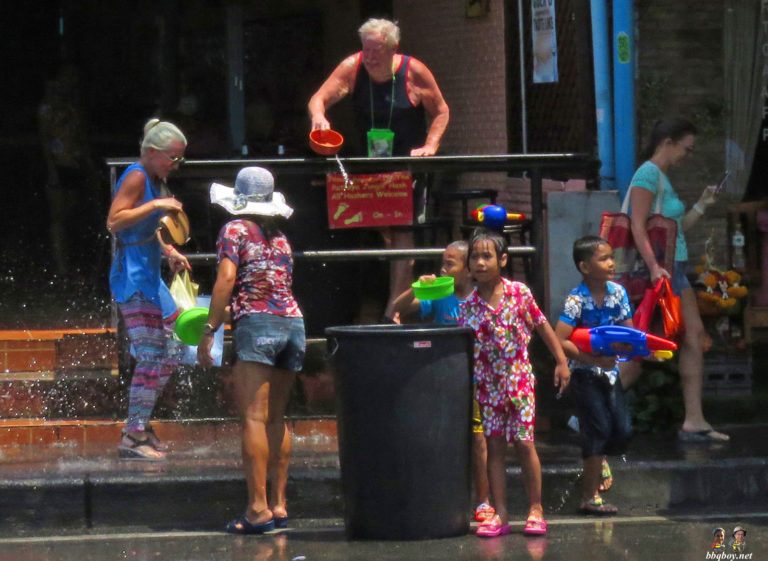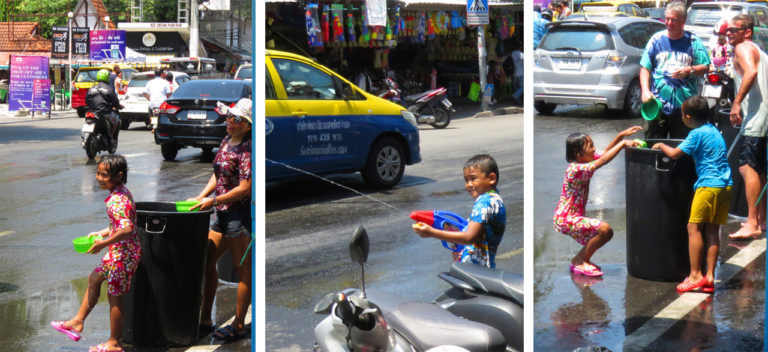 .
And we had to upgrade to a bigger gun: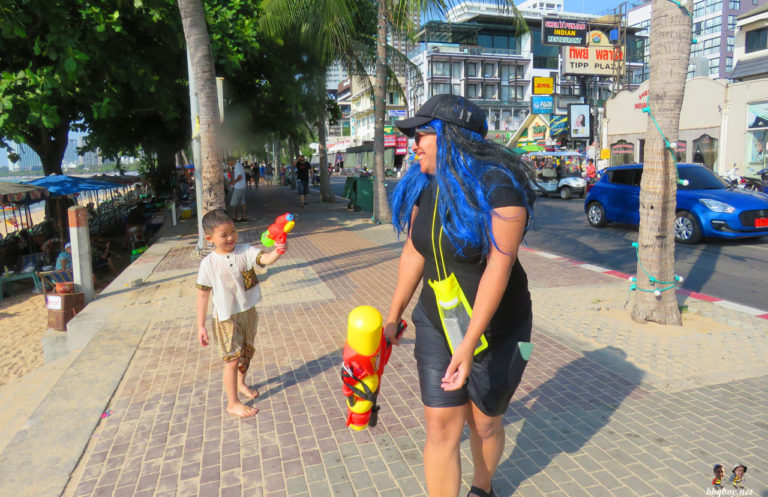 ---
---
I think Songkran was the perfect way to break in Pattaya for us. There were plenty of tourists, but most of the people enjoying themselves were locals. You can expect to be shot at with water pistols, have buckets of water poured over your head, have Thais smear mud-like paste (sunscreen) on your face (usually delicately, with a smile on their face). And then, just when you're getting used to being wet, you'll be doused with a bucket of ice water. In between shooting and being shot at, we would stop at different bars along the street where we would have a beer and refill our guns. Everyone was in a good mood: the bar girls were friendly and we struck up conversations with tourists and expats that we met at the different bars. It was one big party and the BEST street party we've ever experienced anywhere. But the best thing about it was that it was inclusive. The locals we met during that day (and everyday) were happy to douse us but they did it in a nice way, always a smile on their face and always with a kind word. Lissette especially was made to feel the center of attention, bar girls pouring water down her shirt, some pulling her by the arm into their bar.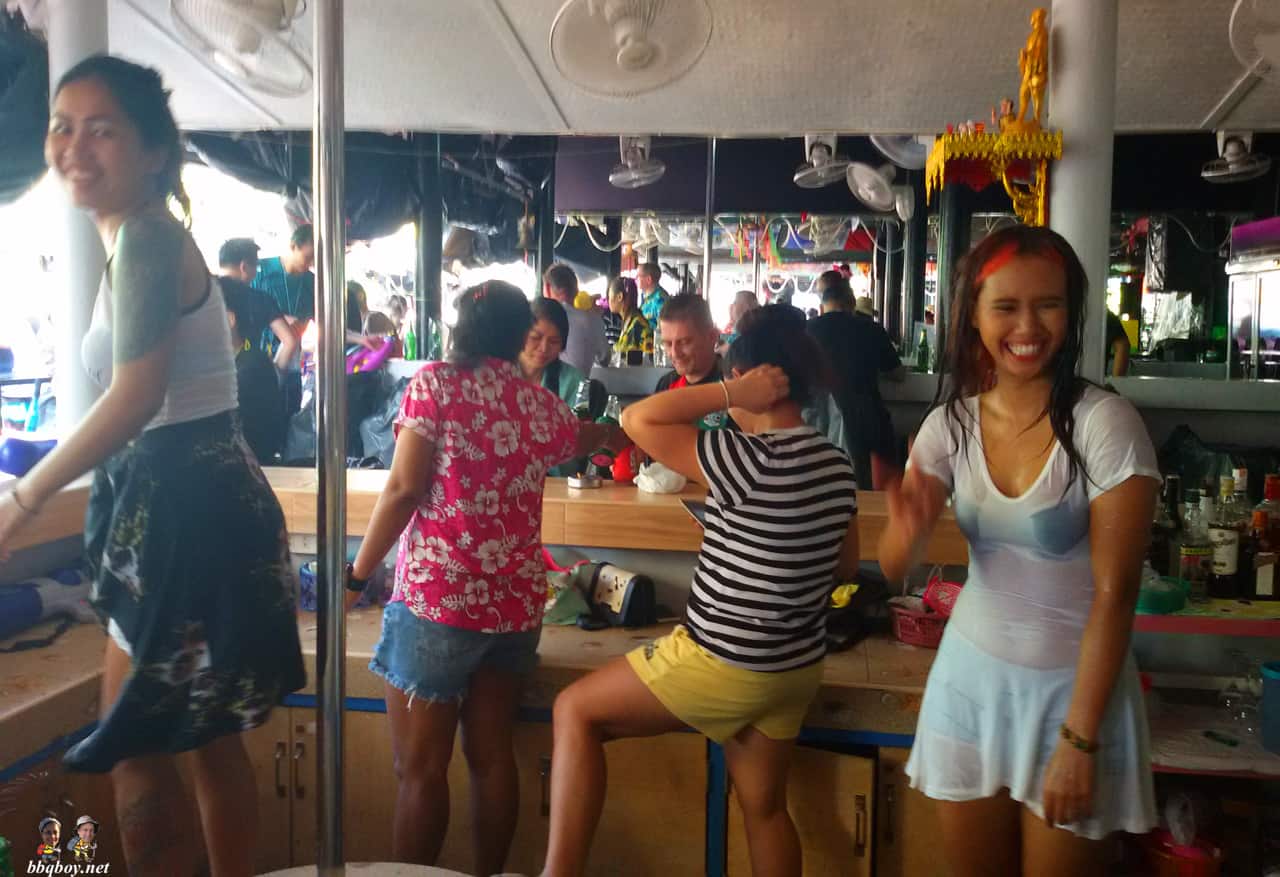 ---
---
A slightly crappy video I made (didn't want my good camera getting wet)
Pattaya is the perfect place to celebrate Songkran. Its small streets and roadside bars made for the perfect vibe. There were lots of kids too, on the corners with their family wetting anyone that came by (for 3 days we had to run the same gauntlet and those kids would soak us every time). A few days later we were back in Bangkok for Songkran and it was a totally different energy. The party atmosphere and the locals we met in Pattaya warmed us to the town, warts and all. And over the next few days we'd meet other locals and expats that made us see past the 'Sex Capital' title. Yes, Pattaya's history and economy is based on the sex industry. But there's also a real community there of expats, locals and real families.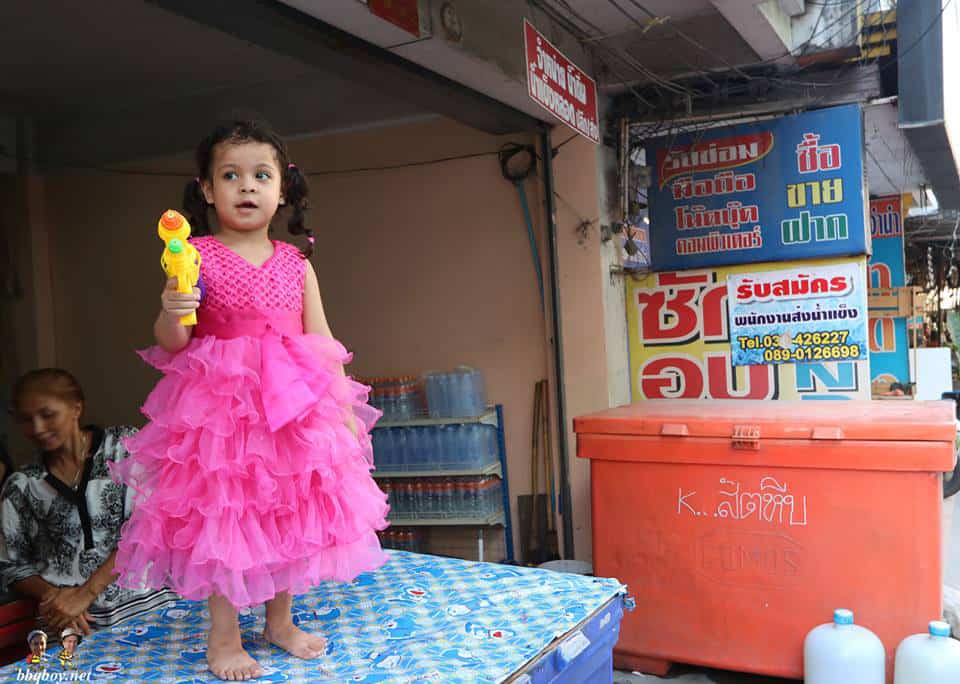 ---
---
Walking Street
Walking Street is what all tourists come to see in Pattaya and it defines the image of the city. It's basically a 1 km pedestrian street of Go-go bars, beer bars and restaurants with flashy neon signs, girls and ladyboys trying to entice customers in, and a whole lot of tourists just walking back and forth absorbing it all in. Some photos.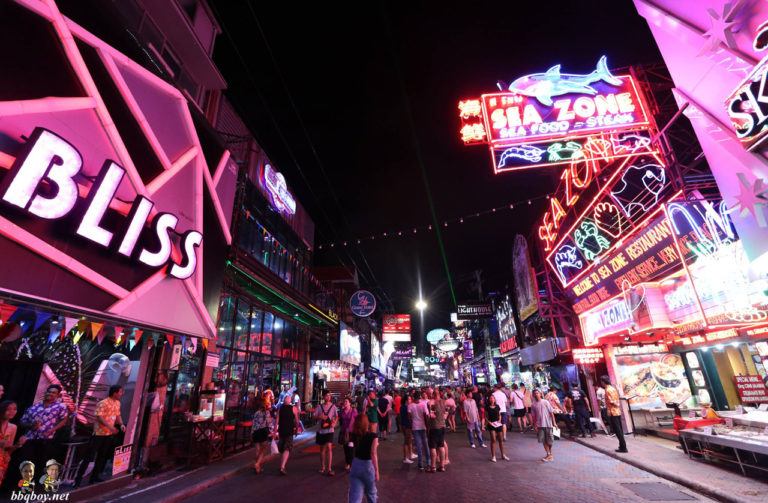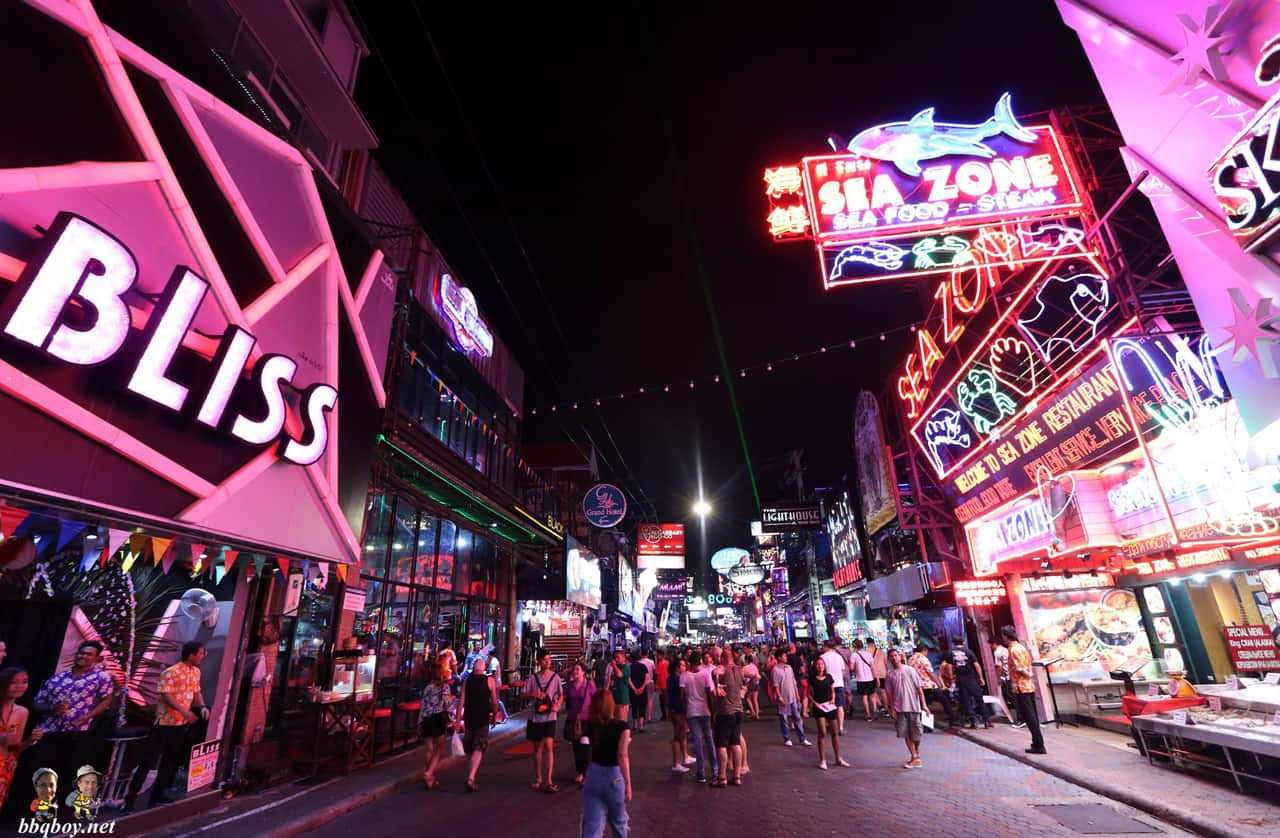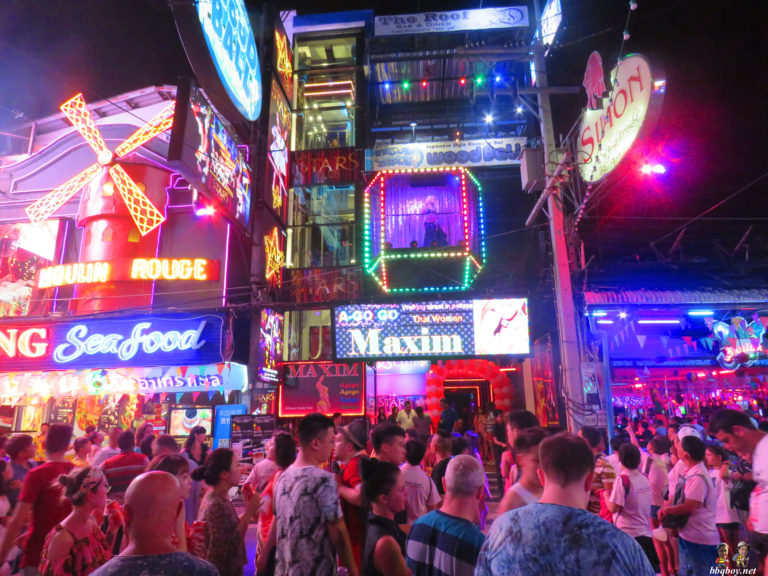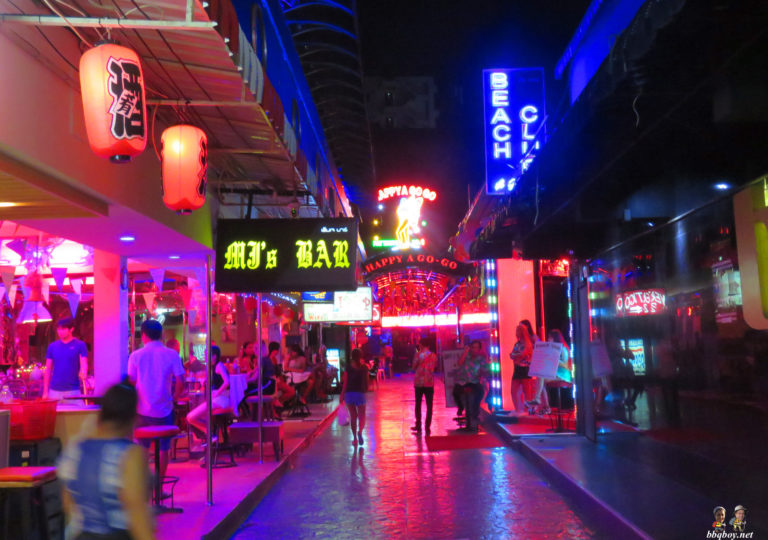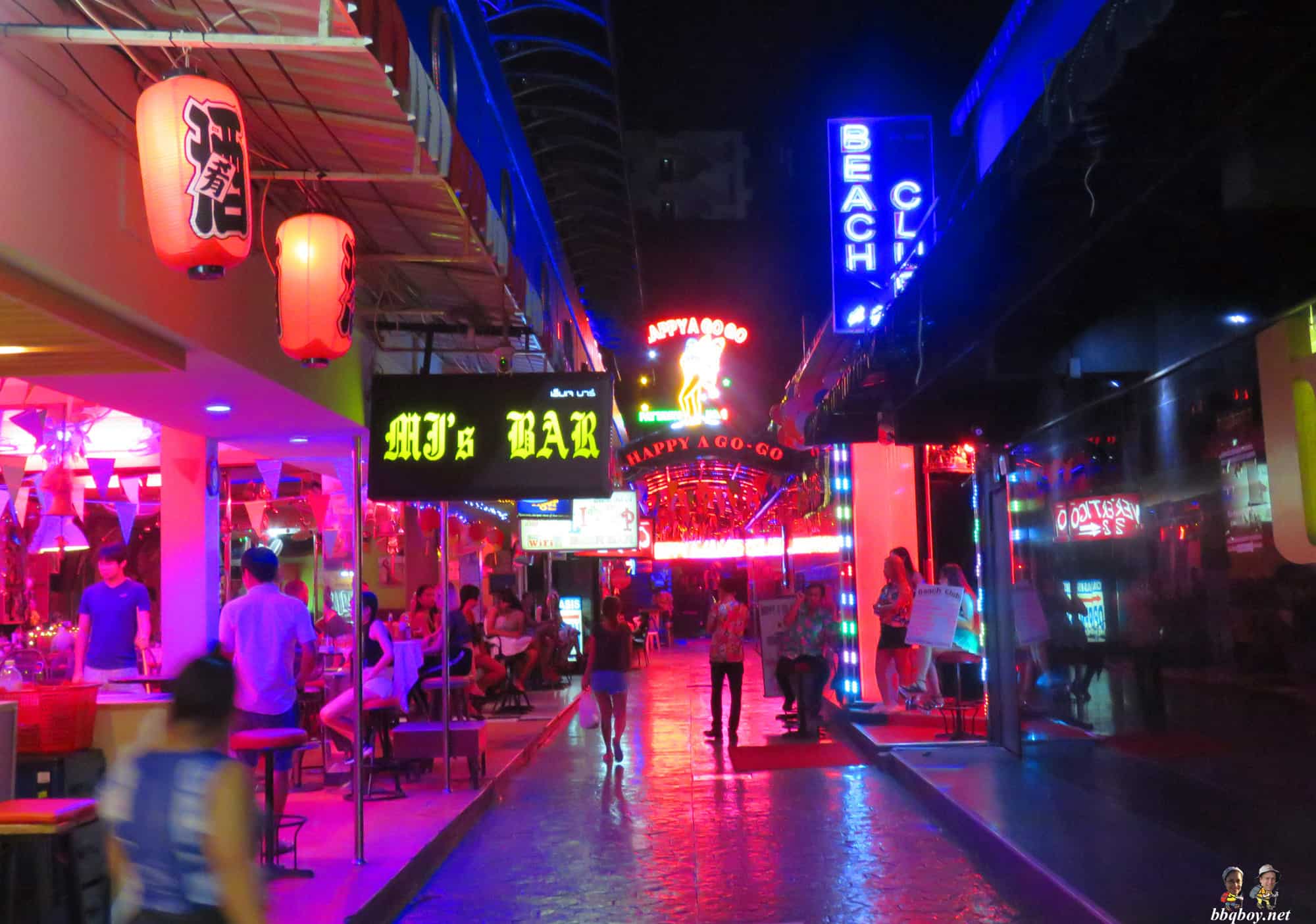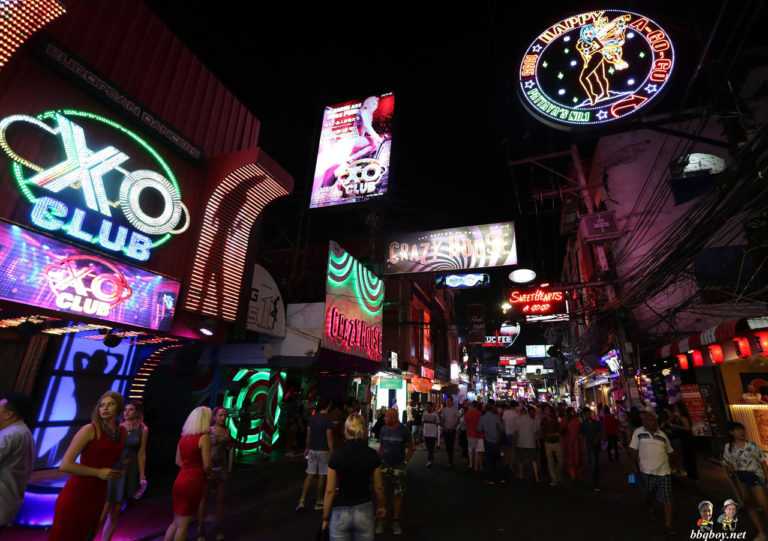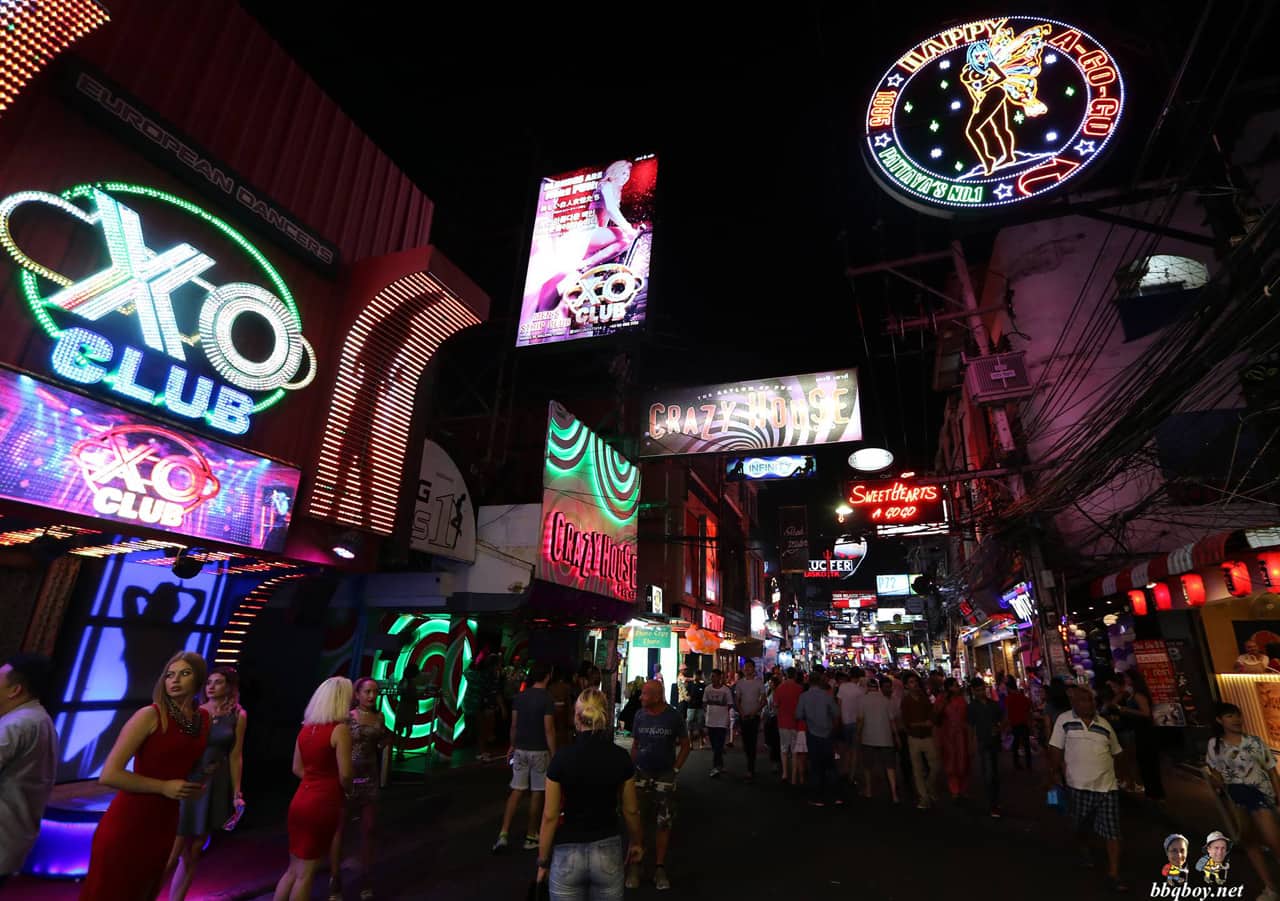 ---
---
A few colourful characters on Walking Street: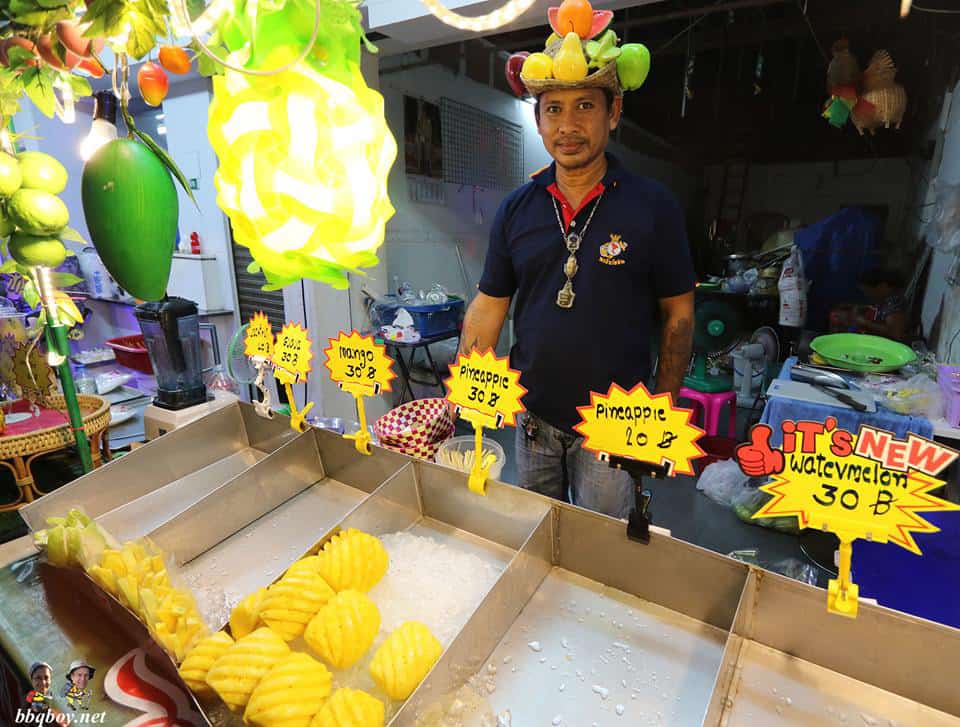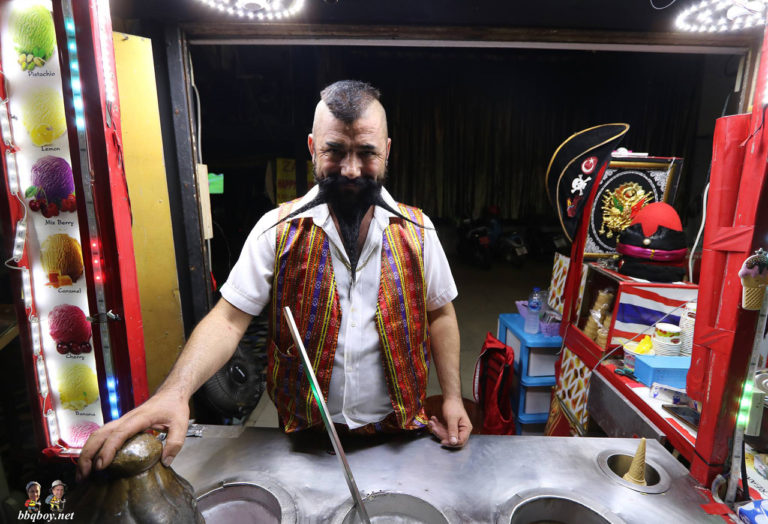 ---
---
Thoughts on Walking Street?
It's purely artificial and made for the tourists. It actually seemed a bit more edgy when I came here 15 years ago. I remember making a couple of friends from Germany and going to a few clubs. It was pretty wild. Now it's swarming with mostly Asian tourists who come to gawk and take photos. I don't think most even enter a club.
Lissette and I went to a couple of Go-go clubs. The first one was Baccara, the most famous on Walking Street. Huge place with 2 floors, tons of beautiful girls. We walked in (no cover charge) and were lucky to get seats right next to the stage. Again, the club was full of Asian tourists, most young and male. A group of Chinese tourists came in, 5 women in their 60's (we've come to appreciate the Chinese – whatever there is to experience, they're going to experience it. Nothing was going to stop these ladies from walking into the club). The show was boring, an assembly line of girls coming on the stage, dancing a bit around poles, a few taking off their tops…but that's as exciting as it got. As Lissette said, "it's like they're waiting around for the bus to show up". We had two drinks, thinking that maybe the show would liven up but it never did.
We were ready to call it a night but passed the Airport Club on the way and decided to pop in. The girls outside were wearing stewardess outfits. I can't pass up anything with a plane theme. It was totally different than Baccara – small, well lit (too well lit) and the girls – who seemed to run the club – were loud and outgoing. I was smacked with a whip and we were offered shots. Two girls in a bathtub were lathering each other up and giving us sexy looks that were almost comical. Two young Chinese couples came in and sat next to us. A young man and his friend sat on the other side of us and pretty soon I was to hear his life story – he was Finnish, lived and worked in Thailand, and bemoaned being lonely and not having a 'true love' in his life. Nice guy but slightly depressing. One of the girls from the bathtub came over and flirted, doing a special dance for Lissette (you'd have to ask her about that). We left the club after a drink, amused with the strange encounters.
That was the extent of our Walking Street experience.
When we had arrived in Pattaya we had noticed a lot of older men sitting in the beer bars drinking and watching the world go by. They're the "pervs" that have come to be associated with Pattaya. These older men don't hang around Walking street, they've have a lot of other (cheaper) options if they want fun times: beer bars, soapy massage parlors, or the army of freelance girls hanging around Beach Road*.
* Don't shoot the messenger: I'm not recommending these things, I'm just telling you what goes on. The other day I posted a photo on FB showing the elephants in Ayuthaya with riders on their backs. I mentioned that it's not something people should do. Some guy got angry with me, calling me "stupid" for posting the photo. As I told him, it's going to be happening whether I post the photo or not and that if he felt so strongly about it that he should maybe write the Thai government instead.
As I say, while Walking Street is the image of Pattaya it is really just a tourist experience.
.



---
---
About the Old "Pervs"
We were at our favorite Thai restaurant (Kiss Food and Drink) when a white man in his late 60's came to sit down next to us with his younger Thai girlfriend (I'm guessing early 40's). Typical old perv right?
The man had long wavy hair, tight jeans and a loose short-sleeve shirt. He looked like he had stepped out of the 70's. He saw us and checked us over. We could tell he wanted to talk and we just tried to avoid making eye contact. Eventually he just butt right in "Hello, where are you from?"
He ended up being the nicest man. He said he had started coming to Thailand 10 years ago when his wife had died. That's when he had met his girlfriend who was next to him. He had 3 sons and a house in Finland that he had to tend to (yes, another strange Finn) but he loved coming to Thailand and travelling around with his Thai girlfriend. He had a strange habit of having the smile on his face freeze whenever he said something that he thought was funny. "Happy, Happy –we have to be happy because life is so short" he would say, the huge smile plastered on his face. He was a bit crazy and everyone else knew it including his girlfriend who would look at us with a "sorry about this…" all over her face while he kept on talking.
Everyone has a story and it's easy to judge.
For the record, Lissette has always told me that if something happens to her that I should enjoy myself. "Don't commit. Have fun".
She figures that we all pay our dues and if we get to that age we should just do what the heck makes us happy.
---
---
Don't Bring your Kids here
During our 3 days in Pattaya we saw quite a lot of parents with their young kids here. Lissette would ask me "why would anyone bring their kids to Pattaya??"
Why indeed?
I mentioned it off the top – it's really not a child friendly environment. There's no beach, it's not very clean, and you'll see prostitutes and, occasionally, people clearly on drugs. Thais love kids and will always give them a smile, but Pattaya is just not a place to bring kids. There are tons of family friendly places in Thailand. Pattaya is not one of them.
---
---
Other odds and ends
.
I did a bit of Muay Thai at Twin Tiger while in Pattaya. A good workout.
.

.
Really nice place to come for views: The Hilton Pattaya. You can even splurge for drinks.
Practical Information
Accommodation. We stayed at the Intimate Hotel by Tim Boutique while in Pattaya. It was a good mid-priced option (it gets an 8.1 rating on Booking in case you're comparing with others). A couple of other popular mid-range options in Central Pattaya are Acqua Hotel and Travelodge Pattaya. If you want to splurge, stay at the Hilton Pattaya (photo above).
Food recommendations: for simple Thai food, Kiss Food and Drink was excellent and cheap. A few feet away Little India restaurant was also excellent
Songkran tips for tourists. It's great to wet people during the day, but when nighttime falls and you get dressed up to go out somewhere (in our case the above mentioned Hilton) it kind of sucks when a bunch of Indian guys step out of the shadows to start shooting Lissette in the chest. That's not cool. Keep your shooting for the day when the sun's out and people are dressed in shorts and t-shirts.
Getting to Pattaya. 12Go Asia has the best travel options in Asia. We book our flights through them as well as local transportation (you can get a private driver – as we did – from Bangkok to Pattaya). You'll find lots of options using the banner below.
So, final thoughts on Pattaya.
We actually had a really good time and had a lot of interesting interactions with lots of people. Maybe we were lucky. Being there during Songkran was probably largely conducive to that. So while we didn't love Pattaya, we loved our time in Pattaya. I'm almost 100% sure we would never return but it's ended up being an unexpected highlight of our trip through Thailand.
.
Have you been to Pattaya?* What did you think?
*I notice a lot of people not being honest about having visited Pattaya. I promise not to judge you.
PS. Looking to book flights, hotels, tours, or rent a car? Have a look at our Travel Resources page.
.