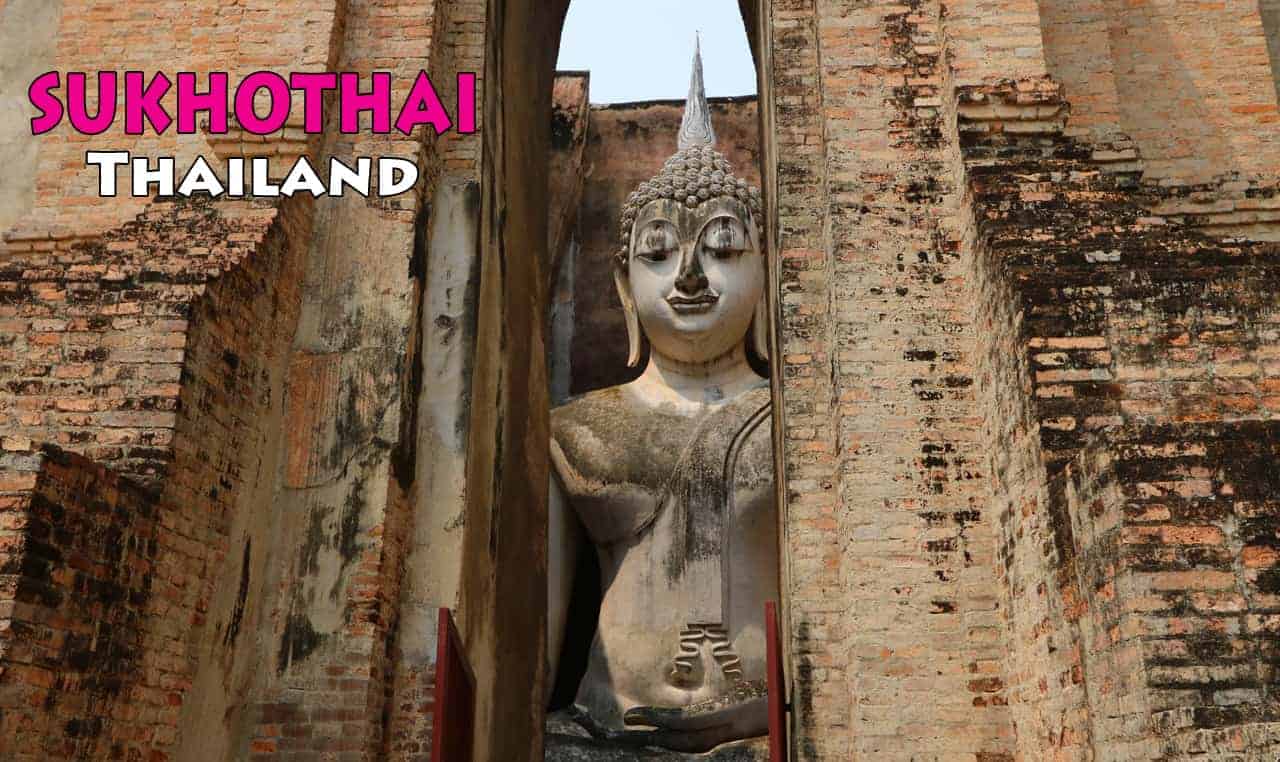 Sukhothai Historical Park Itinerary.
Founded in 1238, Sukhothai was the first independent kingdom of Siam. It was the cradle of Thai civilization, the birthplace of Thai art, architecture and language. It is today a UNESCO World Heritage Site containing some of the most incredible ruins in the country.
Sukhothai Historical Park covers 70 square kilometers and contains over 190 ruins spread out in 5 zones. So, you may ask: how should I plan my time there? I searched the internet and still couldn't get a really clear answer. Another factor: entering each zone costs 100 Baht per person, so going to each of the 5 zones would cost the two of us 1000 Baht ($ 40 CAD or $32 US). Is it really worth visiting all 5 zones?
I ended up planning 2 full days to see Sukhothai Historical Park. While I'm glad we did (and I'll explain why later) it was too much time.
We got really lucky. When we arrived at the gates of the park on April 2nd we were told that access to the whole park was free. Why? It was the birthday of the Royal Princess. We had originally thought of spreading out our sightseeing over 2 days but because of the free day we decided to visit all the main temples, in all the zones, in one day (when you're a full-time traveller you get cheap). It ended up being all we – or anyone – really needs.
* if you can, try to plan your visit for April 2nd 🙂

The truth is that although there are some incredible temples in Sukhothai, there are only a handful that most travellers really need to see. And these temples are all located in 2 zones. So no need to visit all 5 zones.
.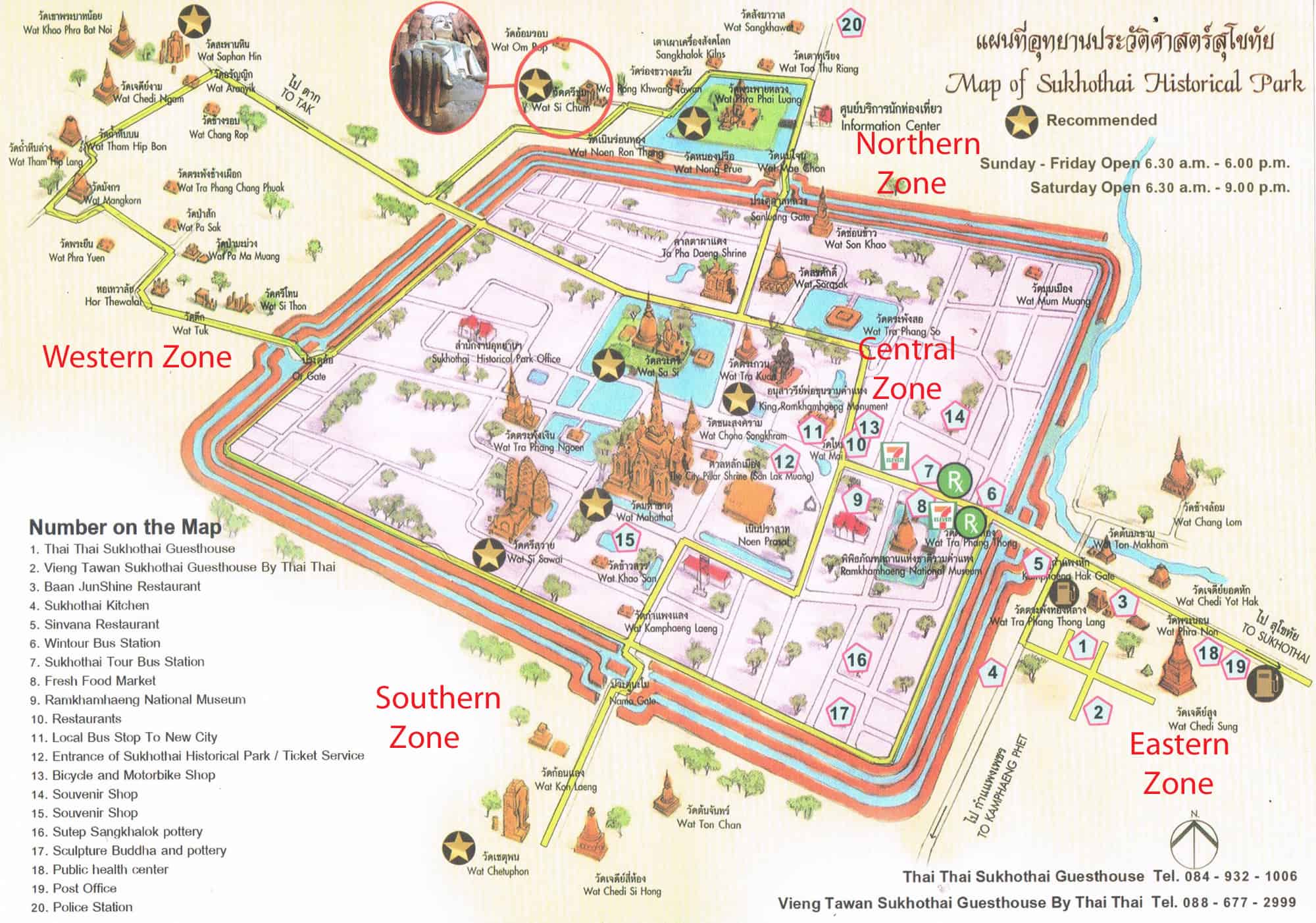 ---
---
The Temples you really Need to See in Sukhothai Historical Park
1. Wat Mahathat
This temple was the most important royal temple in the Sukothai Kingdom. It is located right in the middle of the central zone (the central zone covers the Old City of Sukhothai, a square in the middle of the park surrounded by walls and moats). The Temple area is the largest of any in Sukhothai Historical Park and includes an incredibly large number of stupas, prangs (Khmer originated conical towers), and Buddha figures. There are two temples is Sukhothai Historical Park that took our breath away – this is one of them.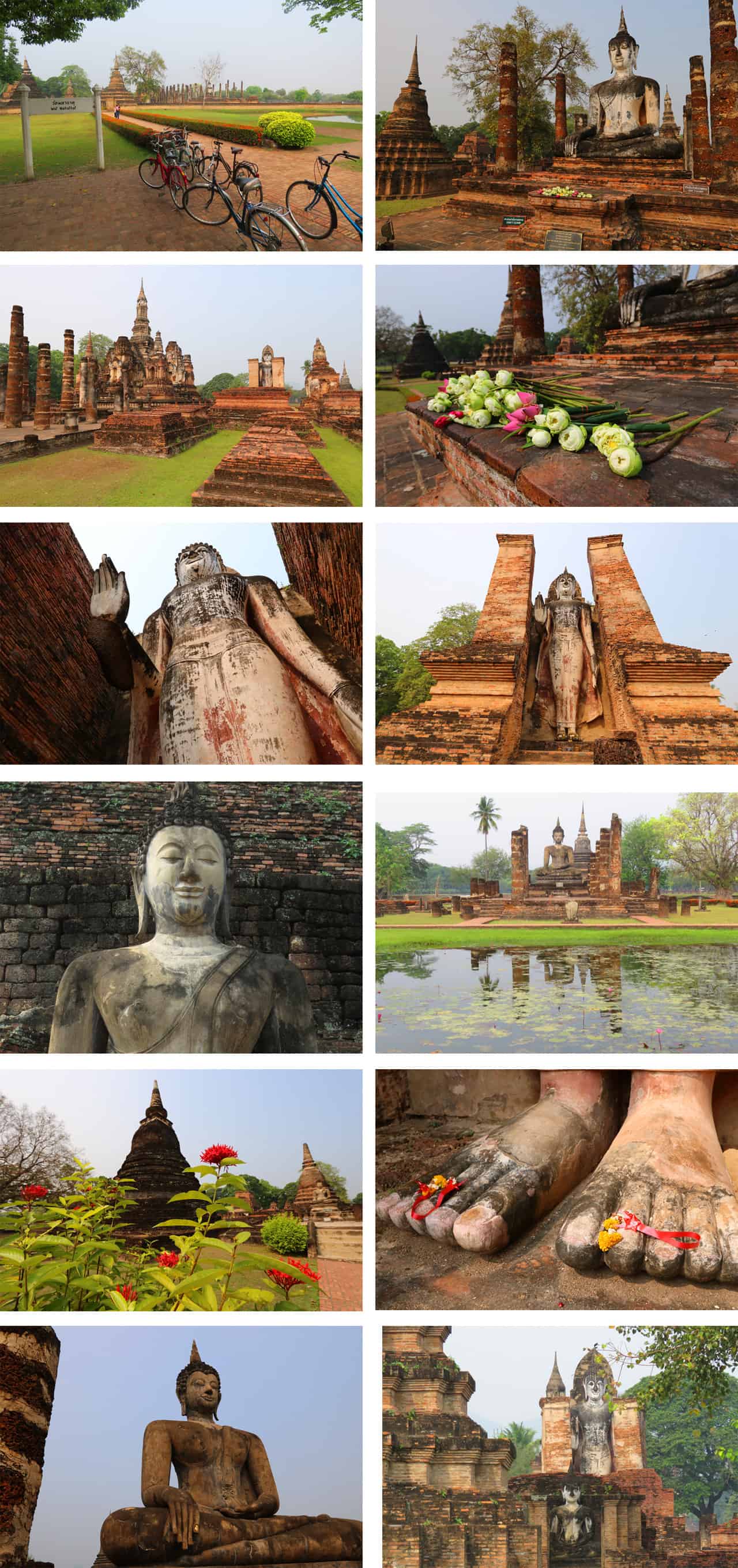 ---
---
2. Wat Si Sawai
Wat Si Sawai has a Khmer influence (from what is now Cambodia) and some say this temple is a miniature version on Angkor Wat. I wouldn't go that far – but it is very impressive with its 3 large and detailed prangs.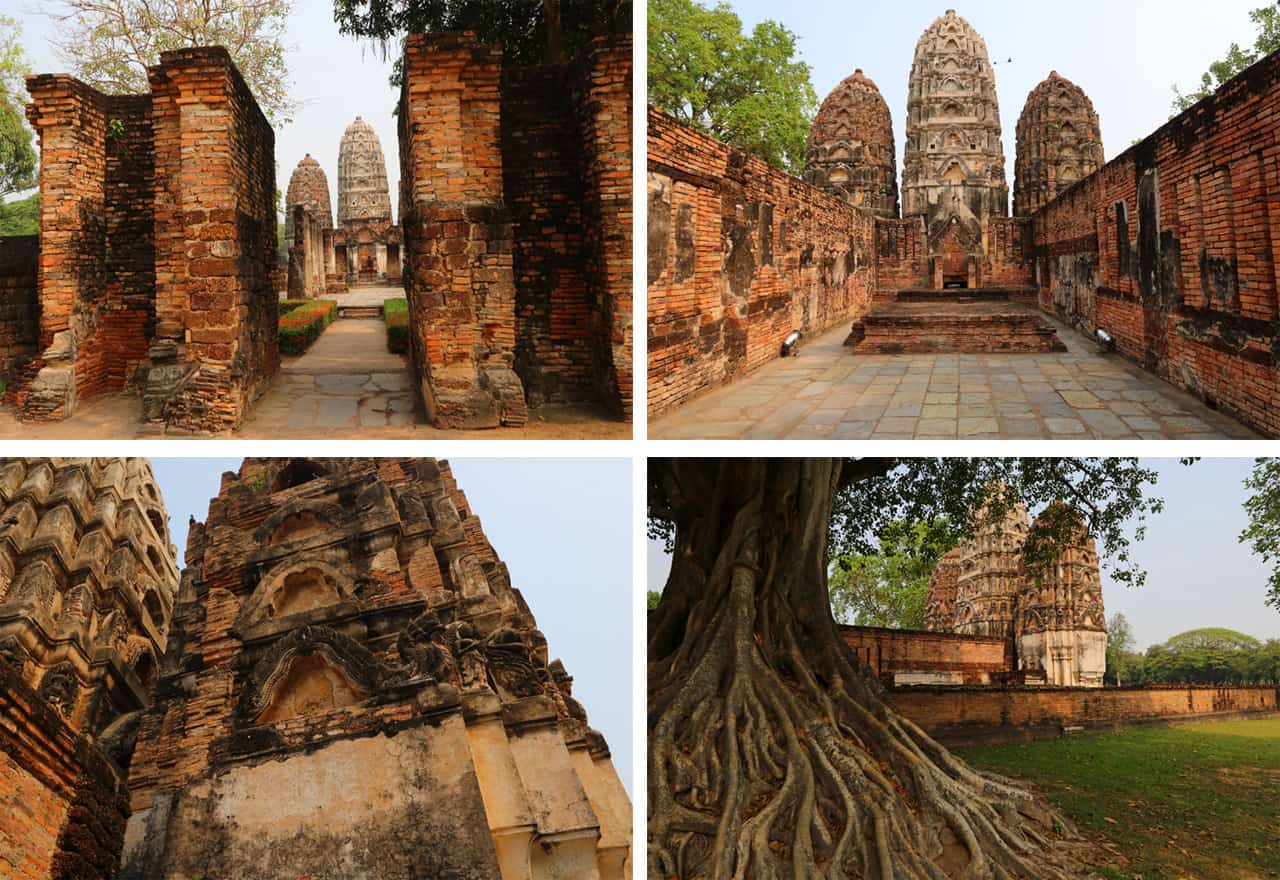 3. Wat Sa Si
This temple is on a small island and features a very impressive white sitting Buddha backdropped by a large chedi. Its setting makes it very picturesque.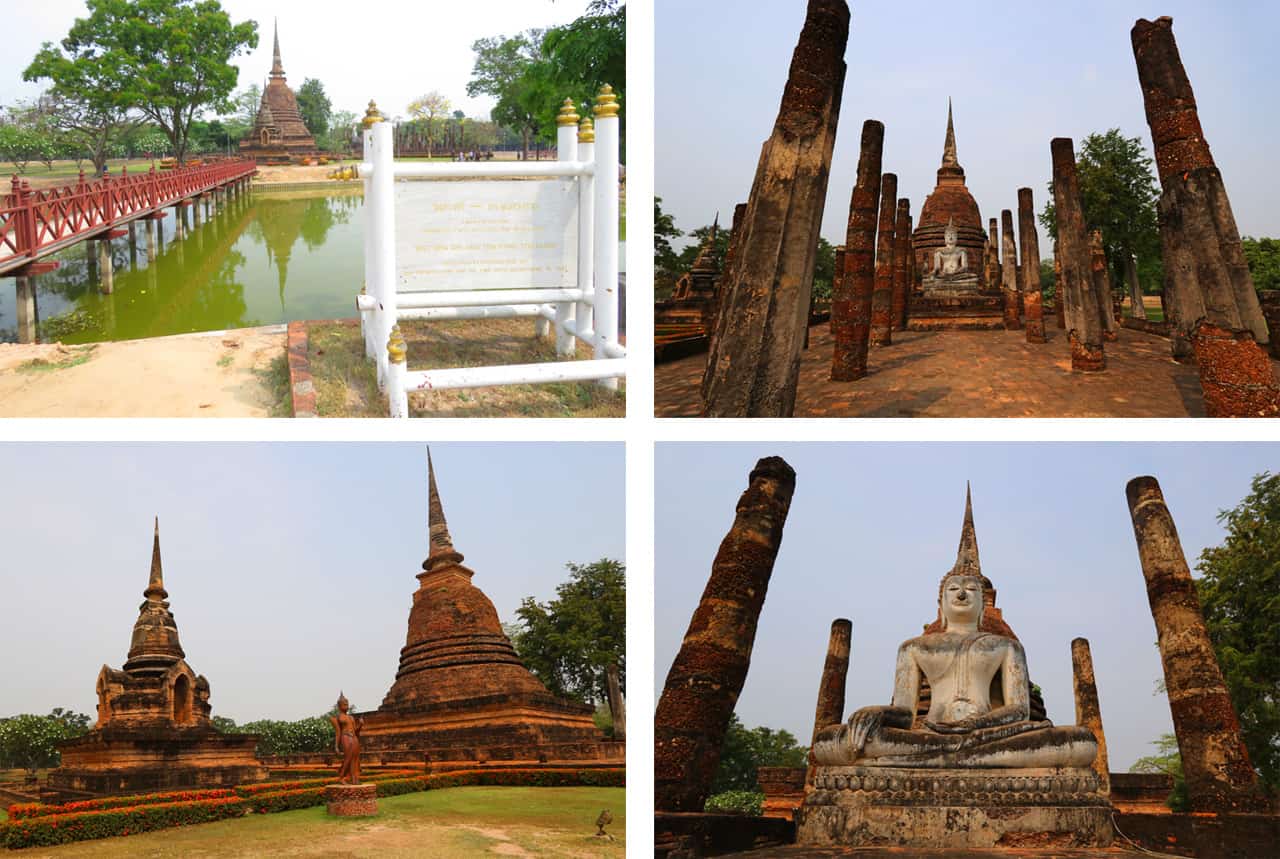 The temples above are the most impressive in the central zone, which itself is by far the most impressive of the zones in the Historical park. Visitors will be surprised by 1) how close the sites in the central zone are to each other, 2) how clean and well-organized the Old City is, 3) the variety of different temple styles you'll find in this zone.
We spent 3 hours in this zone, seeing 5 temples as well the King Ramkhamhaeng Monument and spent 1 hour at Wat Mahathat alone.
You've explored the central zone. What other zone (and temples) should you see?
It's easy: The Northern Zone. It features the other mind-blowing temple in Sukhothai Historical park.
---
---
4. Wat Si Chum
This incredible temple is one of the most photographed in Thailand. Within a Mondop (a cubicle shaped pavilion) is the largest Buddha image in Sukhothai. It is majestic, beautiful and powerful. The Buddha is named Phra Achana which translates to "He who is not frightened". It was built in the 13th century and there are several legends associated with the Buddha, including that – upon seeing it – Burmese armies fled Sukhothai. I previously mentioned that Wat Mahathat took our breath away. Wat Si Chum impressed us just as much.
The above are by far the most impressive temples in Sukhothai in our opinion. While some other temples may have important historical significance, many are in ruins and just don't compare to the above. A few photos from other various temples:

---
---
,
So how much time do you really need to visit Sukhothai Historic Park?
You can easily do it in one day. We started at 9 am and finished at 2 pm (ie. 6 hours). During that time we went through all the zones and stopped to visit at least a dozen temples and monuments. What people really have to know is that ALL the main temples I've listed above (and more) are all very close together in the Central Zone. Most people bike between them, or take an electric Tuk Tuk (as we did), but you can just as easily walk between them. Wat Si Chum, the only 'must-see' Temple out of the Central Zone is very close by as well (although fine by bike or tuk tuk, I would not recommend walking).
.
I mentioned that I was happy we were staying in Sukhothai a 2nd full day. Why?
Because on the second day we visited Si Satchanalai Historical Park, an hour away from Sukhothai. What I recommend if coming to Sukhothai is: 1) seeing Sukhothai Historical Park the 1st day, 2) visiting Si Satchanalai the 2nd day.
---
---
Practical information
Getting there: Sukhothai lies about 7 hours north of Bangkok and about 6 hours south of Chiang Mai. We chose to come here from Chiang Mai by train (5 ½ hours to Phitsanulok, then another hour by bus or taxi to Sukhothai). We pre-bought our tickets online using 12Go Asia. We were able to print our travel vouchers at our Chiang Mai hotel. When travel day came we went to the station, traded the vouches for tickets, and just climbed on board the train. Easy. Many transportation options available below.
Accommodation: We've stayed at the Thai Thai Guesthouse which is great value at 1,000 Baht/night (beautiful room, big pool, wifi, free breakfast). Very nice.
Eating: We find restaurants in Old Sukhothai overpriced for what you get. The best and closest is the Sukhothai Kitchen. Good food, good portions, service could be a lot better.
Ps. If you find our blog helpful, please consider using our links to book your flights, hotels, tours, and car rentals. Have a look at our Travel Resources page.