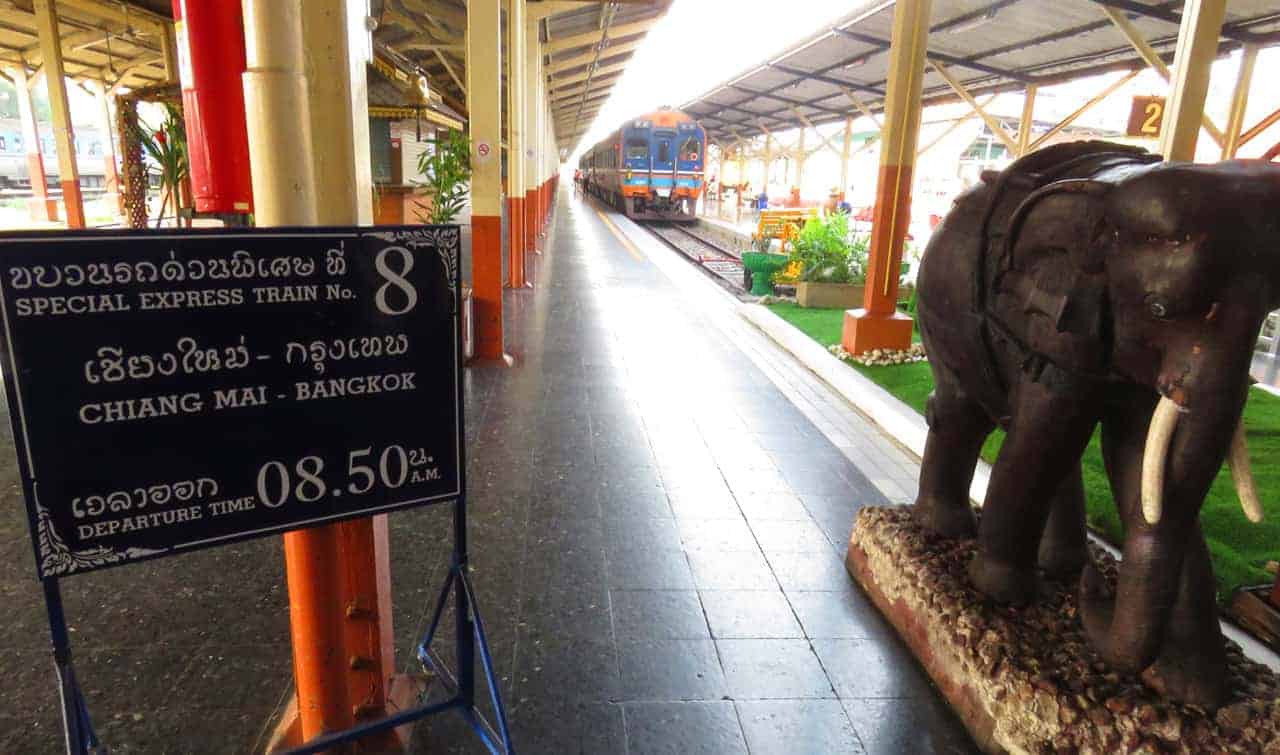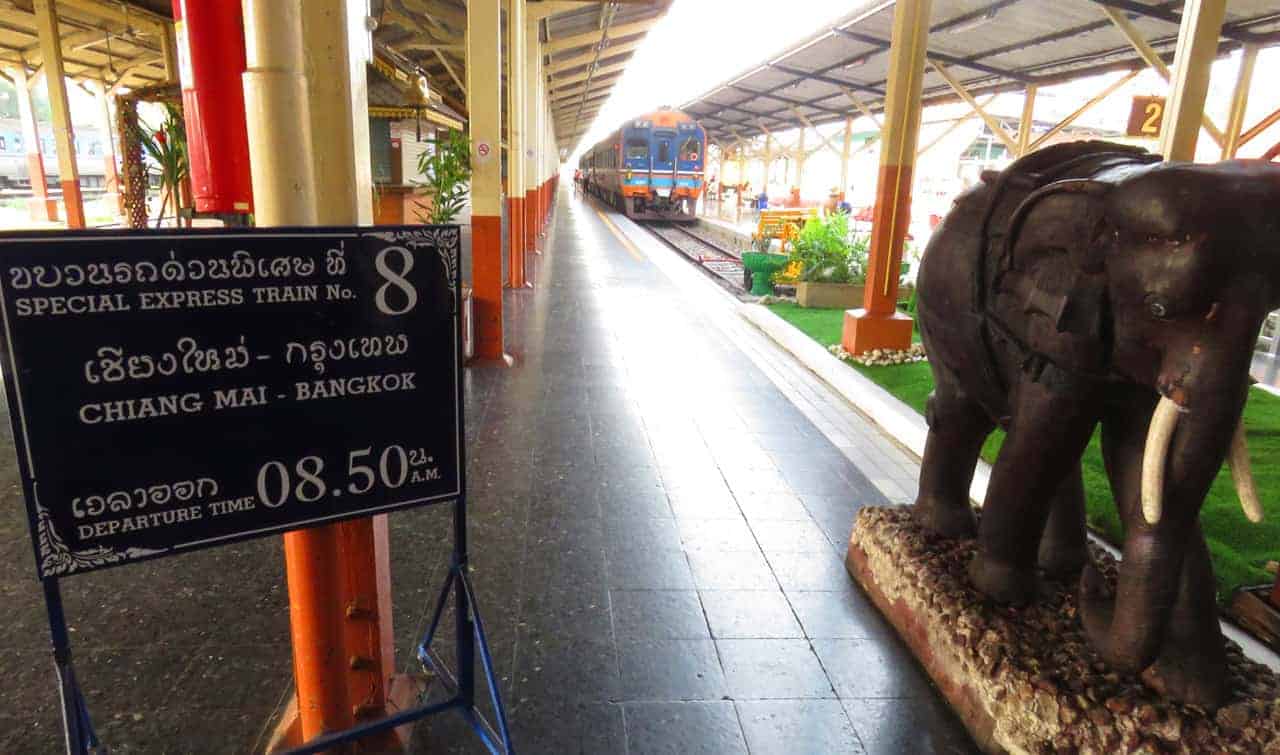 Getting from Chiang Mai to Sukhothai. And where to stay
Sukhothai is a bit hard to get to. It's the main reason why it's not jam-packed with tourists.
When we were in Chiang Mai we went to a travel agency and asked "what's the best way to get to Sukothai?"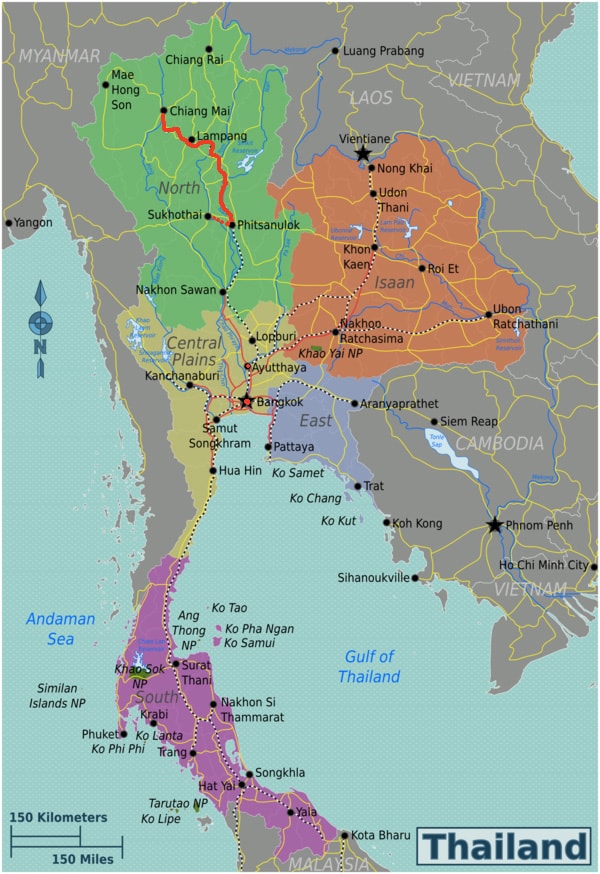 ---
---

Here is what we were told:
.
1) You can take a 2nd class bus directly from Chiang Mai to Sukhothai. It will take about 5 ½ hours, there's AC but no toilet (they have a couple of toilet breaks along the way). The bus will bring you to the bus station located about 1.5 km outside of New Sukhothai. From there you can take a tuk tuk, taxi or songtaew to your hotel in New or Old Sukhothai (where to stay in Sukhothai? I'll write about further below). The bus will cost about 250 Baht per person. It's the fastest and most economical way to get to Sukhothai from Chiang Mai.
Please note: This post was written in 2018. The prices listed in this post may be different today.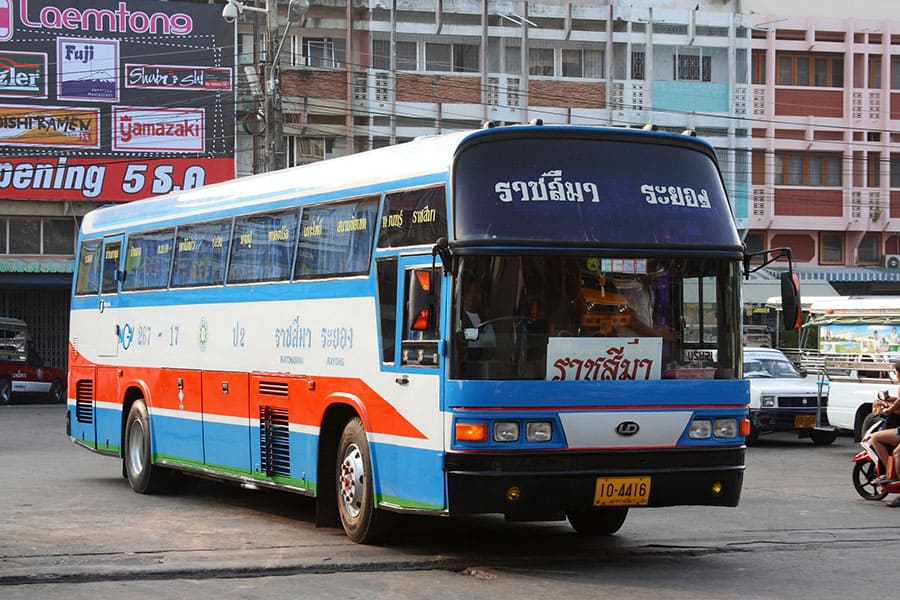 I've seen mention of 1st class and VIP buses (which would both have toilets onboard) going from Chiang Mai to Sukhothai. But asking around I was told that there was no such service.
---
---
.
2) A second option is taking the train from Chiang Mai to Phitsanulok (which is 60 km east of Sukhothai) and then taking either a bus or taxi to Sukhothai. A 2nd class train ticket costs 470 Baht per person and takes about 5 hours to get to Phitsanulok. There's AC, toilets, and they also serve you a drink and a lunch on board.
Once in Phitsanulok you can either a) take a tuk tuk to the bus station (about 1km away) and take a minibus to Sukhothai (cost about 40 Baht/person) OR 2) take a taxi direct to Sukhothai (about 1000 Baht). That will take another hour.
The combination of train/minibus or taxi is a more costly option and also takes more time. But if you enjoy taking trains you might enjoy it more than the bus. It's a much more comfortable option.
.
---
---
3) A third option is to take a VIP bus (which includes a toilet) from Chiang Mai to Phitsanulok and then taking a minibus to Sukhothai. The VIP bus to Phitsanulok will cost about 450 Baht and will take 5 hours. The minibus will take an hour and cost about 40 baht.
While this 3rd option might not make much sense to many, it was offered when the travel agent saw our faces when mentioning Option 1 (the no-toilet option on 2nd class bus). We had so many shitty bus rides on buses with no toilets while in the Balkans that it's an automatic "No" for us.
.
.


We ended up deciding on Option 2 for several reasons: Toilets, comfort…and we love train travel.
It ended up being a pleasant experience.
We pre-bought our tickets online using 12Go Asia. We were able to print our travel vouchers at our Chiang Mai hotel. When travel day came we went to the station, traded the vouches for tickets, and just climbed on board the train. Easy.
We were impressed with the service on Thai trains. Each 2nd class carriage has 2 toilets. There's a female attendant who serves you drinks and lunch. She also warns people when their stop is coming up. There's a man who takes care of maintenance: he'll pass by with a garbage bag every so often for your rubbish, will sweep the floors, and will check on the bathrooms and refresh it with toilet paper if need be.
The carriages might be a little rickety and don't compare to the trains in Western Europe – if anything, they're similar to trains in Eastern Europe but with much better service. The food served for lunch was very good (a fish curry served with rice). Warning: bring a sweater. They really pump up that AC on 2nd class carriages.
---
---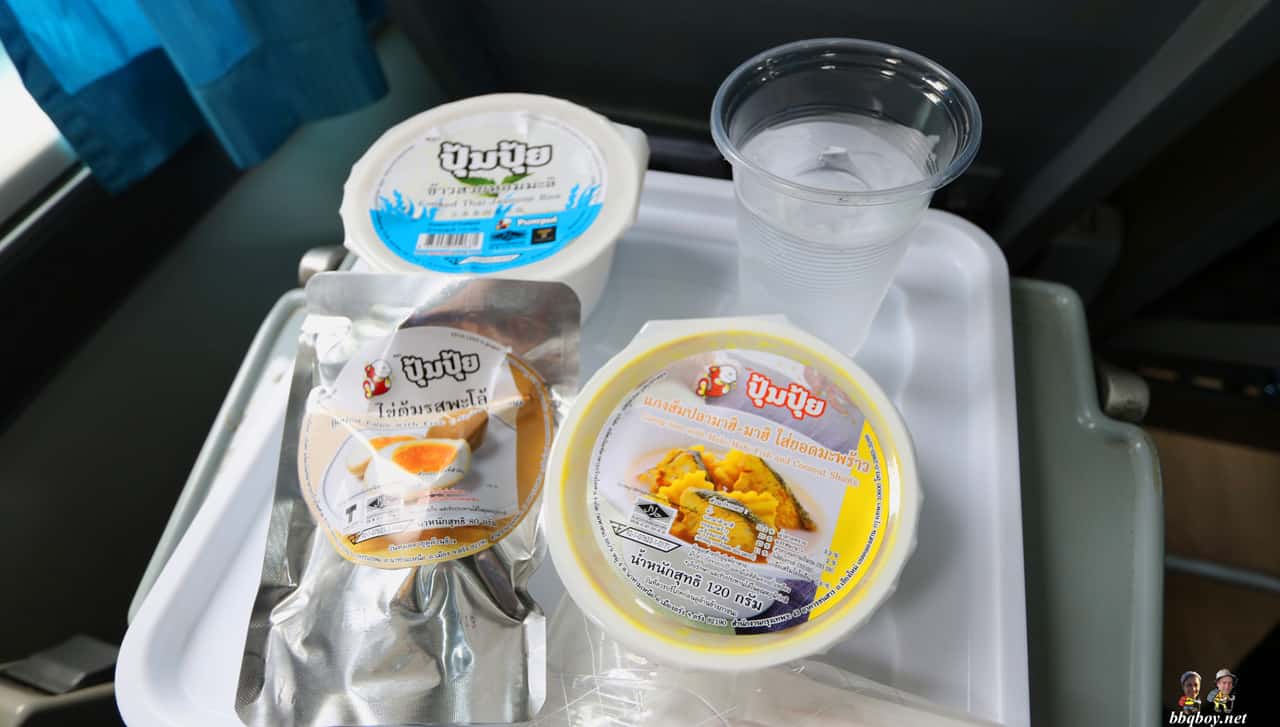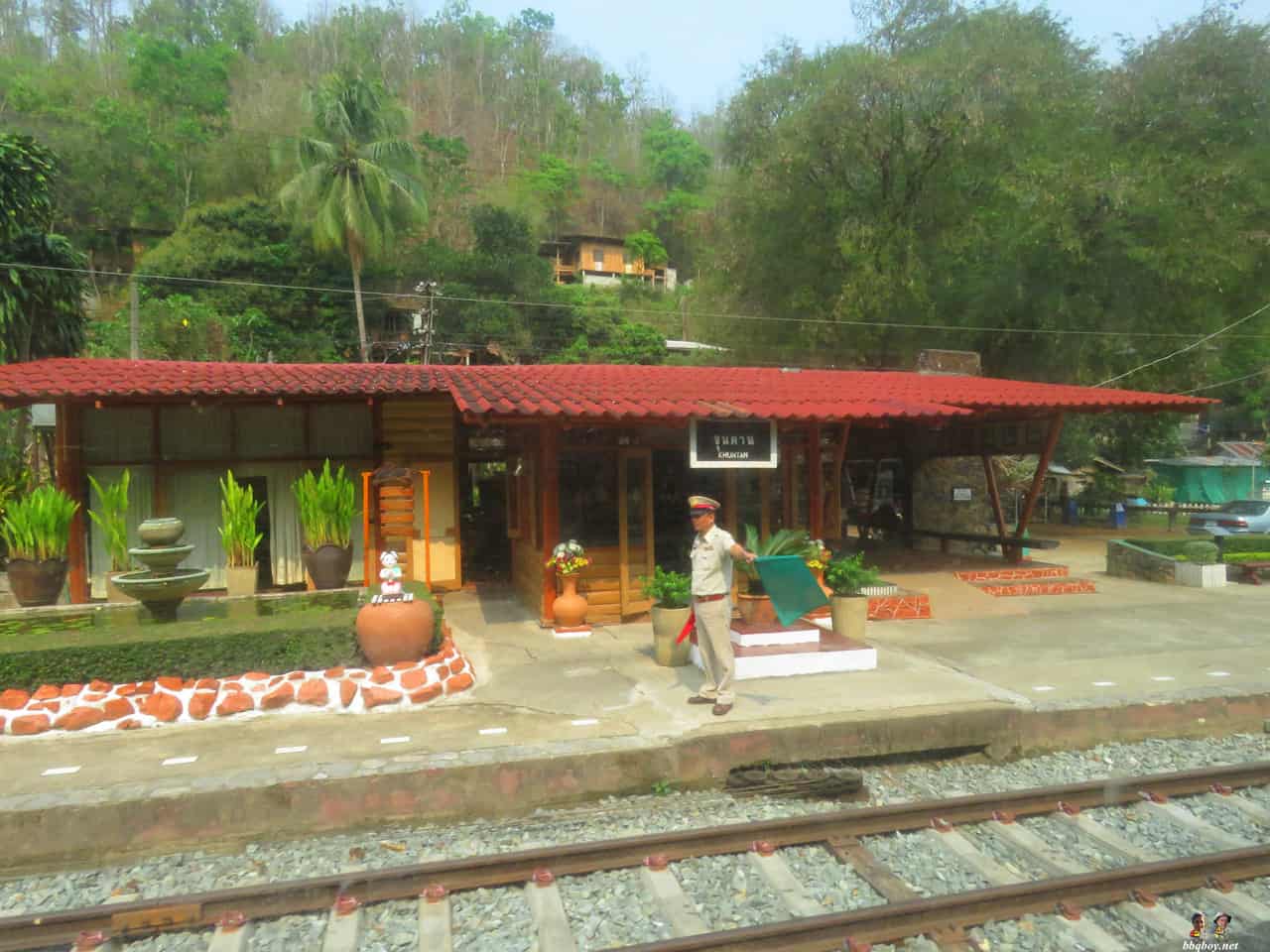 ---
---
5 hours later we arrived in Phitsanulok. Train stations are well maintained in Thailand: there's always a well-indicated toilet area (you usually have to pay 3 baht which is the equivalent of about 10 cents), there's an outdoor seating area and there's also usually an interior VIP seating area with AC. On the whole the stations are well maintained, clean, and there's always an attendant there to help you with baggage or any queries. Very impressive.
.
Outside the train station in Phitsanulok there are taxis and tuk tuks. There's also a sign telling you what the cost is to different places. Sukhothai is listed as 1000 Baht. Because of our baggage we decided to take a taxi directly to our hotel in Old Sukhothai.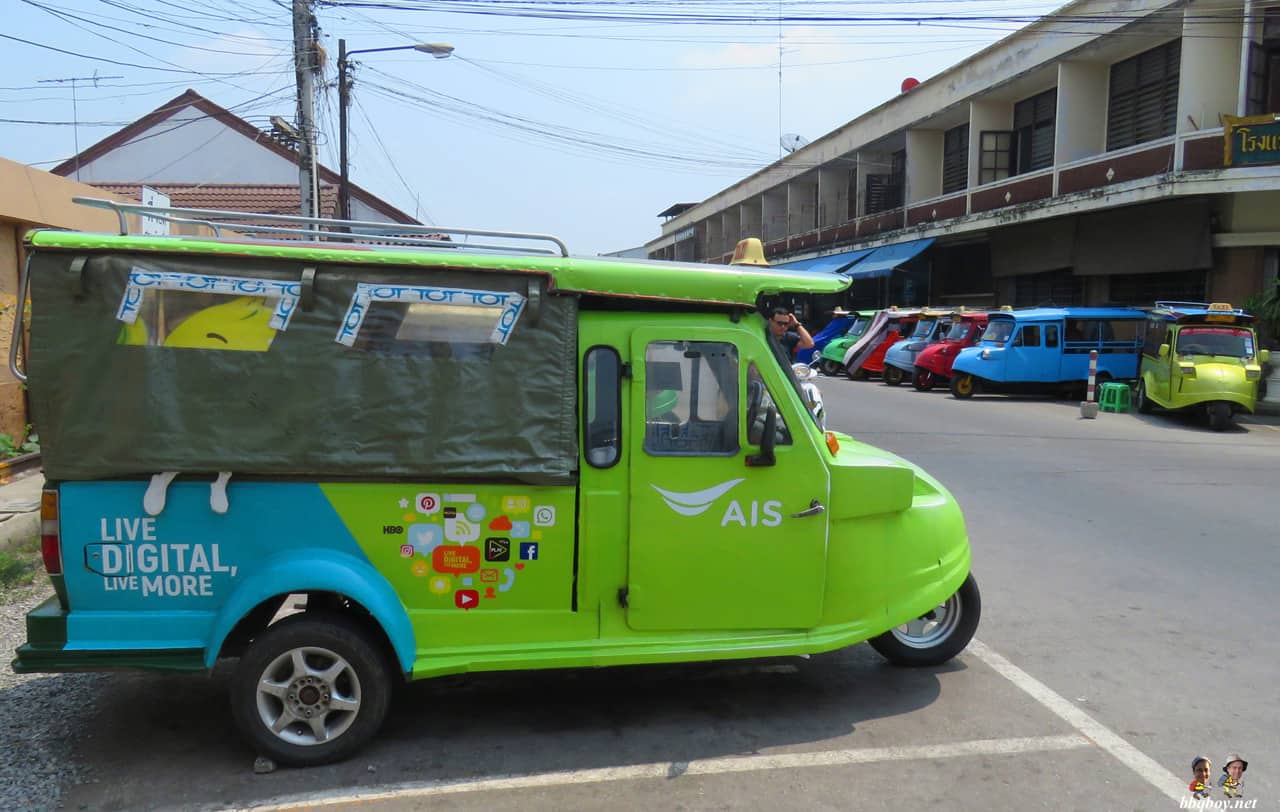 ---
---
An hour and 15 minutes later we arrived at our hotel. Overall a comfortable and easy (but a bit long) travel day. We're a bit older and taking the train was the best option for us. But if you're a younger, more budget-conscious traveller who doesn't have issues with 'no toilet buses' then the 2nd class direct bus (ie. option 1) would probably suit you best.
Where to stay? New Sukhothai or Old Sukhothai?
This is a frequent question posed on the internet. I know because I myself was unsure of where we should stay.
What you have to know is that New Sukhothai – close to where the bus station is – is about 20 minutes east of Old Sukhothai. It is a large, modern, rather typical Thai town with no attractions. The only advantages to New Sukhothai is that you'll find cheaper guesthouses and more eating options. The negatives are that you have to make a rather long trip by songtaew (or taxi) to get to the temples in Old Sukhothai.
.
.

---
---
Old Sukhothai is basically a main street leading into Sukhothai Historical Park. Along that main street is a 7 Eleven and some restaurants, bars, and a market area. Off that main street, in a spread out fashion, are resorts and guesthouses. What's great about being in the area: you can rent a bike from anywhere and be within the Historical Park in minutes. That counts for a lot. Some of the resorts and guesthouses are quite nice and it's a beautiful rural setting.
We stayed at the Thai Thai Guesthouse and it was wonderful and really good value (1000 Baht/night, including very good breakfast). They'll also book your tour of Sukhothai for you. The only negative: guesthouses and resorts don't serve lunch or dinner. It's a bit of an inconvenience having to go out for dinner (ie. away from your guesthouse) after a day of sightseeing. But the nice people at reception will order a tuk tuk for you.
I would recommend Old Sukhothai. We really enjoyed where we stayed despite the negative of having to go out for meals. And it's RIGHT THERE outside the Historical Park.
Related
Sukhothai Historical Park Itinerary: What you should See and How much time you should Spend.
If you're in Sukhothai, here is why you should visit Si Satchanalai Historical Park.
Ps. If you find our blog helpful, please consider using our links to book your flights, hotels, tours, and car rentals. Have a look at our Travel Resources page.