It's a common question. "I have ___ days in Thailand. Which should I visit: Ayutthaya or Sukhothai?"
There's a few different variables that might affect your choice. But we have a clear favorite and we'll tell you what makes our pick the best. Because while both sites are UNESCO World Heritage Sites they're actually quite different.
---
---
Ayutthaya Historical Park
Ayutthaya was the 2nd capital of Thailand from 1350 to 1767 (after conquering the Kingdom of Sukhothai).

The advantages of Ayutthaya
It is far easier to get to than Sukhothai. You can get to Ayutthaya in 1 to 2 hours from Bangkok depending on your mode of transport (an hour if taking a private tour, 1 ½ to 2 hrs if you take the train).
There is more to see at Ayutthaya. In the 16th century the city had a population of over 1 million and was one of the world's largest cities. It has more attractions and they're more spread out than in Sukhothai.
Ayutthaya can be seen on a day trip. You can easily leave Bangkok early in the morning and see all the highlights of Ayutthaya in a day before coming back to Bangkok for late afternoon/early evening. I would actually insist that any visitor visiting Bangkok build in a day to visit Ayutthaya.
More:the Best of Ayutthaya in a Day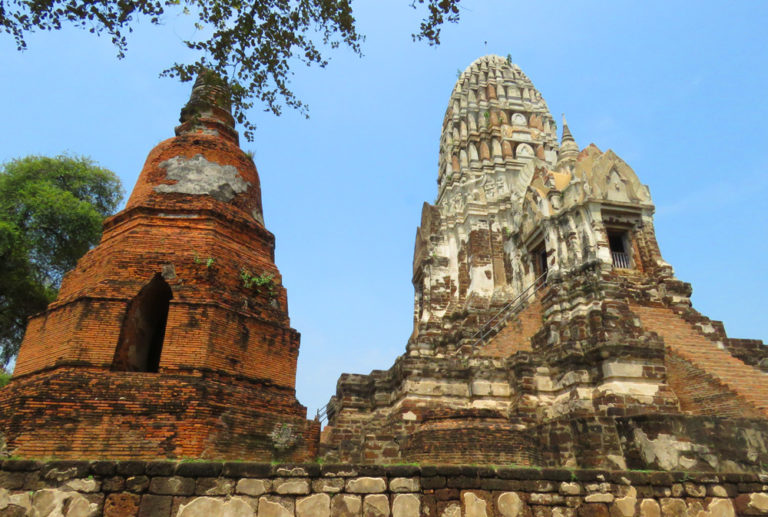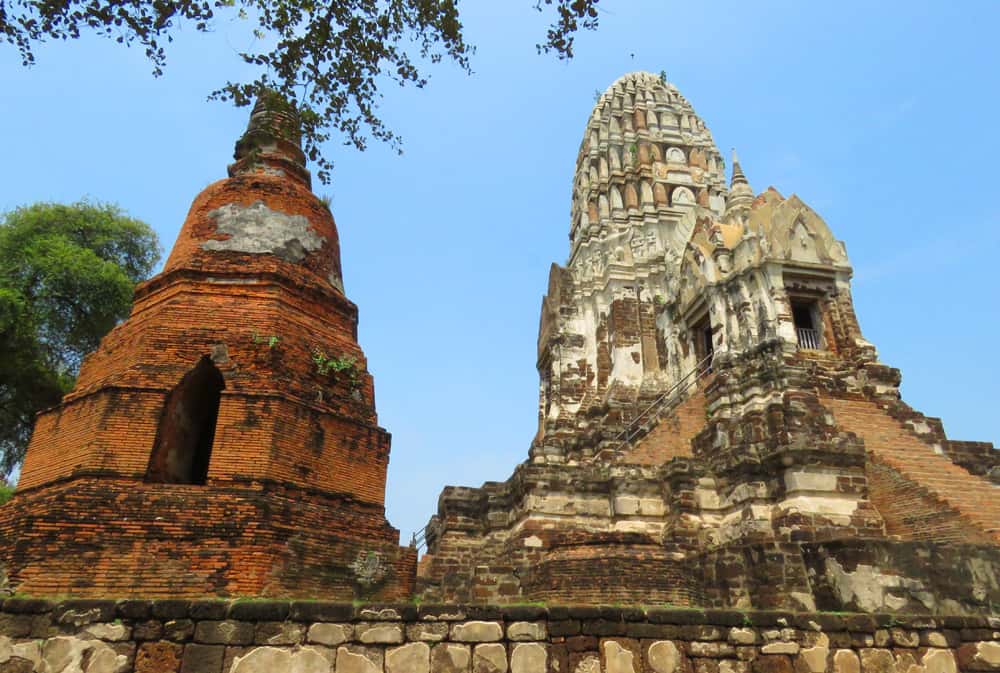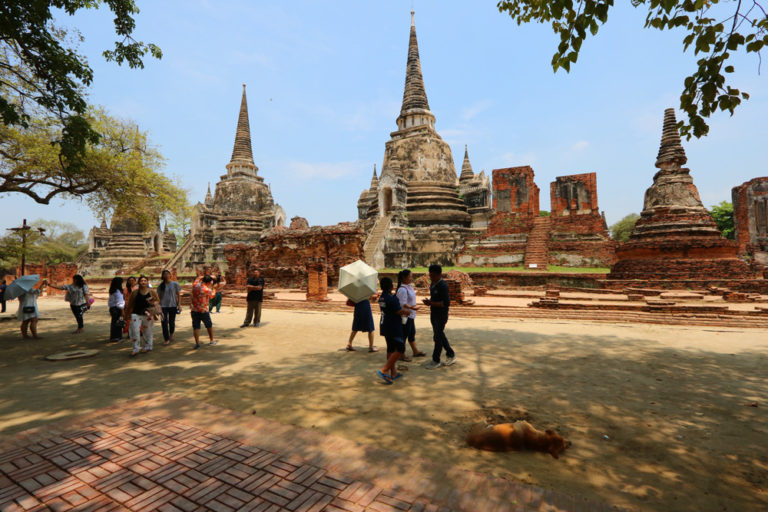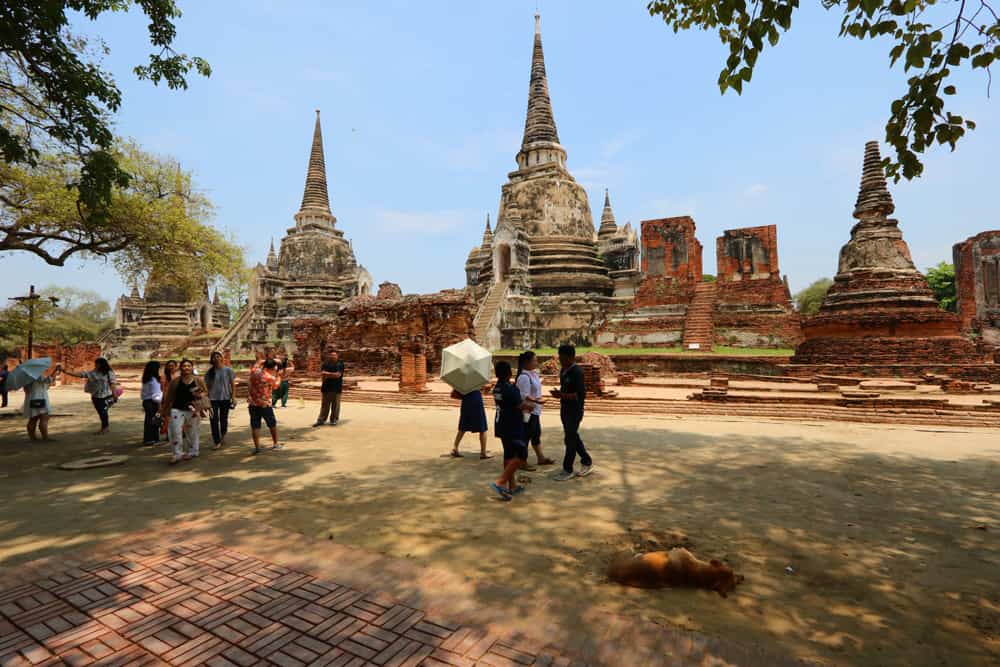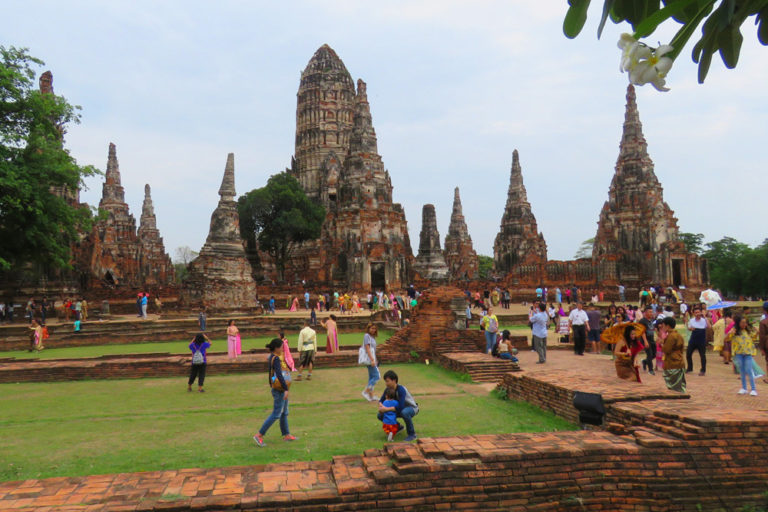 ---
---
The disadvantages of Ayutthaya?
More Crowded. Because of it's convenient distance from Bangkok you'll have a lot of tourists coming to Ayutthaya, most of them being large tour groups.
Attractions further apart. Although some tourists rent a bike to tour Ayutthaya, it's really not a good idea as the different temples are often quite far apart. You'll also have to share the road with minibuses as well as large buses. The best way to explore Ayutthaya (if not taking an organized tour) is to hire a tuk-tuk driver which should cost no more than 300 Baht (about $10 US) per hour.
---
---
Sukhothai Historical Park
Sukhothai was the first capital of Thailand, the city being founded in 1238.
I'll start with the major disadvantage of Sukhothai: it's about 6 hours south of Chiang Mai and about 7 hours north of Bangkok. This strikes Sukhothai off many traveller's "must see" list. And that's a shame.
More: Getting from Chiang Mai to Sukhothai. And where to stay – New Sukhothai or Old Sukhothai?
Other than that, Sukhothai has some advantages:
Compact, in a relaxed setting. The historic park – especially the Central zone which has most of the highlights – is a delineated, compact area surrounded by a moat and old city walls. Within it you'll find temples, often surrounded by ponds.
Easy to explore. Because of the setting, the best way to explore Sukhothai Historical Park is to rent a bike which you can do at the park entrance. You won't have to worry about minibuses or large buses and the only tuk-tuks allowed are environmentally-friendly electric ones.
Uncrowded. There are much fewer tourists at Sukhothai than at Ayutthaya. The tourists that you do see are usually independent tourists and not tour groups.
The above all make Sukhothai a much more pristine, relaxing place to explore the ruins.
More: Sukhothai Historical Park Itinerary: What you should See and How much time you should Spend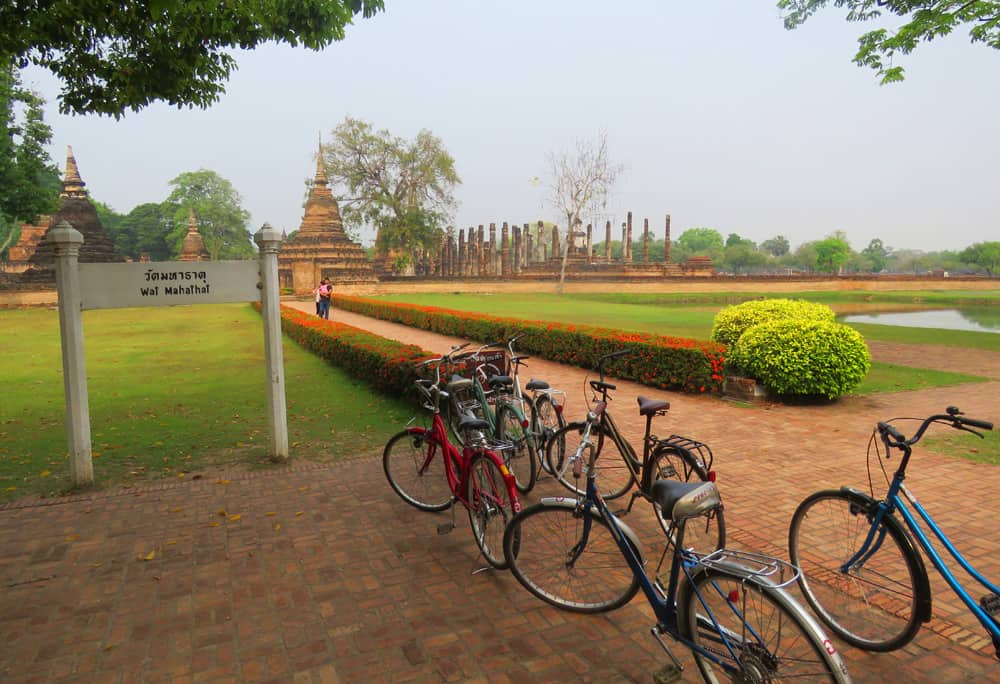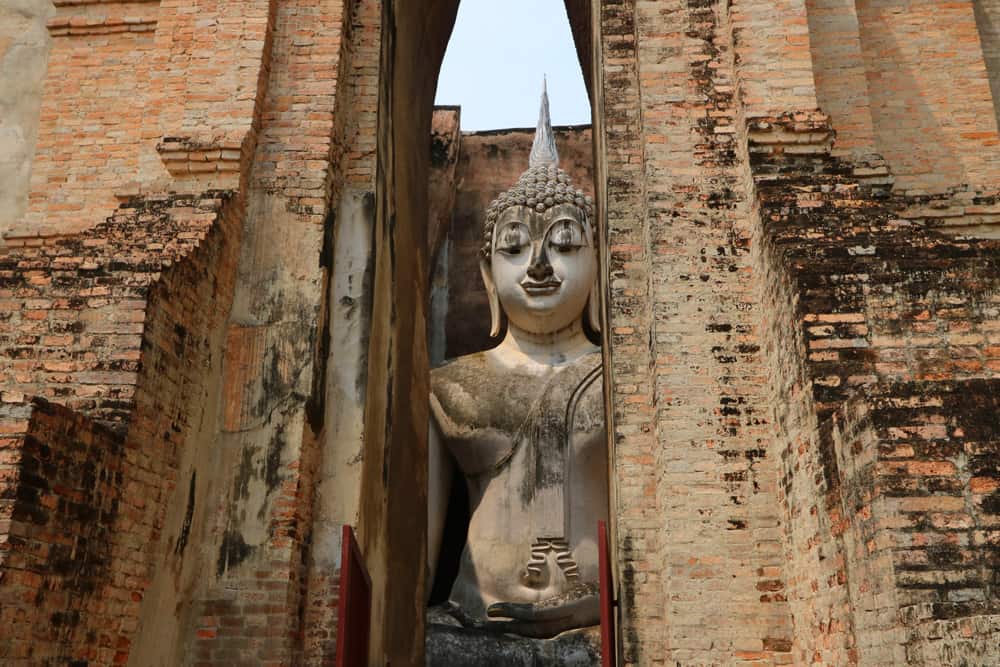 ---
---
Sukhothai has another advantage: Just an hour away is Si Satchanalai Historical Park which is also a UNESCO World Heritage Site. It gets even fewer visitors and, as in Sukhothai, the best way to explore is to rent a bike and explore the grounds and temples.
More: Why you should visit Si Satchanalai Historical Park
---
---
So, Ayutthaya or Sukhothai? Our vote
Our vote is with Sukhothai. Both Ayutthaya and Sukhothai have great temples and ruins – but in Sukhothai you'll also have an authentic, unspoiled experience.
So my recommendation:
If you're only visiting Thailand for a few days and are in Bangkok (as you most likely would be), then schedule a day trip to Ayutthaya. If you can't make it to both sites then you should at least see Ayutthaya.
If you've got a longer holiday in Thailand, reserve 2 full days for Sukhothai. Stay at the fantastic Thai Thai Guesthouse in Old Sukhothai (it's just outside the park gates). On the 1st day visit Sukhothai Historic Park. On the 2nd day visit Si Satchanalai Historic Park (the guesthouse I just mentioned will arrange a driver to take you there and will wait for you for the duration of your visit).
Ayutthaya or Sukhothai – Do you have a favorite?
Ps. If you find our blog helpful, please consider using our links to book your flights, hotels, tours, and car rentals. Have a look at our Travel Resources page.