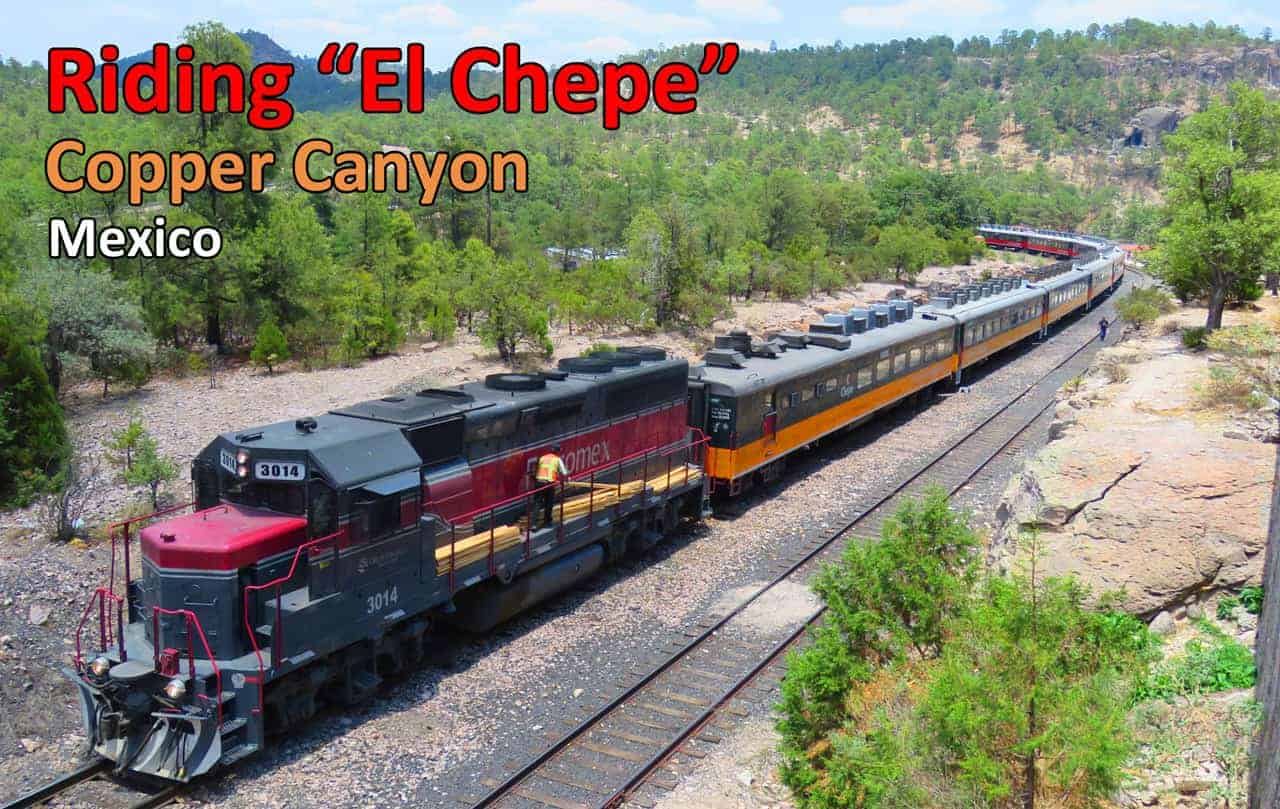 Why riding El Chepe through Copper Canyon is amazing
I used to have a co-worker called Pat. He drove me crazy. I worked with him for 20 years and when I quit/was fired one of the best things that came out of it was that I no longer had to work with him. I think that's added a few years to my life.
But when you work with someone for 20 years some things stick with you. And if there is one thing Pat loved above anything else it was trains. He loved trains and even built himself a huge train set in his basement with trains, a town, hills and tunnels. It was quite impressive. My hobby was planes and at one point I had built myself an airport with all my planes on display. So in a way we shared a passion.
I've just completed the famous (but not well-known) El Chepe* train ride from Chihuahua, Northern Mexico to Los Mochis on the Pacific Ocean. And after not thinking of Pat in a very long time I couldn't stop thinking about him. Because if there is one thing I could tell him it is that he HAS to take this epic train ride. If you are a train aficionado this is the Holy Grail. If you are a train aficionado you can't die without doing this trip. Period.
* El Chepe is officially known as the Ferrocarril Chihuahua al Pacífico (Chihuahua-Pacific Railway).
---
---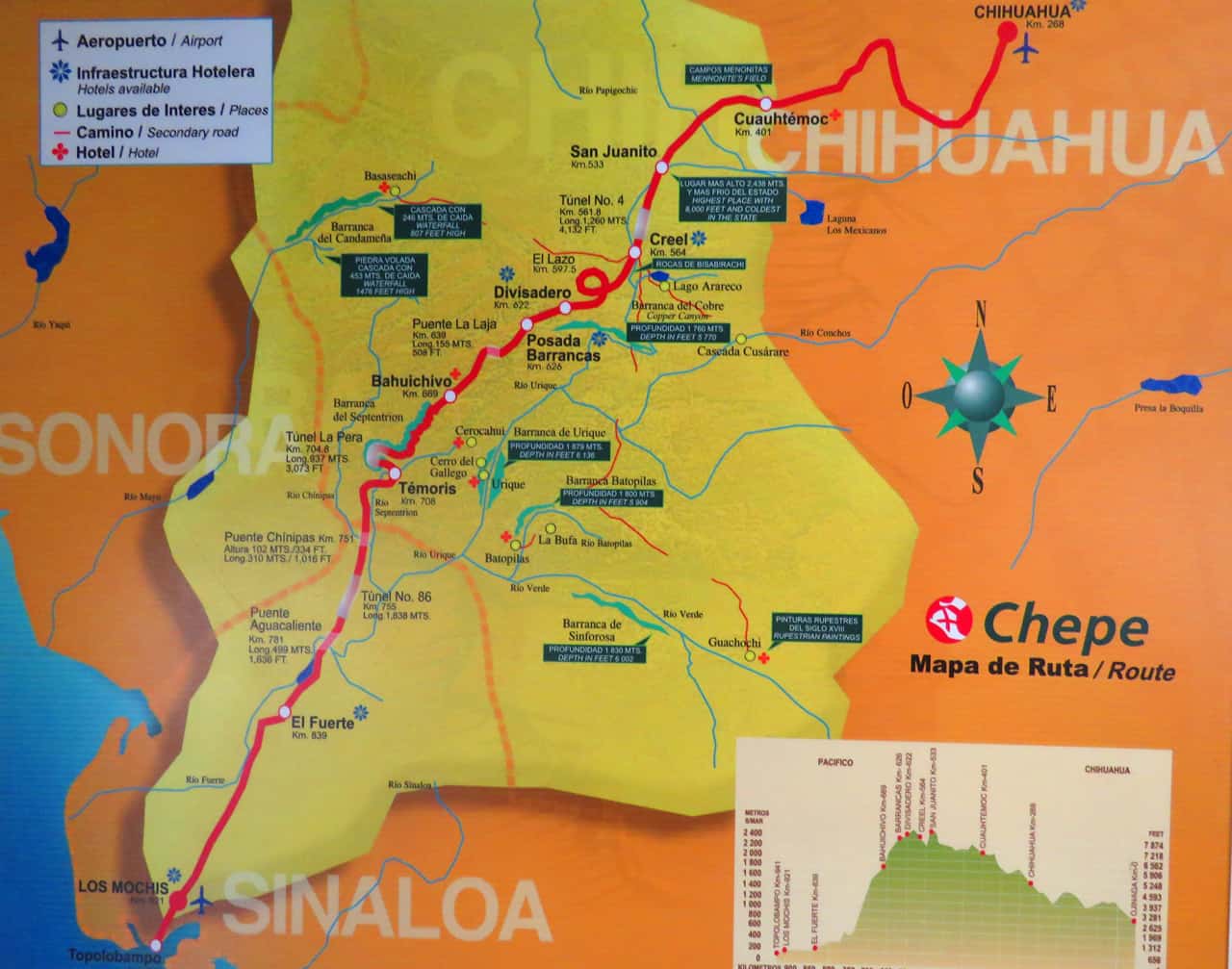 I'm not a train oficianado but doing El Chepe ended up being an incredible journey on so many levels. Through some of it I viewed it as a traveller/tourist. But at a certain point I started to view it from a different perspective and came to the realization of what an incredible undertaking and achievement this rail line is. And having worked in the transportation industry (with Pat) I wish that I had taken this trip 20 years ago. I think it would have given me a much greater appreciation of what I did. It is one thing to work in an industry, it is another to understand the history and logistics that formed the basis of how things – even today – are transported on this continent.
I also have to give a huge thanks to Paul who I met on the train. I'll talk about him further below.
Anyway, this is a travel blog and I don't want to bore all of you. I'll start with the notes that I took along the 16 hour route. Just a reminder – I went from Chihuahua to Los Mochis. Most of the highlights were towards the end – keep that in mind if you're doing it from the opposite direction.
Note: I've seen blogs that write about having to buy first class tickets and having to buy your tickets online 72 hours before etc etc. Ignore all that. Firstly: don't buy First Class, get economy. It's the same thing except for the dining carriage. You're just wasting money. You do however have to watch out for the schedule because while First class is every day, the train only has economy carriages 3 times/week. Secondly: Unless you're travelling during Mexican holidays, don't worry about pre-buying your tickets. I bought all my tickets either the same day I was travelling or on the train itself (and that was true for first class tickets as well). It's really not as complicated as some people make it out to be. In fact it's really easy.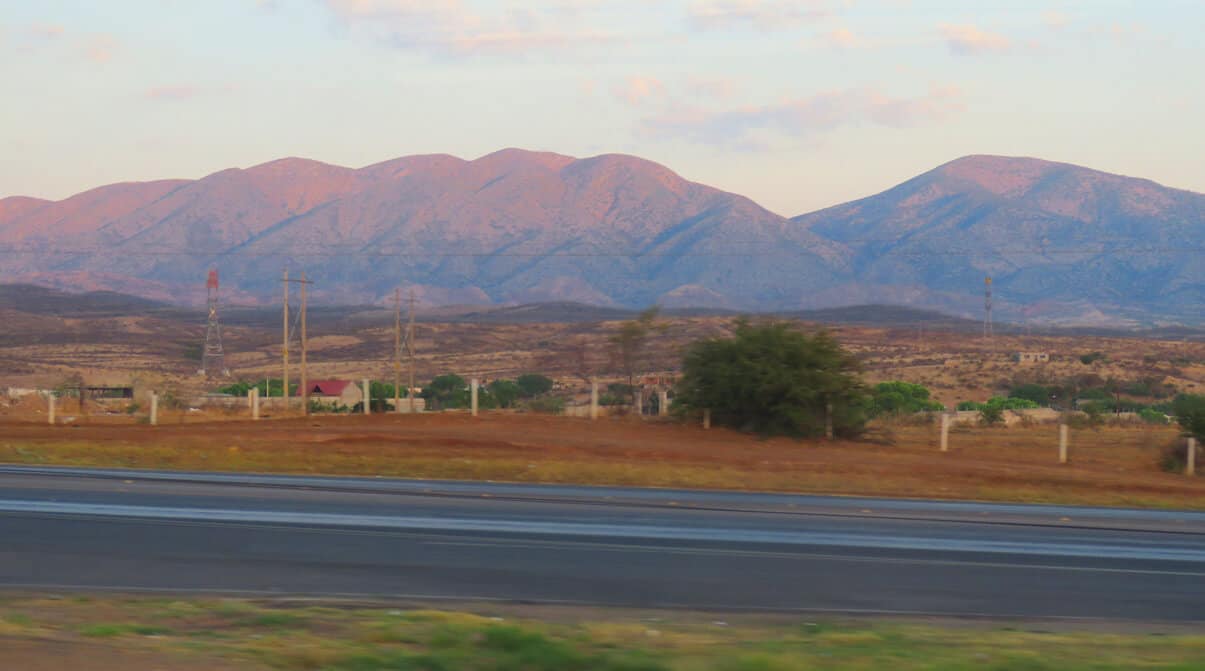 ---
---
Here are some notes taken "live" on the trip.


First Part – Chihuahua to Creel (6 hours)
Before you continue: Why Chihuahua makes for an interesting Visit
Departure from Chihuahua is at 6 am and I arrive at the station at 5:15 to buy my ticket – no problem, it takes 5 minutes. At around 5:30 they start allowing people to board starting with first class passengers and then with economy. When boarding the carriage we are all assigned seats. It's mid-June and the carriage is about a quarter full as we are about to leave Chihuahua.
Cost: Chihuahua to Creel in economy, 800 Pesos (that's about $45 US, or $57 CAD these days)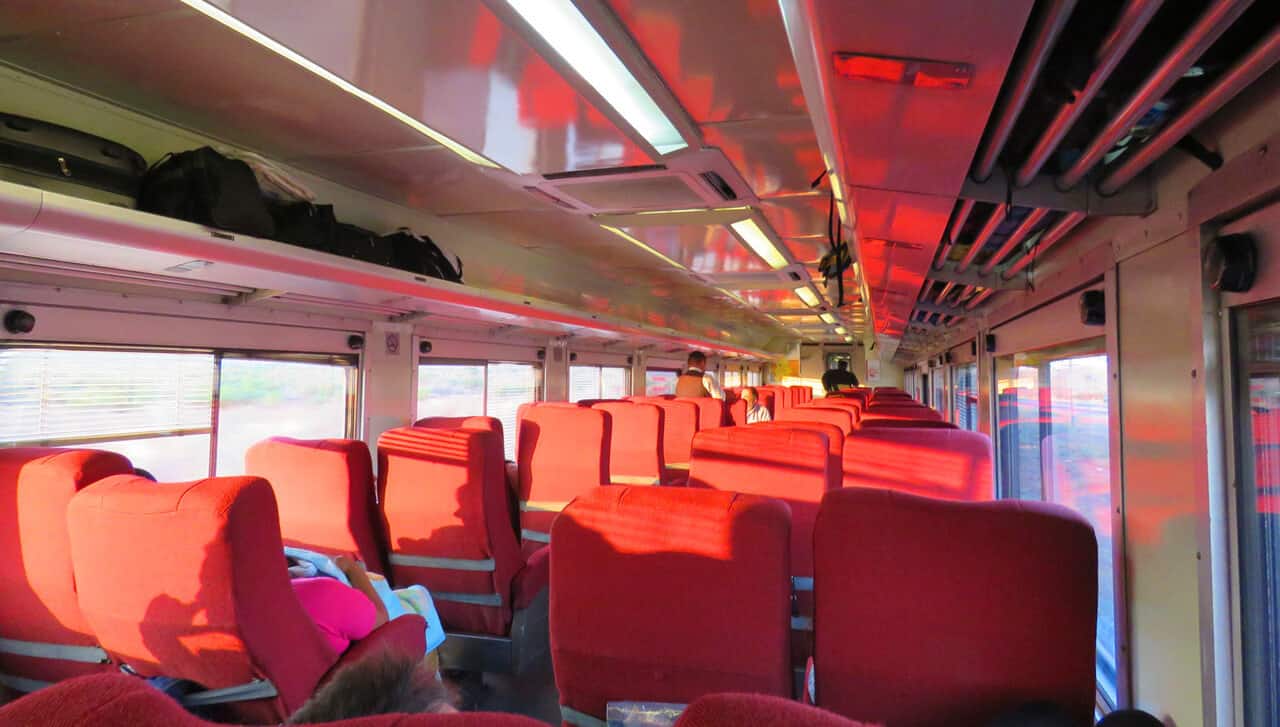 At 6 am on the dot we pull out of the station, just as light is starting to show outside. The train moves slowly as it goes through the city, then, after about 20 minutes starts to speed up (El Chepe never really goes that fast though).
The first 2 hours are actually my favorite of this 6 hour ride. I love the desert geography (which I described when writing about Chihuahua) and it is especially pretty under the rising sun. Looking out the window I actually see some wildlife: a couple of rabbits, a deer, even a coyote. That's not counting all the horses, cows, and dogs seen along the way.
After about 2 hours the land gets more cultivated and you see huge, professional farms. This is Menonite country I'm told. At a certain point we get to a huge lake which for a while looks like a mirage in the distance until it clearly becomes a lake.
We continue on, the geography once again looking dryer, more rugged. We stop at a few very poor-looking communities where Tarahumara Indians climb on board, the women in their colourful dresses, most with a little kid tied on their back.
We continue on and it doesn't take long before the geography changes again. This is hilly terrain covered by pine trees. It actually reminds me of much of Canada. The geography stays the same for the remainder of this first part of the trip. Lots of hills, a few bridges over streams, and lots and lots of pine trees.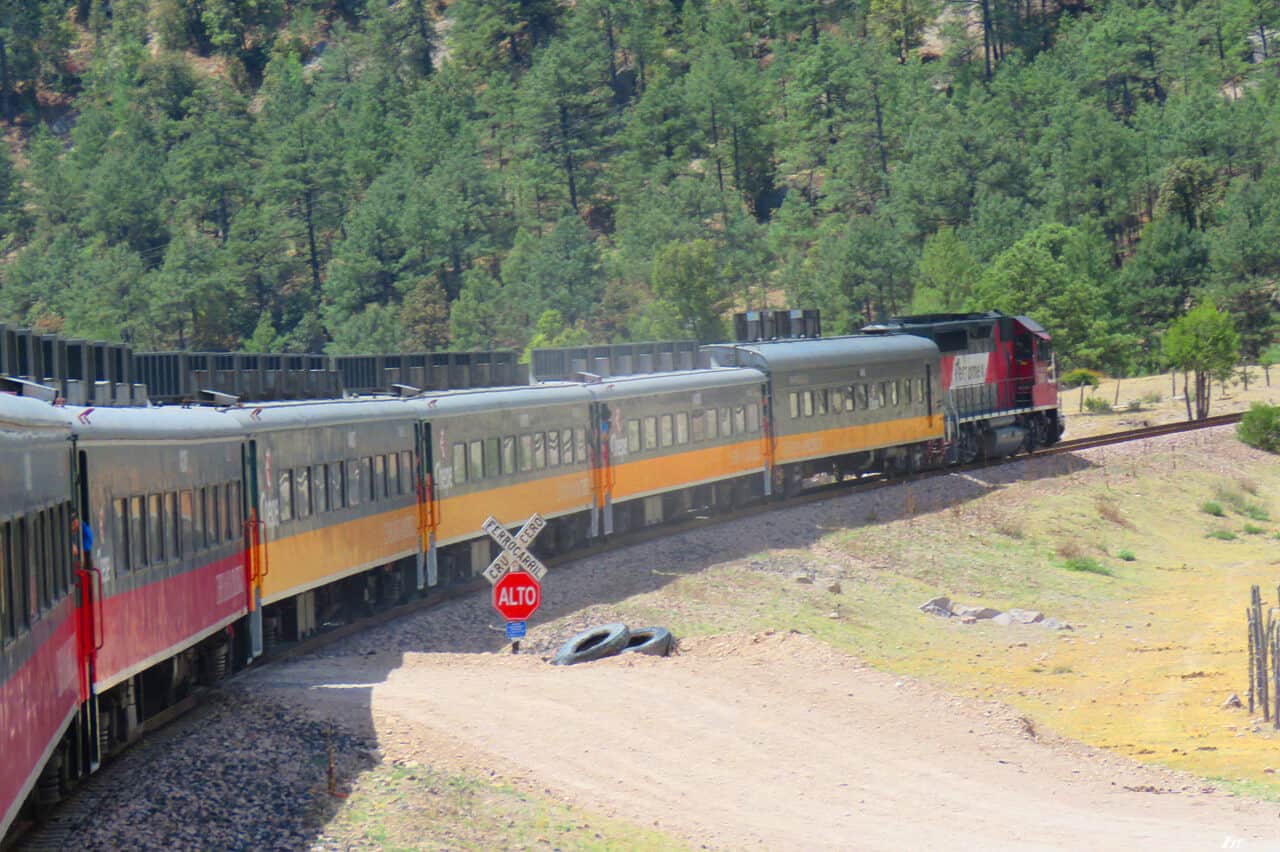 It is nearing noon when we start passing through a tunnel. At this point we are told to prepare to disembark at Creel.
Creel is on the other side of that tunnel and we disembark to lots of people: some other tourists waiting to climb on board, others locals with rooms to rent or tours to offer.
Creel would be a stop for 2 days.
---
---
2nd Part – Creel to Divisadero (2 hours)
The train comes right on time (11:45 am) and everyone hops on board. Forget about trying to get information or buying tickets at the Creel train station. They're pretty useless and I'm not sure why they bother having a station and employees at all. As I find out, you buy your tickets on board the train from the carriage attendant. I have to say that the El Chepe staff is fantastic: friendly, professional (with nice suits), and ready to answer all your questions.
Cost: Creel to Divisadero in economy, 325 Pesos (About $18 US, $23 CAD)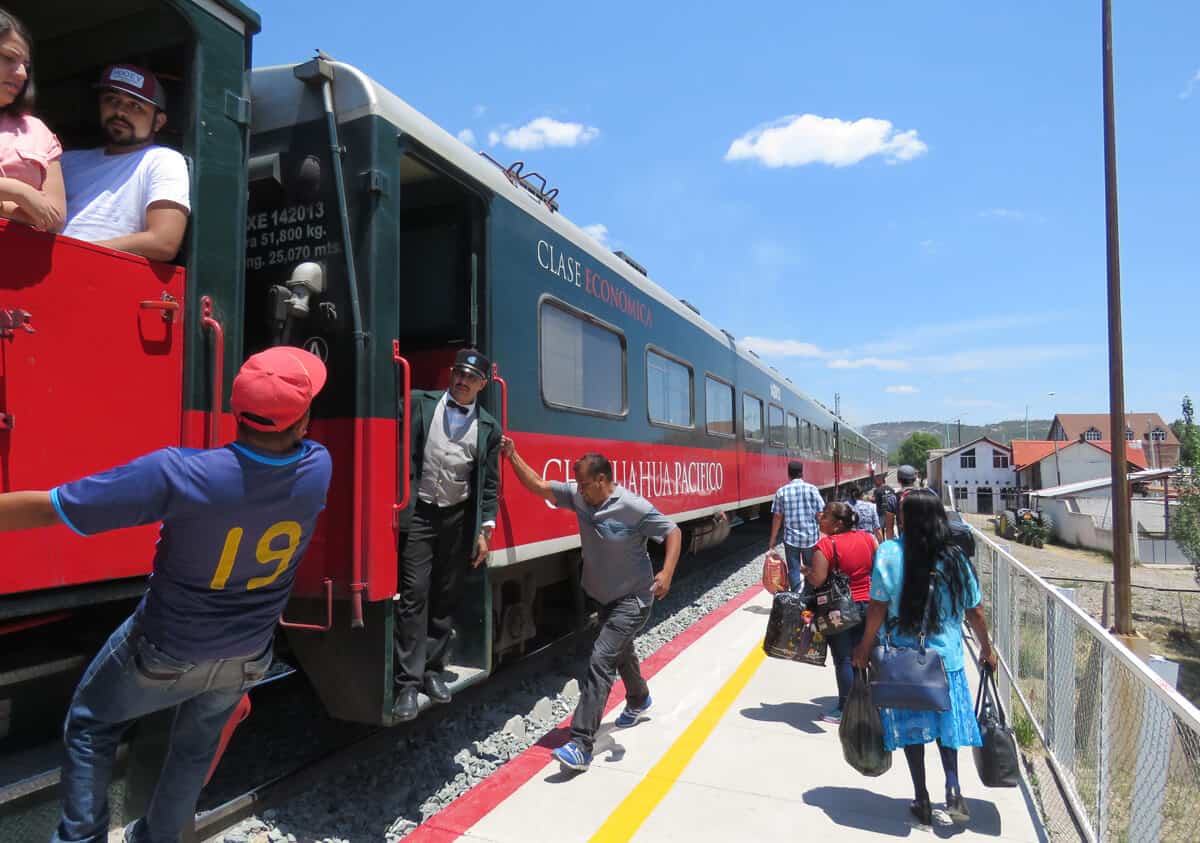 .
The ride is a continuation of the same: lots of hills covered with lots of pine trees. But about 45 minutes into the trip the hills become a lot more rugged and the valleys deeper. We are still not in the canyon but it is getting more interesting…and then we arrive in Divisadero. You can't see that view from the train but when you disembark (and all trains stop here for 20 minutes) you walk through a bunch of vendor stall and then suddenly WOW. You're looking at that view. It's pretty stupendous. Divisadero is on the continental divide between East and West.
Lucky for me I'm not getting back on the train today. I've got an overnight stay in Divisadero at Hotel Divisadero Barrancas. Best decision I've made and if you can book a night there do it!
---
---
.
.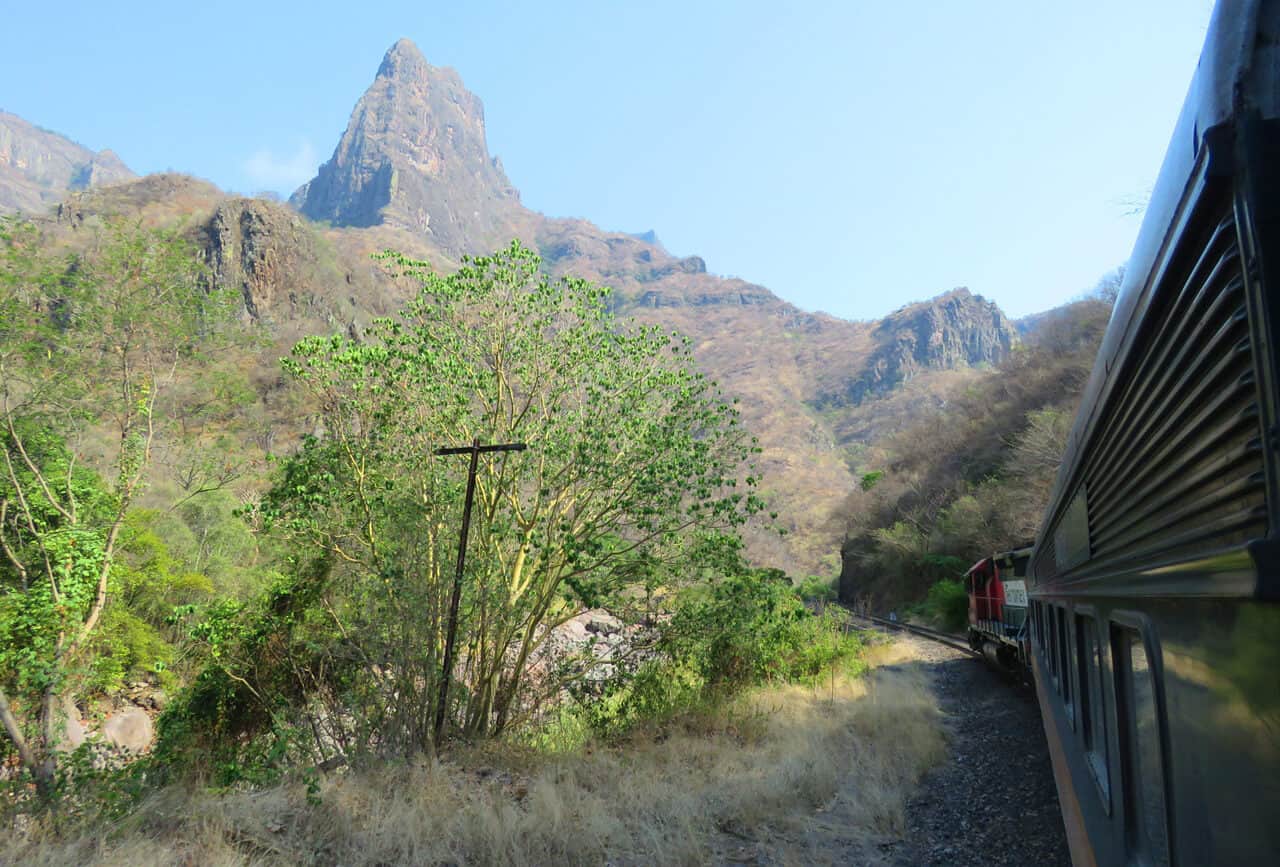 3rd Part – Divisadero to Los Mochis (8 hours)
For this last leg I have to take first class because there is no economy option on this day (no economy carriages on Fridays). Really there is no difference between First Class and Economy except for a nice dining carriage where you can sit and order a full (and overpriced) meal. The economy train only has a snack bar carriage. Obviously also, first class tickets are more expensive and you won't be seeing the local Tarahumara getting on board. This is strictly a tourist train.
Cost: Divisadero to Los Mochis in first class, 1365 Pesos (about $75 US, or $100 CAD)
(it would have cost about 800 Pesos in economy)
The first few hours of the train ride are the same: hills and pine trees. Somewhere after the small town of Bahuichivo I decide to go to the dining cart and have a beer. That's where I meet Nina (who I had ziplined with early that day) and her husband Paul. One of the first things he says is "I think I've seen enough pine trees". I'm in agreement. I've been thinking that the trip has been a bit underwhelming so far. He invites me to have a beer and I end up sitting with him about 2 hours. He's a really interesting guy.
Paul is from Texas (the Marfa area) and has for years worked in politics, primarily working with US/Mexican officials in streamlining "ports of entry" along the border (they're called "ports" of entry even if an overland route). He cites a 10/1 efficiency ratio comparing the US/Canada border to the Mexico/US border, all having to do with American paranoia over immigration/terrorism. So he's on this ride out of both personal and professional curiosity.
A few interesting things he tells me:
– The concept of this railroad was to connect the Central US to the Pacific Coast. The Mexican portion of the line actually runs from Ojinaga (on the US/Mexico border) to Los Mochis. So although El Chepe runs from Chihuahua the rest of the line extends further north to the border. It was only because the American portion of the line failed (due to internal competition among American rail companies) that the line never succeeded in becoming became a major trade route linking the Central US to the Mexican Pacific coast.
– Los Mochis (or its port of Topolobampo) was envisioned as a new socialist colony by the founder of the railroad Albert Kinsey Owen who was a member of a Utopia Socialist colony in Indiana. This was part of the initial motivation for the railroad. That didn't work out, after a few years many of those settlers ended up going back home.
– It took 6o years to build this railroad, with different companies quitting and others picking it up until it was finally completed in 1961 (additional reading tells me that the 673 km route has 37 bridges and 86 tunnels).
We are busy talking when I look out to the most incredible scenery. We are in a river valley looking up at towering cliffs, the train riding a narrow ridge while ducking through tunnels and over bridges. At this point I leave Paul to take some photos: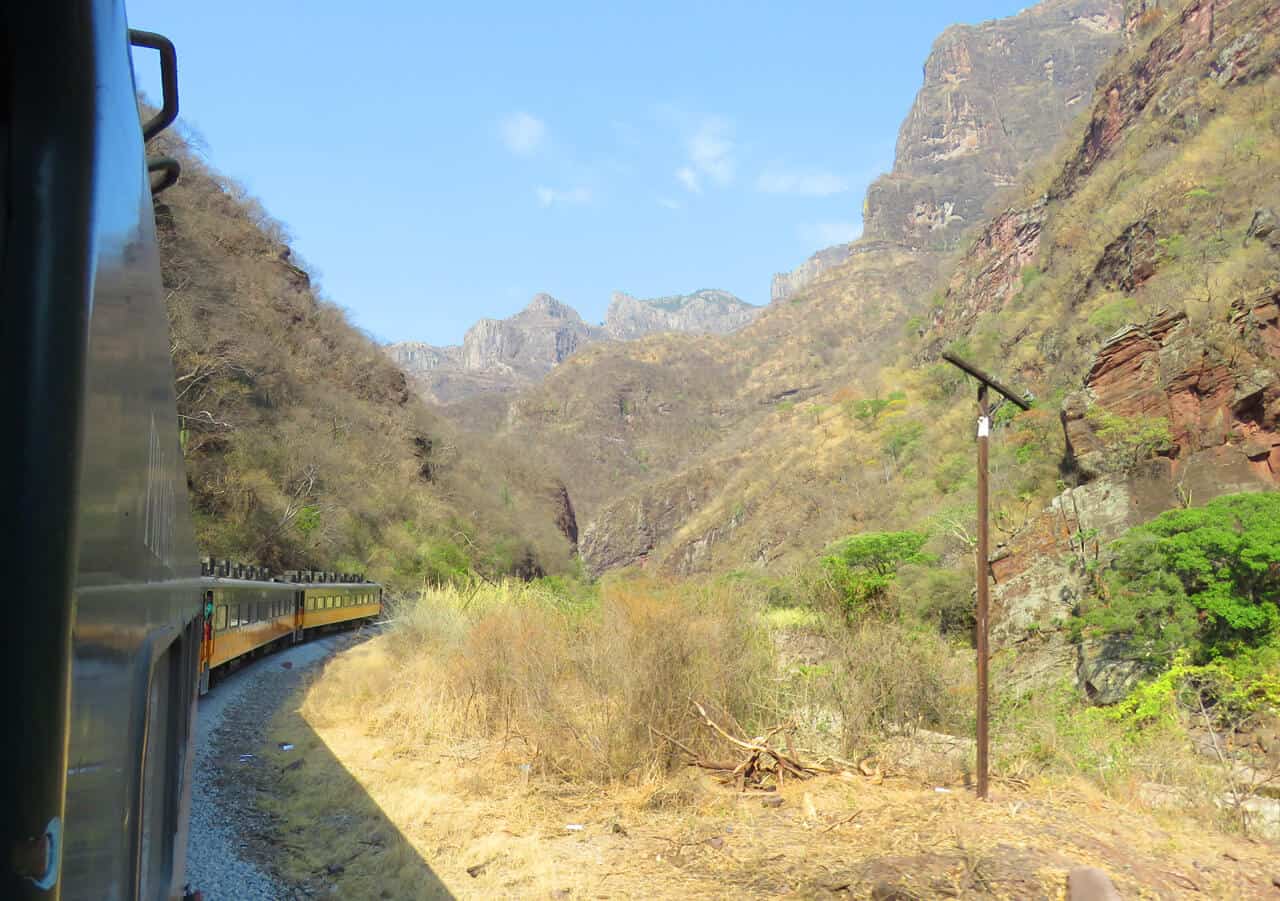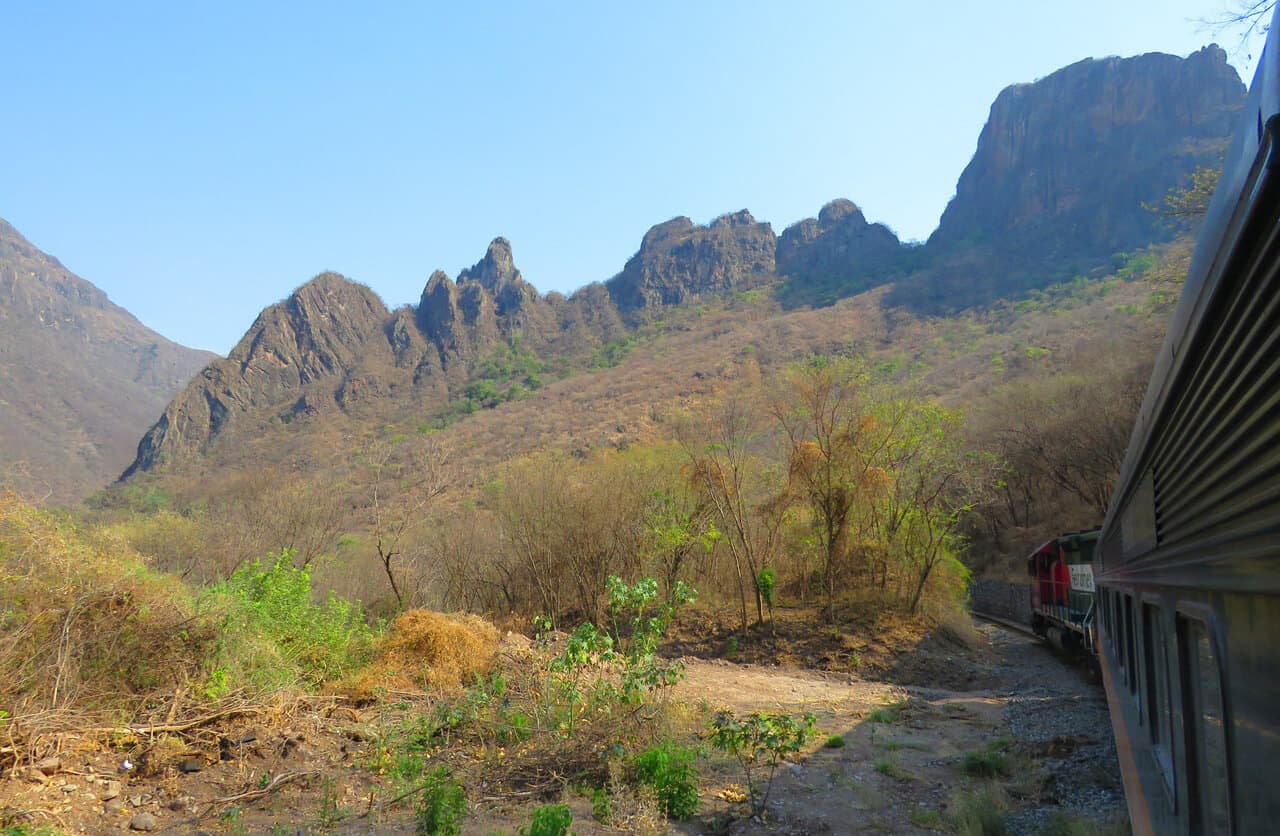 ---
---
We ride through this canyon (Septentrion canyon) for several hours. Cliffs rise up to the sky like highrises. It continues on and on: cutting through tunnels and going over bridges while looking up at these huge cliffs and catching glimpses of the river running below us (it's dry season so there's not much water). It's some of the most dramatic geography I've ever seen. I'm reminded of the Twelve Apostles in Cape Town. We finally leave the river gorge, seeing a large mountain lake of amazingly blue water. We go over the Chinipas bridge, the views over the lake and mountains beyond incredible.
---
---
The geography changes, the huge cliffs getting smaller. I see huge cactus in the fields and hills. We've just crossed from Chihuahua state to Sinaloa state.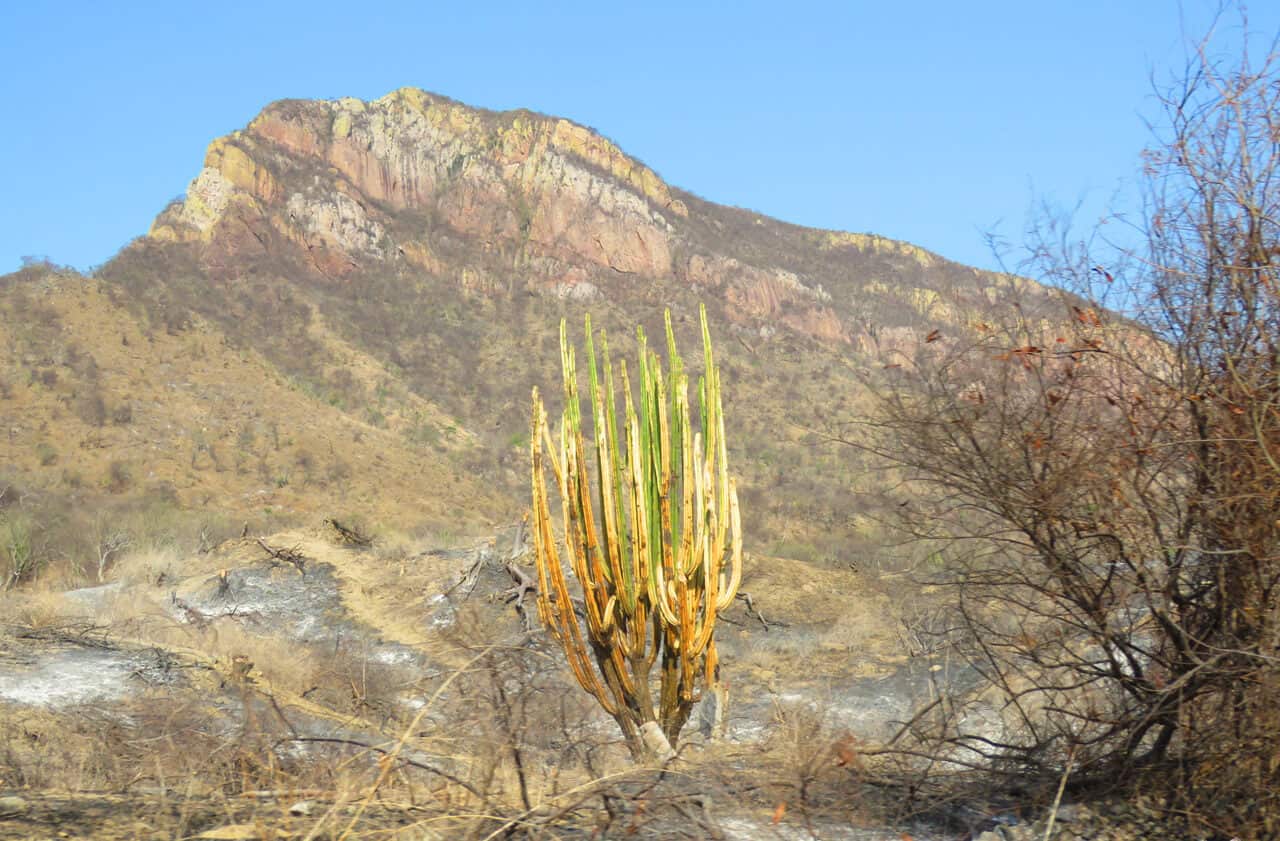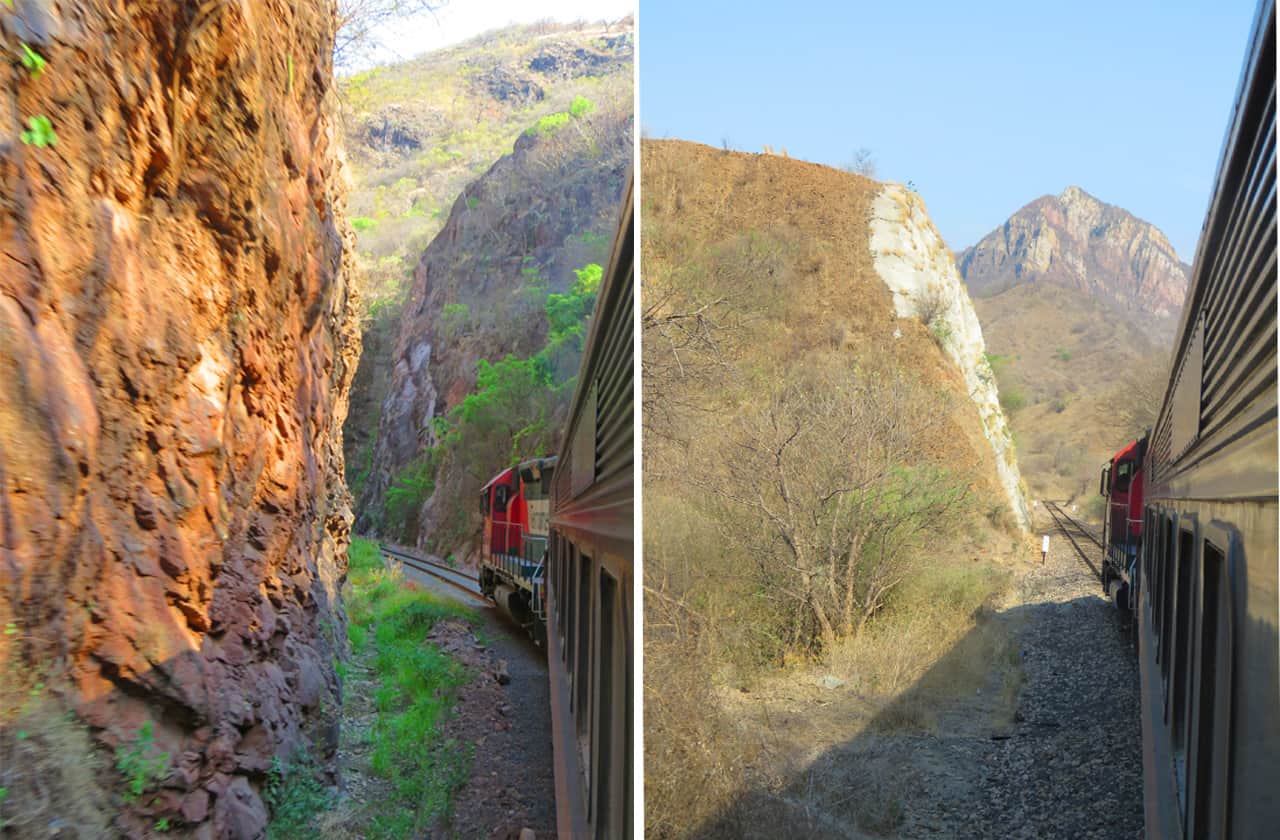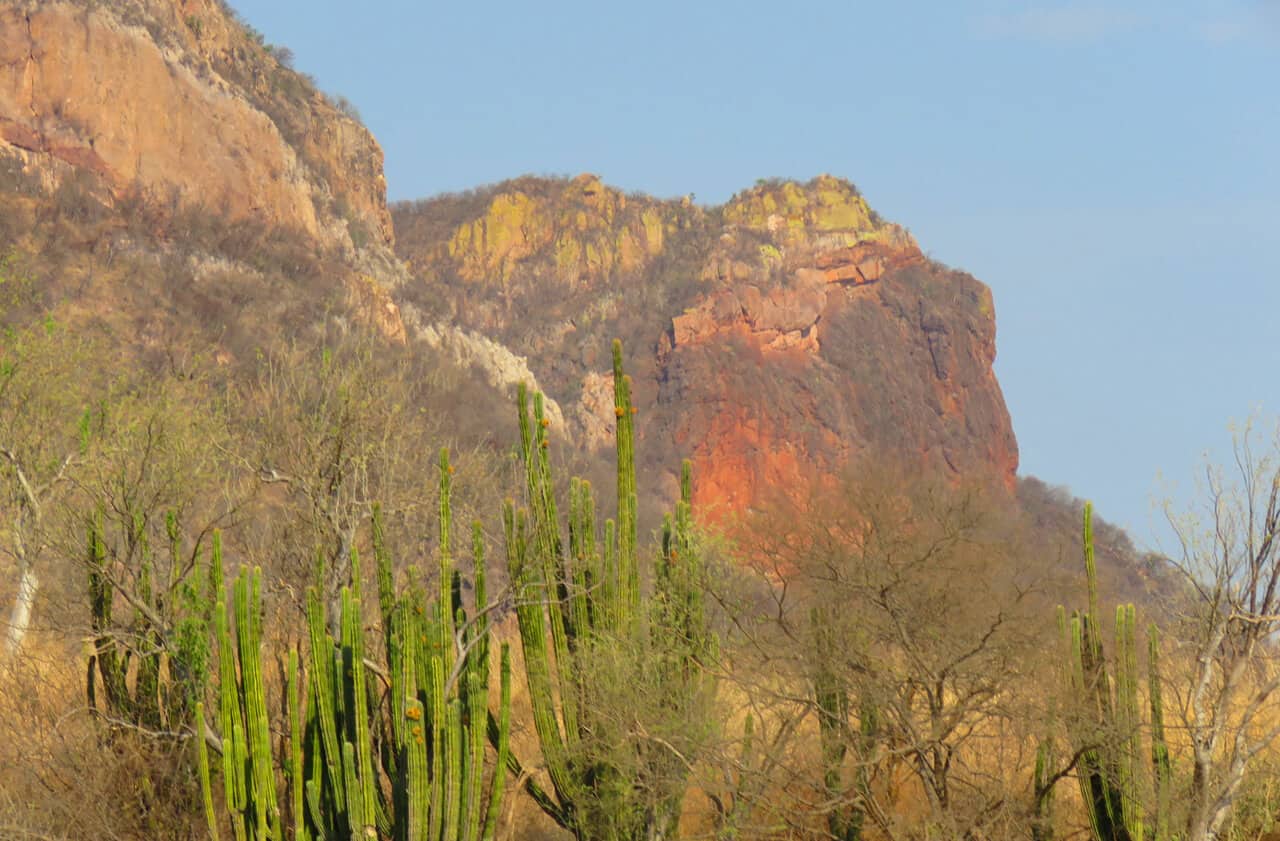 By the time we arrive at El Fuerte the geography is flat. Mountains are seen in the distance.
From El Fuerte it is 82 km, or another 2 hours, to Los Mochis. The geography is totally flat and we see the first palm trees (by the time we get to Los Mochis they are everywhere). The air is stiflingly hot.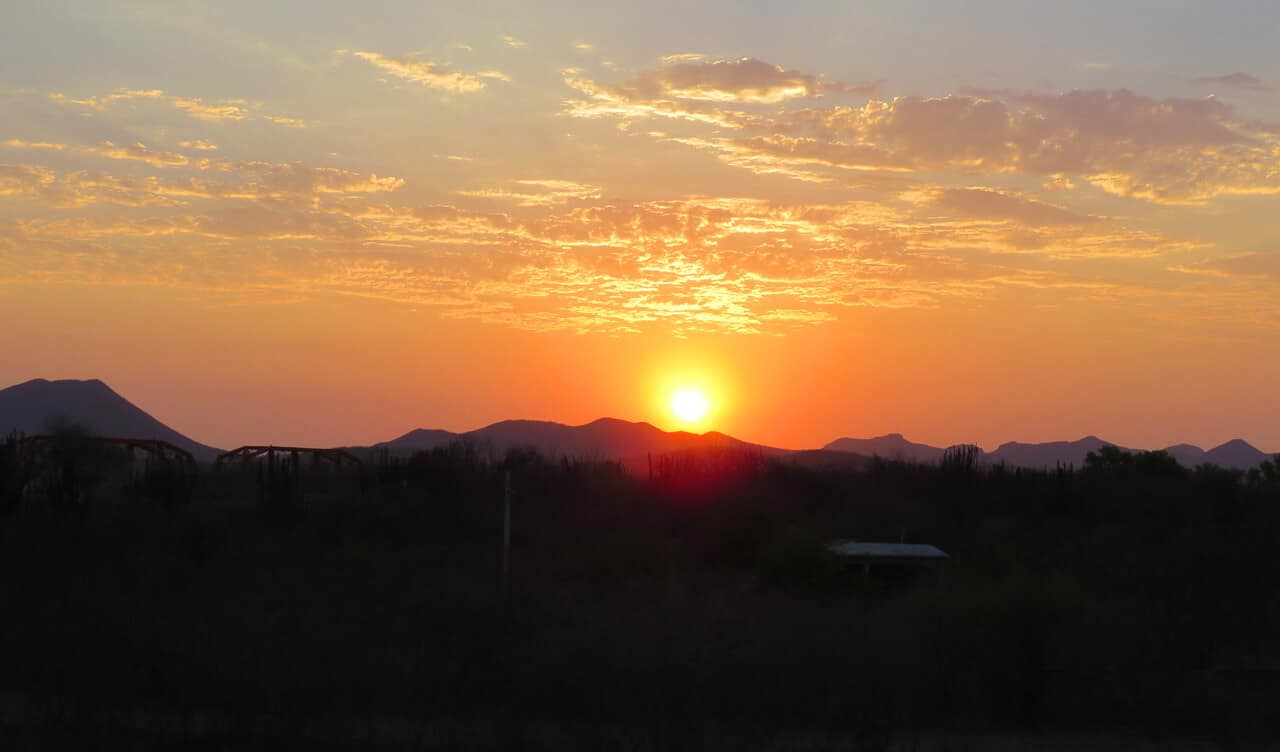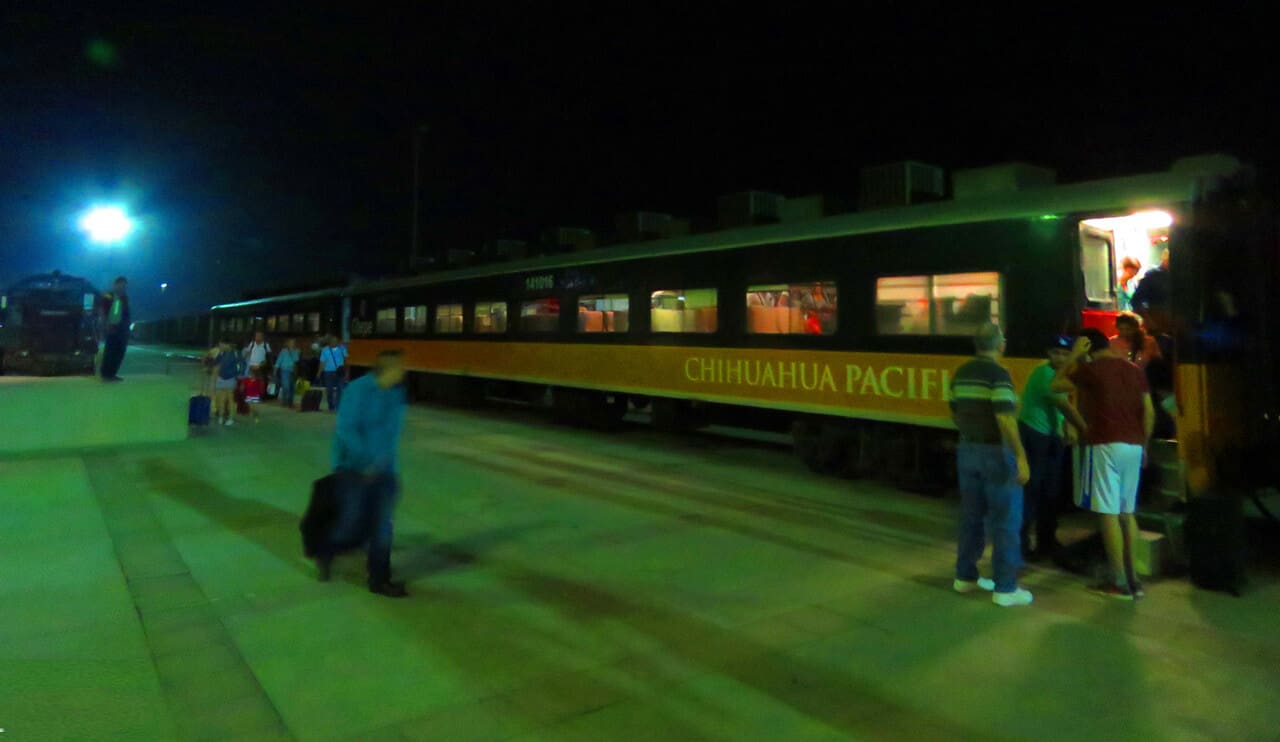 It is 9 pm when El Chepe arrives in Los Mochis. I take a collective taxi (50 pesos each) to the Fenix Hotel where I spend the night. The next day I try to go out for a walk but it is 9 am and already 30C (a heavy and humid 30C) and I'm ruining my last clean shirt. I decide to go back to my air conditioned room. At noon I'm at the airport where I get on a plane to Guadelajara.
Need a hotel in Los Mochis? I stayed at the Fenix Hotel – standard hotel but excellent value.
---
---

This wasn't so much a trip as a journey. A journey that traversed through almost half of northern Mexico and multiple geographic zones – from desert, to semi-arid, to pine forests, through incredible mountain ranges and then finishing through green flat fields and palm trees. When I was young I remembered watching Michael Palin's Around the World in 80 Days where he travelled the world without planes, instead crossing every inch on the ground by rail, boat or bus. I wanted to do that. For me that was travel was about. This trip was a mini version of that.
The journey left me in awe of the people who built this railroad with a vision of creating a transportation route linking Central Northern Mexico (and by extension Eastern Texas) to the Pacific Coast. It's one thing to read about it but another thing entirely to actually travel through this landscape and realize the incredible challenges these explorers/engineers faced. The result it this amazing train ride through one of the most incredible geographic regions I've seen.
The other thing I'll always remember are the very nice people I met along the way. My biggest surprise: I saw very few Western travellers. Most travellers were Mexicans discovering their own country. They were incredibly welcoming. Mexicans I think are among the most welcoming people anywhere. Also: because there is one train every day going the same direction, you tend to run into the same people on your trip. For example: I met 2 Mexican couples in Creel who I spoke to a lot. We left on the same day, I got off in Divisadero, they went on to Bahuichivo. The next day when going to Los Mochis they ended up getting on the same train in Bahuichivo. In fact, by the last leg of the trip I ended up talking to 4 different groups of people that I had previously met in different places along the way. So the people I met also made this journey something I'll never forget.
Riding El Chepe really was what travel is all about. A fantastic journey through some incredible geography. And, because this is Mexico, it isn't teeming with tourists and still feels undiscovered. It's one of the best travel experiences I've had.
So Pat, if you're reading this: if there is any trip you should do it's this. I know how much you would love it.
(PS. Don't read this the wrong way. You're still a dick).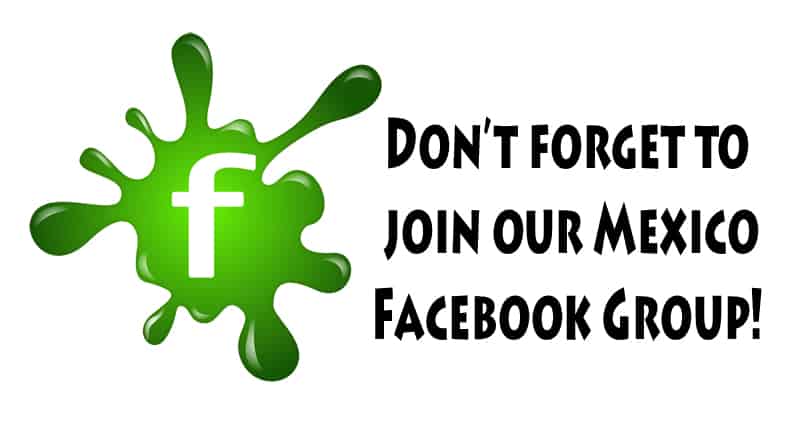 Ps. If you find our blog helpful, please consider using our links to book your flights, hotels, tours, and car rentals. Have a look at our Travel Resources page.