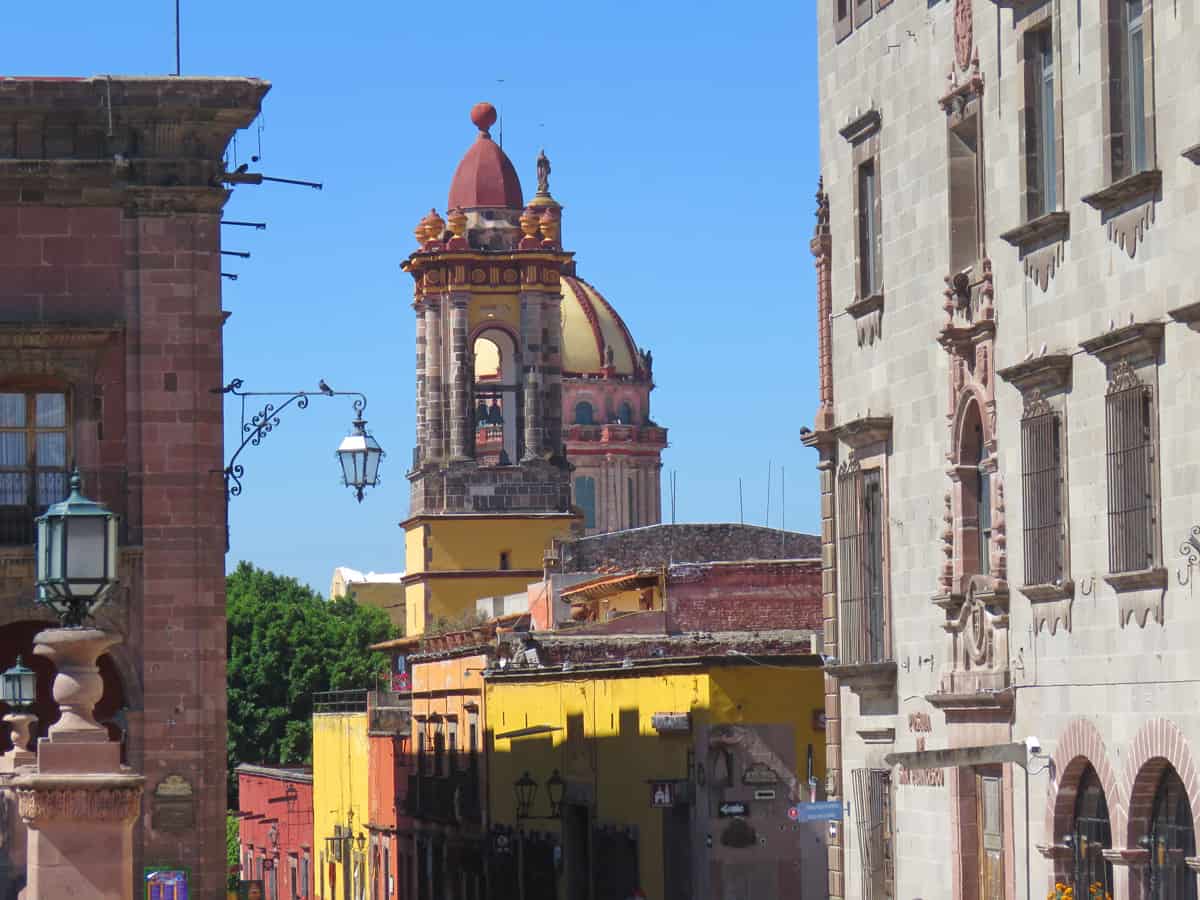 San Miguel de Allende is not only a UNESCO World Heritage site, it is one of the most photogenic places in Mexico. It's a place where you can spend hours walking the streets and hiking the hills. I love the historic buildings, vibrant colours, and the various viewpoints around the city.
This Do-It-Yourself walking tour is geared to those who want to see the visual highlights of San Miguel de Allende. I cover what I think are the most attractive spots, streets and views in San Miguel de Allende.
You can click on the map below to enlarge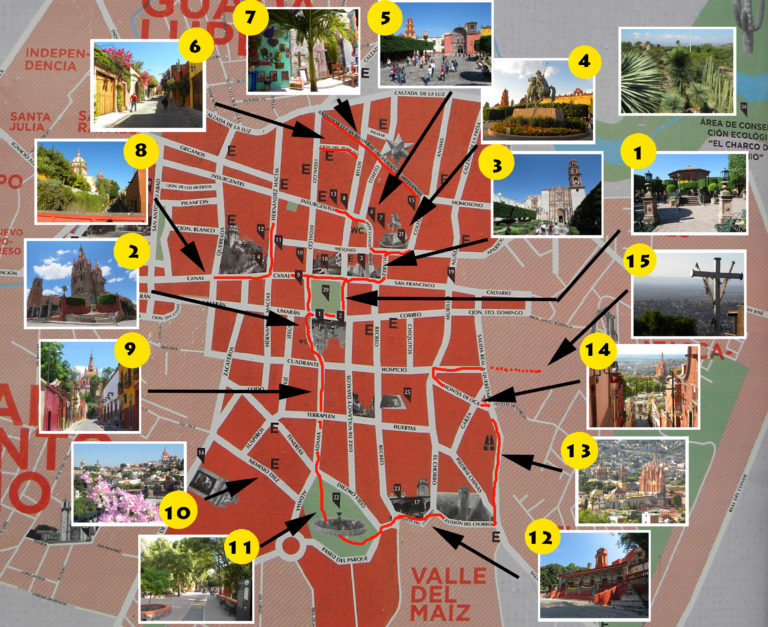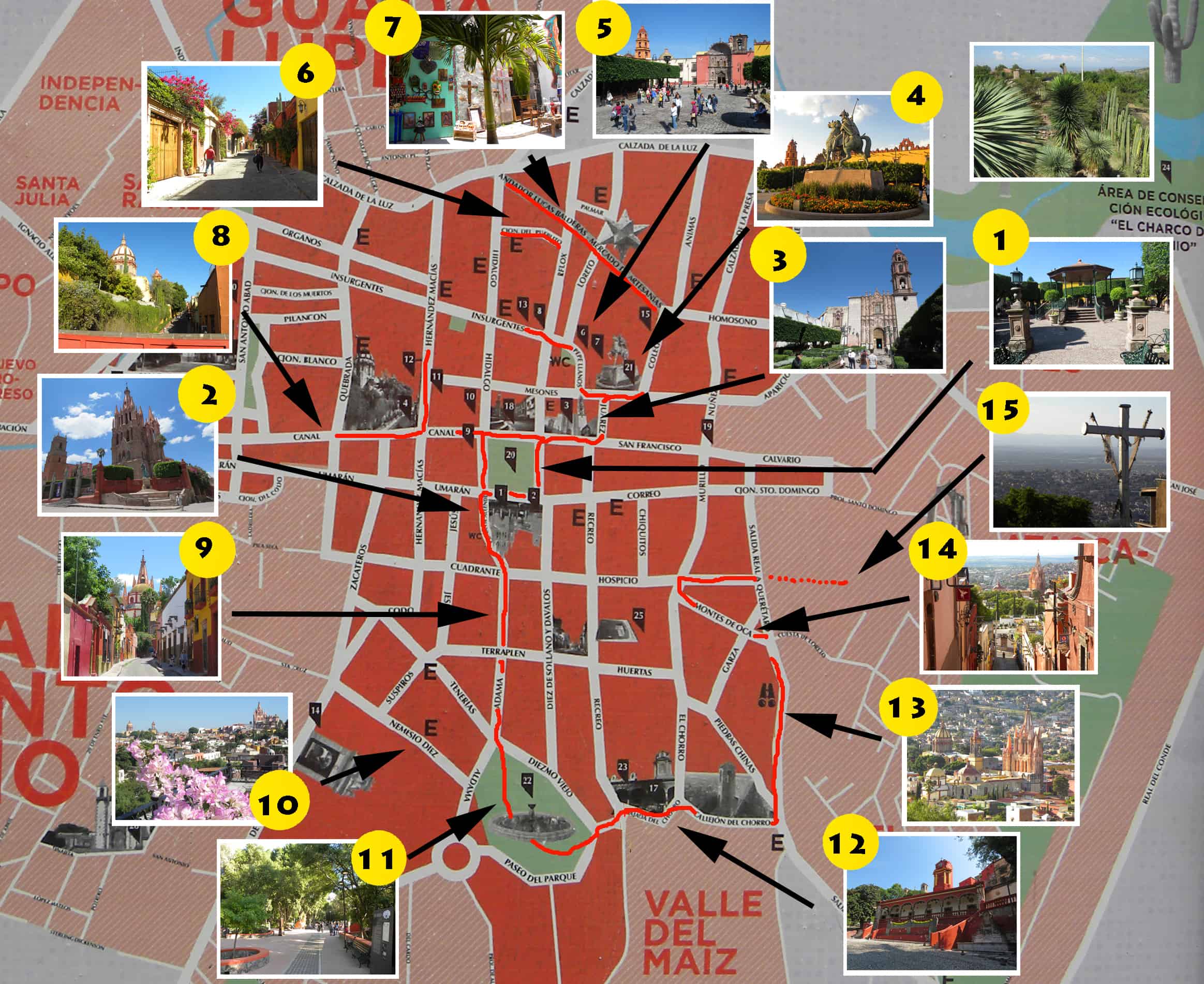 A walking tour of San Miguel starts at the main square, the Jardin
. It's a pretty square full of trees and surrounded by some of the city's most attractive buildings including the church – La Parroquia de San Miguel Arcángel

. It is one of Mexico's most photographed buildings. The interior of the church was built in the early 1700's. But what makes the church stand out is the neo-gothic pink façade which was added to the church in the late 1800's. It's the symbol of the city, a building visible from almost every part of San Miguel.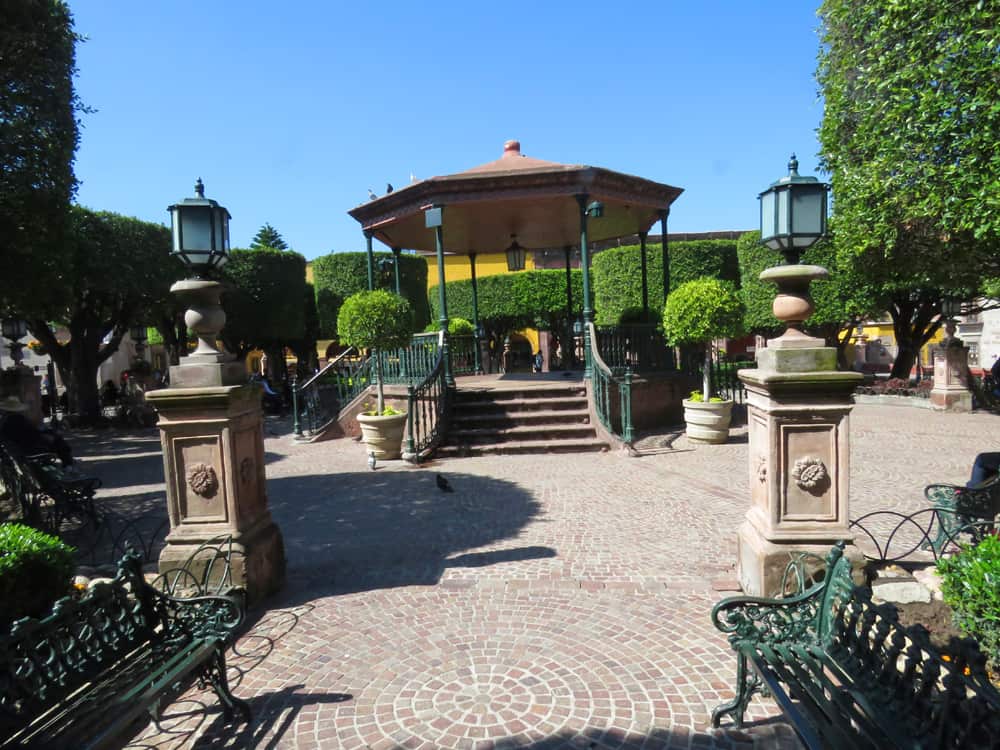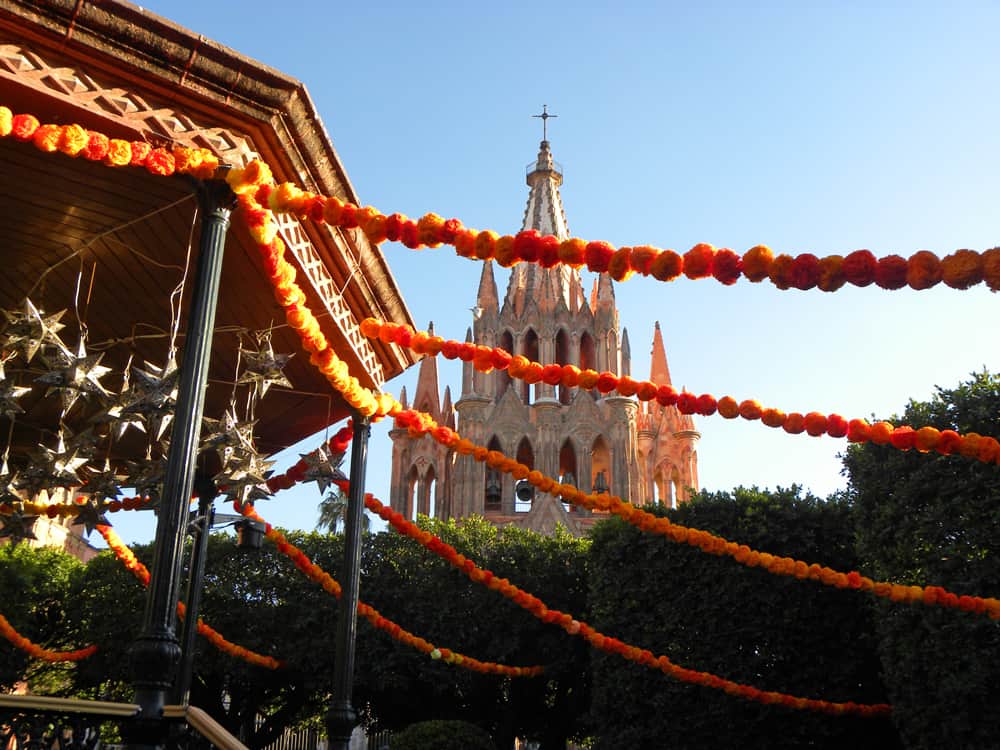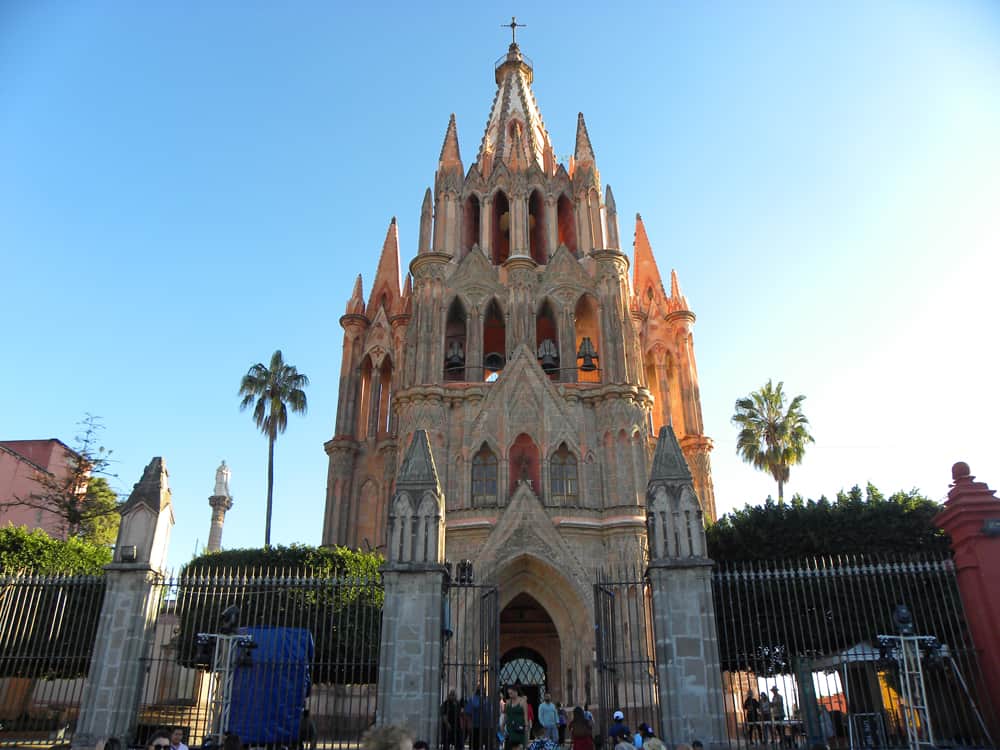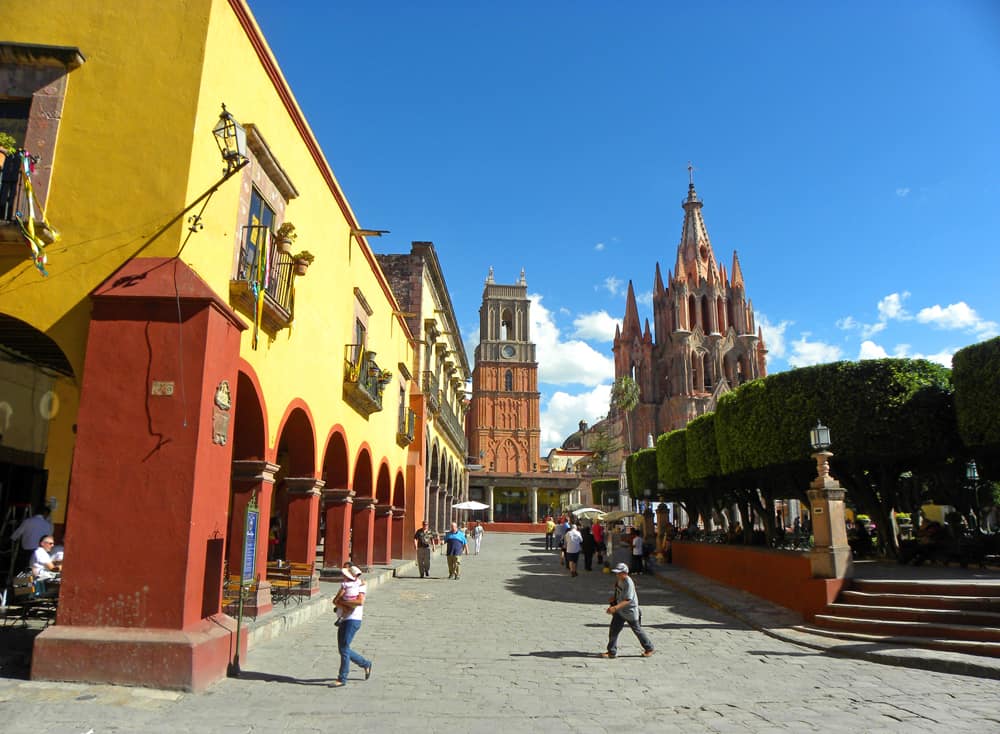 ---
---
When you've explored the Jardin and the buildings around it (all beautiful – including the Starbucks which might be one of the nicest Starbucks locations anywhere), walk towards the Iglesia de San Francisco

. Built in the late 1700's by the Franciscans, it has a large but simple interior – the highlight is the exterior with its elaborate façade and tall tower.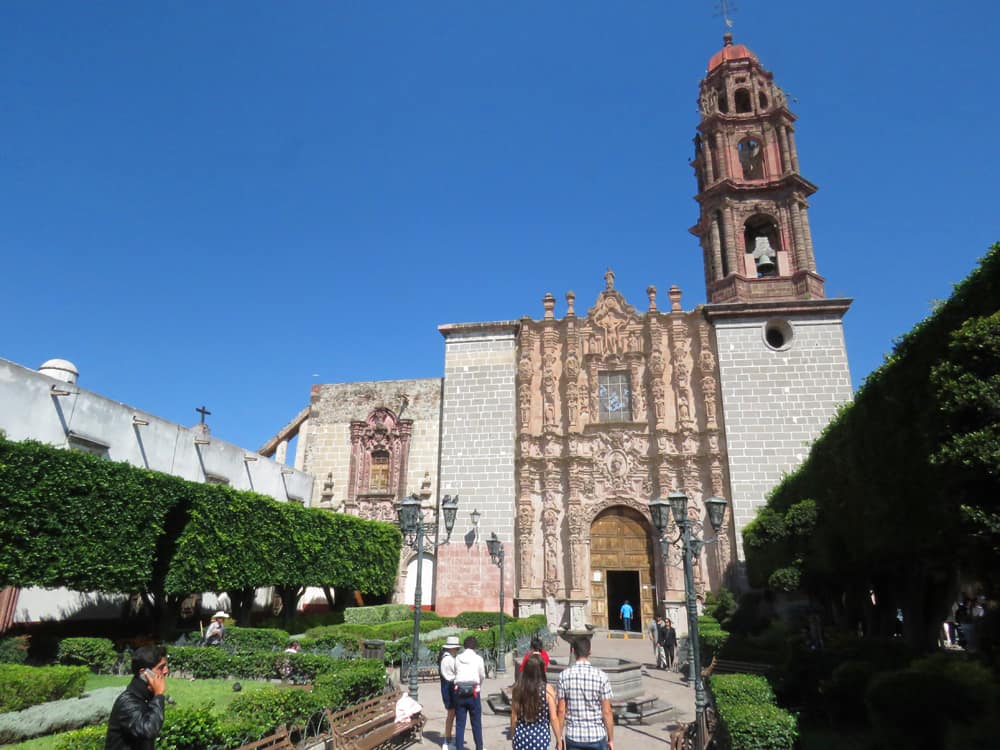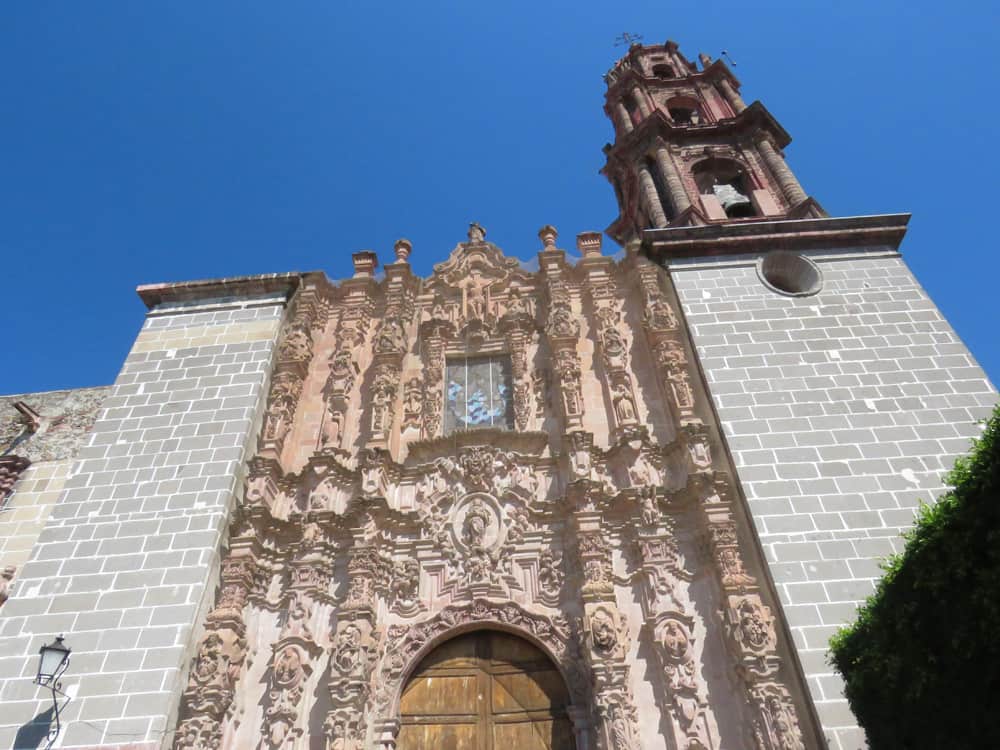 Continue around the Iglesia de San Francisco on Calle Juarez. It will take you to Plaza Civica

, one of San Miguel de Allende's main squares. You'll see the statue of Ignacio Allende (a soldier born in San Miguel who became a hero of the Mexican Independence movement in the early 1800's. The city was named after him).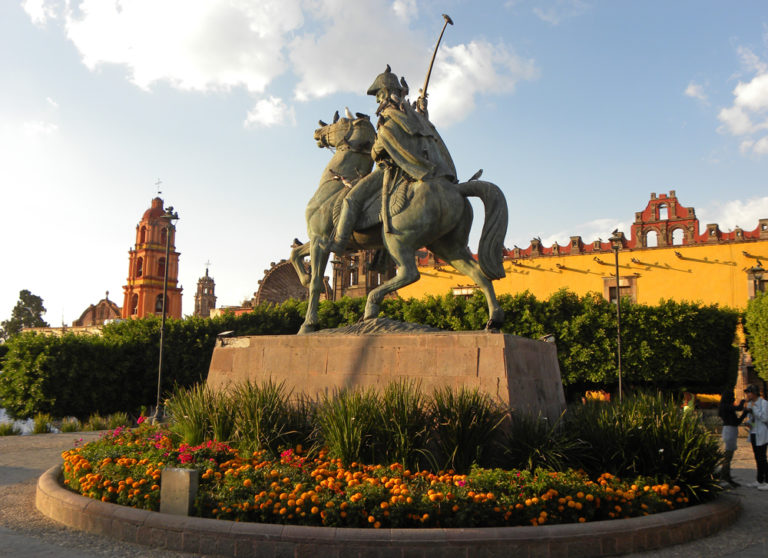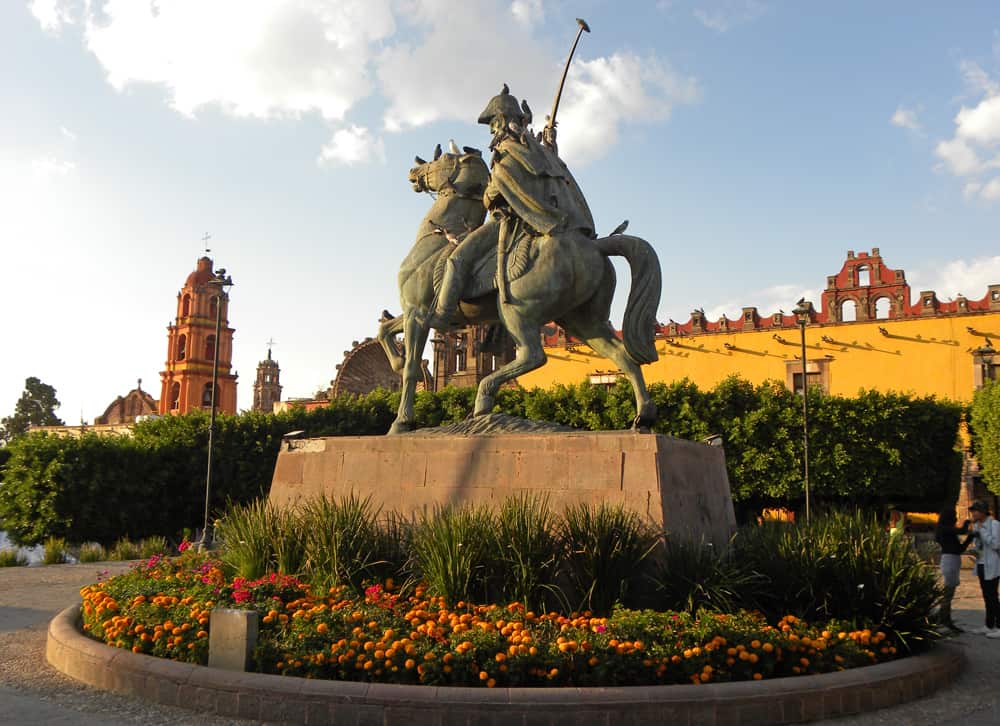 ---
---
This is a very picturesque part of downtown SMA with lots of squares and churches all worth exploring. You'll see the Templo de Nuestra Señora de la Salud
with its scalloped dome and the colourful Oratorio de San Felipe Neri. Make sure to visit both.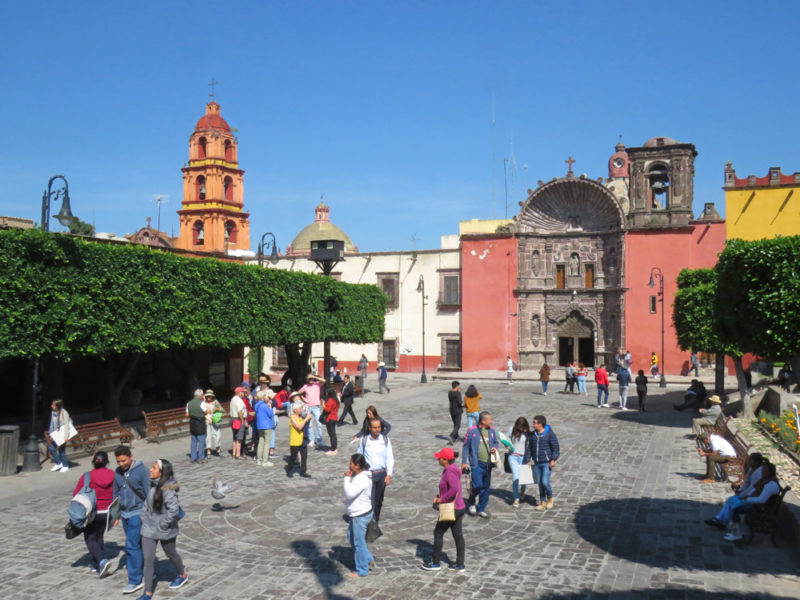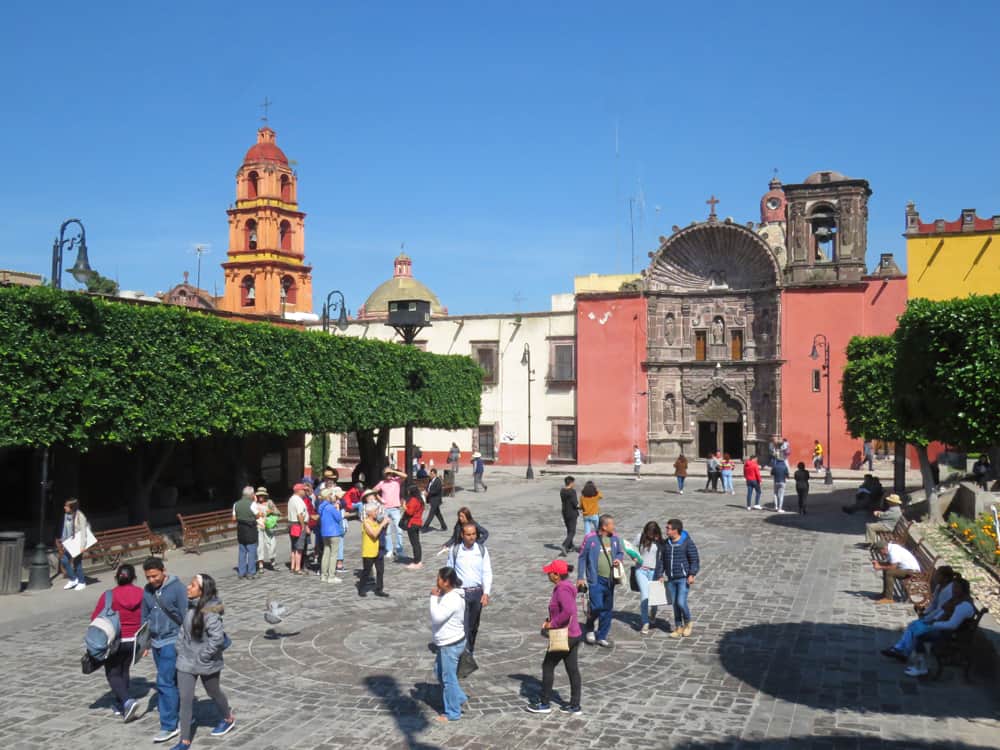 If you continue down about a block from Oratorio de San Felipe Neri you'll see a huge yellow/orange building – that's the Public Library. It's a gorgeous library and you should go inside. Besides a pretty courtyard, some impressive murals and lots of books, it has one of the best café's (where you can also have breakfast) in San Miguel.
See my post on the best cafés of San Miguel de Allende.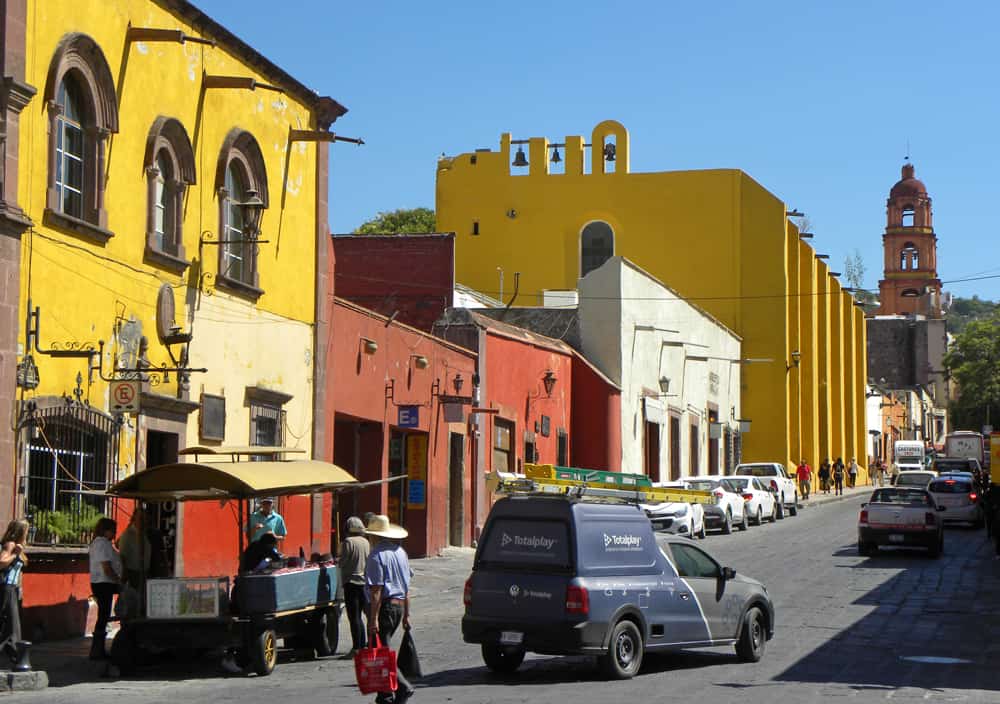 ---
---
Leaving the library, go down Calle Relox. You'll see a small street called Del Pueblito

. It's a pretty and peaceful street with homes and a few cafés lined by colourful bougainvillea. Continue until the end of the street and make a right on Hidalgo.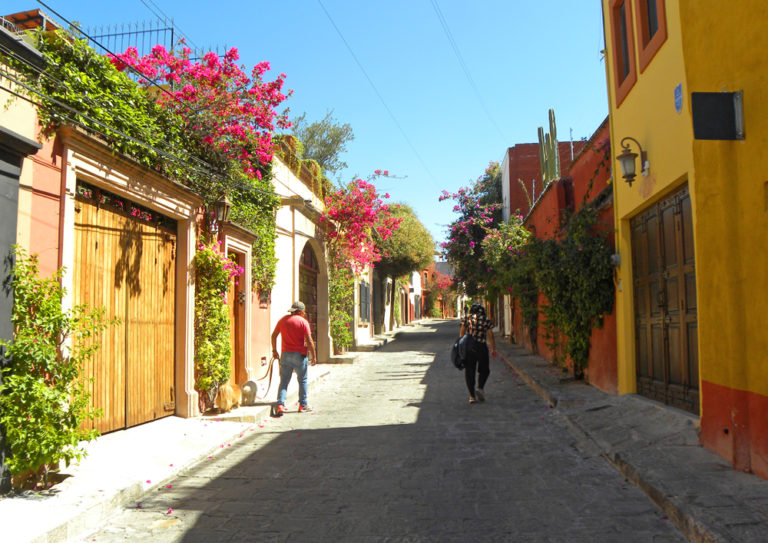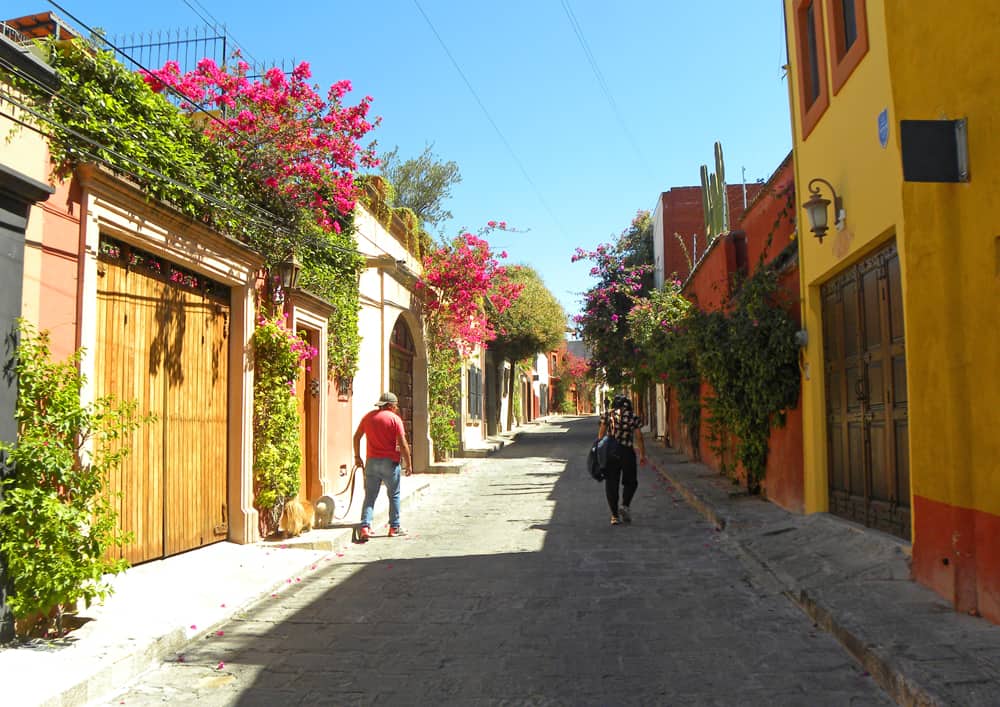 A block down, just before a busy intersection, is the beginning of San Miguel's Mercado de Artesanias
. Just keep an eye out for a mural on your right and a series of steps. The market is along a narrow pedestrian-only alley and is a fun place to see local art, carpets and tons of other types of souvenirs. I used to think that you wouldn't find deals in a touristy place like San Miguel but I've personally found most of the stuff in the market to be of good quality and value. If you like markets don't miss it.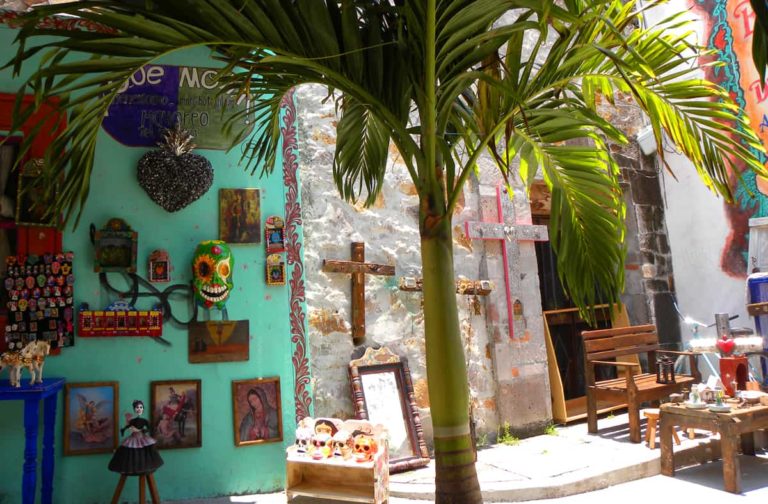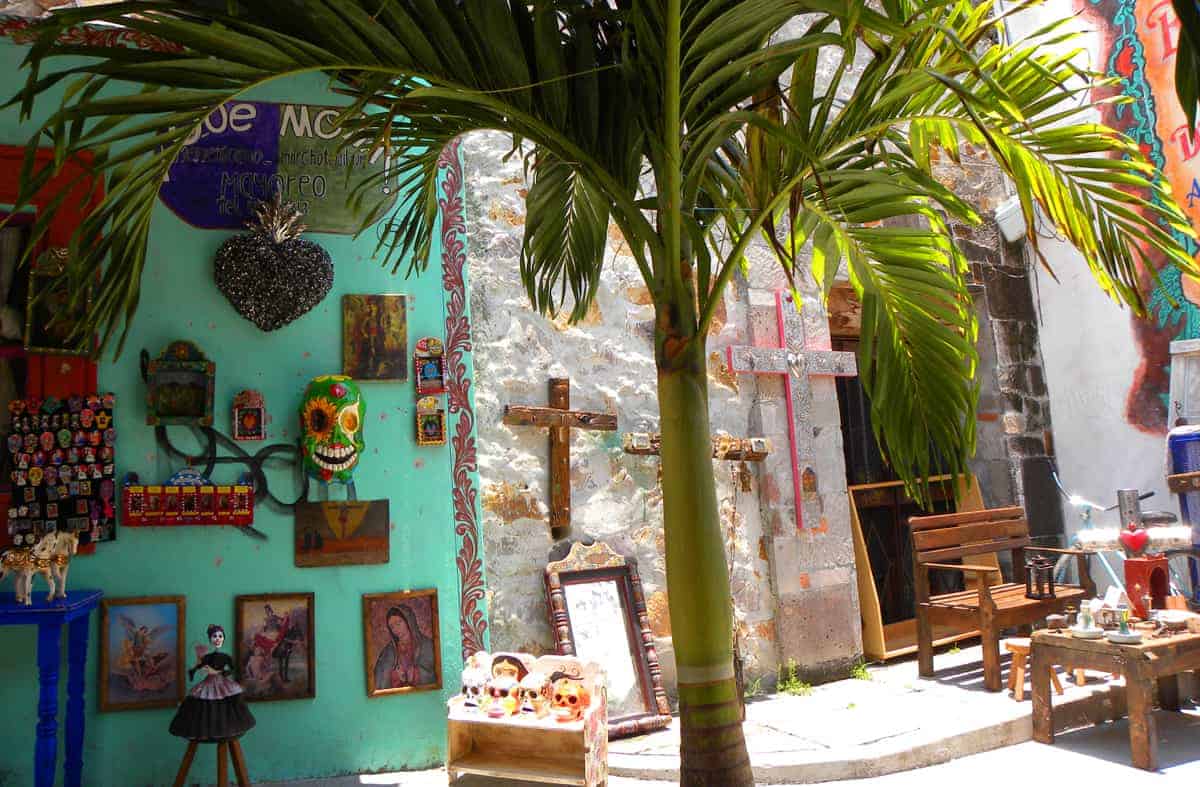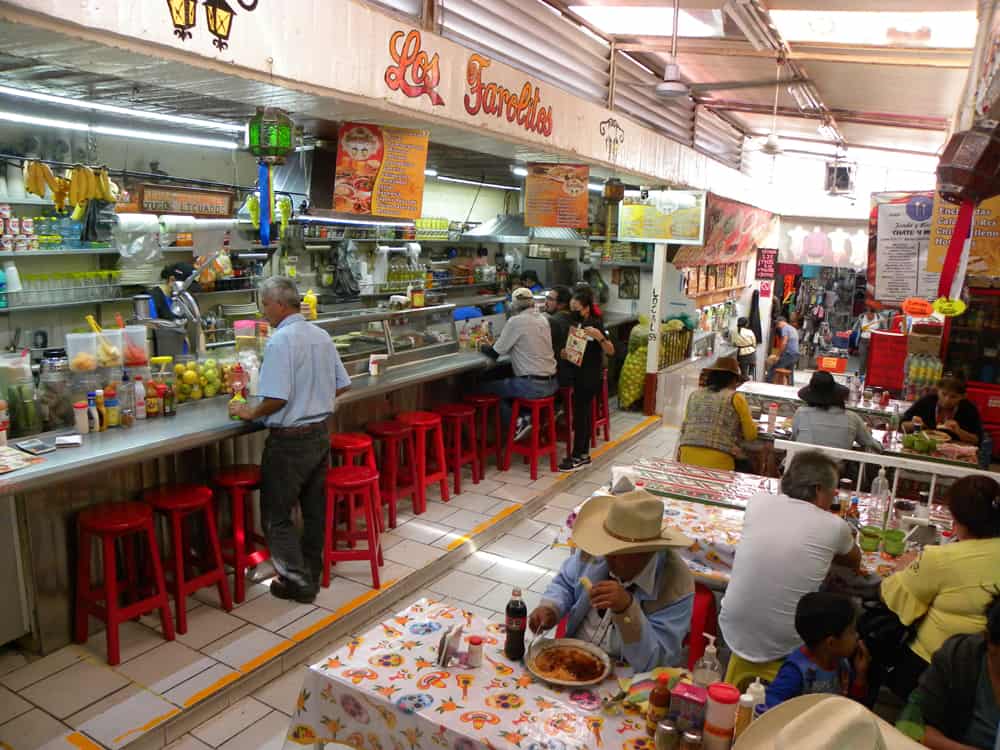 If you continue along the market street, you'll eventually end up in an enclosed market hall. This is Ignacio Ramirez Market. You'll find fruit and vegetable vendors and lots of food stalls here. A great place to get an inexpensive and delicious torta (sandwich) and juice.
When you come out of the Ignacio Ramirez market you'll find yourself a block down from Plaza Civica. Make a right and retrace your steps to the main square, the Jardin.
---
---
Back at the Jardin, head toward the Starbucks – have a look across the street at the Casa de Cultura Banamex. If open, go inside. Once done, continue down Calle Canal.
A block down you'll get to a large yellow church. This is Templo de la Inmaculada Concepcíon. Its massive dome is the most beautiful in San Miguel (it was based on Les Invalides in Paris). After visiting the church, pop back outside and visit Centro Cultural Ignacio Ramírez El Nigromante (which most people call Bellas Artes) which is right next door. Prior to Covid it was a popular place, offering art classes and cultural activities. Since then it's been closed whenever I visited. But if you can then go in – it's a beautiful building.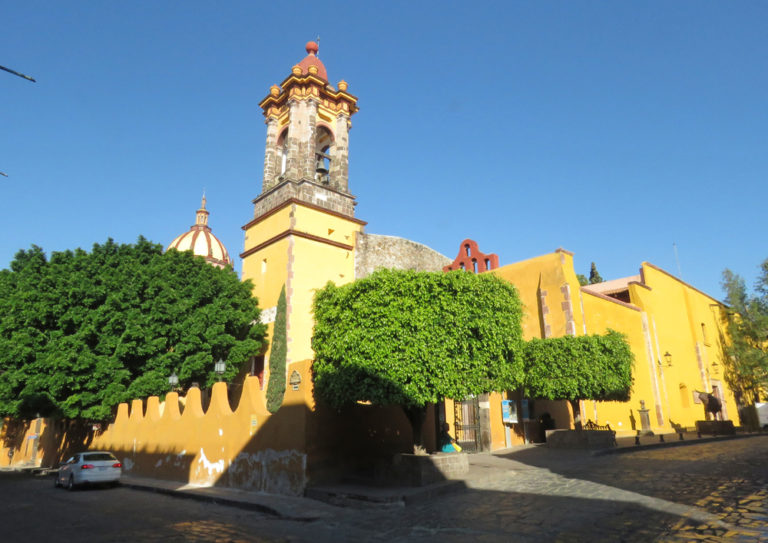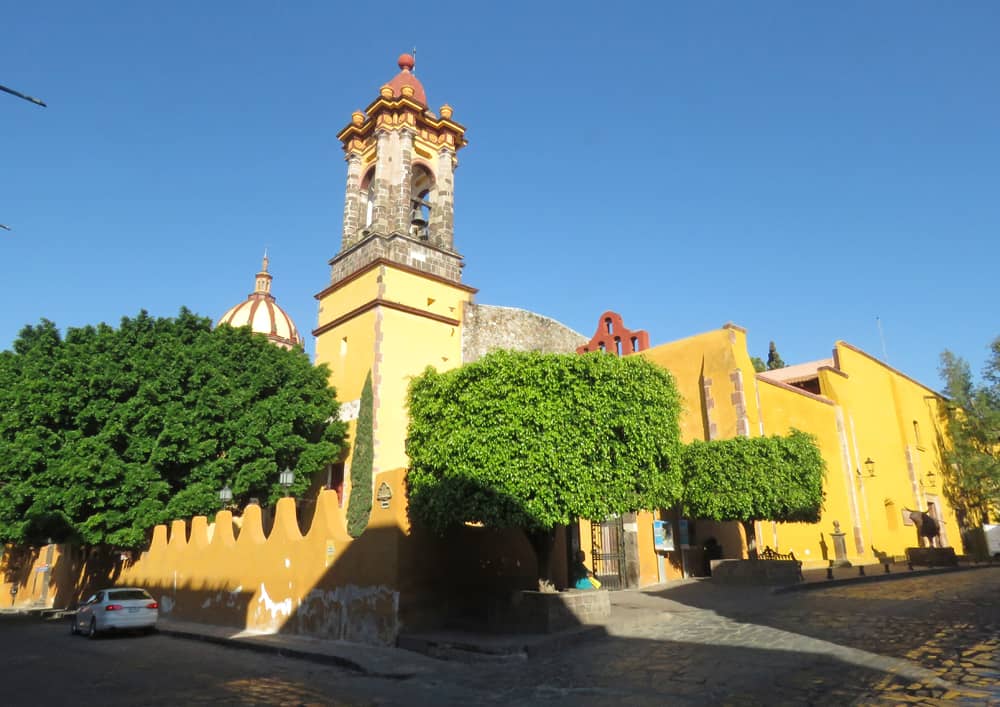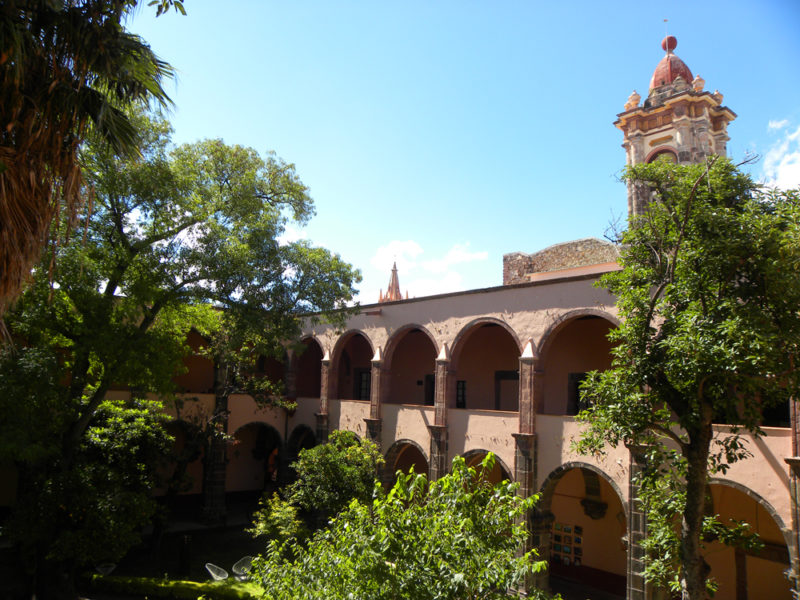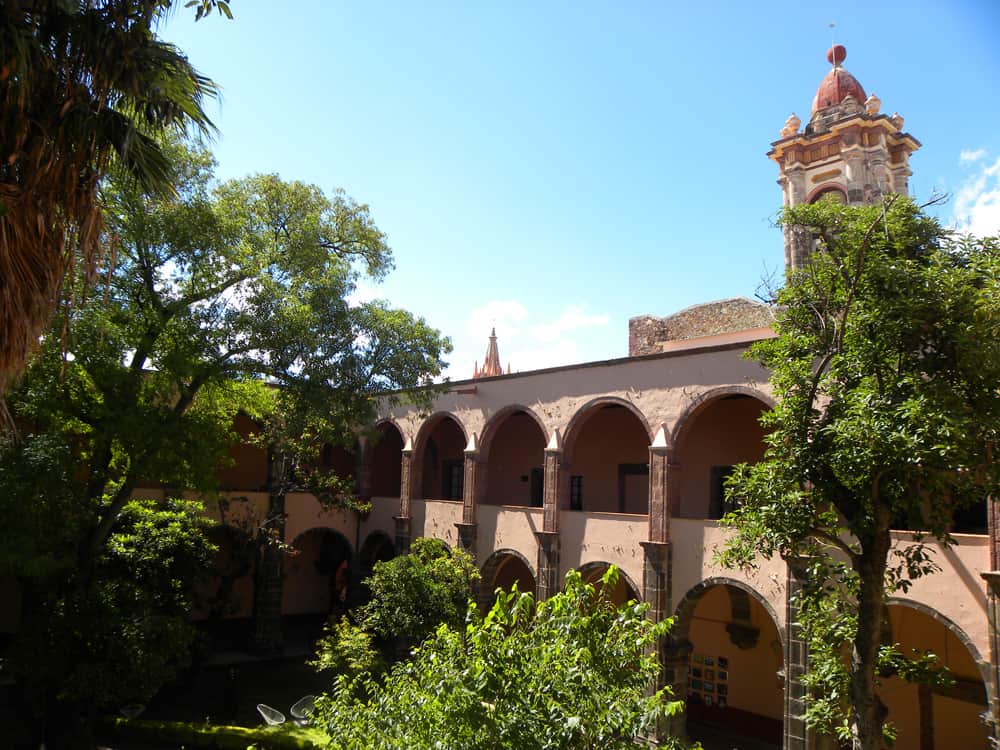 After you're done, continue down the hill on Canal Street towards the bridge (the Quebrada bridge)

you'll see above the street. There are some steps you can take to go up to the bridge – go up. You'll have some fantastic views there of the dome of Templo de la Inmaculada Concepcíon.
---
---
Head back to the Jardin and turn right before the Parroquia. Head to Calle Aldama

. It's one of the most photographed streets in San Miguel and when you turn back you get a great view of the back of the Parroquia and the various domes around it.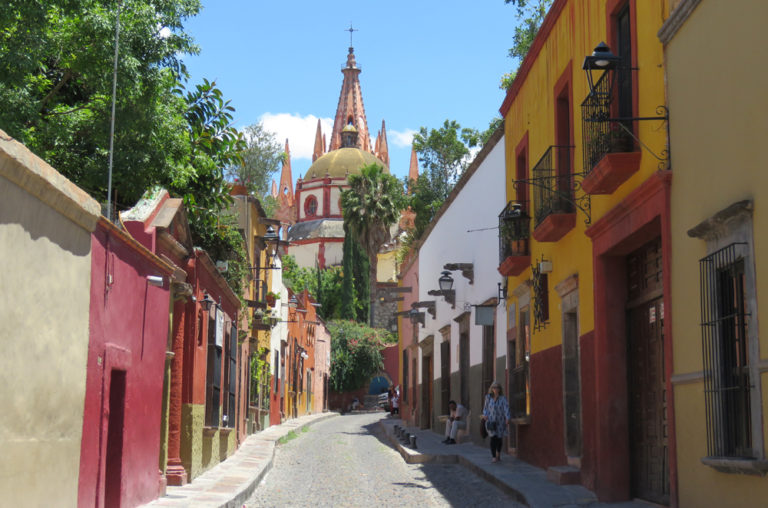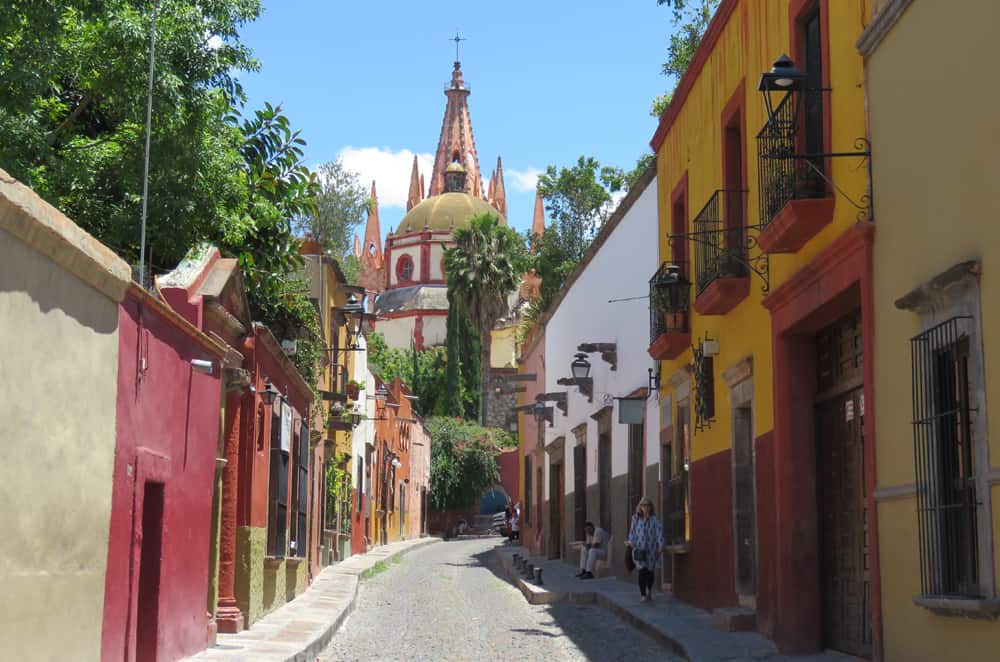 You'll arrive at a park (Parque Benito Juarez). But before going there, take a little detour and go to the Rosewood hotel
. The Rosewood is a very big, very beautiful hotel and it has a great rooftop bar (Luna Bar) that has fantastic views of San Miguel. Go up there and have a drink if you can. The views are worth it.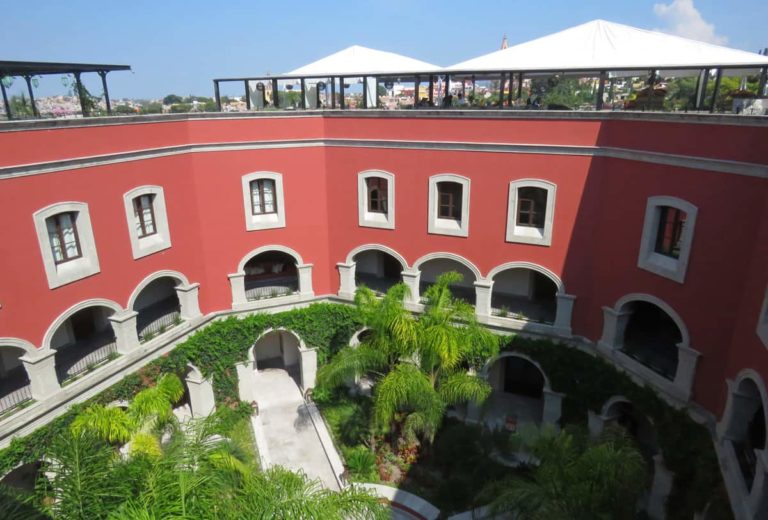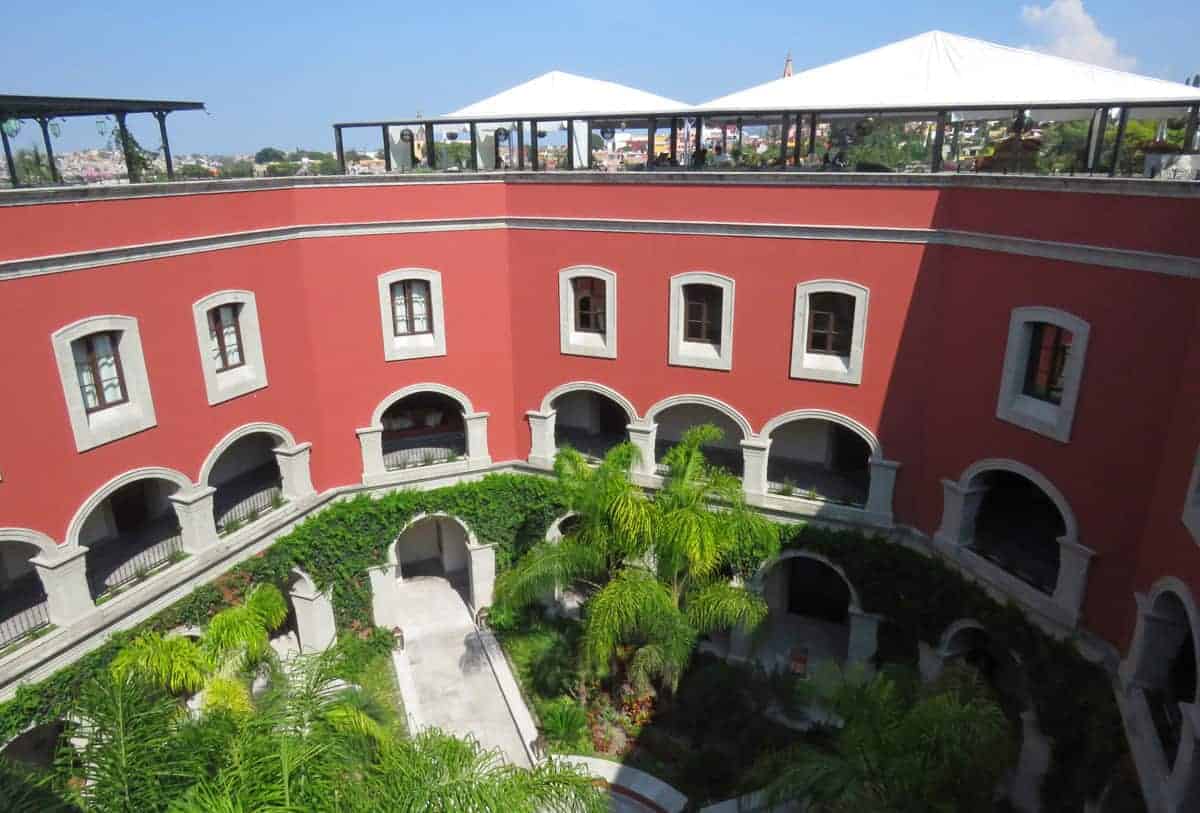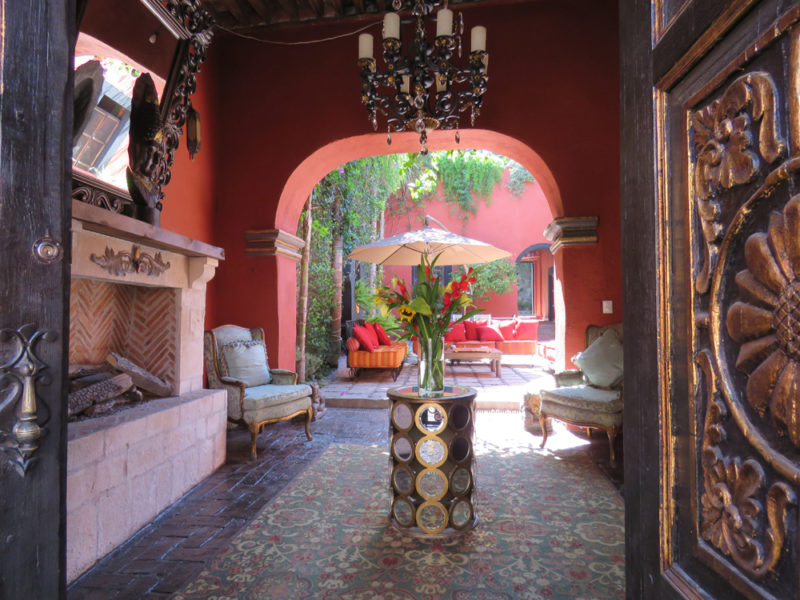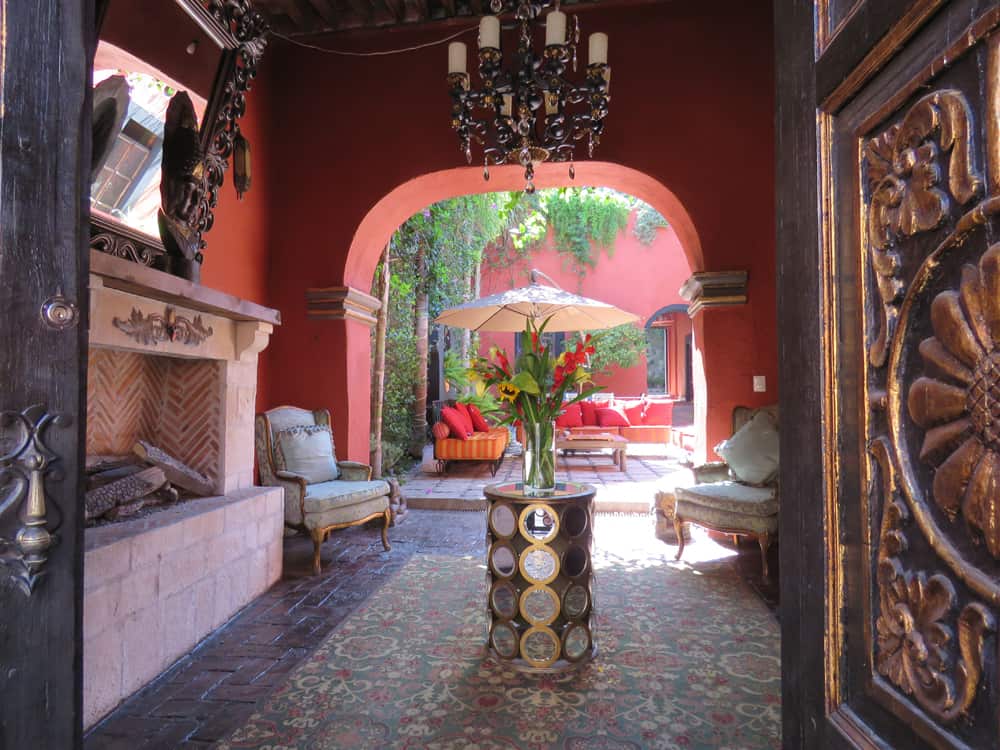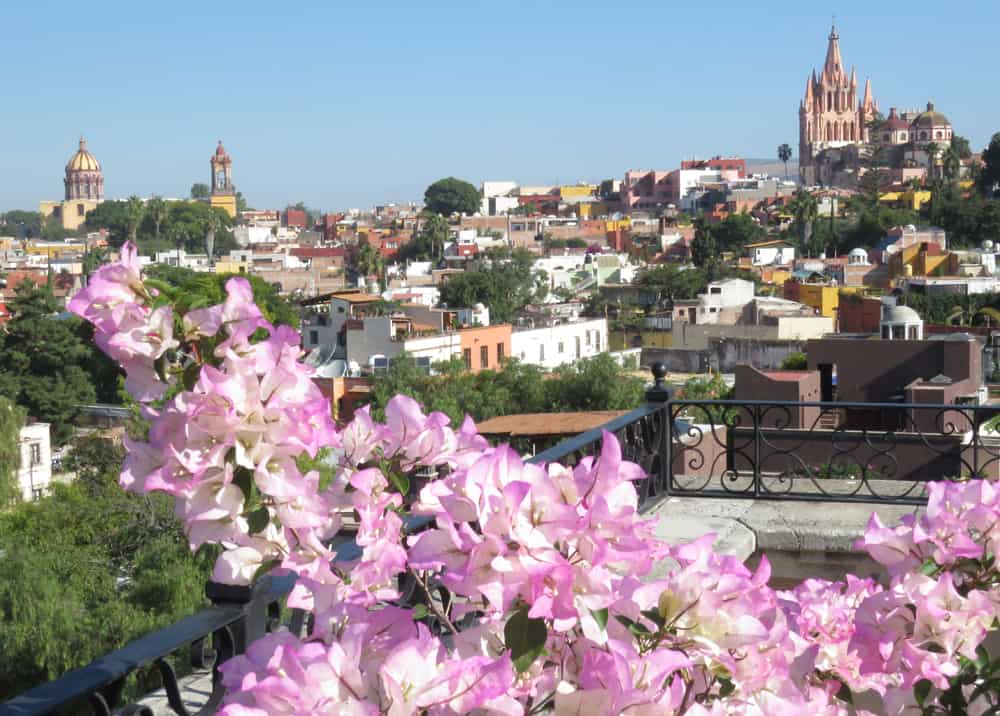 When you're done, walk back to Parque Benito Juarez
. It's a beautiful park that attracts lots of people. Kids come here and play soccer and basketball on the immaculate courts. People walk their dogs. On weekends, artists sell their paintings.
---
---
The rest of this walking tour is a bit of a hike. But it'll take you to the best views in San Miguel.
Come out of the park on its eastern side. You'll know you're in the right spot if the street you're looking at goes straight uphill.
Walk up, you'll get to a red building with a tower and some fountains (no longer in use). This is Lavaderos del Chorro

, a place that had fresh water flowing from a spring. Women would come here to do laundry (hence the name). Today it's a cultural center and if you're lucky you might see kids practicing dances or plays.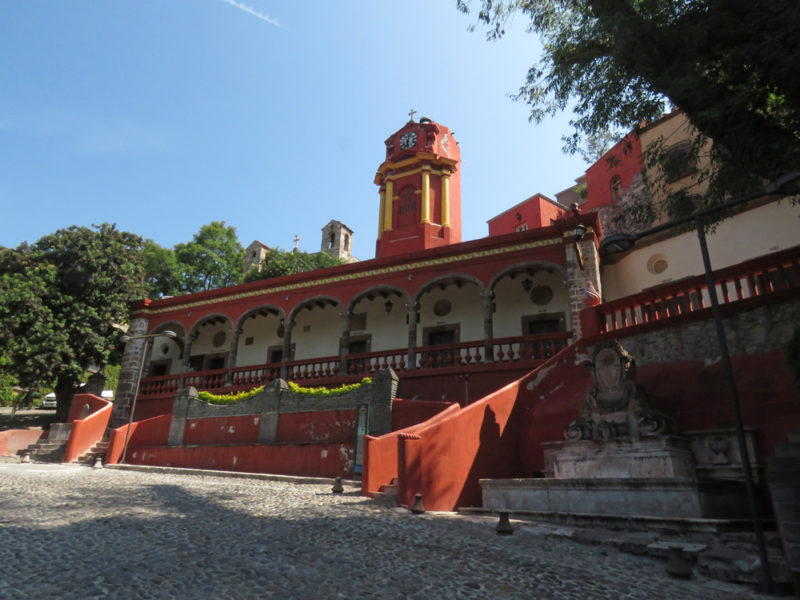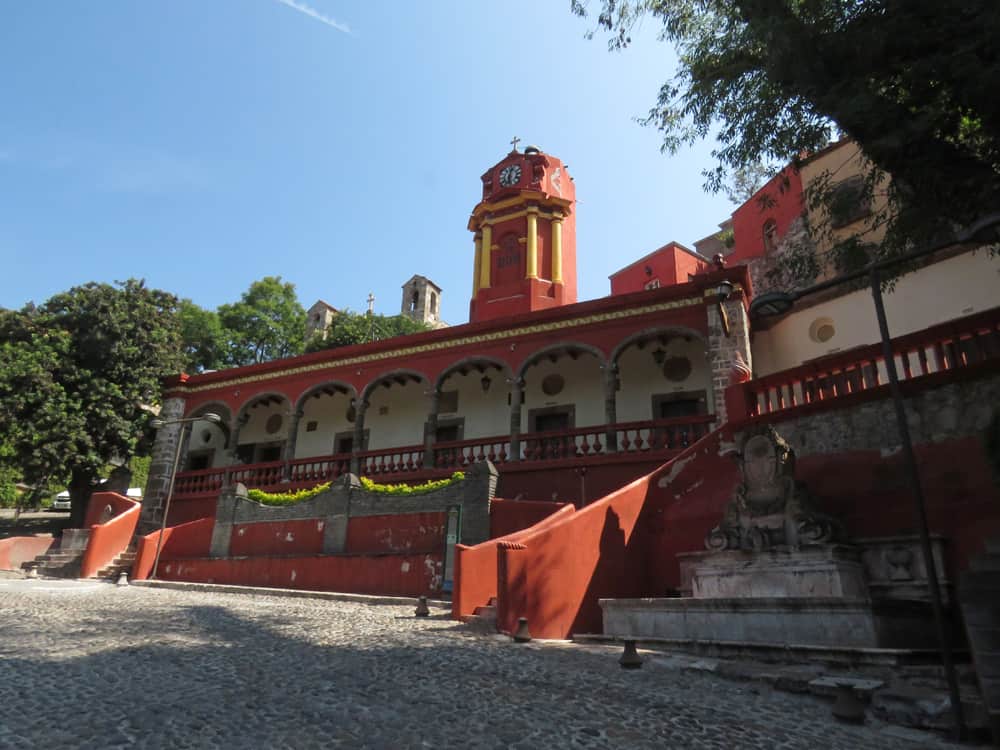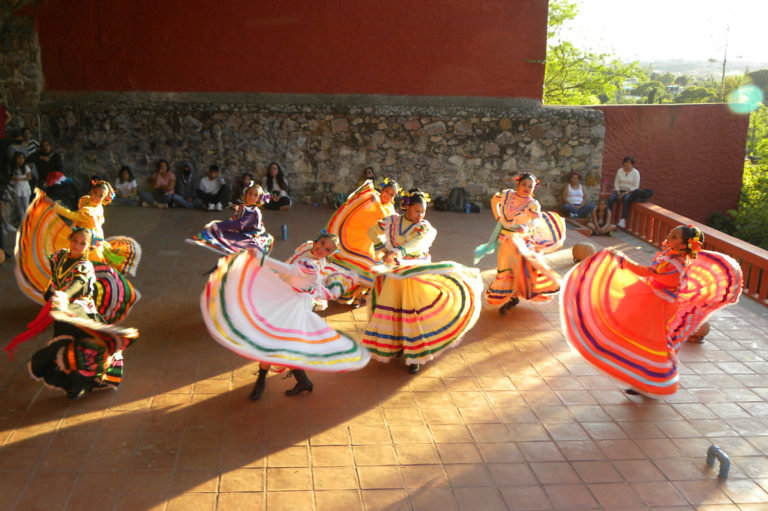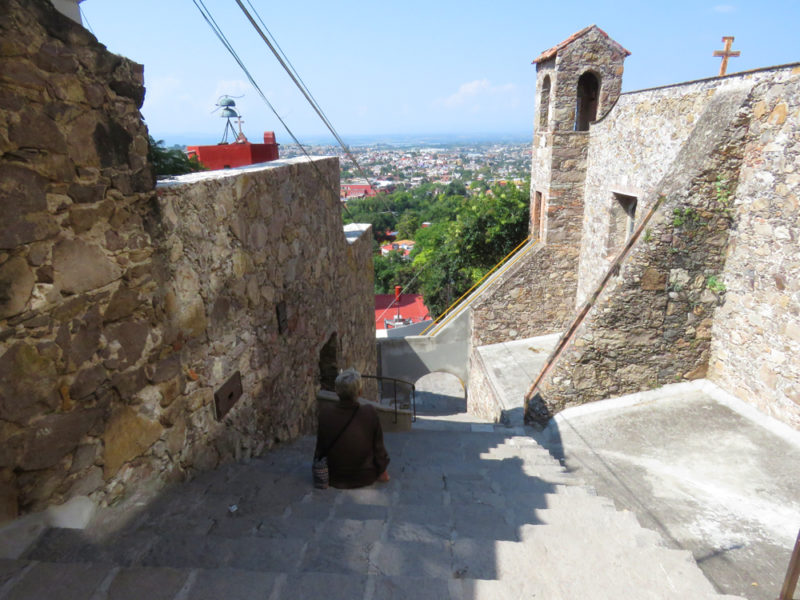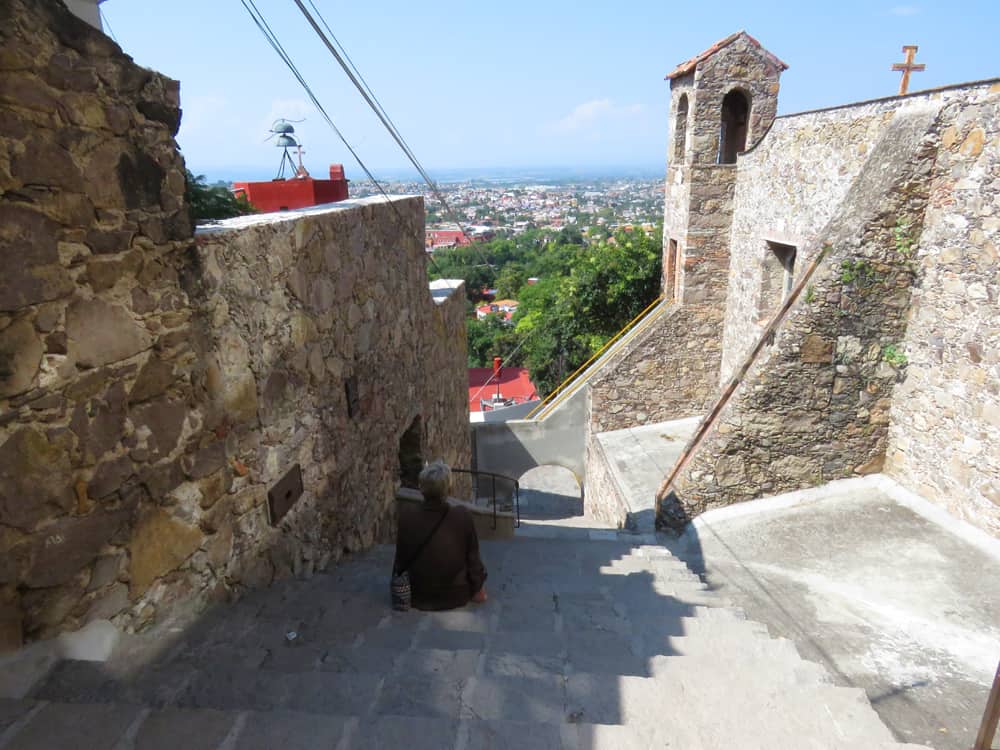 Continue past Lavaderos del Chorro, continuing up the street. You'll see a series of steps on your right. Continuing up you'll pass a church Capilla Santa Cruz del Chorro. The views looking back are increasingly impressive. From here you continue climbing more and more steps until you reach the top. From there you make a left on Salida Real a Querétaro, the main street in San Miguel de Allende. It'll take you about 2 minutes to get to El Mirador
, the most famous mirador (viewpoint) in San Miguel.
See this post on the Miradors of San Miguel de Allende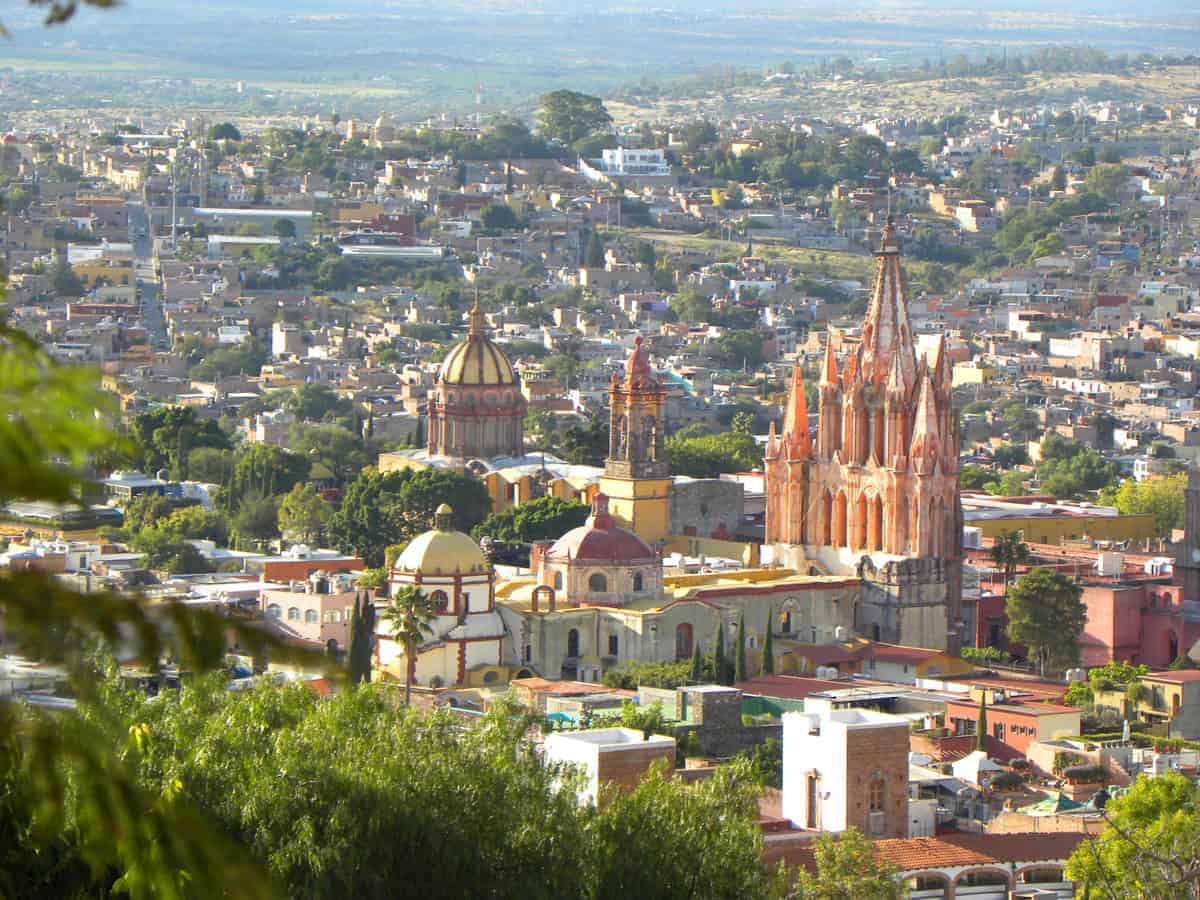 ---
---
When you're done, continue down Salida Real a Querétaro. You'll get to two of my favorite streets: Montes de Oca
and De La Garita. Both are very steep narrow streets leading back into the center. The views of the Parroquia and the various domes and towers of the center are phenomenal. You can go down – but before you do you might want to cross the street from De La Garita and check out Mirador Cruz del Pueblo

. I describe that in detail in the post I've linked above.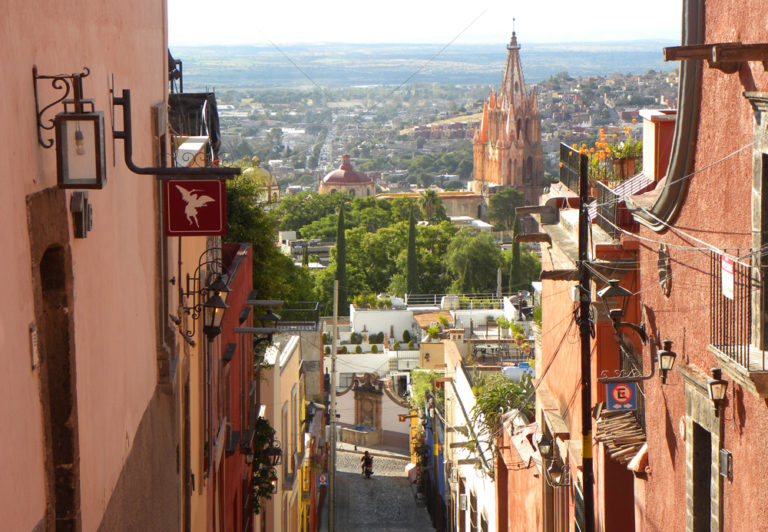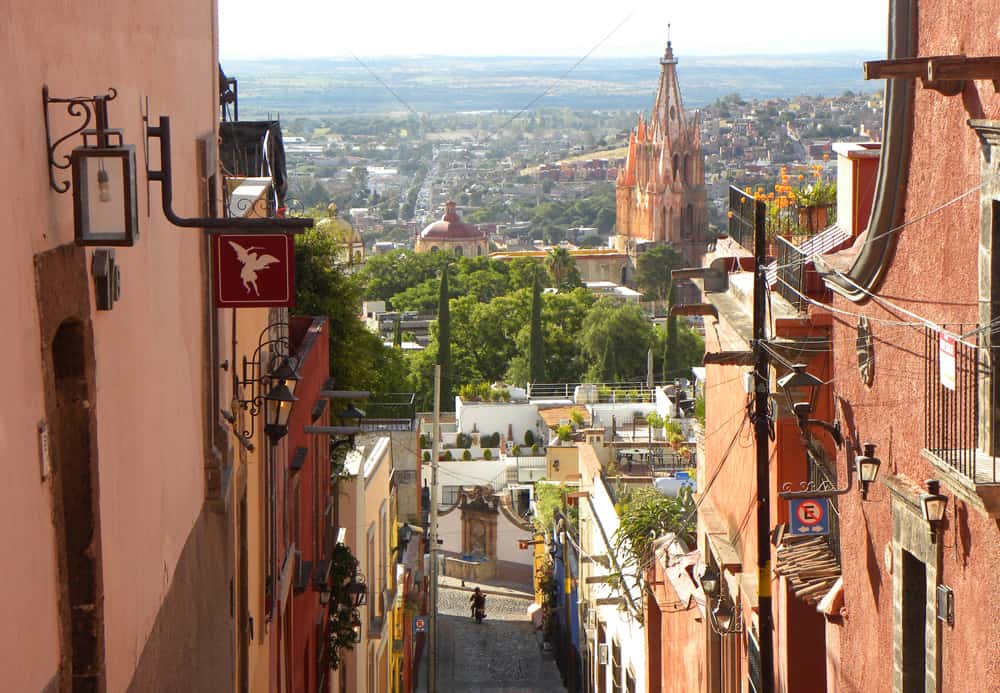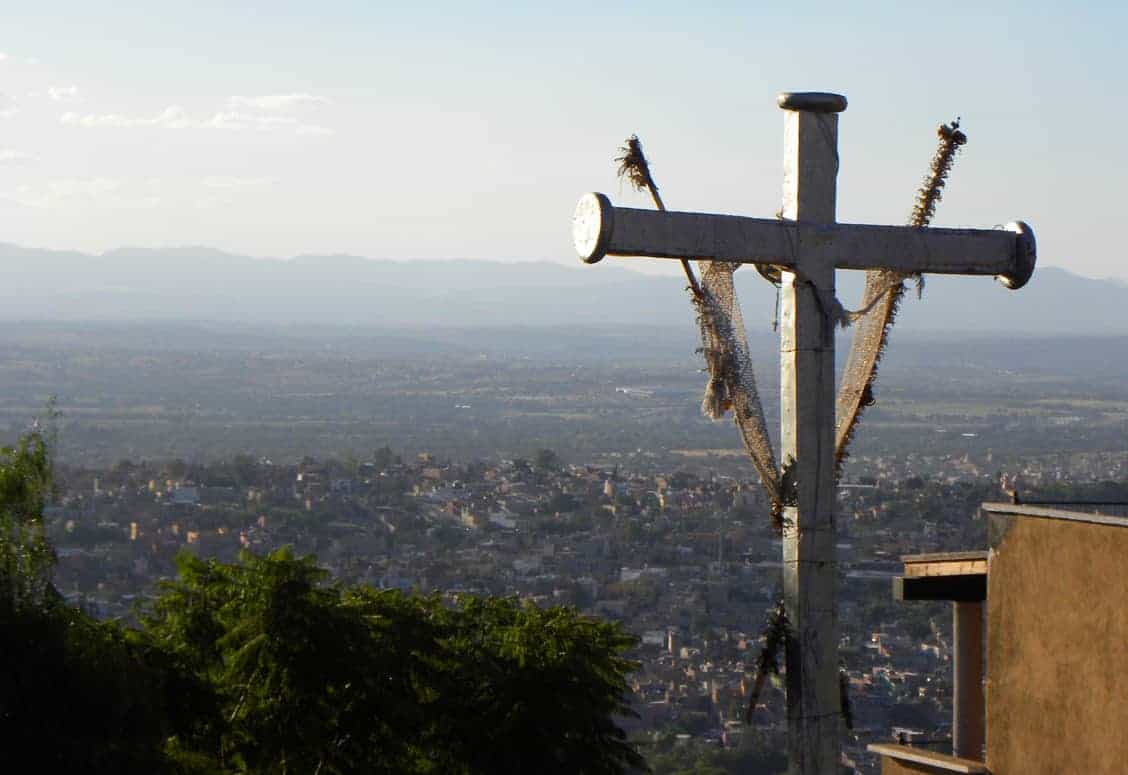 That marks the end of my walking tour. You can get back to the center by walking down the two streets I've mentioned above. Or, if you want to celebrate your walk with a cold beer, go to the rooftop bar of the El Palomar Hotel. It's a block over on calle San Francisco and has more great views.
There are more pretty streets and more great views. San Miguel de Allende is full of them. It really is one of the most photogenic places anywhere.
Want to see more of beautiful San Miguel? See my video
---
---