The Miradors of San Miguel de Allende (Mexico)
I've spent the last week in San Miguel de Allende, working on my beer belly by climbing the steep streets and steps to discover the various miradors in the city.
There are 4 miradors in San Miguel de Allende. In this post I cover them all and give you tips on getting to each on foot.
---
---
El Mirador
It doesn't need a name, it's "El Mirador" because it's THE main mirador in town.
There's various ways of getting up here including walking up some of my favorite streets (De la Garita and Montes de Oca) but the best way is the route through Parque Benito Suarez and Parque El Choro. Be warned – very steep steps and a good workout. (I've got an upcoming post on a DIY walking tour of San Miguel de Allende). If you don't feel like walking, take a taxi from the center. It'll take you about 5 minutes.
The views of San Miguel's center from this mirador are the best anywhere in town. The Mirador has benches, stalls with snacks and water and across the street you'll find bathrooms (you have to pay but they're clean).
There are always people up here and it would be easy to think that this is the only Mirador in town. But it isn't.
---
---
Mirador Cruz del Pueblo
This mirador can also be easily accessed from "El Mirador". I've previously mentioned the little street of "De la Garita" – it's a steep little street (with great views) that takes you up to "Salida Real a Queretaro". Once you've reached this main street, cross to the other side. You'll see a series of steps there. Go up – the steps have been beautifully maintained, there are flowers everywhere and pretty homes.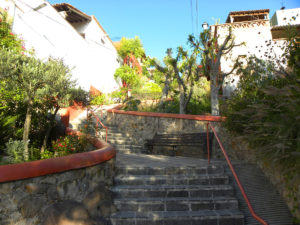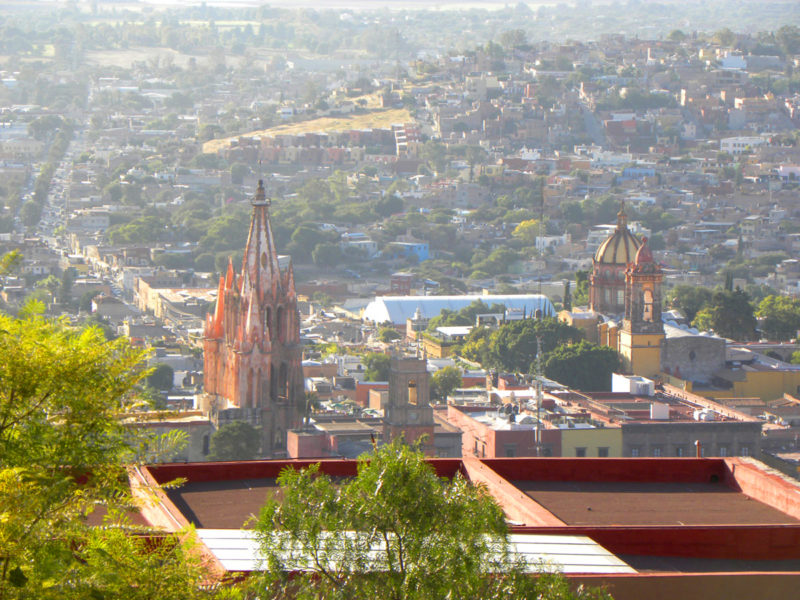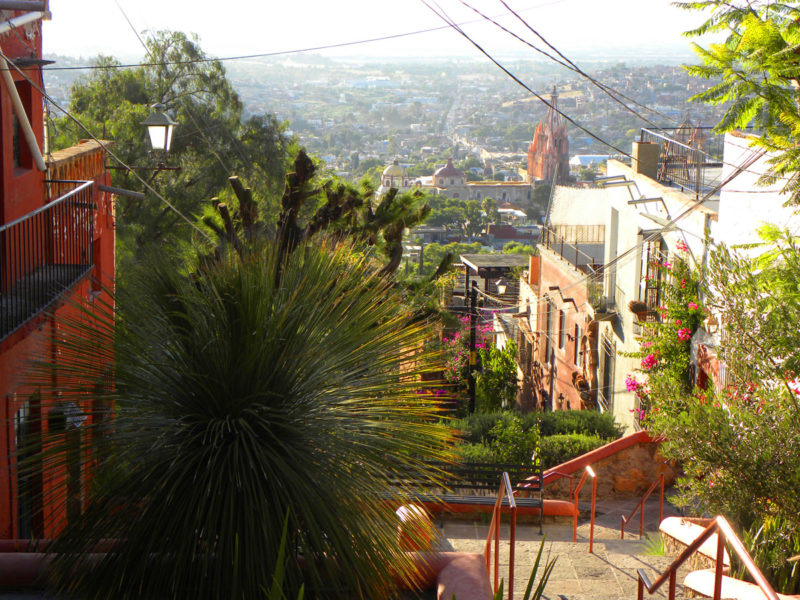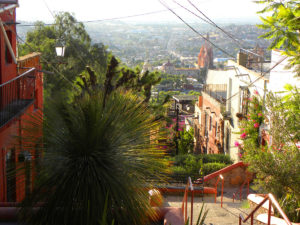 It'll take 10 minutes to get to the top where you'll find a large cross. Although there are a few obstructions up here, if you position yourself right you'll have nice views of the Parroquia and the rest of the center. I'm not going to tell you that the views are better than at "El Mirador" – but it's a really nice walk to get up here and you probably won't see anyone else on the way up.
---
---
Mirador El Caracol
Chances are that you passed by Mirador El Caracol when driving into San Miguel. If you have a car it's really the best way to visit this mirador (you can park your car there). So I suggest you plan ahead if driving in.
But if you don't have a car, it can be explored by foot. It's the most "iffy" of the miradors however because you have to walk along the highway to get there.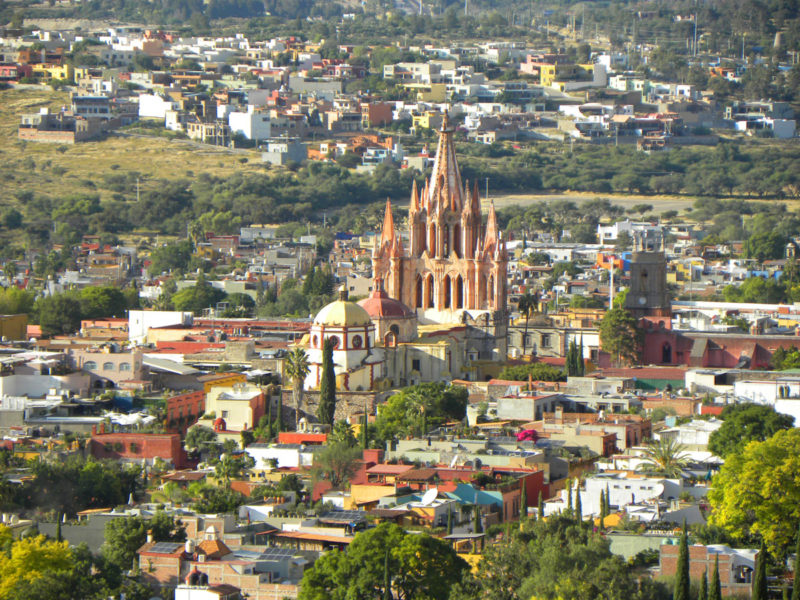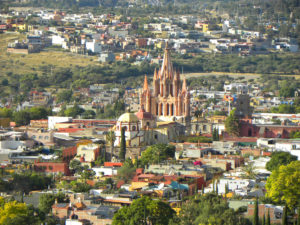 Detailed walking instructions: From "El Mirador" continue on Salida Real a Queretaro for about 200 meters. Then turn right on a little street called "Valle de Maiz" which goes through a very Mexican neighborhood. Walk about 200 meters, then you'll see a cobblestone street that goes straight up (it's called "De la Santa Cruz"). It's about 60 meters up and brings you to the highway. From there, turn right and walk along the end off the edge of the highway. There's a shoulder there. It should take you about 10 minutes before you get to the mirador. All in all, it took me about 20 minutes to walk from "El Mirador" to "Mirador El Caracol".
Although you don't have as good a view looking down at the center of San Miguel as "El Mirador", this Mirador gives you a wide-open perspective on the valley and the Laja River in the background. If you can visit this Mirador around sunset time so much the better – I've passed this way by bus a few times around that time and the lighting is spectacular.
---
---
Mirador Presa de Obraje
Presa de Obraje translates to "Obraje dam" – there's a dam on a ridge above that collects water. More here on that. You'll also see an aquaduct (sorry, I can't find anything online about that).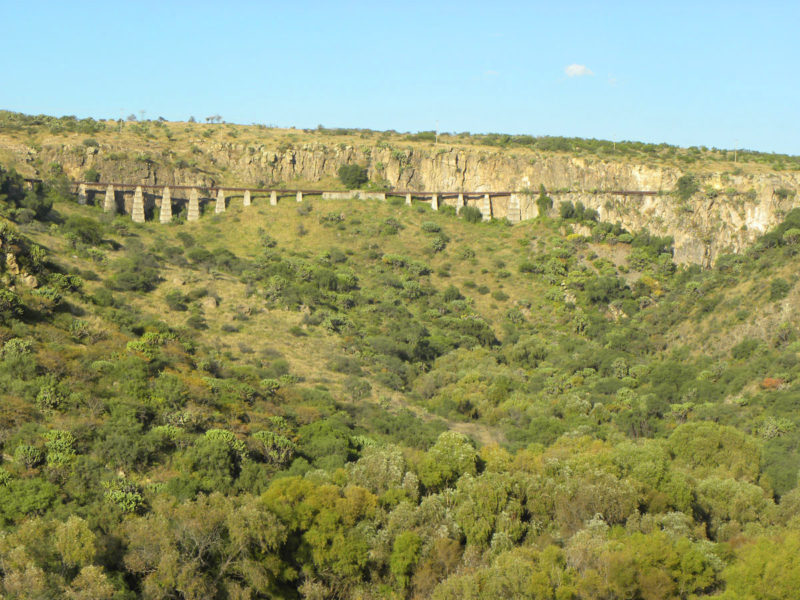 I'll tell you right off the bat that this is probably the least spectacular of the miradors. That's because you're not facing the center of San Miguel, you're instead facing North, looking over a body of water. To the Northwest are the Botanical Gardens – you can't really seem them too well from here but they're up on that ridge (along with the dam and aquaduct) and worth visiting if in San Miguel (See: What to do in San Miguel de Allende).
How to get to Mirador Presa de Obraje? There are a bunch of different ways if coming from the center but it can get complicated because there are a few windy streets. Best to use Google maps.
---
---
So which Miradors to visit in San Miguel de Allende?
The answer depends how much time you have and if you have a beer belly to work off.
If you have a lot of time on your hands and looking for good hikes around the city, then by all means visit all 4. If you don't have a lot of time, "El Mirador" is the one mirador that you can't miss. After that I'd probably rate "Mirador El Caracol" 2nd (but I'd recommend maybe taking a taxi up here if you don't have a car), "Mirador Cruz del Pueblo" 3rd and "Mirador Presa de Obraje" 4th.