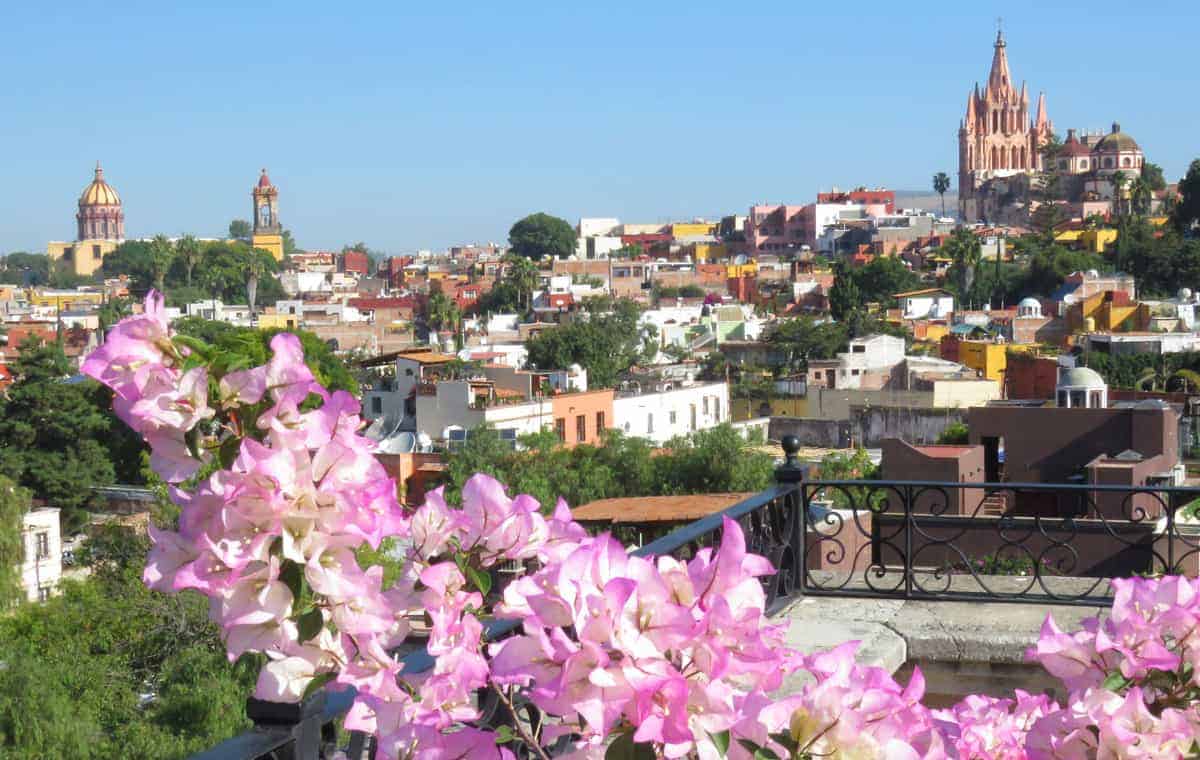 What to do in San Miguel de Allende
Updated November 2022
I was sitting at at a restaurant having Margaritas with my new friend Glenn, when the two women at the table next to us turned to us. "We just arrived in San Miguel" says one. "What's there to do here?
Glenn (an expat of 8 years in San Miguel de Allende) and I spent the next 10 minutes thinking of things for them to do. Because while San Miguel de Allende is a beautiful town – with tons of restaurants, bars and shops – what do you tell a tourist when they ask you "what to do?"
Here are 10 things to See and Do in San Miguel de Allende that Glenn and I came up with.
1. Walk around the main square, the "Jardin". Life revolves around it. Sit in the park or at a café appreciating the views of the Parroquia (Parroquia de San Miguel Arcángel)
---
---
2. Take the tourist trolley at the San Francisco church. It takes you for an almost 2 hour tour of the city and stops at the mirador where you'll get great views. Very cheap (65 pesos at time of writing) and by the time you're done you'll be orientated with the city. Update: the tourist trolley is no longer running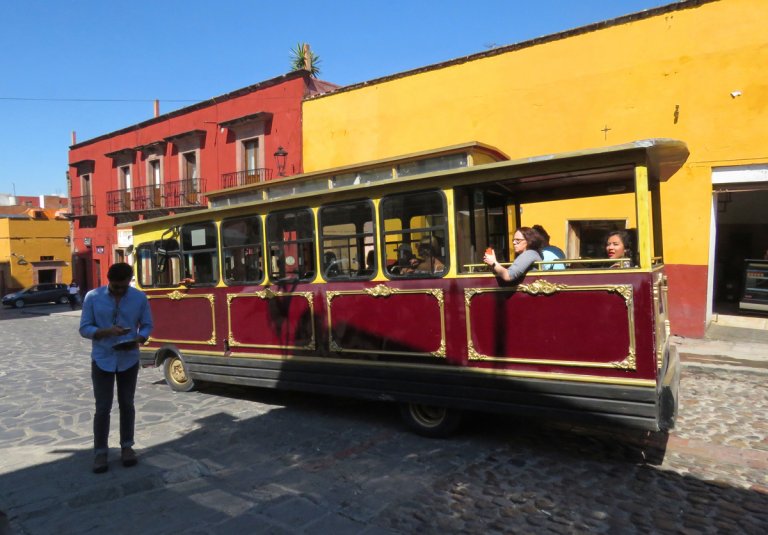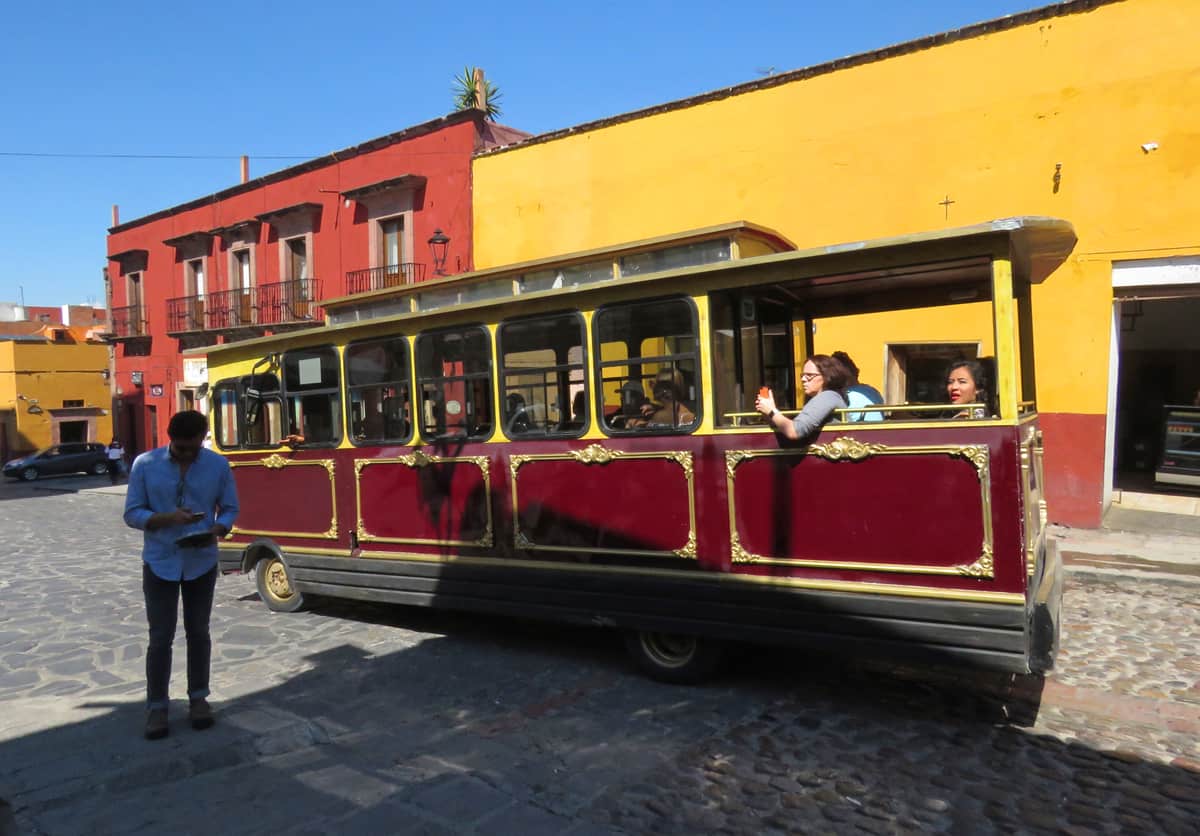 3. Explore the beautiful churches. Besides the Parroquia (on the main square), you have the San Francisco church, the Oratorio of San Felipe Neri, the Iglesia de la Concepcion, and Nuestra Señora de la Salud. All are within a few blocks of each other in the city center. There are 40 odd churches in and around San Miguel but these are the highlights.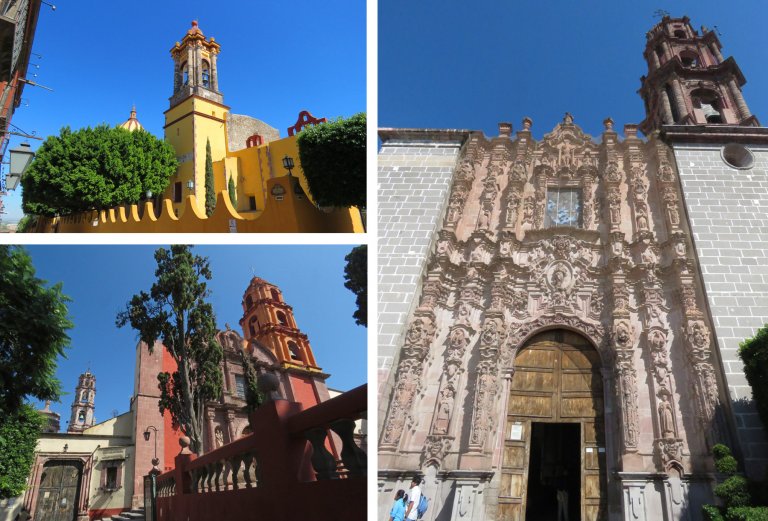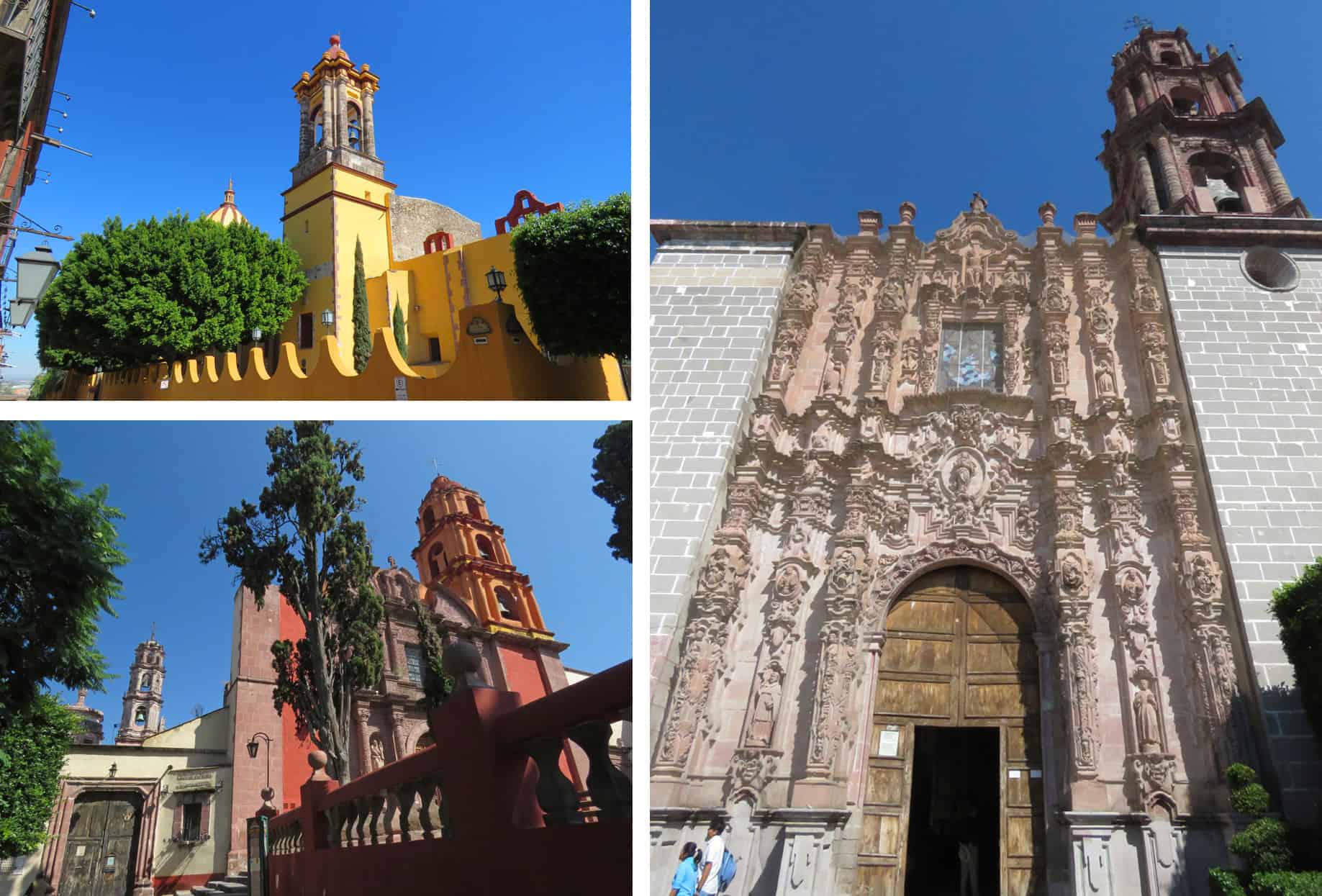 ---
---
4. Walk the streets of the center. They're all attractive and if you like photography you'll get tons of different angles in the streets heading off from the Jardin. One of the most popular streets is little Aldama street heading towards Parque Benito Juarez. But walk around…San Miguel is so photogenic.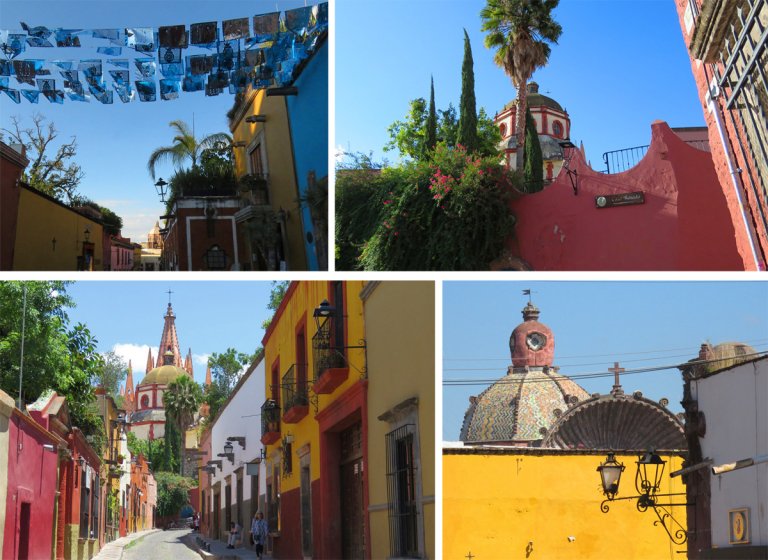 5. See two places that make San Miguel popular with expats: the Library (Biblioteca del Publica) – it has tons of books in different languages, a large courtyard, a café, and there's always an event going on (we saw a children's choir while we were there). The other place is Bellas Artes (officially El Centro Culturál Ignacio Ramírez "El Nigromante"). It is a beautiful building with a large interior courtyard. Walk around the building and have a look around. There are exhibits, classes (you'll often see expats painting), and music.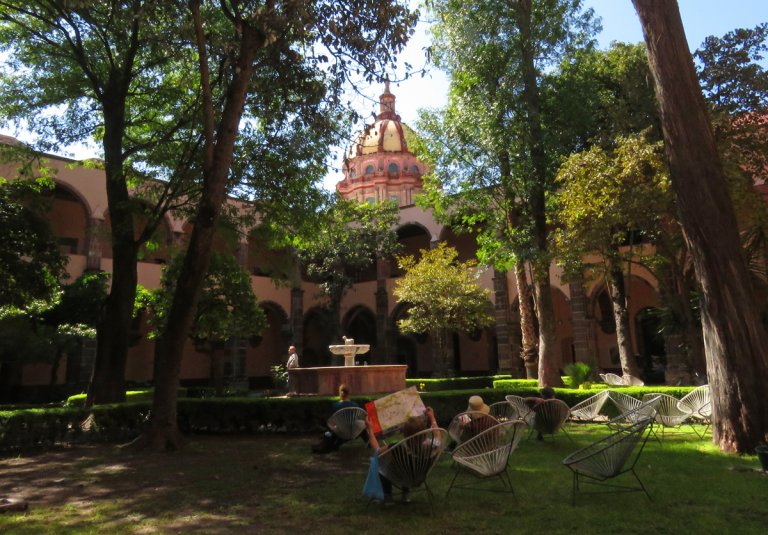 ---
---
6. Visit the markets. The main market is the Ignacio Ramirez market around the corner from the Oratorio of San Felipe Neri. There you can find fresh produce and go to local food stalls (have a chicken sandwich with an "agua de guayaba" ie guava water – that's what I had and it's great). The artisan market also starts there and you can walk for several blocks looking at Mexican handicrafts.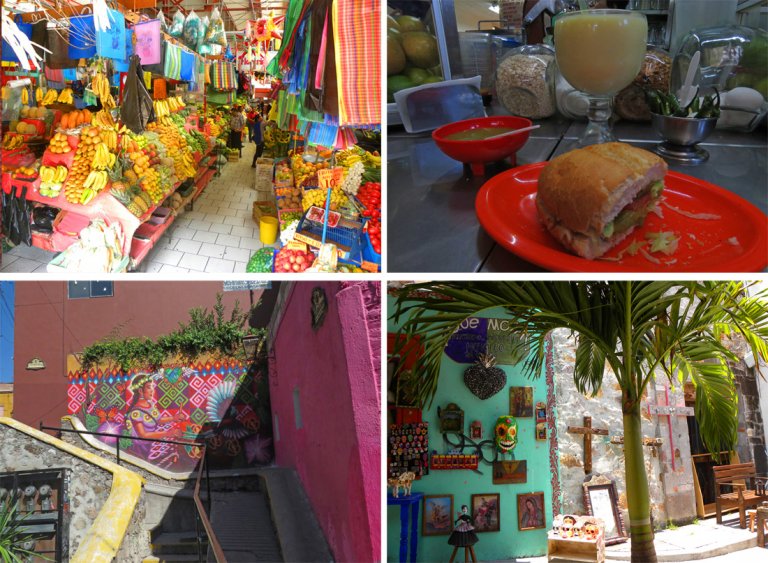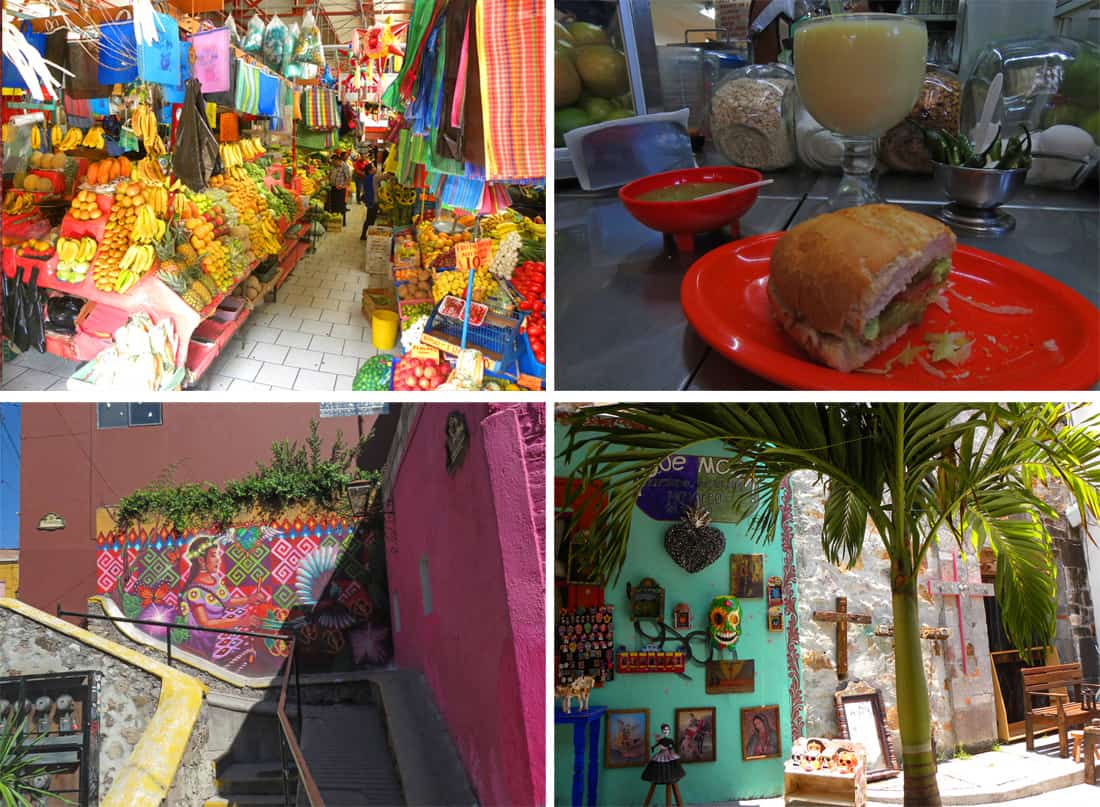 7. Go for a walk, see the best views in the city. Near the Rosewood hotel is Benito Juarez Park. It's a really nice park and you'll often see artists painting and/or displaying their work in the park. At one end of the park is a small street "Bajada del Chorro". Go up but be prepared for a steep climb. You'll pass a few churches (Capilla Santa Cruz del Chorro is very pretty). Take some stairs up "Callejon del Chorro". You'll pass another church and looking back will have views of San Miguel. Up at the top, you'll be on a large street. Turn left. You'll be at the Mirador (the "lookout") where you have great views of the city. When you're done there, continue on. There are a couple of streets that have more great views towards the center: Montes de Oca and De La Garita. Walk back to the center down one of these (steep) streets.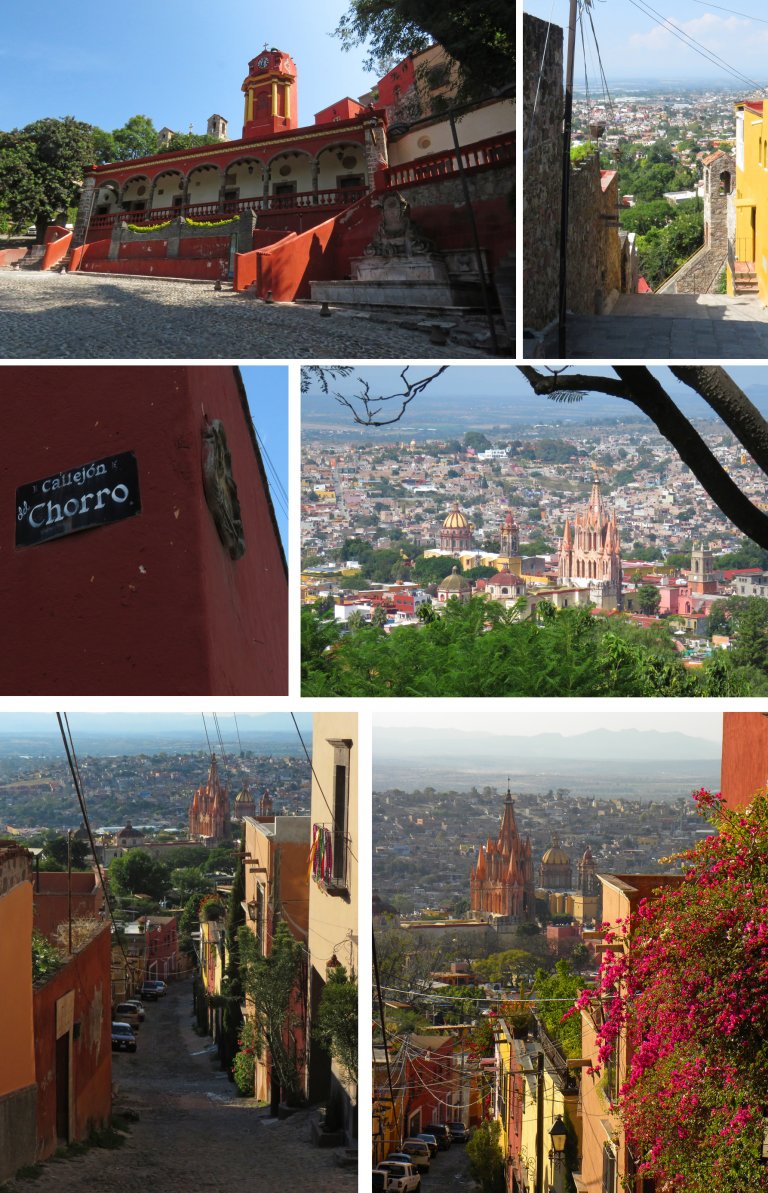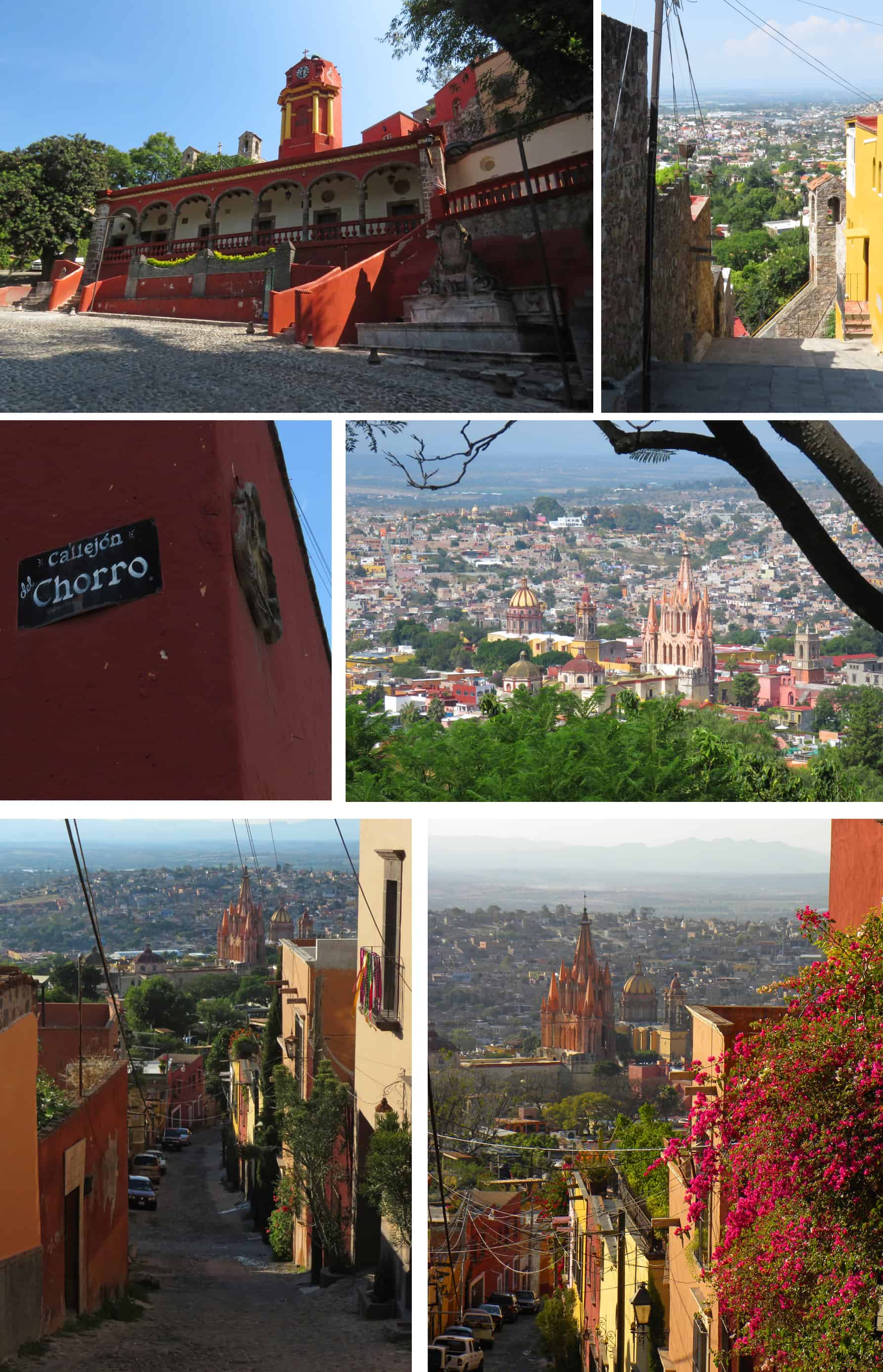 ---
---
8. Go to the Botanical Gardens. The Botanical Gardens ("El Charco del Ingenio Jardin Botanico") is an nice escape to nature in the hills beyond San Miguel. You'll see a lot of cactus, a lake, a dam, and a canyon. You'll most likely need a taxi to get there (we took the taxi there but walked back).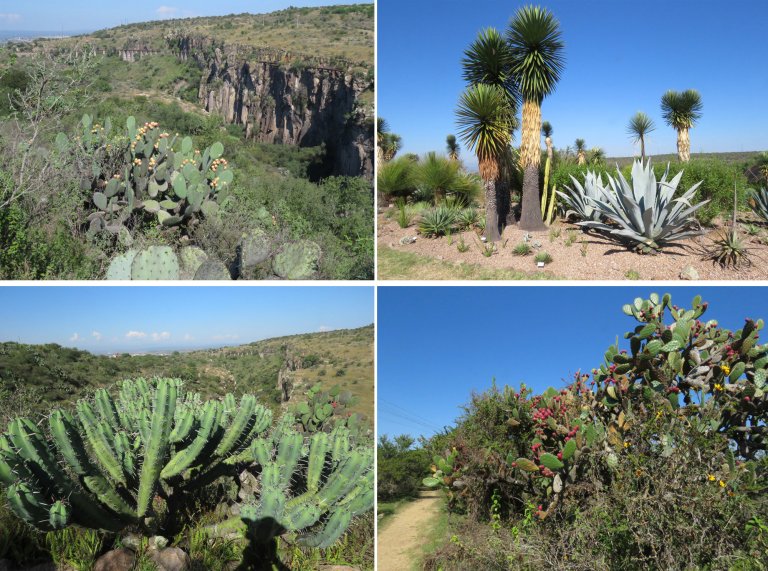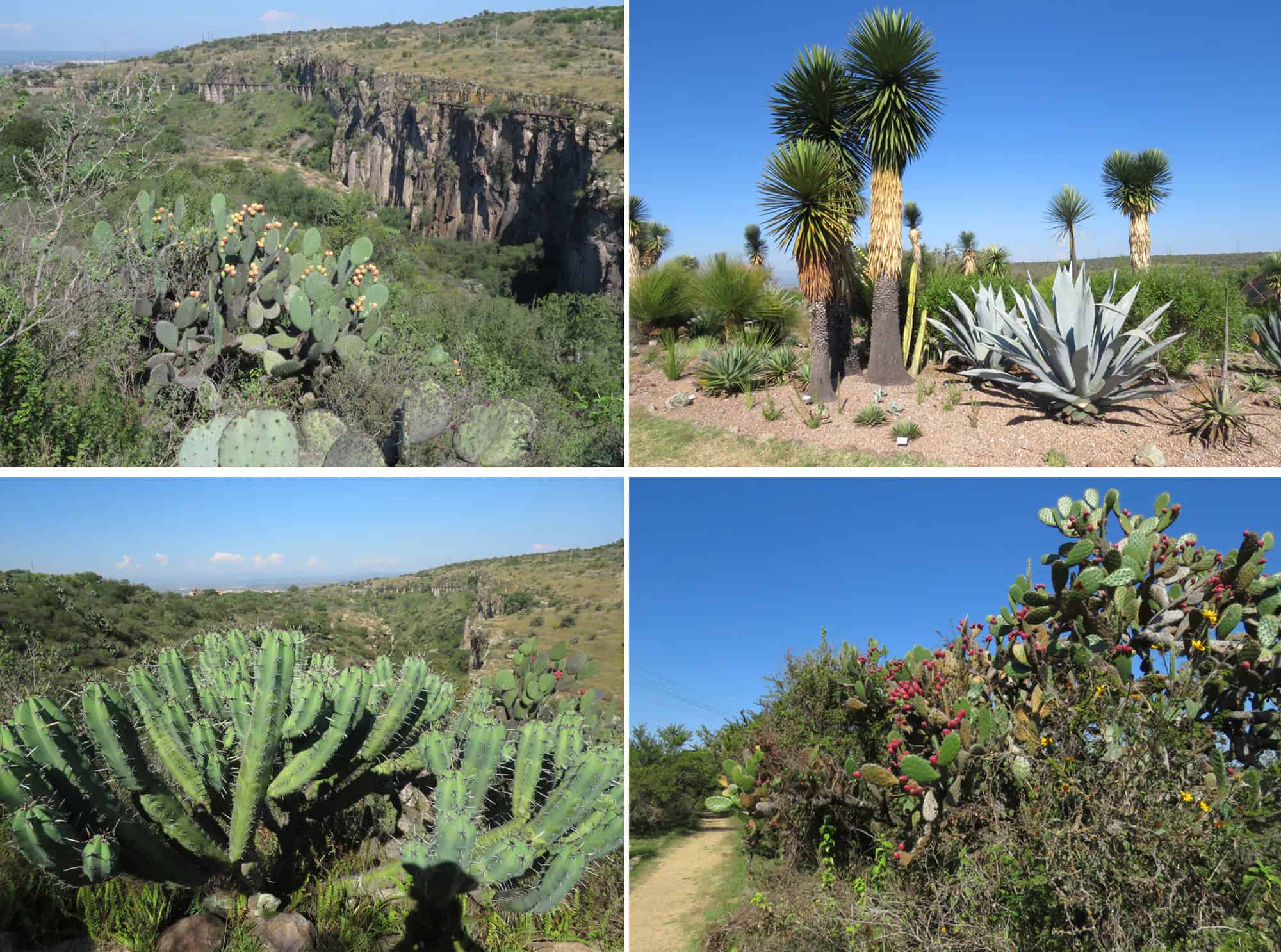 9. Soak in Thermal Baths. There are several hot spring places outside of town. I'm told La Gruta is the place to go with nice facilities, many pools, and the hottest water of all the thermal baths. There are lockers, changing rooms, toilets, a good restaurant, a children's play area…and it costs 100 pesos to get there by taxi.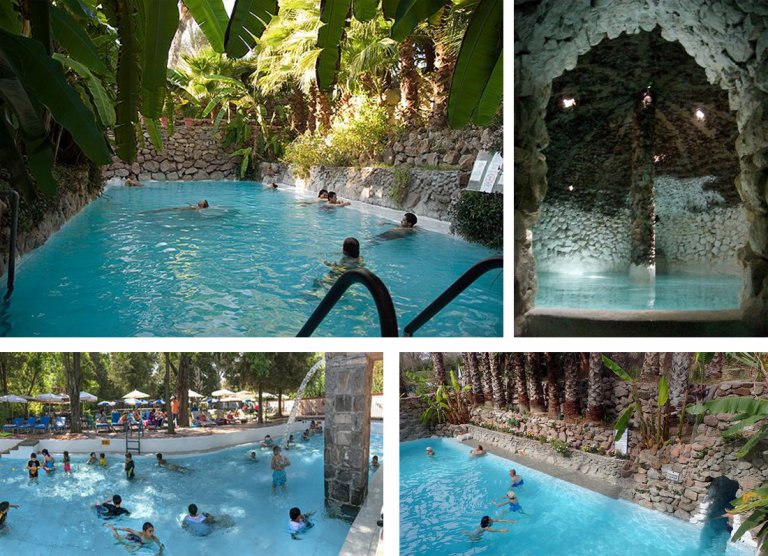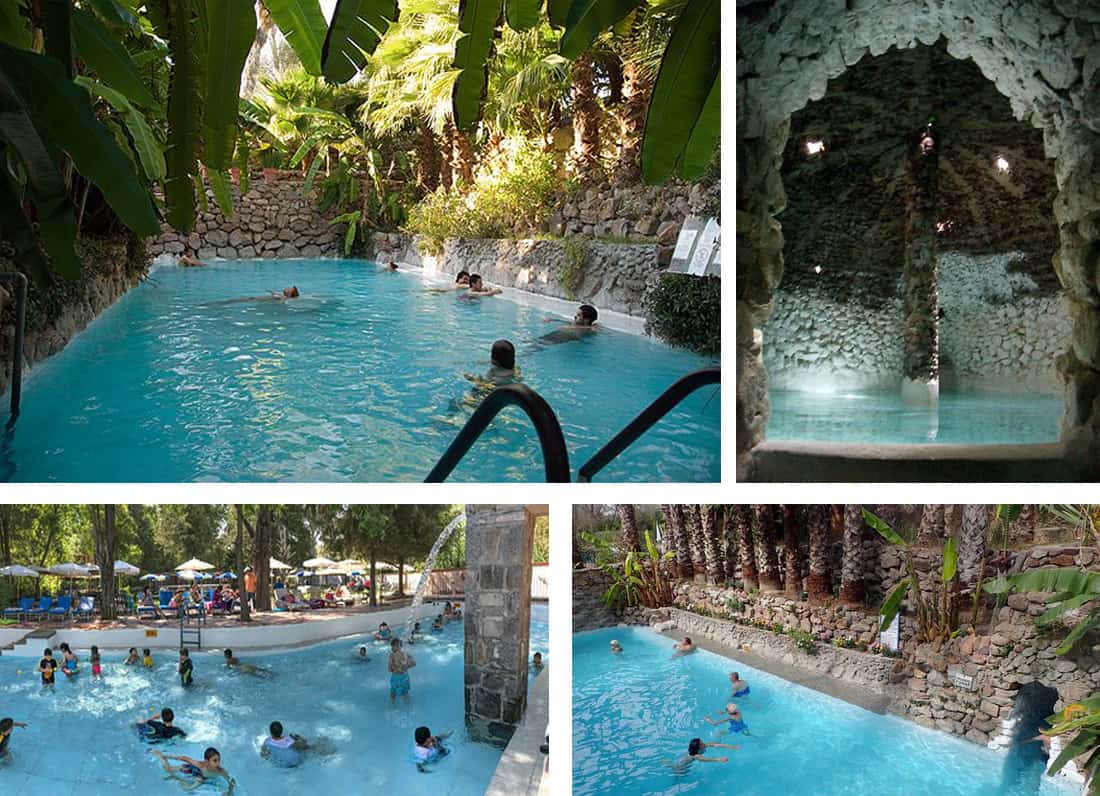 10. Search for Street Art. If you like street art, you'll find lots in San Miguel, particularly in the Colonia Guadalupe area (about 10 minutes north from the main square).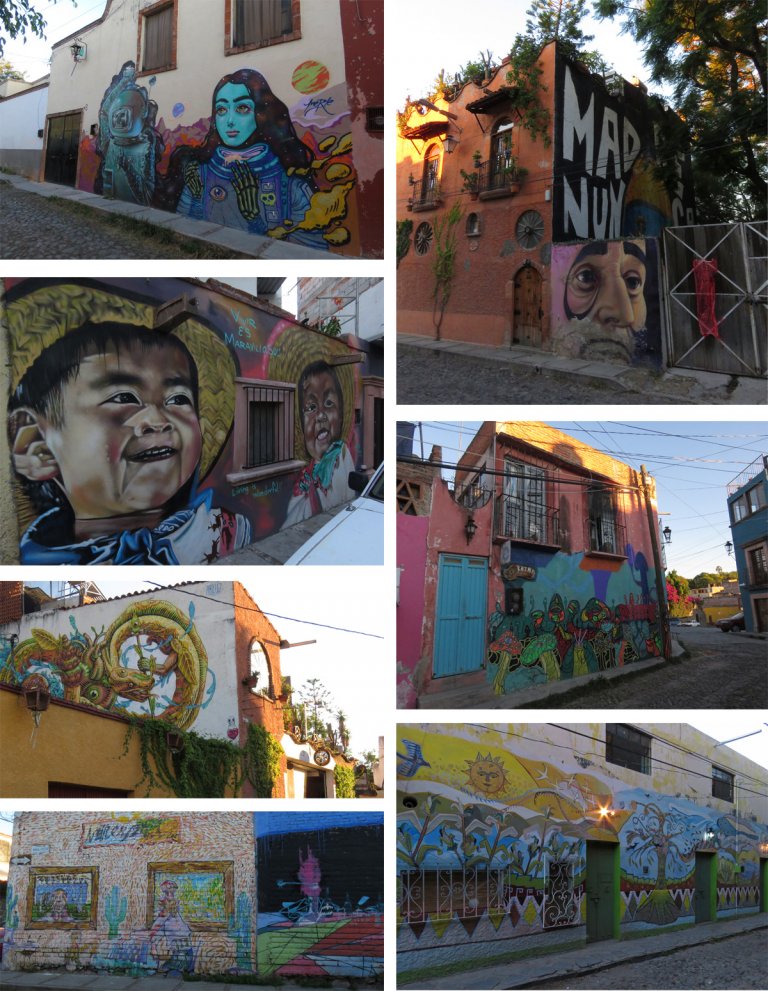 The above should keep you busy for a few days.
---
---
The Best of the Best in San Miguel de Allende
Having been in San Miguel de Allende 8 times now I have some other recommendations (most of these places have been introduced to me by my mother who lives in SMA. So this is not "just another blogger's stupid picks"). I call these the "Best" in these categories but I'm sure some people will contest my choices. For those, give me your recommendations and I'll go check them out on my next visit.
So here are my "best of the best".
Best Rooftop Bars
The rooftop bar at the El Palomar Hotel. 2nd best, but with great margaritas and not as expensive: Posadita. Right behind the Parroquia (and incidentally where Glenn and I were having our drinks when those women were asking us about San Miguel). 3rd: the Luna bar at the Rosewood (where you get yet another angle on San Miguel).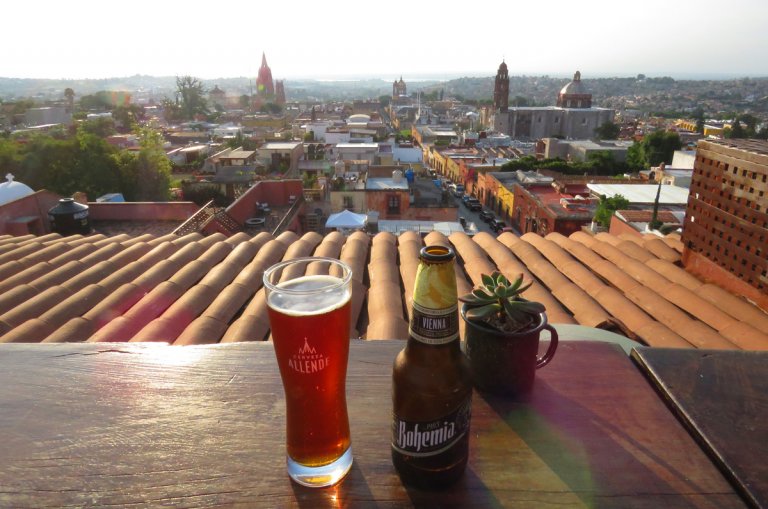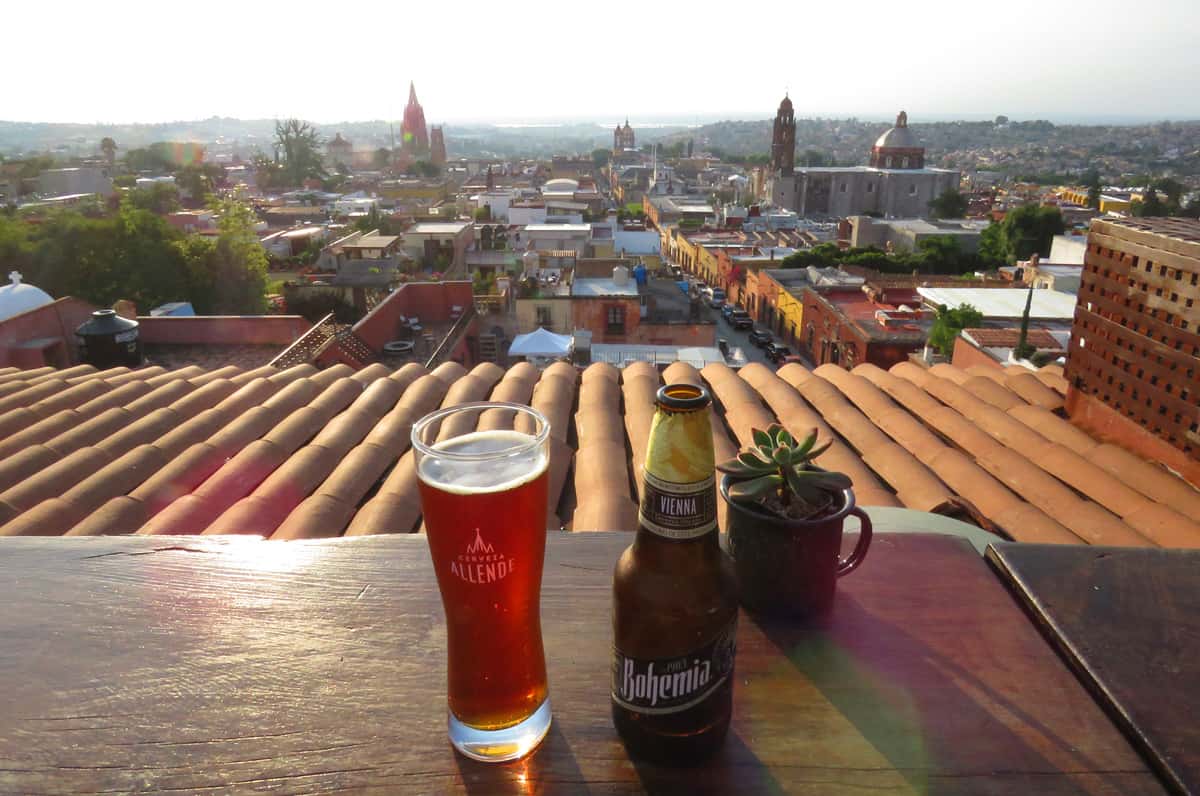 Best Breakfast place
It's the new cafe at the Public library: Santa Ana Gastro Cafe. Excellent breakfasts, great coffee. 2nd for us is La Sacrista. Buen Dia also makes very good breakfasts and has a nice courtyard ambience. There are tons of breakfast places in San Miguel de Allende, many fancy and serving the usual eggs benedict, etc…but the three up there are our favorites. I should mention Panio to pick up pastries, croissants, bread etc. Excellent.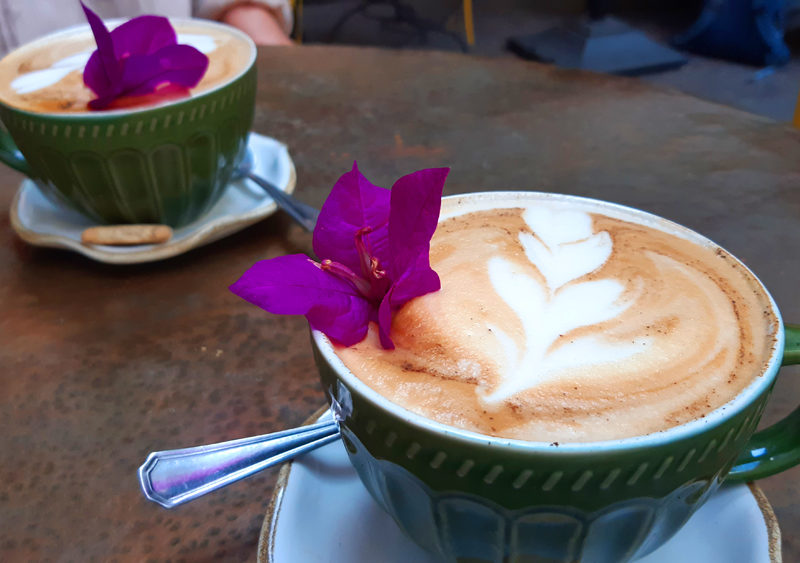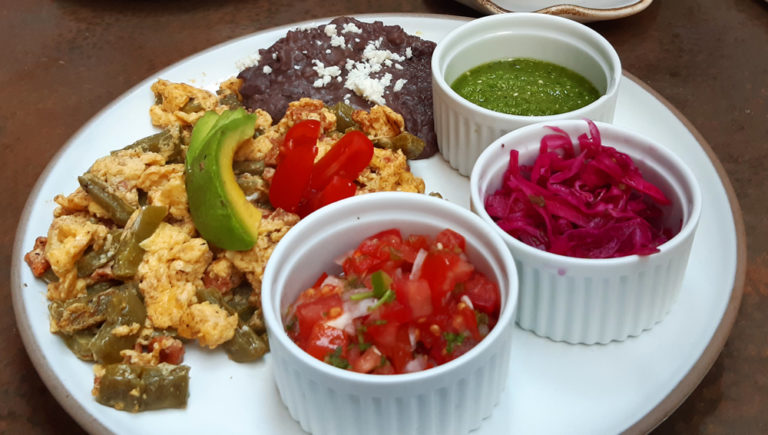 ---
---
Best (relaxing) café
It used to be the café at Bellas Artes. But they closed down during Covid (the same owners have the present Santa Ana, La Sacrista, and Zenteno which are all great cafes). But my new favorite place for a relaxing cup of coffee is Geek & Coffee at La Fabrica Aurora. In a park-like setting, there's a lot of privacy and people love bringing their kids and dogs. Just a really nice place to have a few coffees and chat.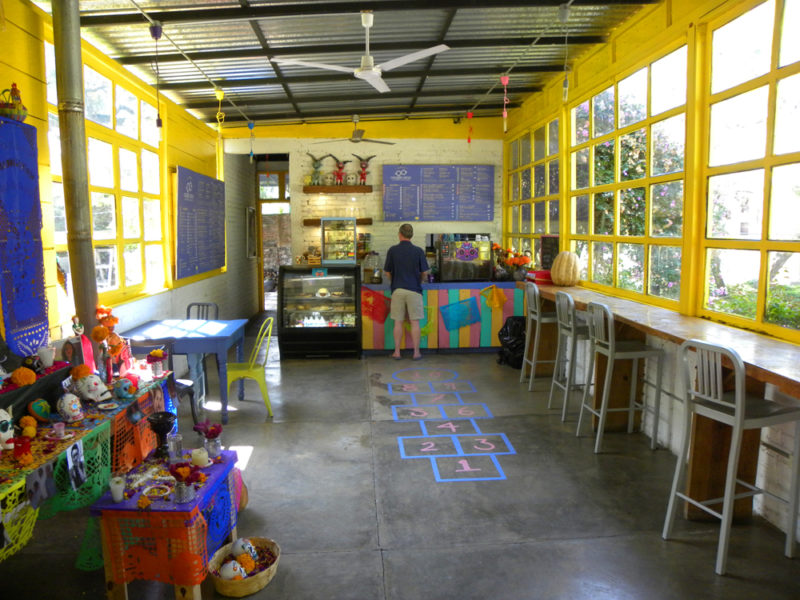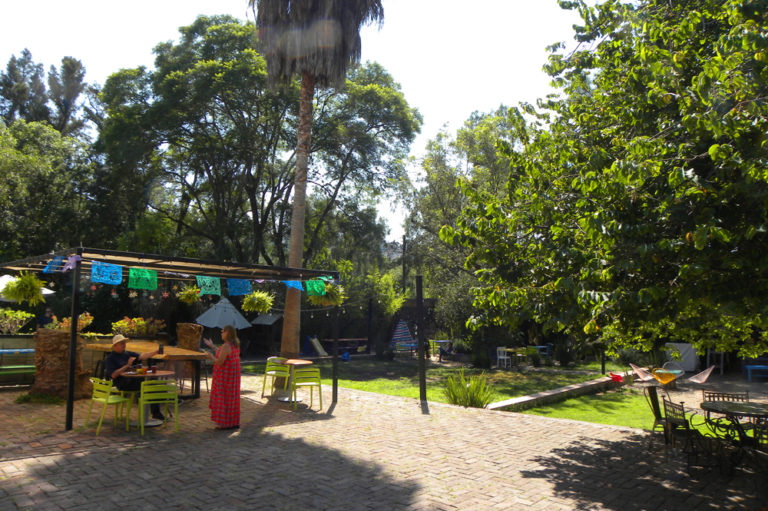 Restaurants (for dinner)
I've covered breakfast above. We don't go out for dinners very much, but I have 2 favorites in San Miguel: El Pegaso has a rooftop terrace with nice views and excellent Mexican food. Posadita, which I mentioned has really good margaritas, also has very nice Mexican food.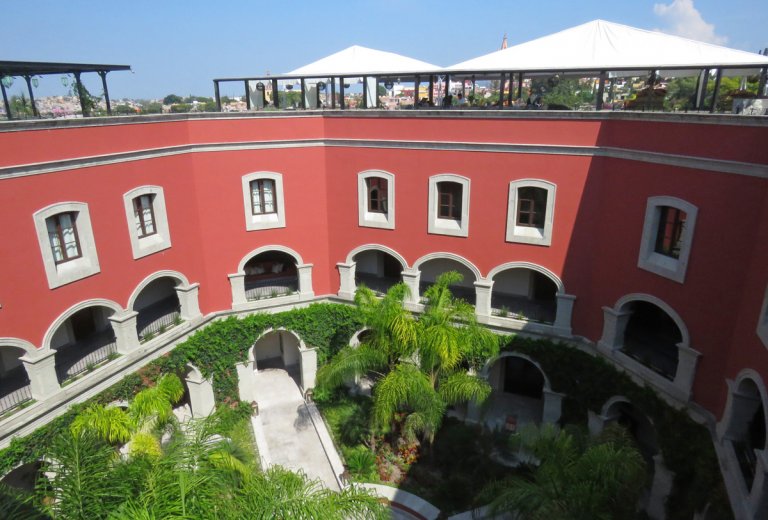 ---
---



Where to Stay
The "Best" place to stay is the Rosewood. It's won all kinds of awards and you'll have everything you need (including that rooftop bar with the views). That bar, the Luna, supposedly has the best cocktails in San Miguel de Allende as well.
Another 5 star hotel is the L´Ôtel at Dôce 18 Concept House. Its rating on Booking.com is equivalent to the Rosewood's.
A step down (a 4 star) is the Hotel El Palomar which I mentioned up there under the best rooftop bars. The views of San Miguel are incredible.
But if you're like us that's probably too rich for your blood. Instead have a look at Booking.com – my usual criteria would be within 500 meters of the center with a Booking.com rating of 8.5 and over (keep an eye out for the Hotel Posada Maria Louisa, the Hotel Casa Don Quijote, and the Casa Nare (adults only) – they fit my criteria and are around $70 US/night which is good value in San Miguel.
Practical Information
– Bus. San Miguel de Allende is about 5 ½ hours by bus from Mexico City. You can take the bus from the Mexico City airport direct to Queretaro (about 4 hours by Primera Plus bus lines). From there you can take a bus to San Miguel which takes about 1 ½ hours. I've written about it before – buses in Mexico are excellent, the best I've seen anywhere. Taking Primera Plus or (especially) ETN is transportation luxury at its best. If not coming from the airport, you can get to San Miguel directly from Mexico city's Central de Autobuses del Norte. That takes about 5 hours.

Finally…
Part of the fun being a travel blogger is meeting interesting people. Glenn came across the blog, saw that I would be in San Miguel, and offered to meet for a few drinks. He's actually leaving San Miguel to travel full-time next year, starting with a few months in Nepal and Tibet. Very interesting guy and we had a night full of great conversation.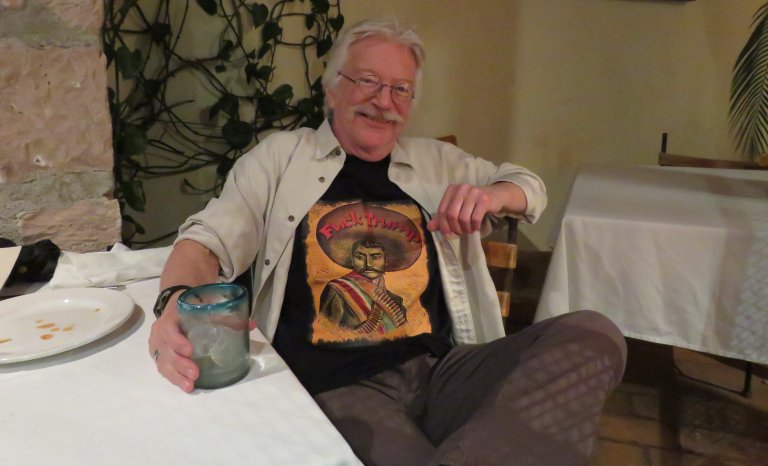 Any thoughts? I'll be back in San Miguel so feel free to give me feedback and suggestions.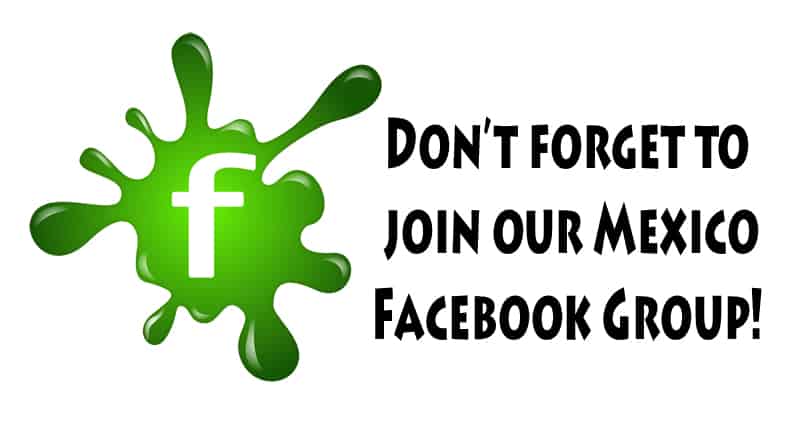 Ps. If you find our blog helpful, please consider using our links to book your flights, hotels, tours, and car rentals. Have a look at our Travel Resources page.