Detailed Guide on What to Do and See in Mexico
Mexico is one of my favorite destinations because of all that it offers: Mayan ruins, beautiful colonial cities, and diverse landscapes including volcanoes, jungles, deserts, canyons and fantastic beaches. It is a colourful country with friendly people and great food. Mexico surprises the visitor; it is not the 3rd world country most expect. It is in fact booming economically and has a tourism infrastructure that exceeds what you get back home; what amazes me more than anything is a transportation network far superior of that found in Canada or the US. I'm not going to tell you that Mexico is perfect and that it has no problems. But as a traveller I've become a huge fan of this country. On top of all the above, it is a country that offers incredibly good value for your money.
Costs
Currency (pesos): about 20 Mexican Pesos to the US dollar
Lodging: You can find something in all price ranges in Mexico, starting around the $15 range for a simple room with private bathroom. I paid 250 pesos for a pretty little hotel right next to the Zocalo in Mexico City – you can't find that kind of price, for that kind of location, in many major cities around the world. I use Booking.com when booking a hotel in Mexico. The last few years I've also increasingly used Airbnb for longer stays (if you haven't signed up yet, sign up using our link and you'll save the equivalent of $35 US on your 1st stay). For those looking to relax at an all-inclusive resort, Mexico's Yucatan Peninsular is home to some of the Caribbean's premier all-inclusive resorts on arguably the best beaches in the world (more below). For all-inclusive options on both the Yucatan and on Mexico's west coast, check out First Choice.
Food: You can get by on $15 to $25/day buying food in markets or eating in local restaurants. This being Mexico, you'll have an incredible variety of fantastic foods. Stick to cooked foods, stay away from salads unless staying at a reputable resort.
Transportation: Modern buses with movies, bathrooms, free snacks. A plethora of companies covering the whole country. Sample fares: Mexico City to San Miguel de Allende – 4 hrs, 365 pesos, Mexico City to Puerto Vallarta – 11 hrs, 1076 pesos. The most luxurious buses are ETN, but Primera Plus is also excellent.
.
---
---
.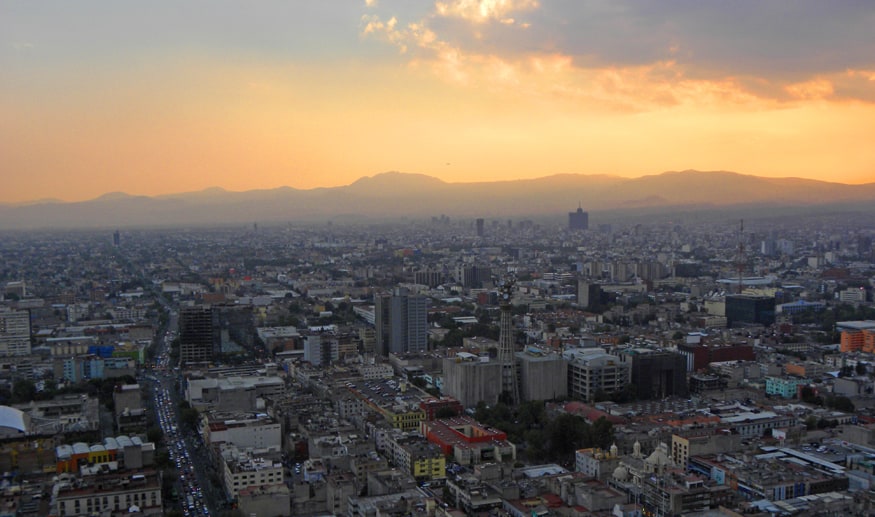 .

Top Places to see
Mexico City
Mexico City is one of the world's most densely populated cities. It is also one of the most vibrant and colourful. Despite its high crime rate (which has come down since 2011) the capital is a fun place to be and nowhere near as intimidating as you might expect. It's also very easy to find your way round, with an efficient metro system, and generally easy-to-navigate grid of streets. Highlights: Zócalo square with Metropolitan Cathedral, Palacio Nacional, and Templo Major (and the largest flag you'll ever see in the square). Chapultepec Park, has Chapultepec Castle, the Museum of Anthropology, Mexico City Zoo, Atlantis (marine life park), and La Feria amusement park. Go to the Latinoamericano tower for the best views of the city from the 42nd floor. Take the Hop On, Hop Off Turisbus – they have two different circuits, take you to all the sites, and show you the whole city from a different perspective. Stop at Museo Nacional de Arte and Palacio de Bellas Artes (which is right next to the Latinoamericano tower) on the 'Centro' route, see the Frida Kahlo and Diego Rivera museums if on the 'southern' route. Mexico City is the city with the most museums in the world. Walk the streets of the Centro Historico, especially Francisco I Madero Street which leads from the Zócalo to the Latinoamericano tower, you'll see many old churches and interesting buildings along the way. A very popular day trip is to the Teotihuacan, one of the world's most famous archaeological sites (where you can climb up the Pyramid of the Sun).
Some hotel recommendations in the center: Hotel Punto MX (really nice, great location, good value), Hotel Ritz Ciudad de Mexico (fancy 4 star but they sometimes have special deals that are really excellent value). A few of my favorite cheap (but comfortable) hotels in the center: Hotel Marlowe and the Hotel Castropol.
Related: Some Essential Mexico City Tips
.
---
---
.
Central Mexico: Guanajuato, San Miguel de Allende and Querétaro
Central Mexico has some beautiful towns with incredible architecture. Guanajuato city is located in the mountains and is regularly voted as one of the most attractive Mexican towns. Hilly, full of churches, plazas and monuments, it is gorgeous. See more on Guanajuato here (as well as hotel recommendations). Many foreigners come to learn Spanish at the local university. San Miguel de Allende is another very pretty town and is popular as a retirement spot for many retirees from the USA and Canada. It was recently voted the No. 1 city in the world by Condé Nast. Have a look at my detailed Guide on San Miguel. It gives you an idea what a pretty town it is. Querétaro has a bustling arts and music scene and its old section is a wonderful place to explore on foot (We stayed at the Hidalgo Hotel in Queretaro. Recommended). All three cities are UNESCO World Heritage Sites.
.
---
---
.
Yucatan Peninsula
The Yucatan Peninsula offers both the best beaches
in Mexico as well as the most impressive Mayan archeological sites in the country. Cancun consistently ranks number one as America's choice in international vacation destinations. Resort towns like Playa del Carmen, Playacar and Cozumel each year welcome over 3 million visitors. Almost everything focuses on water activities, including jet skiing, snorkeling and scuba diving. Visitors can also explore the nearby site of Chichen Itza – a UNESCO World Heritage Site and one of the top 3 Mayan sites (along with Copán in Honduras and Tikal in Guatemala). The nearby ruins at Ek Balam and Uxmal are also worth a visit. Further south Tulum and Cobá are equally impressive sites with less tourists. For hotels in Cancun, click on the deals finder below. There are so many resorts and prices will fluctuate greatly (never mind some of the crazy prices that show up on the banner below – click on it and you'll see good prices).

Some recommended tours in the area (there are tons of activities in the Yucatan): A Chichén Itzá, Ik Kil Cenote and Valladolid Full-Day Tour, A tour of the beautiful ruins at Tulum, or a snorkling adventure in Cozumel.
Below: Cancun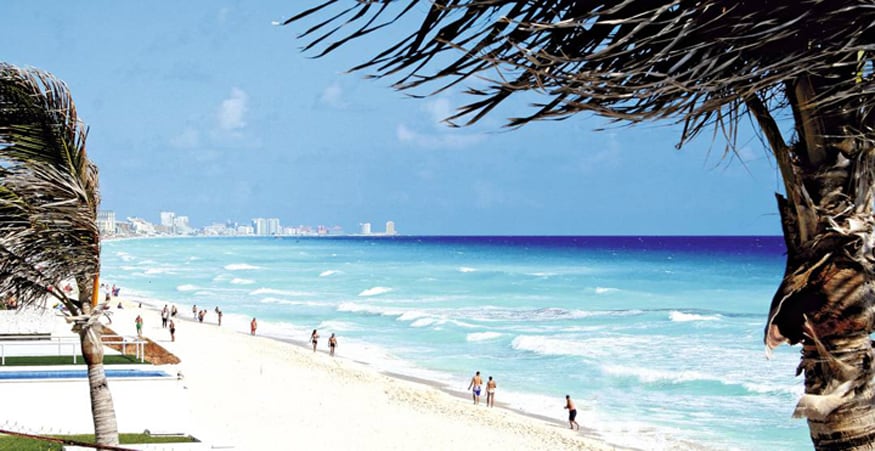 ---
---

Oaxaca
Oaxaca is what many associate with Mexico; nowhere else in the country are the markets so full of colour or the fiestas so exuberant. This region is poorer, there is little development and industry is virtually nonexistent, the economy primarily dependant on tourism. You'll see a high concentration of indigenous people in the region, the most numerous being the Zapotecs and the Mixtecs – the nearby ruins at Monte Albán were founded by the Zapotez empire around 500 BC and are a 'must see'. Oaxaca's cobblestone streets are lined with galleries, excellent restaurants (many say Mexico's best food is in Oaxaca), and churches – there are over 20 churches in town including the church of Santo Domingo, one of the region's most magnificent examples of Baroque architecture. Nearby: visit the Monte Albán (mentioned above) as well as the impressive sites at Yagul and Mitla. All the above are set among spectacular mountain scenery where the Sierra Madre del Sur meets the Sierra Madre de Oaxaca, the continuation of Mexico's central volcanic belt. Recommended: This half day city tour. You also HAVE to see Monte Alban. This tour is recommended for Monte Alban.
Hotel: we stayed at Parador del Dominico which was excellent and well situated. Recommended.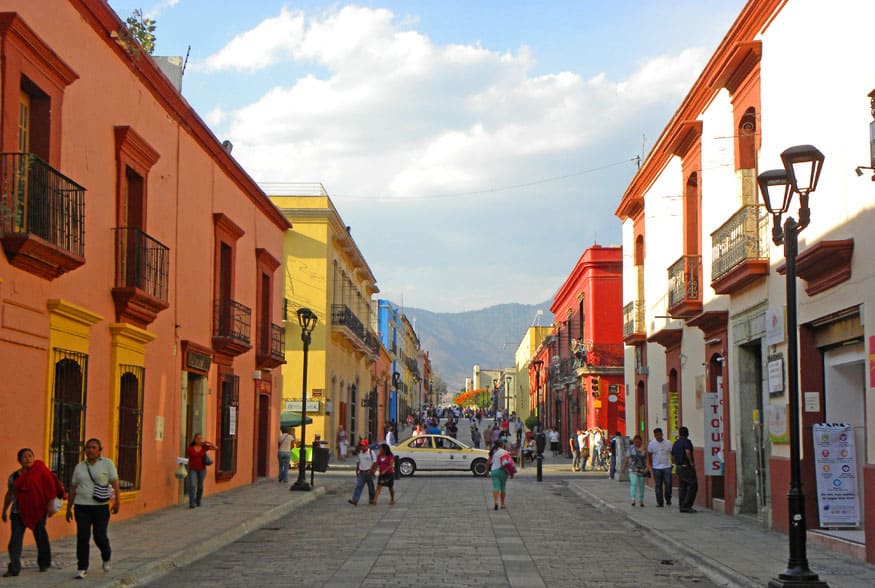 ---
---

Puebla
The elegant colonial city of Puebla, the country's fifth largest city (after Mexico City, Guadalajara, Monterrey and Tijuana), is a couple of hours by bus from Mexico City – with glorious views of the snowy heights of Popocatépetl and Ixtaccíhuatl on the way. Known for its fine cuisine, Puebla has a remarkable concentration of sights – a fabulous cathedral, a "hidden" convent, museums and colonial mansions. The mountainous countryside is startlingly beautiful. The city centre and Cerro de Guadalupe, where all the sights are to be found, form quite a compact area and is easy to get around. You can see the best of the city and nearby Cholula in a couple of days. I wrote a detailed post on Puebla here. From Mexico City (which is only 2 hours away) you can take this full-day tour which covers Puebla as well as Cholula.
Hotel recommendations: we stayed in the Hotel Gala which is perfectly situated in the center. Lots of charm. Similarly, Hotel Frida is in the same price range (ie. cheap) and really nice as well. Another recommendation, pricier but really beautiful: Meson Sacristia de la Compañia Hotel Boutique.
---
---

Copper Canyon
Everyone knows about the Grand Canyon but few have ever heard of Mexico's Copper Canyon. It is located in the southwestern part of the state of Chihuahua and is a beautiful (and isolated) mountainous region containing six rivers and over eleven major canyons. Although covering a larger area than the Grand Canyon, with deeper gorges (of up to 2000m), it's hard to compare this region with the great canyons of the southwestern US because you're more likely to get an overall perspective over the Copper Canyon once, at the small lookout of Divisadero (where there are several hotels located on the canyon rim). Nature lovers and eco-tourists enjoy hiking, camping and bird watching in the area, which is still home to the Rarámuris and Tarahumaras, indigenous peoples who live in the mountains. BUT the major draw among travellers is Chihuahua al Pacífico train (commonly known to tourists as El Chepe), which runs through 390 miles of the canyons. The journey takes 15 hours and the experience is enhanced with breathtaking views and scenery. Another tourist attraction is the 807-feet tall Basaseachic Falls, the second-highest waterfall in Mexico. I recently explored the Copper Canyon and wrote a detailed post on it. It is one of the most amazing trips I've taken.
I really recommend a stay at the Hotel Divisadero Barrancas in Divisadero. I wrote about that here.

---
---
Guadalajara and Tequila in Jalisco
Mexico's State of Jalisco, home to mariachi music and tequila, provides a strong taste of Mexican culture. Guadalajara is considered to be the cultural center of Western Mexico and the city's famous historic downtown is home to Plaza de Armas, The Metropolitan Cathedral and The Rotonda de los Hombres Ilustres, among several other museums and historical sites including Hospicio Cabañias, a UNESCO World Heritage site. Travelers also enjoy the city's music culture, ranging from sidewalk Mariachi bands to the Philharmonic Orchestra of Jalisco. I wrote about why you should visit Guadalajara here. I also recommend this half day tour. Also in Jalisco is the town of Tequila and its surrounding agave fields, listed as a World Heritage Site. Some tourists take the popular Tequila Express and tour tequila country, seeing a number of haciendas and stopping for a tasting along the way.
I stayed in Hotel Casino Plaza while in Guadalajara. One of the nicest hotels I've stayed at in Mexico.

.
---
---
.
Chiapas: San Cristobal de las Casas and the ruins at Palenque
San Cristobal de las Casas, a city of over 200,000 inhabitants, is the cultural capital of Chiapas. The city has preserved its century-old houses, cobbled streets and colonial buildings, the most central being the main plaza or the Zócalo, around which tourists find local peoples selling handmade crafts and textiles in open-air markets. Surrounded by dozens of Tzotzil and Tzeltal villages, San Cristobal is one the most deeply rooted indigenous areas in the country and a central starting point for exploration of Chiapas, the southern-most state in Mexico. (more on visiting beautiful San Cristobal de las Casas). In the area, the ancient Mayan ruins of Palenque are some of Mexico's finest Maya sites: less crowded than Chichén Itzá, larger than Uxmal, and with the most spectacular setting. It is a relatively small site (you can see everything in half a day) but a fascinating one, strongly linked to the lost cities of Guatemala while displaying a distinctive, unique style. Tip: arrive early in the morning for great views over mist filled treetops. See this tour of Palenque that you can do from San Cristobal de las Casas.
A few hotel recommendations: Hotel Grand Maria, Hotel Diego de Mazariegos and Sombra del Agua. All tasteful and located right in the center.

.
---
---
Puerto Vallarta
Fantastic sunsets, kilometres of sandy beaches and a laidback, colonial centre, Puerta Vallarta is a small city almost entirely dependent on tourism. It attracts a mixed bag of North American retirees, Mexican families, spring breakers, cruise-ship day-trippers and gay visitors (it's become one of the more popular gay centres of Mexico). Puerta Vallarta is smaller and more relaxed than Cancún and Acapulco, and its location, surrounded by mountains, is spectacular. Behind the beaches there's a lively Mexican city which means a great choice of tasty street food (especially tacos). This stretch of coast, similar to the Yucatan, is a favorite of travelers looking to stay at some of Mexico's finest all-inclusive resorts. A few fun (and popular) tours in Puerto Vallarta: A "Pirates of the Bay Dinner Cruise" (that everyone seems to love), a Canopy River Zipline Tour, a Yelapa and Majahuitas Beach Adventure tour. Puerta Vallarta is a fun place.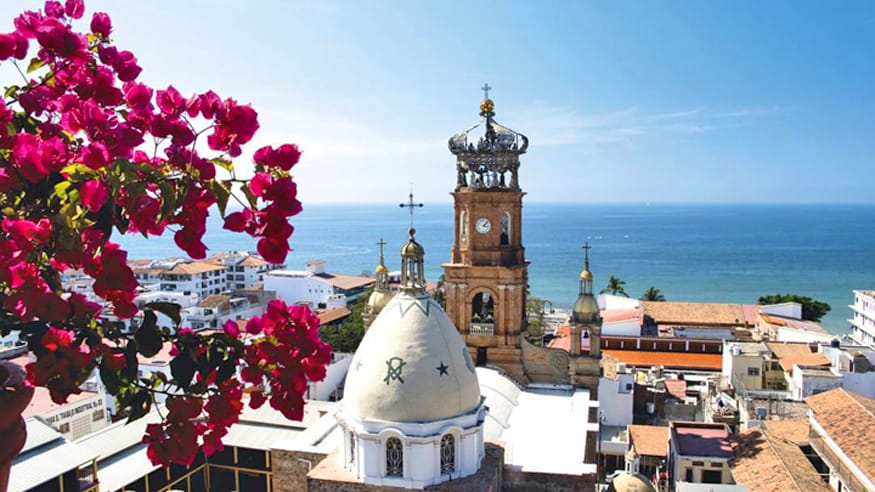 .
---
---
.
Ixtapa-Zihuatanejo
A resort town approximately 150 miles north of Acapulco, the bayside city of Zihuatanejo and the nearby modern resort of Ixtapa make up the third most visited tourist destination in Mexico after Cancun and Puerto Vallarta, especially for sports fishermen. Once a sleepy fishing village, Zihuatanejo gained international popularity in the 1970s after the Mexican Government built the nearby resort of Ixtapa with the aim of establishing a Cancun-like resort on the country's Pacific coast. Easily accessible to travelers by way of Ixtapa-Zihuatanejo International airport, Zihuatanejo continues to be popular with tourists because of its homegrown feel and overall charm. It's is only about five minutes away from the beach resorts of Ixtapa, home to two world-class golf courses.
.
.
Baja California Sur: Los Cabos and La Paz
With incredible desert landscapes, oases, and rich marine life, Baja California is one of the most popular destinations in Mexico. Isolated from the rest of Mexico, it is not a place conducive to quick exploration (the peninsula is 1300km west of Mexico City and covers a length of 1700 km, most of it desolated). The majority of travellers get to Baja California by flying into the town (and primary resort area) of Los Cabos, at the tip of the peninsula. It is a town known for fishing, golf, scuba diving & watersports, fine dining, shopping, and a 'wild' party scene. It is also an incredibly beautiful destination. Have a look at this Full-Day Los Cabos Tour. If you're adventurous, you might want to do this 4 hour ziplining excursion or go snorkling with Whale Sharks.
For hotels in Los Cabos, click on the deals finder below (and again, never mind some of the crazy prices that show up on the banner below – click on it and you'll see good prices).
La Paz , 3 hrs north of Los Cabos, is more geared towards the independent traveller. More subdued, it is great place to take a boat excursion and see some wonderful desert landscapes and marine life. The Sea of Cortez attracts divers, eco-tourists, and whale watchers from around the world: giant manta rays, whale sharks, colonies of sea lions, pods of humpback, blue, sperm, fin and seasonal migrating gray whales are very common sights here. Travellers also come here for language courses, homestays, and great beaches. Note: you can take a long ferry ride from Mazatlan on the Mexican Coast to get here – 17 hours, about $90 one way.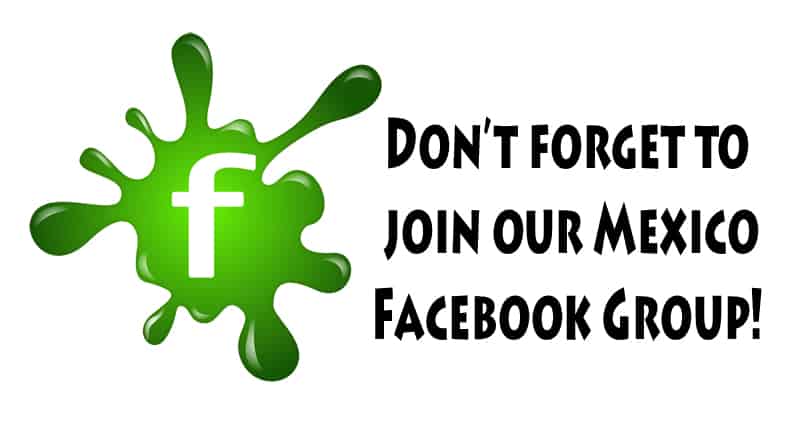 Ps. If you find our blog helpful, please consider using our links to book your flights, hotels, tours, and car rentals. Have a look at our Travel Resources page.
.