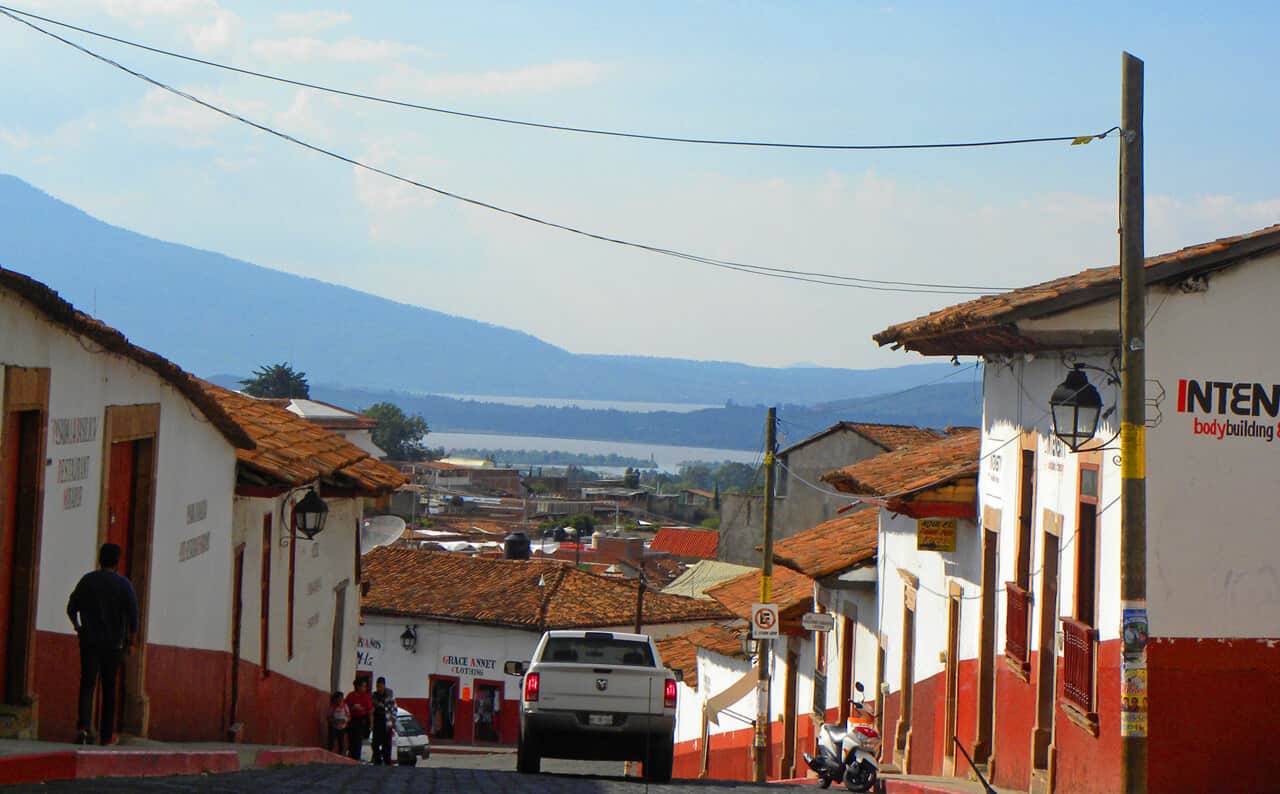 The 'Pueblo Magico' town of Patzcuaro
One of the prettiest little towns I was going to see on my recent trip to Mexico was the town of Patzcuaro. Located in the state of Michoacán, it is one of 83 "Pueblo Magicos" (Magical Towns) designated by Mexico's Tourism department. The designation is meant to promote towns around the country that offer visitors a "magical" experience by reason of their natural beauty, cultural riches, or historical relevance. Click here to see a listing of Mexico's Pueblos Magicos.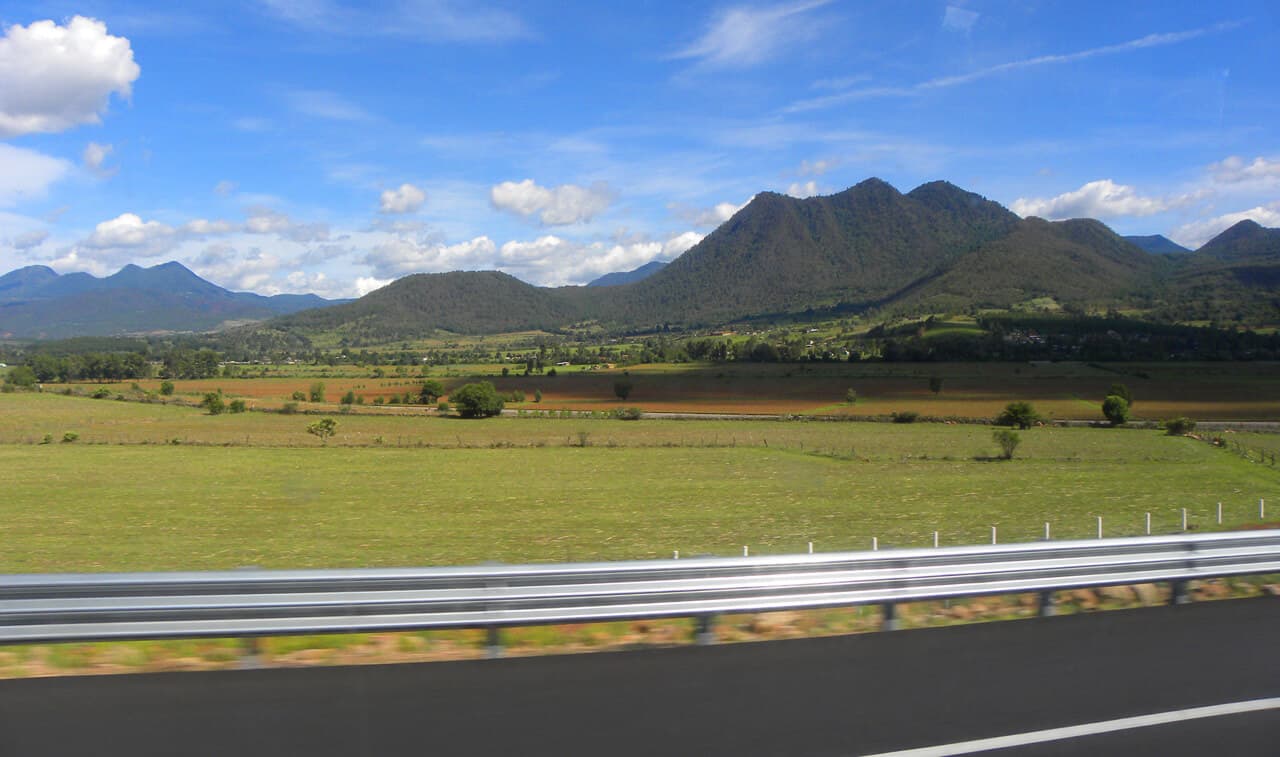 Above: beautiful views of Michoacán state on the road from Mexico City (a 5 hr bus ride).
What makes Patzcuaro special? Well, the first thing that you'll notice is how homogeneous buildings are: 1 or 2 stories high, with red tile roofs, painted in white with red trim along the bottom of the walls. Each building has stylized lettering, in red and black, describing the nature of the businesses inside. Even street signs are drawn on the walls in red and black. You won't see ugly signs or placards in Patzcuaro. You'll also see lots of churches, porticos, arches and courtyards dating back to the Spanish.
.
You can't help but feel like you've stepped back in time in Patzcuaro.
Below: architecture and paint schemes in Patzcuaro.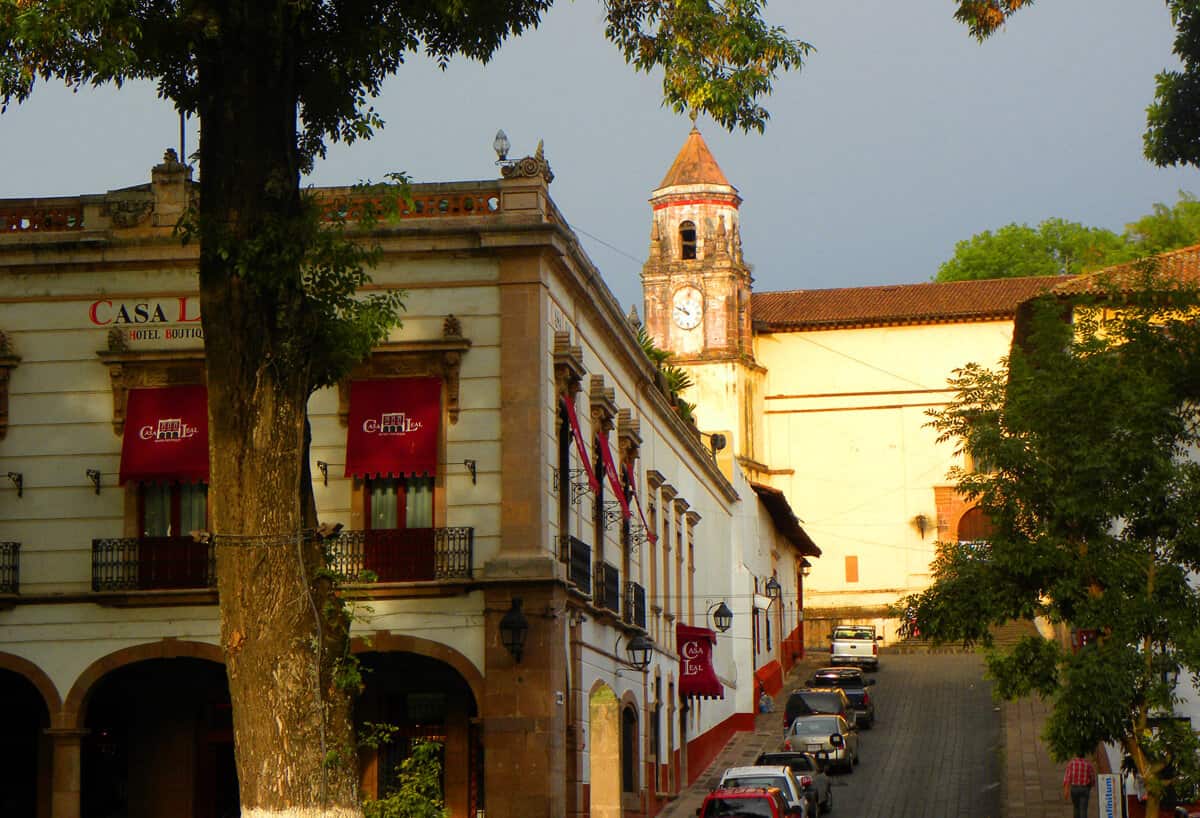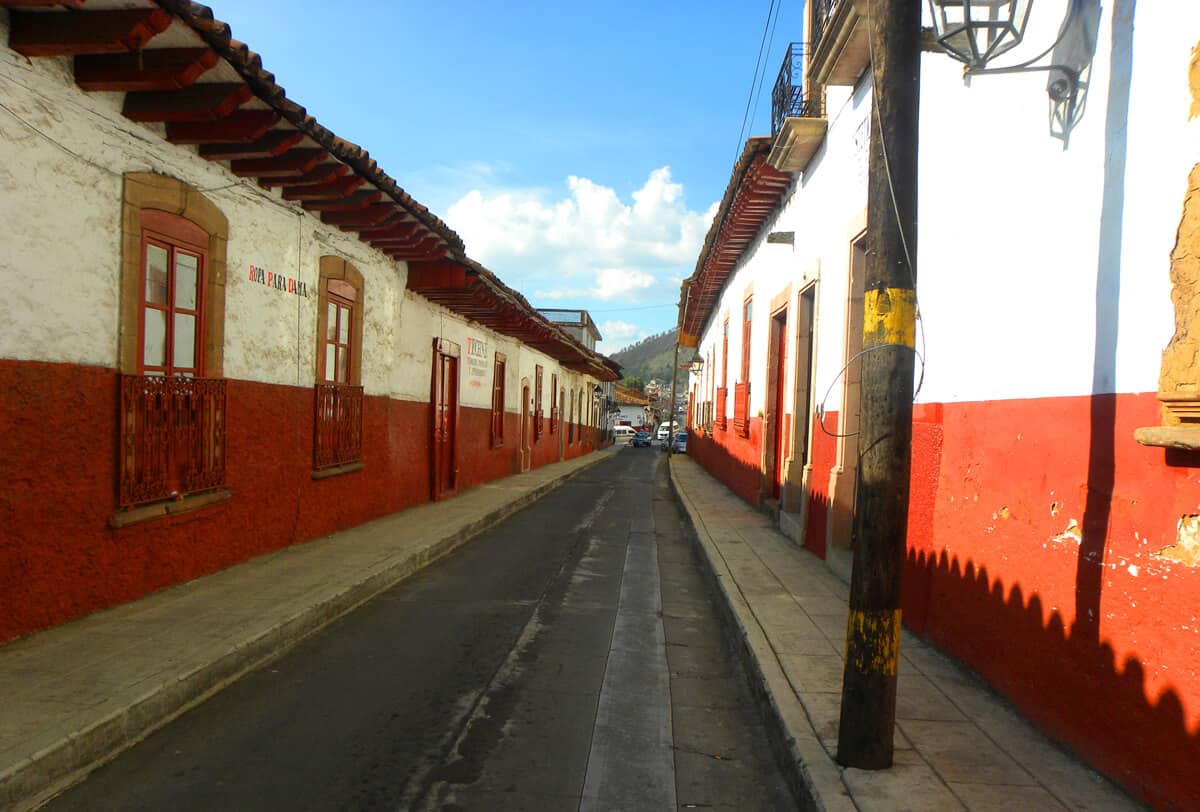 Patzcuaro is not a big place and everything revolves around the main square, named Plaza Vasco de Quiroga (also called Plaza Grande). Many of the town's restaurants and cafés are located under the portico-ed buildings around the square and it's a great spot to sit down with a drink and watch local life. We spent 3 days in Patzcuaro and every evening my mom and I (for those who don't know – this was my yearly trip visiting her in Mexico) would finish the day with a margarita on the square. A few photos below:
Above: Yes, I know. I don't feel very manly with that glass.
.
Sights in Patzcuaro
Patzcuaro is the kind of place where you wander around, sit on squares and go to markets. There's no one sight that will leave you breathless, all together however they add up to a lot of things to see in such a small place and will leave you appreciating the history and how it's been preserved. More importantly, Patzcuaro feels like "the real Mexico". It – and the surrounding area – is famous for its indigenous culture and arts and crafts. People come here from all over Mexico to buy its textiles, copper works, pottery, baskets, and wood work. The countryside around Patzcuaro is also very pretty and has lots of historical and cultural highlights (to be covered further below).
For now here are a few sights in the town of Patzcuaro itself.
Below: The Iglesia del Sagrari, built starting in 1693.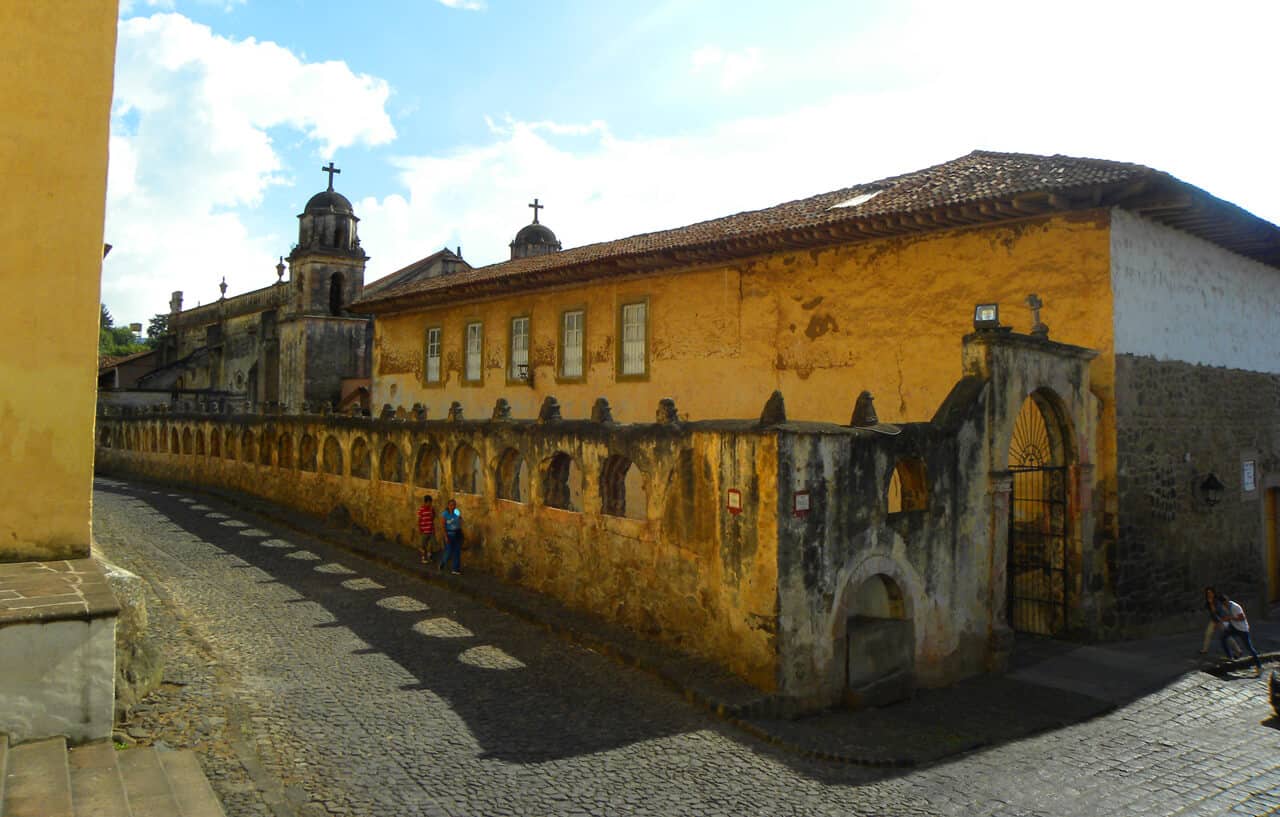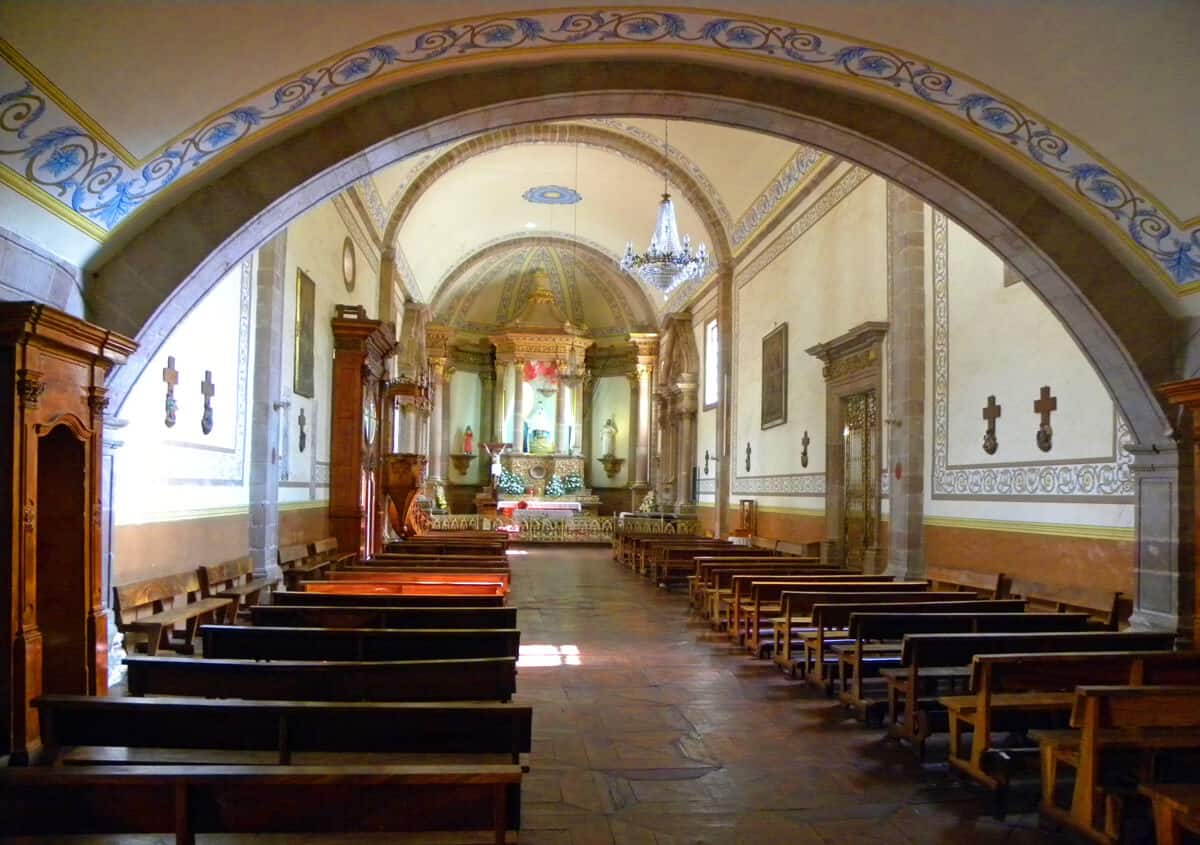 Below: Very close to the above Iglesia del Sagrari, the Basilica of Nuestra Señora de la Salud is the most important church in town and holds the remains of Vasco de Quiroga, the first Bishop of Michoacán (you'll see a large statue of him in the main square, also named after him). The Basilica's interior is very impressive.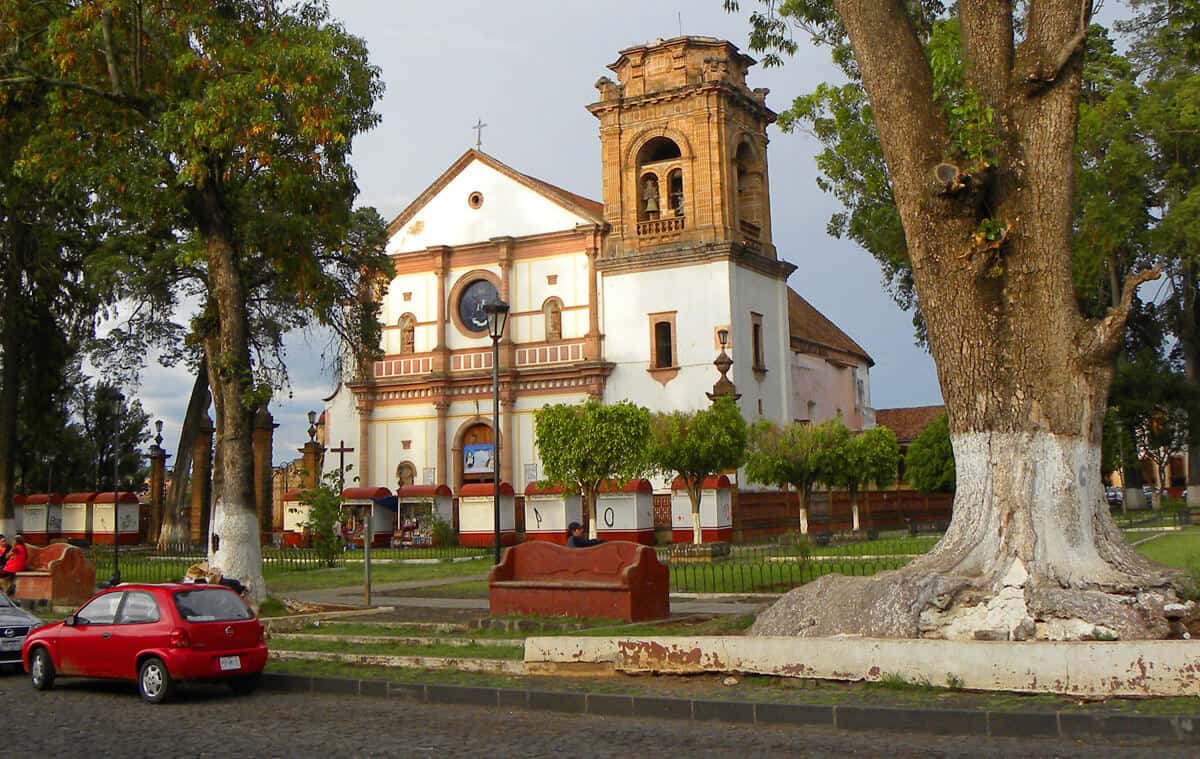 Below: Patzcuaro's most popular tourist site is the Casa de los Once Patios (House of Eleven Courtyards). It is a complex of courtyards and shops that today make and sell local crafts – but in the 1700's it was a convent for Dominican nuns that grew to include 11 courtyards (there are 5 existing today). It is a great spot to do some shopping.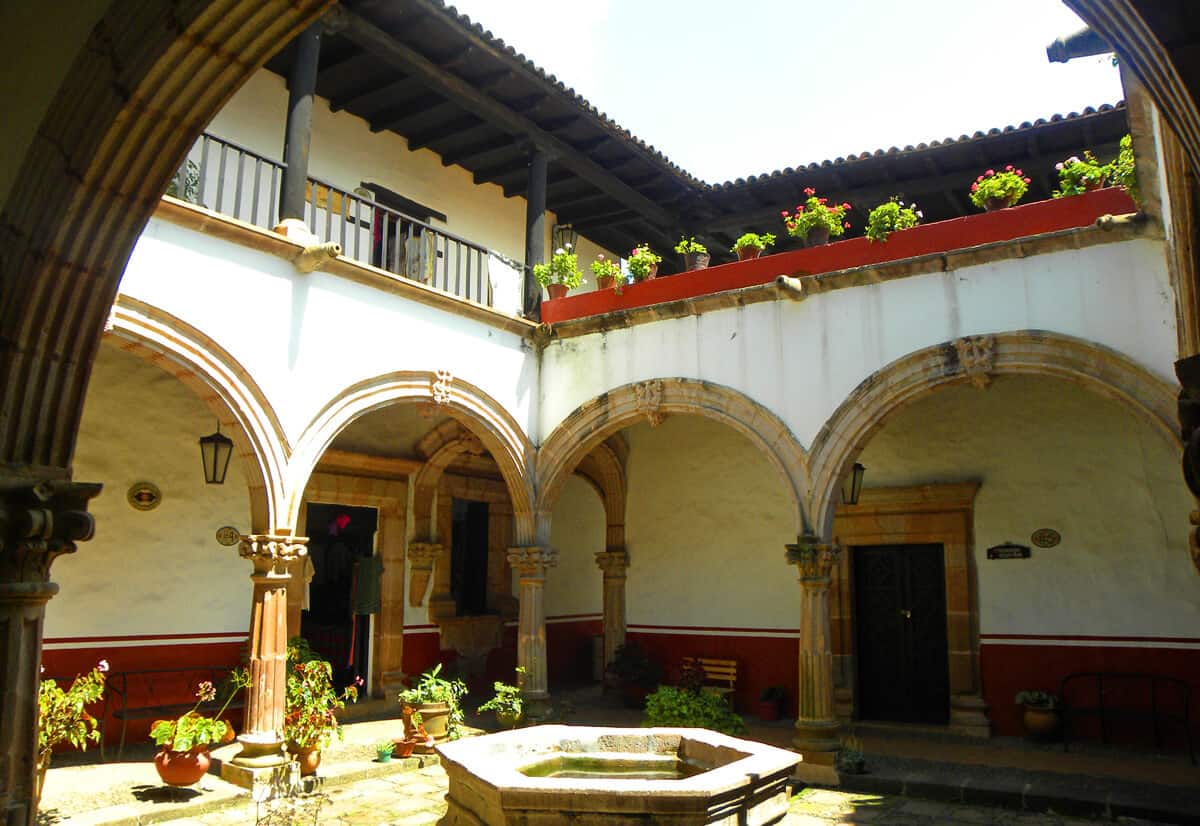 Below: The town's 2nd major square is Plaza Gertrudis Bocanegra, also called the Plaza Chica. You'll see lots of locals sitting in the shady park (as well as dogs scratching themselves). On one side of the plaza you'll see what used to be a church (the Ex Temple of San Augustin) which is now the Gertrudis Bocanegra library. Inside you'll see a huge mural by Juan O'Gorman depicting the history of Michoacán.
Below: Just off Plaza Chica is Patzcuaro's market. Just behind it is this church, the Parroquia del Santuario de Guadalupe (you can't miss it, the dome sticks out above all the low level buildings surrounding it). There we witnessed something I had never seen – a man ringing the church's bells from outside the church.
Below: worth visiting on Fridays (only on Fridays) is the market on Plaza de San Francisco. Indians from the surrounding area come into Patzcuaro and sell their pottery and baskets. Really unique stuff and very inexpensive. That's when you kind of wish you had your own place in Mexico to surround yourself with beautiful stuff 🙂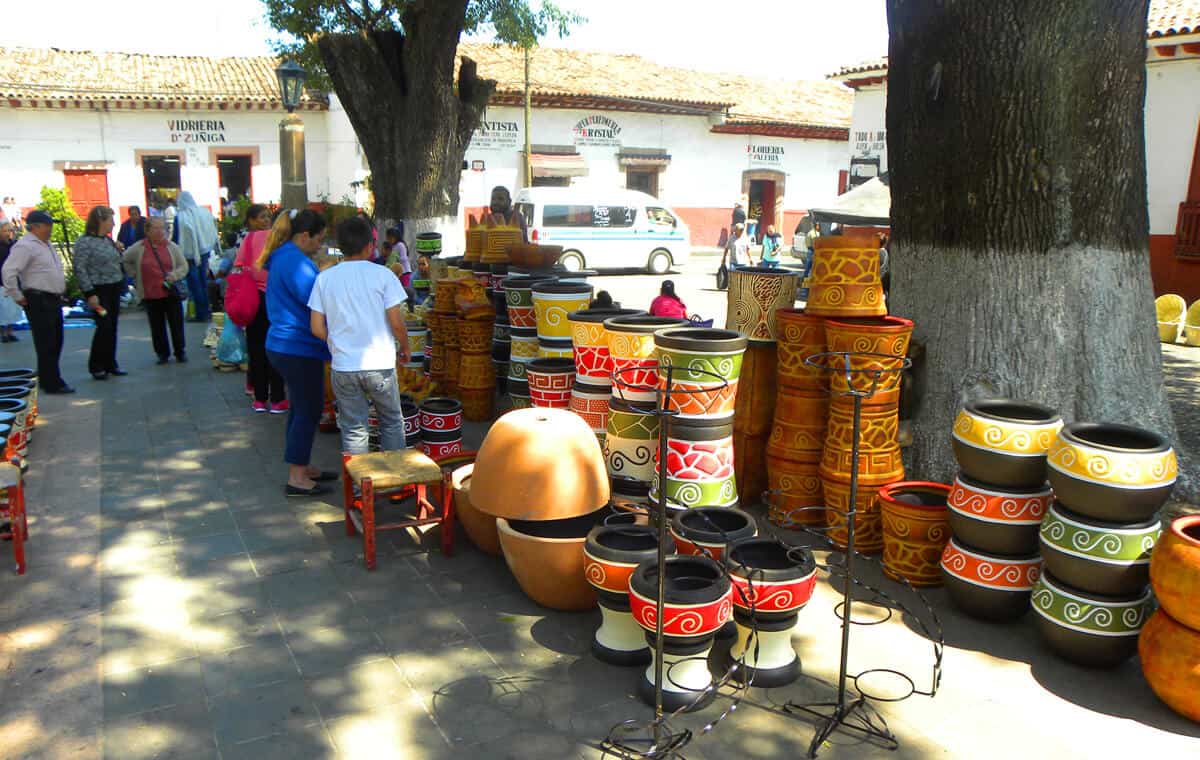 Below: A few more images taken while walking around Patzcuaro.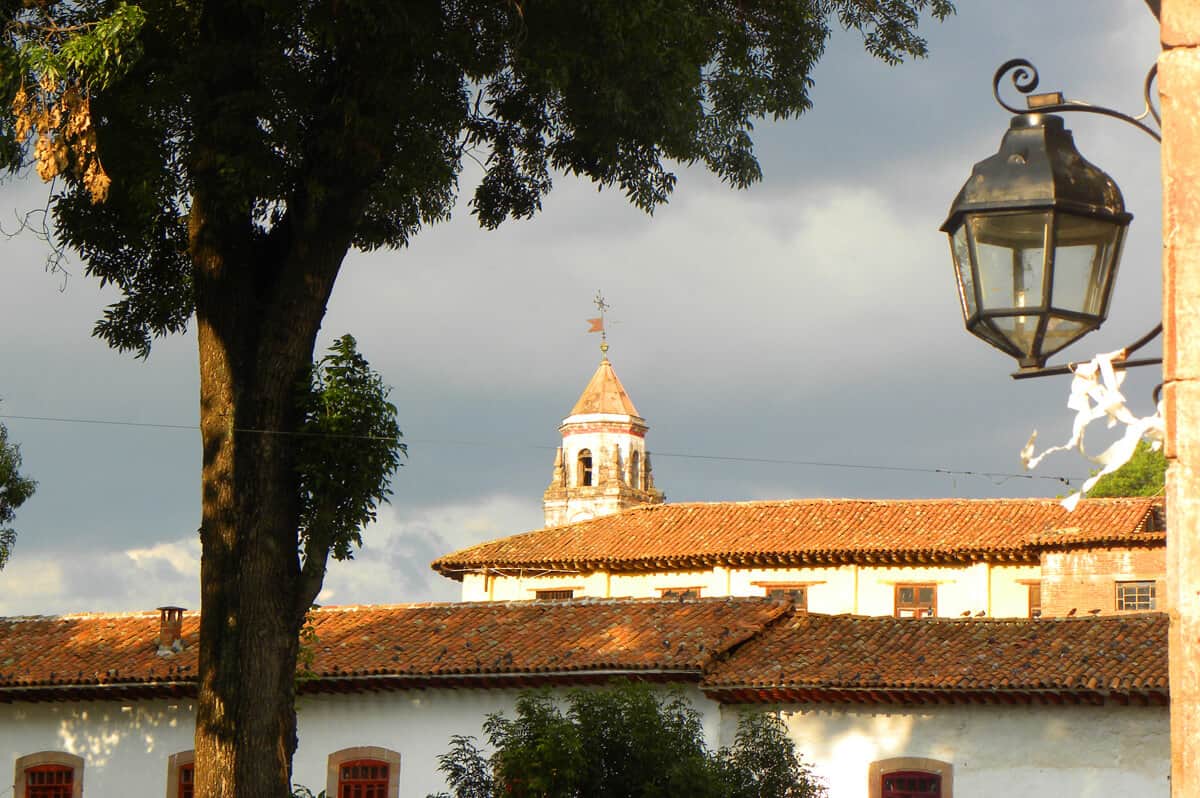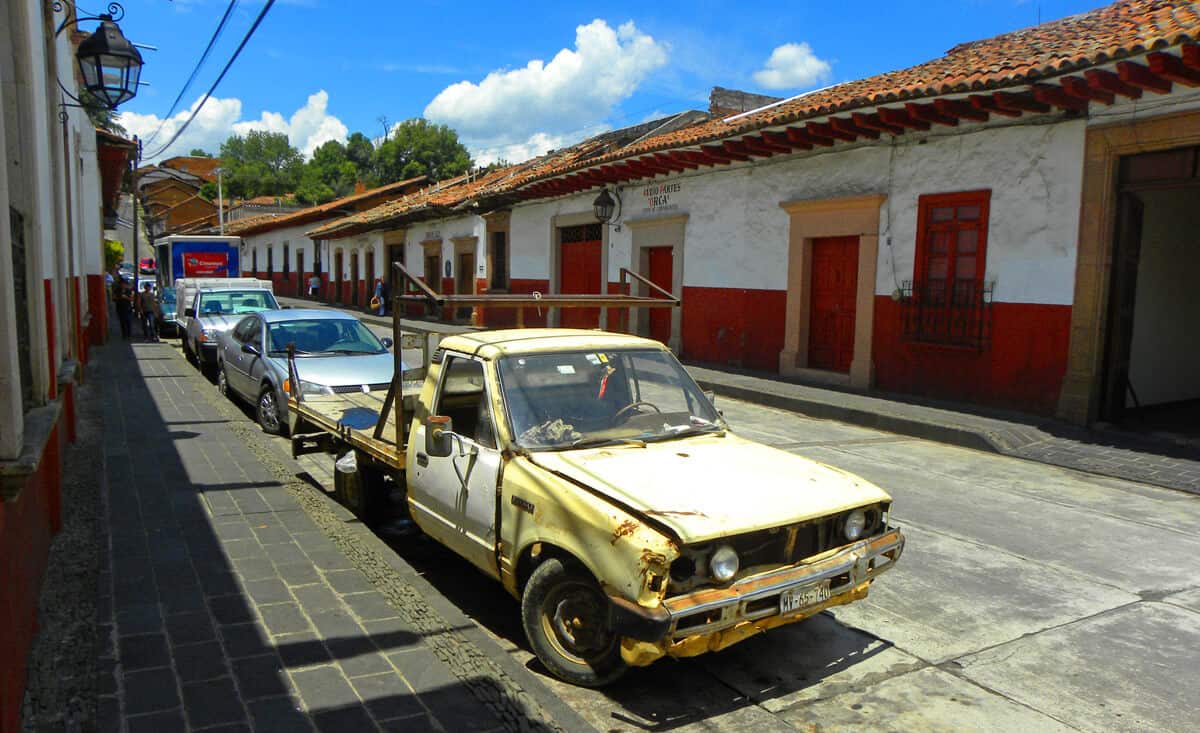 Below: interior of the El Patio restaurant.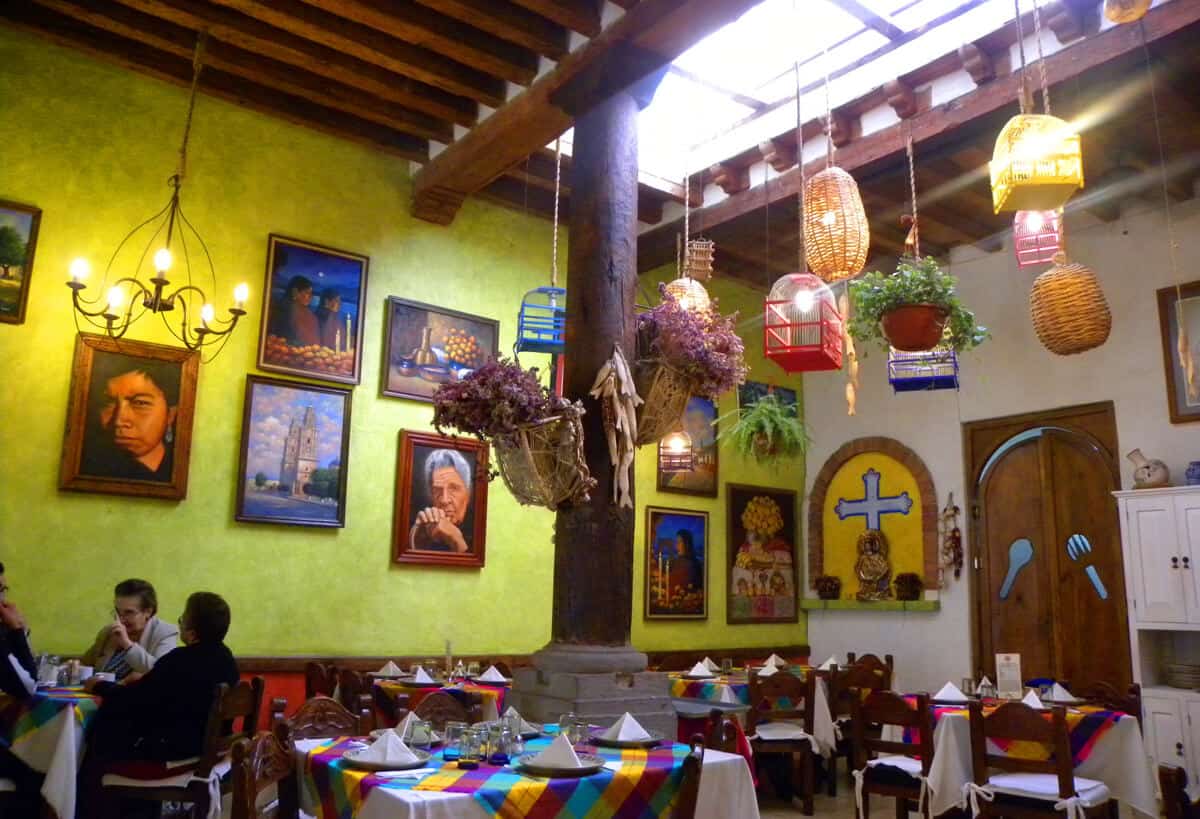 Below: This little tourist train will give you a tour of Patzcuaro.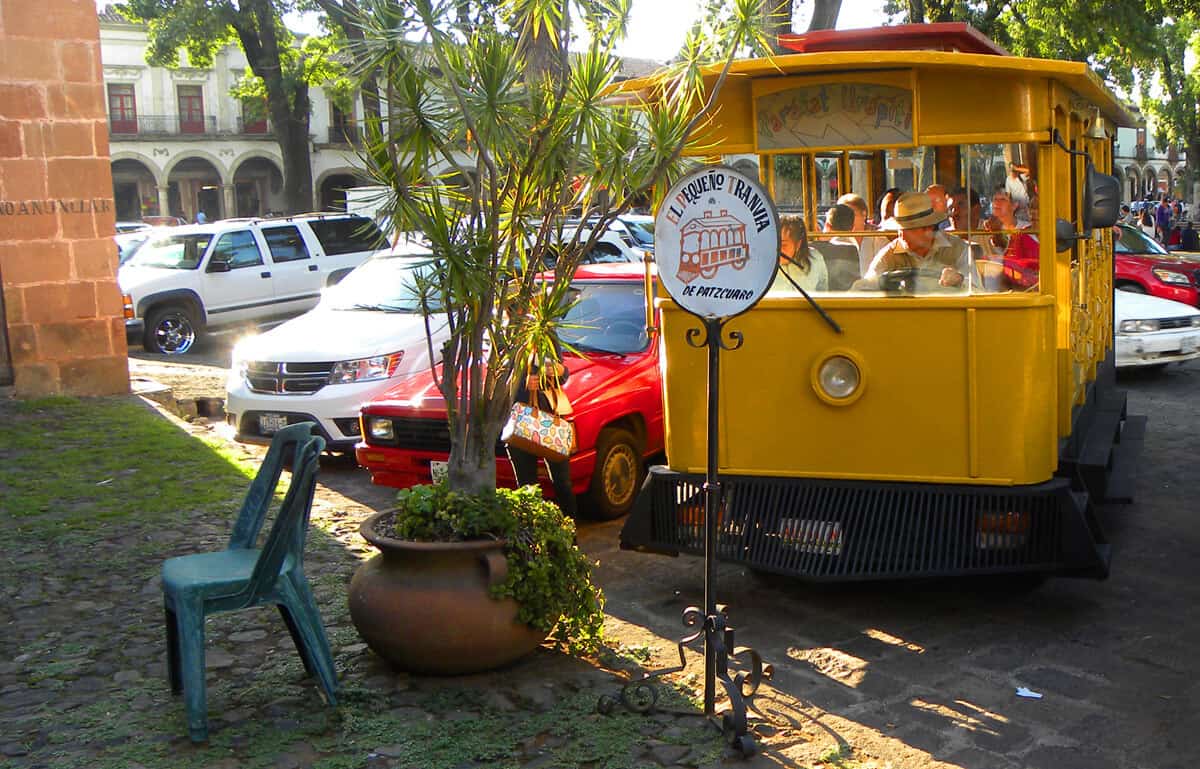 A tour in the Patzcuaro Region
There's lots to see around Patzcuaro starting with the lake, Lake Patzcuaro. The most popular activity is visiting the (very touristy) island Janitzio, recognizable by a huge statue (40 meters) of José María Morelos, a Mexican catholic priest and rebel leader who organized the Mexican war of Independence against the Spanish. By most accounts however, seeing the island is not worth it (very, very touristy and you'll feel overwhelmed by all the kiosks selling crap).
Instead, book a tour as we did. It was one of the most interesting tours I've taken. Jaime (our tour guide) took us to a viewpoint overlooking the lake (first photo below) and then brought us to some of the historic towns in the area. The town of Tzintzuntzan was a highlight, a town with old Mesoamerican pyramids, old churches and a fantastic Franciscan convent recently visited by the Queen of Denmark (There's a Danish connection here: a former Danish prince, a heir to the throne, turned to the priesthood and served in this convent where he fought for the right of the indigenous – managing in the process to piss off the above mentioned Vasco de Quiroga. Isn't history interesting?).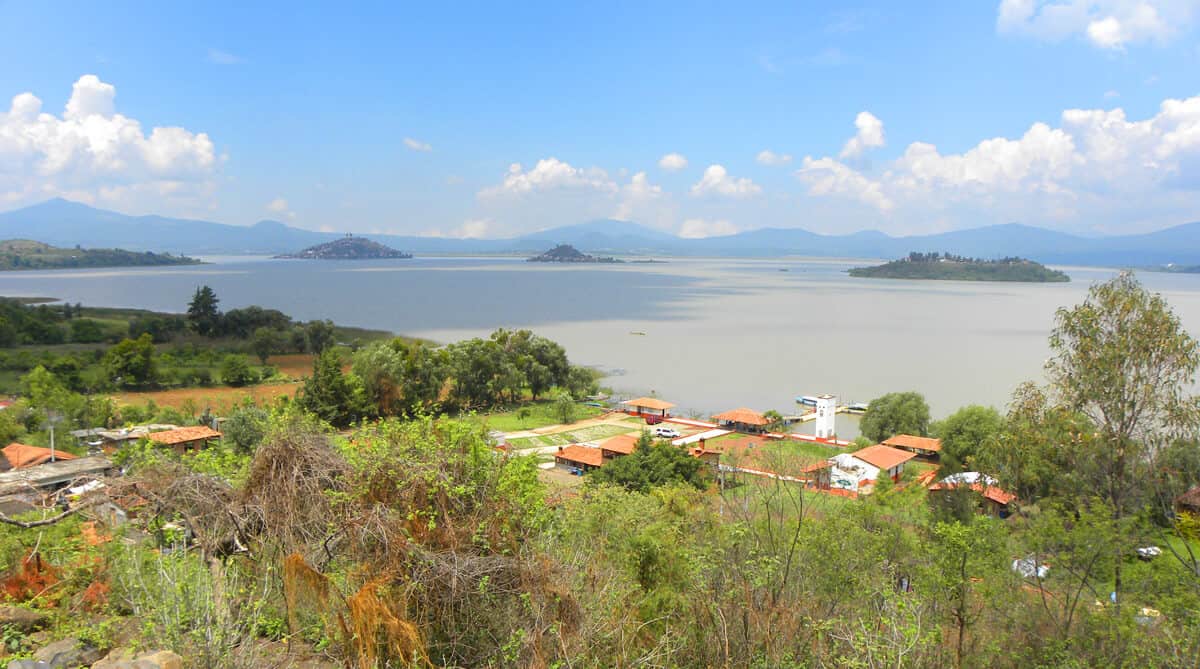 Below: The convent and church of San Francisco, Tzintzuntzan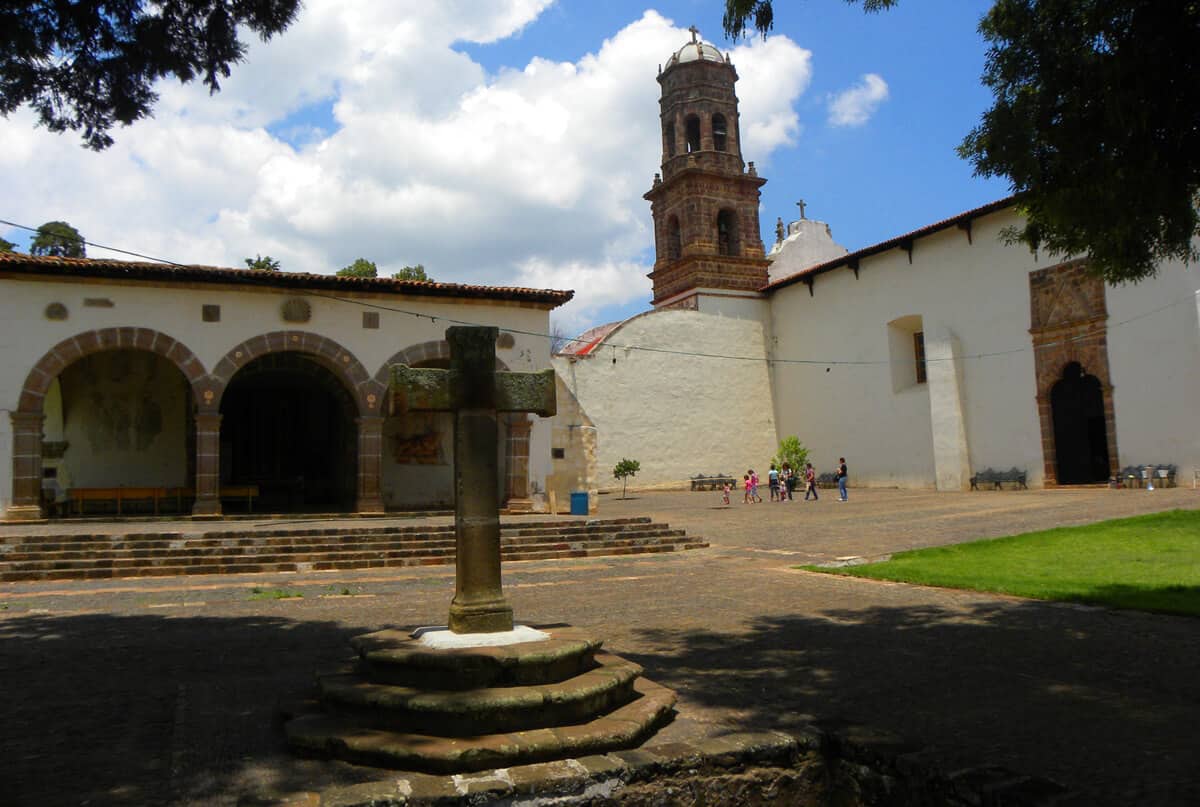 .
If colonial history isn't your thing, Jaime can take you to the artisan towns that dot this area. One of the things Bishop Quiroga did, in the 1500's, was to gather the scattered indigenous people into towns and assign each its own task. Even today, you'll have towns that specialize in mask making, copper work, basket weaving etc (some of the towns and what they specialize in here, and an interesting post on the history of the colonial craft towns here).
Whatever your interests, Jaime will organize a tour for you and you'll have an incredible time.
His email: [email protected], cellphone: 434 107-7150
Below: Jaime in the lobby of Hotel Casa Encantada.
Where to stay in Patzcuaro
I usually always stay in Airbnb apartments. But Patzcuaro is small and I wasn't impressed by the apartment choices. Instead we stayed in the Hotel Casa Encantada which has a suite with 2-bedrooms. It was fantastic. Opened up by a very inspiring Australian/American woman, it is both a gorgeously restored colonial buildings as well as an art gallery in one (Victoria has actually painted or sculpted most of the work hanging in the rooms and the huge common space).
.
I didn't take enough photos, but if you're looking for a place to stay look at their website. To enquire about rooms you can write Victoria here: [email protected]
Note: Let Victoria know you came from this website and she'll give you 10% off on your stay.
.
Summary: Patzcuaro really is a very pretty, genuine town with a lot of history and attractions. It's a romantic kind of place for a couple's getaway. The countryside is beautiful. Could I stay here a long time? Probably not, it's small. But for a few days it is ideal: picture-perfect with lots of colonial history and indigenous culture. As you see, we also met some friendly people along the way. Very nice town.
.
Like This Article? Pin it!
Ps. If you find our blog helpful, please consider using our links to book your flights, hotels, tours, and car rentals. Have a look at our Travel Resources page.
.