The life of a hotel owner in Patzcuaro (Mexico)
I met Victoria a few years back when travelling through Michoacán. She lives in Patzcuaro, one of the best Pueblos Magicos in Mexico. Victoria is an artist and hotel owner who's infused her hotel with her art. Casa Encantada one of the most incredible hotels I've had the chance to stay in. I didn't know at the time that it had ghosts (she tells you about that in this interview).
I wanted to know more about Victoria. Why Mexico? Why Patzcuaro? What's it like being a hotel owner? And what should people know about the 'real' Mexico?
Hi Victoria! Can you please tell us about yourself?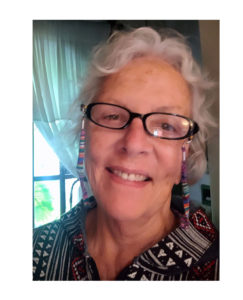 I was born in Australia during WWll. My father (a US citizen) was born in Chihuahua Mexico in 1904 and my mother was Dutch from Java, Indonesia. When the Japanese invaded Java she fled to Australia (the rest of her family, who decided to stay, spent the war in Japanese prison camps). She joined the Dutch Army in Australia.
My parents met when my father was on R&R as a member of the US military. They married after the war. The marriage lasted about 10 years.
My father had dual US & Mx citizenship which I also now have.
I was raised in the West/Southwest. My father had a large cattle ranch in Southern New Mexico. He was also a pioneer in the airlines, so we traveled a great deal in the early years mostly the Pacific, US to Australia.
After their divorce my mother moved to La Jolla California. My school years were in CA with summers in New Mexico.
My upbringing was tumultuous to say the least. Both parents were alcoholics and my life was chaos. As a result, I became a rebel, a runaway among other things, an adventurer of sorts at a pretty young age.
I was a hippie, a parent of 2 and a single Mom. Among many places we lived in Carmel and Big Sur. We lived in a Teepee in the wilderness above Big Sur. I settled down in Mission Beach, So Cal for a while and then bought a 100 acre farm in West Virginia and lived off the land for a couple of years before moving to Santa Fe New Mexico in the 80's. In Santa Fe I finally got a "real job" and sold real estate.
---
---
What led you to going to Mexico? And how did you end up in Patzcuaro?
The actual steps are too long to go into here but a combination of me being "led" and just stumbling through my life brought me to Mexico and then one day to Patzcuaro. As I stepped out of the car onto the Plaza Grande in 1992 I fell under a spell. I rented a tiny apartment the following winter. In a couple of years I began to look for a little "pied a terre" place to buy so I could continue to spend winters in my own small Mexican home. In 1997 I somehow found myself the owner of an old Colonial mansion that would require 2 years to restore. Stumbling on…
"Casa Encantada is your destiny" I was told by La Senora Juanita (a Curandera/Shaman) in 1998 (the last year of the restoration). She was doing a "limpia" and interrupted herself to reveal what I had known in my heart. Patzcuaro and Casa Encantada WERE my destiny.
---
---
You had a whole building restored and converted into the magnificent hotel you have now. It sounds like a huge undertaking. Can you tell us about that?
I bought the Casa Encantada in 1997. It had been built by the Cerda family in 1783 on property that originally belonged to the Sisters of Catherine of Sienna. I am the second owner of this magnificent place!
I had always loved small renovations. I had done some building in Santa Fe. In New Mexico many things are "encantada" which I thought meant "enchanting" so I named my new place Casa Encantada. Enchanting house … I thought! The truth is encantada means to be "under a spell" or ENCHANTED and that turned out to be a perfect description of my world at that time. I had no idea what I was getting myself into. I spoke very little Spanish. I knew literally nothing about building methods and materials in the mountains of Colonial Mexico. I was under a spell.
The first year was like a 365-day anxiety attack. I would drop into bed too exhausted to even think. I would wake up disoriented and shocked at what I had done to myself. As the house was being torn down around me. I despaired that there were any alternatives left to me but to continue with my folly. Then the house began to take shape and be beautiful again. In year two of construction, I began to really enjoy the restoration process. Some three/four years later (stumbling along again) I found that I was the owner of a lovely hotel. In 2006 I built the back patio, 4 rooms and small spa. An old colonial and I are a perfect match because there is always something that can be done, fixed or changed.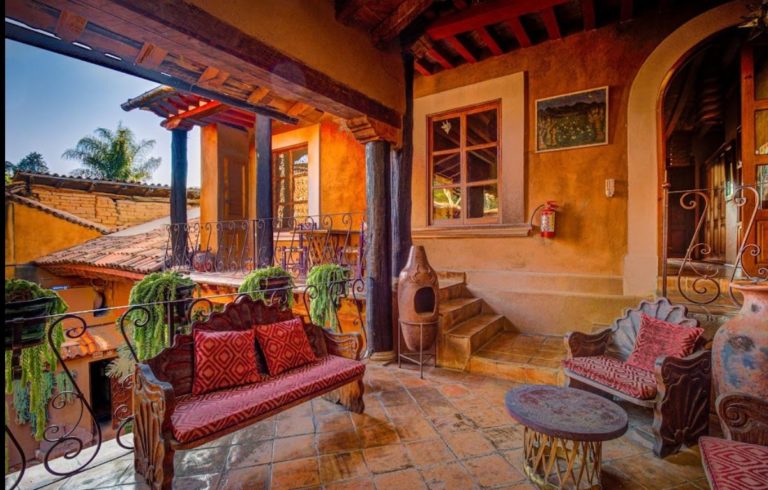 ---
---
What do you love about your life in Mexico? Is there anything you have issues with or that you find challenging?
I LOVE the culture. Mexicans have "La Cortesia" as a part of their culture. They are polite, kind and friendly. They are helpful. Of course there are exceptions to everything but there are stories I hear and have heard over the years of extraordinary kindness. Shelter given, money returned, honest actions etc. Some of the cultural differences take time to understand. If one is paying close attention you will begin to see the difference and you might begin to see the "why's". Time is a good example. To Gringos time is money, time can be wasted, time is precious. When someone is late we take it personally. To a Mexican, politeness and respect of others is important. This means that a Mexican can be with someone and would NEVER say "I've gotta go, I am going to be late seeing someone else" That would be an insult. It would be so rude to say another appointment is more important than the person you are with. There are many more versions of this. I recommend that newcomers make sure to not bring their culture into the country with them. Wait, watch and listen… learn Spanish. Be polite and courteous. So, annoyances & issues… as more and more citizens of the US arrive who are not patient and curious, who act entitled, I am embarrassed by them. Other issues I have always worked on in my head are the trash and treatment of animals. In my time here, the treatment of animals has changed dramatically. It is the young people who are rescuing and sterilizing them (and educating their elders as to good practices). Change is slow but it is happening.
We all give up something as expats when moving somewhere. How have family and friends accepted you moving to Mexico? Have you lost friends along the way?
At first my family felt abandoned. There were of course phones but the wait for an actual phone in one's home took months. There were the little pay phone booths one could wait in line and hope someone was home at the other end and had time to chat. There were faxes. Really, no one expected me to leave the country permanently. Of course in the 30 years I have been here there have been transitions. I've lost some friends over time, kept others and made new ones.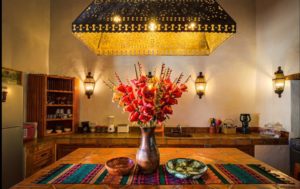 ---
---
I'm always curious about the life of a hotel owner. I imagine you have some stories to tell. What's your craziest hotel story?
I have ghosts. They are a fascinating story. One in particular named Pluma Blanca has been seen by a number of guests over the years [see the video below for some ghost stories]. I, of course, have had a few bad apples but most of my guests are amazing. What I enjoy most about being a hotel owner is my guests. I have the BEST staff, so I can concentrate on seeing that the guests have a great experience. I LOVE my morning chats at breakfast helping guests figure out how to enjoy themselves in Patzcuaro. Having a small boutique hotel also reminds me of the Love Boat. Remember the series in the 70's? Every week it is a new group of stories and challenges. Luis (my manager) and I are always handling "issues/emergencies" with grace. At the same time we focus on making sure the guests are not affected by our in-office emergencies ever.
When you go on vacation, where do you go?
At this point in my life my desire is road trips in Mexico. I am 76. I am not sure I have the desire for long plane trips or anything too strenuous. I like the idea of long road trips. Heaven for me is to stay somewhere for a month or more. I recently spent 6 weeks in San Cristobal de las Casas, Chiapas. Guanajuato, Oaxaca, Puebla and Zacatecas are all on the list. I have been to all of them but in the 90's. There are plenty of new places to visit. Mexico is amazing. I like your blog for info BTW!
---
---
What's your favorite Mexican dish?
I would have to say Posole. Some tamales are fabulous and others not so much. The Patzcuaro region has Cocineras Traditionales. They are designated cooks who use local ingredients from their pueblo and recipes that are ancient, handed down one generation to the next. These are wonderful. The food of Mexico was declared a non-tangible treasure by UNESCO. There is a lot of variety and regional specialities are always worth trying. I LOVE beans, salsa and tortillas made by hand. The food of the poor is the best.
---
---
Michoacán has been in the news lately for all the wrong reasons. People say it's a dangerous region. What should travellers know about safety in Michoacán (and Mexico in general)? And how does it affect everyday life and locals?
This is a topic that has always been a problem. I am not positive, but I think I read that it goes back at least as far as the mid 1800's. The US press, at that time in order to justify the US invasion of Mexico in 1856, ran yellow journalism campaigns condemning and stigmatizing everything about Mexicans and Mexico. Fast forward, I have also felt that the US government has, in modern times, used the press to criticize Mexico when they want to put political pressure on Mexico as a sort of extortion. The negotiations around NAFTA are but one example. Mexico depends on tourism as one of the top industries… so, this is an old story. Recent news about the Narco trafficking and wars between various factions is sad and shocking. The violence has not affected me nor anyone I know. There seem to be outbursts in areas and eventually a hotspot will calm down. Millions of Mexicans basically live their lives unaffected by this violence. I feel it would be an unfortunate set of circumstances that would put any of us in the crossfire. It is certainly not random crazy violence like the US. Use your common sense. No drugs, no weird bar scenes…. no flashy jewellery. I don't drive at night because of the possibility of hitting a cow or burro… so, there is also that.
Looking back at your experiences in Mexico, what do you feel? Is Mexico and Patzcuaro your 'forever' home?
Absolutely. If it is possible I love it more than when I first arrived.
Thank you very much Victoria for doing this interview!
Victoria is the owner of Casa Encantada. A gorgeous hotel and one of the favorites that I've ever stayed in. Some of the rooms have 2 bedrooms which is unique – I was travelling through Mexico with my mother so having a hotel with 2 separate bedrooms was something I was looking for. Great place and I can't recommend it enough if going to Patzcuaro.
Want to be interviewed? If so send us an email or leave a comment