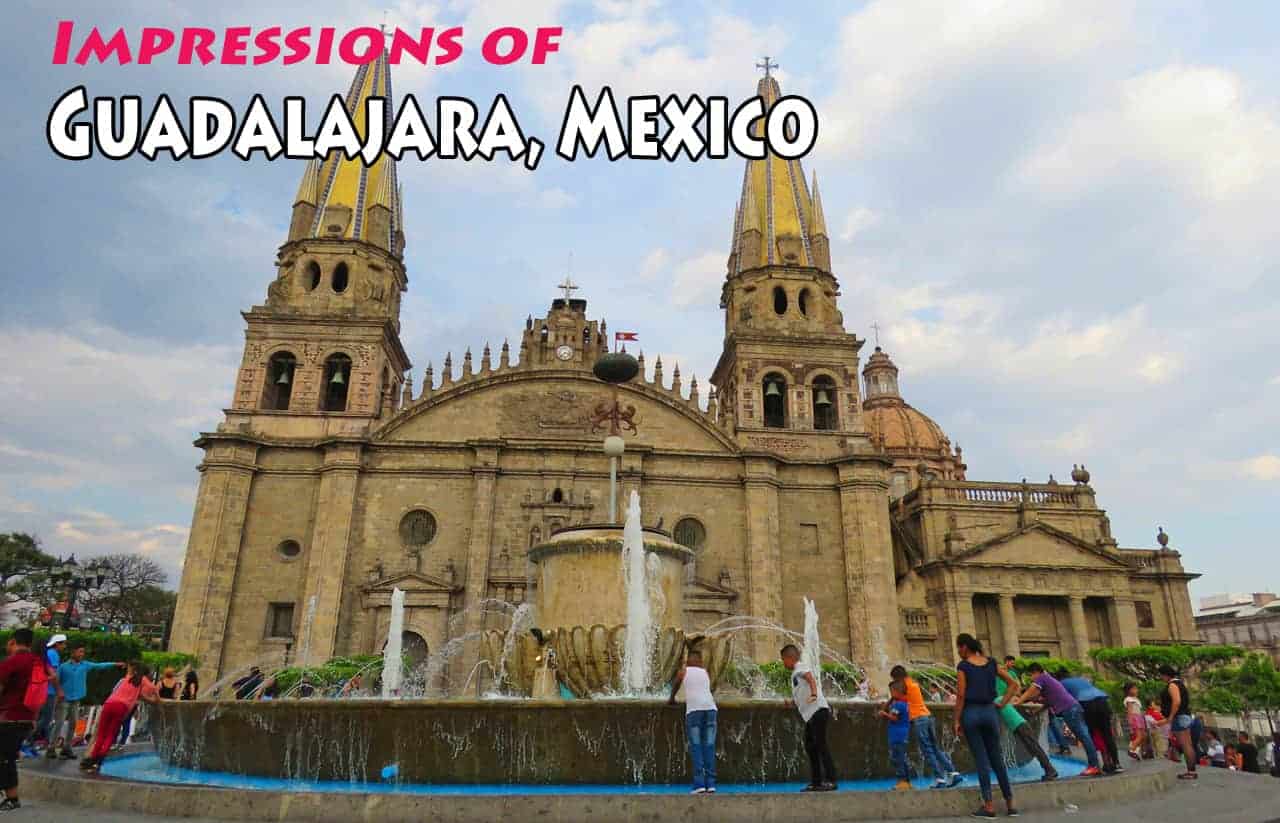 Why you should go to Guadalajara
I was about 36 hours in Guadalajara, a short stop between the week I spent exploring the Copper Canyon and meeting my mom in San Miguel de Allende.
I'll admit I didn't know much about the city. It is currently Mexico's 7th largest city (pop close to 1.4 million) and is famous for being home to both mariachi and tequila. Locals I've met like to boast that "Tapatios" (locals of Guadalajara) are good-looking, friendly, and that they like to party. They also say that Guadalajara has "genuine" Mexican food, unlike northern Mexico. Tapatios generally seem to have a pretty high opinion of themselves 🙂 .
Experiences and Impressions

Like most Mexican cities, Guadalajara is surrounded by urban sprawl. The 30 minute drive from the airport to the center is nondescript, the geography featureless.
I was staying at the Hotel Casino Plaza, right in the center. Friendly reception, beautiful room, large comfortable bed, AC, Cable TV with all the channels, modern amenities, restaurant, room service. One of the best hotels I've stayed in Mexico. I asked the girl at reception if they had a casino and she said no. "So why the name?" I asked. She smiled and shrugged. Didn't know the answer. Maybe it's time to change the name.
Anyway, very much recommended.
Related: A roadtrip through Mexico's most beautiful towns and cities (by bus)
---
---
The next day and a half was spent walking around the downtown core. There are some interesting sites (which I'll get to below). But what makes Guadalajara special is how walkable the historic center is. The majority of attractions are in a concentrated area, connected by a series of pedestrian-only plazas and parks (you can see that in grey on the map below).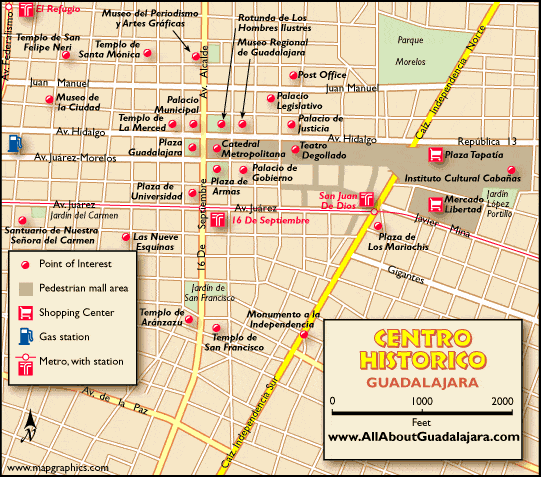 Some of the sights in the center
The highlight of Guadalajara is Guadalajara Cathedral (Catedral Metropolitana), one of the most beautiful as well as one of the largest cathedrals in Mexico. It was originally built in the 1560's but the distinct towers had to be rebuilt in the 1800's after an earthquake.
---
---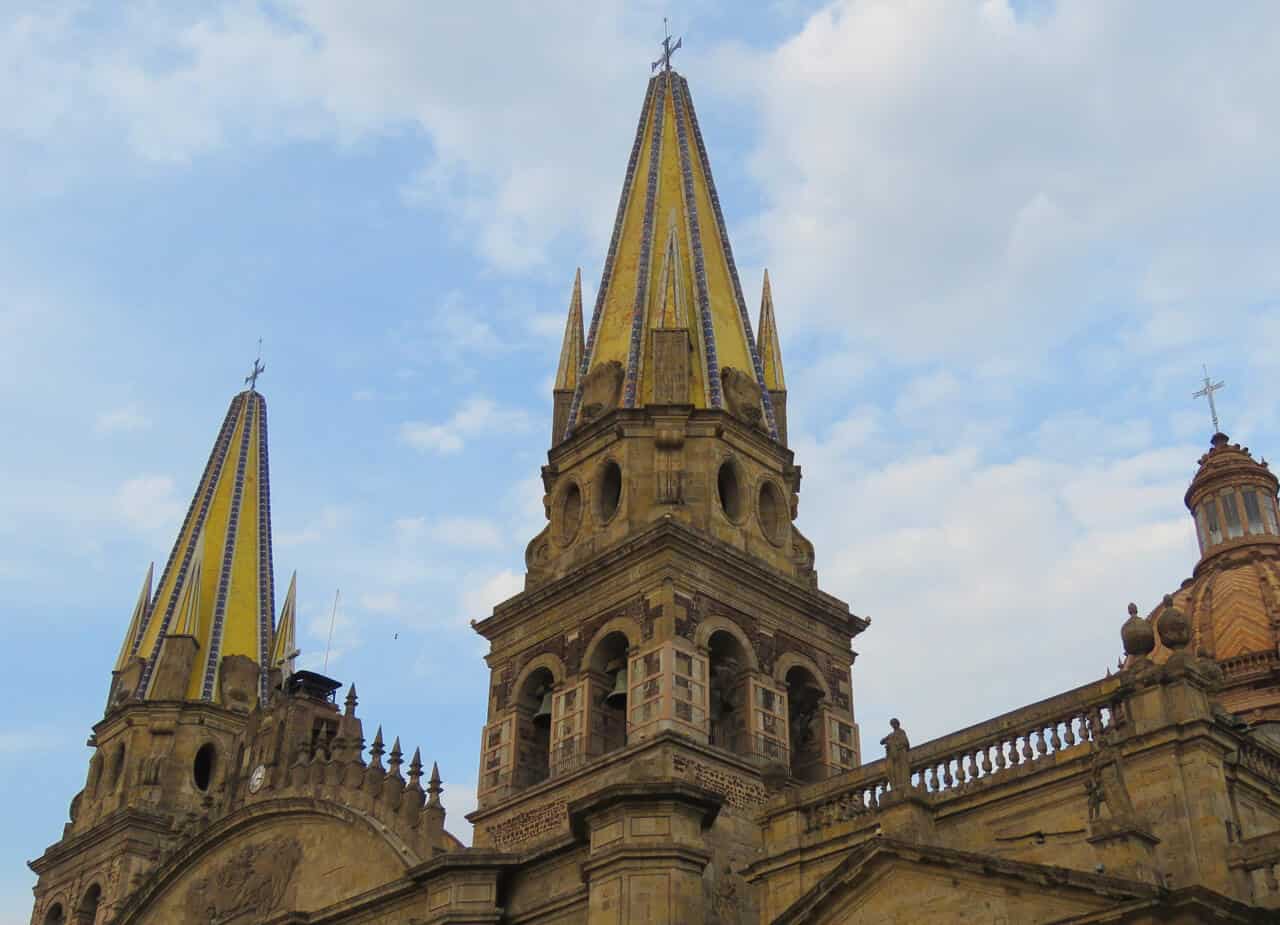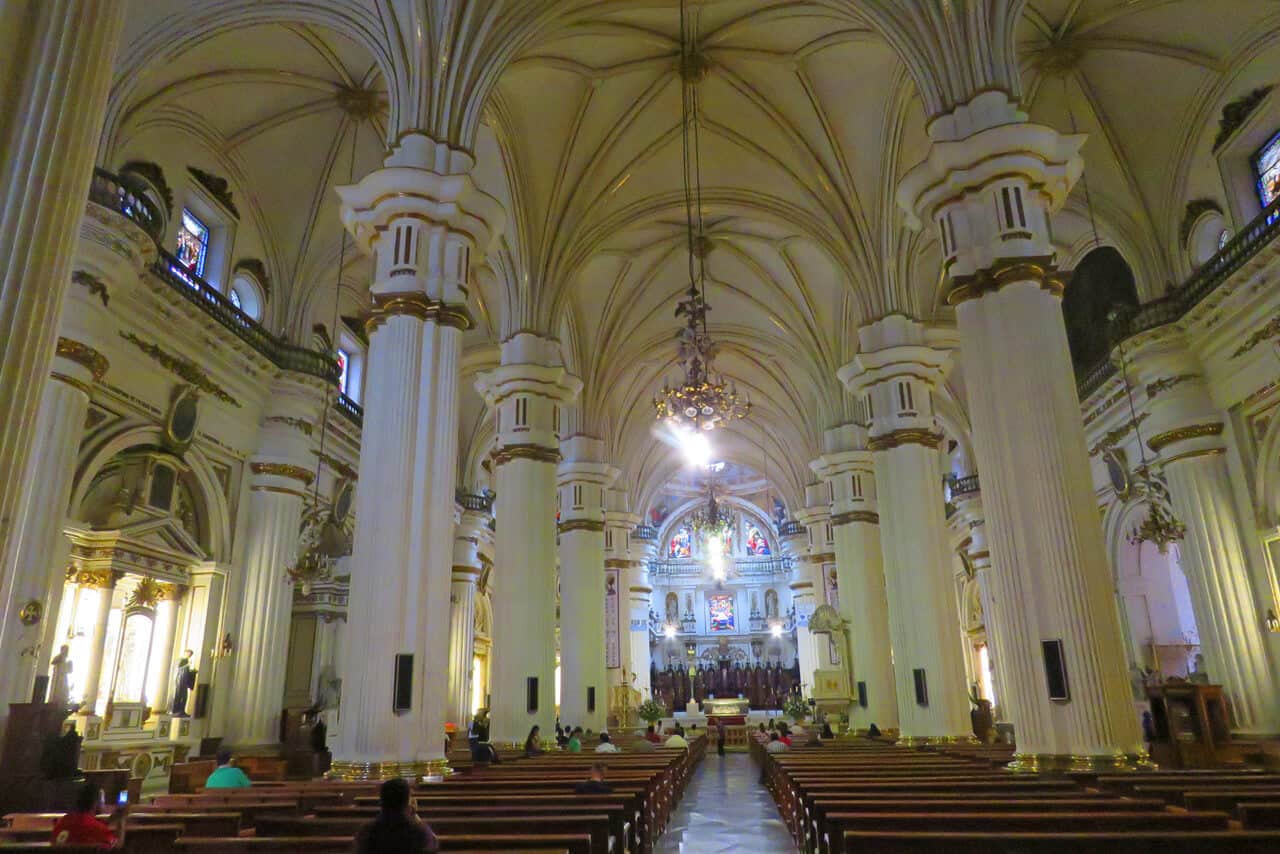 Across the street from the Cathedral is the "Rotunda of Illustrious Men", a memorial to men who have made important contributions to the state of Jalisco.
---
---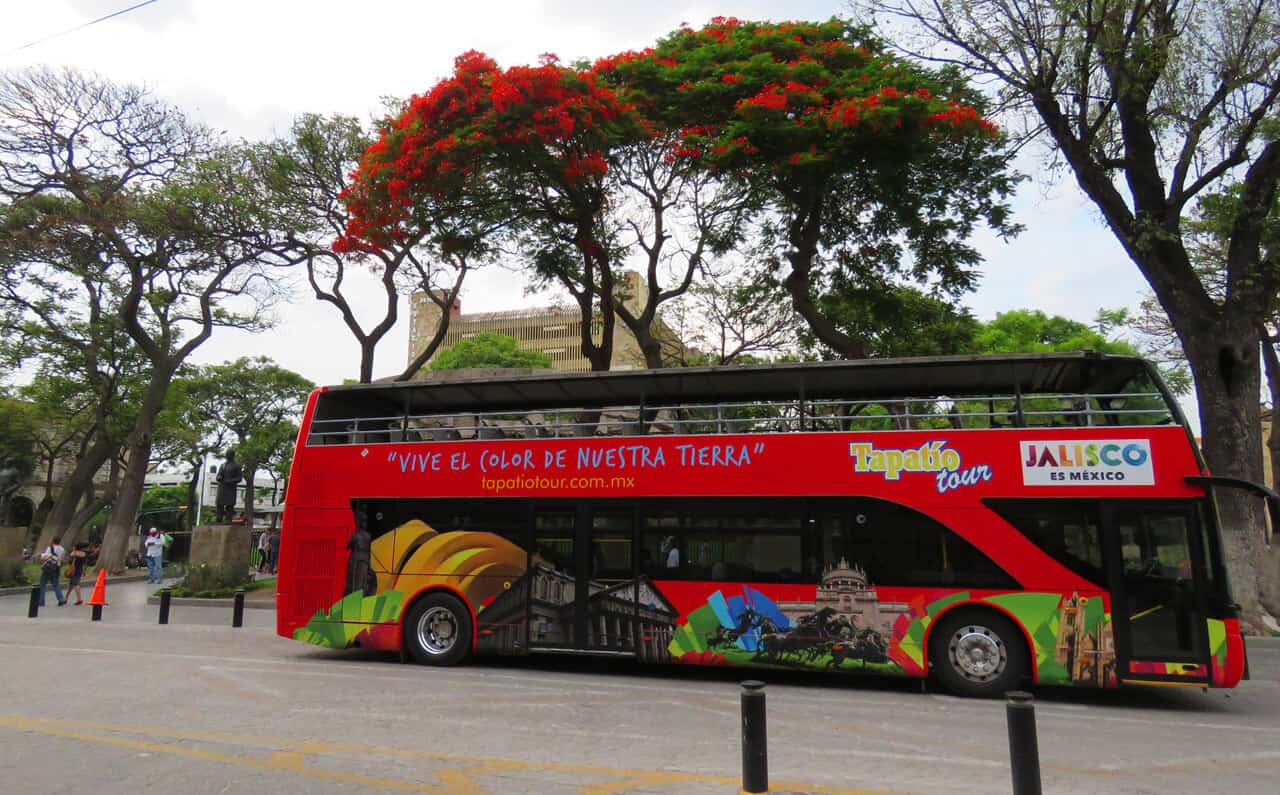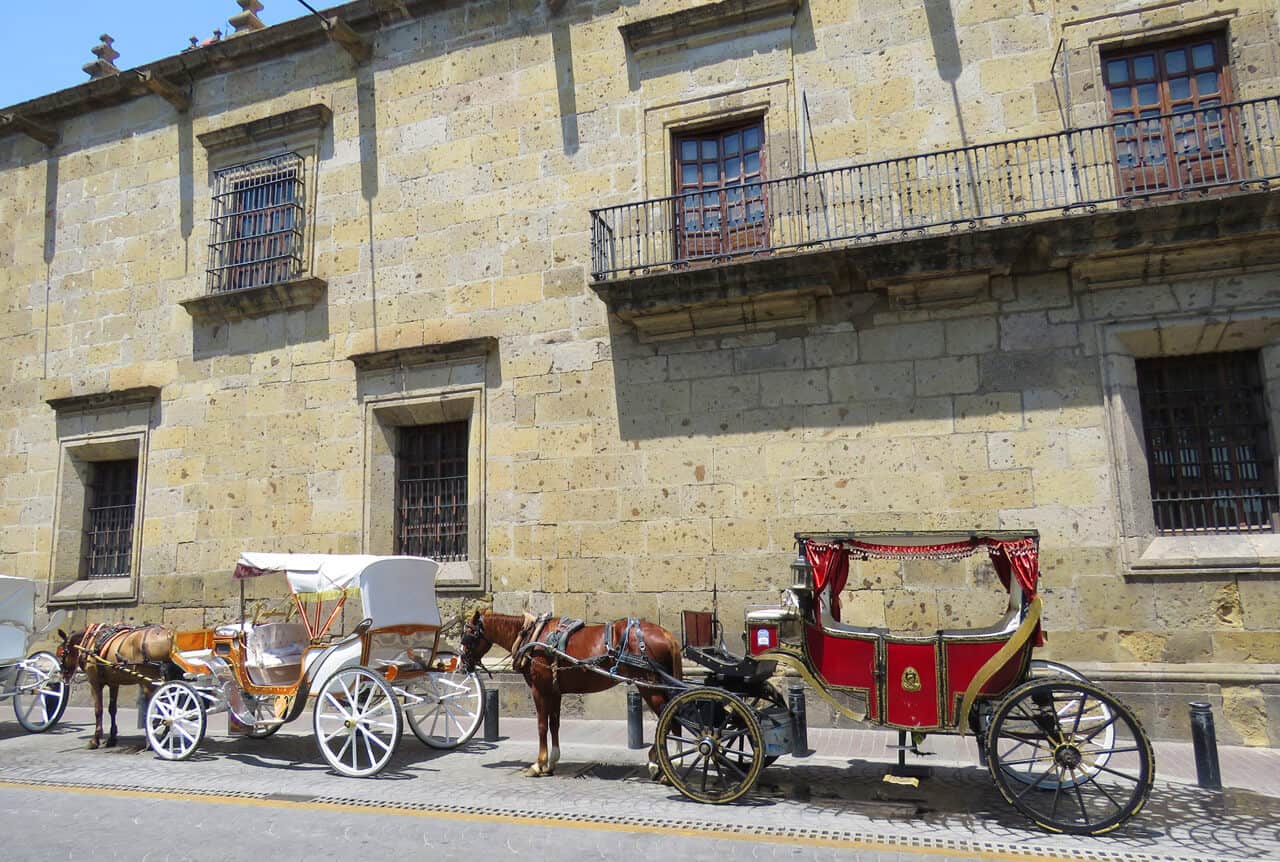 .
Behind the Cathedral is the huge Plaza de Liberacion which stretches from the Cathedral to the Degollado Theatre.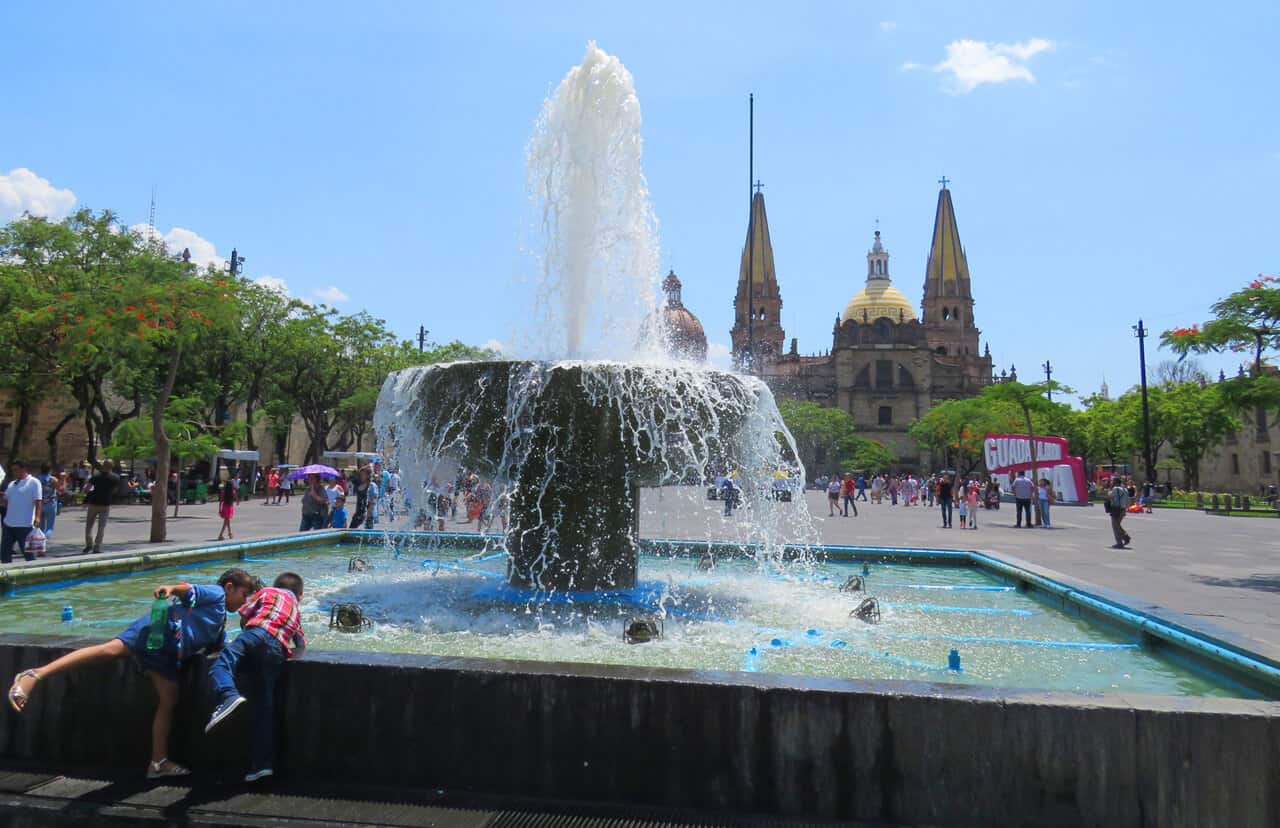 ---
---
Walking past the theatre you get to Plaza Tapatio which is a large pedestrian corridor with fountains, souvenir stalls, bars and restaurants, as well as Jalisco's Tourism office.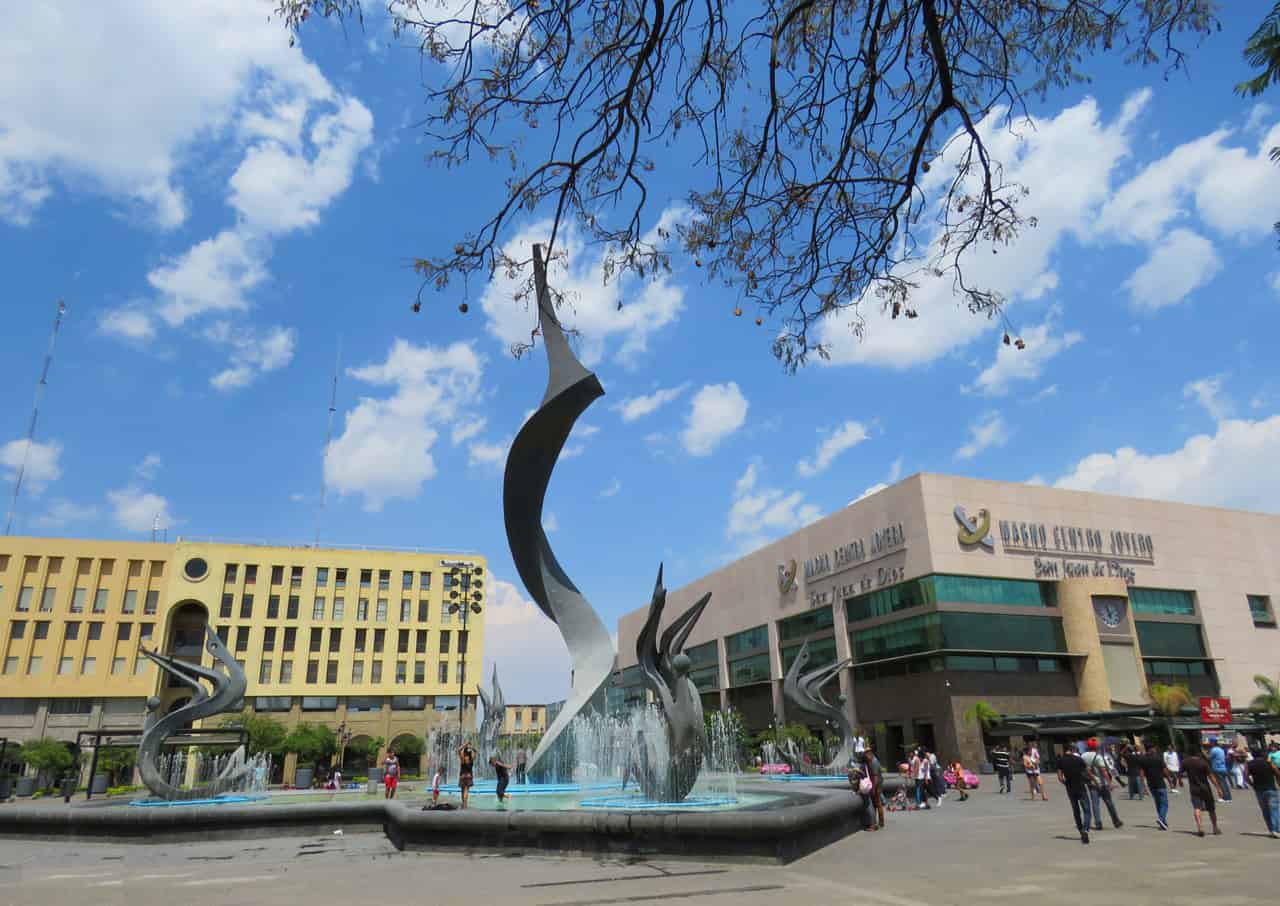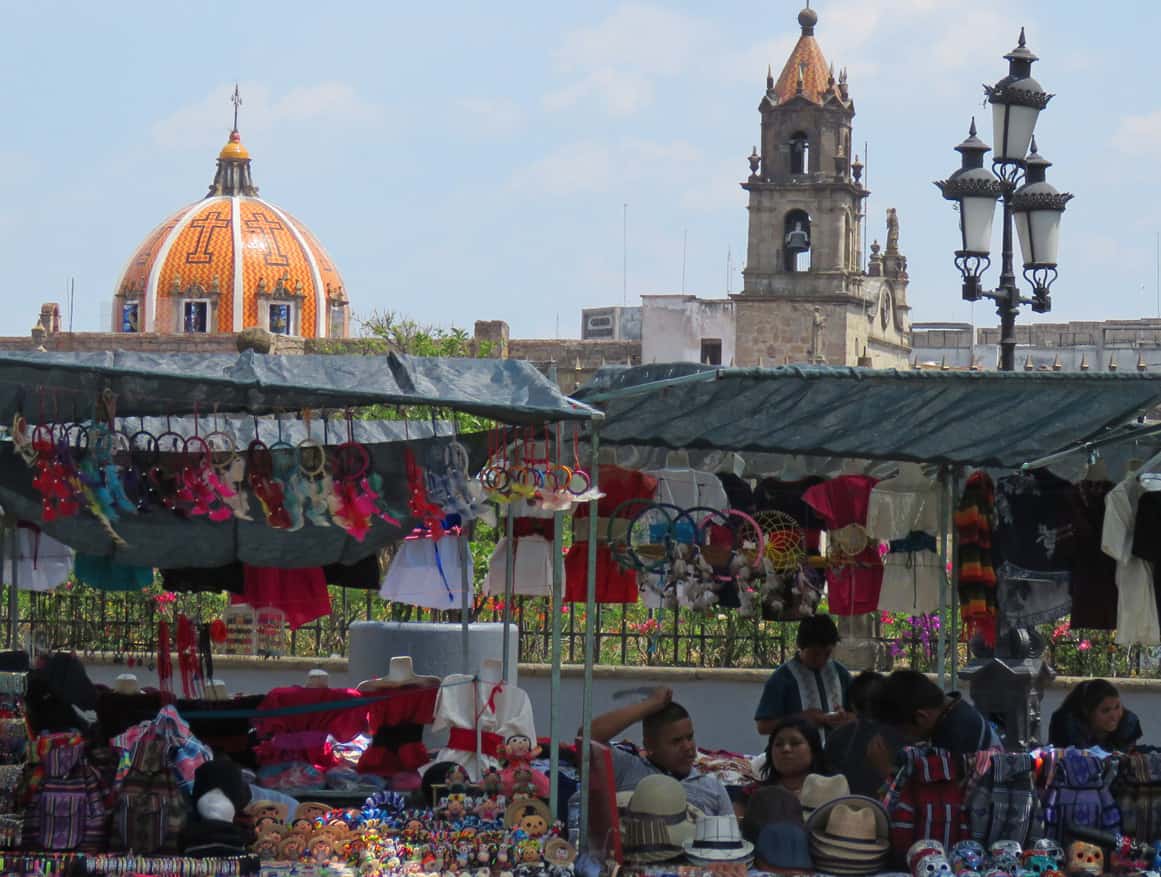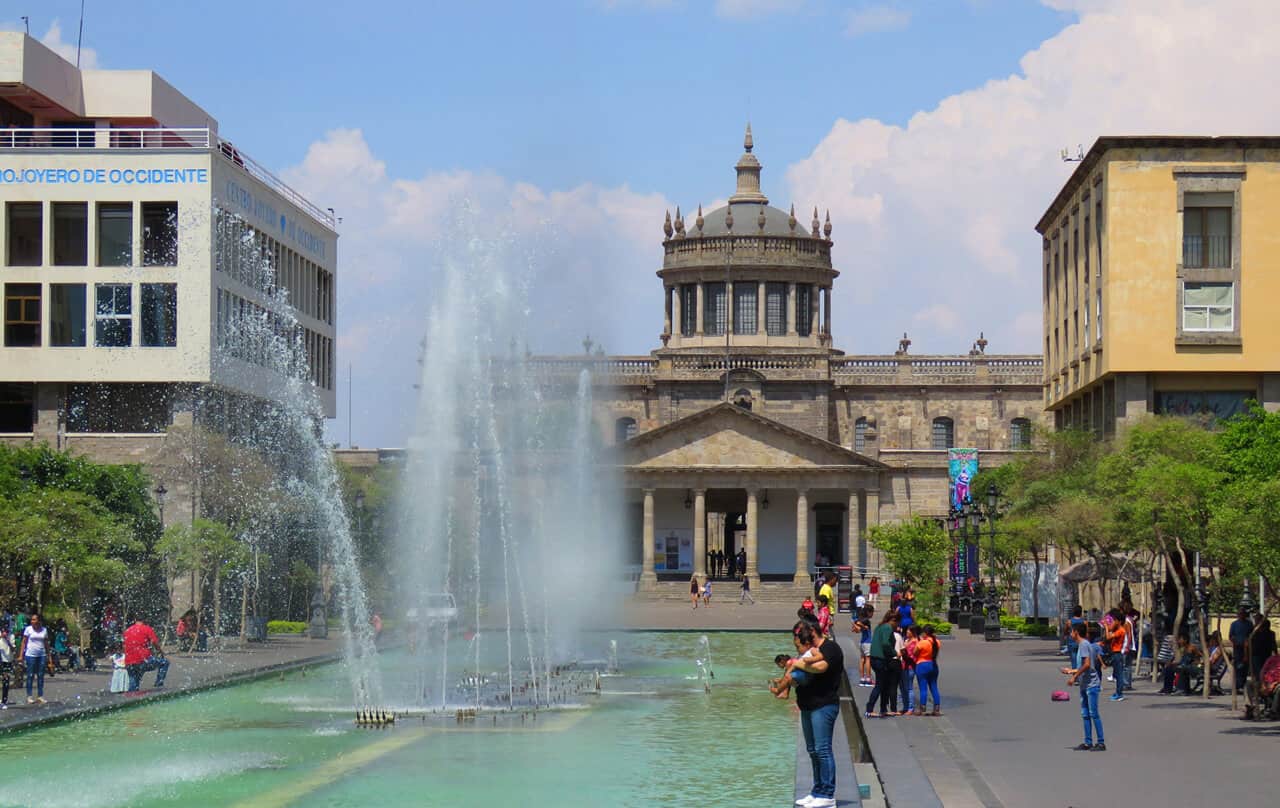 .
---
---
Plaza Tapatia takes you to what looks like a palace. It's the Cabañas Cultural Institute. It is a UNESCO World Heritage site, built in the 17th century as a charitable institution to help the infirm and destitute. It is huge, with 23 courtyards, most of them displaying large sculptures. The main chapel houses the murals of famous local painter Jose Clemente Orozco.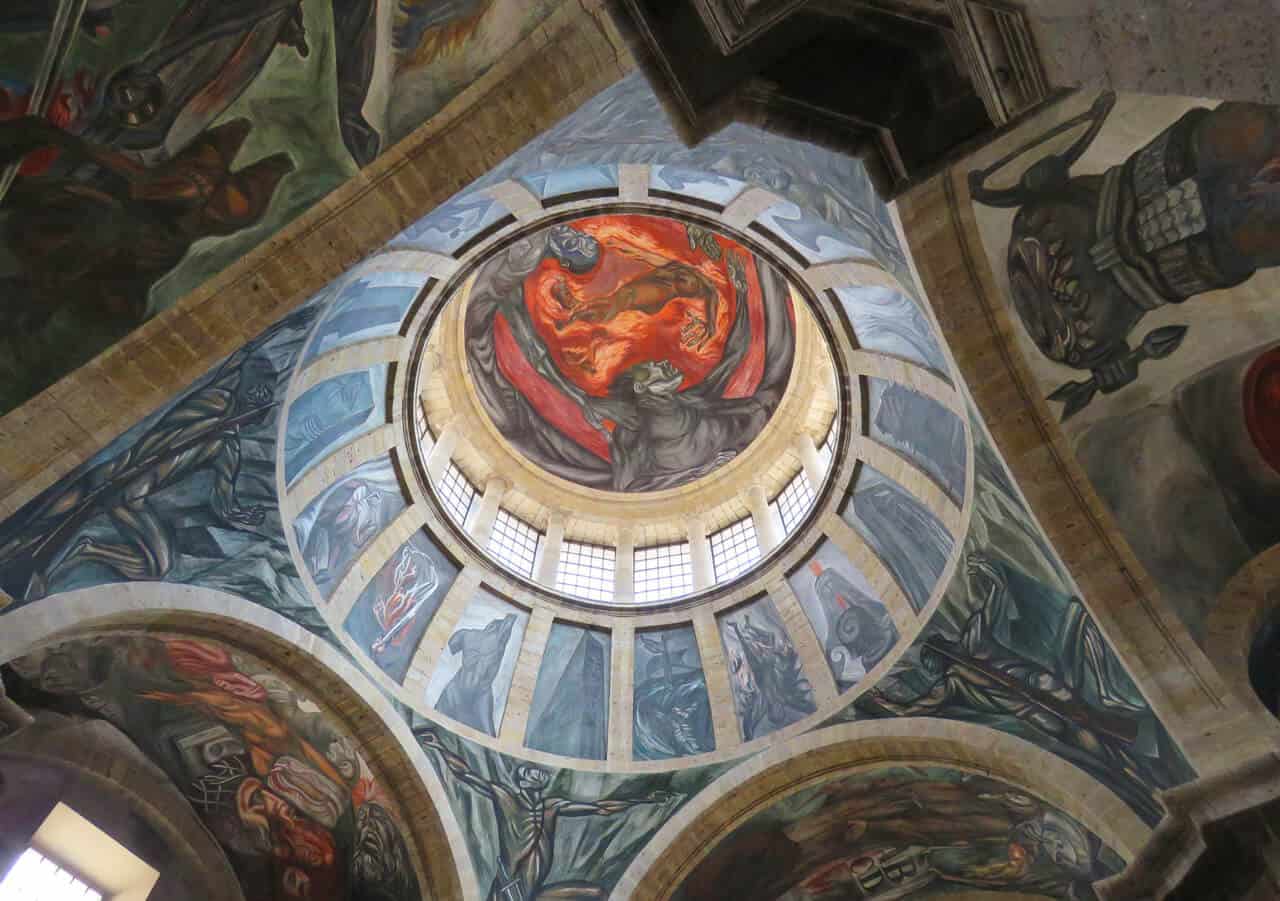 ---
---
I walked a little further from the main sights. It was Sunday and one of the large streets was closed to traffic and was instead filled with families riding their bikes. I walked towards the university, passing a park where men played board games and kids played chess on one of those huge chess boards. Next to the university I stepped into another beautiful church, the Templo Expiatorio del Santísimo Sacramento. Walking back to the hotel I spotted Bixi bikes, the exact same bikes they have in Montreal (here they call it mibici, in Montreal they call it Bixi – but it's the same company).
After a lot of walking I bought an ice cream and sat down on a square watching local families strolling around. It struck me how liveable Guadalajara is. I've said it before – I can't get over how few foreign tourists I see in Mexico. Having lived in Montreal for 25+ years we would see tons of tourists (mostly American) come each summer. For them, Montreal was the 'closest thing to Europe'. I actually think Mexican cities are as impressive and some (like Puebla and Guadalajara) have even more colonial architecture. You can mistakenly think you are in Spain. I'm not complaining – I think it's great being able to walk around seeing a city center filled with locals and not besieged by tourists. But I also find it sad (and unfair) how little recognition Mexico receives.
---
---
My verdict: Guadalajara is a beautiful and very walkable city. This was a very short visit and what I saw was only the tip of the iceberg. I would definitely want to visit again.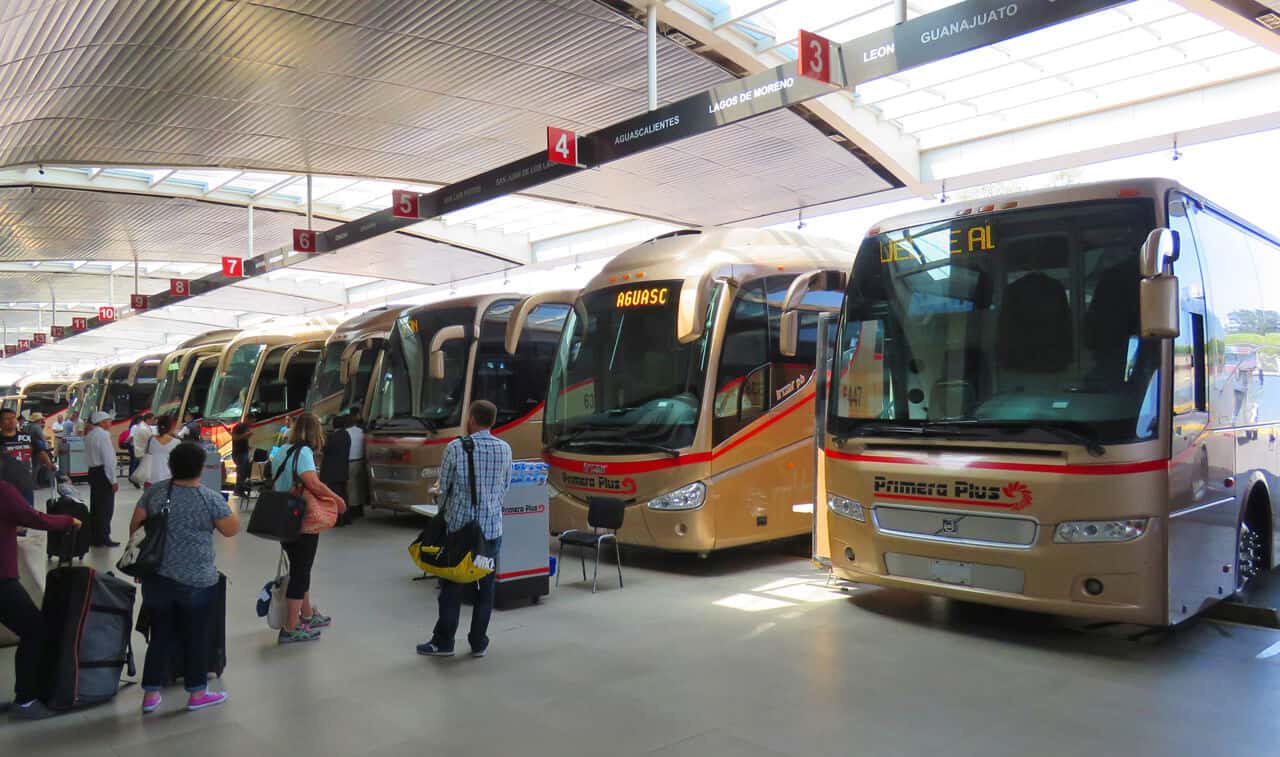 Practical info
– Flights. I flew into Guadalajara (airport code: GDL) from Los Mochis on Aeromar (it took 1 ½ hrs). Los Mochis is the departure (or arrival point) for taking El Chepe through the Copper Canyon. From Guadalajara I took the bus to San Miguel de Allende. Primera Plus has a direct bus that takes 5 hours.
– Accommodation: I stayed in Hotel Casino Plaza while in Guadalajara. One of the nicest hotels I've stayed at in Mexico.
– Eating. Recommend restaurant la Fonda de San Miguel Arcangel. Nice atmosphere and great Margaritas.
– Organized Tour. See Guadalajara and the artisan town of Tlaquepaque in this half day tour. Recommended.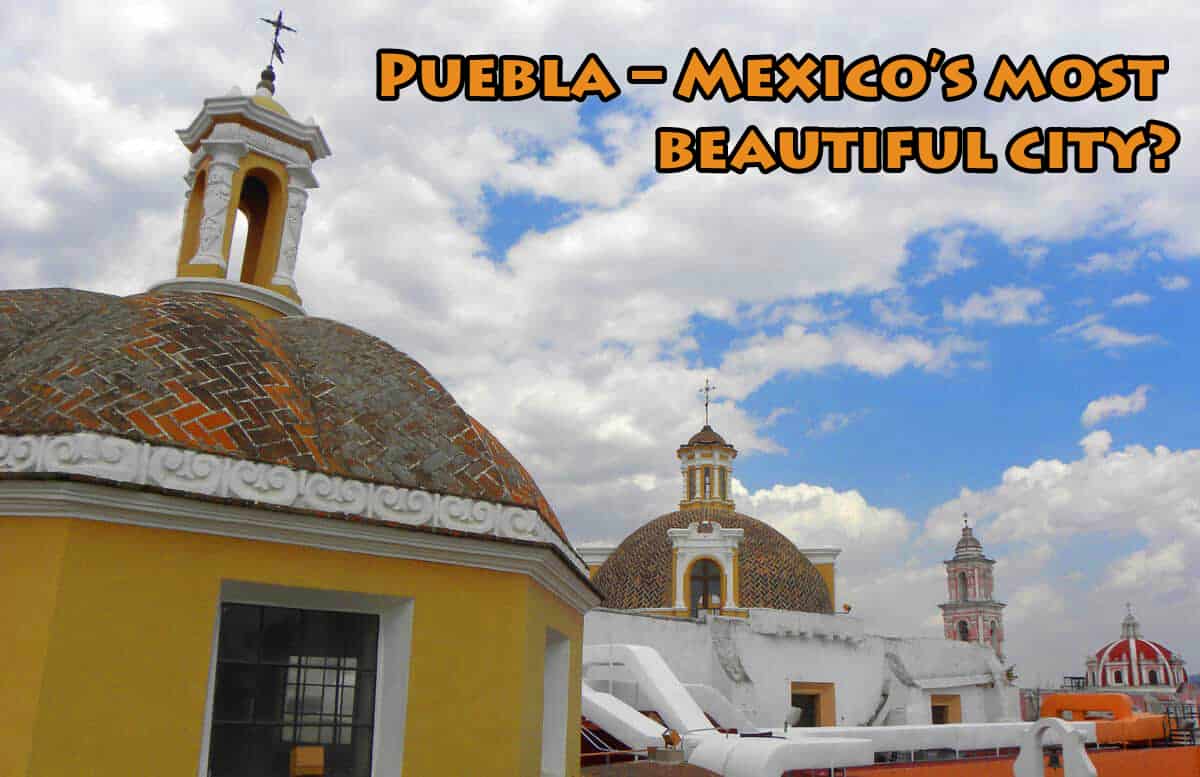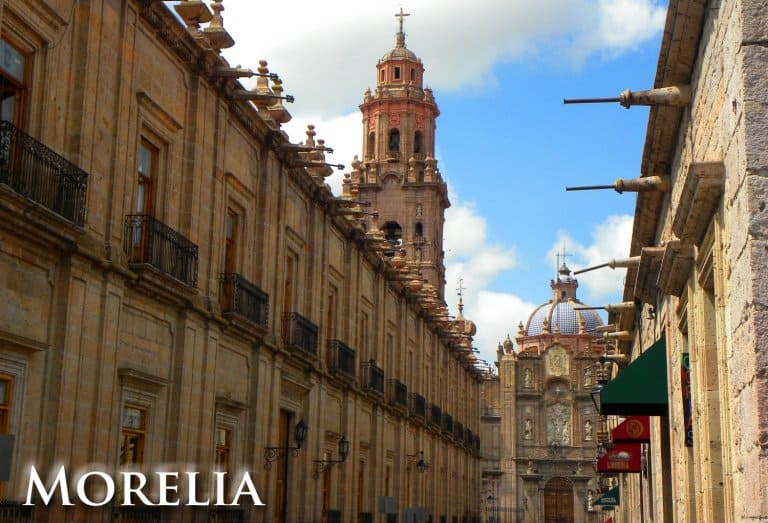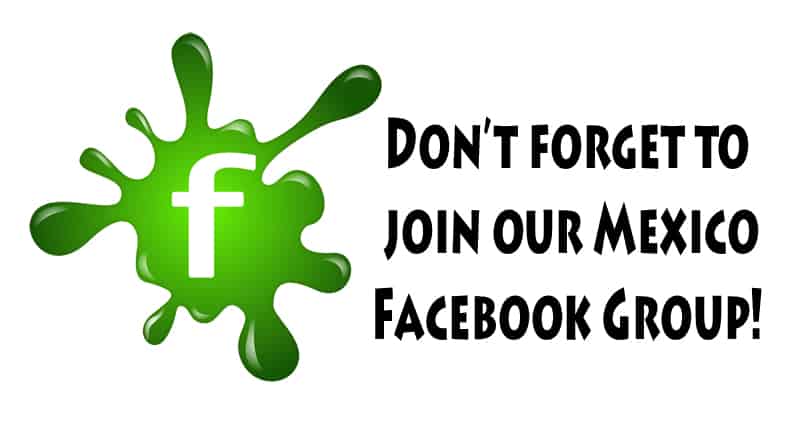 Ps. If you find our blog helpful, please consider using our links to book your flights, hotels, tours, and car rentals. Have a look at our Travel Resources page.